Loretto Chapel is a must on any mystery lover's Santa Fe itinerary.
I'm a cozy mystery fan, through-and-through. I love binging Death In Paradise, Shakespeare & Hathaway, Murder She Wrote, and White Collar.
So Loretto Chapel immediately caught my eye.
What's The Story Behind Loretto Chapel?
Imagine, for a moment, that you are a nun in a chapel.
You live inside a wondrous, large structure complete with a gorgeous loft built for the choir to stand and let their voices resound across the walls.
The only problem? There is no way to reach the loft.
So, like every rational person, you call an expert or more accurately, multiple experts. They troop in, glance at the space, and much to your disappointment, tell you the same thing.
"Have you seen the loft? Do you even realize how crammed this chapel is?" They say. "It's not humanly possible to build a staircase here. Go get yourself a ladder."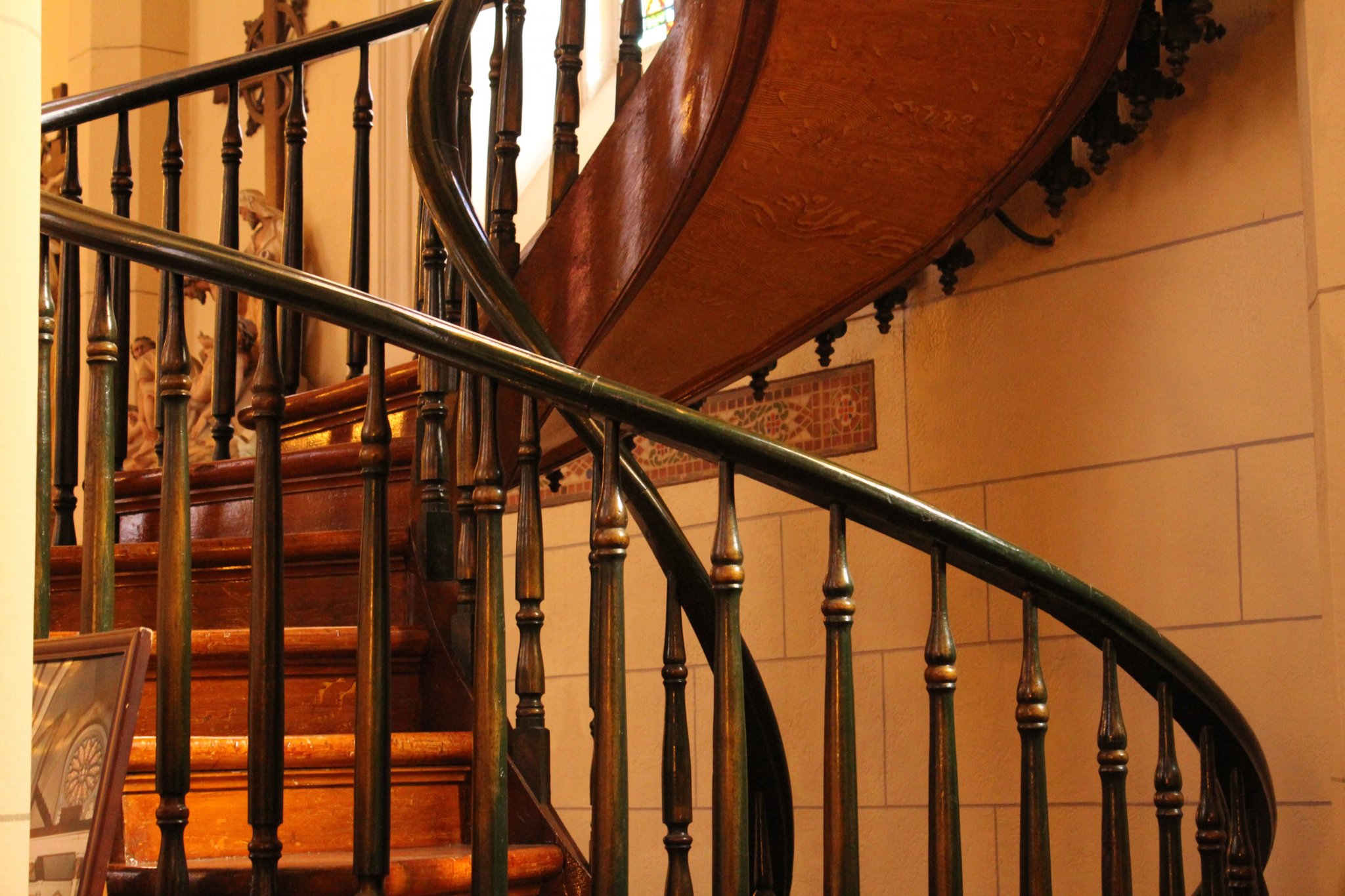 Now, hopefully, these carpenters were nicer, considering they were speaking to nuns, but that was their general train of thought.
So when all the other expert carpenters fail, it is only wise to call The Expert – an A-list celebrity carpenter. No, unfortunately, not Jesus, but St.Joseph, the patron saint of carpenters.
The Legend Of Loretto Chapel
So you, as nuns do, grab the direct line to St.Joseph.
You pray and pray and pray and on the ninth day of your prayers, a mystery man appears with just a donkey and a toolbox asking for some work. He is invited into the chapel and builds a gorgeous, intricate, elegant spiral staircase within a month.
Then, right before you could say "Thank you, Sir", he leaves.
He doesn't ask for thanks and he doesn't ask for pay (which for me, is enough proof that he is not human. When was the last time you heard of someone not wanting a paycheck?)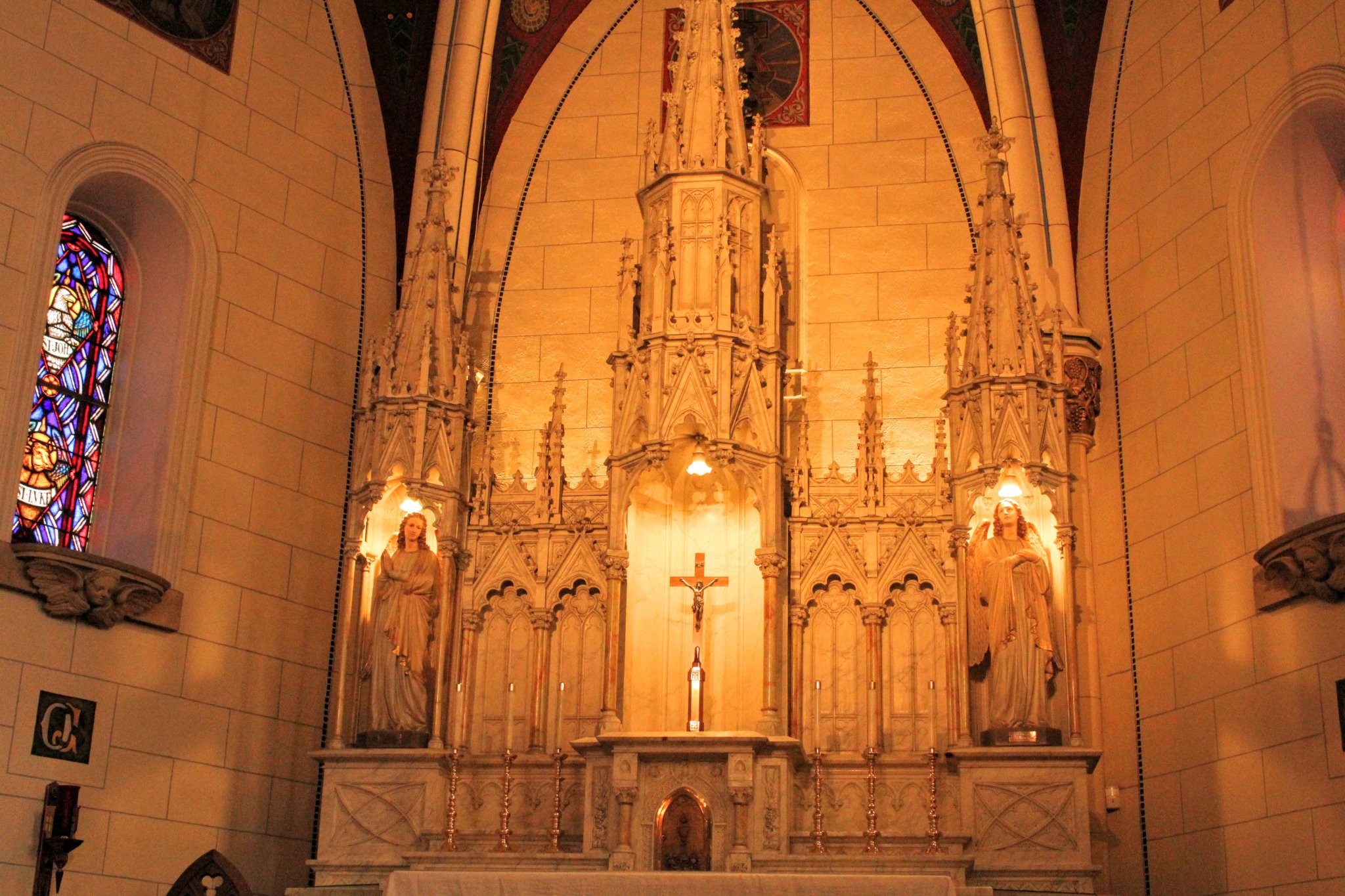 So now, you're standing there in front a beautiful staircase, eyes wide and jaw opened. You're thinking, "what in the world just happened?".
What's The Mystery Of Loretto Chapel?
Then you take a closer look at the structure and realize this – there are no visible means of support.
There are no nails! None. Nada.
So obviously, now you're curious, and you have to find the mystery man. Seriously, who is he? How did he build this? Questions run through your head. You put an advertisement in the local papers and wait to see what happens.
Nothing. Nothing happens.
The wood, you then realize, isn't even from Santa Fe.
In fact, this wood isn't anything you've seen so far. It's an extinct, presumably, wood species. So where did this carpenter come from?
The whole affair is just too weird and belongs in an Agatha Christie novel.
Perhaps, you think to yourself, it was St. Joseph himself and he answered your prayers. That is exactly what the nuns concluded.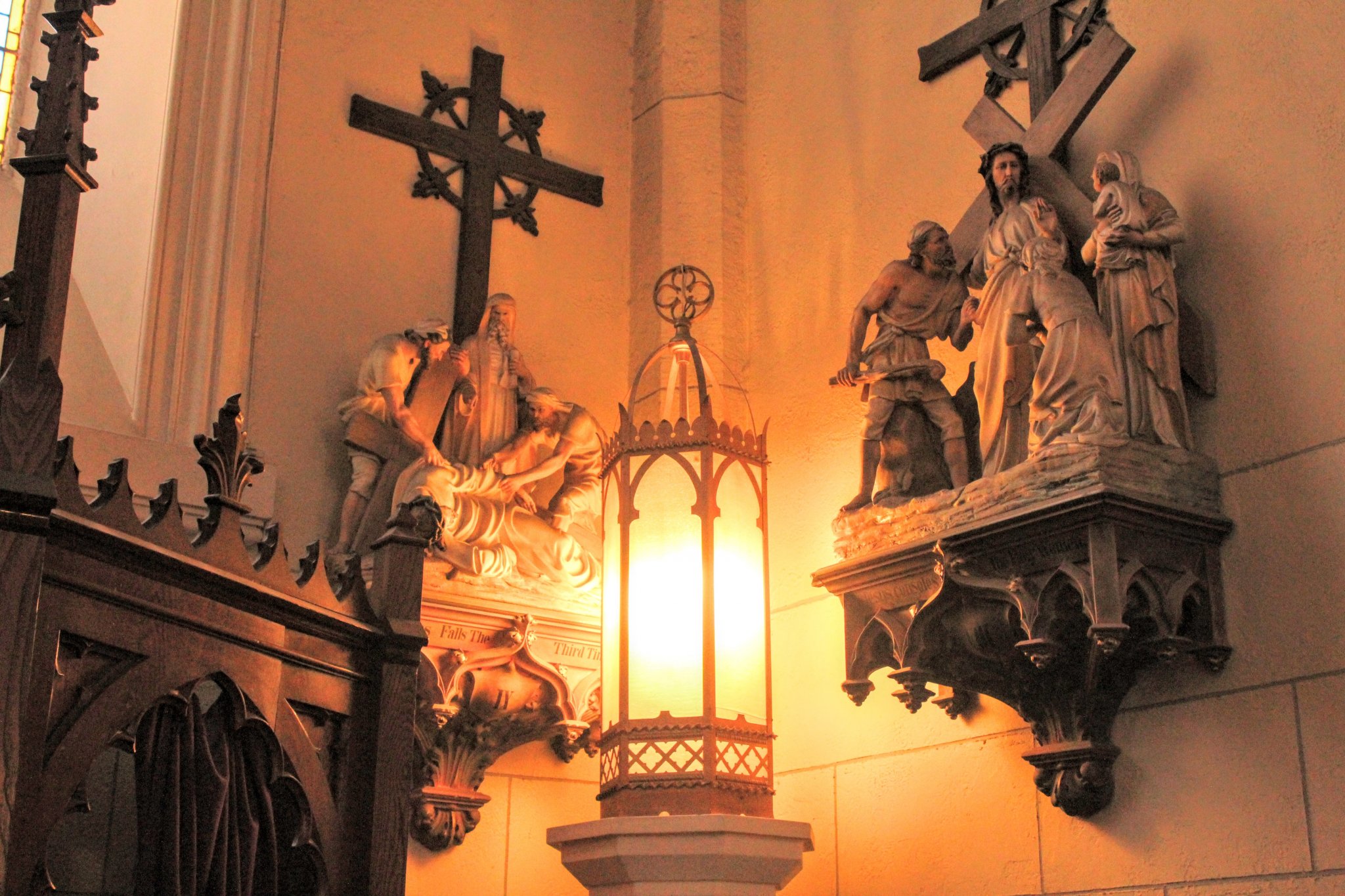 What To Do At Loretto Chapel
Being a mystery lover, I just had to go in and see Loretto Chapel myself.
Could I crack the case? Absolutely not.
But I thought it would be fun to take you around the chapel with me and collect facts and evidence so we could try to piece together the puzzle for ourselves. You can be Poirot and I'll be Hastings, picking up evidence and letting you draw your own conclusions. Shall we go in?
I'll take you on a little tour and if you find any clues, let me know.
We'll:
Browse around some of the markets outside the chapel
Listen to the audio tour
See the staircase
Explore the gift shop
What To Expect At Loretto Chapel
The chapel itself is a faded brown brick building with splatterings of gothic architecture. There happens to be a spa right next to the chapel, also titled "LORETTO". But we're not going to make the mistake of hooking that red herring and going through the spa entrance (although the labeling tempted me to do so the first time).
As we walk inside, voices ricochet around us. Loretto Chapel plays an ongoing audio story during our visit, so we grab a pew in one of the rows and listen.
The detail in this chapel is incredible – the stained glass walls are a mosaic of colors and interwoven stories. The altar is detailed with two parallel angels with crafted wings that tip slightly above their heads. One, to the left, is looking upwards with a glint of a smile and the other is glancing downwards solemnly, hands pressed together. A statue of Jesus at the crucifix is at the center against a plated back.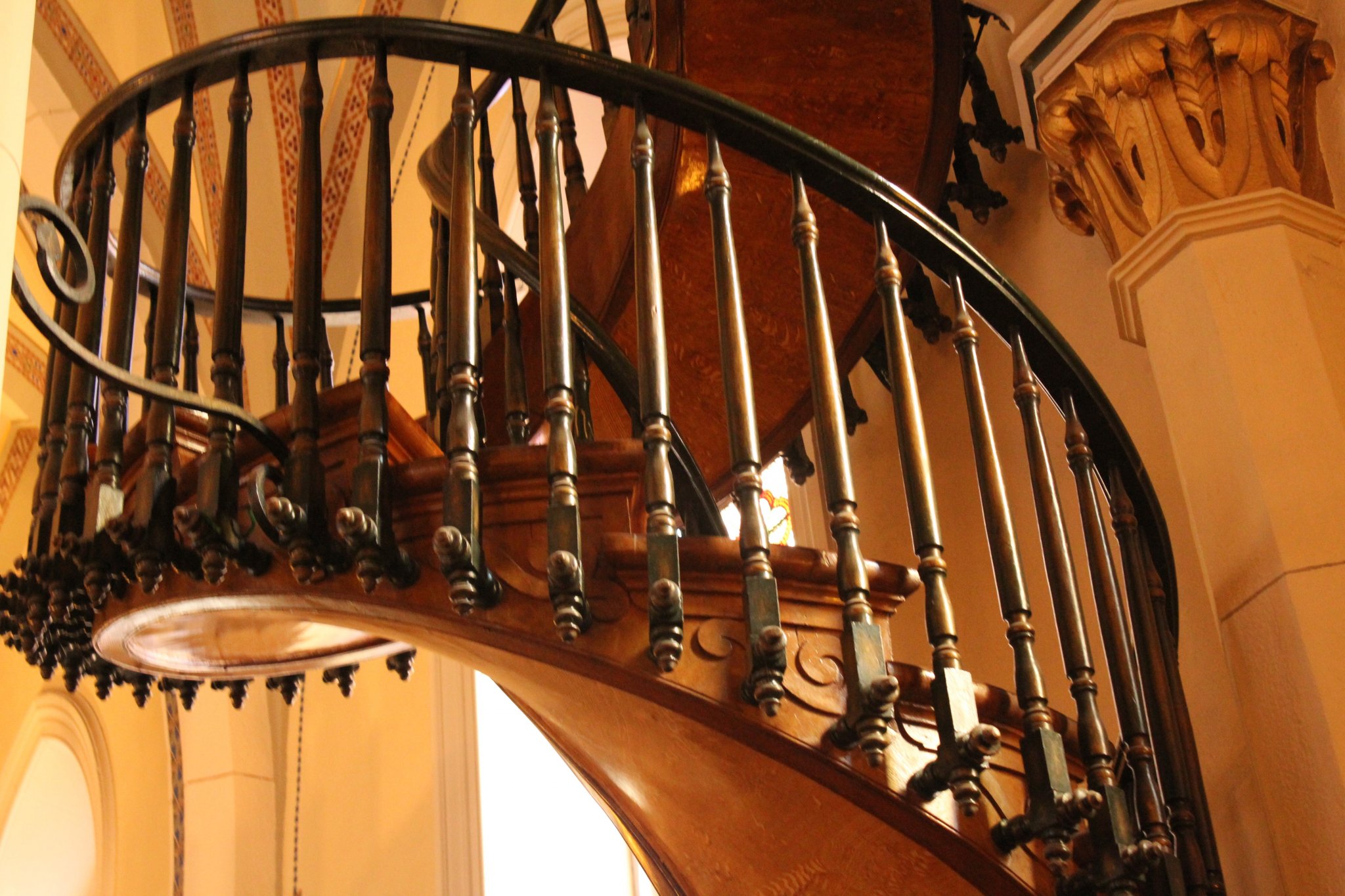 There are also several other pieces backed onto the walls. Each is held on a perch with a metal cross. The statues within the pieces all tell their own story though and depict different biblical scenes. These figures are glazed in lighter pastel colors that blend seamlessly with the whitened glow of the chapel. Several candles are lined in neat rows beside the lecter. A statue, that appears to be of Joseph and baby Jesus, is looking kindly downwards, protectively, at the chapel floor.
Where Is The Loretto Chapel Staircase?
The staircase itself is towards the back. We can see it spiral, make two full circle loops before reaching a loft-like area. It's roped off, but the power and mystery still whirl around the church. Even now, it is quite obvious that the staircase has no central support. The banister creeps forward around with staircase, its design masterfully fuses the staircase into the design of the chapel.
For some reason, the engineer in me wants to dismiss the marvel and say that there is an inner string or wire-like fixture looping through the staircase.
But somehow, I can't bring myself to shatter the story. Whoever came in, St. Joseph or other, showed a kindness that needs to be more prevalent in the 21st century.
In the end, I realize, it's not the mystery of Loretto Chapel that brought us here. No. We are here to admire the kindness of a stranger who demonstrated being a light in darkness so we can aspire to do the same.
Chapel Address: 207 Old Santa Fe Trail, Santa Fe, NM 87501
Chapel Cost: $3

Did you enjoy this post? What are your theories regarding Loretto Chapel? Tell me in the comments below! I would love to hear your theories and ideas.