These are the best art museums in Fort Worth for art lovers, art haters, and those in-between.
Fort Worth is a cowtown. It's got an old-school vibe that's slightly Western and slightly modern. In between longhorn walks, dusty footpaths, tall buildings, honky-tonks, hip brunch spots, and a lively town square are museums worth a visit (if you can squeeze them into your itinerary).
While Dallas is one of Texas' biggest art hubs, Fort Worth's art museums hold their own.
I recently traveled to Fort Worth to explore some of the popular local museums (there's even a Christian Art Museum with a life-size wax recreation of The Last Supper).
Unsurprisingly, there were a handful of art museums in Fort Worth that spoke to my heart.
Without further ado, here are Passport To Eden's top picks for the best art museums in Fort Worth.
Best Art Museum In Fort Worth: Sid Richardson Museum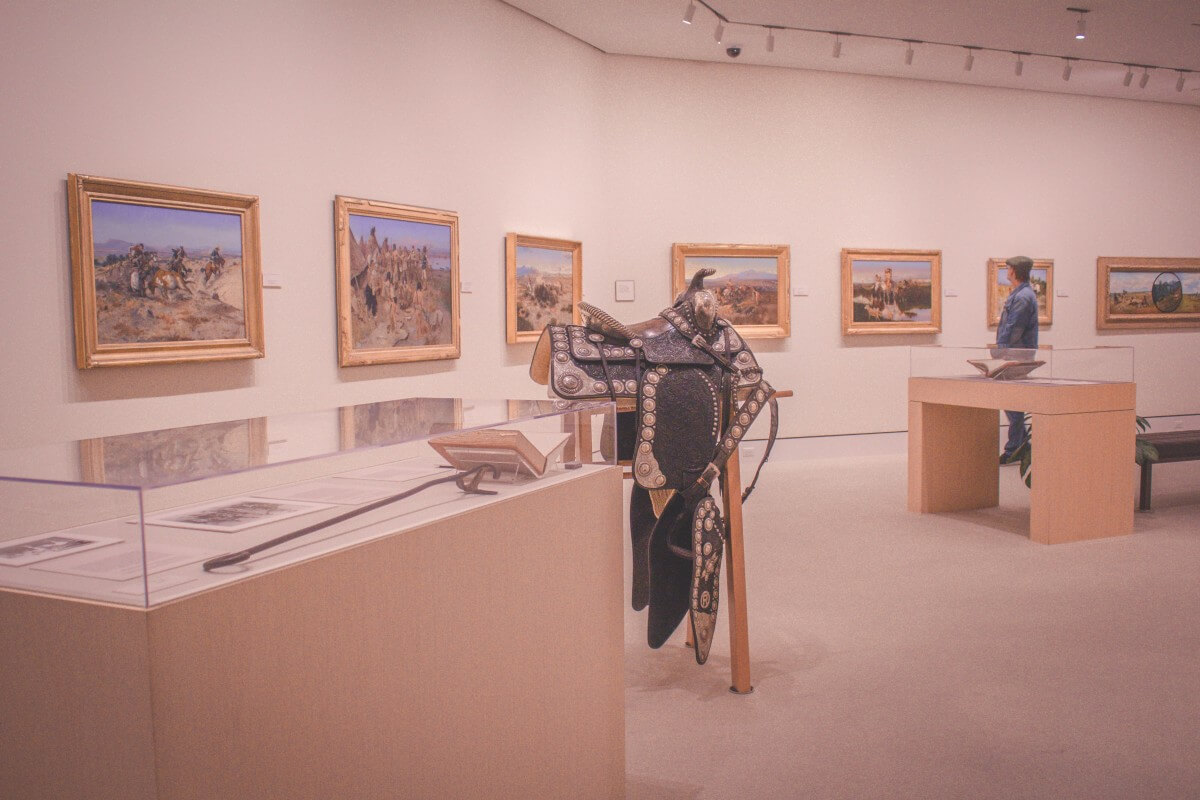 While the Sid Richardson Museum is one of the smallest art museums in Fort Worth, the tasteful collection of Westerns by Frederic Remington and Charles M. Russell is enough to make an expected twenty-minute visit last hours.
It's a self-guided tour. You pick up a pamphlet detailing the meaning, the technique, and the history behind each of the paintings upfront.
My husband isn't an art lover but even he fell under the spell of Remington's works.
Remington's early Westerns were surreal and dreamy, slightly impressionist but distinctly his own. His later works are the ones I love the most – oil masterpieces that play with darkness.
Works I'll Remember: A Taint On The Wind
I'm immediately to drawn A Taint On The Wind.
It's eerie.
Under light that's not quite white and not quite beige and not quite green,
I can feel the night whispering to me.
I can hear the clip-clop of horses' hooves,
Trembling on uneven ground.
I'm so caught up in the net of blacks,
I forget there are stars hanging in a corner of the sky.

The more I look at the painting,
The more I notice how unsettling it is.
A Taint On The Wind is dramatically unsettling.
The horses are bony and sinewy.
Like the skeleton of the softly-lit carriage,
They drag forward.
They too look like ghosts dancing in the night.
Sid Richardson Art Museum Travel Tips:
There are free docent-guided tours every Tuesday and Saturday at 2:00 PM
Ask for a gallery guide at the front desk
There are two parking garages within Sundance Square (near the museum) but we chose to park streetside over the weekend.
Best Free Art Museum In Fort Worth: Kimbell Art Museum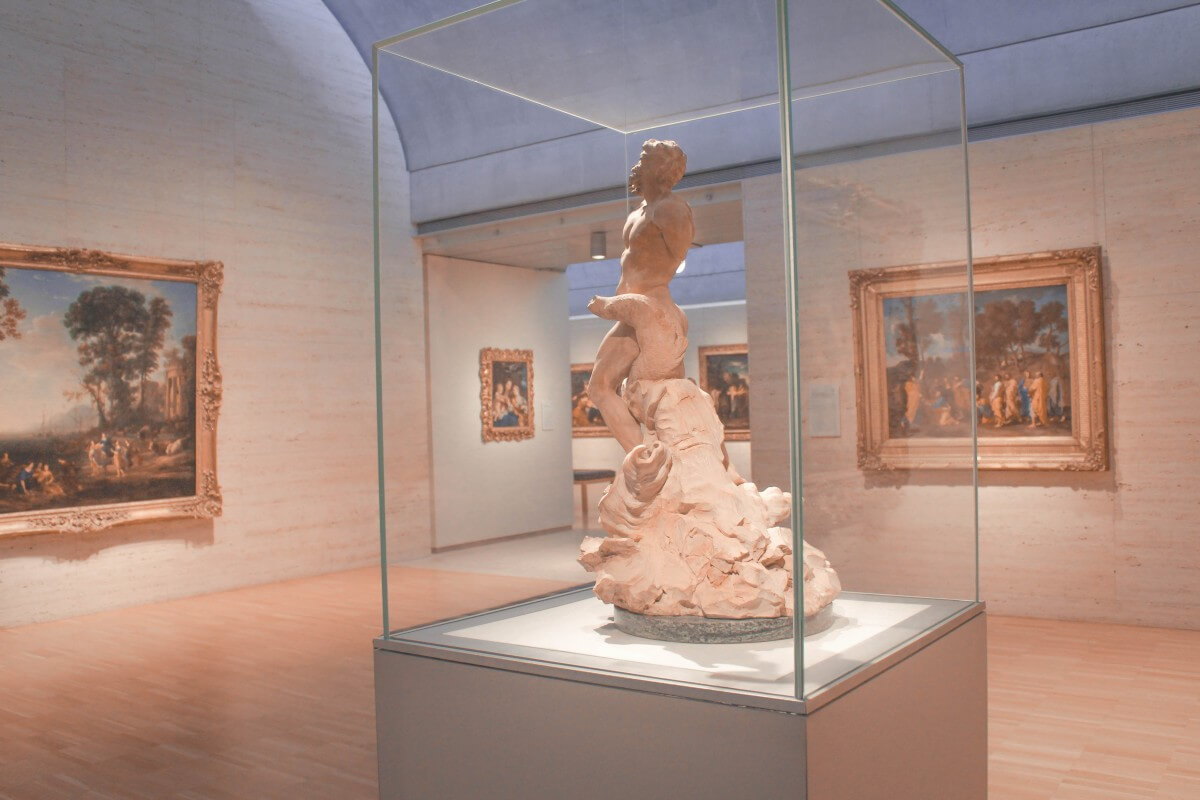 The Kimbell is one of the most ambitious free art museums in Fort Worth.
From Michaelangelo's first work (Kahn. South Gallery) to classical antiquities, The Kimbell hosts an impressive collection sumptuously stretched across two buildings.
It's an art lovers' paradise. Don't miss Ercole de Roberti's Portia and Brutus. From afar, this is a seemingly innocent piece. Up close, it's an entire story played out in tempera.
Kimbell Art Museum Travel Tips:
On weekends, especially Saturdays, the Kimbell gets crowded. Arrive early.
Food and drinks are not allowed in the museum. But there is a Renzo Piano Pavilion, between the two buildings, where you can bring a picnic lunch (highly recommended).
Take a few minutes to see On the Pont de l' Europe by Gustave Caillebotte, my favorite monochromatic piece in-house. It gives me chills every time.
Best Underrated Art Museum In Fort Worth: National Cowgirl Museum And Hall Of Fame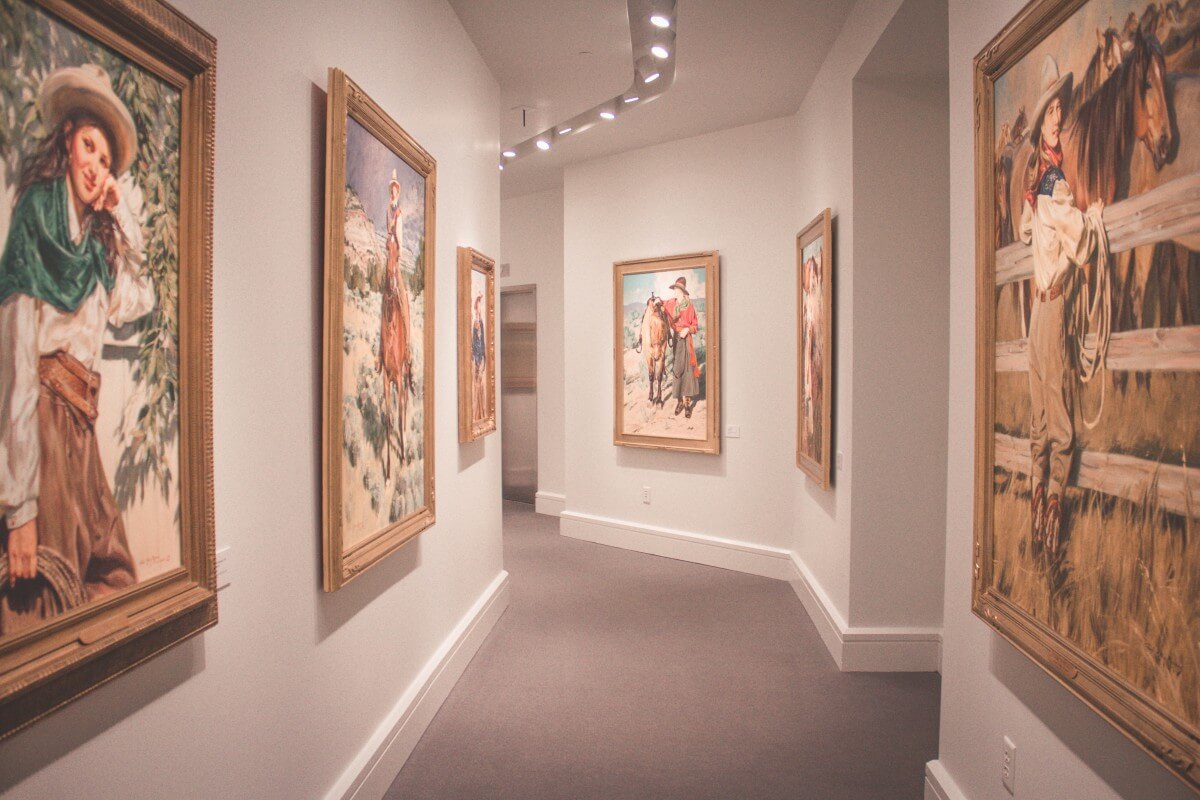 Although the National Cowgirl Museum And Hall Of Fame is known as a history museum, its collection of portraits, paintings, and photography makes it one of the most underrated Fort Worth art museums.
Terri Kelly Moyers' paintings capture the Western imagination. She paints her subjects carefree, slack, and wild (though one of my favorite paintings by her, The Three Graces, is none of those things).
Don't miss Green Leaves Of Summer, a warm-toned oil on canvas. You'll see it towards the end of your trip, upstairs, past the vibrant cowgirl costumes and fitted saddles.
National Cowgirl Hall Of Fame Travel Tips:
Keep your receipt. If you visit the Museum of Science and History or the Cattle Raisers Museum on the same day, you get a significant discount.
There's a parking lot. Parking will set you back an additional $10.
There are several interactive displays. And the videos scattered throughout the museum are worth a watch.
Best-Located Art Museum In Fort Worth: Amon Carter Museum Of American Art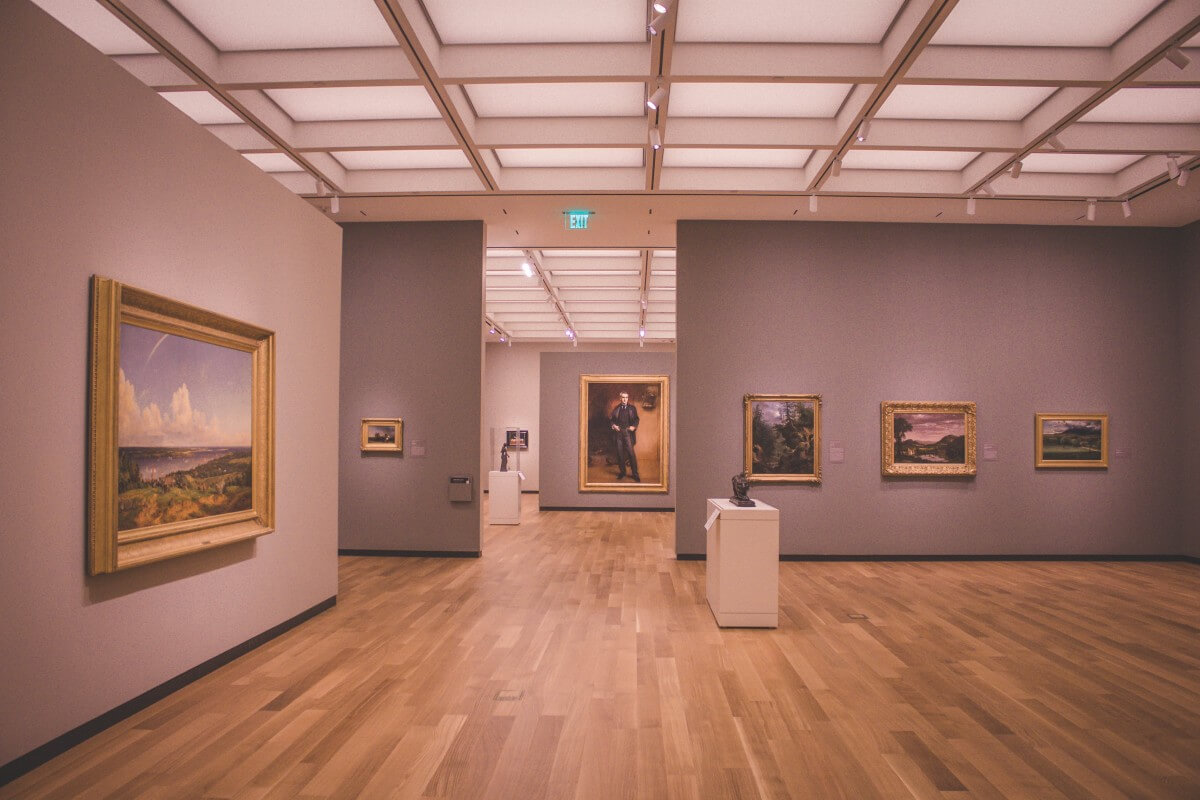 One of the best-located art museums in Fort Worth, the Amon Carter Museum of American Art is steps away from some of Fort Worth's most popular family-friendly attractions.
The museum itself is sizeable – multiple rooms, many collections. Outside is a grassy stretch skirted by a tiny walkway. Along the path, a sculpture, and towards the end, an overlook of Fort Worth's incredible cityscape.
Work your way through Hassam and O'Keeffe. Save Remington and Russell for last.
Amon Cart Museum Of American Art Travel Tips:
Start at the library. It's a showstopper – a sample of 50,000 books set in dark wood, L-shaped shelves, amongst clandestine lights.
There's free WiFi on-site. It's CarterConnect (if you want to spend an afternoon working in the gallery).
Modern Art Museum Of Fort Worth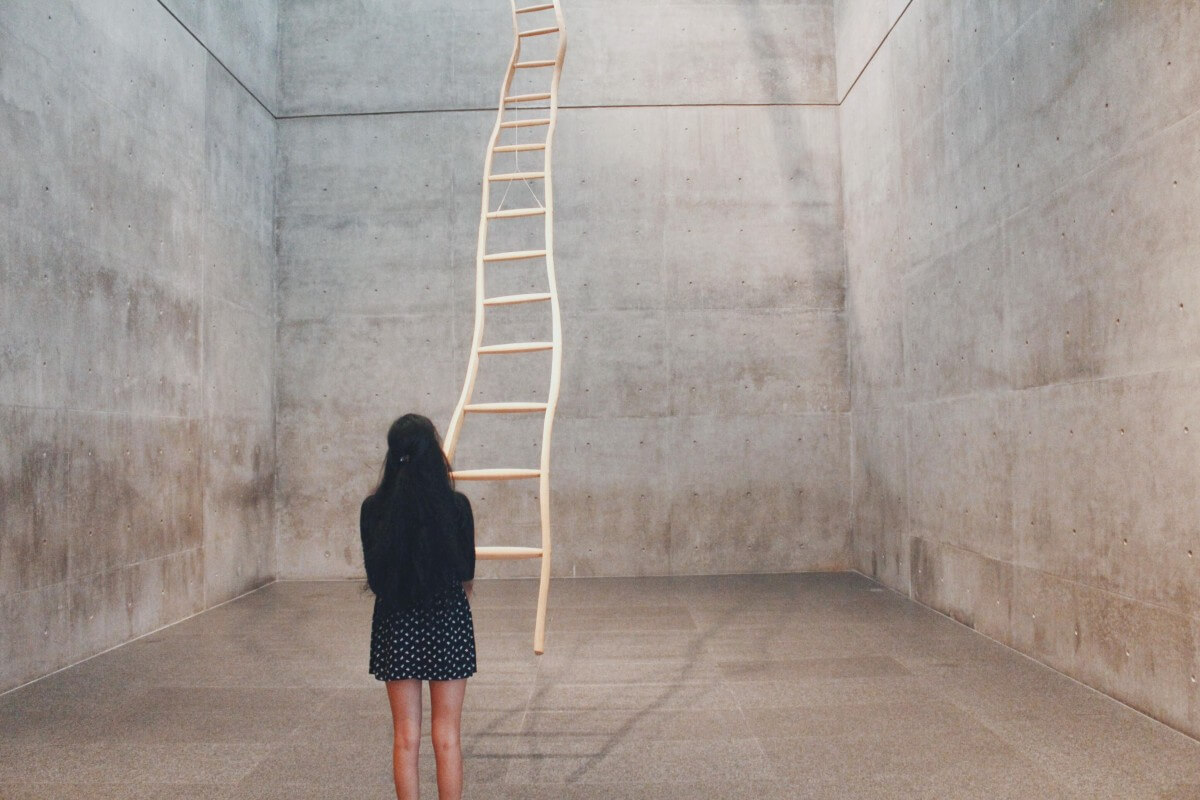 Even before you catch a glimpse of the Modern Art Museum of Fort Worth (known by locals as The Modern), you'll want to enter.
Japanese architect Tadao Ando's design is paradise – transparent walls, tall pavilions, a 1.5-acre reflecting pond, skylights – making The Modern one of the most beautiful art museums in Fort Worth.
The collection is as simple and grand as the exterior. The pieces are evocative and thought-provoking, illuminated by soft natural lights.
Plan to spend a full day here. Brunch at Cafe Modern (I normally dislike museum food, but Cafe Modern is an incredible restaurant. Even if you're not planning on visiting the museum, add this to your list of Fort Worth eats). Explore the galleries until evening.
Works I'll Remember: Ladder For Booker T. Washington
I'm at the base of a ladder.
It's infinitely tall.
The rungs stack between what's - 
Crooked,
Bent.
It's life in a nutshell.
Well, life on a ladder.
And I wonder,
If I climbed it.
Would I reach the top.
Or would I realize this is
All an illusion.
And my dreams are pipe dreams.
But I guess,
I'll never know.
Unless I step on that first rung.
Tell me, Mr. Washington,
Was the struggle worth it?
Modern Art Museum Of Fort Worth Travel Tips:
Docent-led tours at 2 PM. Every day between Tuesday through Sunday.
Heads up, it's closed on Mondays.
Tickets are half-price Sundays and free Fridays.
Series Note: Works I'll Remember is a series in which I share my immediate reactions to certain works of art. In this series, I challenge myself to capture how I feel about one painting (whatever I'm attracted to) within 60 seconds. These excerpts are not reformatted, edited, or reworded in any which way afterward to keep the content as real and raw and heartfelt as possible. I apologize in advance for any grammar errors or weird formatting.
Did you enjoy this post on the best art museums in Fort Worth? What are your favorite art museums in Fort Worth (or in general – I'll add the spot to my bucket list)? Let me know in the comments below! As always, I love hearing from you.