best Airbnbs in Austin to wishlist
Airbnbs in Austin are undeniably quirky. They have to be. Austin plugs creativity. It's a patron of the arts and a musician's mecca. As a result, most Austin Airbnbs are unafraid of taking big risks when it comes to design. And the risks pay off.
Airbnbs in Austin are bold and unique and stylistically Austin through-and-through.
Without further ado, here are our picks for the most unique (and stunning) Austin Airbnbs for every budget!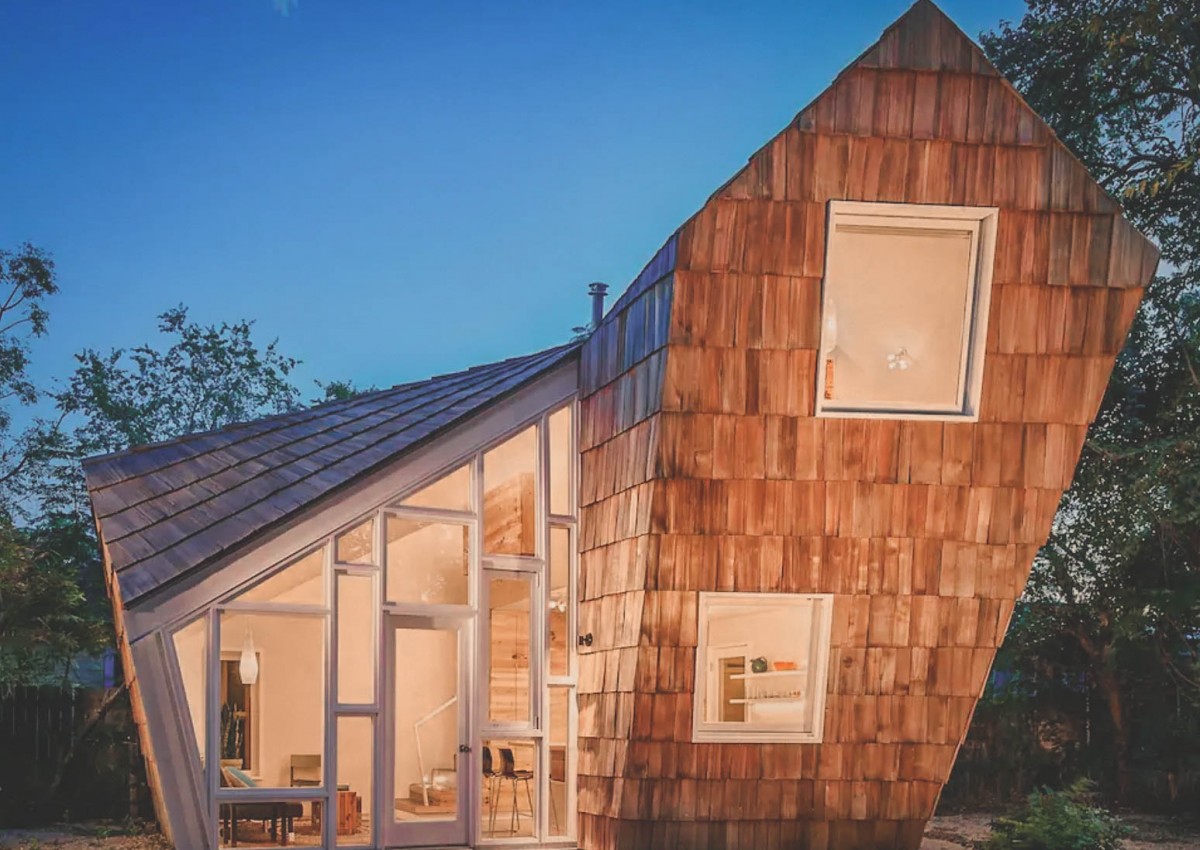 photo credit: courtesy of Airbnb
East Side Beehive is easily one of the best Airbnbs in Austin. The rental has a unique exterior that's worth all the buzz.
With a partially shingled wooden facade and big windows, East Side Beehive is a space that drips charm. Its interior is open and airy and light-filled (even the bathroom has a crack of light).
Behind East Side Beehive is Nicole Blair, a daughter of Austin and a graduate of Cornell University. In the architecture community, Blair is a bit of an A-Lister. I mean, she helped with the design of Franklin Barbecue, one of the most iconic smokehouses in Austin (excuse my fangirl moment), so staying at a property designed by her is an absolute dream for any architecture buff.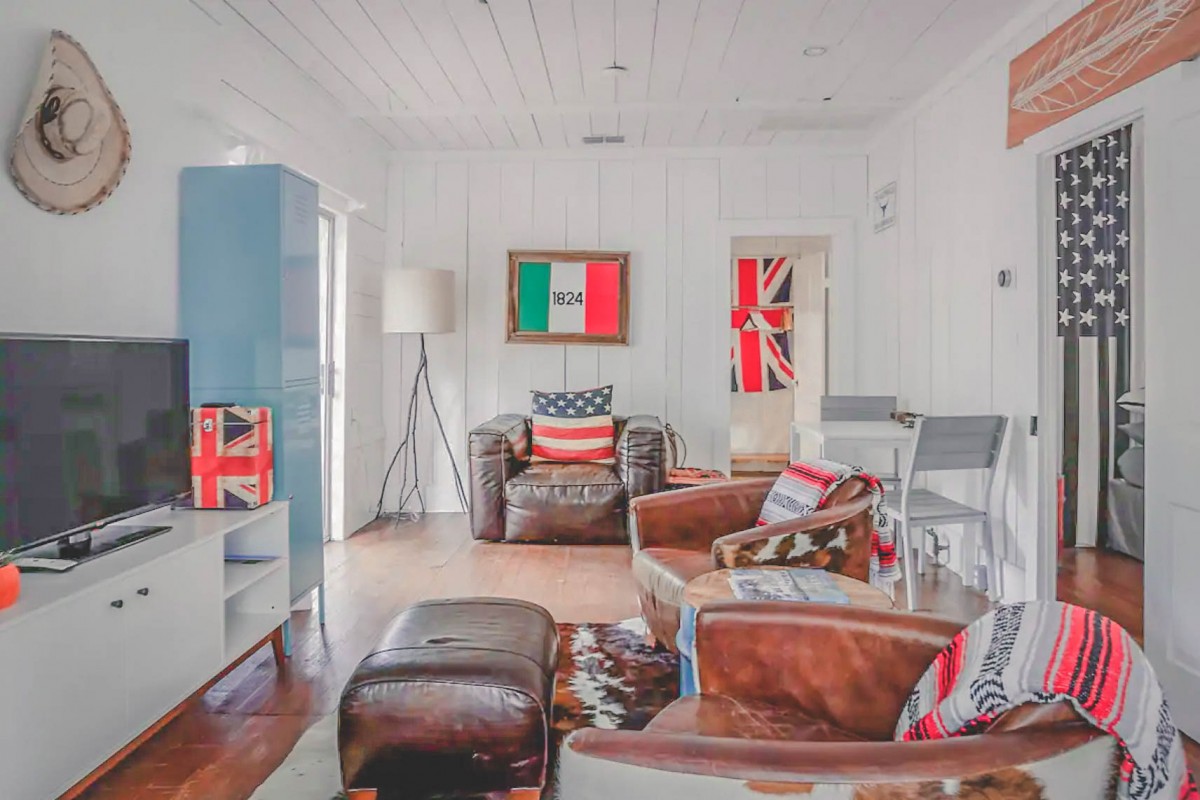 photo credit: courtesy of Airbnb
A floorplan intimate enough for two. Quintessentially Austin statement pieces. A heartbeat location perfect for first-time visitors. Austin Texas House South Congress is a triple threat.
It's a place with peculiar (yet luxurious) decor that works – a cowhide rug, Pottery barn bed sets, a Topo Chico branded cooler. Why not?
Austin Texas House South Congress feels fluid because it's Austin. The 700 square foot rental comes fully kitted with a kitchen and washer and dryer.
photo (left, top right, bottom right) credit: courtesy of Airbnb
This Colorful And Quirky Zilker Townhouse has all the colors of a fruit basket – banana yellows, cherry reds, grape greens. It's strange to say but the funky palette of Lois' rental is what makes it stand out as one of the best Airbnbs in Austin.
The house is two stories and dressed head to toe in original artwork. And it's less than a ten-minute walk from Barton Springs Pool!
photo (left, top right, bottom right) credit: courtesy of Airbnb
It's hard to describe The Bloomhouse. And I think that's the point. The Bloomhouse is touted as "a giant seashell unicorn" but that tagline doesn't speak to its strengths as a curvy, styled-up man cave.
The Bloomhouse turns the whimsy dial up all the way. It's a place that brings fairytale magic to adults seeking a quiet glamping escape. It's the type of Austin Airbnb you'll considering splurging on for a celebratory weekend (birthday, anniversary). And then, you'll want to pinch yourself twice-over when you arrive (just to make sure this is not a dream).
P.S. This Austin glamping spot is run by Lodgewell. Pay special attention to the contract (as there is a secondary one with additional house rules and clauses).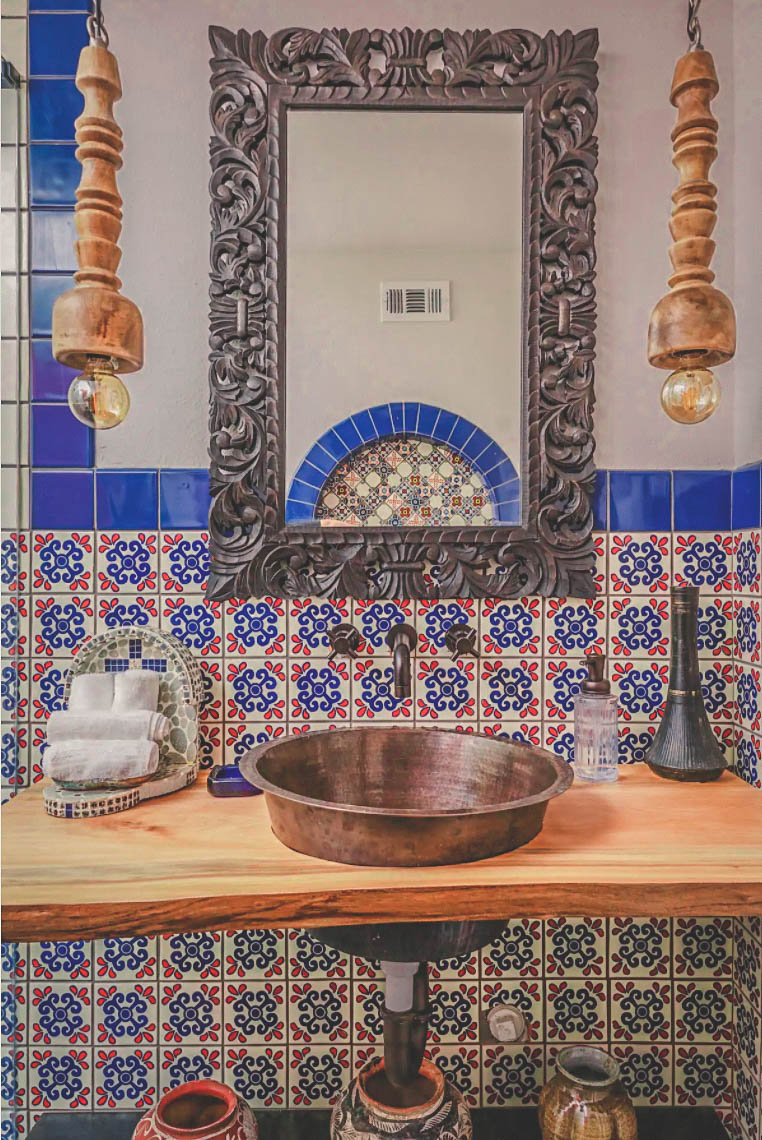 photo credit: courtesy of Airbnb
Historic Casa Cartel is complete with character. Every inch of this rental is visually stimulating. It's a feast for the eyes and senses.
The tiles (oh my goodness, the tiles) and wall prints carve up a space that's colorful and unique (I love the added gold-colored accents as well).
And despite the sheer amount of hues and opulent touches, Casa Cartel doesn't look gaudy. It's tactfully assembled all the way through, making it one of the most unique Airbnbs in Austin.
P.S. Casa Cartel is also one of the biggest Airbnbs in Austin (housing roughly 16 guests). At full occupancy, it's a steal for the price.
photo (left, top right, top bottom) credit: courtesy of Airbnb
Sweet South Austin is sparse in a way that's cozy.
At first glance, the rental unit is basic. But after honing in on the available amenities (and the small little additions left by Adam), it's easy to see that this little property has more than meets the eye. There's a dining space and bed and desk and sitting area. There's also a small fridge and microwave.
If you're not planning on staying in Austin for too long, the backyard studio, which sits under a leafy overhang, is one of the best places to get a feel for Austin.
photo (left, right) credit: courtesy of Airbnb
One of the best Airbnbs in Austin for solo female travelers, Charming East Austin Apartment is just as its name suggests – charming.
It has a soft jungle vibe with a frond-print blanket and zebra print rug and quirky yellow-coated animal doorknobs. There's a private entrance and balcony (where you can nurse a morning cup of joe). You'll also find a quasi kitchen – hot plate, toaster oven, coffee maker.
photo (left, top right, top bottom) credit: courtesy of Airbnb
Extraordinary East Austin Retreat is one of the most underrated Airbnbs in Austin. With cute wooden finishes, an upper loft (that feels like a cabin), and an outdoor swing bench that seats two (hint), it's a space that you'll quickly warm up to.
I love the rustic boho style of Extraordinary East Austin Retreat. Every time I see the photos, I immediately feel like booking a weekend here and taking some time to unplug and write.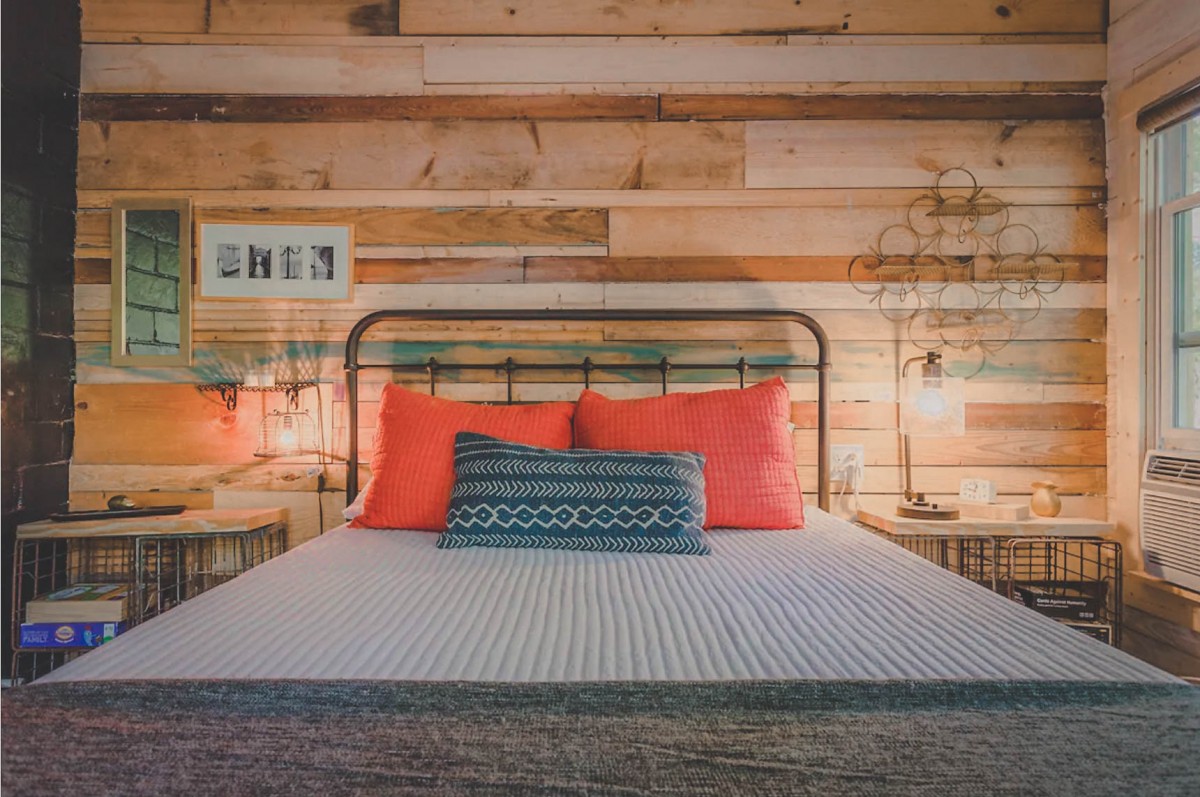 photo credit: courtesy of Airbnb
Stylish Creekside Cottage is one of the best Airbnbs in Austin on aesthetics and amenities alone.
Tucked close to a busy street (fair warning, it can get noisy), the rental basks in fall tones year-round. There's a rugged and upbeat feel to the property (a funky wooden wall behind the bed, a homey U-shaped kitchen, intentional metal accents).
P.S. You'll also notice a bit of complimentary wine when you arrive (yes, please).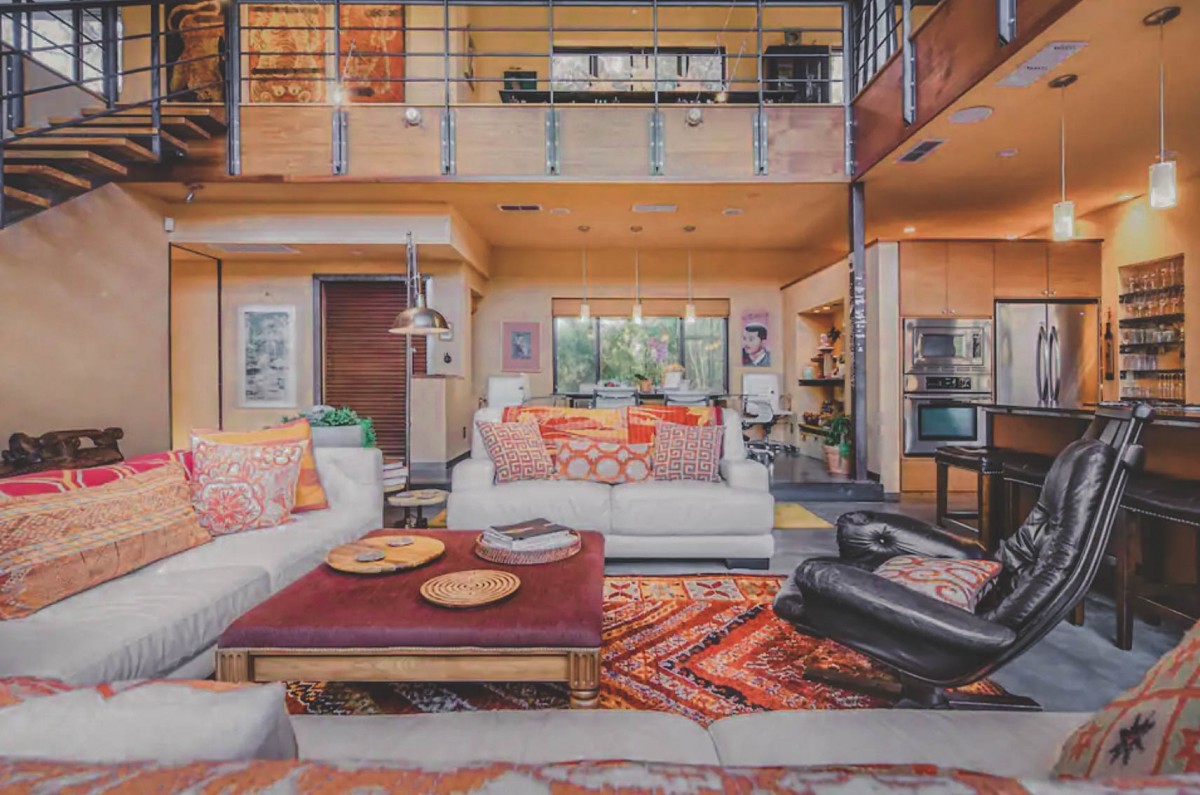 photo credit: courtesy of Airbnb
It's no secret that Bali-Inspired Artist's Loft is one of the most popular Airbnbs in Dallas for bachelorette get-togethers.
From the patio to the dining room, this house, big enough for 12, is Eastern-crafted in style and furnishings. The palette is warm. Orange, yellows, and reds take charge of the space. And the patio and 2-acre gardens are doubly beautiful.
Sharon, the host, goes the extra mile in terms of amenities (every room is fully stocked). She can also provide access to a personal chef cooked meal, a private yoga session, and an on-site massage (so if you're booking this property, inquire and take advantage of ALL the bonuses).
Hands-down, this is one of the best Airbnbs in Austin for a girlfriend getaway and treat-yourself day!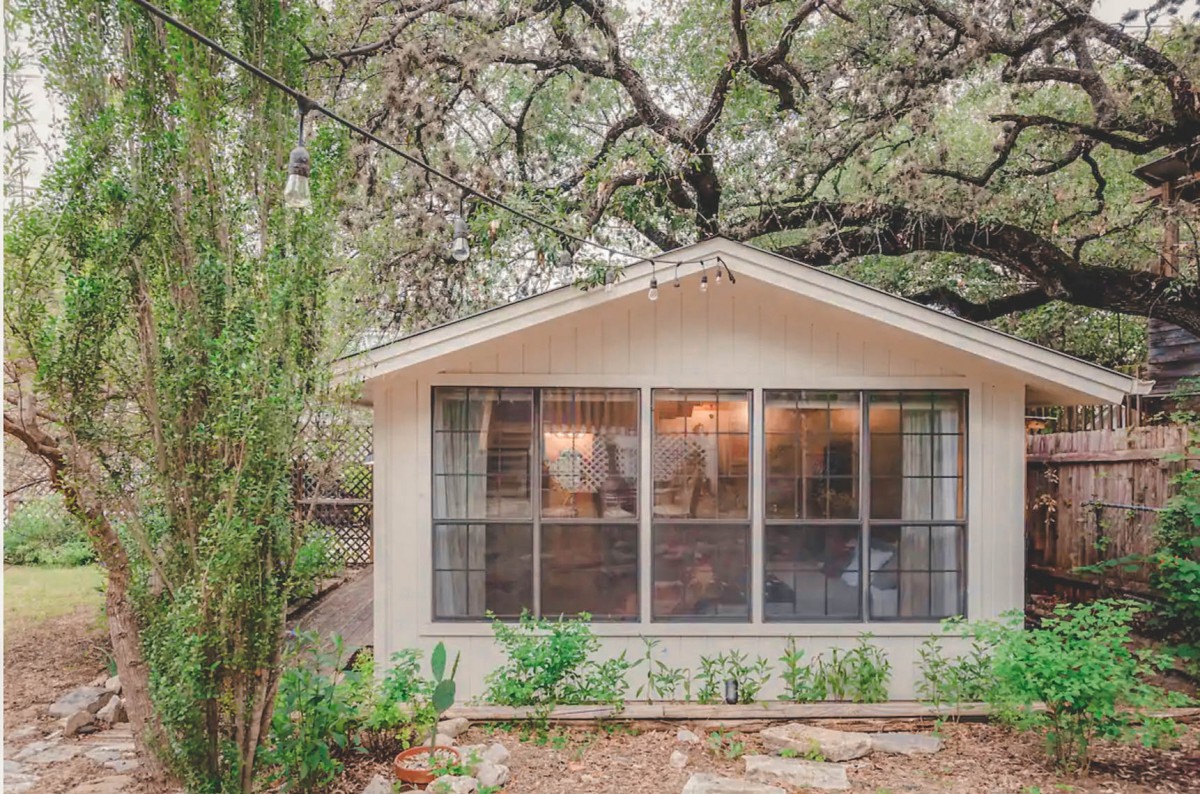 photo (above, below) credit: courtesy of Airbnb
The location of Laura's detached cottage is everything. It's walking distance (you might still want to use a car though) from South Congress, a trendy shopping district rife with with boutiques and restaurants.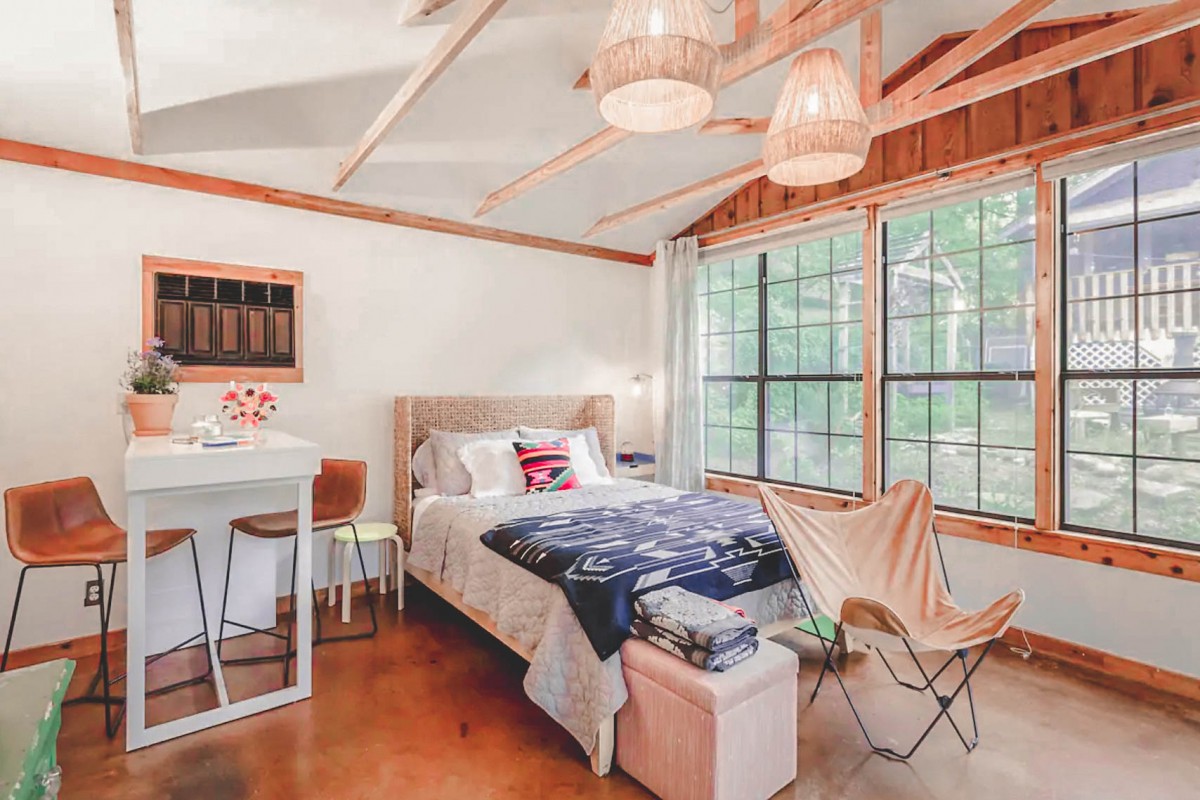 Hip Travis Heights Cottage is one of the best Airbnbs in Austin for couples looking for a cozy weekend getaway. Play a vinyl record. Cook a comforting meal. Sleep beside a wall-length window. Wake up to local Austin coffee. Explore South Congress. Repeat.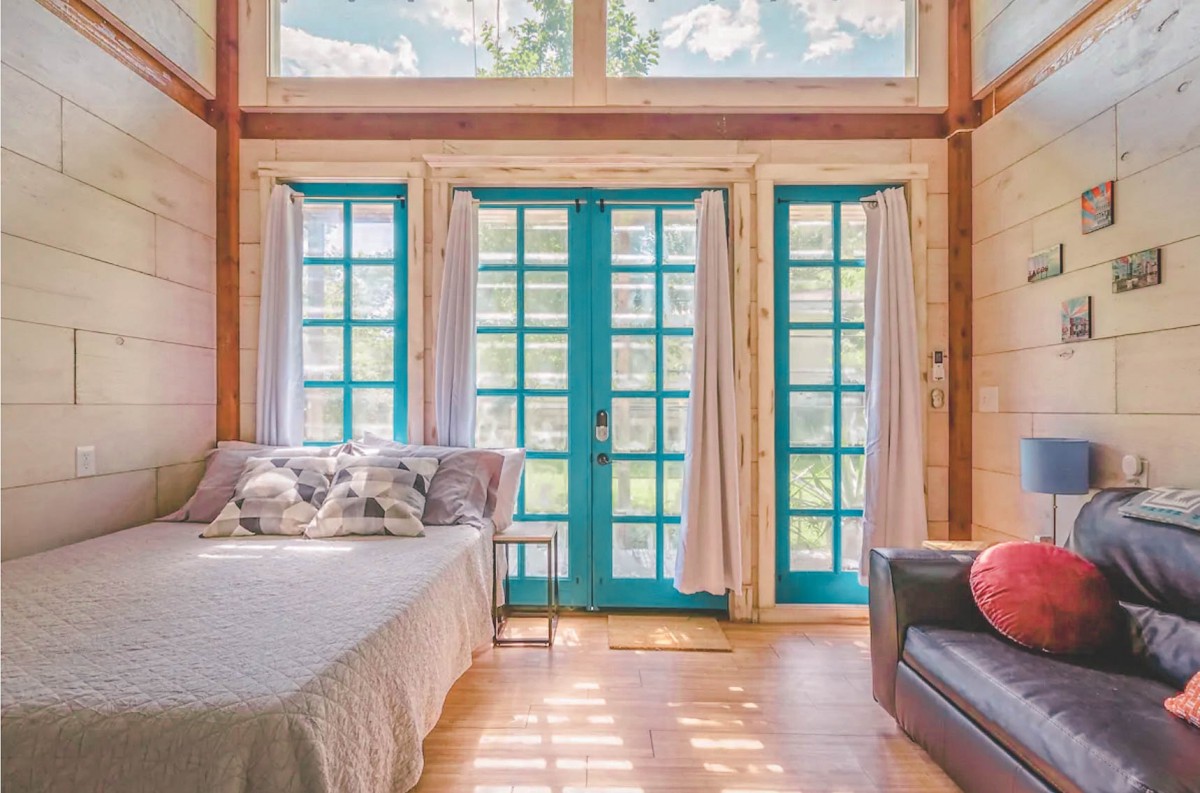 photo credit: courtesy of Airbnb
A 2011 art studio that evolved into a wood-trimmed guesthouse, Charming South Austin is one of the best Airbnbs for couples passing through Texas' capital.
The studio is equipped with the basics. And the location is just a stone's throw away from some of Austin's trendiest coffee shops (my coffee radar is always alert) and taco joints.
photo credit: courtesy of Airbnb
Close to the Austin-Bergstrom International Airport, Scott's Garage Apartment is a clean, modern option. The 500 square ft apartment makes good use of space. Within one open floorplan, you'll find a breakfast nook, a full kitchen, a living area, and a bedroom.
The location is also within a few miles of Zilker Park and Lady Bird Lake Trail and The Austin Convention Center!
photo (left, top right, top bottom) credit: courtesy of Airbnb
Natural light washes this Midcentury Modern Glass House near Lake Travis. Valerie's fully kitted property is the epitome of nature indoors. You'll find small botanical accents and wooden highlights and giant glass windows.
With a stone-backed shower and big tubs facing greenery, Midcentury Modern Glass House is stunning beyond compare. And the deck views of Hill Country? Wow, oh wow.
P.S. You'll want to visit when spring, summer, and fall take shape in Austin (March through mid-November).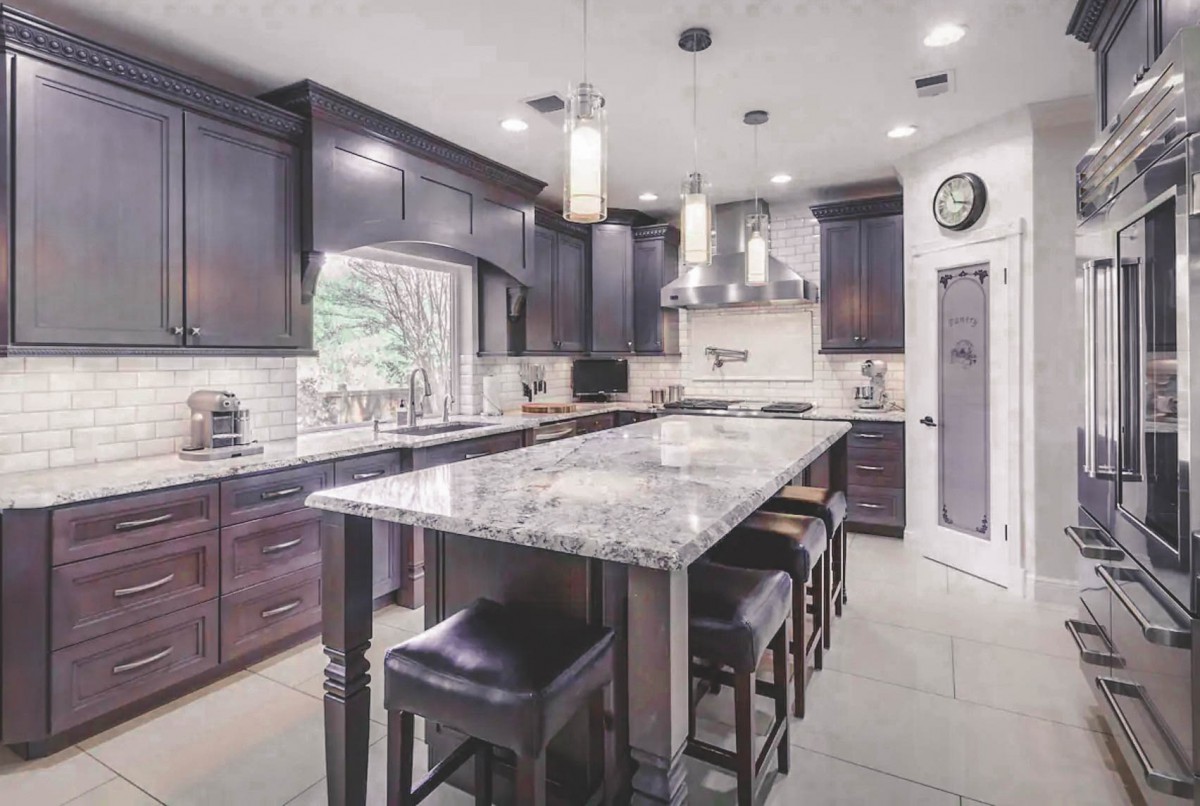 photo credit: courtesy of Airbnb
If you love cooking, you'll love Bryan's Austin retreat. A gourmet kitchen scoops up one section of the home. Segue outdoors and you'll find a grill and brick pizza oven and fire pit as well.
It's a place to make big meals and live out your chef dreams. Monica Geller would be pleased.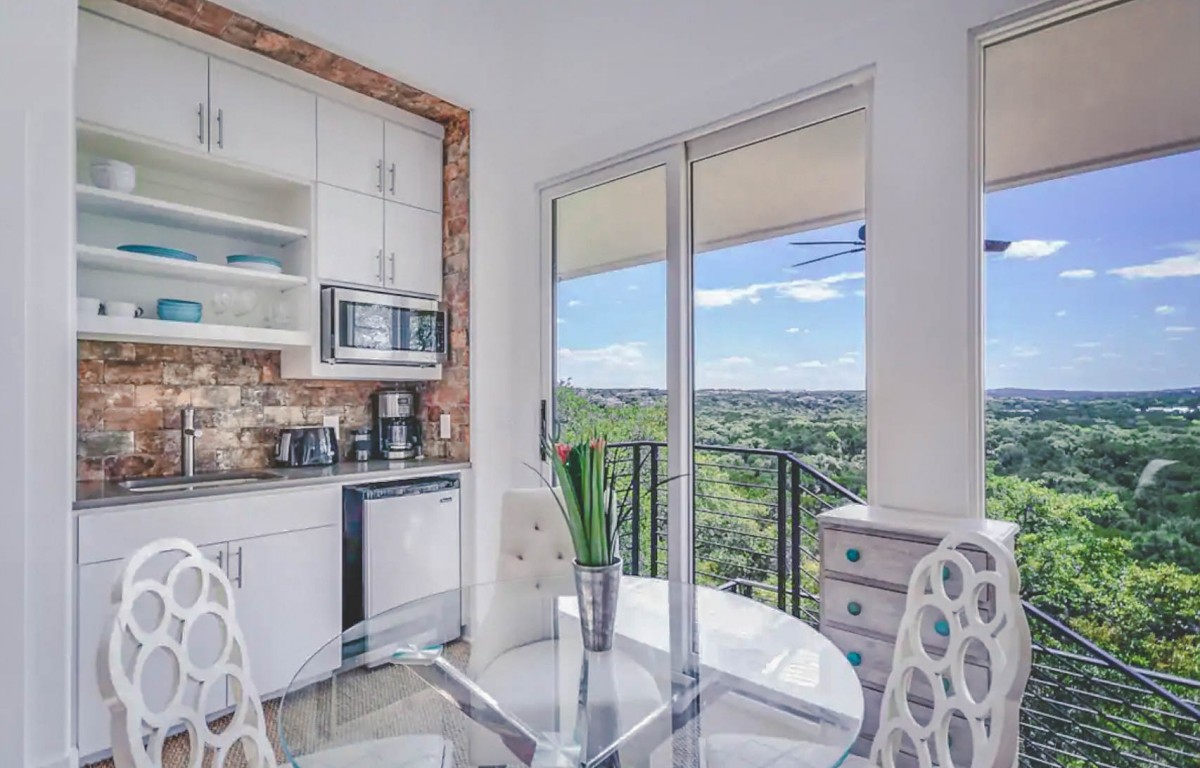 photo credit: courtesy of Airbnb
Cliff Top Cabin takes a top spot as one of the best Airbnbs in Austin for its views alone. It's a place to unwind, relax, and recharge.
There's a kitchenette with a sink, microwave, and coffee maker. Wake up to Austin gone green. Make yourself a slow-to-sip drink and take in the hilly swath above Barton Creek. Or opt for picnic lunch (there's a cute picnic area nestled on-site) and an indulgent deckside meal.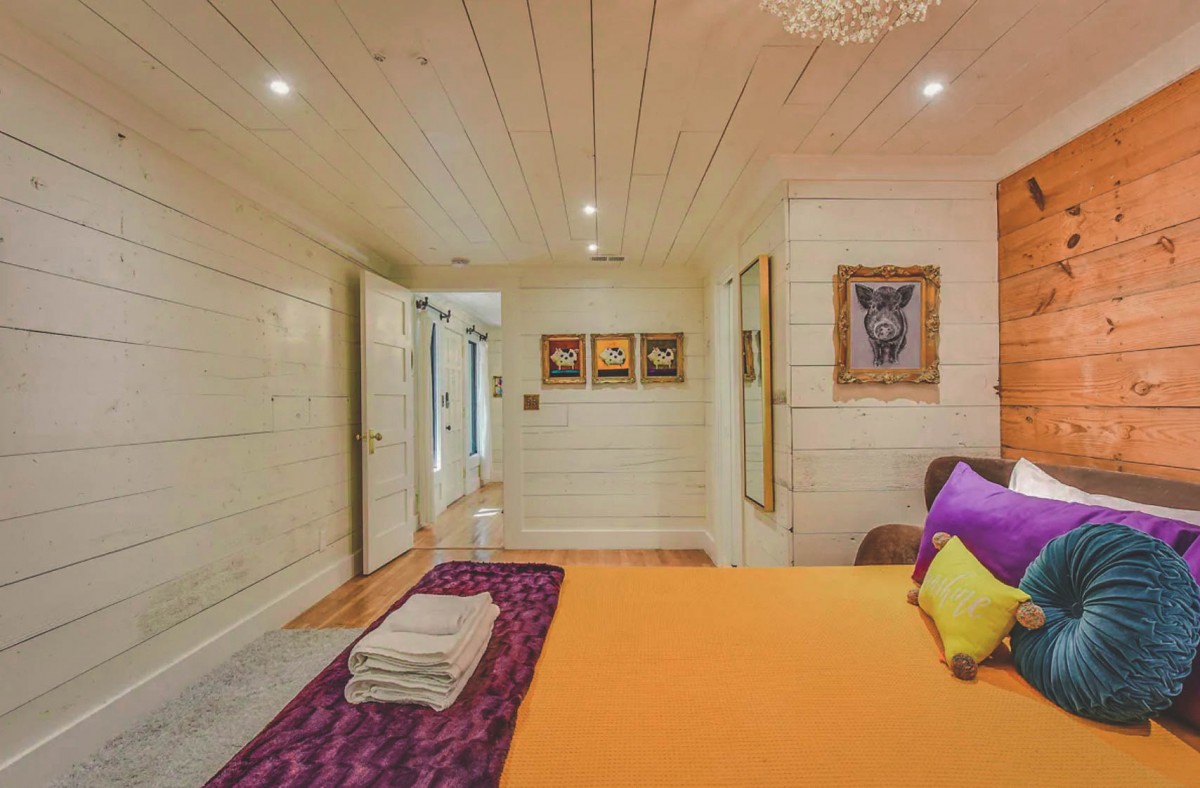 photo credit: courtesy of Airbnb
One of the kookiest (and simultaneously most stylish) Airbnbs in Austin, The Pig Pen somehow manages to be equal parts odd and chic. It's a cute pig-themed bungalow near SoCo and in a way, it's Austin to the core.
The spacious two-bedroom property is hosted by Hunter and co-hosted by Gerdeth The Pig. Animal lovers will fall for this location.
P.S. Gerdeth seems really sweet and reminds me of Arnold from Green Acres!

Did you find this list of Airbnbs in Austin useful? Do you have any other Austin Airbnbs you recommend? I'm forever going back and forth between Dallas and Austin so I'd love some recs!