20 stunning airbnbs in Dallas you need to bookmark
The best Airbnbs in Dallas strip down urban. They're chic and modern escapes (think rustic accommodations, contemporary floor plans, homey glamping units). A step into any of these Airbnbs feels like a step out of Dallas, the city, and a step into Dallas, a fairy tale.
It's crazy to think that I've been living in Dallas for almost six years now. And the third question I'm always asked by visitors is where to stay (the first being what to do and the second being where to eat). Considering I'm in love with Airbnb (no shame. it's my go-to choice of accommodation), this list is an unsurprising compilation of Dallas area favorites.
Here are my picks for the best Airbnbs in-and-around all the top Dallas districts!
photo (left, top right, bottom right) credit: courtesy of Airbnb
The Extraordinary Treehouse is without-a-doubt one of the most sought-after Airbnbs in Dallas. And it's easy to see why. The interior feels like a storybook page ripped from a Hans Christian Anderson themed edition of Architectural Digest.
The house is situated near leaf-bounded White Rock Lake (one of the most underrated spots in Dallas). The ambiance is romantic – woodsy, meditative, heavy on natural light. Danielle Kaserman's property is not the Dallas you'd expect but the Dallas you'll fall in love with. So if you're traveling to DFW as a couple (and looking for a secluded, tamer escape), add this Airbnb to your wishlist.
photo (left, top right, bottom right) credit: courtesy of Airbnb
Laid over an industrial foundation, Deep Ellum is street art stomped and pumped with innovative businesses (from a booze-filled pops chain to a seasonal Christmas cafe).
Charming Cabin strips Deep Ellum of its grit. This pine-scented tiny home, sized for two, creates an atmosphere that's warm and homey. It's in the middle of all the Dallas bustle but somehow, Charming Cabin manages to slow down and sleep under a shrubby shadow.
It's a small space but it's also detailed – ridiculously so. And the host (Grady McGahan) takes the time to add a bit more of a personal touch.
photo (left, right) credit: courtesy of Airbnb
Artist's Loft's roots took the form of a lawnmower repair shack in the 50s. Over time, the layout grew and evolved. Today, it's part home and part office. Light wood and white walls craft a space that's bright and welcoming. The bedroom (located in the loft area) is snug. And the property's patchwork colors add to its aesthetic, making it one of the cutest Airbnbs in Dallas.
The Artist's Loft is self-check-in but Grady (also the owner of the Charming Cabin) is an attentive host – easy to contact, quick to respond.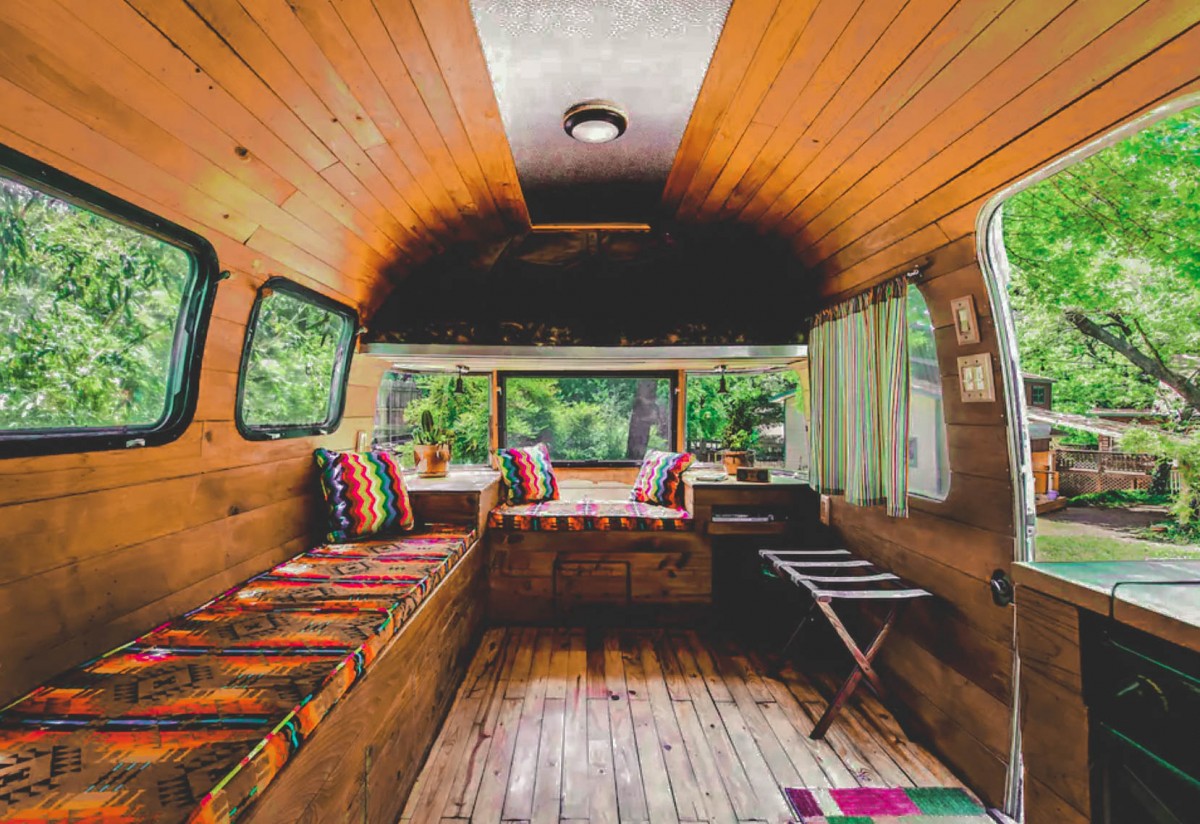 photo credit: courtesy of Airbnb
Vintage Airstream is the last of Grady's Urbandale trifecta. And whilst I don't normally mention different properties by the same host, I felt compelled to in this case. The reason is two-fold. First, each of Grady's properties is wholly unique. The custom-built airstream is boho chic. It's an earth-toned overture that's quiet and peaceful and serene.
Secondly, Grady is the founder of a disaster relief organization – RETREET. So staying at any of his properties helps him continue his passion – running a nonprofit that plants native trees across North America in order to recreate healthy urban forests.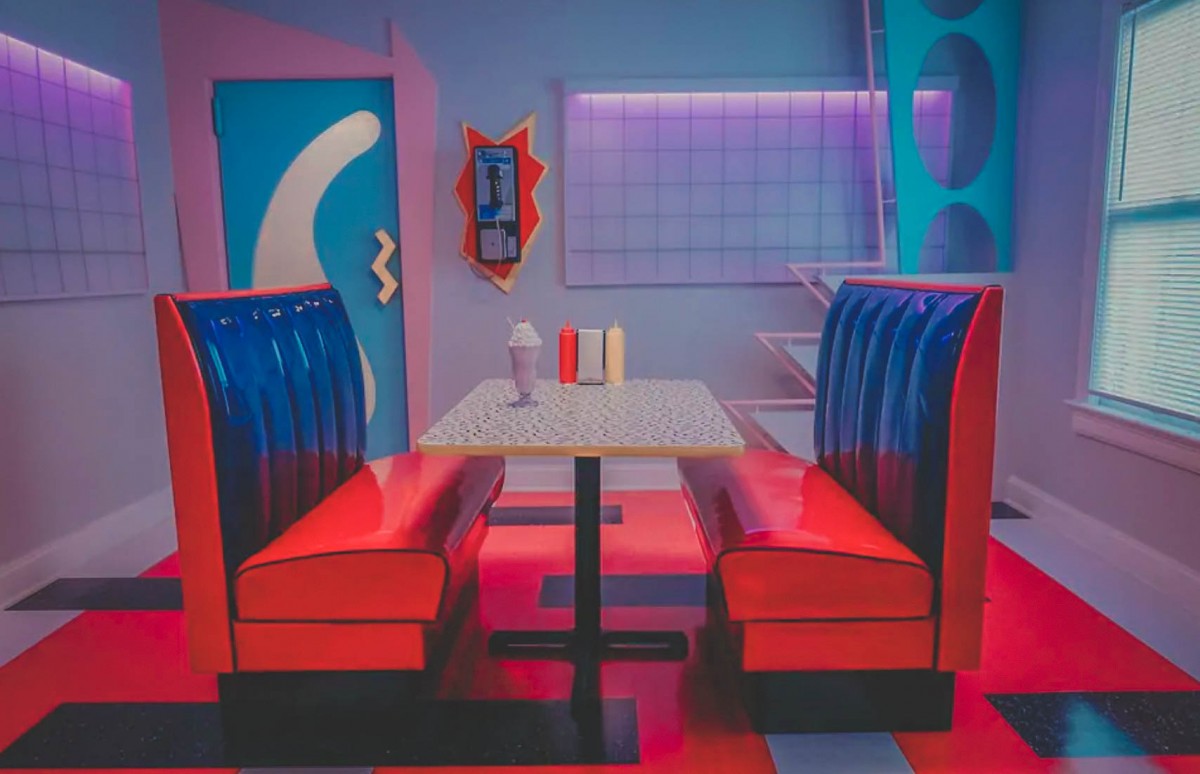 photo credit: courtesy of Airbnb
Jeremy and Kelsey have three retro Airbnbs in Dallas (The Slater, The Topanga, The McFly) and each one is equally immersive.
But The Slater, an ode to the 90s, is the ultimate throwback. During your stay, be sure to pop on a VHS tape (Saved By The Bell, of course) and play an old-school video game. Save room for your choice of cereal come morning. Fall into a sugar-induced food coma. Rinse and repeat.
P.S. The Slater's dining area (titled The Max) sits two chunky booths. Like the rest of the unit, it's bright and quirky.
photo (left, right) credit: courtesy of Airbnb
Kelsea's Tiny House is a one (and a half) story Airbnb that's a welcome retreat from the Big-D.
Located near Bishop Arts District, this cabin is beyond stunning. It's immaculately clean and fully equipped with all the essentials – a kitchenette, a space to relax, a cozy bed just a ladder climb away.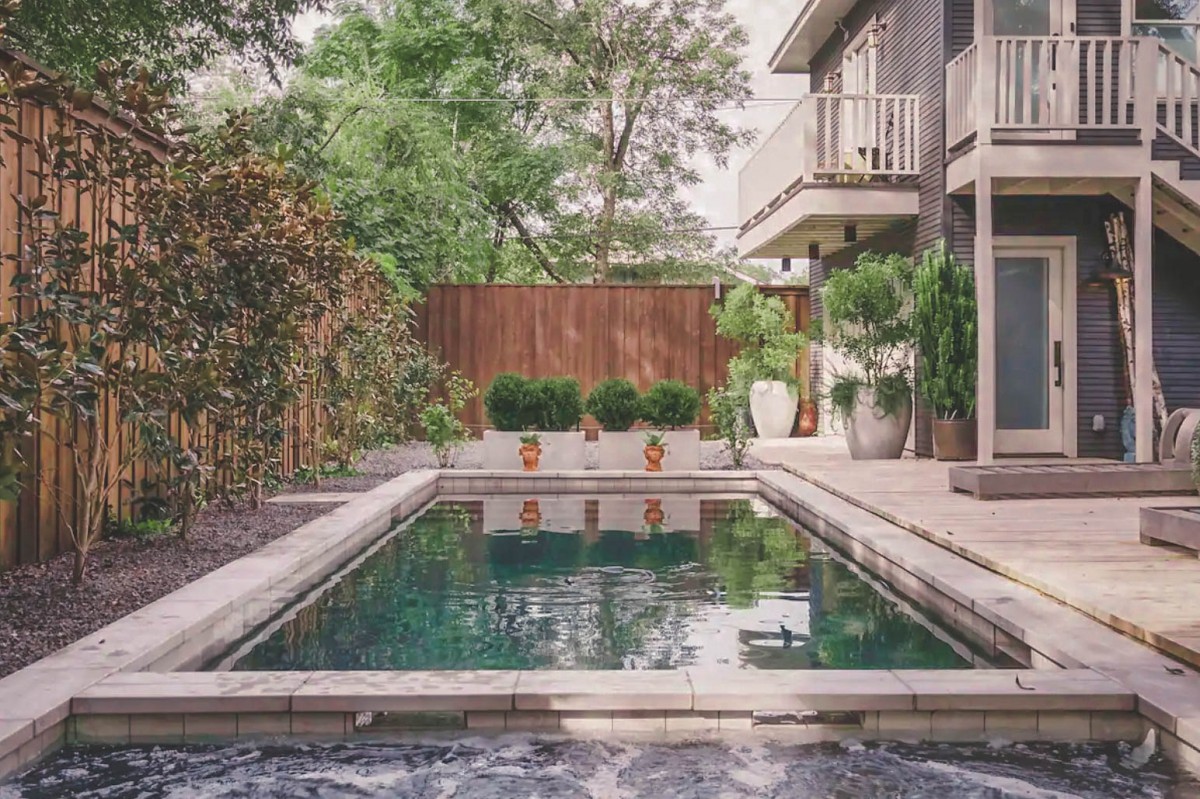 photo credit: courtesy of Airbnb
Jamie and Laurie's upstairs apartment space doubles as guest quarters. So if you're looking for an Airbnb in Dallas with a pool, this stunning property has a shared backyard that's drop-dead gorgeous – just saying.
The interior itself follows a chic black and white template. It's fully modern and that's only half of the reason why I'm in love with it. High-Style Home doesn't feel like an Airbnb. It feels like a meticulously designed boutique hotel room. You'll want to take photos by the dozen.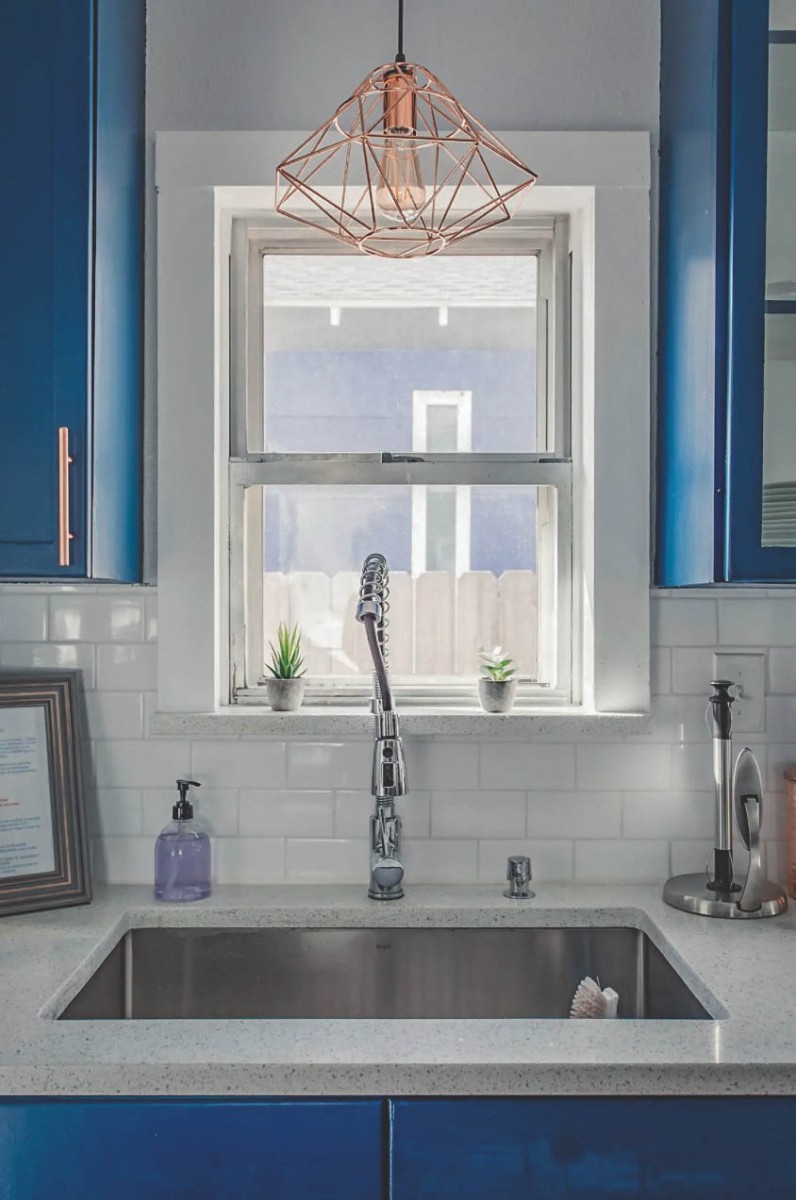 photo credit: courtesy of Airbnb
Knox-Henderson is one of our favorite areas in Dallas for shopping. With a plethora of concept stores and ooh-la-la furniture showrooms, it's no surprise that Trendy Bungalow is as picture-perfect as it is.
Jess' kitchen – bold blue cabinetry, white backsplash – steals the show. And while the rest of the property, a take on geometric shapes and minimalist styles, is equally modern, it's the attention to the little details – light fixtures, door handles, chair legs – that makes this one of the best Airbnbs in Dallas.
photo (left, top right, bottom right) credit: courtesy of Airbnb
A private room in University Park, Pavilion is a bare-bones accommodation. And while it doesn't have a kitchen (just a sink) or a washer, it's still one of the best Airbnbs in Dallas value-wise. The room (a bed for two, a long desk, roomy cabinets), set in a quiet residential neighborhood, is immaculately clean to boot.
photo (left, top right, bottom right) credit: courtesy of Airbnb
Pops of color bring Artsy Eclectic to life. The main palette is gray and white. But this Dallas Airbnb is unafraid to add strokes of yellow and red and pink as well.
Artsy Eclectic is an old shotgun-style apartment dating back to 1923. So despite the new trimmings, you'll be breathing in history throughout your stay. And with a massage corner (yes, really) and a claw foot tub, Gwen's accommodation is easily one of the best Airbnbs in Dallas for a treat-yourself self-care getaway.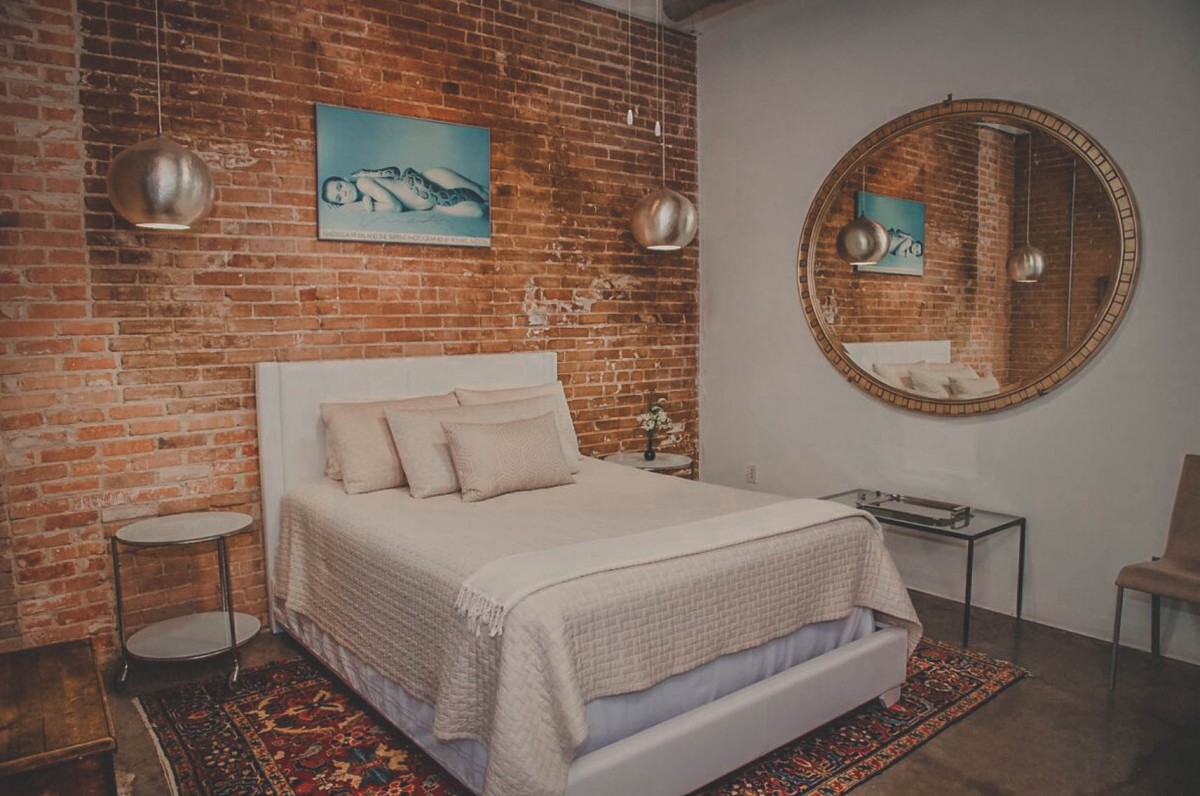 photo credit: courtesy of Airbnb
Suite 16 in Blackbird Lofts takes up part of the ground floor of a gated urban loft space. The room (and bit beyond) is Dallas to a tee. It's decidedly grungy – select brick-front walls, exposed ceilings, cool-to-touch flooring.
The quirky warehouse-style has appeal. But Suite 16 is one of the best Airbnbs in Dallas for the views alone. There's a shared rooftop deck that overlooks a large sweep of the Dallas cityscape. Enough said.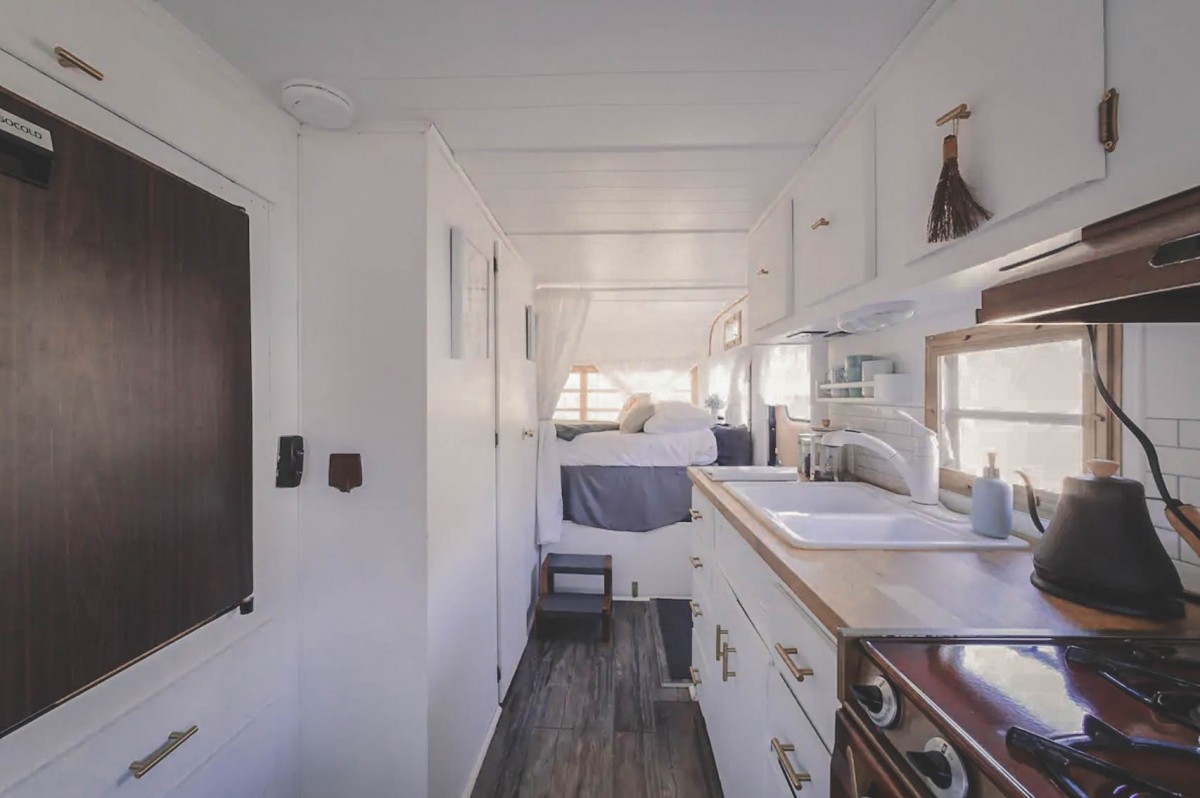 photo credit: courtesy of Airbnb
Here's what you need to know about Shasta: it's small (enough room for one, technically two), it's narrow, and it's charming. Shasta is proof that a lot can fit into one 1970s campervan. The interior is dreamy (definitely chicer than Robin Williams' RV). And the camper is located in Oak Cliff, a mile or so away from Bishop Arts District (I recommend sampling and inevitably picking up some chocolate from Dude, Sweet Chocolate before you leave).
photo (left, right) credit: courtesy of Airbnb
White Rock Casita is a homey studio near one of Dallas' best attractions. Inside the 450 square foot space, you'll find a queen bed and a sleeper sofa, lots of outlets and fast WiFi. The "meal prep" area has an old microwave, coffee maker, and sink (no stovetops). And it's pet-friendly as well.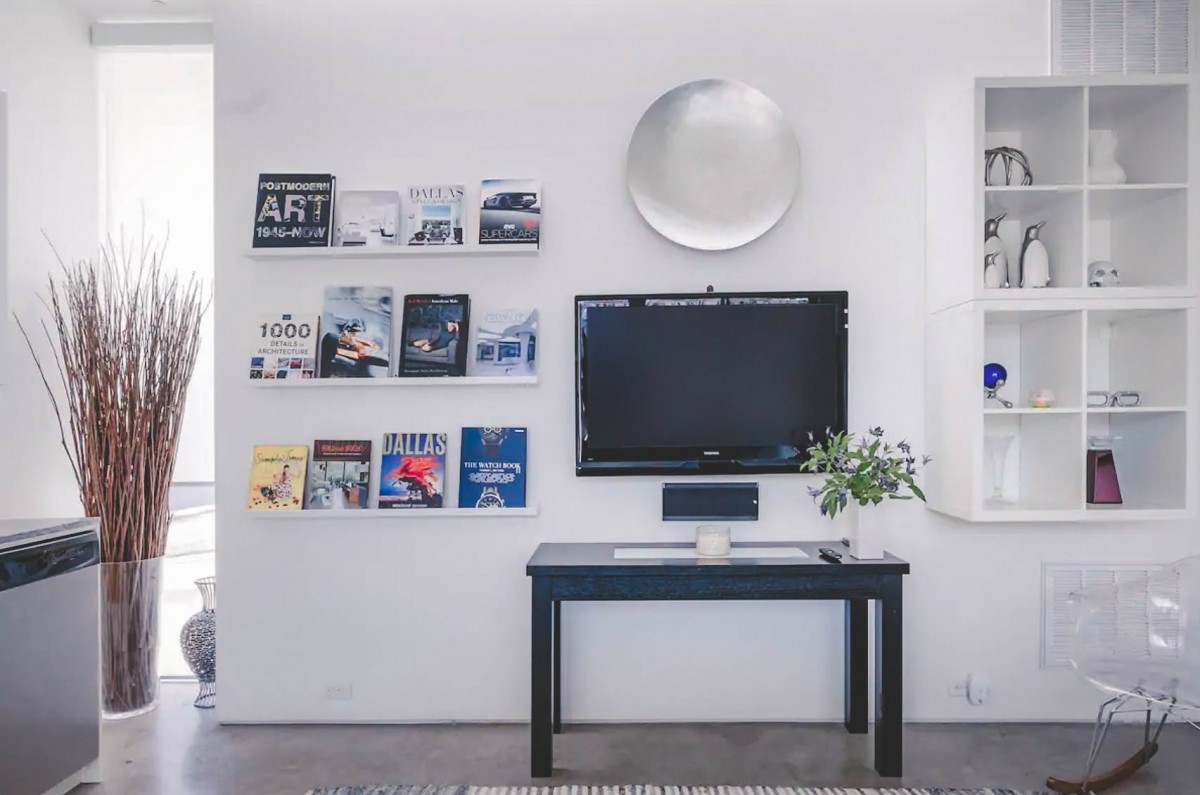 photo credit: courtesy of Airbnb
Another one of the best Airbnbs in Dallas for you and your pooch is Williams' Modern Apartment With Private Patio. Williams is a spa owner so he understands the ins-and-outs of prompt, courteous hosting. And this guest house is beyond easy to feel comfortable in. I love the added touch of Dallas coffee table books in the living area. Browse and get inspired for your Texas vacation (or staycation).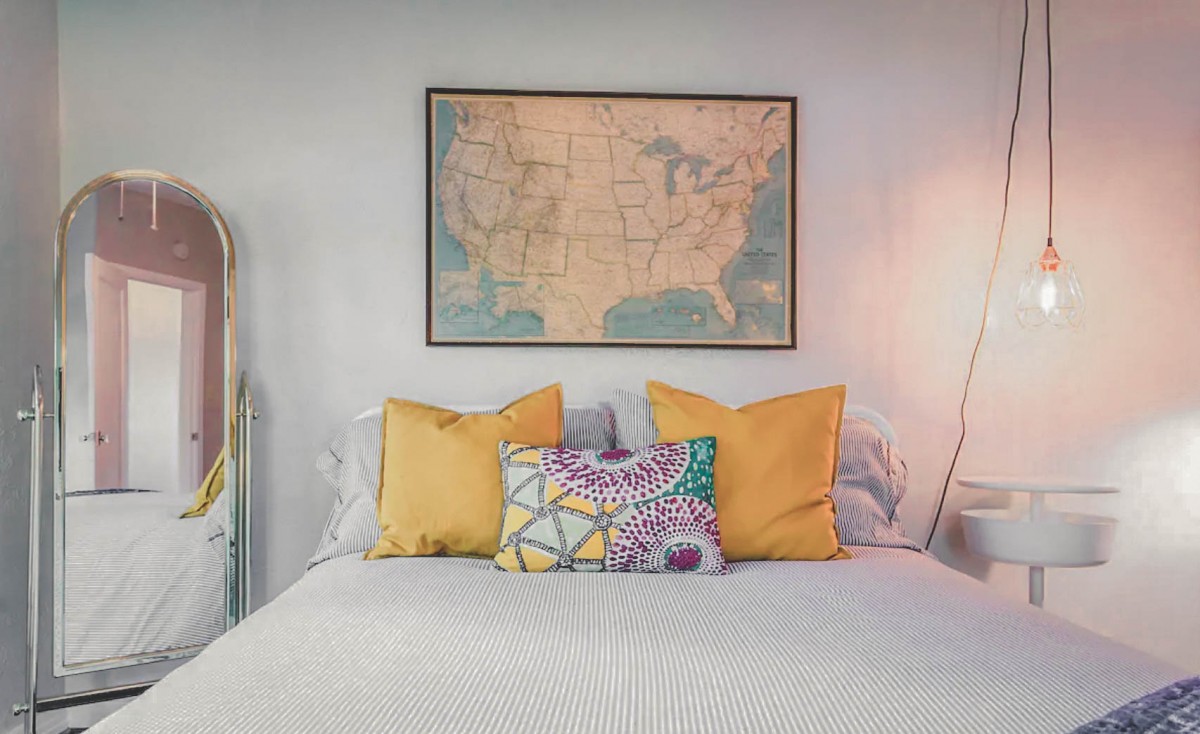 photo credit: courtesy of Airbnb
Southern hospitality. Cute dogs. An even cuter bed. Photos don't do this private room in Oak Cliff justice. It's pretty and cozy and quiet. The owners, Kristin and John, have the most adorable dogs (Holly and Ziggy). Whilst Airbnb experiences can sometimes be distant and reserved, this is one of the few Airbnbs in Dallas where the hosts go two extra miles to make you feel right at home (which I love).
photo (left, right) credit: courtesy of Airbnb
Having stayed at a carriage house once before, M-Street Private Carriage House intrigued us. It's a guest house with an open floor plan, updated to très chic. And with window-upon-window against wall-after-wall, M-Street Private Carriage House is a light-flooded space. Wake up to Texas sunshine, make yourself a bit of coffee, read a book, and relax into the Dallas vibe.
photo (left, right) credit: courtesy of Airbnb
Like several of the best Airbnbs in Dallas, Private Romantic Retreat lies near White Rock Lake. It's the kind of place that would be Chip and Joanna Gaines approved – airy, thought-out, farmhouse chic. I'm in love with the wooden details against the white and black backdrop.
The guest house, British Colonial style with a small skylight, has ample room for an overnight stay for two. And because the hosts are tea addicts (me too – I relate on an emotional level), there's an adorable "Sipping Station" featuring a variety of flavors.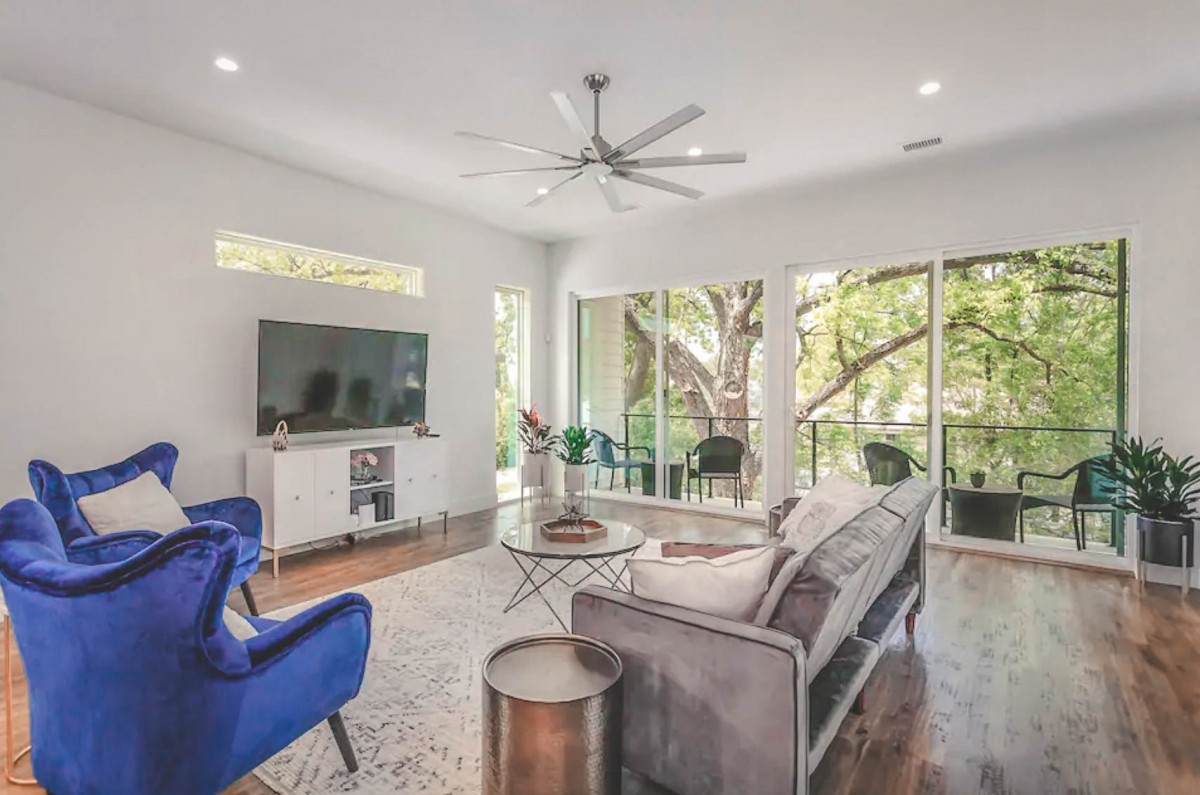 photo credit: courtesy of Airbnb
Saying Mya's townhouse is one of the best Airbnbs in Dallas is an understatement. The style is contemporary and cool. The windows all face lush, thick-trunked trees. Every floor is a clean and pleasant surprise.
Located near Uptown, this Dallas Airbnb takes shout-it-from-the-rooftops-good to a whole new level. And I mean this quite literally. The upper deck features local big city views that are absolutely rave-worthy.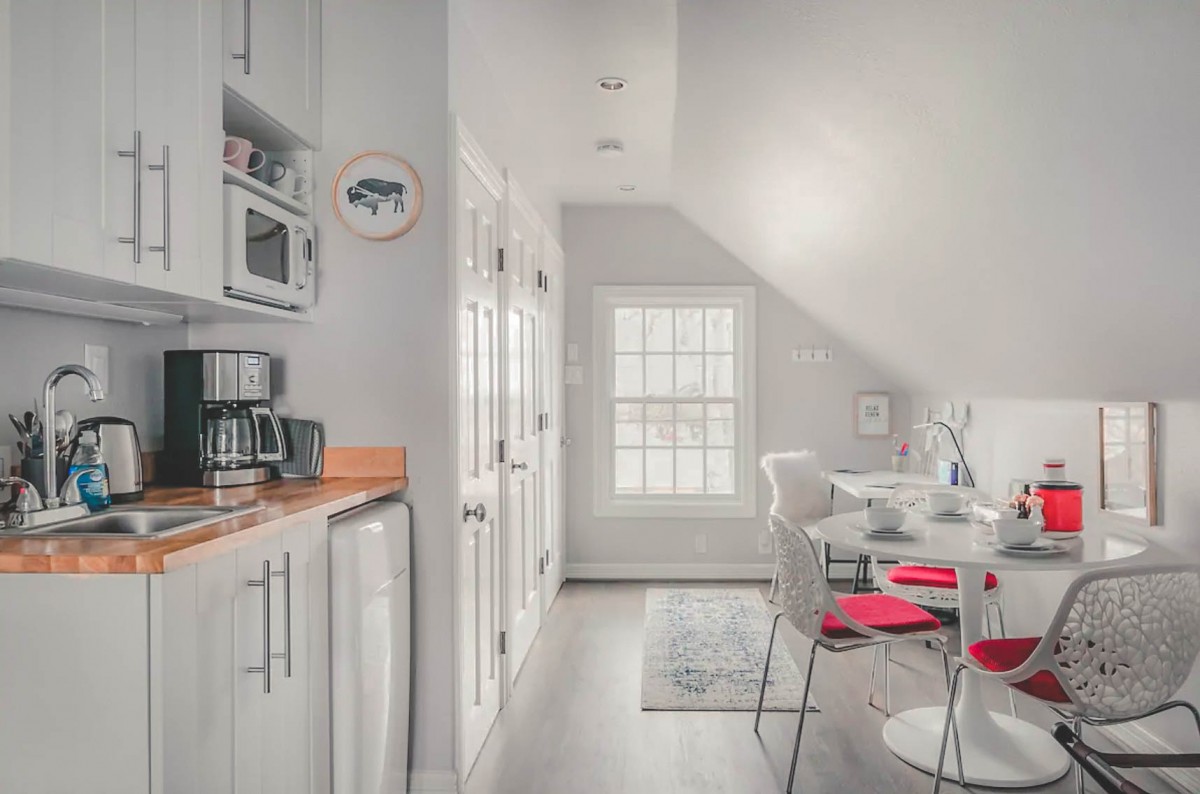 photo credit: courtesy of Airbnb
With a white-walled eating area, white-tiled bathroom, and white decorative pillows, this Trendy Arts District Guesthouse looks a bit like a winter wonderland, which, considering Dallas pretty much never gets snow, makes it the perfect seasonal escape. Make yourself a warm cup of cocoa and relax with a book at the breakfast nook.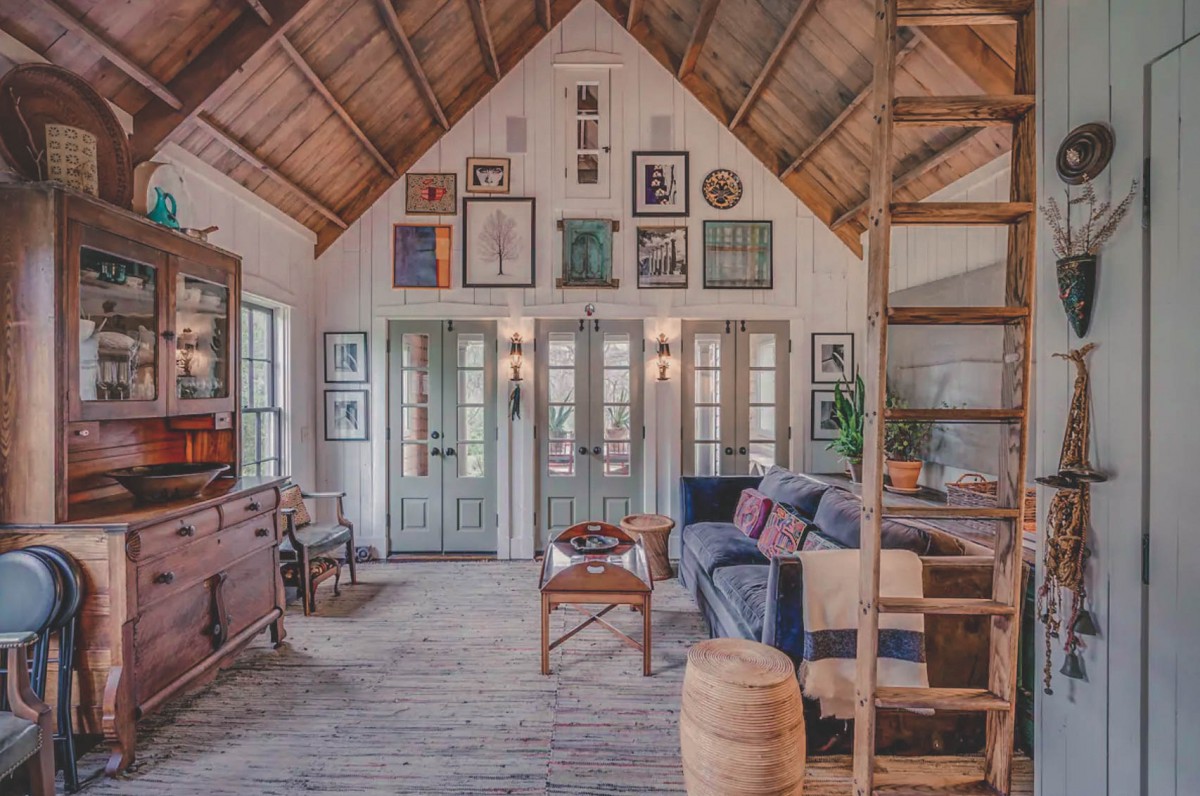 photo credit: courtesy of Airbnb
From the homey cottage decor to the built-in bookshelf beside the bed, Ravinia Bungalow is aesthetic and detailed. It's a dreamy guesthouse with country vibes and hands-down one of the prettiest Airbnbs in Dallas.
Whilst here, you won't feel like you're in Dallas, the city. You'll feel like you're in Dallas, the fairytale. And that's the Dallas I love the most.

Did you find this list of Airbnbs in Dallas useful? Have you ever stayed at any of these Airbnbs in Dallas? Let me know in the comments below! I love hearing from you.
P.S. I am a Dallasite so if you're looking for any recommendations, let me know! I love sharing hidden gems in my city!