best bookstores in Indianapolis, Indiana
As you walk through Mass Avenue (near the Bottleworks District), you'll see the outline of an open book – orange bound, white pages curled open – painted atop a brick facade. The mural is perched above the trees, its lettering large and visible. Indy Reads Books. Do Good. Read More.
Indianapolis does read books, lots of them. This is a city of readers. You can tell by the casualness of its bookstores. Bookstores in Indianapolis lack the sting of haughtiness; you'll find books stashed near bar counters and event spaces and cafes. Middle grade books. YA books. Picture books. Mass market paperbacks. They're just there, stocked up on shelves, playing their part in Indianapolis' unspoken book culture.
These are our top picks for the best bookstores in Indianapolis, Indiana. These are the Indianapolis bookstores we love the most.
Books & Brews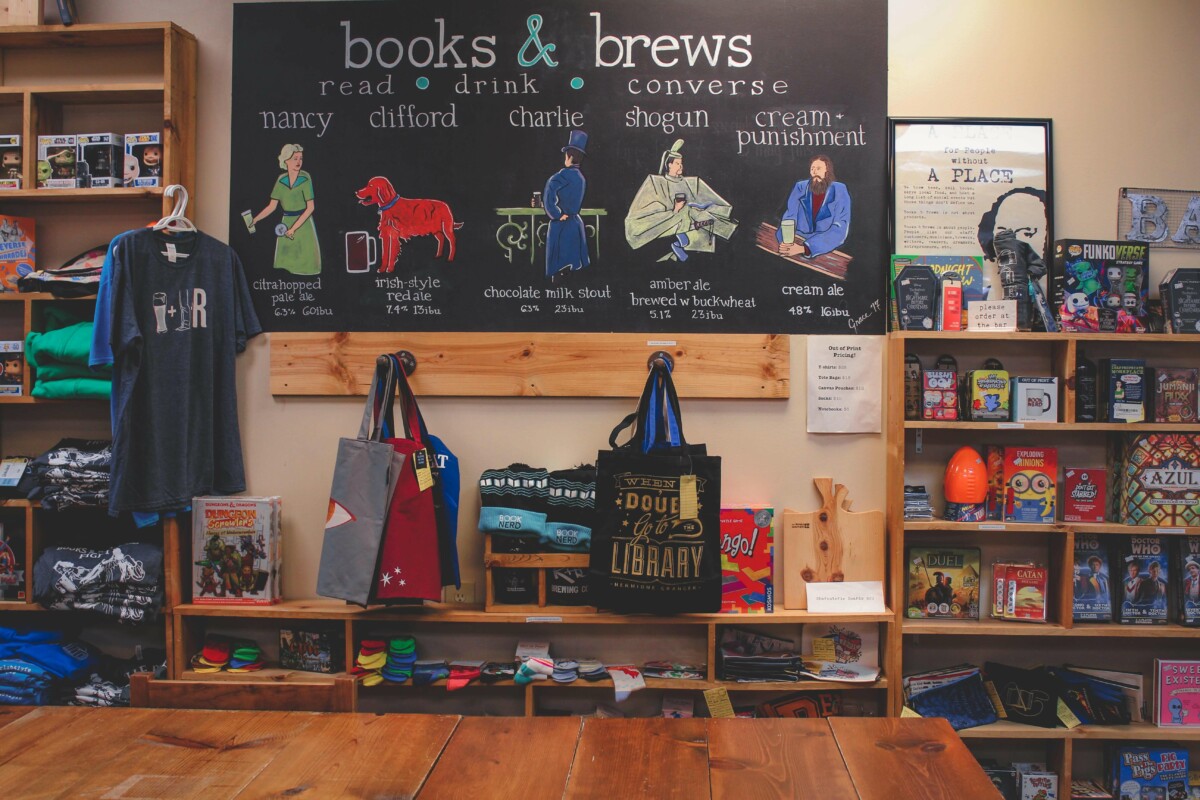 Step into Books & Brews and you'll see cases and cases of pre-loved books. Board games and totes and merch spill out beyond the borders of shelves. Boxes of funko pops line top ledges.
A Christmas tree of hardcovers spirals up in one nook. Soft lights drape the spines. Books & Brews is a place that feels instantly welcoming, cozy, and comforting. The entryway looks lived-in, walked-through. It feels a bit like home.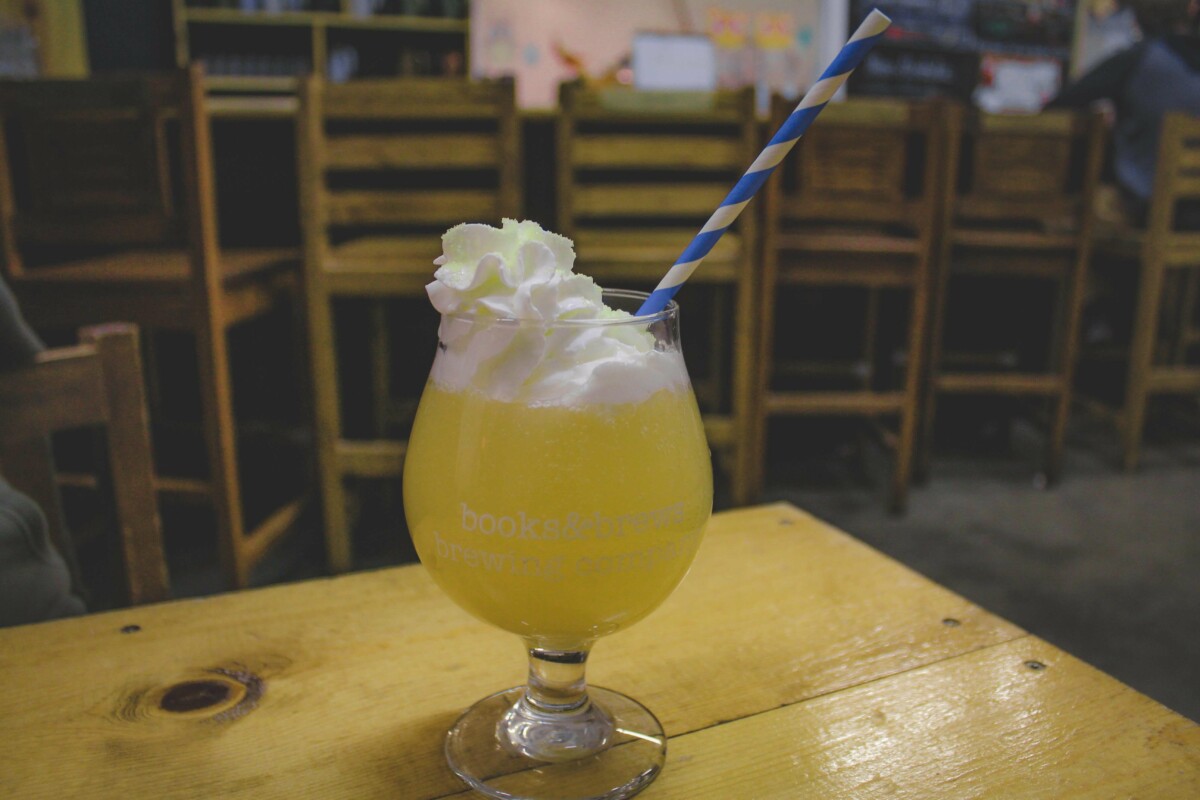 Books & Brews' menu can be found past a second door. A bar counter bows out below it, taking up a small section of a larger, beer-scented space. All the drinks have literary-inspired branding: Nancy (after Nancy Drew), Clifford (a big red ode to the big red dog), Cream & Punishment (a light ale named after one of Dostoevsky's heaviest books), Charlie (yes, it has chocolate tones), and Shogun (a nod to James Clavell's 90s bestseller).
Go with a group of friends or family (there's non-alcoholic butterbeer, hearty pub meals, and an adjoining kid-friendly space). Books & Brews is the kind of place that allows for easy, unfiltered conversation.
Alternatively, bring a book to read. If you forget yours at home, don't worry. There are plenty of good books sold here, and 10% of proceeds go to Indy Reads.
Indy Reads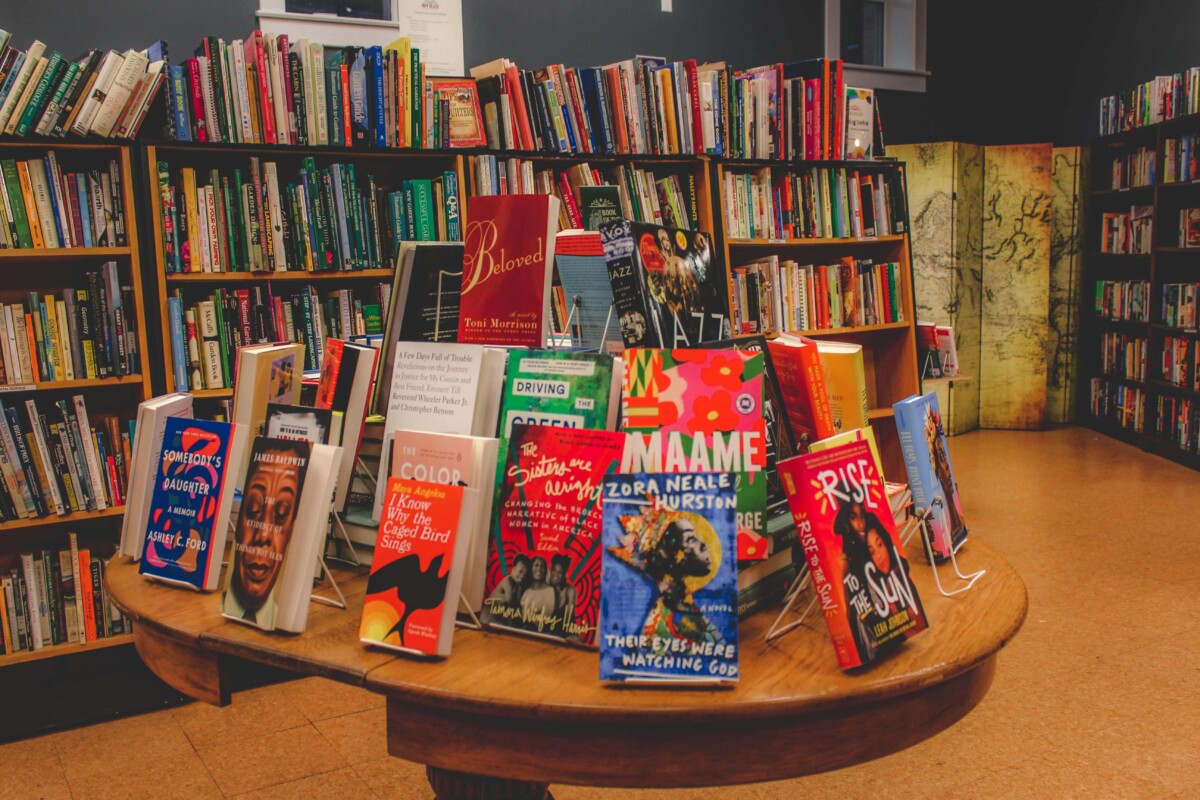 At its core, Indy Reads is a non-profit. It's a series of community centered spots where you can find high school equivalency classes and English language classes that slowly chip away at a large, sweeping goal: 100% literacy for all.
Note: Indy Reads' mission statement is just the beginning. This nonprofit stretches its reach. Through Indy Reads, you can find Queer and Trans yoga sessions, a weekly chess club, drag story hour, and local author signings. There's a bookshop on Virginia Avenue too, a large and lovely space filled with new and used books. You'll find round tables topped with face-out-displays, crannies crammed with vintage books, and cases and cases of pay-as-you-wish titles. Indy Reads is one of the most accessible bookstores in Indianapolis. It's also one of the most feel-good bookstores in Indianapolis.
Ujamaa Community Bookstore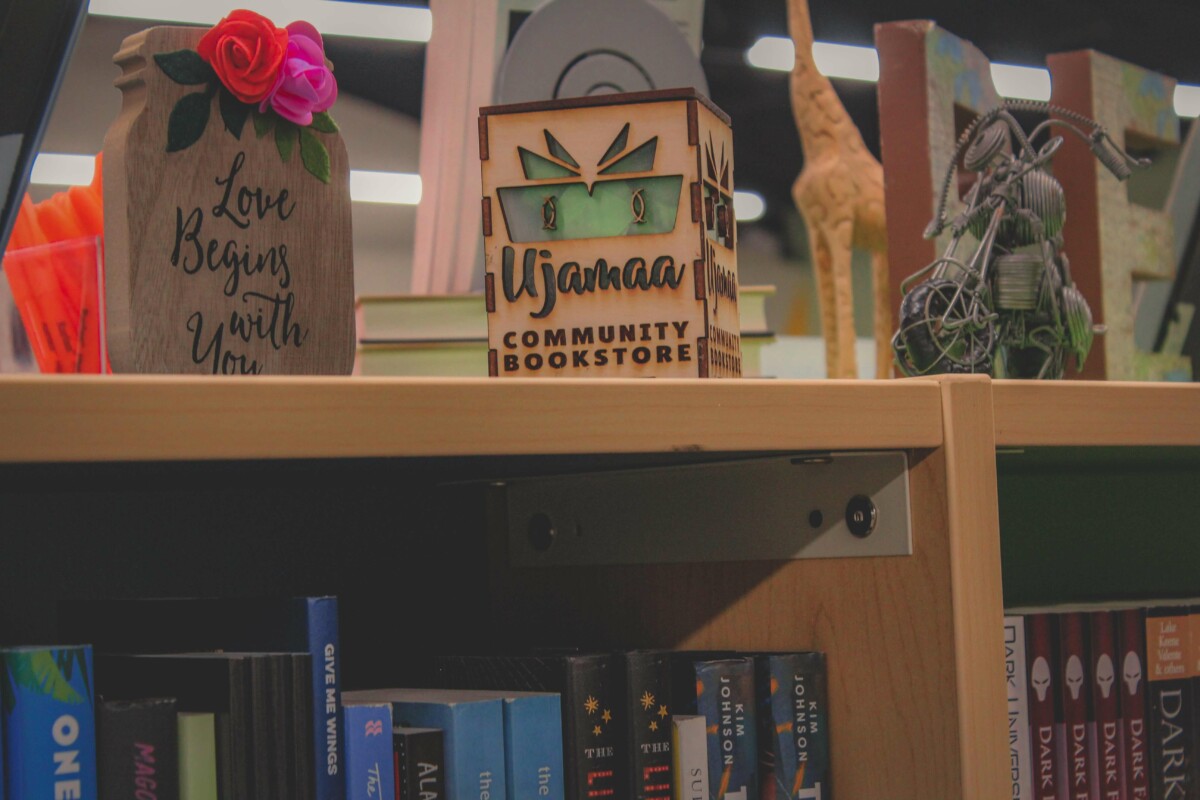 One of my personal favorite Indianapolis bookstores is Ujamaa, a Black-owned shop that specializes in African diaspora literature. Ujamaa carries diverse titles. They underscore lesser-known local authors. And there's always a bustle of people inside – people browsing the shelves, people listening in on local events, people tapping away at one of Ujamaa's community computers.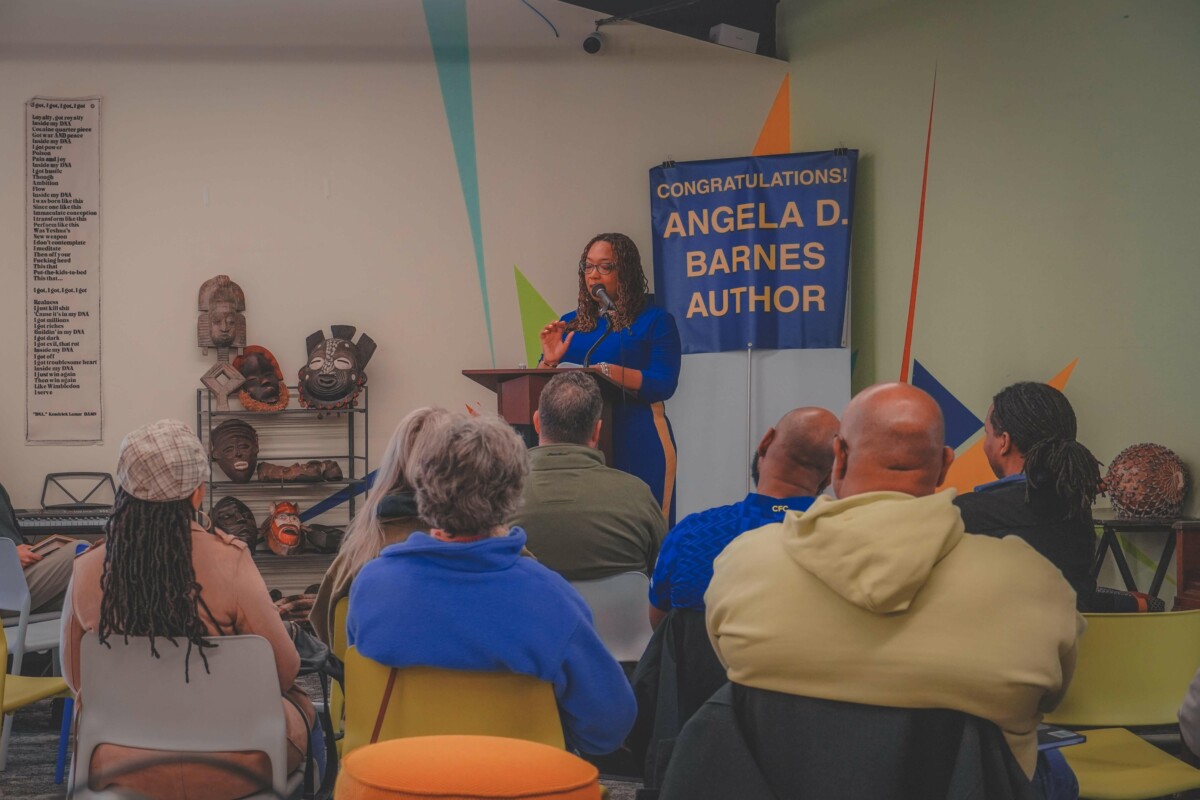 There are open jam sessions, anime discussions, and holistic health fairs too. A coffee bar fills up a small counter in the back. A gallery of art furnishes a large wall. Ujamaa is a third place, that sacred, sought-after gathering space most indie bookstores strive to be. If you're looking for Black history books, poetry by Black authors, and manga, this is the Indianapolis bookshop to visit.
Porter Books And Bread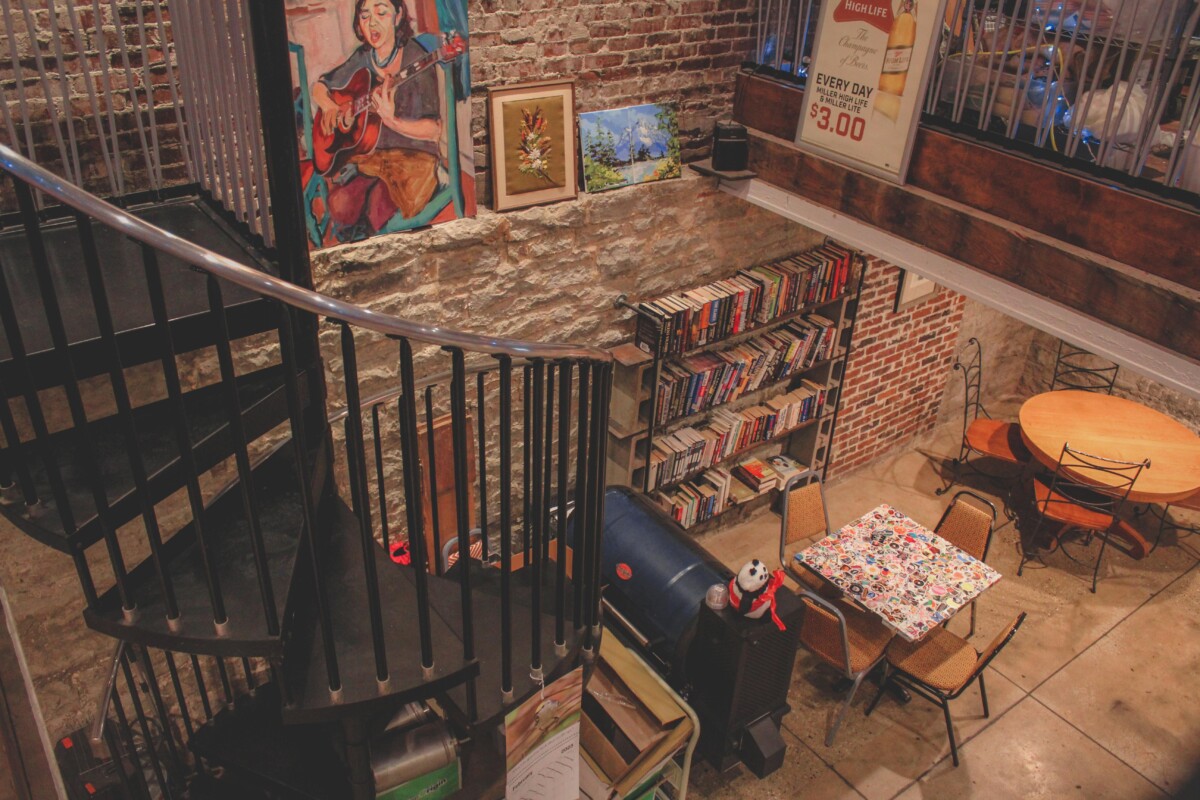 Situated in the barracks of Fort Harrison State Park, Porter Books And Bread's location in Lawrence, Indiana is impressive. It's two floors, the upper level styled as a cozy lounge meets a bookstore. A stack of National Geographic magazines (their iconic yellow binding face-out) sits in one corner. Against another wall are full bookshelves textured with cracked spines. Behind the cases is an artistic display of loose pages (mostly from classics), some sheets yellowed and others crisp and white.
A thin, narrow winding staircase leads to a lower level, where the sharp scent of coffee fills the air. This cafe area also features cases of books. But you can grab light bites too. And yes, the menu is peppered with book references, from Austen to Kafka (did you expect anything else?).
Black Worldschoolers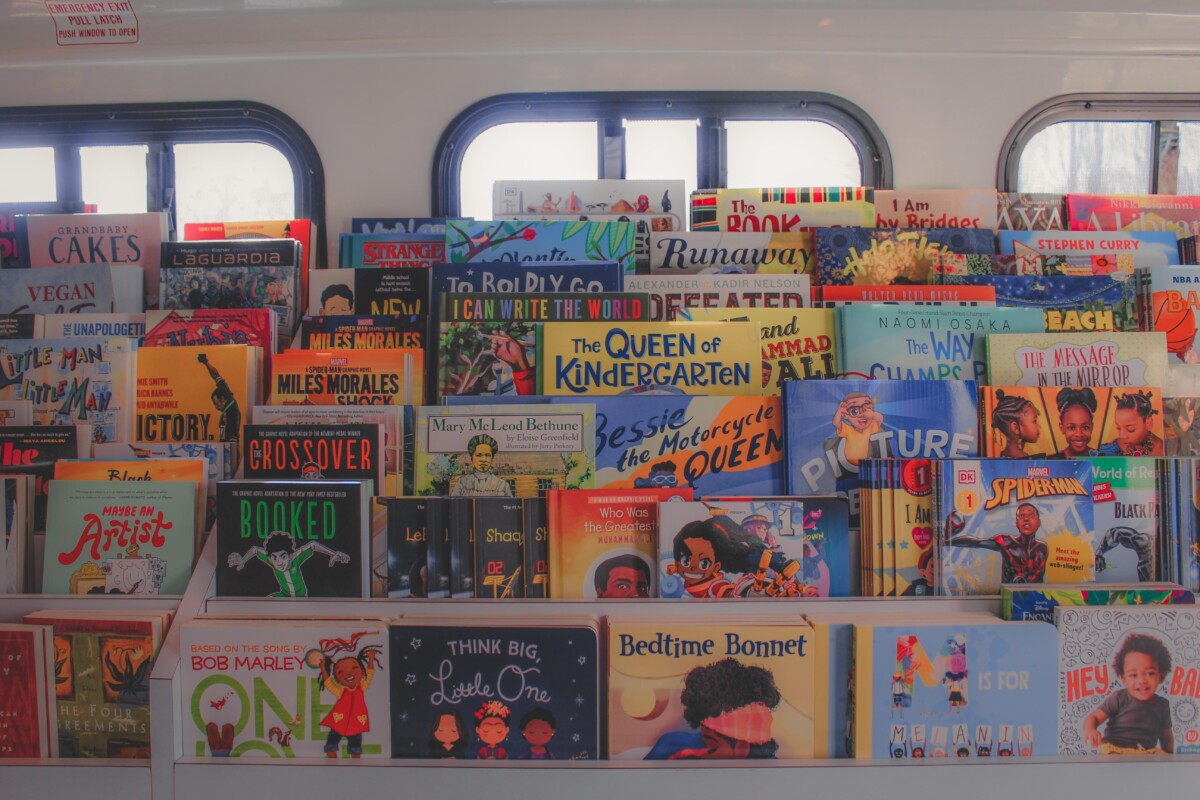 On Sundays, outside Newfields, you'll find Natalie Pipkin shuffling books and helping customers in her big, colorful converted school bus. Pipkin is the founder of Black Worldschoolers, a mobile bookstore (the first mobile bookstore in Indianapolis) that carries kaleidoscopic board books, picture books, children's books, and graphic novels. Almost every title centers around Black experiences. Pipkin is on a mission to disrupt the negative narratives stitched for young Black readers. She aims to help kids see themselves represented in the books they read. If you're looking for a cozy bookshop in Indianapolis to visit over the weekend, head straight to this one.
P.S. If you live within a 350 mile radius of Indianapolis, you can also book the Black Worldschoolers bus for an event!

Have you visited any of these bookstores in Indianapolis? What are your favorite bookstores in Indianapolis? Let me know in the comments below! As always, I love hearing from you.