best bookstores in San Diego, California
The best bookstores in San Diego refuse to compromise. They are authentic to themselves, strong in their convictions, and champions of their causes. As you walk past literary postered window displays and tall stacks of books, you'll see a recurring theme: "shop local and don't buy from a man who wants to colonize the moon."
With the rise of Amazon, it's been hard for independent bookstores to fight the good fight. But San Diego bookstores are unafraid. They're resilient warriors who are willing to do what it takes to thrive and survive in the age of e-commerce.
If you're looking to support a small business this week, here's a list of our favorite independent bookstores in San Diego, California!
Libélula Books & Co.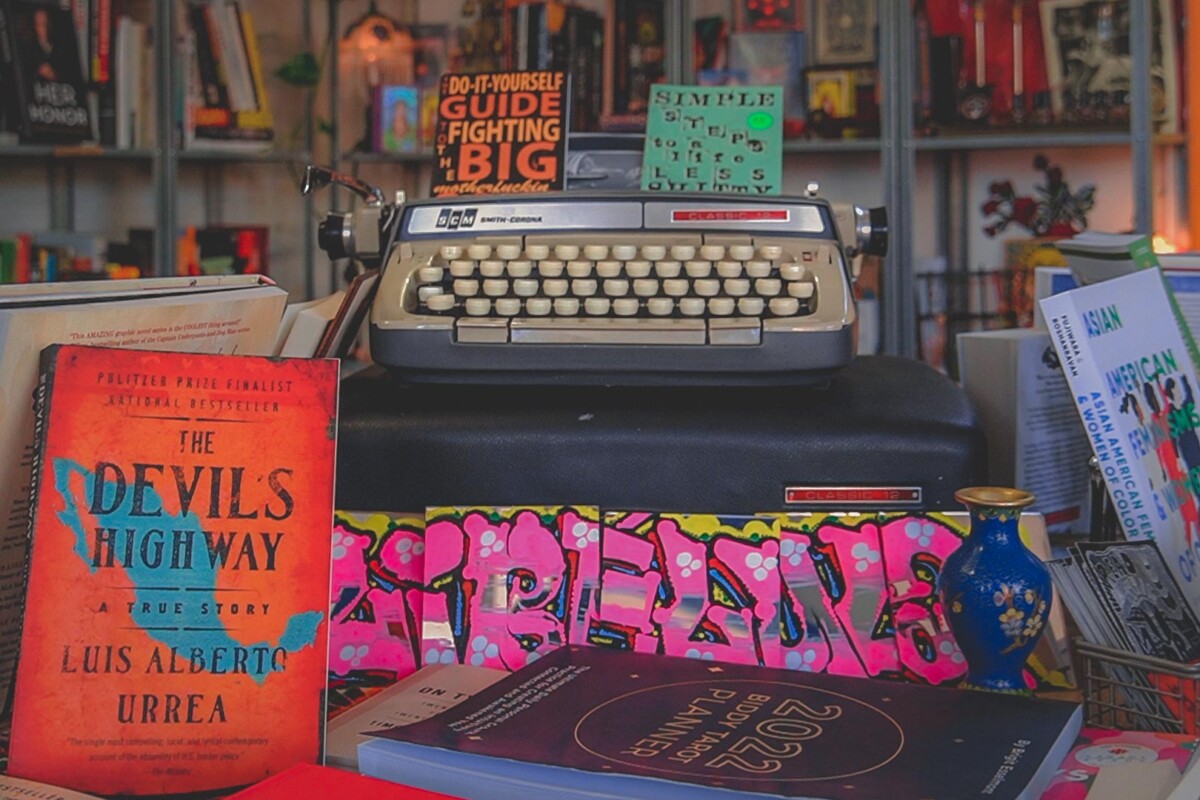 Situated in the colorful, mural-clad Barrio Logan neighborhood, Libélula's bubbly collection of young adult books are staggered out front. Thick hardcovers push up against the shop's tall walls. Inside, you'll see a cross-genre and intersectional mix of Black, Indigenous, Chicanx, Asian, and Queer titles packed into metal, cubby-hole shelves. From striking poetry to social justice nonfiction, Libélula Books & Co carries a bit of everything, and its curation is effortlessly diverse.
This community-minded San Diego bookstore was first launched by Jesi Gutierrez and Celi Hernandez (AKA some of the nicest people you will ever meet) in 2021 as a humble, welcoming literary center. Today, the shop actively supports local artists, students, poets, and small-press publishers. It's developed a cult-following as one of the most wholesome and inclusive bookstores in San Diego (which it is – I support this claim 100%).
Mysterious Galaxy
The name Mysterious Galaxy evokes a sense of worlds out of reach, starry skies, and time-warped dimensions. The shop, a hole-in-the-wall bookish haven built upon a kind of real-life magic, lives up to its name. Mysterious Galaxy specializes in fantasy and science fiction and horror.
The books served are out-of-this-world (pun intended. I have no shame), but like most of the best bookstores in San Diego, there's more to Mysterious Galaxy than its shelves. Each month features a heavy roster of events: author discussions, writers coffeehouse, drop-in Dungeons & Dragons campaigns, book club meetings. It's an inviting place for readers to chat, connect, and open up.
Warwick's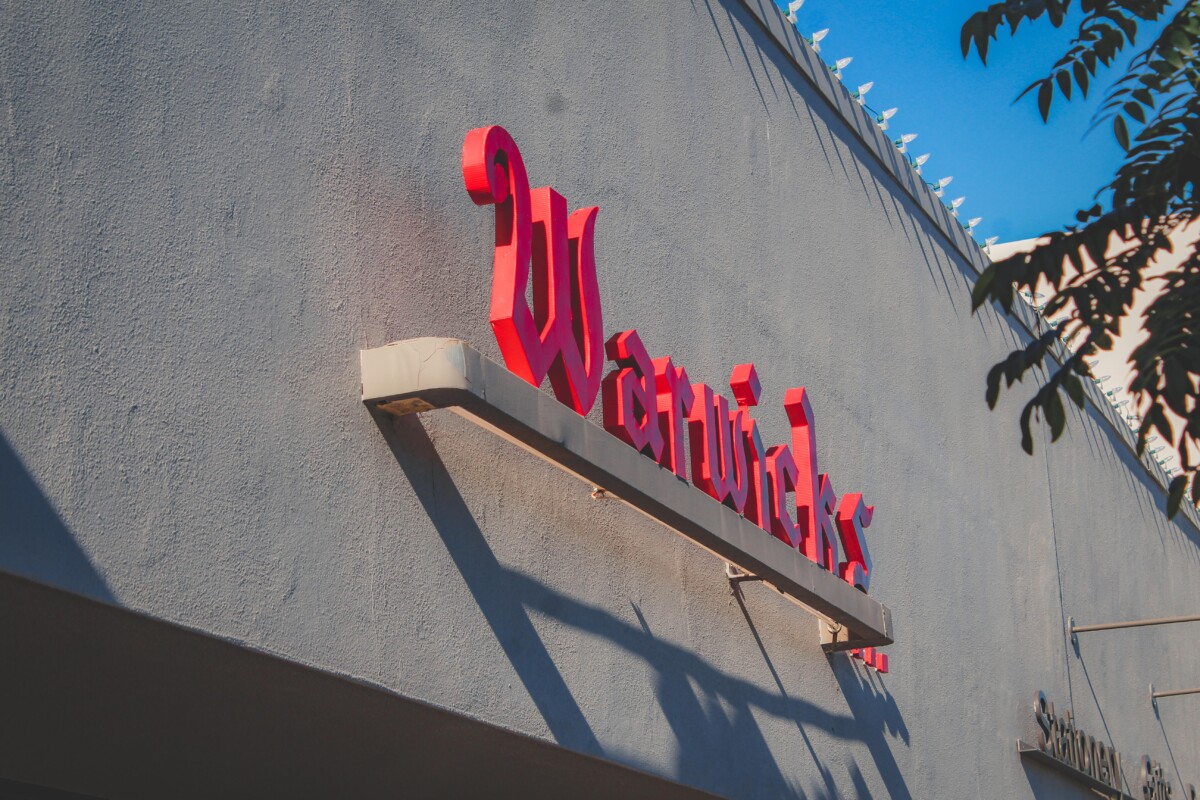 When you think of bookstores in San Diego, Warwick's might be one of the first names that comes to mind. Warwick's is an old, iconic bookstore with a trendy, gift shop-esque interior. In the past few years, this San Diego bookshop has definitely amped up on sidelines. Think jewelry, stationery, and office supplies. Books lurk behind trinkets and baubles, but you can still catch a glimpse of the latest releases and bestsellers.
The Book Catapult
Next up on this list of bookstores in San Diego is The Book Catapult, a book blog elevated to a South Park shop. The Book Catapult is your classic, small indie bookstore. Beneath a color-blocked sign that reads "ART IS ALL OVER" are height-varied cases crammed with books. Tome-topped tables take up a bulk of the floorplan. Face-front covers lean against floating shelves. The Book Catapult has a unique, varied, and eclectic collection. Don't leave without browsing the staff picks.
Verbatim Books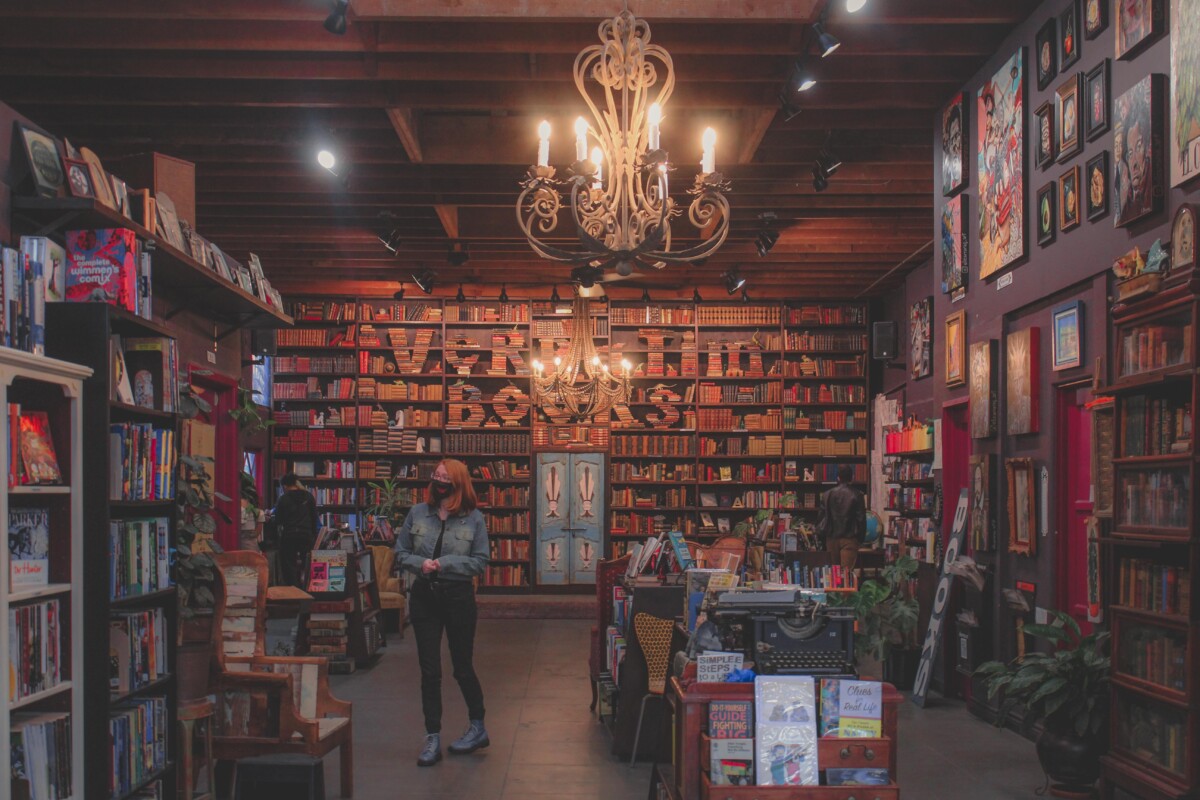 Verbatim Books is pure magic. It's breathtakingly beautiful, the kind of place that's filled with words but makes you lose all sense of them. Walk past Verbatim's memorable, seashell green facade and you'll be swept into a dark, moody scene. A tall spread of mahogany-toned shelves overwhelms the space. The shop's title, Verbatim Books, is grandly spelled out here (through books, no less – I love how extra this bookstore is). There's a drooping, light-studded chandelier that will transport you, just for a moment, into Gaston Leroux's Phantom Of The Opera. Old, soft reading chairs are nestled into quiet corners. Verbatim feels sumptuous, but it's also unafraid of being cheeky (as evidenced by their gold-framed Nicholas Cage READ poster. AKA things I didn't know I needed in my life). Beyond the main room are alleys and alleys of used books. Prepare to rummage through the shelves for your next read. Don't worry, you'll find it here. Verbatim Books is without-a-doubt one of the best used bookstores in San Diego.
Bluestocking Books
Bluestocking Books has a sweet, musk mingled with crisp paper, scent. It's the kind of bookstore that not only looks and feels like an indie bookstore, it smells like one too (yes, just yes). The atmosphere of Bluestocking Books is instantly relaxing. It's warm and inviting. The staff is friendly, eager to help if you're searching for a specific title (or simply need a good gift recommendation). There's a plethora of titles to choose from too. Bluestocking Books is home to a kind mix of old and new books.
Bay Books Coronado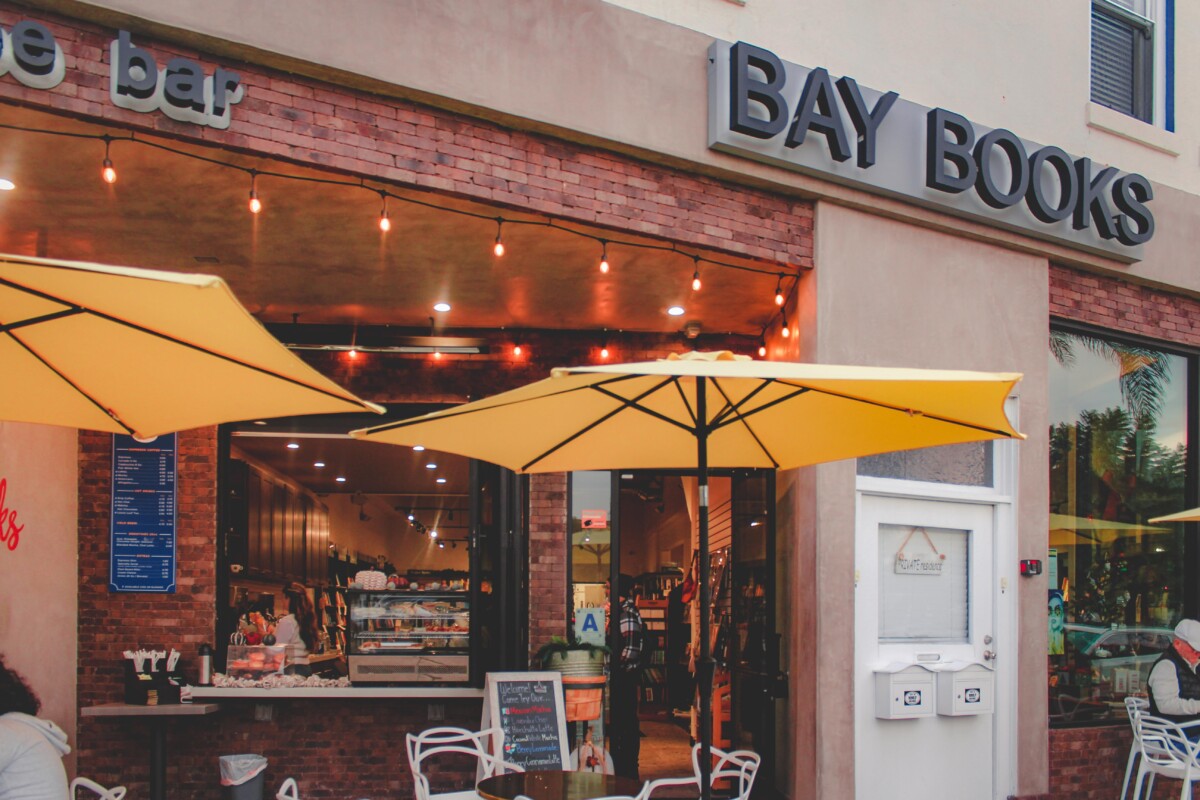 About twenty minutes from San Diego is Bay Books Coronado, a lovable little bookshop joined to the hip with a cute coffeehouse. Walk in and you'll catch a strong whiff of coffee grinds, briny sea-salt winds, and freshly-unpackaged books. Bay Books doesn't take long to amble through, but with dedicated rows of shelf talkers, you'll want to stay for longer and linger. The bookstore sets itself apart from big box chains through a niche focus on military history and middle grade adventures. But there's more too. Injected into Bay Book's shelves are colorful cookbooks, noteworthy nonfiction titles, and sizzling romances.
Meet Cute
Speaking of romance, our last recommendation is one of the newest bookstores in San Diego. Meet Cute opened at the tail end of 2022. It's a charming queer-owned romance bookshop created for the BookTok generation. You'll find lots of viral BookTok reads here, and lots and lots of romances. I have a huge soft spot for young adult contemporaries (these are my comfort reads) so I really appreciate how many feel-good YA titles they have in stock!
More Bookstores In (And Near) San Diego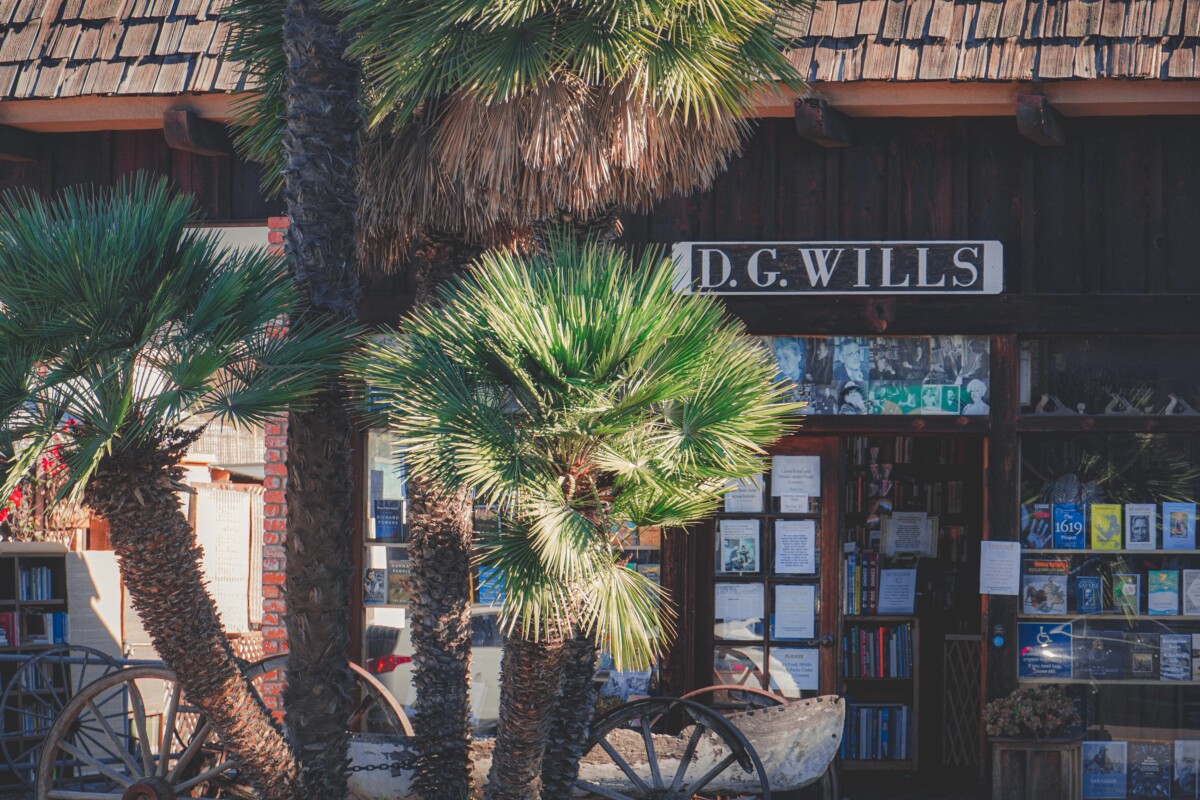 Have you visited any of these bookstores in San Diego? What are your favorite bookstores in San Diego? Let me know in the comments below! As always, I love hearing from you.