best hikes in Joshua Tree National Park
She was an AmeriCorps volunteer. That's what I assumed. Her voice was soft and lilted, her shirt long-sleeved and gray. Strapped to her back was a large backpack, a real hiking backpack that was big and bulky and bulging. I felt like a fake with my near-empty Hydroflask and slim Amazon-found day bag.
"Did you see anything interesting today?" she asked.
"Yes," I responded cheerily. Then I froze. As the watchful eyes of the tiny crew behind her, all smiling women with equally bulky bags and matching AMERICORPS shirts, turned towards me, I panicked. What should I say? Do I mention the cute cholla cactus or the pack rat's nest? Oh, there was a cactus wren that fluttered around our car hood for hours. And the…
"You might see some ground squirrels by the picnic tables. They usually like to hang out there." Her tone was kind and sympathetic.
"Thank you," I squeaked as I slowly realized I hadn't said anything out loud. You know those introverted moments when you think you've spoken eloquently but no actual words fell out of your mouth? This was one of them.
What I wish I said: I loved the openness of Joshua Tree's trails, the quirky-shaped rocks I saw along the way, the weird and wonderful desert plants, including (of course) the adorable Joshua Trees.
Joshua Tree is hands-down one of my favorite national parks in California. I love that so many of the hikes in Joshua Tree are quick and easy despite the park being so big and vast.
Without further ado, here are Passport To Eden's top picks for the best hikes in Joshua Tree National Park!
P.S. These Joshua Tree hikes are arranged in order of difficulty so the first hike on this list is the easiest and the last one is the hardest. 
Keys View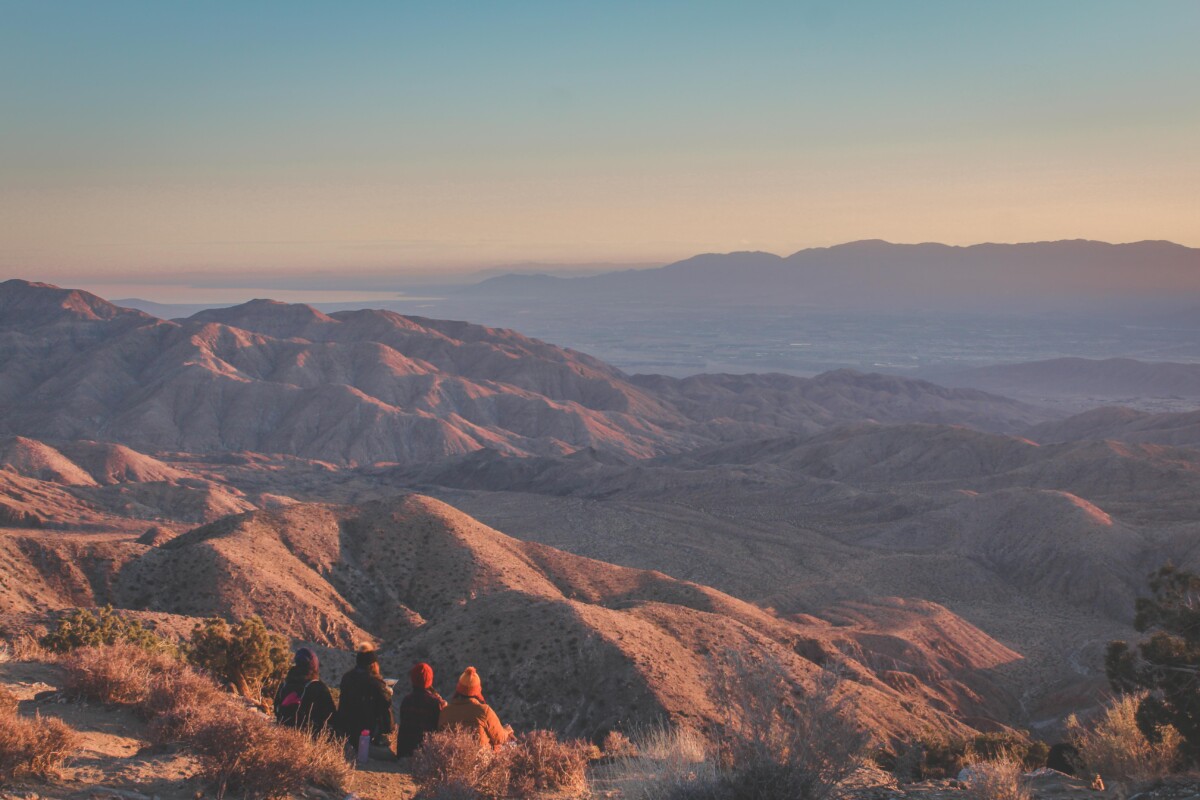 Heavily trafficked Keys View is known for being a low effort, high reward hike in Joshua Tree. And it is: the trail, albeit steep, is paved and runs less than a quarter of a mile long. It takes a mere twenty minutes to complete but you'll want to linger up top. The view, from there, is expansive and dramatic. You'll see wrinkled ridges and flat sweeps of land. In the far back, a soft, glossy tendril stands out: the Salton Sea.
Cholla Cactus Garden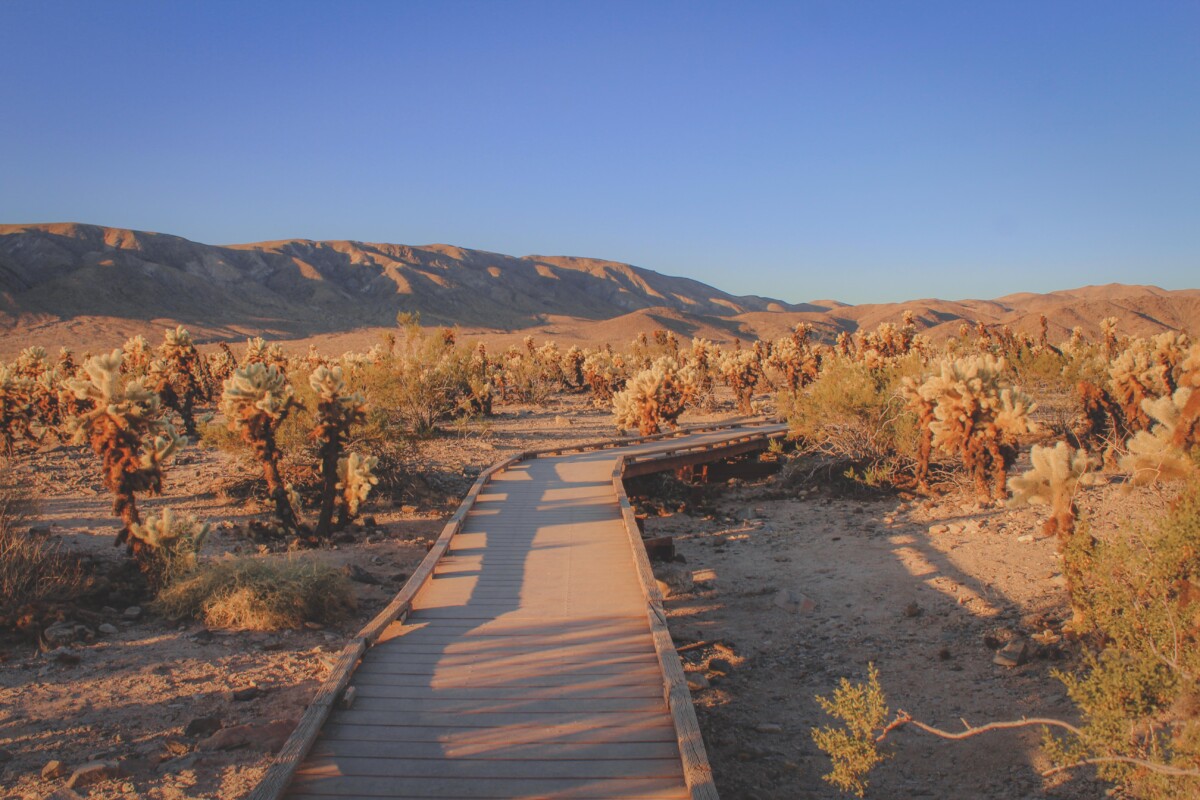 Joshua Tree's Cholla (pronounced: choy – ya) Cactus Garden loop is so small and easy, you'll feel like you can saunter through it all in one breath. It's a narrow path that slides past a dense burst of Cholla Cacti, the Dawn Bellwethers of the desert (a Zootopia reference. If you haven't seen the movie, I can't recommend it enough).
Cholla are deceptively cute and fuzzy. But whatever you do, don't touch (or brush up against) them. Cholla thorns are brutal and unforgiving. They also have a nasty tendency of getting stuck to your shoes so bring a pair of tweezers to pull them out (you can thank me later).
Cap Rock Trail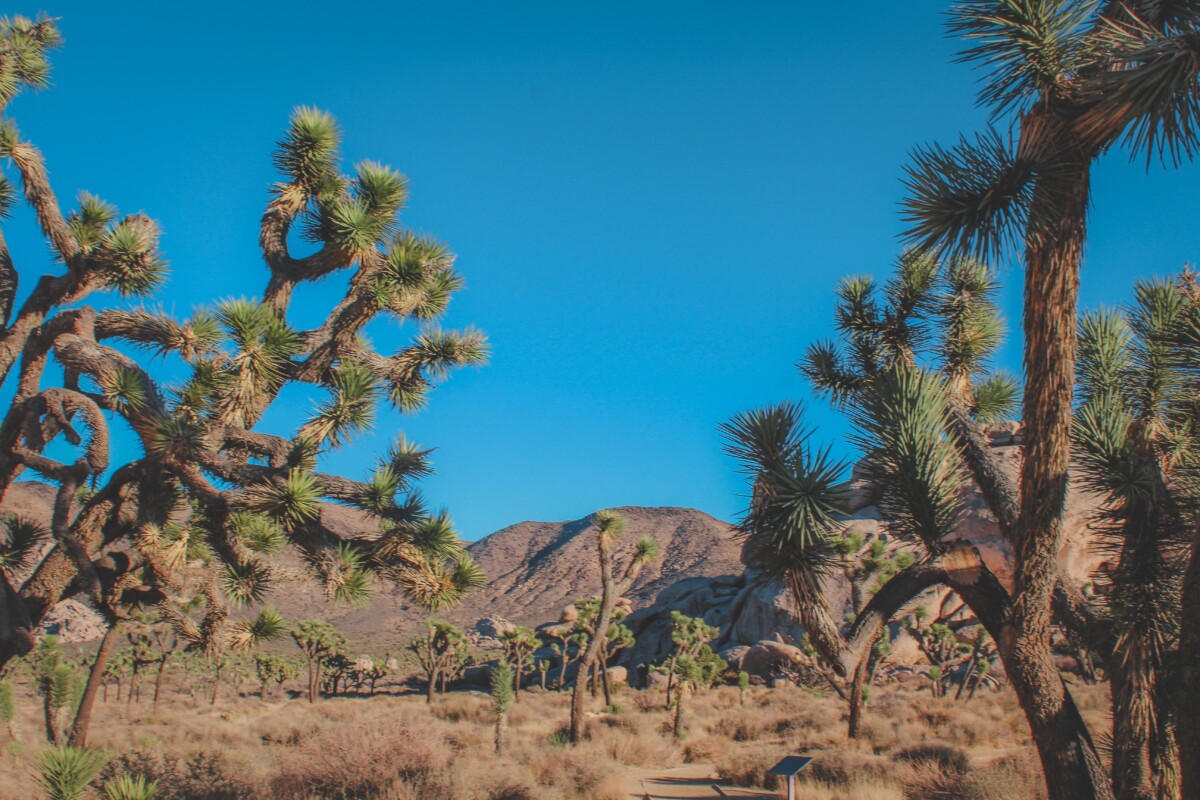 Cap Rock Trail, right by Cap Rock, is flat and short. As soon as you hit the path, you're immediately engulfed by Joshua Trees and low-lying shrubs. Further out, you'll see rough rocks and big boulders. It's a lesser-known hike in Joshua Tree (unless you're a Gram Parson fan. I'm pretty sure every Gram Parson fan knows about Cap Rock) that's still interesting and beautiful.
Indian Cove Trail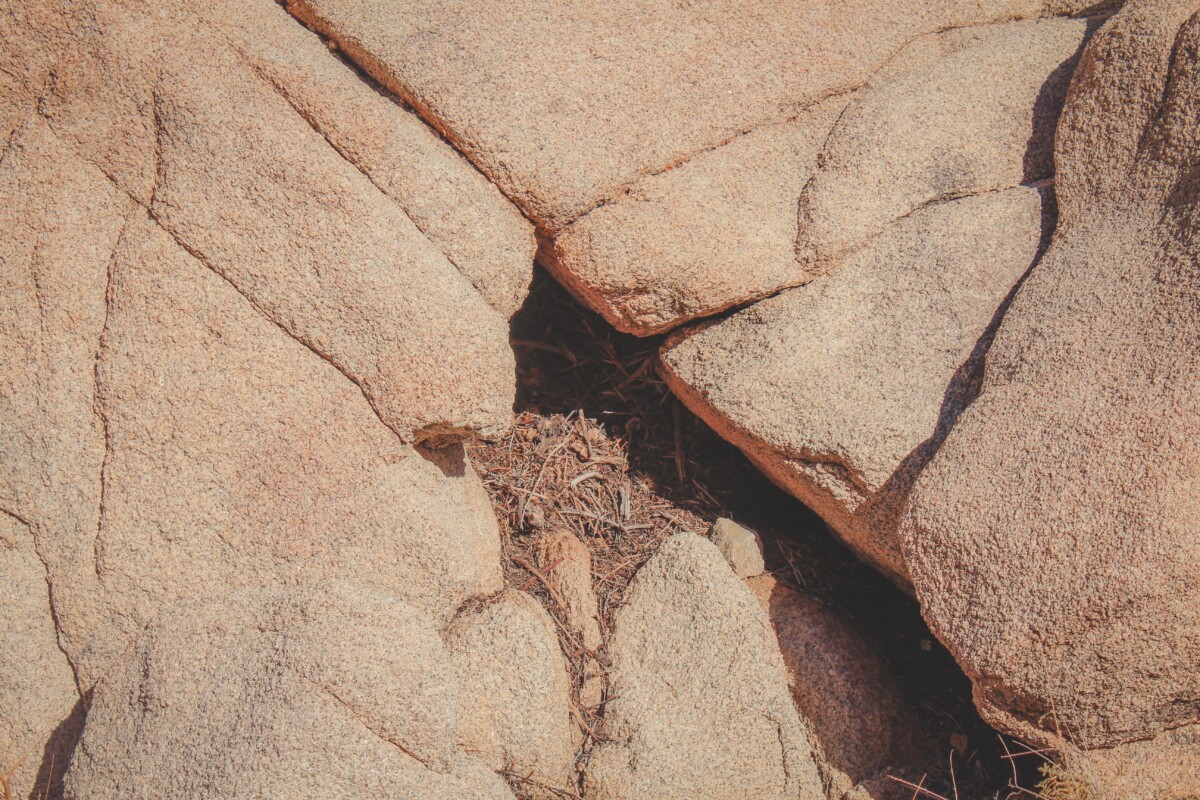 A trip to Joshua Tree Visitor's Center can be swapped out for a hike along Indian Cove Trail, a gentle, interpretive pathway heavy with placards. Indian Cove Trail digs into the details of Joshua Tree's most iconic plant life and animal life.
It's a living exhibit of sorts. As you slowly meander along the loop, you'll see Desert Almonds and Pencil Cacti. You'll pass by a pack rat's nest and kangaroo rats' mancala board of holes. The trail, completely unshaded, is short but it packs in a ton of information, including a crash course on the medicinal uses of desert plants.
Travel Tip: Like Fortynine Palms Oasis Trail, the Indian Cove trailhead is a short detour from Twentynine Palms Highway (you won't find it on the main road after you go through the West Entrance). Instead, you'll need to drive past Indian Cove Ranger Station into Indian Cove Campground (Indian Cove Trail is near the last parking lot).
Hidden Valley Trail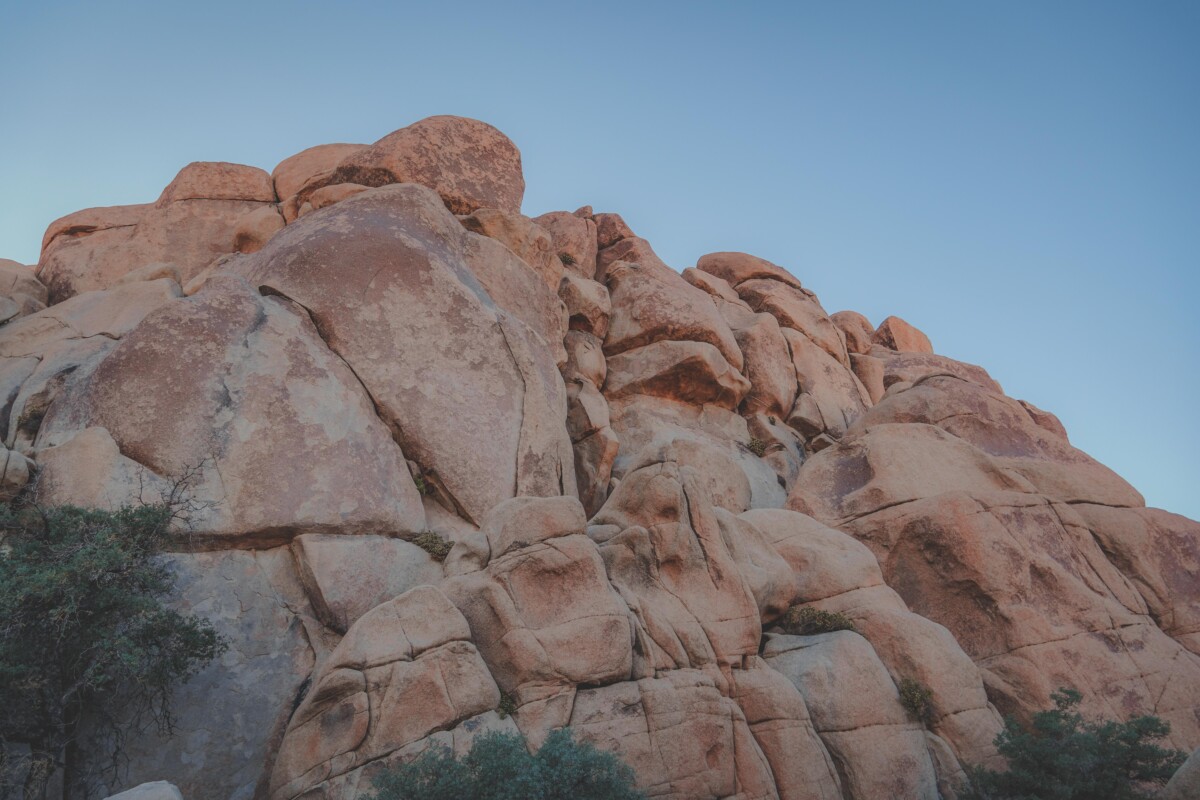 Hidden Valley is a summary of Joshua Tree National Park: scenic views, desert plants, bouldering opportunities. It's popular all-seasons and for good reason. The trail, which starts off with a few wide steps leading up and up, tapers off into a flat, mild loop. There's minimal elevation gain in this one-mile circuit (making this one of the best hikes in Joshua Tree for beginners) and you'll see a lot. Hidden Valley fosters a unique microclimate fenced in by a ring of rocks. It's like a secluded, mini world – a Mojave Desert Narnia.
Discovery Trail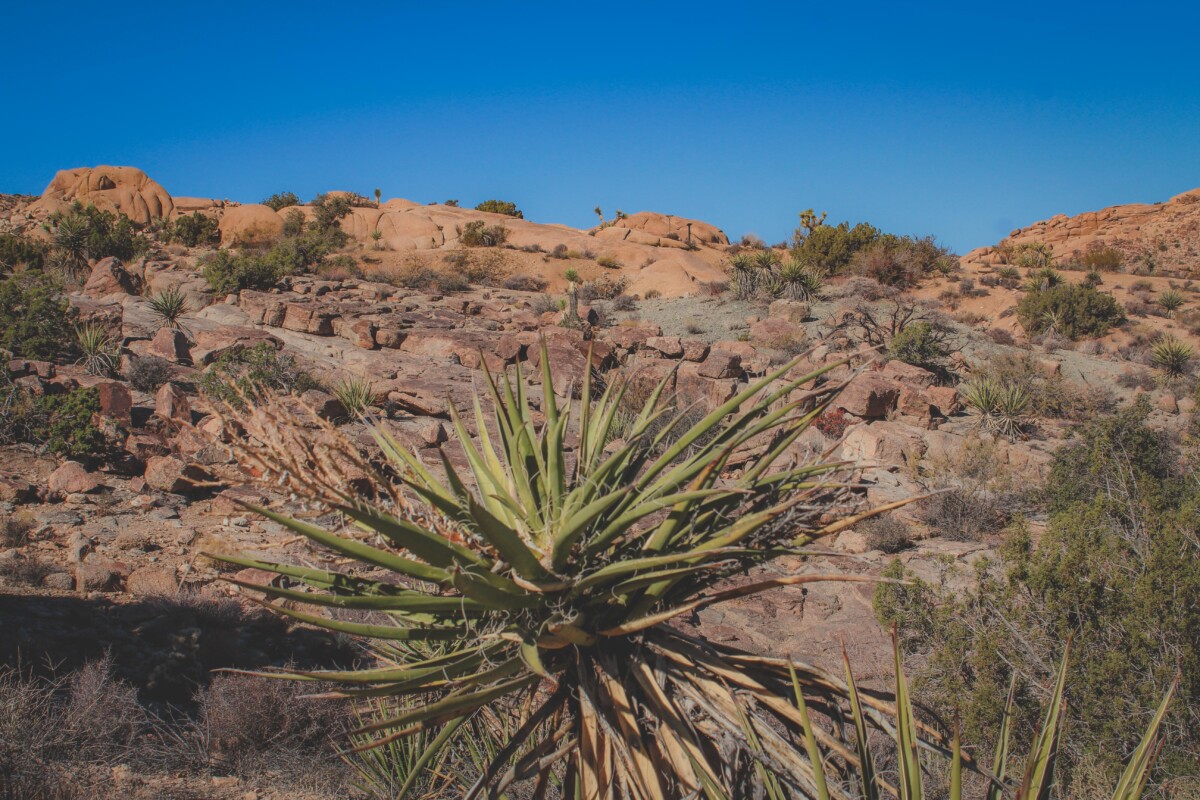 You already know our verdict on Discovery Trail. If you're new to the blog, here's the lowdown: head to Skull Rock, take a picture of it from the parking area, then hit up Discovery Trail across the street for a quieter, less congested hike. Discovery Trail is a 0.7-mile-long path that winds through desert washes. It was designed for kids, by kids but you can enjoy this Joshua Tree hike at any age (I mean, who doesn't love a slot canyon? You'll pass by one on Discovery Trail – just saying).
Arch Rock Trail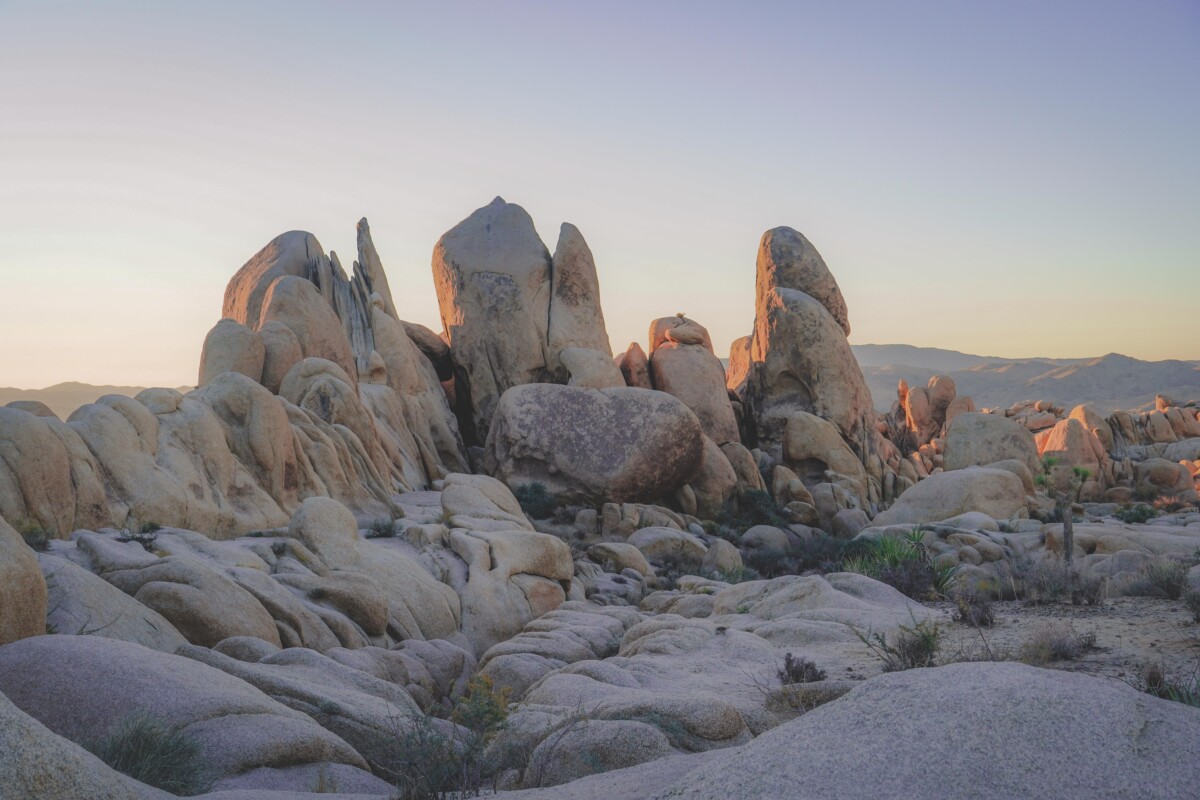 Arch Rock Trail is one of the shortest hikes in Joshua Tree. You'll discover a beige-toned, alien landscape spilling out from 0.2-mile loop.
Mornings on Arch Rock Trail remind me of a Dali painting; the rocks slope down in a surrealist way. And as you amble along the loop, you'll pass by one of the most well-known formations in Joshua Tree National Park. Photographers and influencers flock here, lugging tripods and large-lensed cameras. And although Arch Rock itself is only a pinpoint along Arch Rock Trail, you can scramble right up to it (a mini detour that ups the difficulty of this hike from mild to one step short of moderate).
P.S. This is a lollipop trail so although the loop itself is 0.2 miles, the path leading up to it (from the day-use parking lot) is around 0.5 miles. Expect to walk around 0.7 miles total.
Barker Dam Trail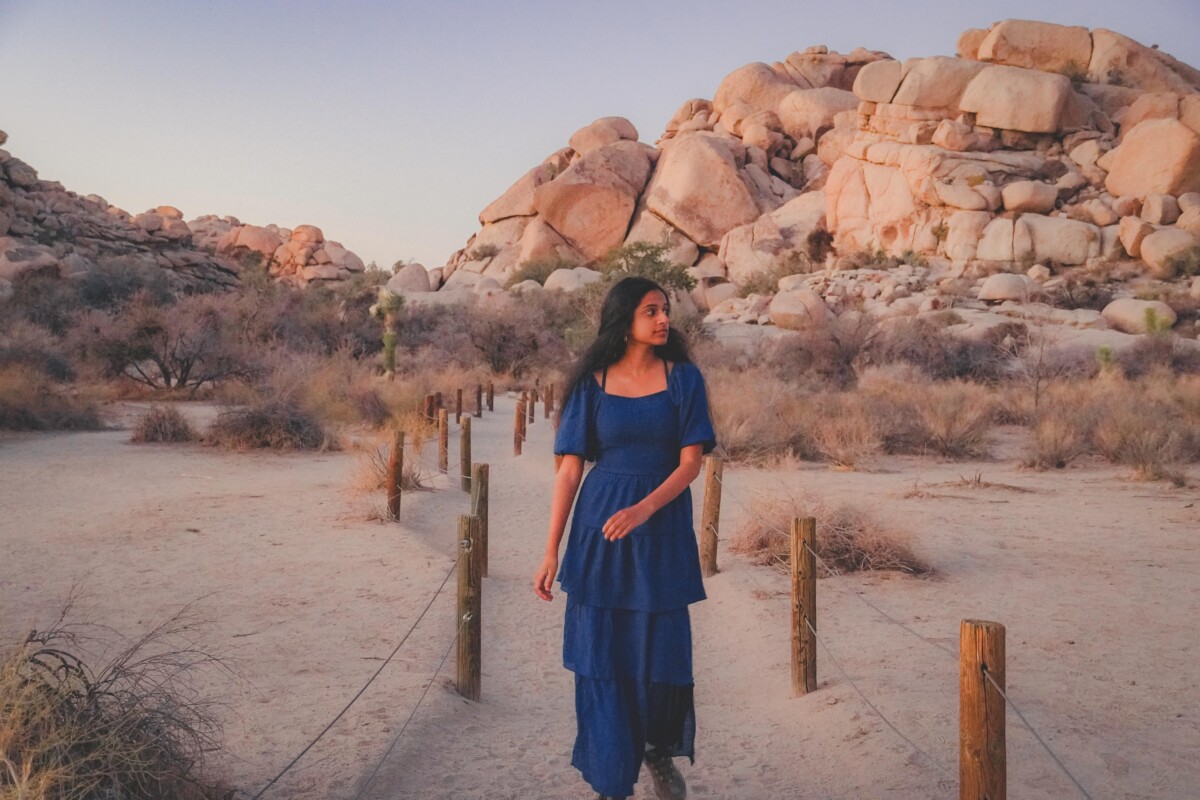 We loved Barker Dam Trail so much, we did this hike twice over the course of a weekend. Barker Dam Trail is one of the most interesting hikes in Joshua Tree. A bit over one mile, this loop leads up to an old reservoir dating back to the 20th century. At full volume, this is a crystal blue oasis that draws aquatic fowl and other wildlife.
Barker Dam was bone-dry when we visited (rain would bless Joshua Tree a week later) but I still loved this hike. Some portions are steeper than others. You'll scramble across rocks and squeeze past a narrow crevice. The views are stunning to boot, especially at sunset (if Keys View is too crowded, head here).
Travel Tip: Keep a lookout for petroglyphs near the end of the trail. They're easy to miss but also one of the most unique aspects of Barker Dam.
Skull Rock Trail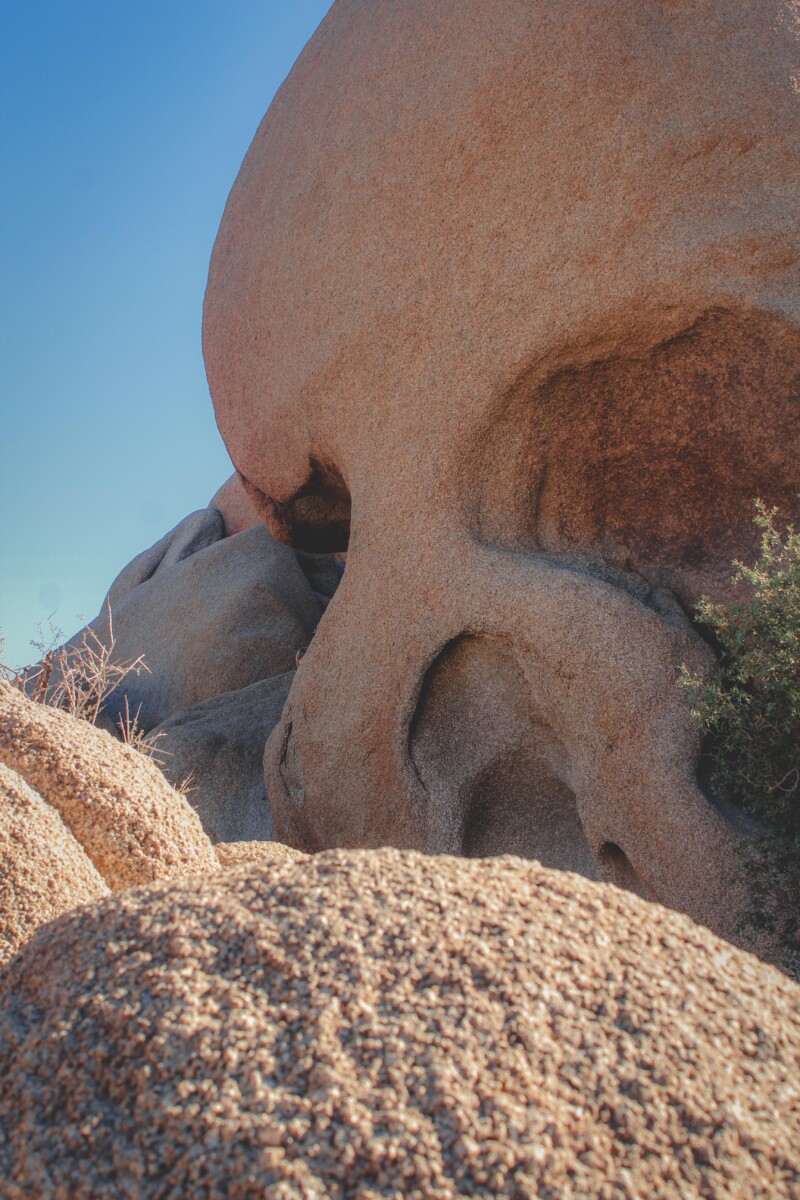 Skull Rock is hands-down one of the most popular hikes in Joshua Tree. As you fight your way through a 1.7-mile loop, shoulder-to-shoulder, back-to-breath with other hikers, you'll slowly gloss over the Joshua Tree landscape: piles of boulders, Joshua Trees, repeat. The namesake, Skull Rock, is one of the most touristy parts of Joshua Tree. Everyone and anyone wants a selfie here (if you want a photo of the rock too, be prepared to wait).
Travel Tip: This Joshua Tree hike is prettiest in the spring, when the cacti skirting the dirt path come into bloom and accent the trail in reds and pinks.
Split Rock Trail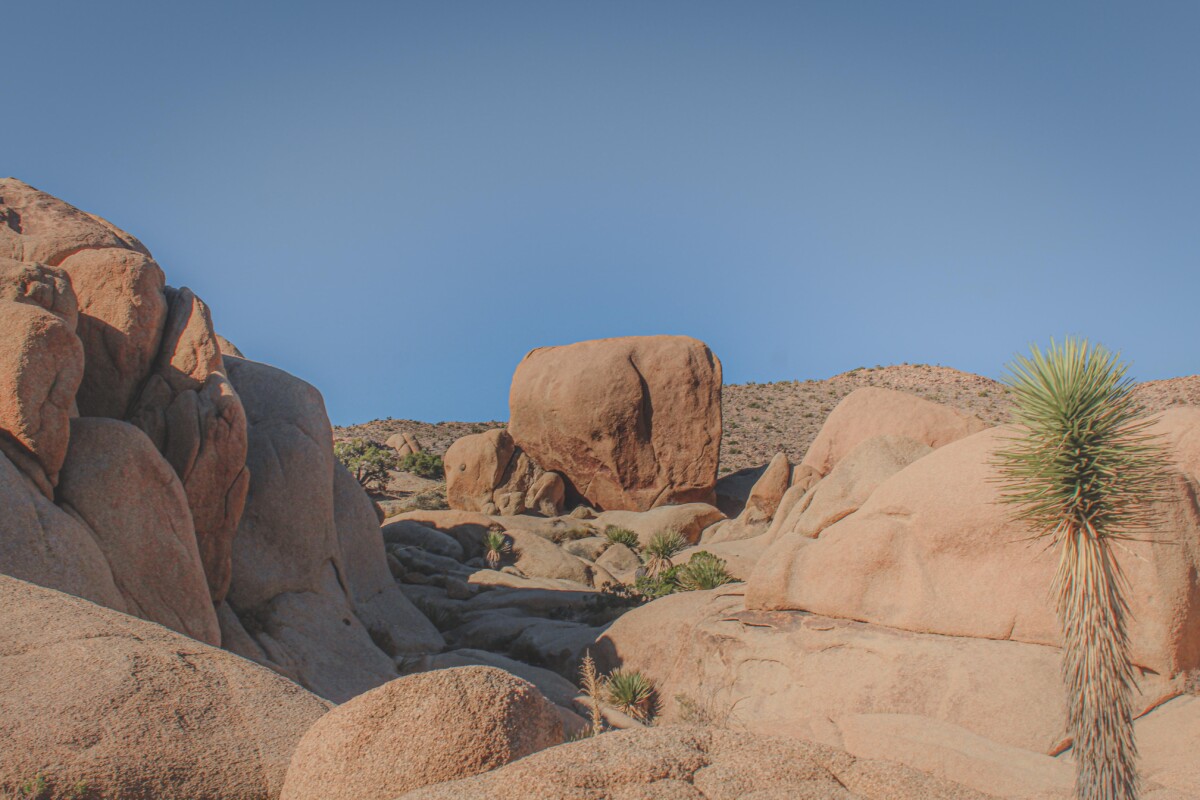 Let's jump to one of our favorite hikes in Joshua Tree: Split Rock. Split Rock is basically an adult playground. It's a cracked and marred boulderscape, rife with wind-shaped rock formations. If you're new to rock scrambling, go here. You'll fall in love with this Joshua Tree hike and all it offers: scenic views, rock piles, elevation changes. Go in the morning with a few bottles of water and salty snacks in tow. Split Rock is an unshaded trail and the summer sun in Joshua Tree is relentless.
Lost Palms Oasis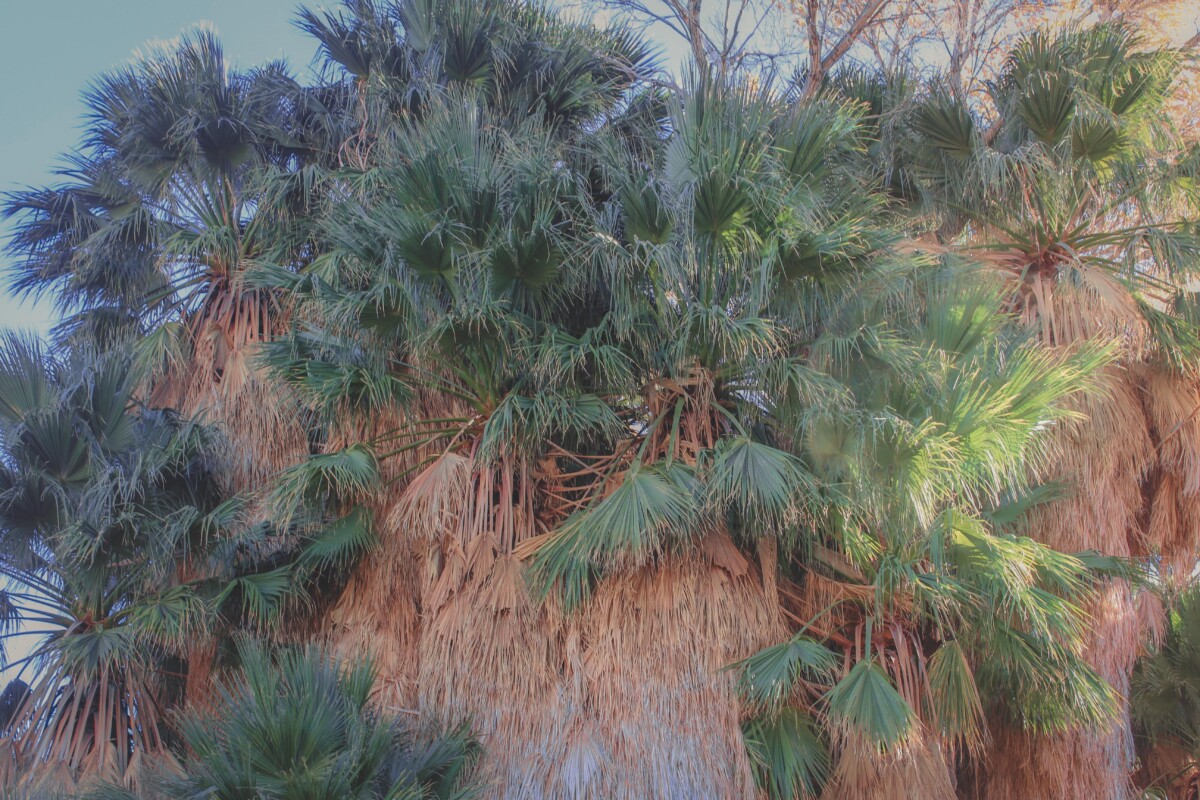 Few hikes in Joshua Tree make you work for the views but Lost Palms Oasis is one of them. It's a long hike that feels even longer at over seven and a half miles in length. Lost Palms Oasis Trail is grueling (especially if you're as out-of-shape as I am). It's a day hike in the true sense of the word. If you're not an avid hiker, I wouldn't recommend the part near the Oasis (but let's be honest, even if you're an avid hiker, that portion is terrifying). Start in the wee hours of the morning (right before sun breaks) and bring a gallon of water. You don't want to attempt this Joshua Tree hike in the afternoon.
Side Note: Lost Palms Oasis is an out-and-back trail so if you miss a sight on the way there, don't worry, you'll see it as you're coming back!
Ryan Mountain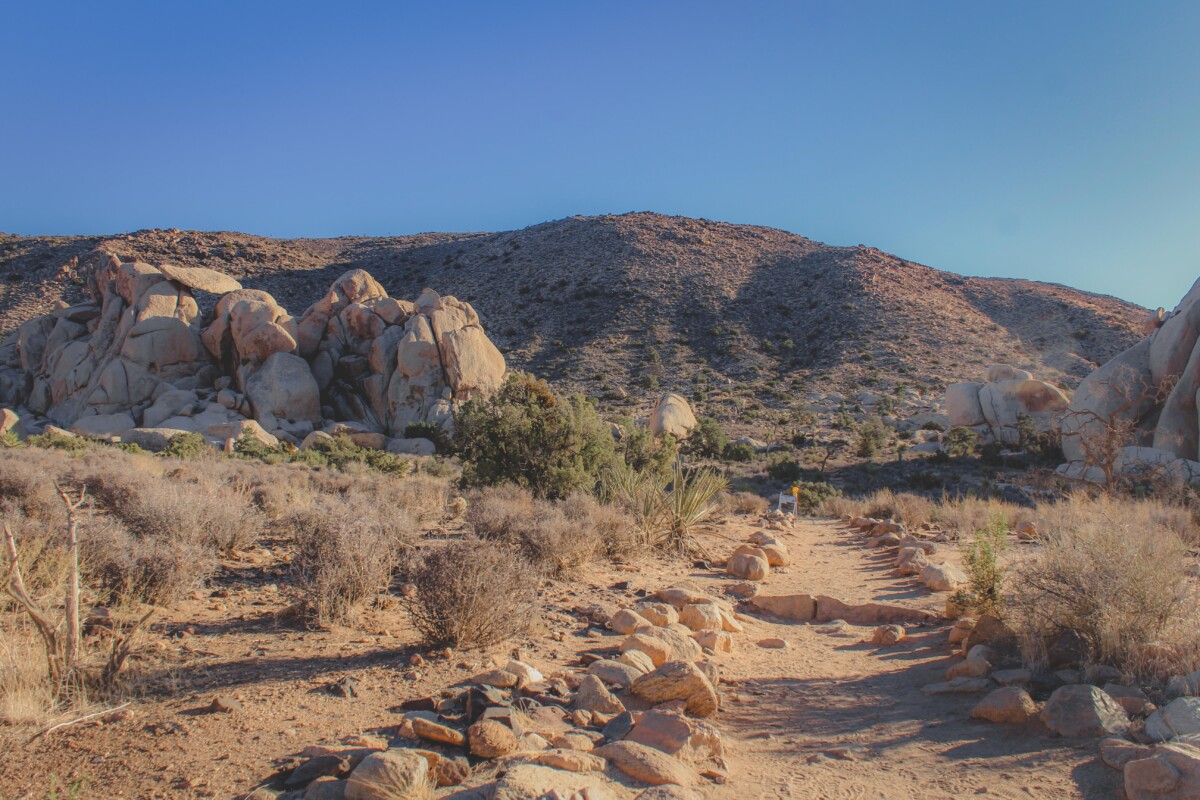 We went early one morning to the Ryan Mountain trailhead, all suited up for a day hike. But once I got a preview of the monstrously sized path leading up to the peak, I shook my head and ran back into the car. Nope. Nope. Nope.
Ryan Mountain is one of the most challenging hikes in Joshua Tree. It's only three miles (to the top and back) but there's a catch: a forget-the-Stairmaster-this-is-the-real-deal incline. The trail itself also gets cooler (literally and figuratively) as you go upwards so bring lots of layers.
Ryan Mountain is the kind of trek you do on a weekend with a bunch of friends so you can laugh and cry and curse the phrase "pain is gain" together, all while slowly making your way up to one of the best viewpoints in Joshua Tree National Park.

Did you enjoy this list of hikes in Joshua Tree? Let me know your favorite hikes in Joshua Tree National Park! As always, I'd love to hear from you.