If there is one thing I'm sure you love as much as me, it's music (and travel, of course). There is something about listening to the beat of a song, the crescendo of the key, and the force of the rhythm that washes over us and creates a feeling beyond emotion. I'm not sure what that something is exactly, but I do know that music is like magic. Your song playlist is like an Ollivander's style wand and every shuffle or flurry sparks a shift in mood. Don't see the change yet? Let me try. Ahem, Wingardium Leviosa. The spell doesn't work like that, does it? Well, I attempted something. 10 Points away from Slytherin, I'm afraid. Okay, so I'm not about to be getting my acceptance letter to Hogwarts anytime soon, but I can still whip up a wonderful muggle playlist that is as close to the magic world as possible. I'm turning a little DJ on you tonight as I share Passport to Eden's top 7 travel pop songs.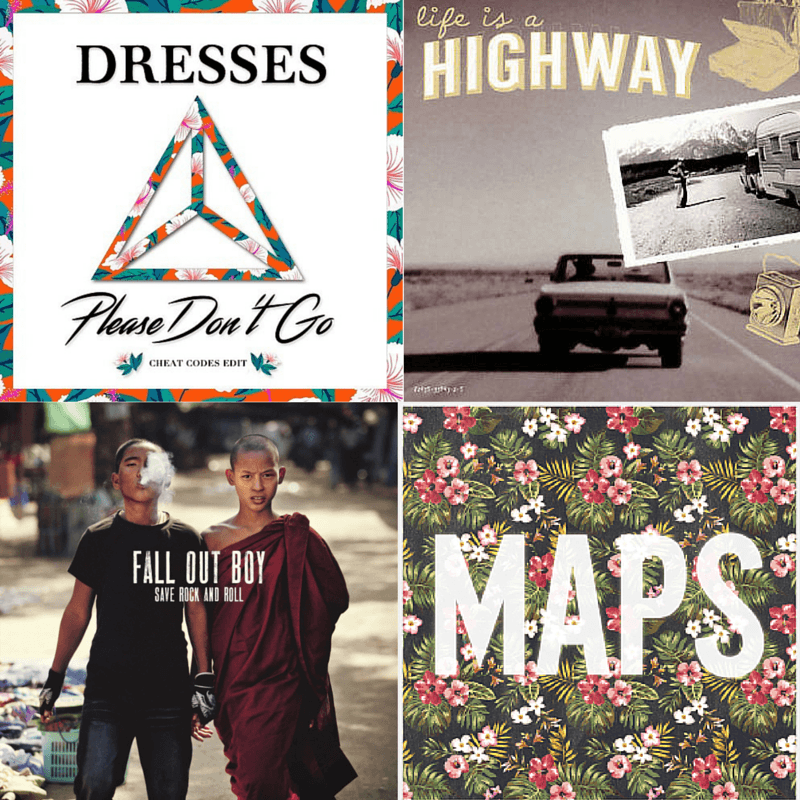 Young Volcanoes by Fall Out Boy
Yes, I started with the ultimate boy band. Don't judge me. But this song is ridiculously upbeat. Just the chorus, with lyrics like "we are wild", captures the feeling of road trips perfectly. This song is the embodiment of the idea of being held without restraints and facing the open road with flaming passion and abandonment.
Please Don't Go by Dresses
This one is on the list for ironic purposes. Yes, the beat is just as syncopated and uppity as any other pop song, but I do get a good laugh (and I'm sure you will too) listening to it on the road. Why? Any debate you ever had on whether you should go on that special road trip will ebb immediately. The song is essentially a reminder that once you are out of the house chasing after your dreams, much like Luke Skywalker on his landspeeder chasing after R2D2, you are at a point of no return.
Maps by Maroon Five
Everytime this song plays on the radio, I want to sing Hallelujah. I'm pretty much obsessed with Maroon 5's lead singer's unique voice. Honestly, this is the best song to listen to when you are travelling to visit a friend or family member. Don't you agree?
Life is A Highway by Tom Cochrane
This song is a classic. It's the kind of music that occasionally crops up in a radio station that just lends itself to raising your hands and dancing with abandon. Though I wouldn't suggest that while you are driving (hands on ten and three at all times).
Send Me On My Way by Rusted Root
I spent ages trying to find the name of this song. I remember listening to it in Matilda and then Ice Age. A few years later, it snapped back into my life through New Girl. The day I heard it on a car rental commercial though, I had enough. I needed desperately to know it's name. Why? This is the perfect road trip song marked by a sheer merriness in the harmony. We're travelling, after all. Why not celebrate?
Wake Up by Hilary Duff
Do you remember this song? I can almost bet it has been ages since you heard it, but who cares, it is pop-perfection. While as travellers, we aren't restricted to Saturday night travels, I still love how the idea of being somewhere new and unfamiliar is roped into an anthem through Duff's lyrics. So tell me, where are you right now? London, Paris, or Tokyo?
Life Is Beautiful by Tim McMorris
Any Indie music fans, will no doubt love this upbeat tune. Think of this song as the kind of music that you would listen to while working out – motivational to the extreme and at the same time, gently frivolous. Just remember, throughout all experiences, good or bad, overall "life is grand, life is good, life is beautiful."
Okay, now it is your turn. Add one of your own picks to the official Passport to Eden Travel Playlist. Anything that you feel would be apt (keep it PG-13, please. I'll be listening to these on my upcoming road trip). Also, be sure to comment down below if you did and tell me what you picked.