Here's the best time to visit Aspen, Colorado.
The first time I heard of Aspen was while flipping through a magazine in a doctor's office. It was an outdated title, years old with a dusty cover and ripped pages. It smelled of must and vanilla. Inside was a piece about powder snow-capped mountains and lush white-Christmas perfect peaks.
The Aspen I saw then was pitched as a glamorous A-list romp frequented by the likes of the Kardashians. The pictures were a mix of cool glitz and glam.
I arrived in Aspen several years later (initially on a day trip from Colorado Springs, one that I ended up extending by a week). It was still picture perfect, exactly like the posh winter wonderland I had once seen in loose pages.
A tiny town rich in views, Aspen is beautiful year-round. So if you're planning a trip there, here's my guide on the best time to visit Aspen, Colorado!
Winter In Aspen
Winter in Aspen usually lasts from November to early April.
---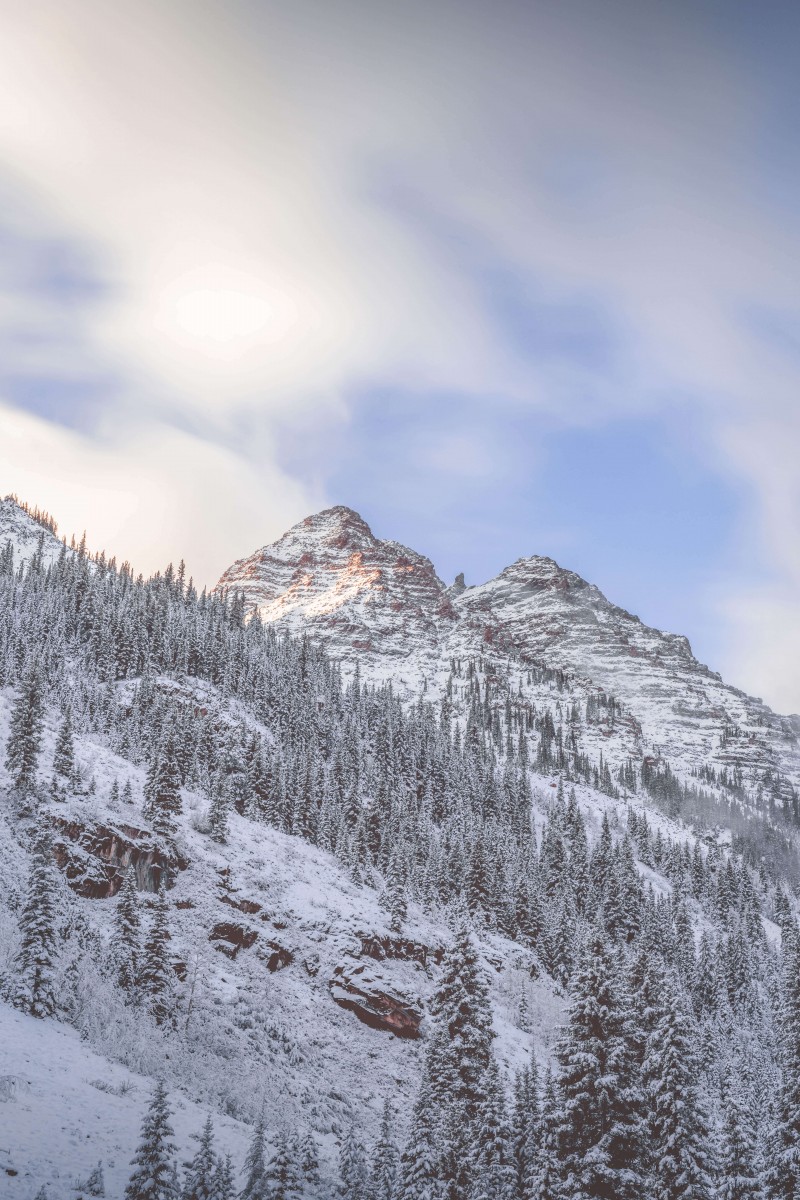 Winter in Aspen is ski season. Aspen gets an average of 170 inches of snow this time of year, making it the perfect frosty getaway.
If you can tackle a below-freezing chill and powder sports like skiing, sledding, and snowboarding, winter is one of the best times to visit Aspen.
It's also peak tourist season, making it one of the most expensive times to hit up the town. Most resorts pop up shop between November to April (occasionally extending to May) and with them come price hikes.
You'll be paying a little extra (okay, a lot extra) for cozy apres ski entertainment and a hot water spritz after a hard day on the slopes.
If you're looking for a more affordable getaway, slash winter as one of the best times to visit Aspen. Consider spring, early summer, or fall instead.
Winter In Aspen Travel Tips:
The best months for skiing in Aspen are March and April (heavy snow months without the crowds).
From the 12 Days Of Aspen to Wintersköl, there are plenty of non-ski events to ring in the season.
Not sure where to stay in Aspen? Here are the top three ski resort areas: Aspen Mountain, Buttermilk, and Aspen Snowmass.
Spring In Aspen
Spring in Aspen usually lasts from late April to May.
---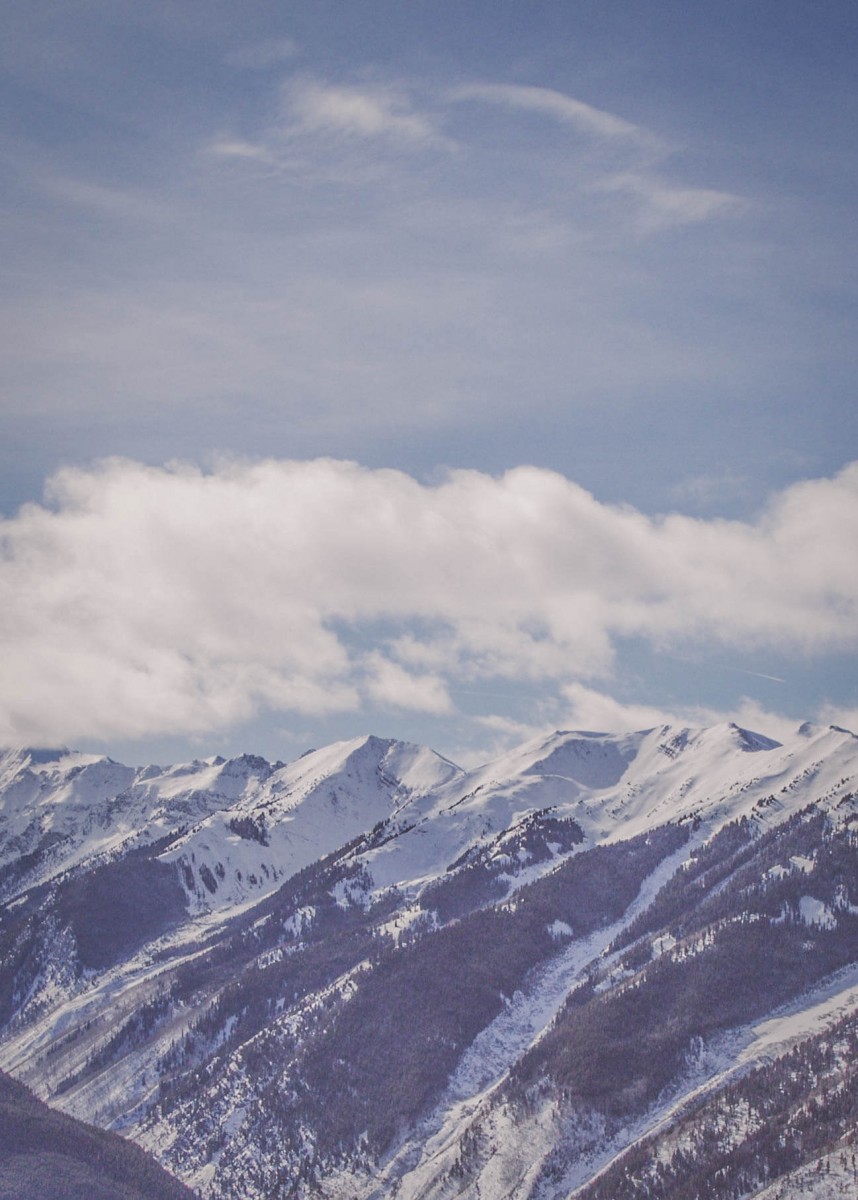 Aspen doesn't see a traditional spring season. The spring months overlap with winter, whiplash weather extending to May.
April is one of the best months for skiing in Aspen (cross-country skiing especially). And if the onset of heat doesn't sink in early, May can be a hit amongst ski bunnies as well.
By the time Aspen reaches the latter half of spring, the trails are hiking ready.
And the town is plump with concert line-ups. Most of the performances are held in Belly Up, a tiny venue with a full-service bar and celebrity headliners.
Spring In Aspen Travel Tips:
Take full advantage of ski resorts opening their doors past April. The prices will be better, the crowds lower.
Just past winter, in May, most lodging costs drop by half. It's a give or take whether you'll be able to ski. But if you're searching for an affordable getaway, pick a date in May.
If you can, avoid Memorial Day weekend. Briefly, the crowds pick up again and with them, the prices.
Summer In Aspen
Summer in Aspen usually lasts from June to August.
---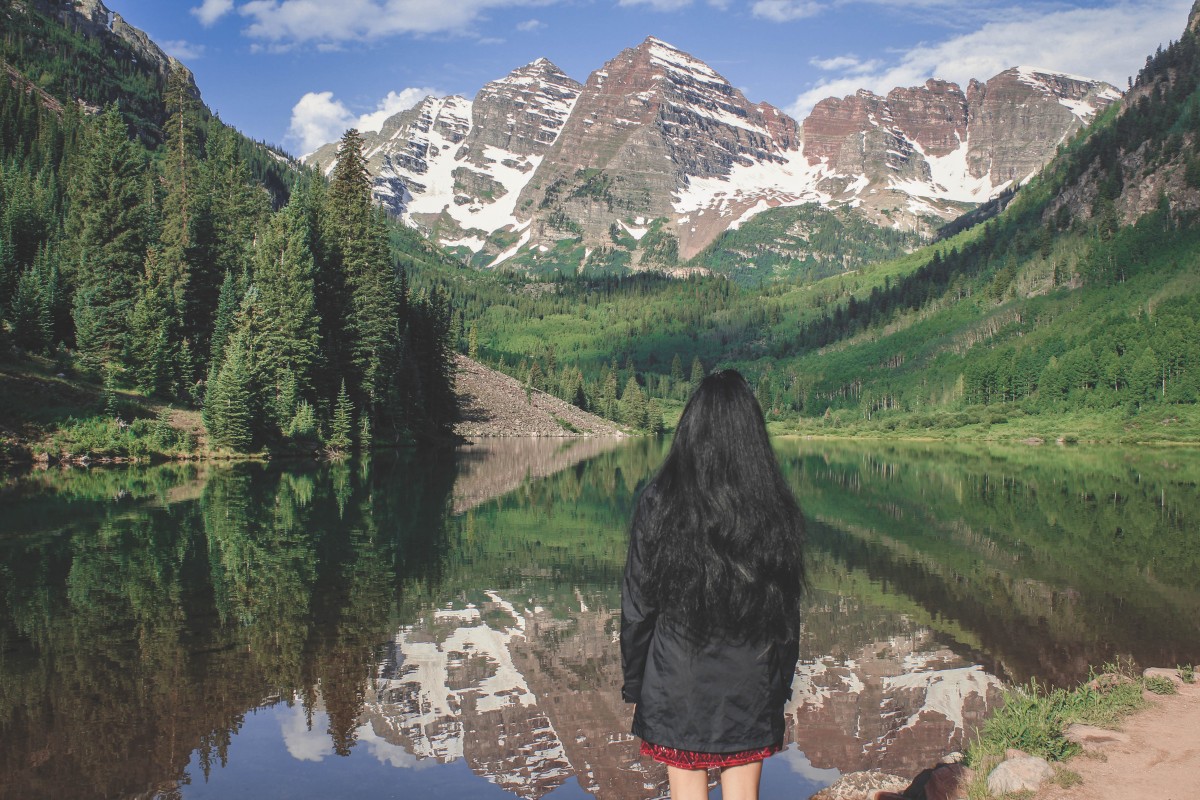 Early summer is the best time to visit Aspen. Once the traditional wintertime air punches dry, Aspen dons a new look: vibrant greens draping along mountainsides.
There's still a cool crackle from the nose-bleed high altitudes, but summer in Aspen is perfect for weekend escapes.
Independence Pass, the scenic byway stretching between Leadville and Aspen is open (until it shuts again past fall). Here, you'll snake past San Isabel National Forest, the woodsy banks of White River National Forest, and craggy snow-capped mountains. You'll feel your breath shorten as the views widen into a surreal dreamlike landscape.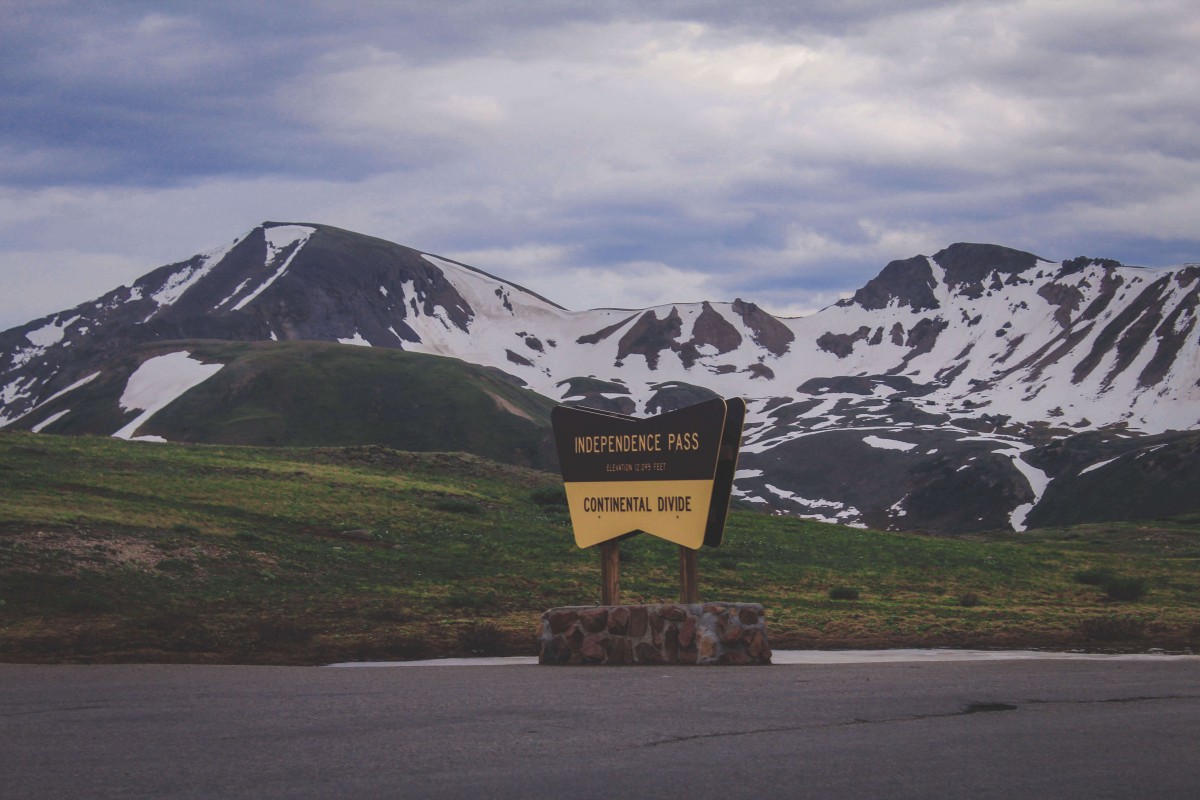 The highway cuts right through the Continental Divide and even in the dead of the summer, the weather blinks cool and hot.
Summertime in Aspen is a thrill. The shopping scene in downtown (by Aspen Block) is alive. Off-the-skis Aspen is more accessible (think multiple coffee stops, a quick day trip drive to Maroon Bells, and museum visits by the dozen) in terms of walkability and price.
Summer In Aspen Travel Tips:
If you're wondering how to spend a day in the summer, I have a full list of things to do in Aspen other than ski on the blog!
Head to one of the local parks (Paepcke Park or Wagner) if you want to hit up all the local events.
Admission to the Aspen Art Museum is free year-round.
In the summer, admission to the Holden/Marlot Mining and Ranching Museums also includes access to the Wheeler Stallard Museum.
Fall In Aspen
Fall in Aspen usually lasts from September to October.
---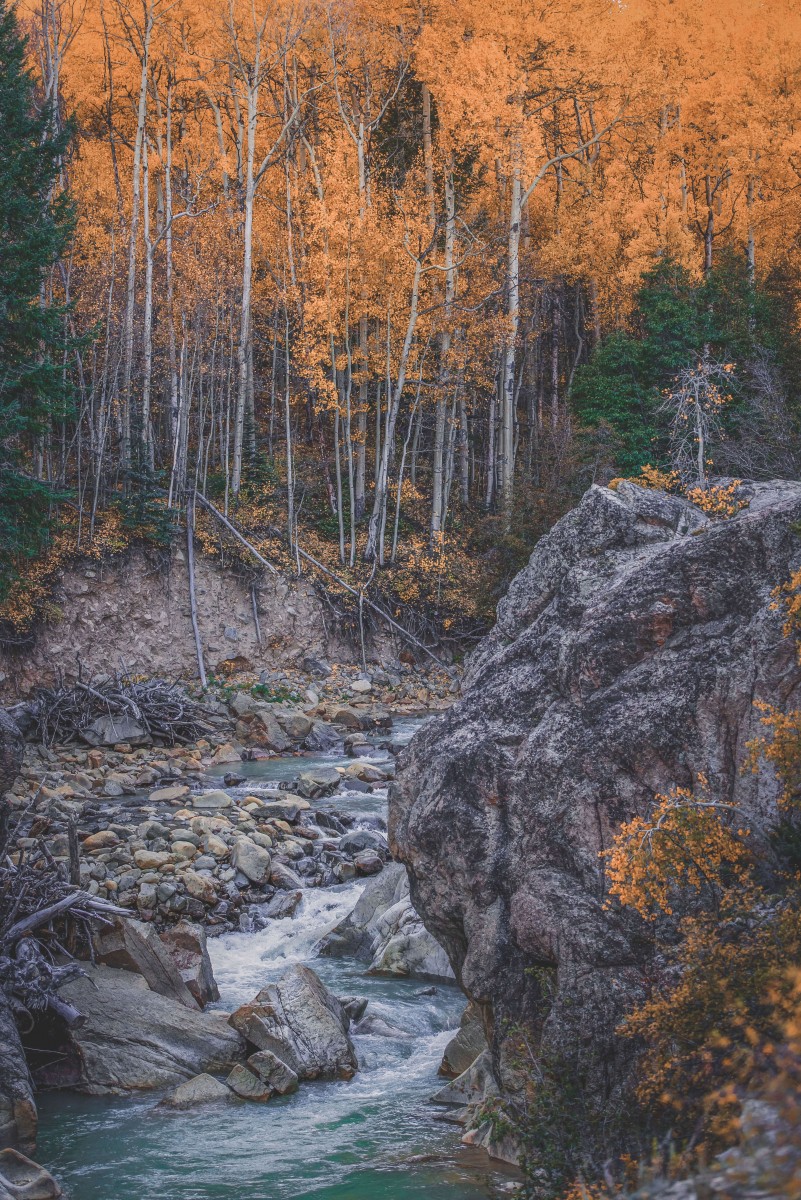 If you're looking for the best time to visit Aspen to see the fall colors, late September is a good bet.
Fall in Aspen is a puff of yellows. Autumn is a fairly warm season (by Aspen standards). The trees turn golden, like an earthy transplant of King Midas' palace.
Peak tourist season (to see fall colors) in Aspen is the first week of September, when popular attractions like Maroon Bells resort to overflow parking. Come early (before the Maroon Bells bus drops off the crowds).
The rest of fall is shoulder season. Hotels drop rates, transforming Aspen into a unique affordable getaway.
Fall In Aspen Travel Tips:
Skate through Independence Pass to see view upon view flecked in orange and red.
Head to the Aspen Saturday Farmer's Market for some seasonal fruits and vegetables.
The Wheeler-Stallard Museum is free on the first Saturday of each month.
Summer and fall in Aspen offer similar activities (except fall in Aspen lives under the hood of yellow hues).
Take a horseback ride. Boot up and trot through the lush fall foliage.

Did you enjoy this blog post on the best time to visit Aspen? Have you ever been to Aspen? If yes, when did you go and how was your experience? As always, I love hearing from you!
Disclaimer: The dates of all events listed in the events calendar are accurate at the time of publication, but are subject to change afterward.