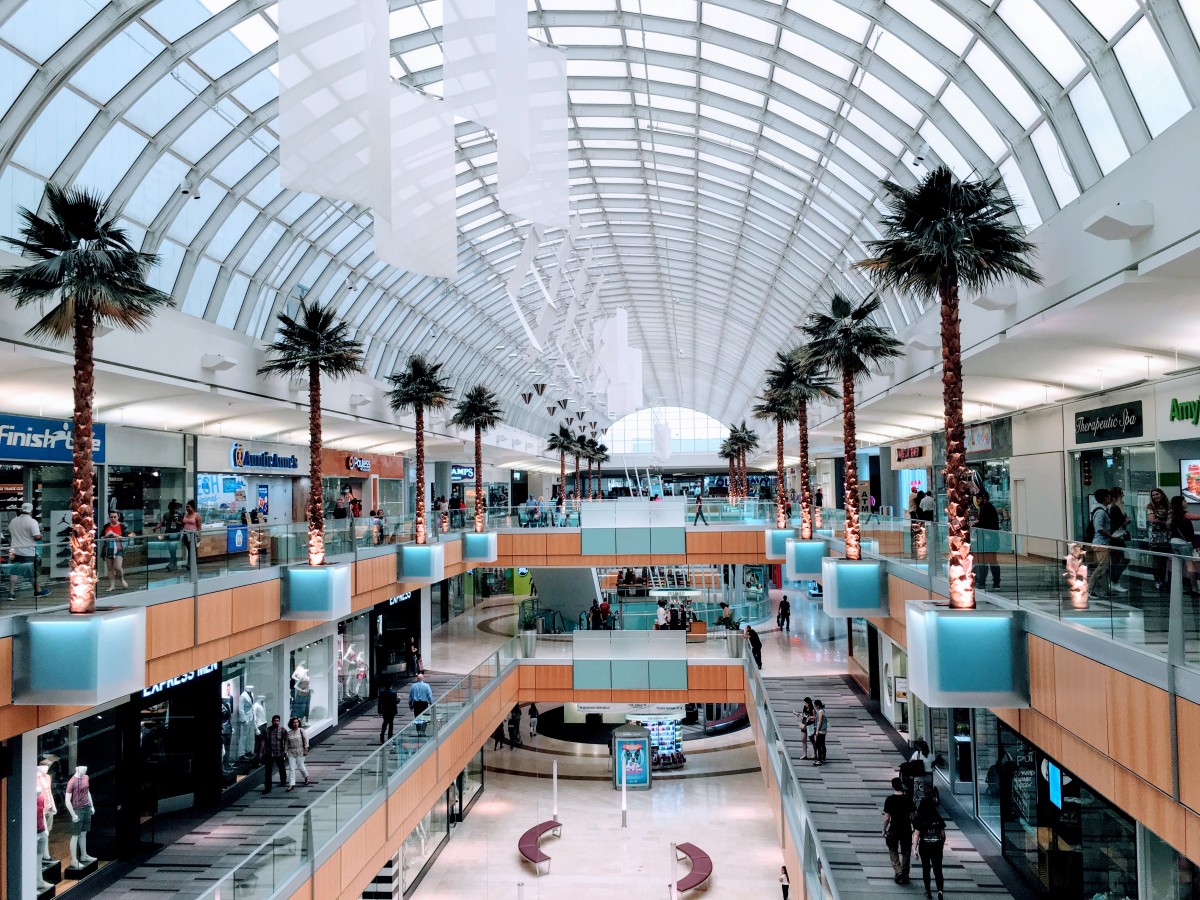 "This has to be the best boba tea in Dallas," I say, swishing my straw in the cup. The milk tea is a smooth and creamy bright purple.
"You've said that for every single place so far," you laugh. "And we've visited over twenty."
I rub my sugar-filled belly. "True."
"Well, they can't all be the best."
"But-"
"No."
Sigh.
I've been on a recent sweet kick so it's no surprise that I took today to just sample boba tea in Dallas (yes, I went on a crazy, sugary version of a juice diet that I would not recommend). I promise it was all in the name of market research and I had no ulterior motives like constant boba cravings that needed to be satisfied immediately.
Ahem.
Judging was simple. We tried a small cup of taro milk tea at every place we visited for comparison purposes (also because I really like taro milk tea) and came up with the following standards:
The milk tea has to be of high quality. It can't taste thin and old.

There has to be a good amount of boba in the cup.

The store can't cheat you by adding lots of ice to fill up space in the glass (don't you hate when drink places do that?)

The boba place has to be an independent, local business or local chain.

There must be some travel-related attraction nearby (within a ten minute drive).
Right now, we're six minutes away from the Galleria Mall, in a hole-in-the-wall storefront, drinking tea. My cup is nearly half-empty. And as I take small sips, we start to chat. We talk about life updates and K-Dramas as I desperately try to avoid the topic of narrowing down the best boba tea in Dallas.
But the topic still comes up.
Dottea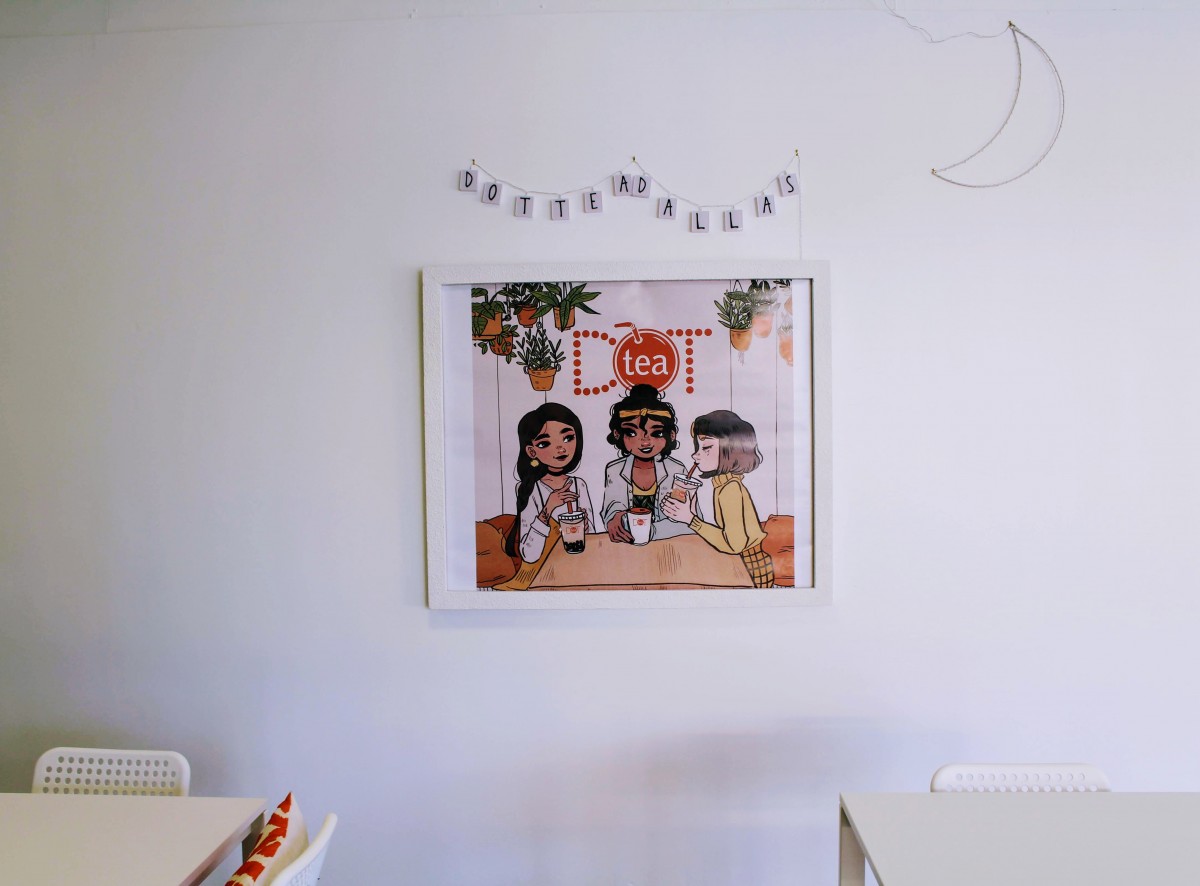 Dottea reminds us of a storybook turned into a cafe.
There is a childlike, whimsical element that swirls through the store. An illustrated sketch hangs on the side wall. Bubbly gold and orange-toned decor pops against a neutral black and white theme.
There's a couple in the corner, lounging. I know from their expressions – a certain satisfied hum – that this place will impress.
So I order a small cup of taro milk tea.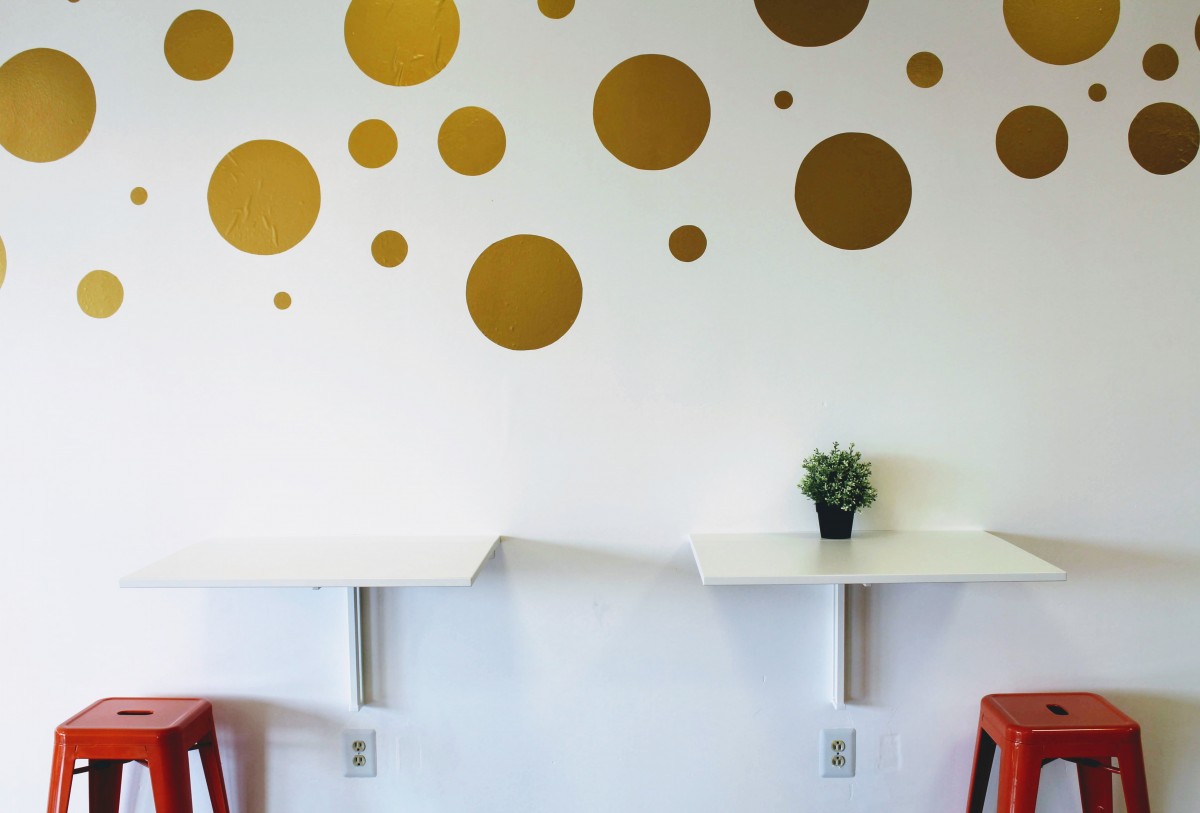 We wait against the wall, out feet propped back against the chair. After a while, we're called over to the counter.
"Would you like to taste? Let me know if it needs more sweet or -"
I take the miniature paper cup into my hands and slurp down some of the liquid.
"It's perfect," I say.
It really is. The taro milk tea isn't thin but thick and heavy. Only a shallow layer of ice surfaces the top.
I slosh the unicorn-style bright purple liquid in the container, letting the boba move around as I try to grab some with my straw.
Sweet. Chewy. Light. Just the way boba should be.
Dottea Information: 14902 Preston Rd, Dallas, TX 75254, 10AM – 10PM
Rating: 5 Stars (bonus for customer service)
Nearby Attractions: The Galleria Mall is a gorgeous, classic American mall, six minutes away, perfect for window-shopping. It's somewhat touristy but oh-so pretty.
Fat Straws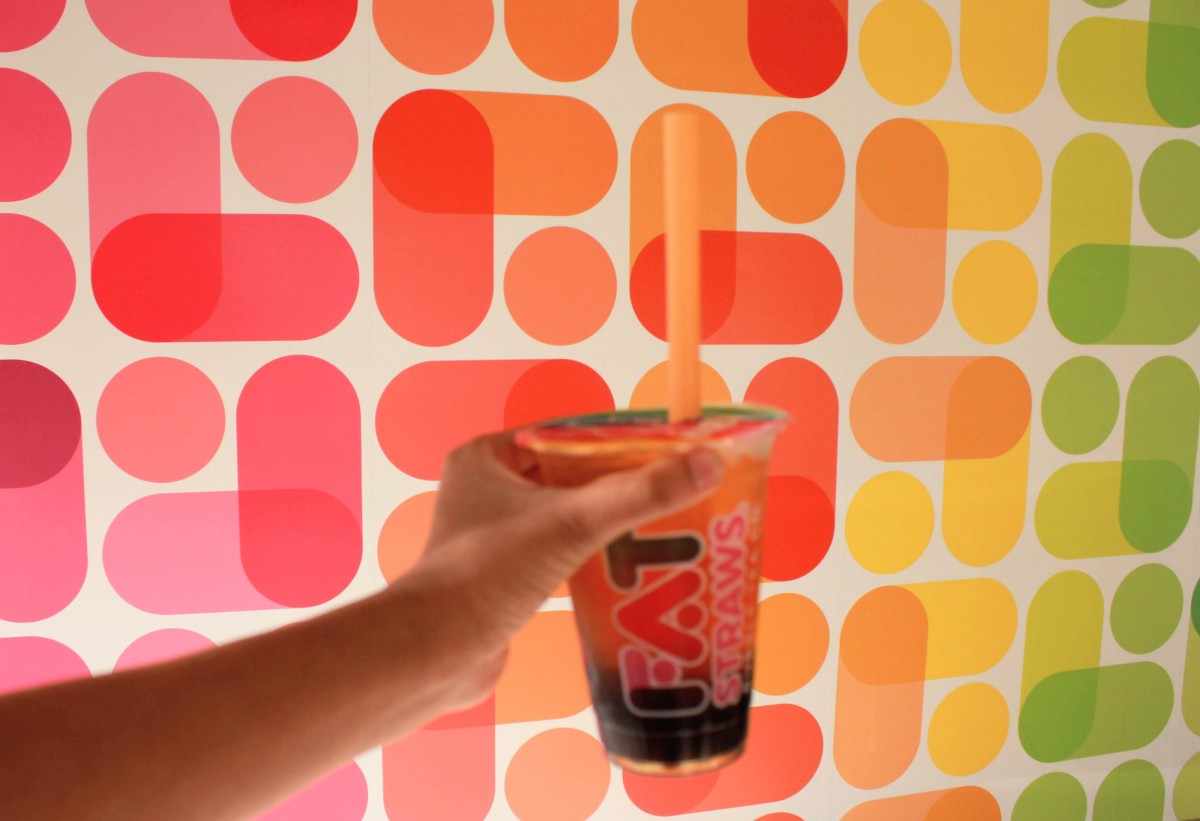 I get a happy Buddha vibe from Fat Straws. I'm not sure if that's just me, but this DFW chain just has me smiling as we walk in.
Fat Straws sports a funky multi-coloured theme. There is even a rainbow colored sign made entirely of straws that spells the world "Smile".
Happy Buddha vibe continues.
I look at the menu searching for taro tea.
Tar0, taro, taro.
Ohhh, what's this?
I promise I'm dedicated to our mission of having only taro, but for some reason, I completely skip the option at Fat Straws and opt for a drink that I know I will fall totally, completely, and absolutely in love with.
The Garden of Eden.
You understand why I had to have it…right?
"What's in it?" I ask, before ordering.
"It's a little more fruity than the other teas," the assistant says. He brings over a canister and opens it up. The smell is heavenly (pun not intended) – a tempting tropical mix that has me hypnotized.
You swoon.
"I'll take one with boba," I say as he snaps the lid back on the tin.
The Garden of Eden takes a bit of time to steep so we wait on a couch. Music spins in the background. The music here is varied – No Copyright Sounds followed by Iranian pop tunes. When we finally have the cup in our hands, we take turns taking a sip. The boba tea isn't sweet (and makes me feel only slightly less guilty on this boba run), but it has a striking fruity flavour that leaves me wanting more.
I'll admit, while the boba isn't as smooth as some of the other places on this list, the tapioca pearls are nice and chewy. Besides Fat Straws gave the most boba in the cup out of all the other stores, which says something.
I'm a fan of big portion sizes. This is Texas, after all.
Fat Straws Information: 14902 Preston Rd, Dallas, TX 75254, 10AM – 10PM
Rating: 5 Stars (bonus for a having a tea that matches my website name)
Nearby Attractions: For more off-beat attractions, check out the Half Price Books flagship store, a scarily huge, monster of a bookstore where even hardcovers sell for less than $10.00. They also serve scrumptious Black Forest cake. Half Price is approximately ten minutes away and if you are looking for more not-so-commonly visited attractions in Dallas, check out this guide.
Panda Tea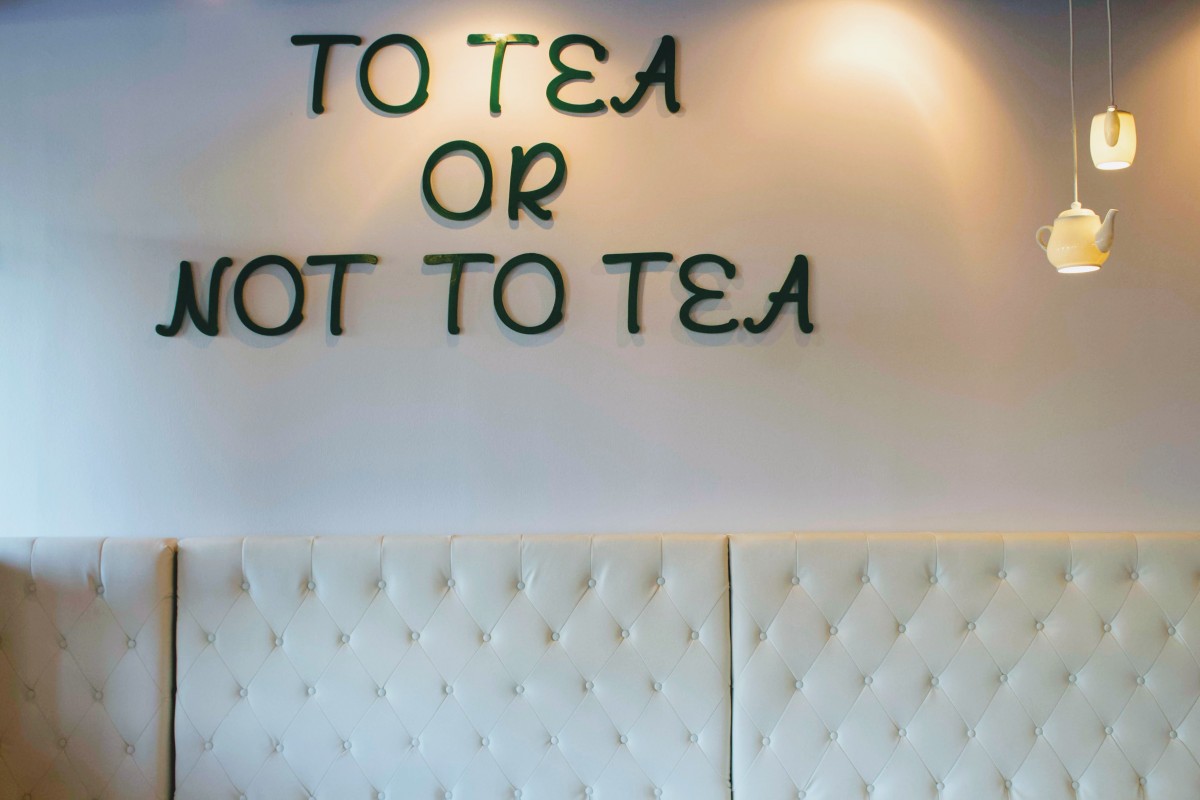 Panda Tea in Dallas knows branding. Black and white photographs are aesthetically placed around the store. The lamps are made of white tea cups (the cutest decor idea in a tea place ever, by the way). Panda merch is decked on shelves as soon as you enter the store.
Panda Tea also washes over the kitshy multi-colored straws and waves in pure black ones, keeping the classy, minimalist theme.
So when we walk in, I'm totally biased because this is the most Instagrammable cafe in Dallas. It's beautiful.
While the taro tea was a lovely pastel color, the tea was broken. The ice filled a fourth of the cup. It was to the point where I couldn't finish the glass.
Maybe, taro isn't their specialty.
But boba certainly is.
The boba at Panda Tea is smooth, sweet, and chewy. It tastes like honey wrapped into a seductive ball that quickly absorbs the flavor of the tea.
I find myself spooning out the boba and popping the bubbles into my mouth.
Yes, this is boba perfection.
Panda Tea: 5521 Greenville Ave #108, Dallas, TX 75206, 12 – 9PM
Rating: 3.5 Stars (bonus for being Instagrammable)
Nearby Attractions: There are a lot of cute, indie museums near Panda Tea. If you are a Spanish art junkie, visit the Meadows Museum. Then stop by the Presidential George Bush Library to get your bookish fix. Finish off the day by grabbing some popcorn and watching a movie at the gorgeous Angelika Film Center.
3 Best Locations For Boba Tea In Dallas Area
Now, you've heard my top three choices for boba tea in Dallas. What do you think? I certainly feel like there are some places just outside Dallas, still within the DFW region that truly deserve a mention. So without further ado, here are 3 more boba stops that are positively scrumptious:
Tasty Cup: This boba tea house located in Plano excels in customer service. Tasty Cup is hard to find, located along a commute route, but the constantly smiling staff makes the trip worth it.
Zero Degrees: This California transplant always has a line rounding the block at its Frisco location. It's a chain and a pretty popular one. Super sweet drinks. Icy. Instagrammable. It's the boba tea selling version of Starbucks.
Tea2Go: This Fort Worth indie stop doesn't just serve boba tea but all different kinds of loose leaf teas. It's a cute location to spend a quiet afternoon reading a book.
Did you enjoy this post? Are you now craving boba tea (I am)? Did I help you discover your favorite boba tea in Dallas? Let me know in the comments below! I love hearing from you!