The cutest boutiques in Norman, Oklahoma are the ones you find when you aren't searching.
I arrive in Norman on a warm, crisp fall day. Ribboned by light clouds, the sky is an unbelievable blue, piercing and soft, like Prince Charming's eyes.
Norman is a fairytale city, a dreamy mix of small town and suburbia. On a gorgeous day like this, I'd normally take you on a tour of all the outdoor things to do in Norman. We'd stroll along paths straddled by lines of trees. We'd grab a bite from a rooftop restaurant.
But the boutiques in Norman are too powerful a draw. Like a siren, their enchanting layouts, brightly colored and winter decorated, suck me through the doors.
And I find myself wandering through Downtown and Campus Corner, over and over again, shopping and window-shopping.
In classic local fashion, grab a cup of coffee or cocoa, and let's explore the best boutiques in Norman, Oklahoma.
PostScript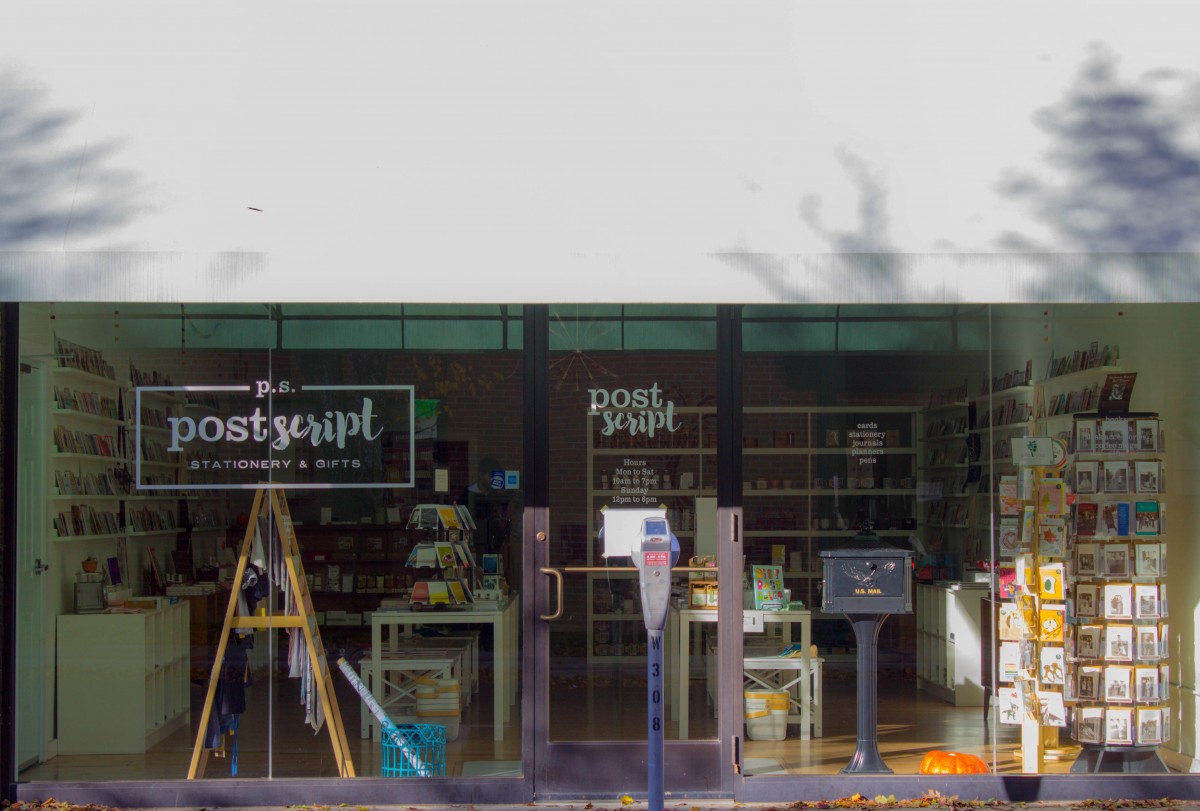 As a stationary addict, I can't help but bring you to PostScript, a charming little boutique just a short walk from the University of Oklahoma campus.
From sassy greeting cards to decomposition notebooks, PostScript is radically old-fashioned. An ode to classic snail mail and hand-written notes, the store swiftly mixes old with new.
We're starting off our morning with a few laughs (or ten or twenty – you can never laugh enough) because every piece here, hand selected and oh-so aesthetic, is hilariously relatable.
PostScript: 329 White St, Norman, OK 73069, 10 AM – 7 PM
Savvy's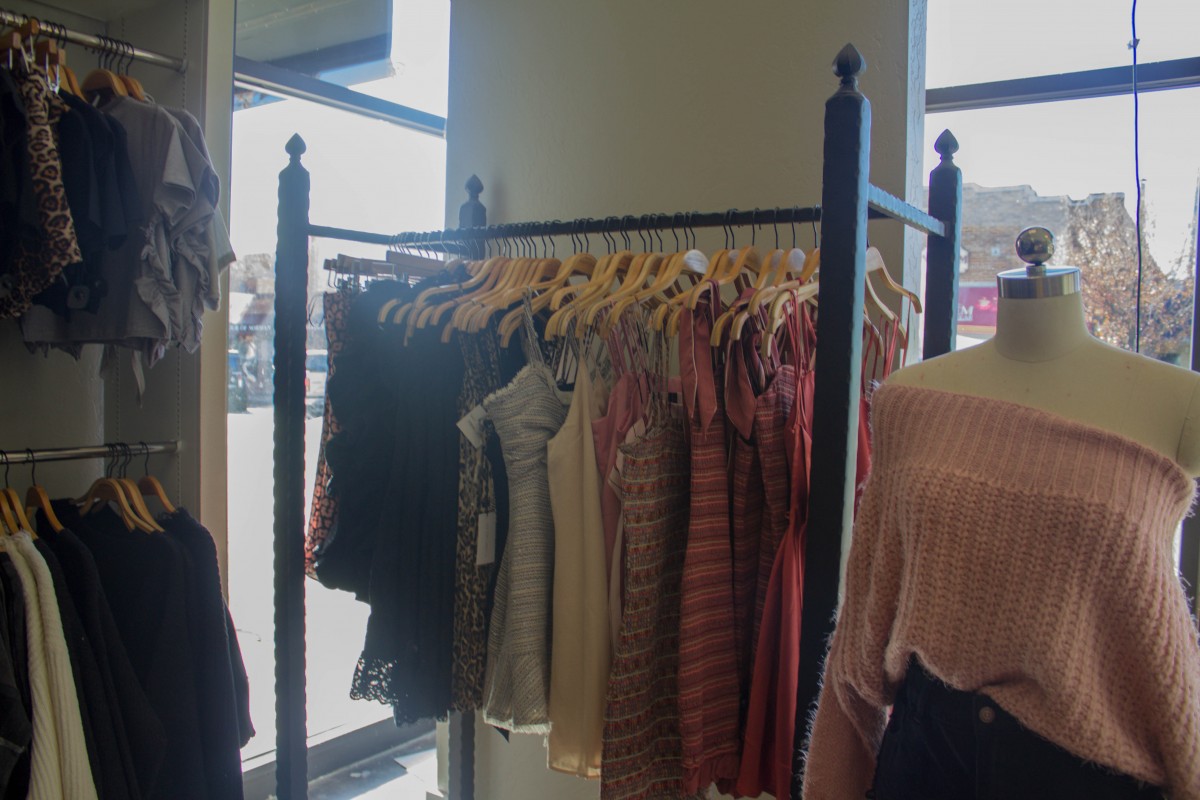 Savvy's might just be Regina George's dream closet. The queen of chic-without-trying fashion, Savvy's soft palette over-the-knee designs make this store one of the best boutiques in Norman.
While I'm slowly falling in love with Savvy's, here are a few more fashion boutiques in Norman to check out before our next stop:
Stella Rae's: Cute overalls, trendy jackets, and millennial-inspired seasonal wear.
The Clothing Bar: Southern charming pieces in a vintage-style store.
Lucca: From business casual to flirty date night outfits, Lucca is a buzz of eclectic options.
Savvy's: 761 Asp Ave, Norman, OK 73069, 10:30 AM – 6PM
Oil & Clay Studio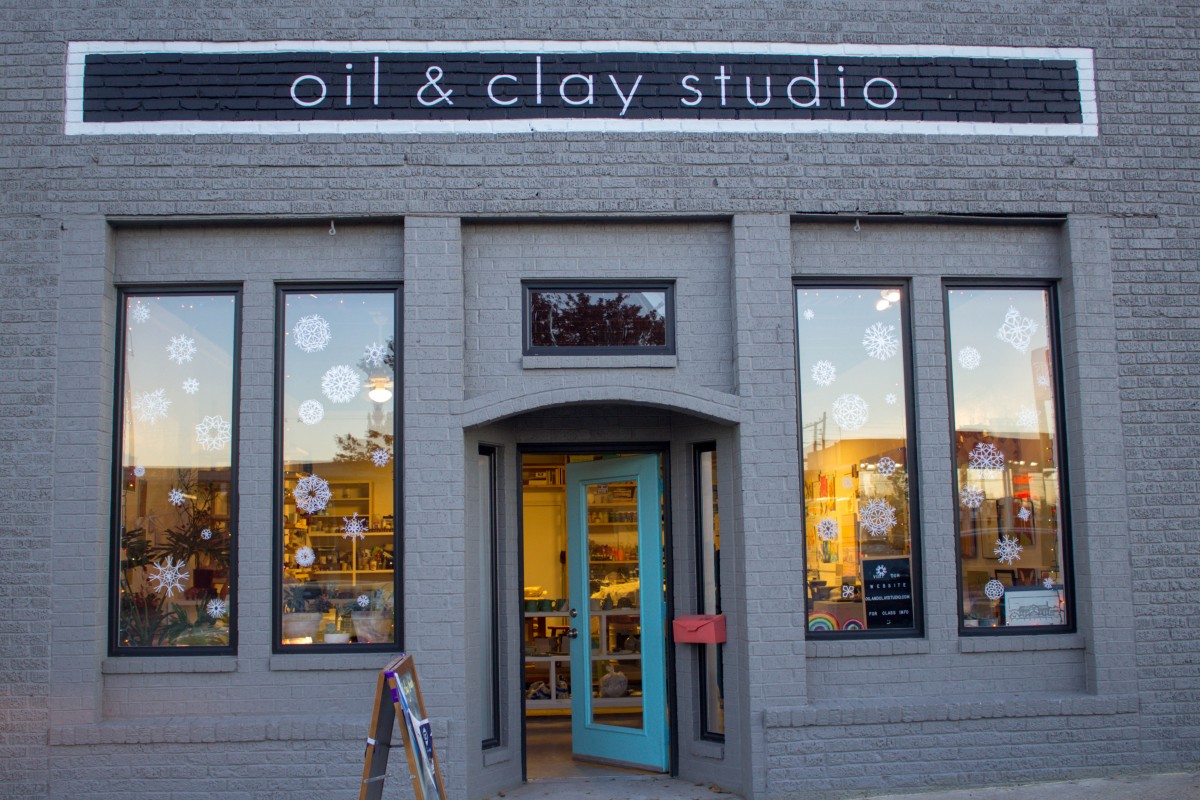 Oil & Clay is an indie art studio in downtown Norman. The local art school isn't a boutique in the traditional sense of the word. Instead Oil & Clay is part university getaway and part community center, winding together escapist creativity and outreach.
Oil & Clay: 410 E Main St, Norman, OK 73071
Stash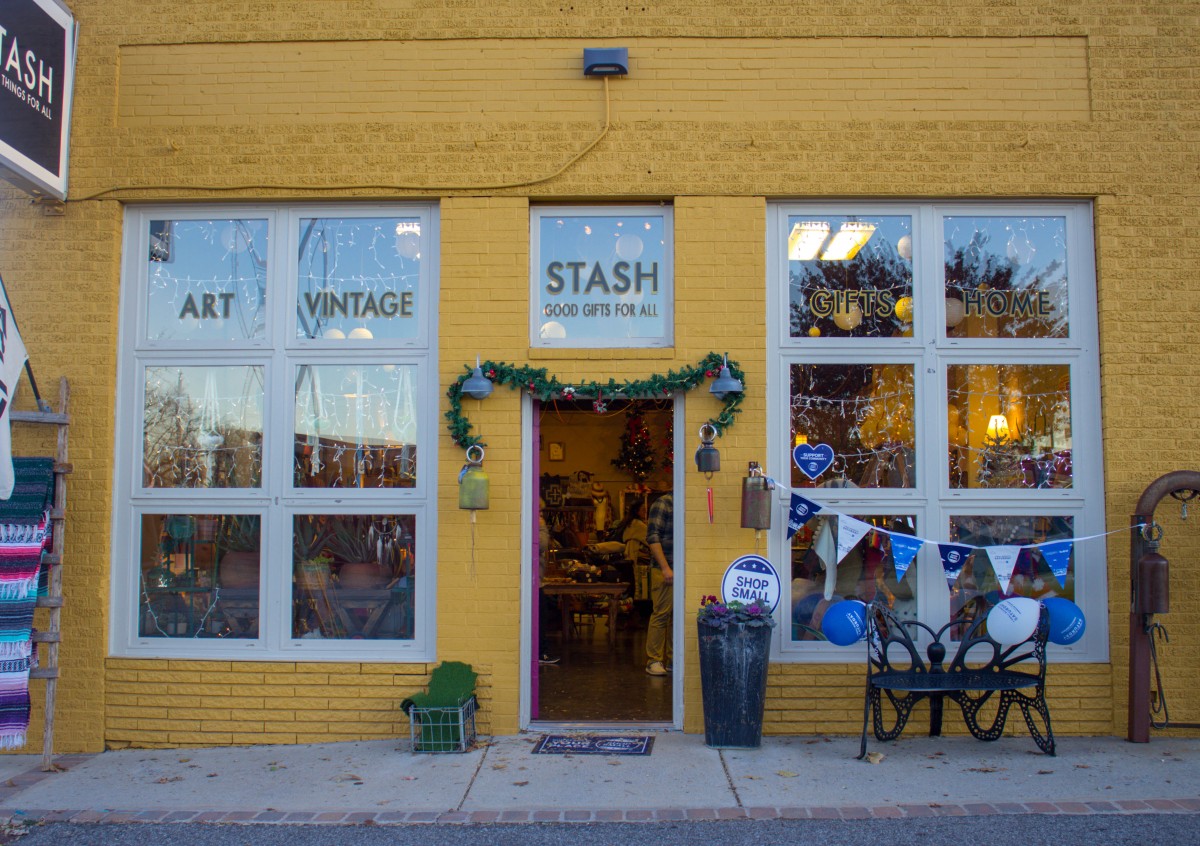 Stash is a fresh-faced gift store in downtown Norman. Next to Oil & Clay, this brightly colored yellow-walled shop is hard to miss.
The store's hand-picked pieces – fair-trade, local, or vintage – are easy to fall in love with. Quirky and cool, Stash is quintessentially Norman with a bit of a hippie edge.
And if you're looking for cute candles this winter (or let's be honest, any season), skip Bath & Body Works (my embarrassing go-to) and sift through Stash instead.
Stash: 412 E Main St, Norman, OK 73071
Mister Robert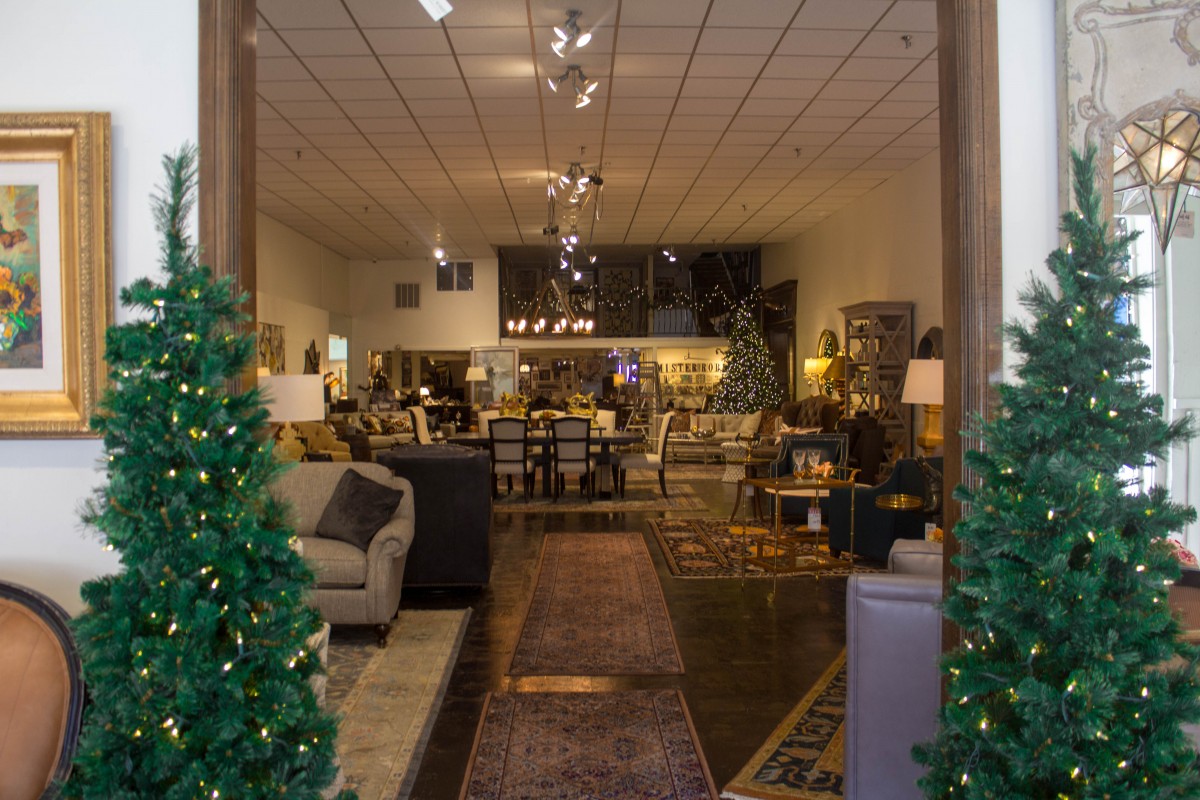 Walking into Mister Robert's Fine Furniture is like stepping into a winter wonderland.
Lit by soft yellow lights, peppered with trees, and steeped in holiday cheer, Mister Robert rings in the Christmas spirit.
As we walk in, I feel something holding me back. The patterned rugs, the gilded paintings, the artistic lamps all seem lush and lavish.
I don't think I can afford anything here. We should head out…
A man catches our awkward stance by the doorway and walks over.
Too late.
"Hello, have you been here before?" he asks.
"We're just passing by," I stutter. My hands are clammy, my legs want to pace the floor, but my body's rigid. I feel out of place.
"There's a clearance section," he says, smiling.
I smile too. If there's one thing I love, it's a family owned business that can read its customers.
Mister Robert is just that.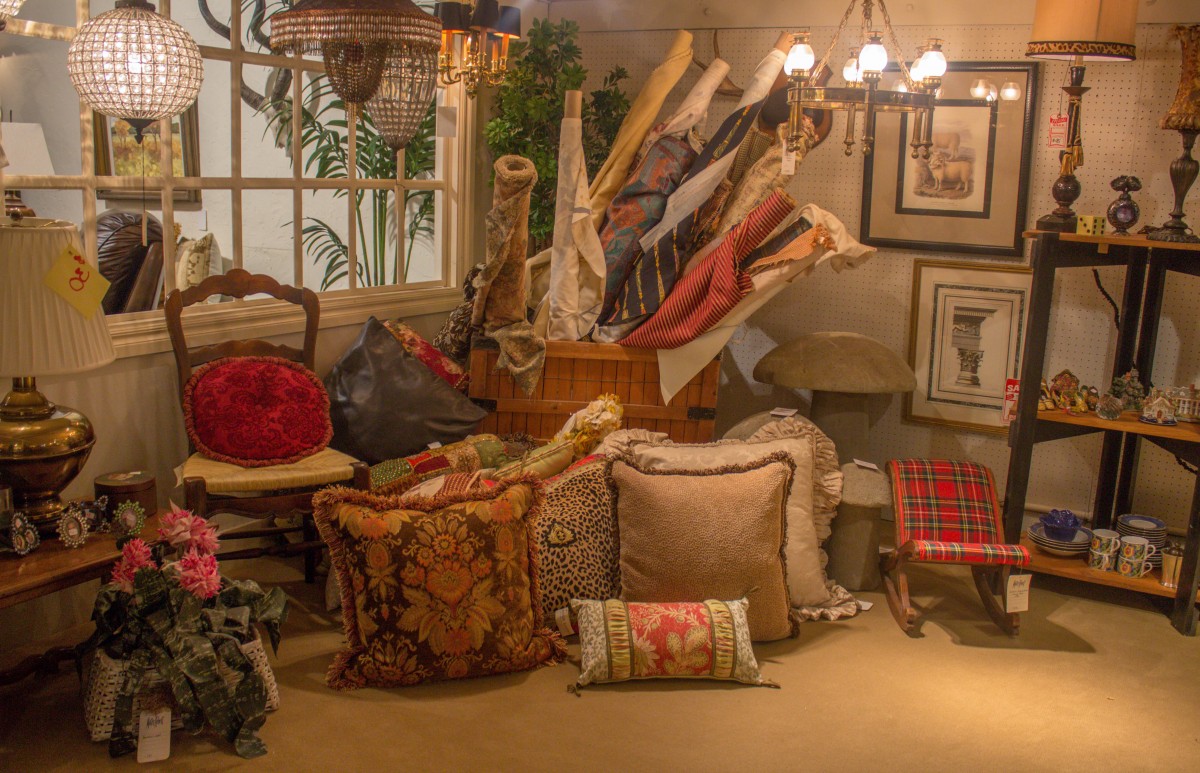 Then, Steve Calonkey introduces us to the store. And within a few minutes, we realize it's mammoth. This is a store I can see us coming back to over and over again, shopping and window-shopping.
Within a few moments scouring the clearance room, I find a tall vase for $5. Brown paint spills artfully from the mouth and a big-eyed dog is plastered on the side. It's weird and everything beyond normal.
But I think that's true for all the best boutiques in Norman, Oklahoma.
Mister Robert: 109 E Main St, Norman, OK 73069, 9:30 AM – 5:30 PM
Did you enjoy this post on the best boutiques in Norman Oklahoma? Let me know in the comments below! As always, I love hearing from you.
Disclosure: This post was made in partnership with Visit Norman, but all thoughts and opinions (and Once Upon A Time references) are very much my own.