"Is this the last thing on our camping food checklist?" I ask. I'm standing in the veggies section of Kroger, debating which tomato looks more tomato-ey. The red one, I decide, eventually.
I'm going camping (well, glamping) this weekend and I couldn't be more excited! My husband and I love quick outdoor getaways. Camping gives us a chance to reconnect with nature and sit still within tiny, precious moments (read: I'm forced to look away from my computer screen at least once during the week).
This camping food checklist is designed for an idle week-long escape. I've also included a few of my favorite cabin cookin' recipes.
P.S. Feel free to add or remove anything from this camping food checklist. This is the list I personally use, but you can shake it up however you like.
Pre Camping Food Checklist: Cooking Wares

Sometimes your cabin will come stocked with all the odds and ends you need for campfire cookin'. But just in case it doesn't, it's a good idea to bring your own cooking utensils.
Metal Tongs
Cutting Board
1 Knife
1 Pot (small): This is my favorite bean pot. It's small but cheap, worth the price, and gets the job done. This particular pot is meant for camping stoves. And if you're a beginner camper, I highly recommend it.
1 Pot (medium)
1 Pan (medium)
2 Plates: I know that disposable plates are recommended, but I still like to bring reusable ones.
2 Bowls
Cooler (& Ice)
2 Microfiber Towels
Dish Soap
Trash Bucket: I bought the microfiber towel, dish soap, and trash bucket from Daiso (a Japanese dollar store) for a 129 yen each. Y'all, I love Daiso. I think I've Daiso-fied my apartment because everything sold there is so cute and cheap (they also have really aesthetic Pottery Barn style wooden bowls and plates for not-Pottery Barn prices. I love it so much). #NotSponsored
Oven Mittens: Alternatively, you could pack a potholder.
Grill Rack
Coffee Mug: I absolutely love this enamel Adventure Begins mug. It has cozy cabin aesthetic written all over it (also, yes. This is the one you see all over Instagram. I couldn't help myself.)
Lighter
Can Opener
Aluminum Foil: I recently found out that I can cook directly in aluminum foil and oh my goodness, this has upped my camp cooking game.
Utensils: I love sporks more than I should admit, but you can bring any utensils you think are necessary.
Table Cloth
Cooking Stove: 100% optional. I have yet to find a good cooking stove but I have one that (sort of) works.
Camping Food Checklist: Grocery List

Grains
Oatmeal: I personally go for the instant-oats packet kind, but you can bring any type of oatmeal you want.
Granola Bars
Tear n' Share Bread Loaf
Quinoa
Rice
Bread
Fruits
Bananas
Apples
Clementines: I like these better than oranges because they're easier to pack and peel.
Tomatoes
Lemons
Vegetables
Potatoes: Sweet potatoes all the way!
Celery
Carrots
Zucchini
Squash
Bell Peppers
Canned Corn
Corn On The Cob
Eggplant
Asparagus
Onion
Dairy
Milk
Cheese
Butter
Powdered Whole Milk
Protein
Eggs: My mum has the most pampered pet chickens on the planet and they lay the world's best eggs.
Canned Chicken
Bacon: I love hickory & sage flavored benevolent bacon.
Sausage: I always bring one pack of smart dogs.
Shrimp
Can Of Beans
Spices (And Other Things That Make Food Taste Good)
Chili Powder
Cajun Seasoning
Cinnamon
Salt
Pepper
Cooking Oil
Brown Sugar
Pickles
Peanut Butter
Ketchup
Mustard
Sriracha Sauce
Snacks
Hippeas: These are vegan cheese puffs that I get from Whole Foods and they are *so* good. But in all honesty, they never last long enough to make it to the cabin. I eat them way too quickly.
Dried Fruit
Marshmallows
Graham Crackers
Chocolate
Raisins
Trail Mix
Other
Camping Food Checklist: Recipes To Try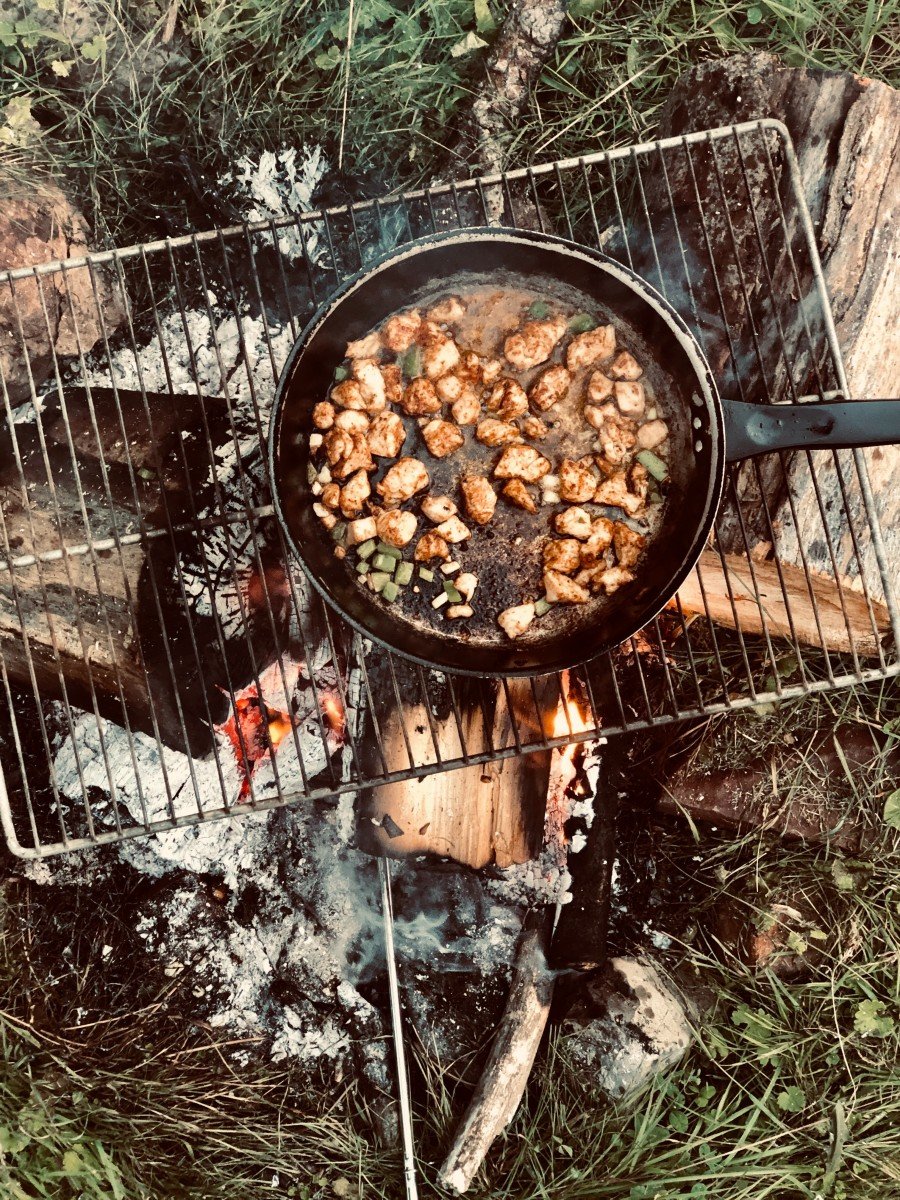 You can make all these recipes with the ingredients from the camping food checklist above.
Grilled Calabacitas: Calabacitas are my favorite Southwestern side dish. And I love that they are so easy to make. If you're looking to add some camping inspired, smoky flavor to your calabacitas, grill your veggies before preparing the dish. Slice up a zucchini, green chile, and squash of your choice. Dice a tomato (you can add onion too if you'd like). Add those to a skillet (but coat your skillet in some butter and oil first). Saute everything for ten minutes (the veggies should be soft). Then stir in half a can of corn. Wait for a few minutes. Enjoy.
Grilled Eggplant Burgers: I actually saw this recipe on the Food Network a decade ago and fell in love with it (I think this is Bobby Flay's recipe? I'm not sure. Don't quote me on that). Slice an eggplant into beef patty thick slices before laying them all out. Sprinkle on some Cajun seasoning, salt, and olive oil before grilling them (they take roughly fifteen minutes on medium heat. Also, note that the patties shrink quite a bit). To make the sandwich, lay on some cheese, tomato, and the grilled eggplant patties onto bread and add some condiments of your choice (Sriracha is my go-to).
Grilled Foil Shrimp: What can I say about foil grilling apart from the fact that I'm obsessed with the idea? Preheat your grill on high heat. Grab a sheet of aluminum foil, add shrimp to it, a spoon of butter, pinch of salt, some chunks of corn (if you desire), and a splash of oil. Fold up the aluminum until everything is nice and sealed (I think there's a specific way to fold the aluminum but I just kind of wrap it up in a haphazard fashion and that works just fine). Add in the foiled shrimp for roughly fifteen minutes. Check if it's cooked (depending on the grill, this can take up to twenty minutes). If it is, drizzle some lemon on top and enjoy.
Full Camping Grill-Up: I like to use the leftover ingredients from my camping food checklist to make a breakfast grill-up for my last day outdoors. Grill whatever potatoes, tomatoes, sausage, and bacon you have left. Cook the remaining beans in a bean pot. Replace fry-bread with grilled bread. Toss in the eggs. Eat everything.
Mexican Hot Chocolate S'Mores: Cinnamon + Chili Powder + Dark Chocolate = really good s'mores.
Camping Food Checklist Printable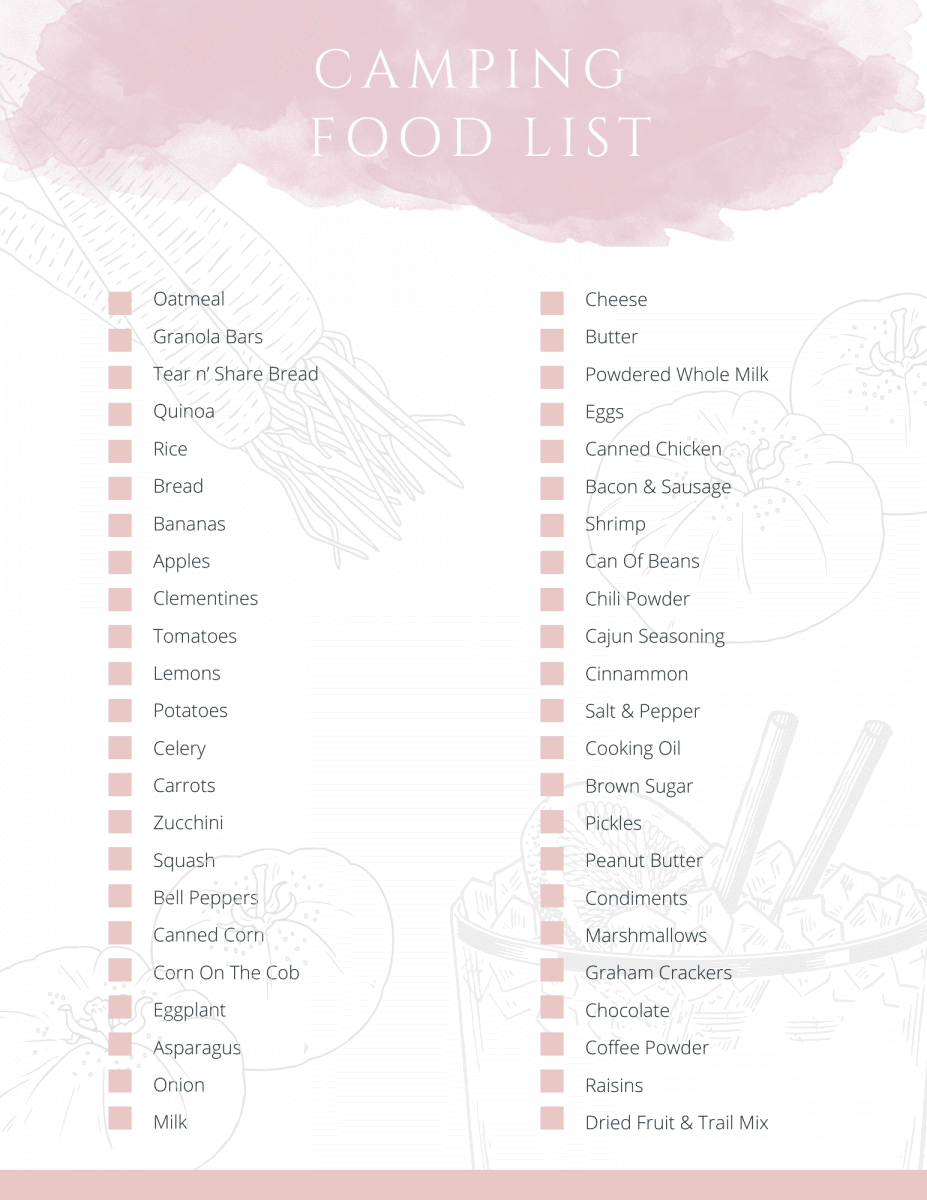 Did you enjoy this camping food checklist? What are your favorite camping recipes? Do you have any foods that are a must on a trip? Let me know in the comments below! As always, I love hearing from you.