Cheap flight hacks are the best.
I don't say this in an over-enthusiastic, it's the new year sort of way (though, there is a little of that). I genuinely believe cheap flights hacks hold the secret to frequent travel.
You see, a few years ago, I swore off most domestic and international travel because I couldn't afford flight tickets.
They cost too much. You can't afford it. Stop searching.
I made excuses not to book trips that I knew would help me learn and grow. I opted to hit the road instead. While I love getting off the beaten path, coasting through small and scraggly scenic tracks, and discovering cute highway side small towns, I quickly realized that I couldn't feasibly drive from Dallas to London. I was escaping travel (the one thing I love most in this world) because I was afraid of the price tag.
In the past few years, I've discovered that airline tickets can be cheap. It was an eye-opening, jaw-to-the-ground revelation that left me with the potential of harnessing a new nomadic life.
So grab a cup of cocoa because today, I'll be spilling the tea on all my favorite cheap flight hacks.
Sign Up For Airfare Newsletters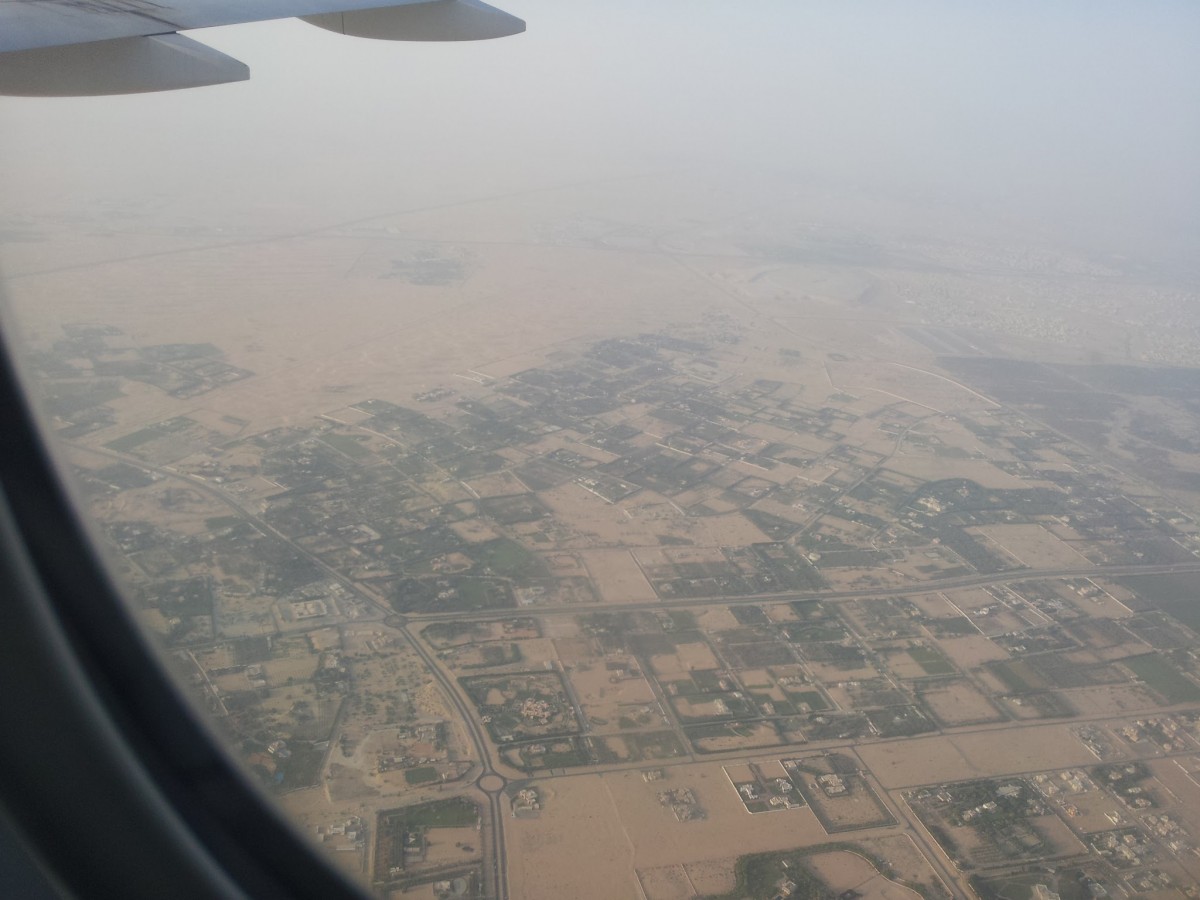 Airfare newsletters are daily email blasts featuring cheap flight deals.
I used to be signed up for a ton of airfare newsletters but my inbox was so cluttered by the end of the year, I ended up unsubscribing from most of them. Now, I'm only signed up for Dollar Flight Club. Dollar Flight Club typically sends out emails about ridiculously cheap flights or mistake fares (an unintentional pricing error from airline companies that you can totally take advantage of).
They have a 14-day free trial (so you can sign up for free and see if you like it or quit otherwise).
Update: You have to click on the Premium tab on the DFC website to see the free trial. The try now for free area is NOT the correct trial for premium (which is the service that sends you the best deals).
They also have a Premium Plus version for business class. But to be honest, I'm just signed up for the regular premium version because I think it provides the most bang for the buck and I'm always up for traveling economy if the flight is cheap.
I'm personally subscribed for the Weekend Warrior deals (but they have amazing international deals as well, like Dallas to London for under $400 roundtrip). Every week, DFC sends out a deal that departs towards the end of the week and returns on Sunday (occasionally Monday morning). This makes it really convenient to find cheap domestic flights during the workweek and travel more with limited vacation days!
You can also check for error fares on Secret Flying. Sometimes, you can snag a first-class flight for the same price as an economy class flight (let's just say, to err is human and to take advantage of errors is also human).
Book On A Thursday
It actually doesn't matter what day of the week you book a ticket. This Business Insider article claims that booking on a Sunday is best. This article claims that any day but Sunday is best.
The debate is hot. The conflict is high. I personally book on Thursdays. Why? It's a weekday. It's not quite the start, middle, or end of the work week.
Thursday is non-competitive. It's dull, plain, and boring. And that's why I love cozying up with a few flight searches on Thursdays.
Use A VPN
One of my favorite cheap flight hacks is to use a VPN service.
Most travel companies charge you prices based on where they think you are. Let's say I search for "Argentina to Dallas flights" from Dallas. The prices are usually exorbitant. But if I use a VPN and pretend I'm searching from Argentina, the prices are normally a lot cheaper.
There are thousands of VPN services to choose from. Make sure you read the Privacy Policy though because some services collect personally identifiable information for third party marketing.
The VPN service I currently use is NordVPN. It's $2.99 a month (really affordable) if you take the three-year plan (which I did). But if you're just planning for a vacation, it's $12 a month. NordVPN does not log data. The company also has servers in over 40 countries (I always try to search from the country I'm planning on visiting).
Clear Your Cookies
Clear your cookies in between searches. Or, at the very least, use some sort of incognito browser.
When I search through Google Flights, I typically use Firefox. Google Flights has an amazing suggested trips section. But I have noticed that when I use Firefox, the suggested trip is often $20 to $40 cheaper than the ones shown on other browsers.
On Firefox, I have a specific "Do Not Track" feature enabled which ensures that my browsing history is not tracked.
I guess I'm a stickler for privacy. And it's not because I'm doing anything illicit on the Internet. I don't like advertisers, third-party websites, or search engines to know how much I love travel. That just leads to unnecessary increases in cost.
Black Friday & Cyber Monday Deals Are A Myth
A lot of websites will advertise amazing savings over Black Friday. While some websites are true to their word, most don't offer the savings promised.
With discounts come price hikes. I actually really wanted to go to Miami last December. When I started poking around the Internet early November, I noticed that there were fairy godmother Black Friday deals.
So I decided to wait.
Bad idea.
The price for the Miami ticket I was eyeing was originally $79 round trip. On Black Friday, the ticket was 70% off but the price was $481 for the same day. If I purchased that deal, I would have paid double.
Holiday Flights Are Cheaper
Booking during the holidays can be expensive unless you depart on a holiday.
Most people don't travel Christmas Day, Thanksgiving, or New Year's. I know that when my parents booked a ticket to India last year, the price was $400 cheaper because they departed on Thanksgiving Day.
So don't be afraid to give the holidays a shot.
Don't Depart On The Weekend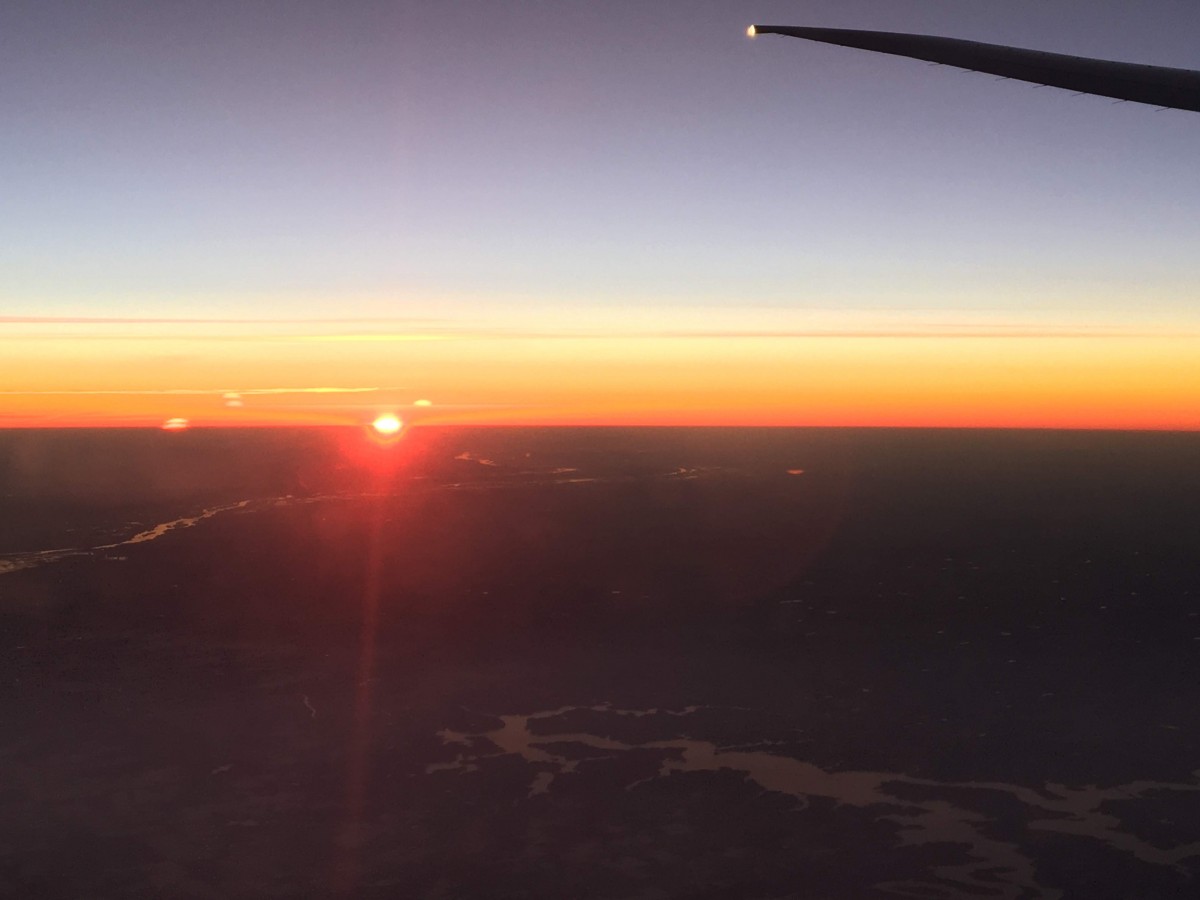 The cheapest days to depart are normally Tuesdays and Wednesdays.
I've personally noticed that Saturday travel can also be equally cheap (especially for domestic flights). For most of my weekend getaways, I try to depart on a Saturday and return on a Sunday red-eye flight.
Don't Be Afraid To Mix Airlines
Whenever I book tickets to India for my family, I choose to take a weird route – part American Airlines, part Qatar, and part British Airways. The path flies over Russia, South Africa, Germany, London, and then Dallas (in that strange order).
The flight is over 40 hours but SO worth the price.
Fly Budget Airlines
I absolutely love budget airlines. My go-to is Spirit. While I'll probably get a lot of flack for saying this, I've never had a truly heinous experience with Spirit.
I know Spirit is a mixed bag of negative emotions for most people so I'm including a few popular alternatives here:
One small note, if you have a budget airline that you like (or more realistically, can tolerate), be sure to follow them on social media. A lot of budget airlines release flash sales on Twitter and (occasionally) Facebook.
Use Momondo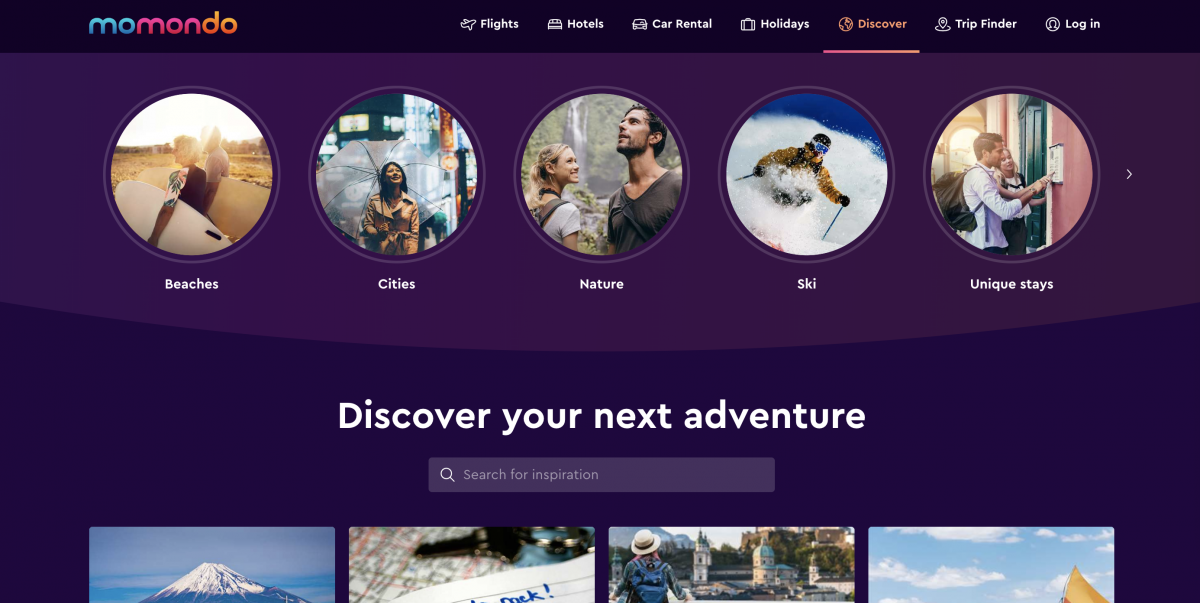 Momondo is hands-down the best flight aggregator ever. For international flights, there isn't a better website. Enough said.
If you don't really have a set place you want to go, Momondo has a "Find Your Next Trip" section with a wide range of cheap trip suggestions. I always poke through the World Wonders, Mysterious Destinations, and Travel Hacker Must-Sees tabs.
Try Skyscanner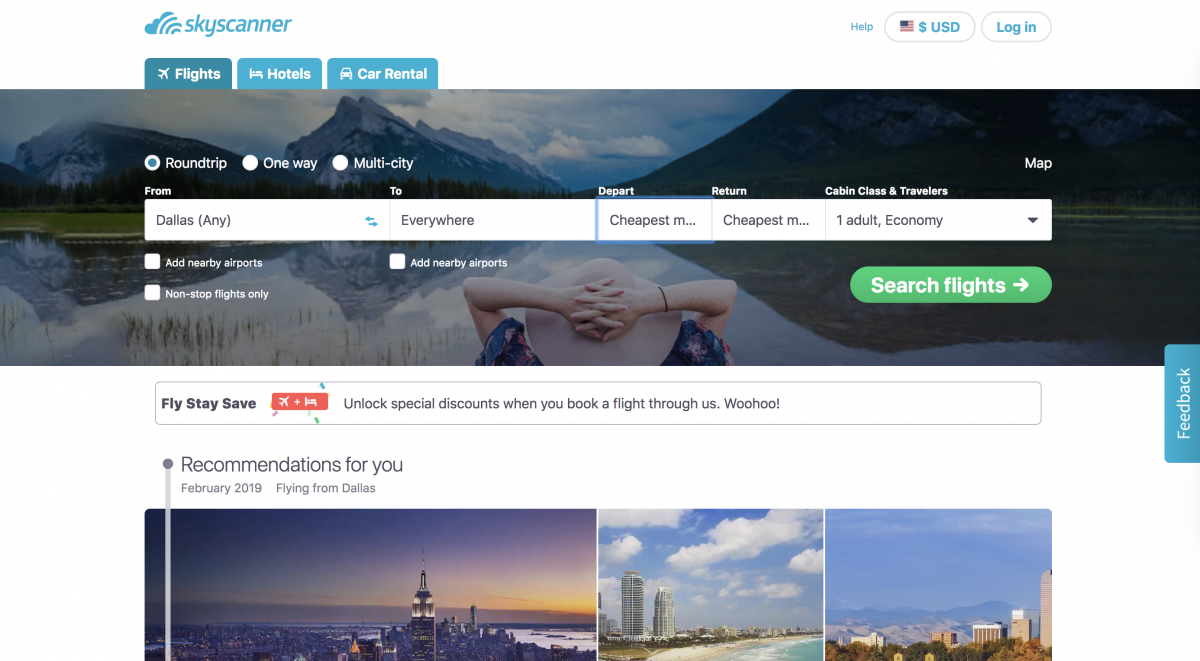 For domestic searches and weekend getaways, I typically use Skyscanner. I love the user interface of Skyscanner (there's even an easy-to-navigate app).
If you have a flexible travel schedule, use the "everywhere" option and select cheapest month to see the best deals.
Don't Check Different Currencies
Currency conversion used to be one of my favorite cheap flight hacks. But to be honest, it's a risky gamble. You'll have to deal with fraud alerts (from your bank), foreign transaction fees, and translation issues.
Most websites that tell you about this hack ask you to search from countries with soft currencies. Don't do this. If you really want to give this hack a go, purchase your ticket with a weak (but hard) currency. Soft currency is volatile. It's extremely sensitive and very reflective of the socio-political atmosphere in a nation.
Use Layovers To Your Advantage
I once found a $20 round-trip flight to Cancun. As soon as I saw it, I transformed into a giggly, bubbly twelve-year-old version of myself.
Could this be true? Have all my dreams become a reality?
Well, sort of. There was a three-day layover in Denver and I was planning on booking a four-day trip. Oh, sugar.
But if you're not set on a destination, you can use layovers to your advantage. To me, I saw the ticket as a $20 flight to Colorado and back (which is equally amazing).
Book Single Tickets
When purchasing plane tickets, you'll always have the option of booking for multiple passengers at once. Always select one passenger when searching. Bulk prices on airplane tickets don't work like a Costco grocery trip (though, I really wish it did).
Beware Of Hidden Fees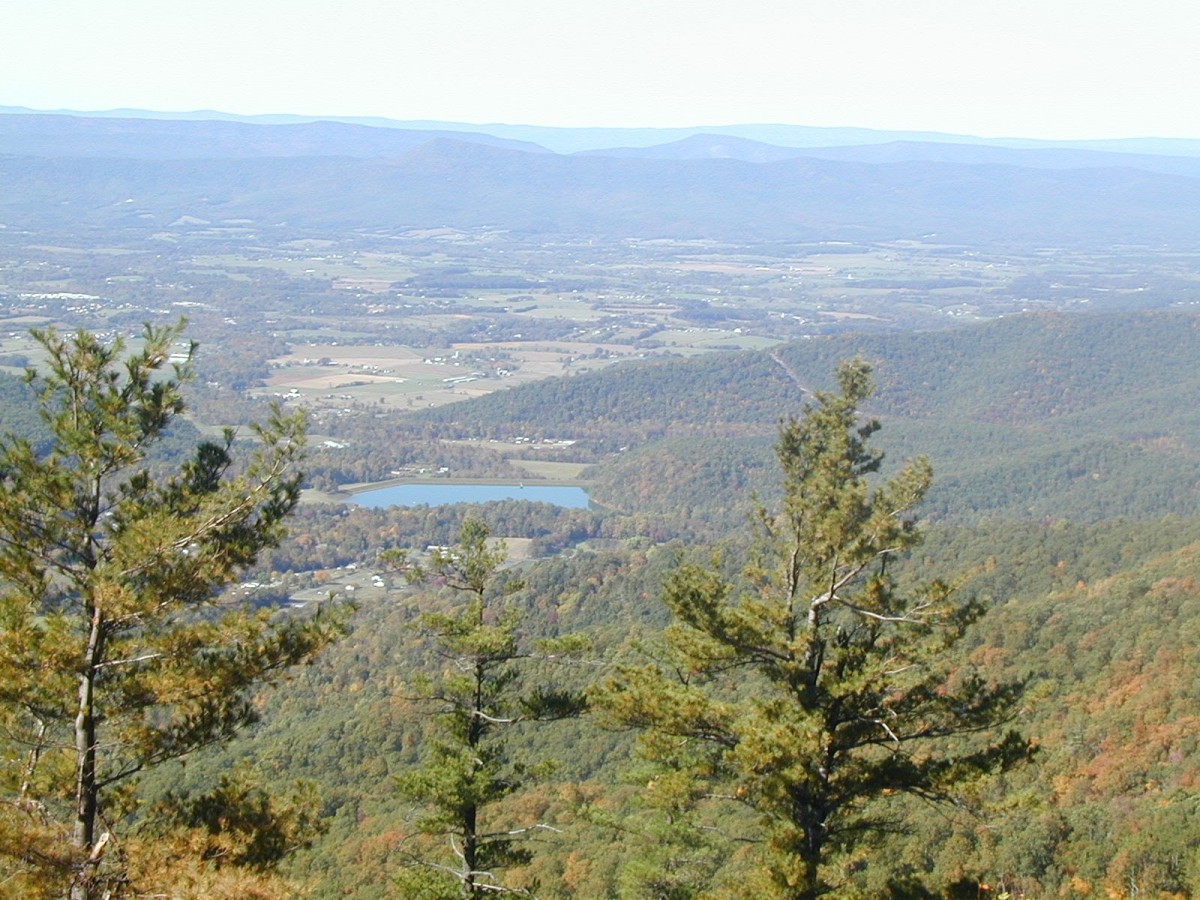 Most airlines have hidden fees. These include carry-on fees, online booking fees, in-person booking fees, online customer support service fees (I didn't even use customer support – why am I paying for this?), seat assignment fees – the list goes on and on.
When you've settled on an airline, really check into their hidden fees. There might be another airline flying the same route that costs more but has fewer hidden fees.
Book (Somewhat) Early
21 days in advance is the sweet spot.
Get An Airline Credit Card
If there's one thing I'm doing in 2019, it's applying for an airline credit card. Daily purchases lead to points. Points lead to free miles. Free miles lead to free trips. The road continues and I like the sound of it.
Stick To One Airline Alliance
Speaking of airline credit cards, try to stick to one airline alliance. There are three major airline alliances: One World, Star Alliance, and Sky Team. If you decide to join an airline alliance, you enjoy the perks of a shared rewards program.
Snag A Student Discount
To be honest, I skipped out on most student discounts when I was in University. Why? Most student flight websites have terrible navigation. And I've always found cheaper flights elsewhere.
But if you're traveling during spring break or winter break, student discounts can be really useful.
Search For All-Inclusives
Lately, I've been toying with the idea of all-inclusives.
A ten-day tour of Paris (with flights, food, and hotels included) for $500. Is that even possible?
As I research more, I've noticed that all-inclusives have several strings attached – set travel dates, set menu options, hotels far away from attractions, and red-eye flights. While I don't mind most of them, I think purchasing an all-inclusive will be a lesson in letting go of my need to control travel planning.
Did you enjoy these cheap flight hacks? What cheap flights hacks do you use? Let me know in the comments below.