best coffee shops in Indianapolis, Indiana
In Indianapolis, I rediscovered my love for lattes. Indianapolis lattes are rich and creamy concoctions. They're creative and innovative and just plain fun. You'll find flavors like date cardamom, beetroot (don't knock it until you try it), and earl grey.
No-frills espressos, cappuccinos, and americanos are still mainstays, so you can ease into the more curious flavors if you wish. Indianapolis doesn't burst the coffee envelope; boundaries for signature drinks are gently pushed.
So whether you're looking for a macchiato to mull over or a silky hot chocolate to warm up cool Indy nights, you'll find it here. Read on to see Passport To Eden's picks for the best coffee shops in Indianapolis.
Provider Coffee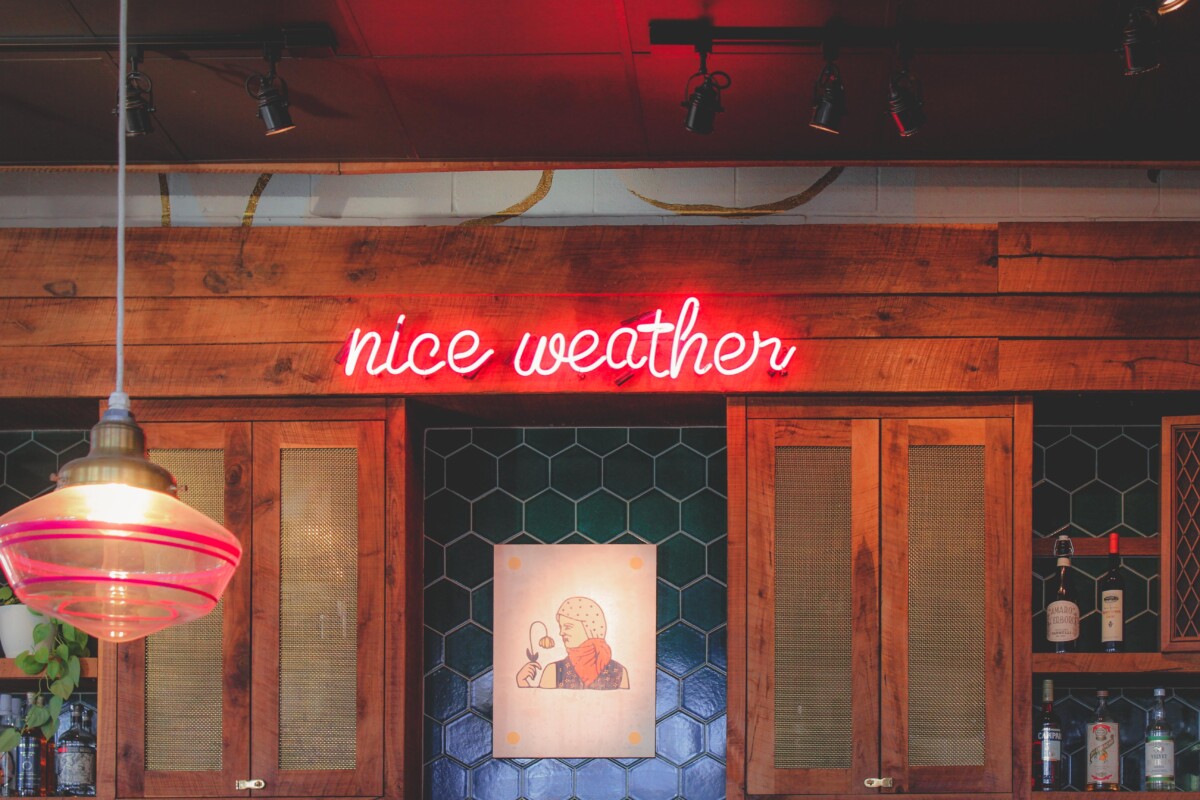 Let's kick off this list with a Small Victories imagination: Provider Coffee. Provider Coffee looks fit for a hyper-curated Instagram page. Wood shelving and green honeycomb backsplash lies behind a big bar counter. Plants drip down shelves and mural-clad walls. Tall windows let natural light spill onto big desks and even bigger counters.
On the Sunday I visited, I saw lots of people reading, their knees drawn in. Half-finished coffees – latte art somehow still intact – rested in front of them. I ordered a Butterscotch Latte (the barista's rec), a full-bodied, piquant creation that was easy to love.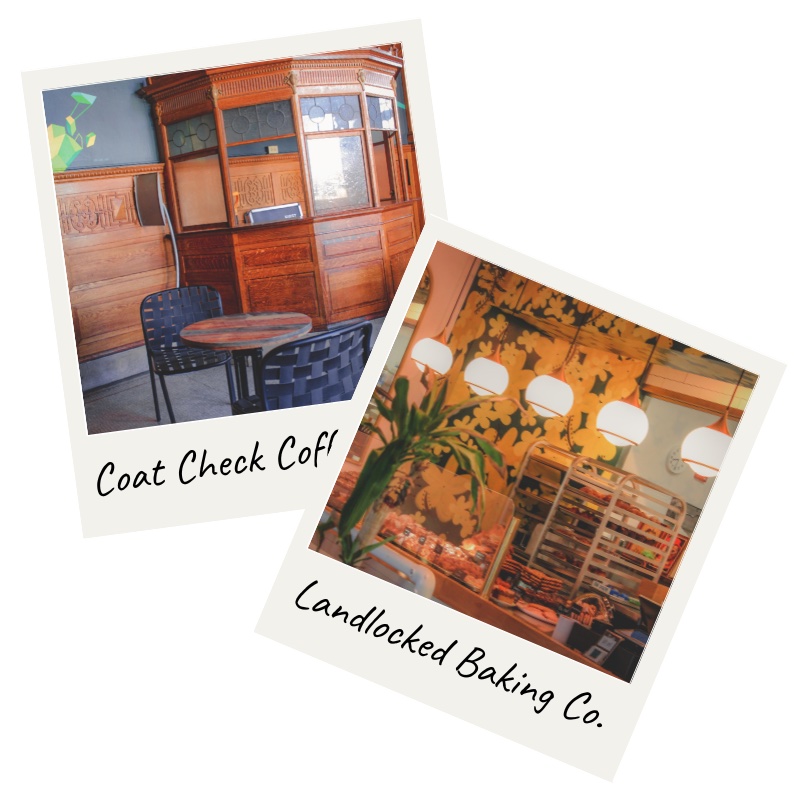 Small Victories Coffee Shops In Indianapolis
Small Victories is the hospitality group behind many of the most popular coffee shops in Indianapolis. These coffee shops have similar menus but different themes. Some Small Victories coffee shops to note are Coat Check (tourist-friendly, located in the Athenaeum), Landlocked Baking Company (they have delicious, buttery croissants), and Chalet (après ski vibes. enough said).
Mansion Society
I distinctly remember the moment I first heard about Mansion Society. Our tour of the Indiana Medical History Museum had just wrapped up, and our group was standing awkwardly in front of test tubes, shuffling in place, wondering if it was socially acceptable to disperse. Our guide filled the silence, letting us know that Mansion Society, a nearby coffee shop run by a mother-daughter duo, was housed in a former mental hospital. I immediately wanted to try it (I'm not sure what this says about me).
Mansion Society seems like an unlikely place for good drinks, but one sip of their seasonal specials will convince you that this is one of the best coffee shops in Indianapolis. Try their Matchacita, Duke, or Creme Brulee Latte.
Travel Tip: If you're looking for local coffee blends, shop at Tinker! Tinker is the secret behind many of our favorite Indy cafes. Tinker also has an open-to-the-public roastery in Indianapolis and a slot at AMP.
Calvin Fletcher's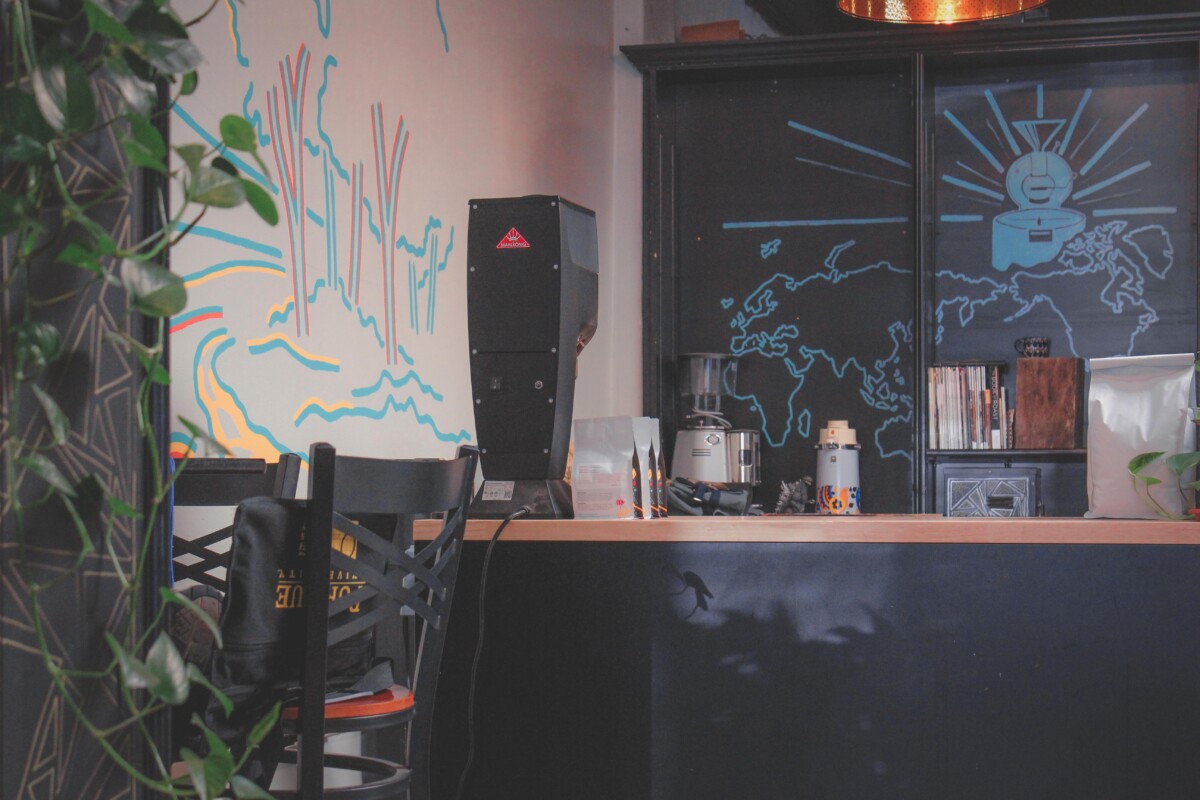 When I think of cozy coffee shops in Indianapolis, Calvin Fletcher's is one of the first names that pops to mind. Open the door and the smoky, biting scent of fresh ground coffee beans will immediately grip your senses. Laptops – their bulky wires extending to tiny outlets skirting the shop – crowd tables. Students are hunched over the remaining spaces, their makeshift desks overwhelmed by papers and highlighters. Calvin Fletcher's is a place many walk into and plan to spend the entire day in. The mood is conducive for long, productive working sessions. And the shop's coffee is a good vehicle to get stuff done. Here's what to try (depending on the season): Calvin Fletcher's Masala Latte (coffee collides with chai in this winter favorite), Robin (espresso, springtime cara cara juice, citrus bitters), and Canary (summery cold brew).
MOTW Coffee
Another one of our favorite coffee shops in Indianapolis is MOTW (Muslims Of The World) Coffee. It's located in a less-visited area of Indianapolis, a quiet strip mall complex. The interior is simple and beautiful, clothed in lattice-covered arches, a duo of sunshine yellow couches, a lawn green hedge panel, and hollowed out study rooms. Tucked away, in a silent space, is a prayer and meditation room.
MOTW Coffee is a place that welcomes all. As I sipped my velvety date cardamon latte (so good. run towards this drink), I noticed a young Sikh family nibbling on pistachio-dusted pastries; a woman draped in a beautiful blue tudong, study notes spread out in front of her; two friends, dupattas twirled around their necks, searching for a place to sit and read; and a tall man scrolling through a Bible app while waiting for his order.
Drinks carry aromatic flavors: rose, mint, hibiscus. MOTW also makes amazing Yemeni Chai (just saying).
Amberson Coffee & Grocer
Amberson Coffee & Grocer is upending Indianapolis' coffee scene. It's a tip-free cafe (seriously, they won't accept tips even if you try) that accommodates for fair wages through its menu pricing. Single-use paper and plastic cups don't have a home here (and never have). Amberson, instead, serves drinks to-go in glass jars (yes, you can bring your jar back). Local groceries are shelved in the back (stock up on any essentials before you leave).
The menu is small and concise. Arrive with room for Amberson's Hunnymilk Latte (espresso with white flower infused milk).
Milktooth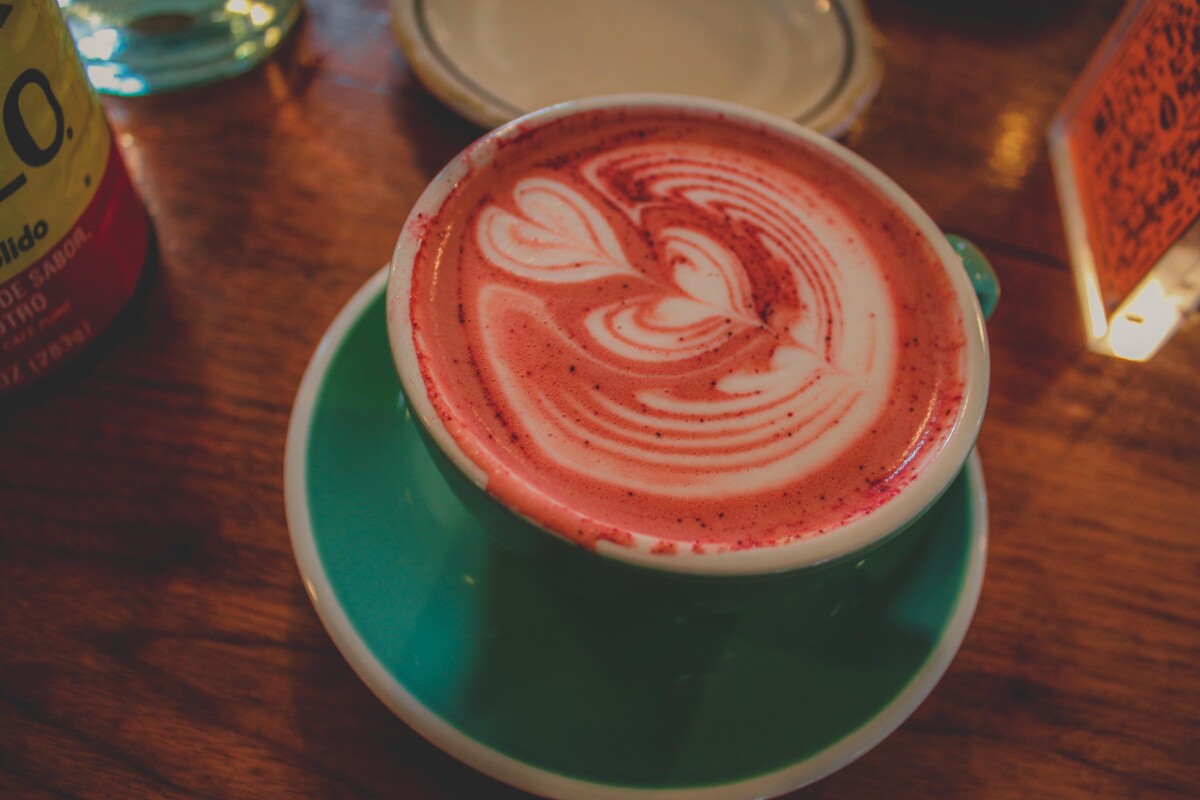 Change and risk are an active part of Milktooth's vocabulary. Indianapolis locals know that. Flavor isn't a word Milktooth feels has boundaries. So unsurprisingly, when I arrived in Indianapolis in February, a beet latte was on the menu. It was as bright pink and beetroot tasting as you'd imagine. And I loved it. Milktooth's beet coffee was earthy; it had the same kind of earthiness that roots me every time I sip my morning matcha.
Now on Milktooth's coffee menu is a tahini lemon white chocolate espresso (Taste Buddy) and (a bit more subdued) Classic Mocha with notes of dark chocolate and maple.
Hubbard & Cravens
Hubbard & Cravens (on Carrollton Ave) is the Indianapolis coffee shop I'd recommend to Starbucks-lovers looking to branch into Indy's local coffee scene. The interior is similar: library-style desks complemented by cozy wooden chairs, a soft sofa to sink into, a peppering of art, a small pastry display case, lots of natural lights, bags of beans and reusable mugs for sale. The atmosphere is chill and stripped of pretentiousness. Winter drinks are sweet, soothing, and indulgent (especially their whipped-cream topped Eggnog and Wonderland Lattes).
Bovaconti Coffee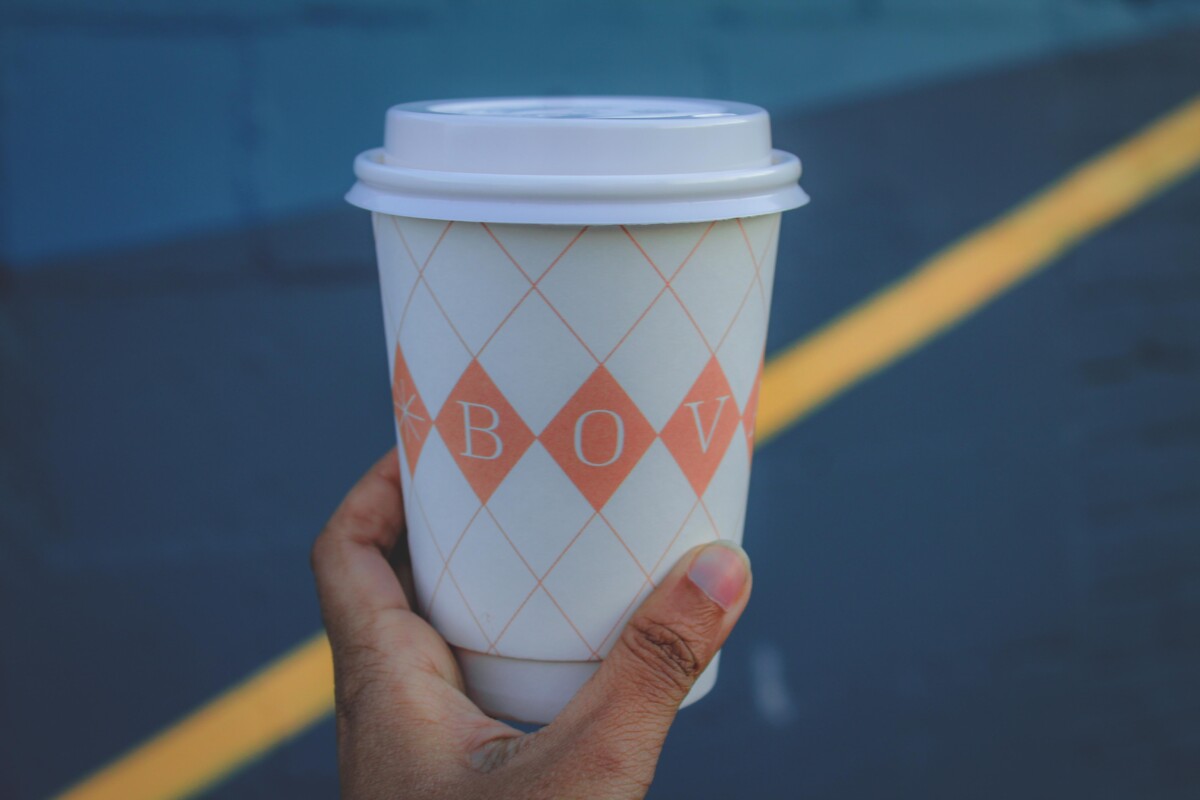 Thanks to pink tiles, a glowing Ciao Bella sign, and a teal coffered ceiling, Bovaconti remains one of the most aesthetic coffee shops in Indianapolis. Its hodgepodge of colors and moods just flows (and more than that, invites).
The cafe sits on a corner lot, its L-shape window-heavy layout allowing natural light to brighten up Bovaconti's otherwise intimate, cocktail bar-like space. Try their classic espresso drinks (order a Caffe for a simple single shot or a Marocchino for a delightful cap of foam). If you're a latte lover (like me), know that their Spanish Latte is our favorite in the city!
Travel Tip: If you like Bovaconti, I'd also recommend checking out Georgia Street Grind, a tiny pop-in coffee shop also owned by Justin Jones.

What are your favorite coffee shops in Indianapolis? I'm constantly looking for new places to try (so drop all your coffee recs in the comments section or DM me). As always, I love hearing your thoughts and recommendations!