Here are our top 10 curly girl travel tips.
I'm a curly girl. I have big, bouncy 3C curls that coil past my shoulders. They're stubborn. They're thick. They demand a lot of attention. Occasionally, I want to fight them but I give in because my curls are a part of who I am. They're me.
When I first started traveling, I learned my curls sing Miley Cyrus' "Can't be tamed" in a loud, obnoxious voice. And for many years, I responded with a hair straightener (this was my villainous I-love-you-but-I'm-going-to-have-to-squish-you moment).
Around a year ago, I did the big chop. I cut my curls down to a fraction of their size because my ends had unreasonably split (from excessive straightening). Ever since then, my curls have been happy and healthy.
And I learned to manage them while traveling.
Here are my top ten curly girl travel tips.
Identify Your Curl Type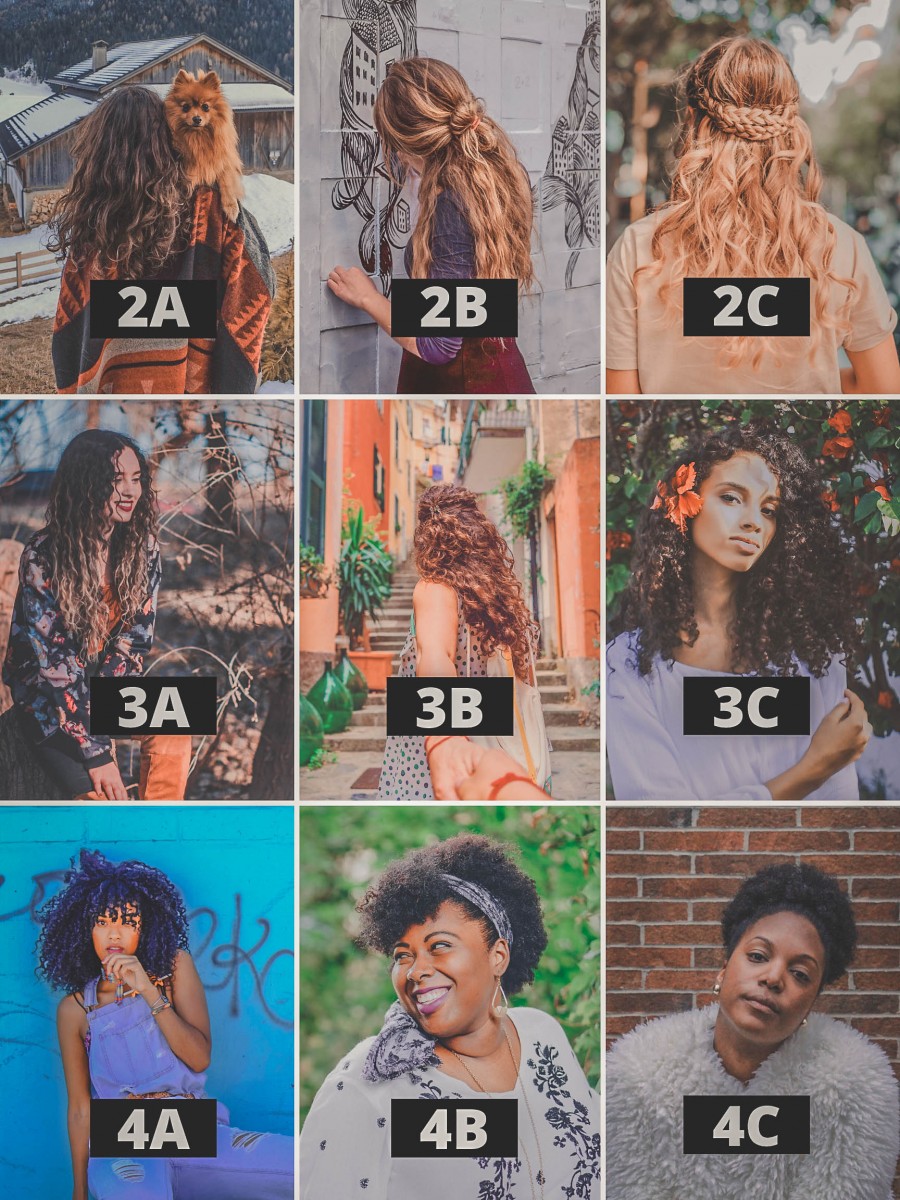 One of my biggest curly girl travel tips is to know your curl type.
I can't believe how long I went (more than a decade, can you believe it?) without knowing where I fell along the curly girl spectrum.
Here's why you need to know your curl type: not all natural hair products are made equal. Some are great on certain curl patterns and not-so-great on others. When purchasing a product, you'll want to research reviews on how it works on your specific curl pattern.
For example, my hair falls somewhere between a 3B and 3C but is closer to 3C (it's okay to be an inbetweener). My hair is a little rough and a little soft and it's extremely thick. Cantu Products work best for my hair (UPDATE: I no longer use this product because it has the same damaging chemical as DevaCurl). I also use Shea Moisture Jamaican Black Castor Oil Strengthen Grow & Restore Leave-In Conditioner.
My mum's hair falls between 3C and 4A and she likes the It's A 10 Miracle hair series. The It's A 10 series doesn't work well with my hair and the Cantu series doesn't work well with hers (we've tried).
Allow Time For A TSA Hair Pat-Down
TSA always checks my curly hair. Sometimes, I wonder if they recently watched Mean Girls and took the line "That's why her hair is so big. It's full of secrets" to heart.
Just kidding! I know it's the result of faulty (needs to be desperately updated) technology.
Y'all, I get the hair pat-down 90% of the time. Gloved fingers pull my hair up (and there's a lot to pull up) and check (for what, I have no clue) underneath. They'll comb through my tresses with their hands (what do you guys expect to find in my hair? I'm genuinely curious).
Wearing my hair in a braid or a bun doesn't help here. When my hair's curly, it's going to get checked.
I've learned to expect the little beep, the pull-aside, and the hair pat-down. Sigh.
But more importantly, I now allow time for it.
Follow The 3-1-1 Rule
As a curly girl, you'll most likely have a lot of products. And if you're team personal item only (like me), know that you can only bring 3.4 ounces (or less) containers in one quart-sized, concealable bag.
The bag needs to be clear (this is the one I use). And you need soft bottles (not hard plastic ones) to pack in (and later use) all your curling conditioners, shampoos, and creams.
I love these travel size bottles in particular (they're made of a nice, squishy silicone material that holds all my liquids well. And the opening is wide enough for me to scoop out all the extra product, with my fingers, once it's running low).
Bring A Microfiber Towel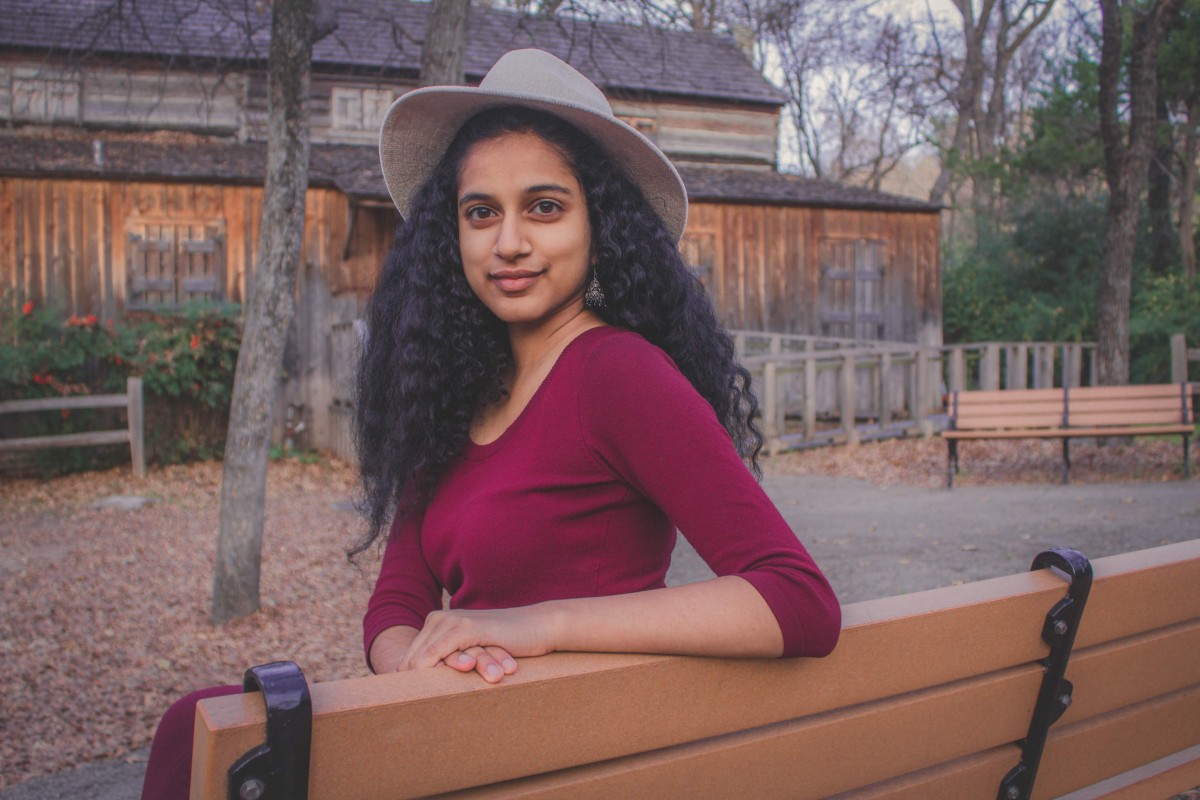 Hotels never provide microfiber towels (at least, I have yet to stay in one that does). The rooms are always stocked with the coarse, cotton kind.
You'll want to bring your own microfiber towel. Microfiber towels have a fine, smooth texture perfect for maintaining frizz-free hair.
They're soft and treat your curls gently, with love and respect.
Make Sure Your Hair Is Cut For Your Curls
Before your trip, don't get your hair cut while it's straightened. The salon I used to go to always requested that my hair was straight before they cut it.
That is the wrong advice! If you do that, you'll end up with a style that's great with straight hair, but all wrong for your curls (it won't be even).
It's worth investing a little extra in someone who understands curly hair.
Keep Your Hair In A Protective Hairstyle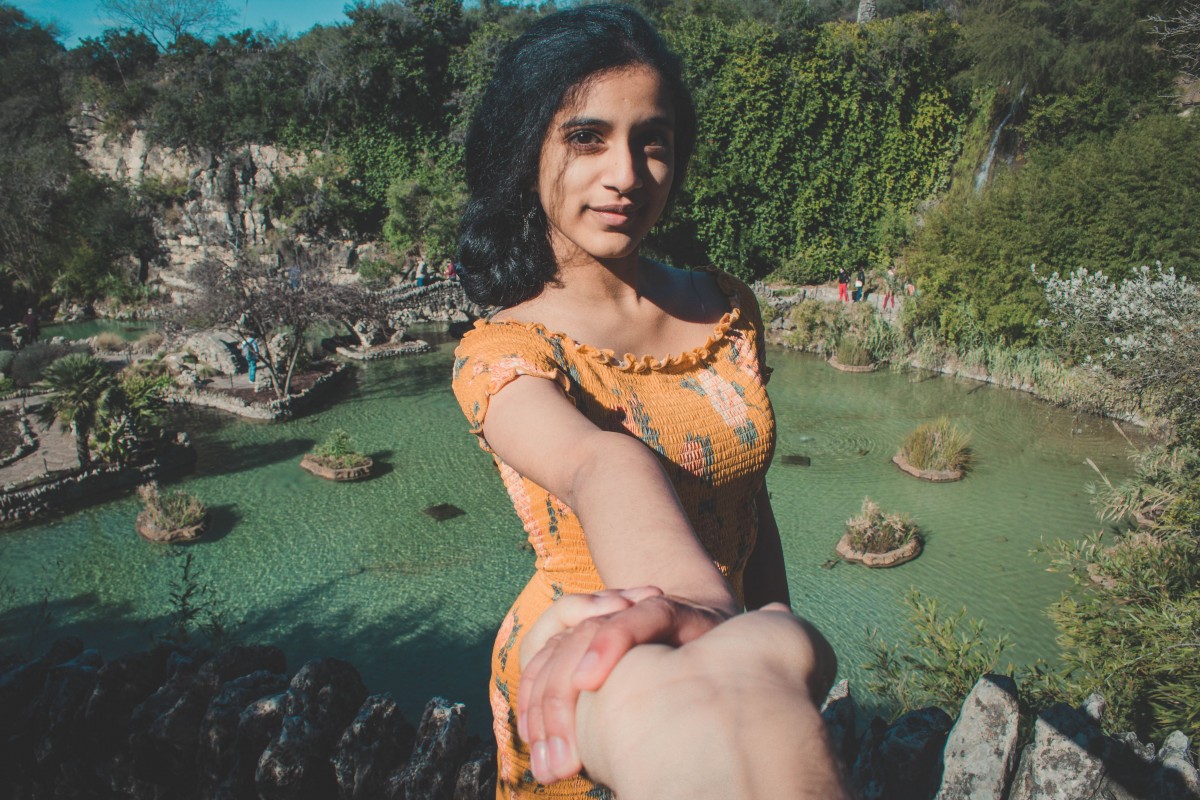 If you're traveling with curly hair, you'll want to make sure to use protective hairstyles as often as possible!
I usually wear my hair in a loose bun (and take it down for photos).
Protective hairstyles reduce knots and matting and tangles and y'all, I'm all about that life.
Here are my favorite protective hairstyles while traveling:
Loose side bun
Loose top knot
Braided space buns
Bantu knots
French braided pigtails
You Don't Have To Wash Your Hair Every Day
Washing your curls every single day strips the natural oils in your hair. Over time, this makes your curls drier and drier.
Here's when to wash:
Once a week is good (or every half-week)
When you have too much product build-up
When you feel like you need to (you'll have those I-just-want-to-wash-my-hair-now moments. Go for it)
If You Plan On Straightening Your Hair, Bring A Dual Voltage Flatiron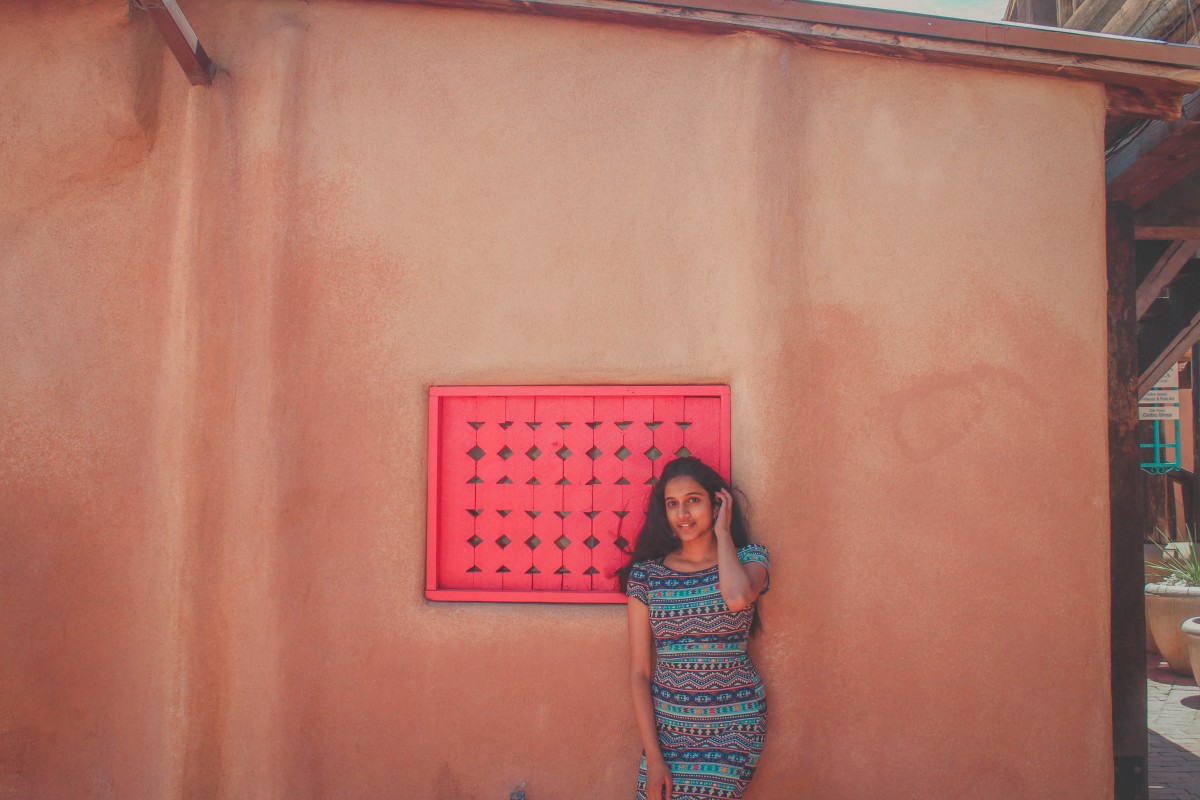 So it doesn't explode when you plug it in. Don't ask how I know.
If you plan on straightening your hair, you need a dual voltage flatiron (and blowdryer if you plan on using one). These are the only international travel safe flatirons.
The one I use is The HSI Professional Glider. It has a one-inch ceramic plate and goes up to 400 degrees (keep it at 400 and only go through your hair once).
Even though I love being a curly girl, I still straighten my hair sometimes (if I'm traveling to a dry, non-humid area and I know the style will last). But it's a rare occasion.
P.S. If you plan on straightening your hair, make sure you pack heat protectant!
Use Coconut Oil During Warm Weather
Coconut Oil solidifies at 75 degrees.
I remember one time slathering my hair in coconut oil (to keep it hydrated), walking out into gloriously chilly 45-degree weather, and coming home with a coconut oil icicle block of hair (it was so solid, I could hit my hair with a hammer and it wouldn't break).
I rinsed it off with warm water (and it melted right away). But it wasn't a fun experience.
Now, I apply coconut oil either in the night or during warm weather days.
Set Up A Curly Girl Essentials Kit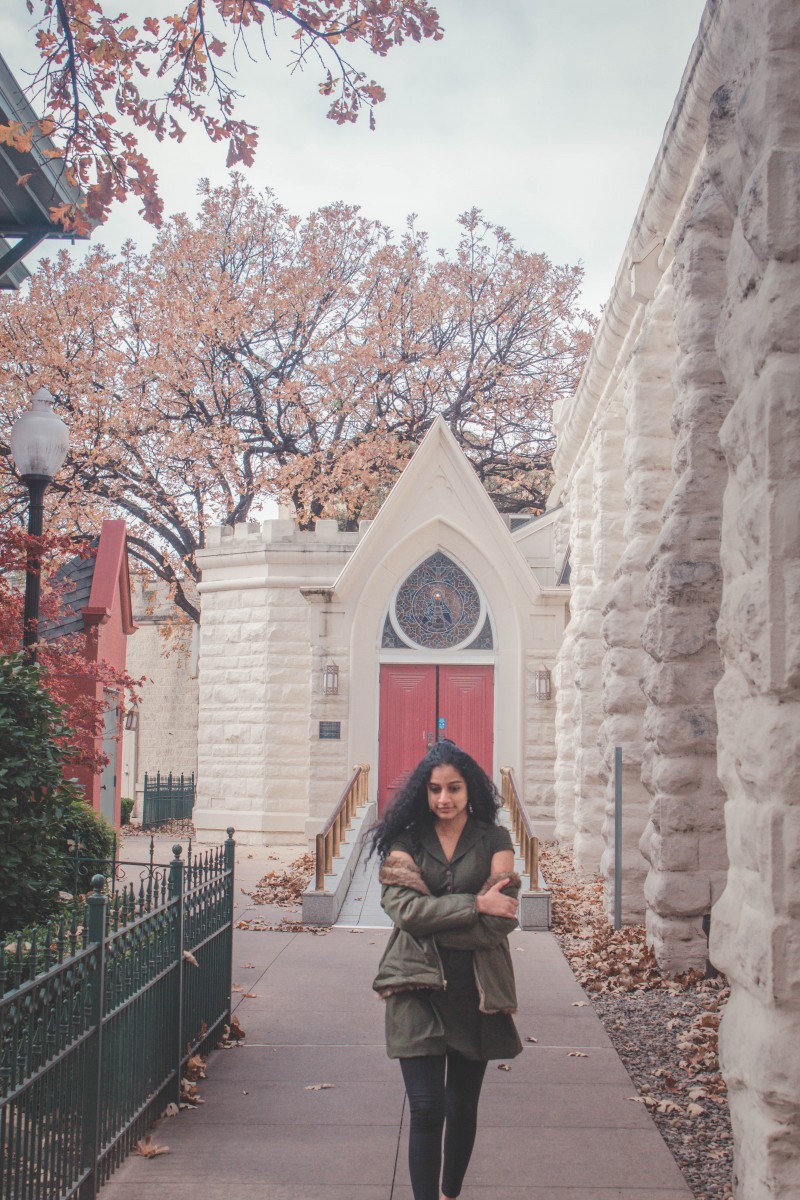 I have a little curly girl essentials kit. Inside is a wide-tooth comb, two big black hair claws, and scrunchies by the dozen.
I also pack a hot pink satin bonnet that I slip over my hair before I sleep. It prevents my curls from getting caught and scrambled all over the soft duvet covers of the hotel room bed (and is a lot easier to pack than a full-size satin pillow cover).
Alternatively, you can fix your hair up with the microfiber towel before hitting the hay, but I found that mine always comes loose by morning (which is why I pack a separate bonnet).
Embrace Your Hair
Growing up, I loved my curly hair. It would bounce when I walked. And I thought I looked cool, like Esmeralda from Hunchback of Notre Dame.
But by late elementary school, I was known as the Bride of Frankenstein. I'd come home and find wads of paper stuck in my curls (maybe this is what TSA is looking for).
So when my hair became harder to manage, I jumped on the straightening bandwagon. And while people told me "my hair was goals now", I never thought it was. I missed the natural bounce in my step.
Five years later, I went back to all-natural. If there was one thing I'd tell my high school self, it's this: style your hair in a way that makes you happy. Let's be honest, whether you have straight or curly, pink or black hair, it's all beautiful as long as you're happy with it. Beauty is nothing but happiness.
Did you find these curly girl travel tips useful? Are you a curly girl? What are your curly girl travel tips? Let me know in the comments below!