Today, I'm going to be taking you somewhere special and magical. No, not to Disney (though that is pretty magical). I'm taking you to a place that holds a real-life magic – a magic twisted from science and engineering. I promise not to get too technical (I'll try really hard, but it is very difficult for this nerd) and this isn't rocket science. Okay, I lied. This is rocket science, but not the kind you are expecting. Have you guessed where we are going yet? No. Alright. I'm taking you to the Kennedy Space Center in Cape Canaveral, a little day trip from Orlando. Are you ready? Here we go.
The entrance is a long white building flanked on a concrete path. Pockets of palm trees are interspersed, rooting the Florida feel. But as we walk towards the entrance, we can see the nose cones of the rockets, peeking from behind. It's almost alien looking, like something from a vague fantasy. One that I've only ever seen on television and in movies. But here we are, just moments away from seeing the giant frames first-hand. The words EXPLORE are blocked over the entrance, in a bright sky blue. I'm so excited. Can you tell? Is it obvious? Wait, don't answer that.
As we head into the visitor center, we grab some admission tickets. This little complex doesn't take more than a day to explore, so be sure to pick up a daily admission ticket. Don't bother taking a map. The maps here are the most touristy of tourist maps. If we try to follow them, we are just going to be scratching our heads and hunching over the page, twisting and turning a colourful sheet, trying to figure out where we are going. It's easier to walk by ourselves. Is that okay? But don't shy away from picking up the Daily Schedule. The Daily Schedule has all the information from astronaut appearances to IMAX timings.
Let's start by boarding the KSC bus. The bus departs every fifteen minutes from the visitor complex and transports us to the Apollo/Saturn V Center. The marshy Florida landscape skates by in this twenty minute drive. It is important that we go to the Apollo/Saturn V Center early because otherwise it gets too crowded.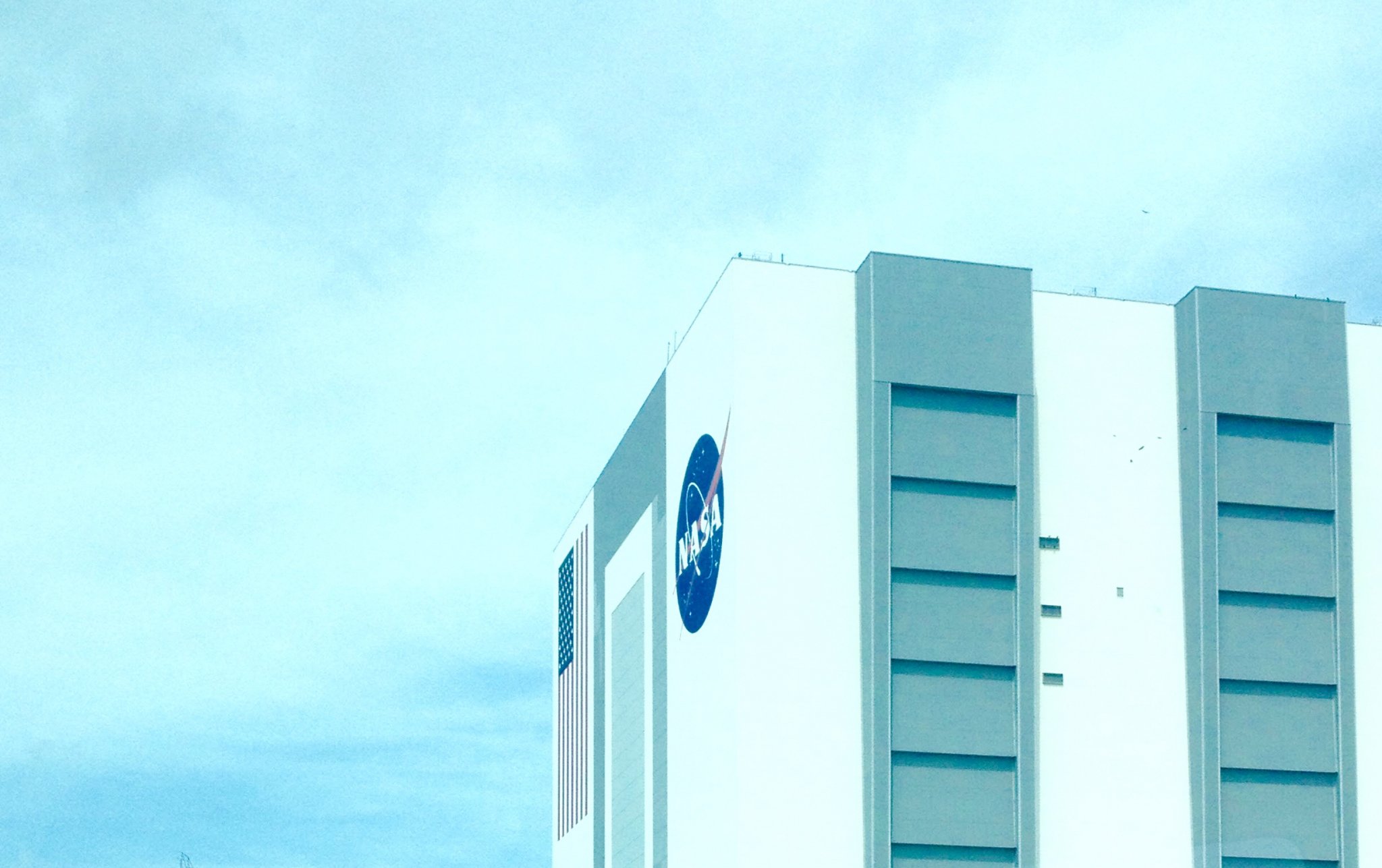 We take a turn into the Firing Room theater, where we are set in the zone of the Space Era. Here, Kennedy and the US's passion for putting a man on the moon and exploring space spirals vividly to life. We fall into the Cold War era, where Sputnik threatens US's superpower status.  The virtual tour is guided by a former launch controller, so it feels like we are listening to memoir cross guide.  Right outside, is the jaw-dropping Saturn V moon rocket. Just to give you a little perspective, this monstrosity is the size of a football field! Ridiculous, huh? For Apollo 13 fans, like me (I've seen that movie way too times), you can even see James Lovell's spacesuit. Ah, fangirl moments.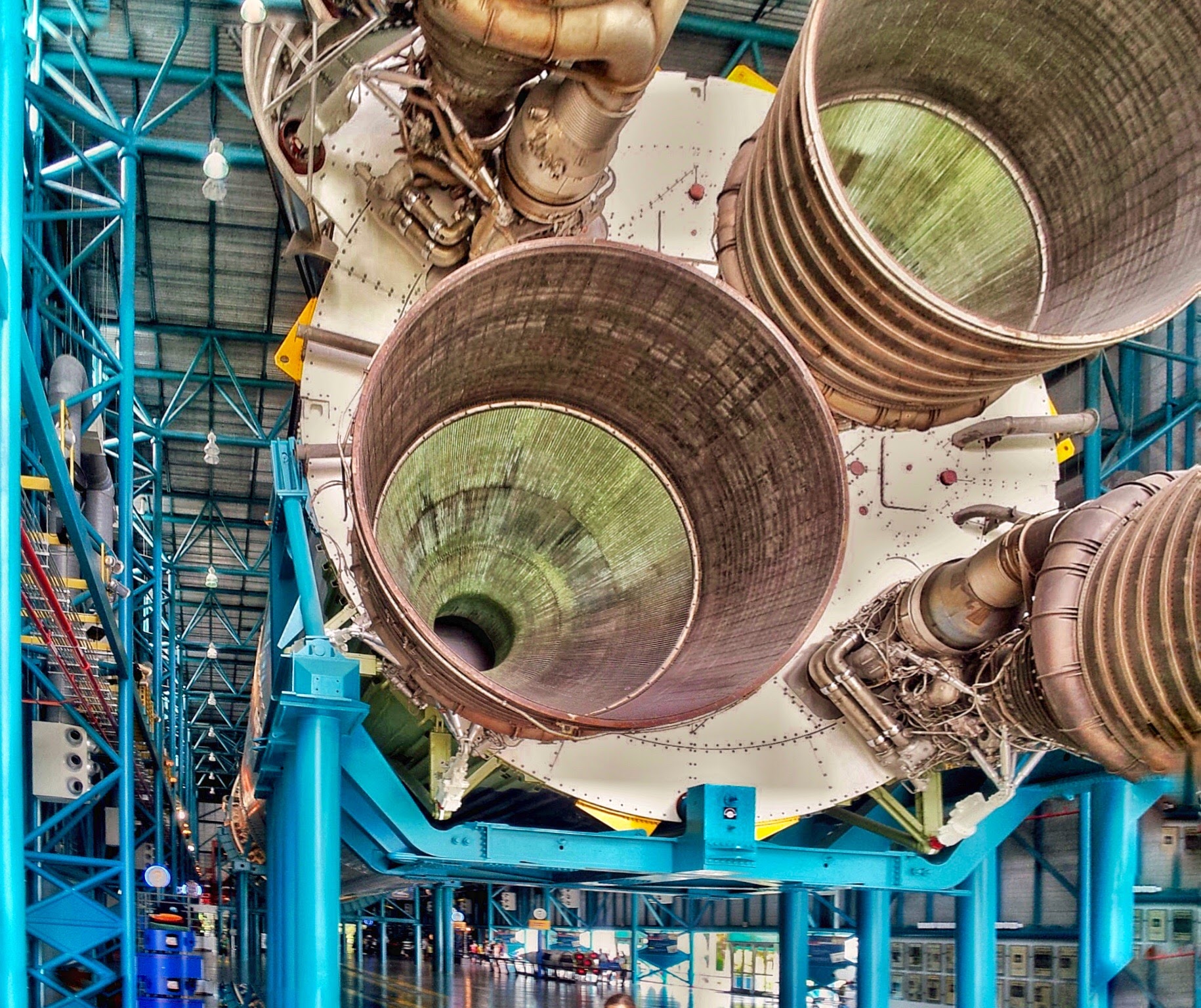 Next stop, the Lunar Theater, an immersive 3D theatrical movie experience where the fear of Russia tornadoes towards us. As we exit, we enter the Apollo Treasure's Gallery. Here, we can see Alan Shepard's spacesuit and a bit of his lunar module, the Kitty Hawk. Alan Shepard is the most underrated astronaut in the Apollo 11 Mission, so I was excited to see a commemoration to him. I always felt that he was overshadowed by Neil Armstrong and Buzz Aldrin, because they actually stepped on the moon, but that doesn't make him any less of an important astronaut. I've always believed that exploring space is a like a stage performance, just because we know the names of the actors doesn't mean that the makeup artists and costume designers aren't essential. The Kennedy Space Center captures that idea perfectly (I apologize in advance for the rant).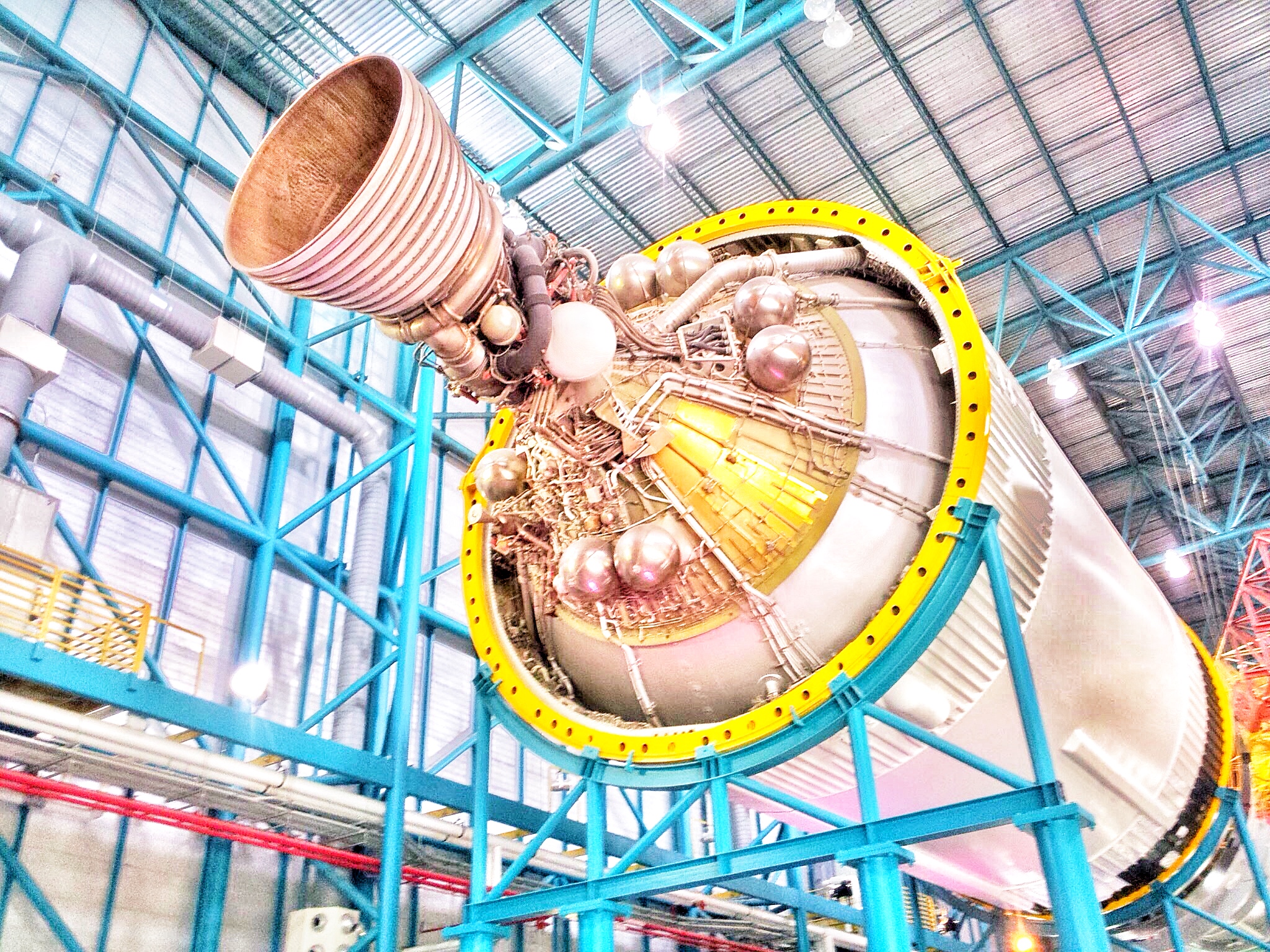 Now, I normally don't like to take you to cafes or restaurants within any museums or attractions. They are always overpriced, but today, we are kind of forced to eat inside the Kennedy Space Center. I suggest the Moon Rock Cafe, near the moon rock exhibit. The moon rock is as small as a pebble and situated in a tiny glass case, but don't be afraid to touch it! It's a fun, interactive experience. As for the cafe, try the Cuban sandwich, which is perhaps the best from the limited menu, but bring your own lunch, if you can. Just outside the cafe, you can even see an expansive view of Launch Pad 39B.  Oh, I almost forgot the time! Let's catch the bus back to the main center. Shall we?
Since I want to be Mark Watney, without being Mark Watney, we're going to check out the Journey to Mars. This is a theater presentation followed by some multimedia exhibits that really get into the logistics of running a mission to the red planet. We can see prototypes and sample exhibits of food that might grow on Martian soil. Unfortunately, the whole lab wasn't filled with potatoes, but I'm okay with a non-potato diet (if you are registering a quizzical expression, read the Martian.)
We are going to walk a little further to the Atlantis Exhibit. The mammoth space shuttle, the Atlantis, is held here, and we can look at the space shuttle from all angles. Unlike in other space museums, like the Udvar-Hazy, you aren't limited to viewing from a set number of perspectives. Now, if we want to sink a little deeper into the whole Star-Trek-vibe, we can hop onto the Shuttle Launch Experience. I didn't really have the stomach for this since I was a little nervous (I'm not really one for rides), but I did hear many good things about it. I guess, you will just have to see for yourself.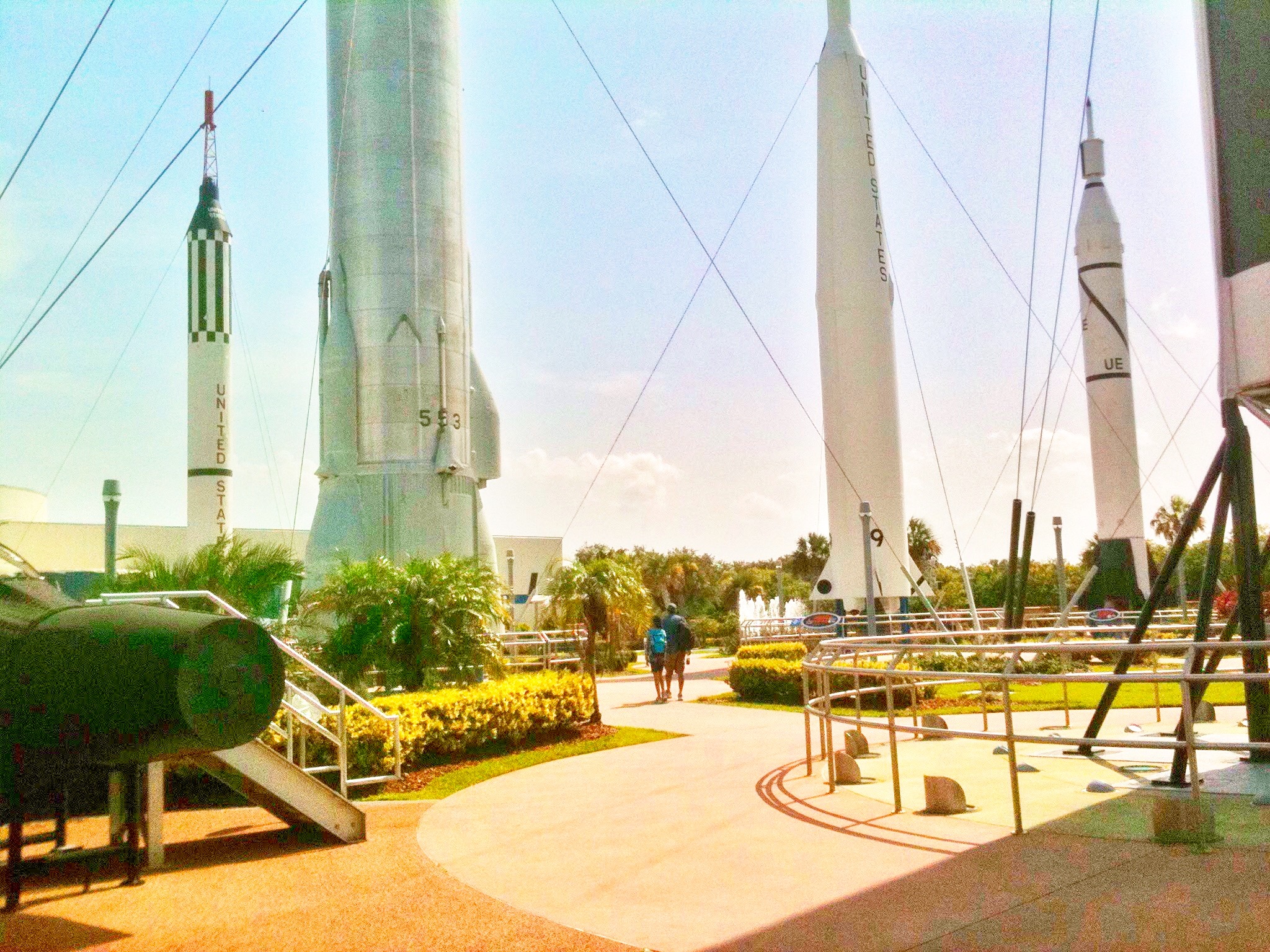 I know that it has been a long day, but we still have one more stop. The Rocket Garden. The Rocket Garden is best seen in the afternoon, when the blank white canvases of the rockets penetrate the flaming sky. We can climb and saunter around the rocks, gasping at the sunsets as brilliant lights illuminate the darkened sky. Now, there is still so much you can do, from viewing IMAX movies to brunching with an astronaut, but I've given you a rocket-sized frame of what you can see. So, go on ahead and explore!
Did you enjoy this little day trip from Orlando? Have you ever been to the Kennedy Space Center? Tell me, in the comments below!