10 things to do on a day trip to Joshua Tree
I ran away to Joshua Tree.
I guess, in a way, Joshua Tree is the kind of place you can run away to. It's a small town, smaller than most. It's cool, hip, artsy, and utterly unfazed by weirdness (there's a lot of weird stuff here). Joshua Tree lives by a "you be you" attitude.
Coming from Texas, I didn't anticipate the crowds in Joshua Tree. Every weekend, visitors from LA and Santa Barbara and San Diego pour into town, swapping out a slice of the coast for a bite of the desert.
It's a bucket list destination, and there's a lot more to do than meets the eye. So if you're planning on spending one day in Joshua Tree, here's our ultimate Joshua Tree day trip guide!
Disclosure: Heads up, this post contains some affiliate links, which means I may get a commission if you make a purchase. Don't feel pressured to buy anything. I still love that you're here, reading my content (side note: I'd probably suggest getting a coffee or tea first though because my blog posts tend to be long). To find out more, you can read our full affiliate disclosure right here.
Day Trip To Joshua Tree Travel Guide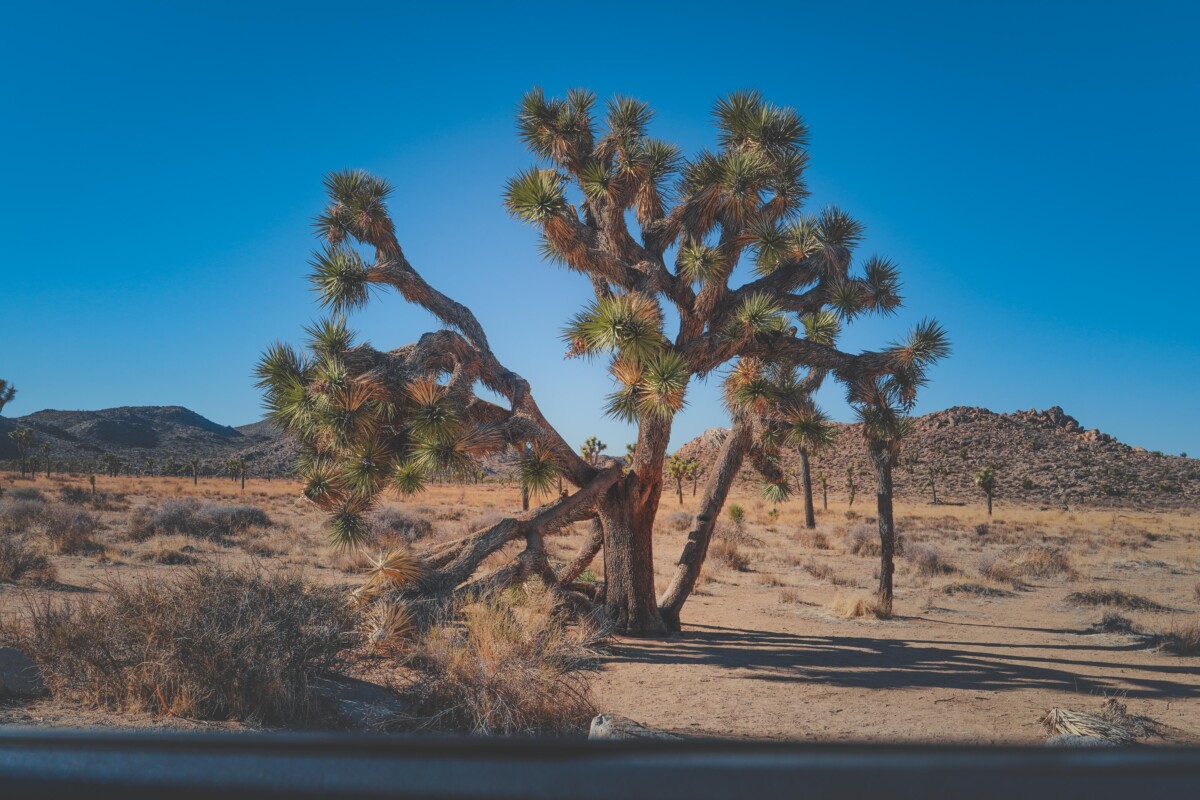 About Joshua Tree
With a population of just over 7500, the town of Joshua Tree is small and rural. As you drive in, you'll see sloped homes in loosely marked suburbs. But once you tether on Joshua Tree National Park, the area known as Joshua Tree balloons in size. Joshua Tree, the easy-to-navigate town, fuses onto a whimsical landscape larger than the state of Rhode Island.
Travel Tip: Be sure to check out the nearby towns of Twentynine Palms (for the food), Yucca Valley (for the shopping), and Pioneertown (for the experience).
Parking
In and around Joshua Tree, parking should not be hassle. All of the shops and restaurants we visited in Joshua Tree had free parking lots near the storefronts (or streetside parking).
If you're hitting up the National Park, know that the area around Skull Rock gets congested by mid-day. Also note that there are virtually no parking spaces left thirty minutes before sunset at Keys View (I recommend staking out your spot at least an hour early. It's a wait but it's worth it).
Travel Tips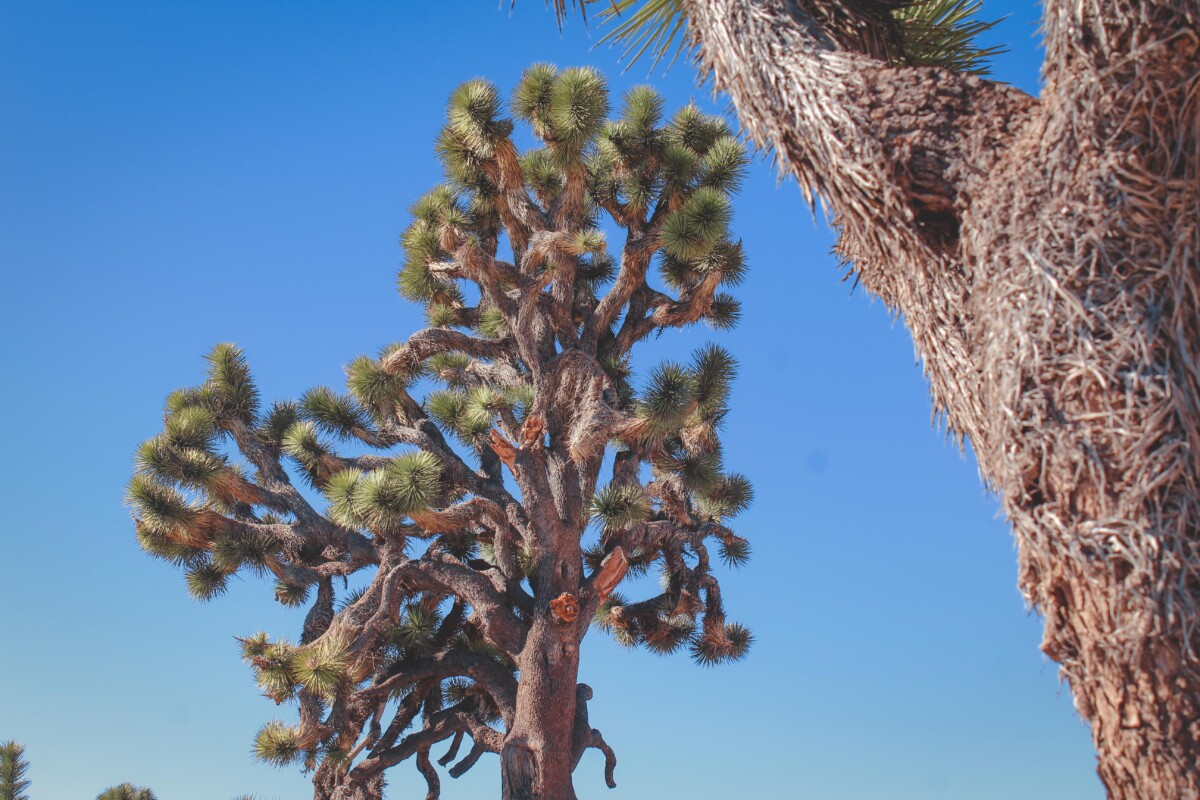 The West entrance of Joshua Tree National Park tends to get very backed up (one Saturday, I saw 83 cars in line to get in as we were driving out of the park. 83! Yes, I counted in the name of research – is that weird?).
I mean, I get the hype. The West Entrance is hands-down the prettiest Joshua Tree entrance. You'll see throngs of Joshua Trees immediately. But if you're only here for a day and the line seems insane, go to the Oasis Of Mara entrance. It's not as popular so entering through here will save you time.
Side Note: Regardless of which entrance you choose, ask for a map of the park. You'll need it. We didn't have any reception at Joshua Tree National Park so the National Park map was a lifesaver.
Joshua Tree Outfit Ideas
Where To Stay Near Joshua Tree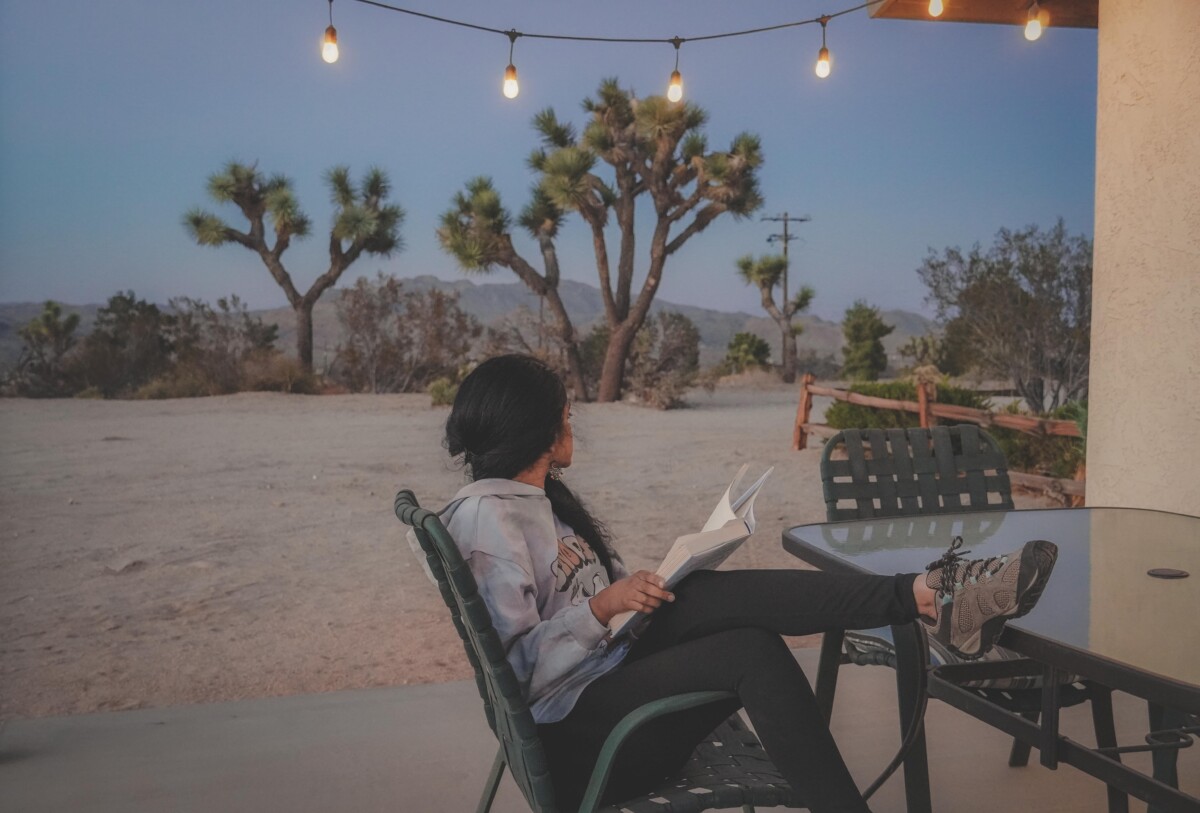 Airbnb culture is big in Joshua Tree. This town is known for its unique, funky, and chicly designed rental properties. When we first started searching for places to stay in Joshua Tree, we were overwhelmed by the choices. They all looked magazine-worthy.
We made this townhome our temporary home (I fell in love with the backyard area. It's the perfect reading spot).
I'll link some of my other favorite Joshua Tree stays below:
Prickly Pear Cabin: one word – wow. this cabin is all about the detail. I love the way the design plays not just with colors but textures as well. The interior, albeit small, is unique and interesting and resembles an in-vogue boutique hotel.
The Rum Runner: this place is whole mood. It's private and relaxing. There's a hot tub on-site (so you can relax under the stars) and multiple fire pits. The Rum Runner is luxurious in look and feel.
10 Things To Do On A Day Trip To Joshua Tree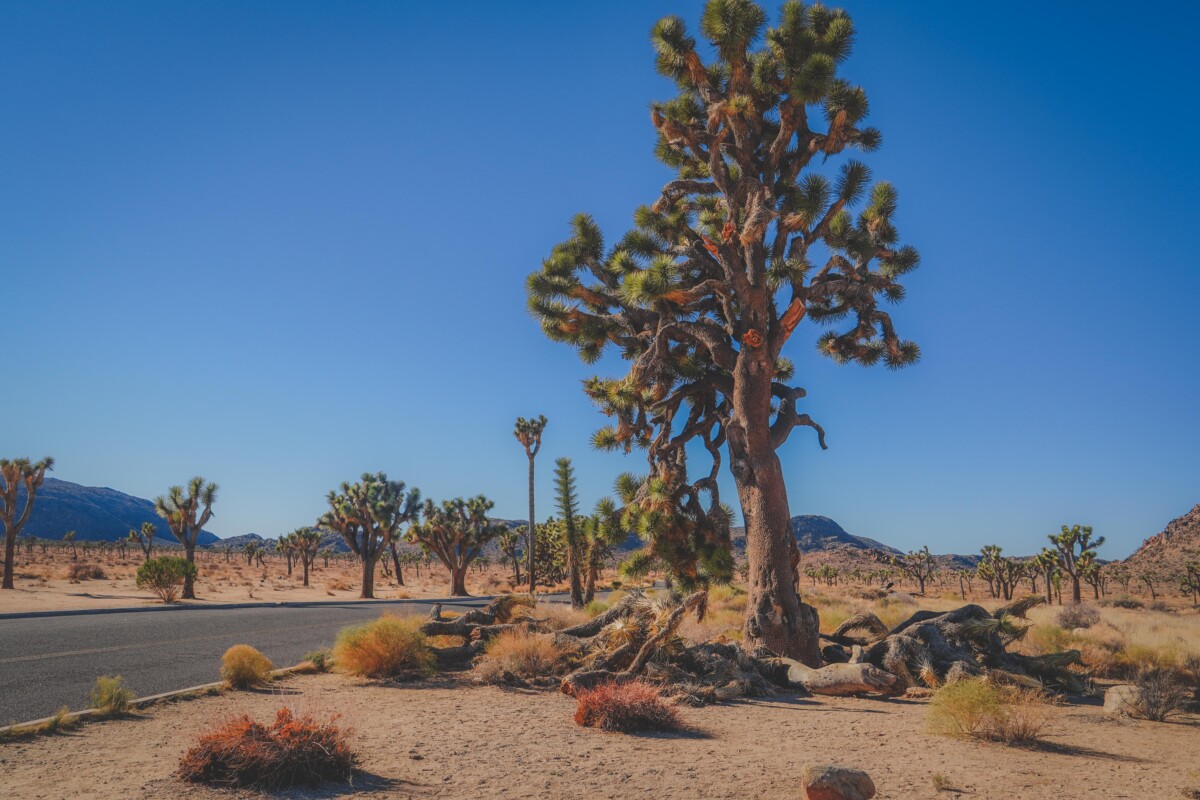 One last aside before we jump in, this day trip to Joshua Tree guide is tailored for weekends. A lot of shops in Joshua Tree are closed mid-week so if you're planning to spend one day in Joshua Tree, try to skirt around Tuesdays and Wednesdays.
Without further ado, here are ten things to do near (and in) Joshua Tree.
Drive Through Joshua Tree National Park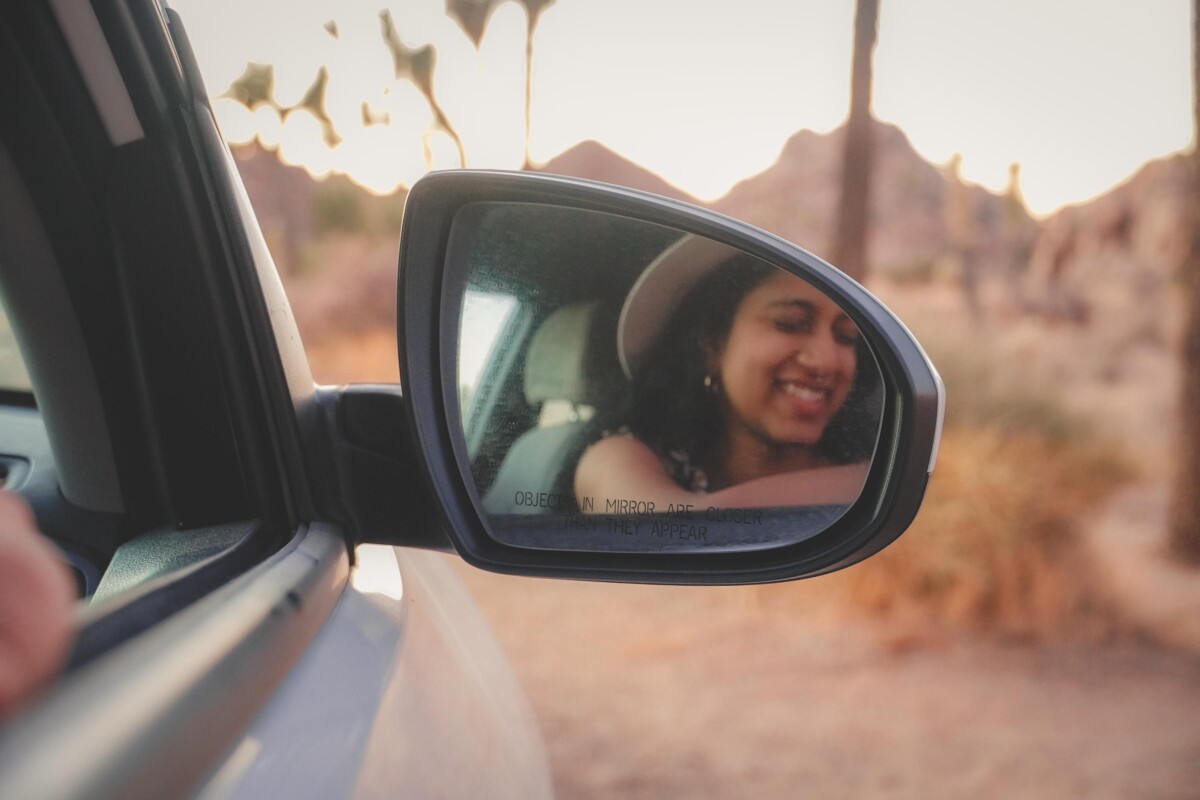 The best way to soak in Joshua Tree National Park is via a drive from Quail Springs Picnic Area down to Bajada Nature Trail. The whole route takes three hours (there and back) if done in a straight shot but I recommend taking it slow and stopping by the scenic turn-ins.
You'll see big rocks and bent Joshua Trees slowly melt into a more rugged landscape as the Mojave Desert touches the Colorado Desert. You'll see dense fields of cute Cholla Cactus and a long-stretching thicket of the delightfully odd Ocotillo. And as you get closer to Indio, you'll be rewarded with Cottonwoods and Palms.
P.S. I highly recommend starting this route a little before sunrise if you can! If you're arriving later in the day, lighten the route to go from Quail Springs Picnic Area to Cholla Cactus Garden and back.
Hike Skull Rock Or Discovery Trail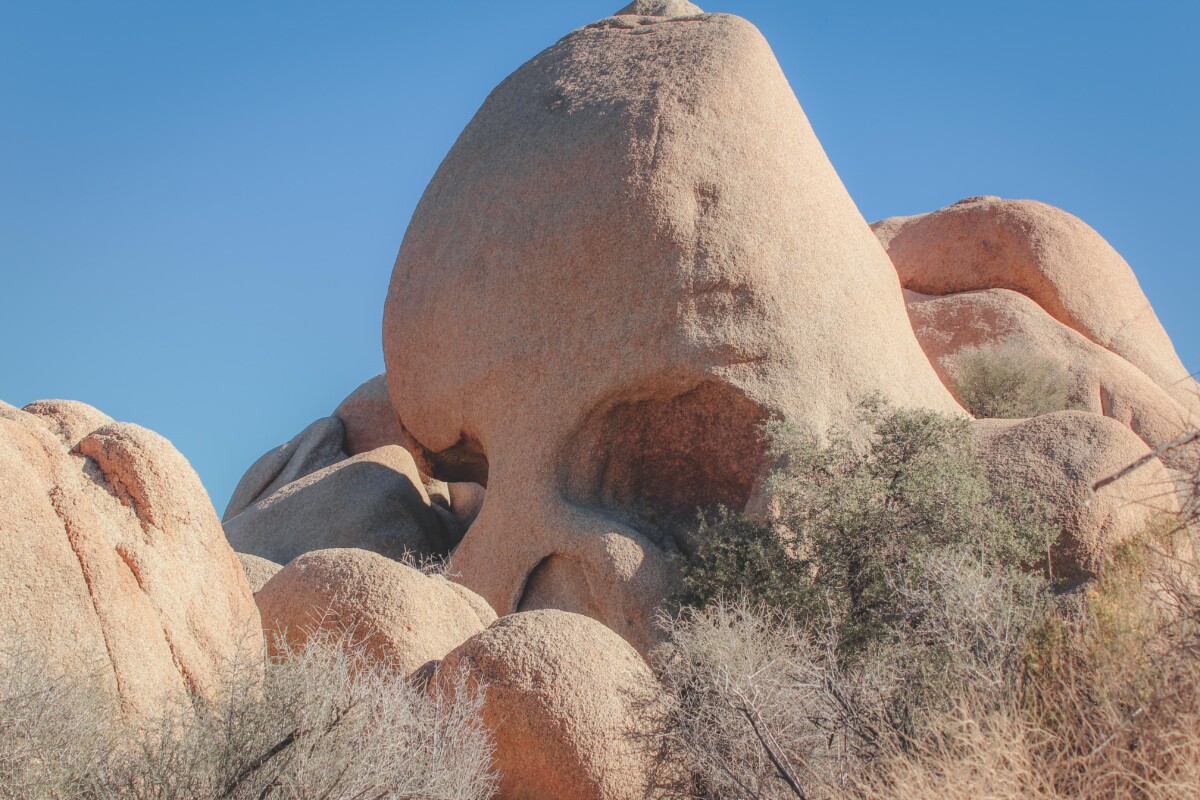 Skull Rock, a giant rock with a narrow forehead and two sunken eyes and a large curved nose, is hard-to-miss while driving through Joshua Tree. You don't have to get on the trail to see the rock formation but if you're rested up and ready for a quick hike, hit up Discovery Trail right across the road (bring lots of water).
Skull Rock Trail is definitely more popular but I'm biased: I liked Discovery Trail more. It's a short, easy hike perfect for a day trip to Joshua Tree. The loop gently passes by uniquely shaped rocks and desert washes. There are interpretative signs along the way too.
Stroll Through The Joshua Tree Certified Farmer's Market
At the start of the weekend, white tents pop up in a small lot along Twentynine Palms Highway. This is Joshua Tree's weekly Farmer's Market, one of the best ways to get a taste for the town.
Joshua Tree's Certified Farmer's Market hosts more than just produce. You'll find coffee and candles and crafts up for sale between 8 AM to 1 PM Saturdays only.
Grab Breakfast At Natural Sister's Cafe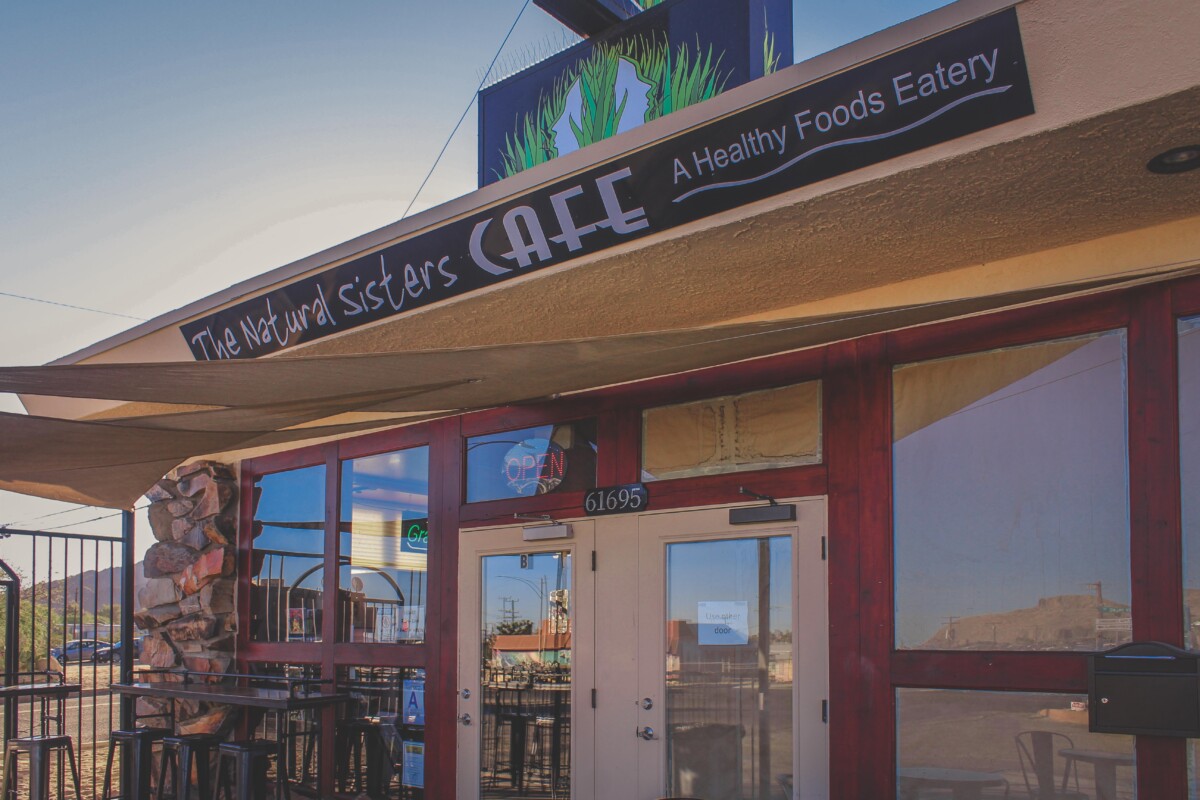 Right next door is Natural Sister's Cafe, one of our favorite restaurants in Joshua Tree. My partner and I ate here every week we were in town and I can't recommend it enough! Fair warning, they take a while to prep food so bring a book to read during the wait (I recommend this one or this one or this one).
Get the Curried Rice Wrap, Soup Of The Day, and the Vegan Carrot Cake (trust me, you can't tell it's vegan).
Visit Coyote Corner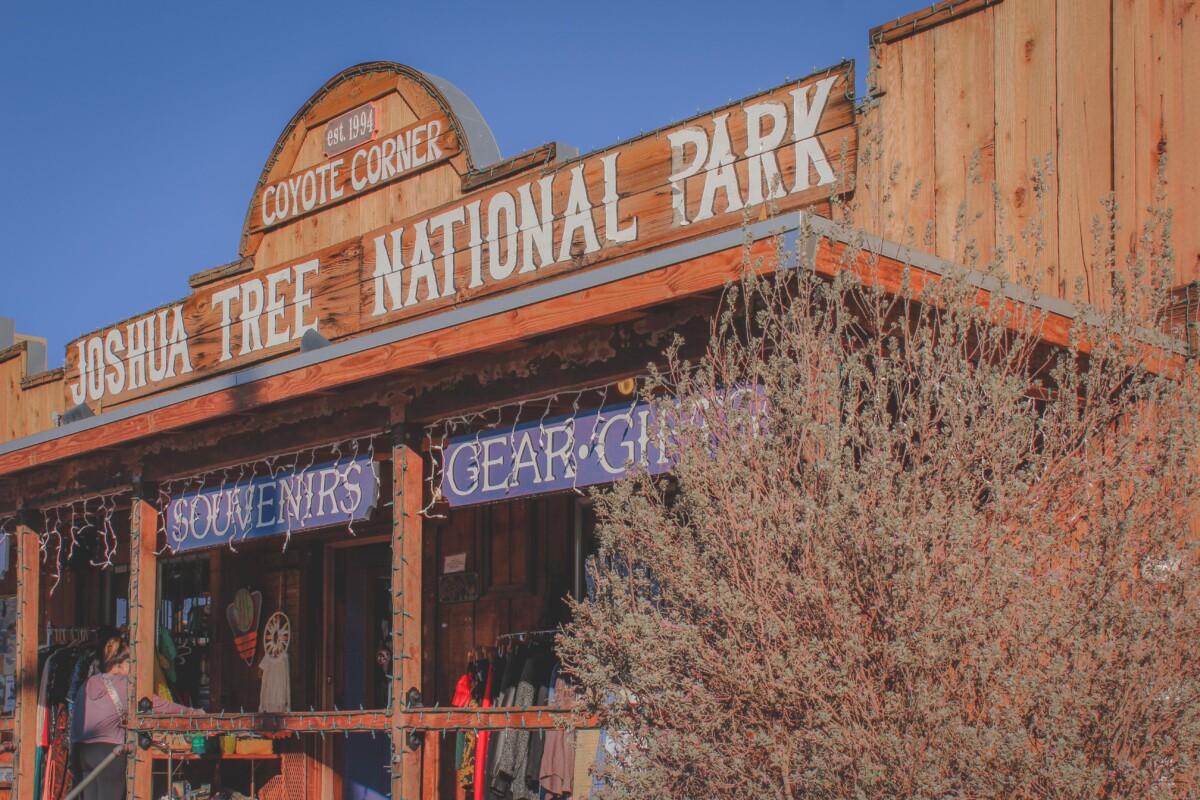 A kitschy gift shop, Coyote Corner's interior is congested and packed. There's a lot inside. You'll find everything from last-minute hiking gear to birdwatching books to Joshua Tree magnets.
Coyote Corner is located across the street from Joshua Tree Visitor Center. If you're looking for an exhibit-style overview of the park, head here instead (the displays are quick to read and packed with info).
P.S. Behind Coyote Corner, you'll find Joshua Tree institutions like The Art Queen and The World Famous Crochet Museum!
Visit Sky Village Outdoor Marketplace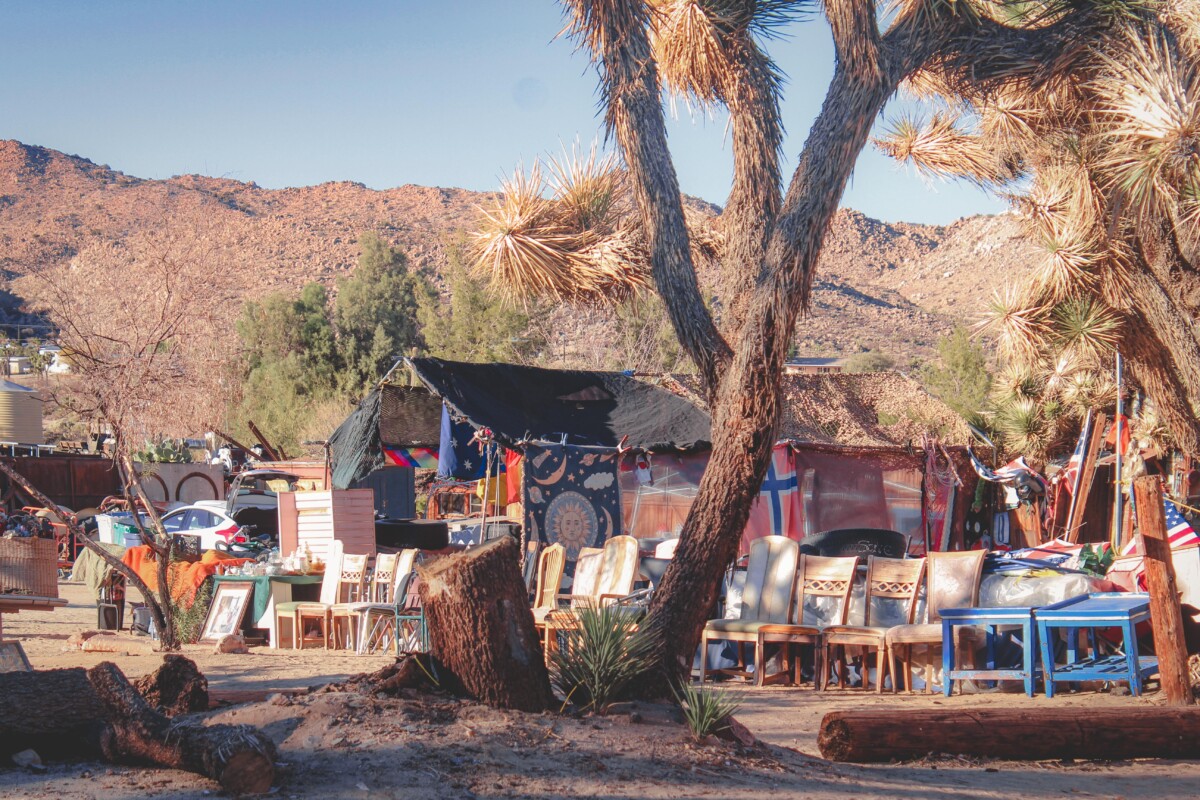 Sky Village Outdoor Marketplace is a weekend-only market that feels like a hundred garage sales stacked on top of one another.
Sky Village lives by the phrase "one man's trash is another's treasure". On the surface, this flea market appears to have a lot of junk (which to be honest, it does), but as you dig through, you'll find kitchenwares and gently worn clothes and needs a few touch-ups paintings. They're all at a bargain price. If you like thrift flipping, I think you'll really enjoy this place (but don't quote me on that, my only experience with thrift flipping is binging Lone Fox and XO, MaCenna on YouTube).
Visit Pioneertown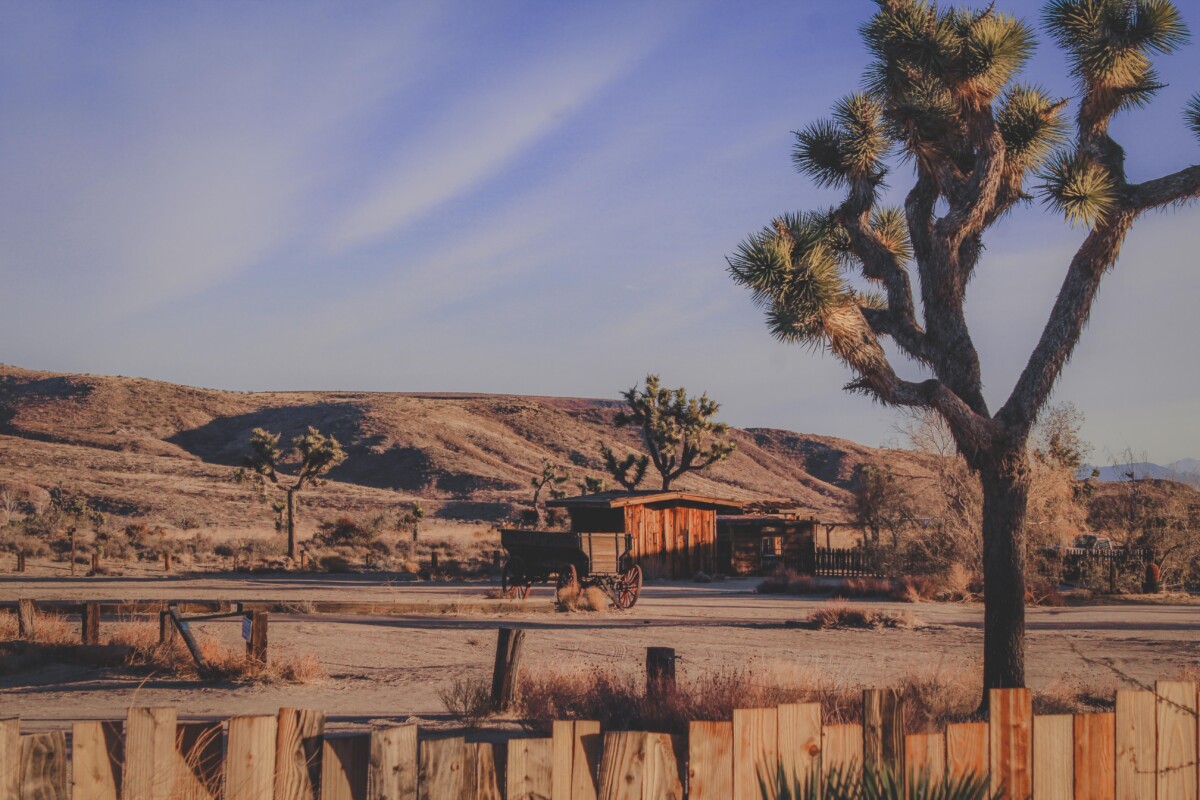 Originally designed to be a living, breathing Western film set in the 1940s, Pioneertown has since grown up, settled down, and slowly tansformed into a family-friendly tourist attraction perfect for a day trip to Joshua Tree.
It's still an active set (and definitely has that old Western spirit), though today you'll find it being used for indie movies and Kidz Bop renditions of Old Town Road instead of traditional Westerns like Cisco The Kid.
Here's where to go: Pioneertown Motel, Pappy And Harriet's (the heart of Pioneertown), the General Store (you'll see it titled as Saddlery), and Mane Street.
Go Shopping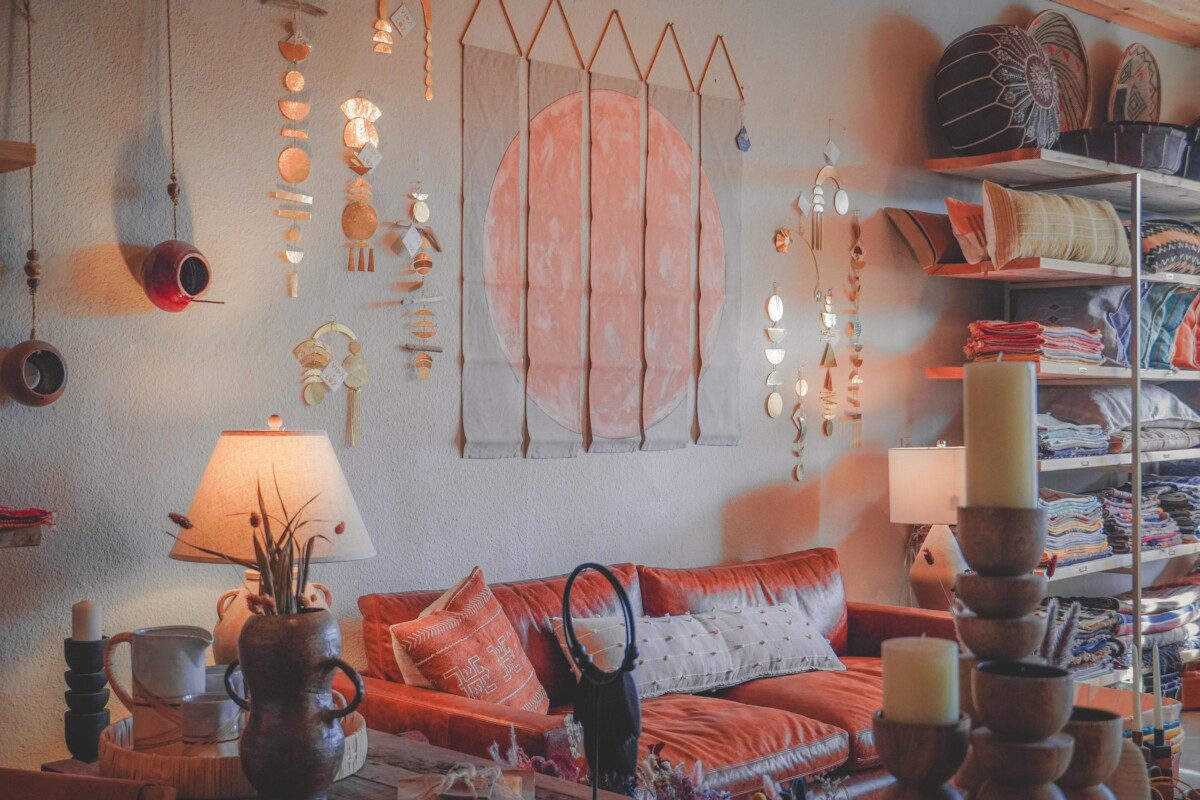 Joshua Tree is a town filled with creatives so it comes as no surprise that this area of the desert is home to some of the best boutiques in California (a bold claim but I'll stand by it).
Here are some of our favorite shops near Joshua Tree:
Hoof & The Horn: a boho clothing store that also carries retro-style posters, stationery, and mugs. I love the curation. The owners definitely have an eye for good design. The dresses and sweaters on hand are so cute!
Acme 5 Lifestyle: trendy furniture and decor shop. The Kilim Rugs are a steal. They also have lots of coffee table books and wall hangings to choose from.
Moon Wind Trading Co: for the bath and beauty products
Sunset At Keys View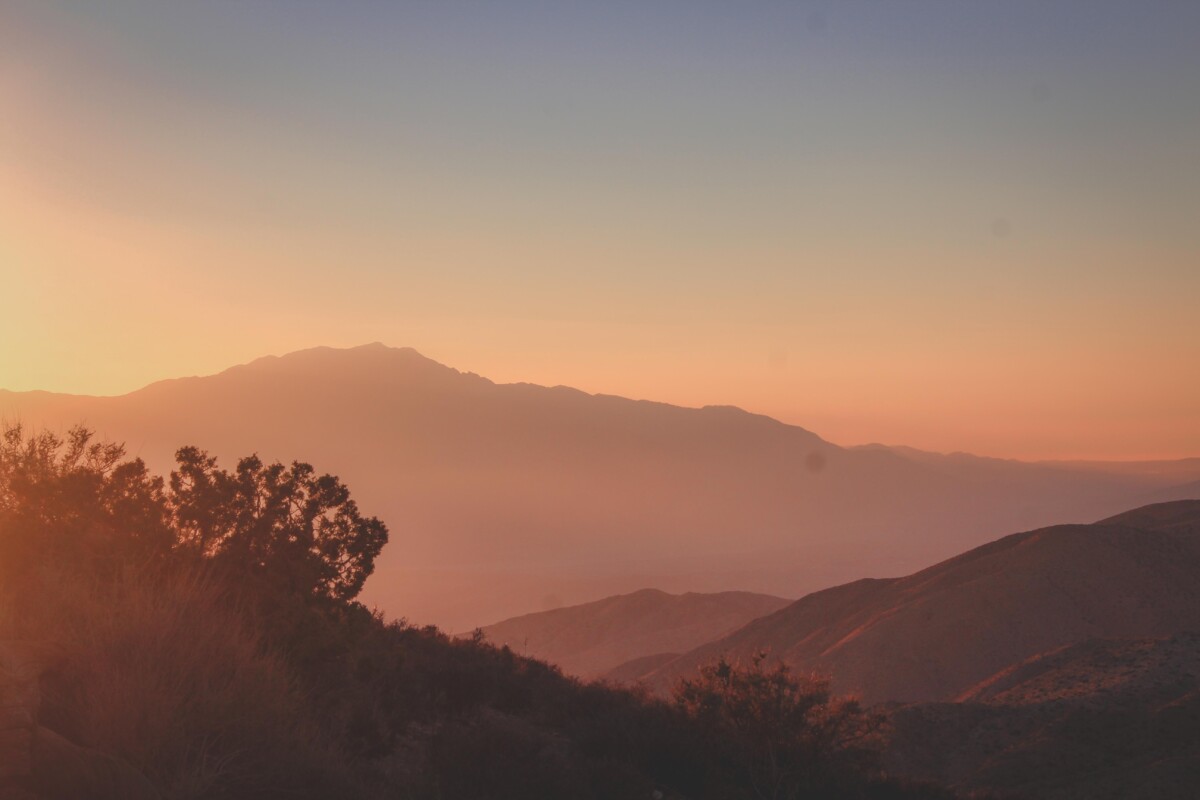 Come to Keys View at least an hour before sunset. Pack a few snacks, bring a picnic blanket (or a regular blanket on chillier days), and make your way up. As you walk along Keys View Trail, you'll see further and further out. From the very top, you can see the Salton Sea, Coachella Valley, and the San Andreas Fault. The view stretches thin and spreads out for miles and miles. And at sunset, it's pure magic. You'll see the warm desert landscape slowly turn amber and red.
Watch The Stars
Before you say goodbye to Joshua Tree, be sure to look up. Once day fades to night, hundreds of dots illuminate the sky. It's breathtaking and surreal, the kind of moment that you expect to be fleeting (because it's so precious) but lingers long after.

Did you find this post on things to do during a day trip to Joshua Tree helpful? What would you add to this day trip to Joshua Tree guide? Let me know in the comments below!