The best day trips from Santa Fe, New Mexico.
The relationship between Santa Fe and me is an interesting thing. I love the city with all my heart. And strangely enough (I might be crazy though), I feel like the city loves me back.
So when I set Santa Fe as my base for my most recent New Mexico road trip, I could almost hear the 17th and 18th-century walls rooting for me to see what was just outside the city limits.
Go explore, Anshula. I'll be right here. I know you'll come back, I heard them say.
So I did. And to be honest, Santa Fe is an amazing base for any New Mexico trip.
Santa Fe gives you access to some of the most beautiful parts of the Land Of Enchantment through the High Road, the Low Road, and Turquoise Trail. From Santa Fe, you can drive down to unique mountain formations or hit up artsy small towns. A few hours out, you can see bighorn sheep or worn and cracked churches along sheets of land that pour into deep hills and valleys.
What's beyond Santa Fe is just as incredible as what's within the city itself.
So here are the best day trips from Santa Fe, New Mexico.
Disclosure: Heads up, this post contains some affiliate links, which means I may get a commission if you make a purchase. Don't feel pressured to buy anything. I still love that you're here, reading my content (side note: I'd probably suggest getting a coffee or tea first though because my blog posts tend to be long). To find out more, you can read our full affiliate disclosure right here.
Bandelier National Monument
Drive Time From Santa Fe: 1 Hour
---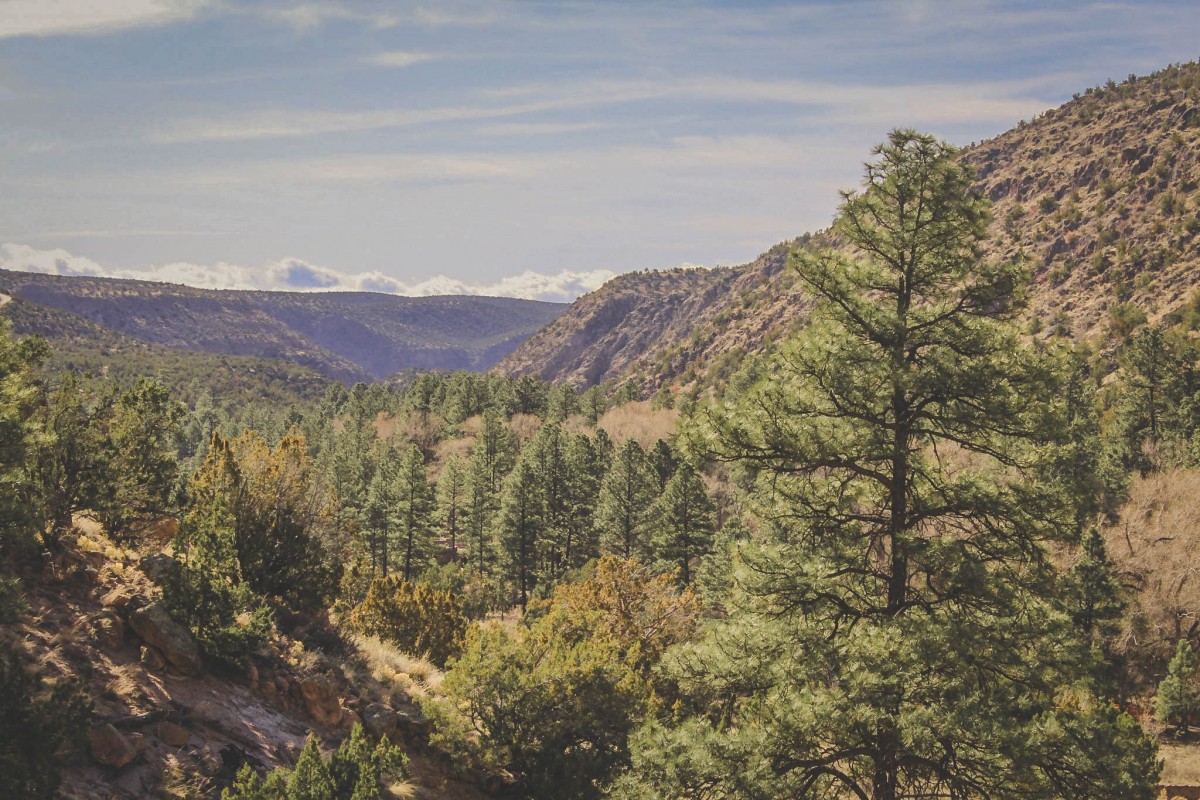 Situated in Los Alamos, Bandelier is a place that transcends generations. It's a National Monument, over 30000 acres, that tells a timeless tale.
Walk along the 1.2 mile Main Loop trail and you'll step back into an ancient story. As you pass the Big Kiva, Talus House, and Long House, as you scale up loose ladders into cavates, you'll get a sense of the Pueblo People's roots here.
Travel Tip: While entering the cavates, you'll want to have a flashlight in hand. The dwellings tend to be dark!
Your breath will be clinched. You'll feel your senses close and open as you take it all in – the sweeping views, the cool, dark cliff dwellings, and the crisp air.
If you love low-effort hiking, the Main Loop Trail at Bandelier National Monument is one of the best day trips from Santa Fe. It's doable in an hour (a little longer if you want to deep-dive into the archaelogical sites).
And after a morning hike, you can grab a bite from one of the many restaurants in Los Alamos!
Chimayó
Drive Time From Santa Fe: 30 minutes
---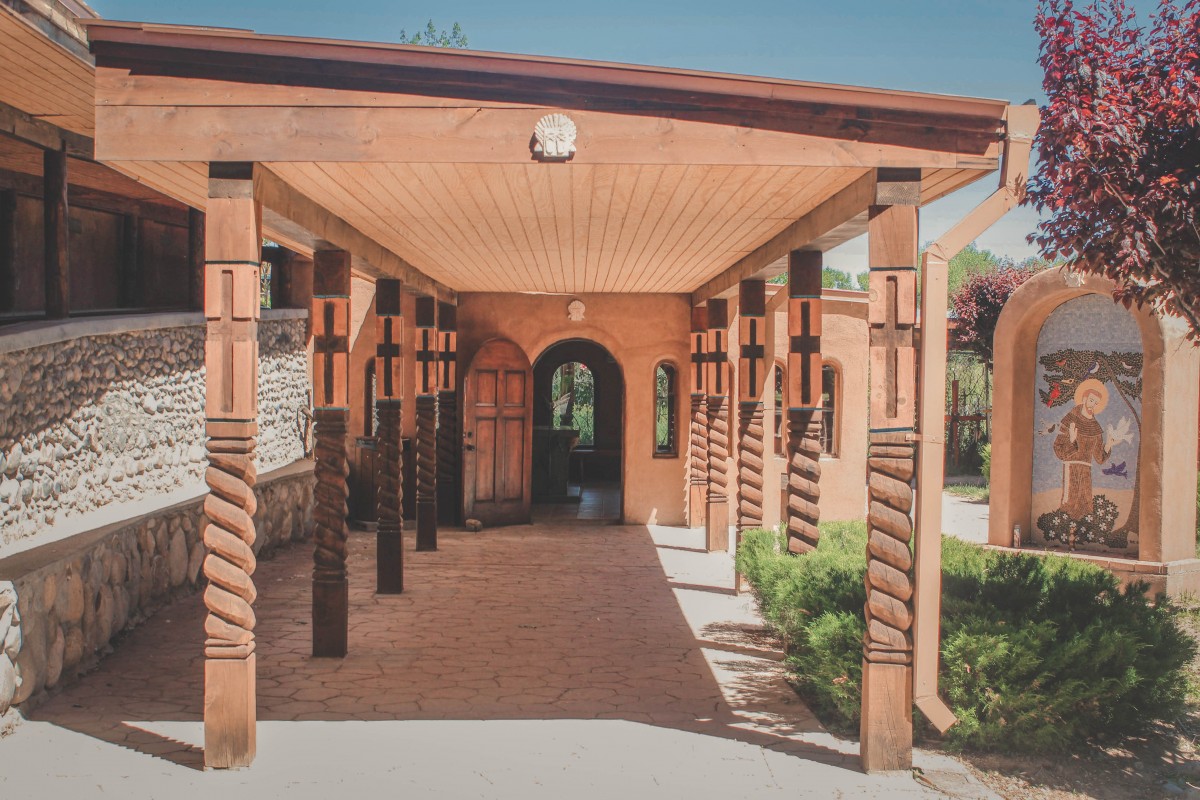 Chimayó is a small town just north of Santa Fe. It's a beautiful place padded by trees of all shapes and sizes.
In Chimayó, you'll find trading shops and weaving shops and art galleries. But the biggest reason over a quarter-million people visit this tiny town with a population of under 4,000 is this: El Sauntario De Chimayó.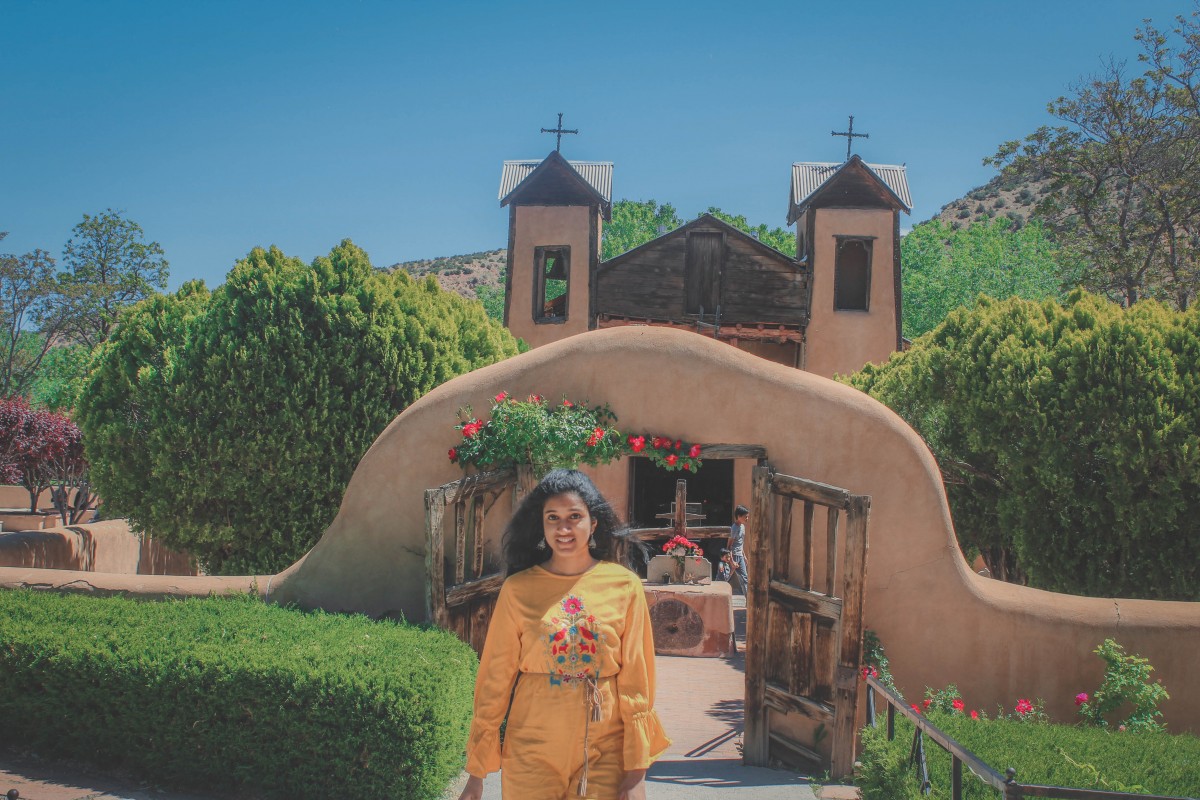 El Santuario De Chimayó, for many, is a pilgrimage site. The church is adobe. There are two parallel bell towers. It's quiet despite the crowds. There's Holy Dirt believed to be on-site.
Many see El Santuario De Chimayó as a sanctuary. It's a place to heal and recuperate on the foothills of the Sangre De Cristo Mountains.
Visitors come in hoards (especially during Holy Week) from all over the world, lured in by the testimonials of miracle dirt from a pocito (which is replenished by church workers almost daily). As a result, it's one of the most popular day trips from Santa Fe.
Sandia Peak Tramway
Drive Time From Santa Fe: 1.5 hours
---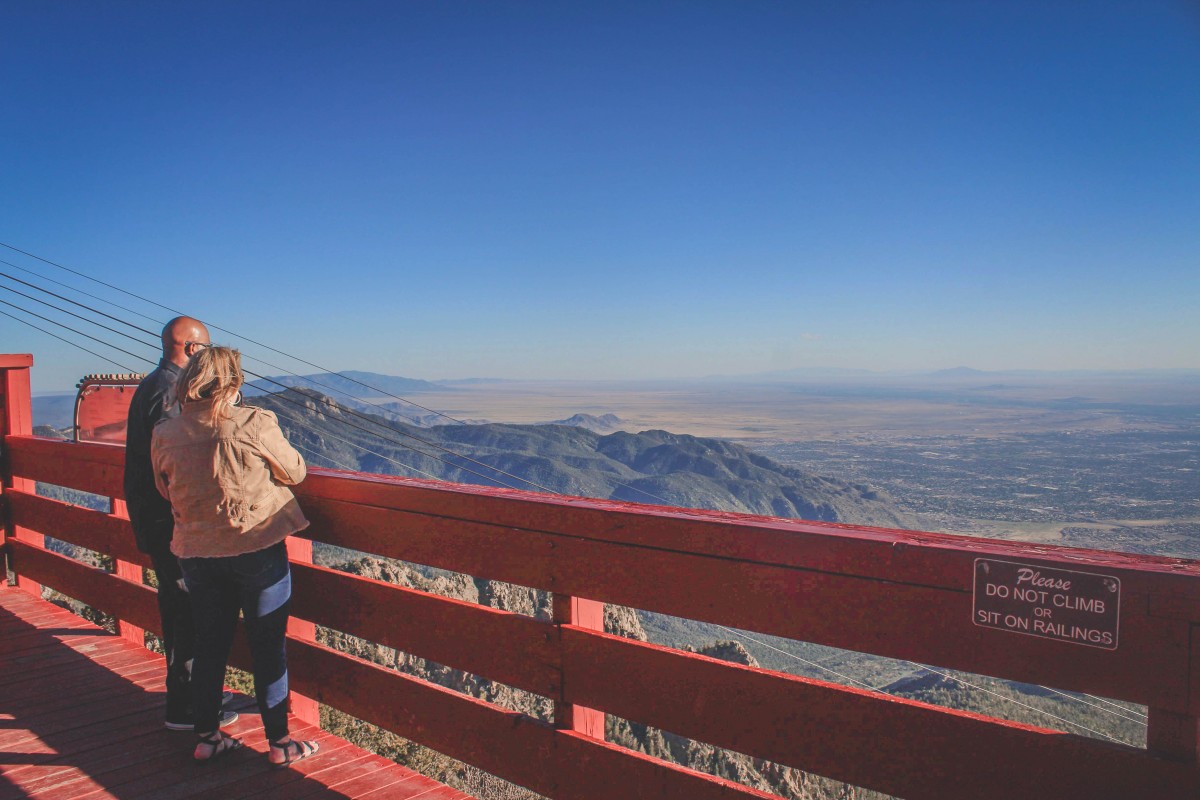 During my first day visiting Albuquerque, I headed to Sandia Peak Tramway.
Sandia Peak Tramway is a tourist attraction. But as you glide up, you'll feel the magic in the air (and if you have a severe fear of heights, like me, you'll also feel your heart in your mouth).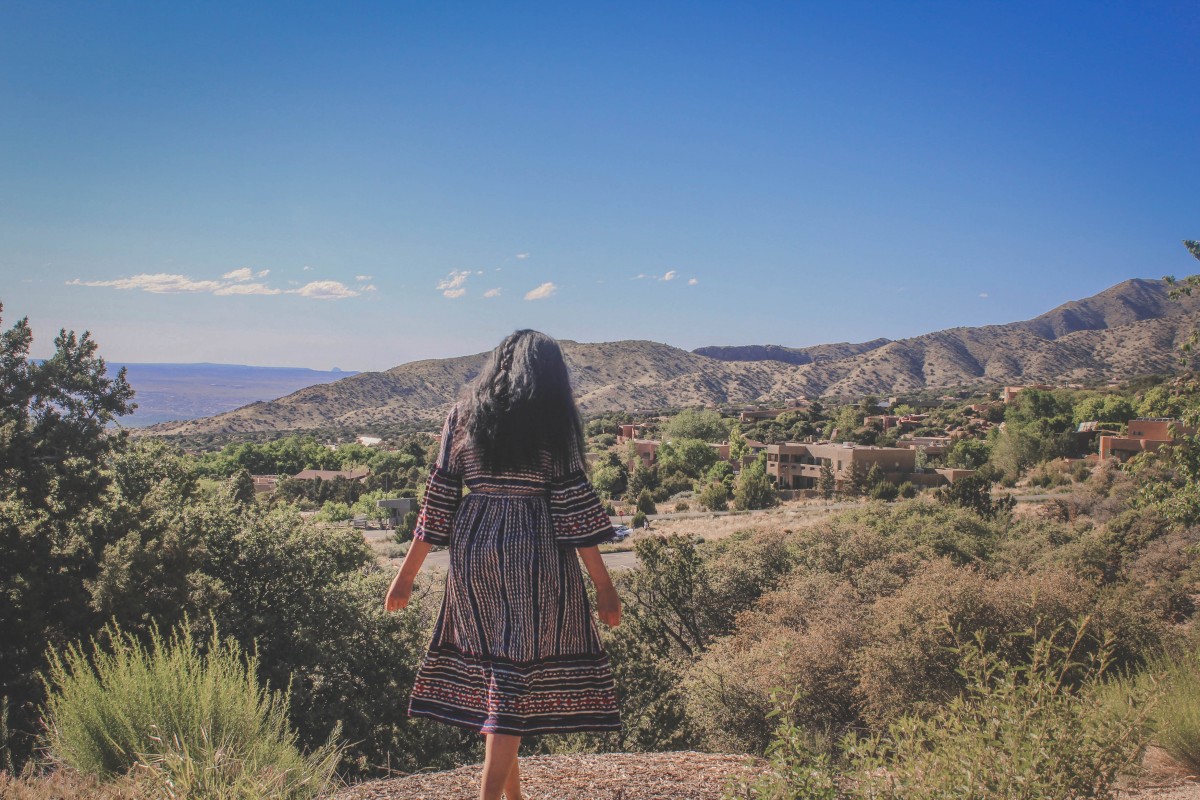 This is truly one of the most incredible day trips from Santa Fe. The landscape sweeps down below you as your face is pressed against the window. The further up you go, the more New Mexico seems to stretch out, like Duke City is shifting from Downward Dog into Cobra pose (I've been doing too much yoga as of late).
There's a museum at the top. And if you want to catch your breath, shift counterclockwise to see all the displays.
Follow the bridge out-back into the newly opened restaurant (Ten 3) on top. It's a pricey spot so snag a table if you're planning a special night out (but there's also no harm in treating yourself).
Earthship
Drive Time From Santa Fe: 2 hours
---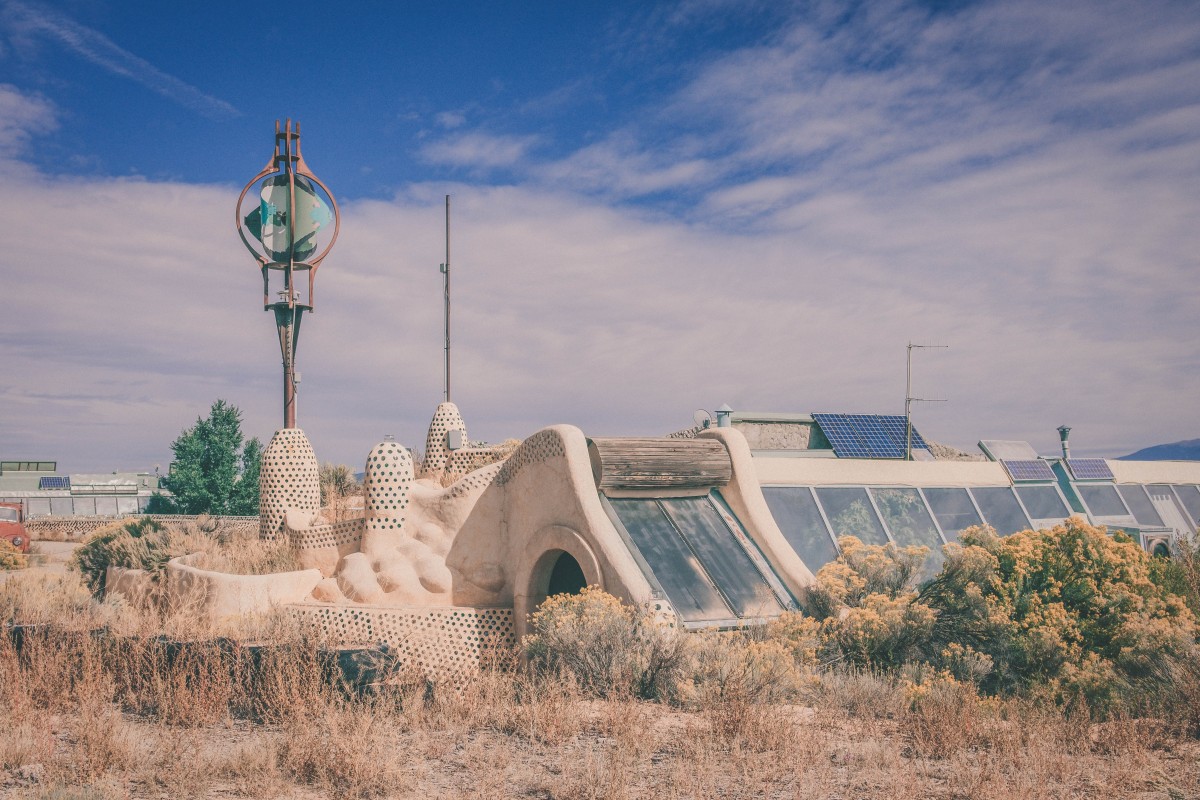 Earthship Biotecture is one of the most unique day trips from Santa Fe.
In Tres Piedras, New Mexico (just outside of Taos) is a fully sustainable private community. The community, built from repurposed materials, runs on renewable energy.
Earthship is a learning experience. You can opt for a self-guided or a guided tour (a guided tour is highly recommended but you need to reserve at least two weeks in advance).
A guided tour through the Visitor Center and the Greater World Community (all the other homes in the area) takes roughly 2 hours.
The tours start mid-morning so you'll need to leave from Santa Fe early (and pick up breakfast before you arrive). Once you get there, you'll learn about water usage, off-the-grid life, and tire walls. If you don't mind video presentations, it's absolutely fascinating!
Jemez Springs
Drive Time From Santa Fe: 1.5 hours
---
In Sandoval County is a tiny village with a big name. Jemez Springs is known for its natural hot springs.
It's a stunning destination. Tall trees. Long creeks. Hot springs galore. It's the kind of town that instantly pulls the weights heaving down your shoulders and flings them far away.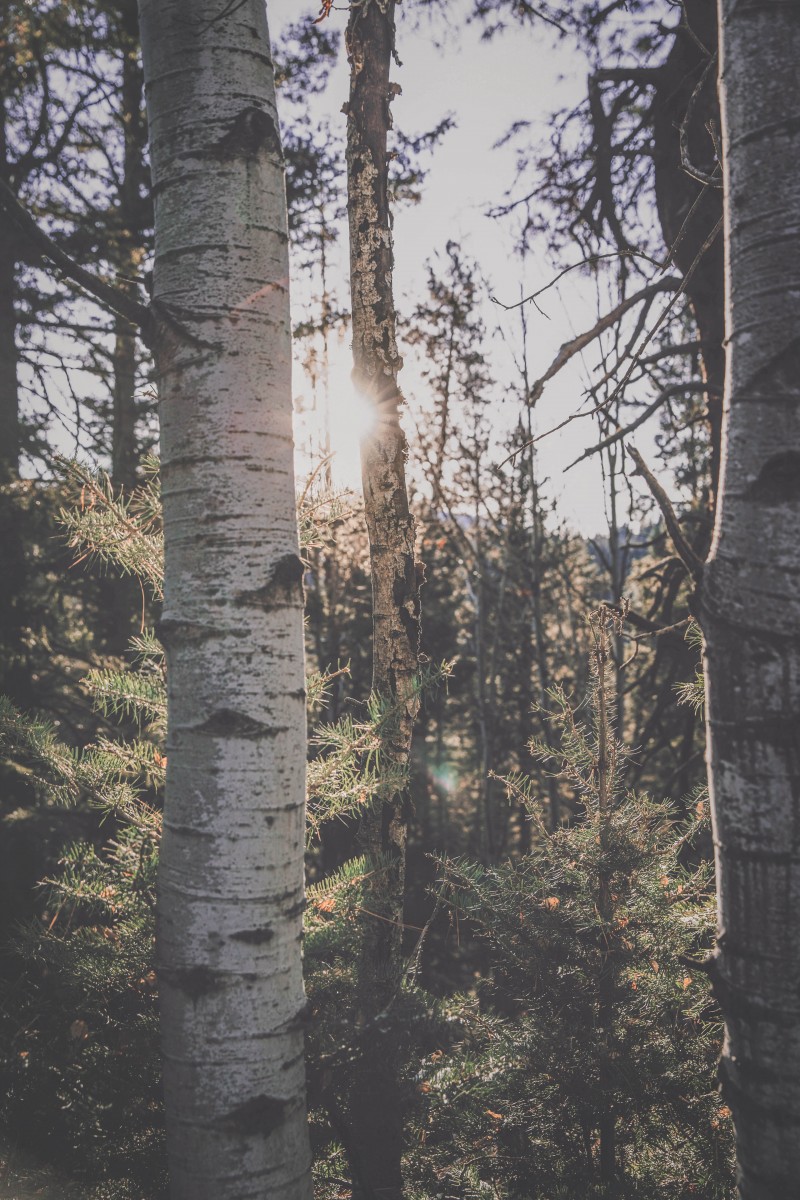 There are so many things to do in Jemez Springs – visiting the mountains, trailing the scenic byway, strolling through the historic sites.
But springs are the main deal. Here are the top springs in Jemez Springs if you're planning a day trip from Santa Fe:
Spence Hot Spring: Although it's one of the most popular hot springs in Jemez Springs, Spence is hit-or-miss. It isn't well maintained (so the springs can be littered and murky). The hike to the springs, however, is nice and short.
McCauley Hot Spring: Scenic hike up to warm springs. The stunning trail is 100% what makes this a great experience!
Jemez Hot Springs: Well-maintained, non-primitive hot spring. The color of the water is really pretty and the backdrop is even more stunning. This is a huge spring. It's hot, a little bit on the expensive side (the price of a spa day), but incredibly relaxing.
Rio Grande Gorge Bridge
Drive Time From Santa Fe: 1.5 hours
---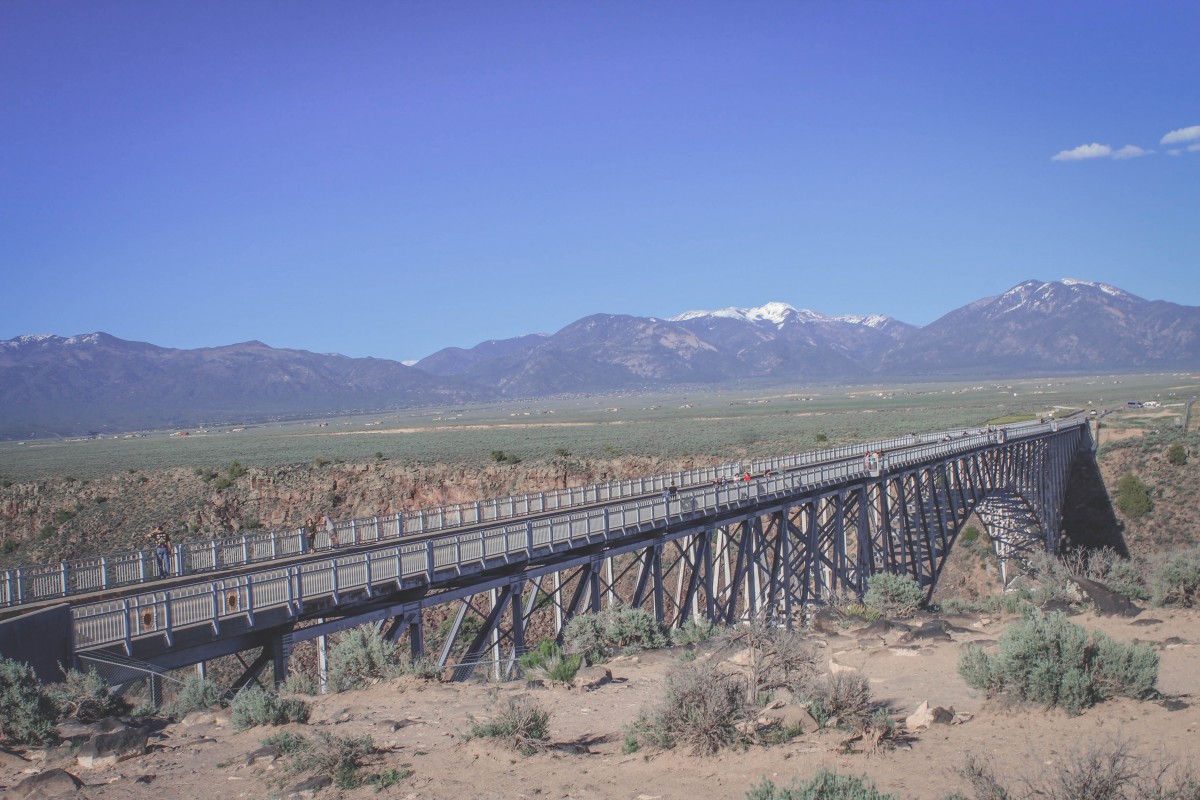 One of the highest bridges in the country, the Rio Grande Gorge Bridge reflects the synergy of natural and man-made.
It's a tress bridge that rises high above the Rio Grande River, a stream snaking below three large arches. It's beautiful.
Travel Tip: Along the Low Road, there aren't many active gas stations between Santa Fe and the Rio Grande Gorge Bridge. You'll want to fill up before you go and fill up in Taos.
You can even walk the length of the bridge and see the river open its mouth wide beneath your feet (or just hit one of the lookout points nearby).
And the location, just out from Taos, is a popular spot amongst bighorn sheep (if you ever want to see rams fighting for a mate in fall, go here).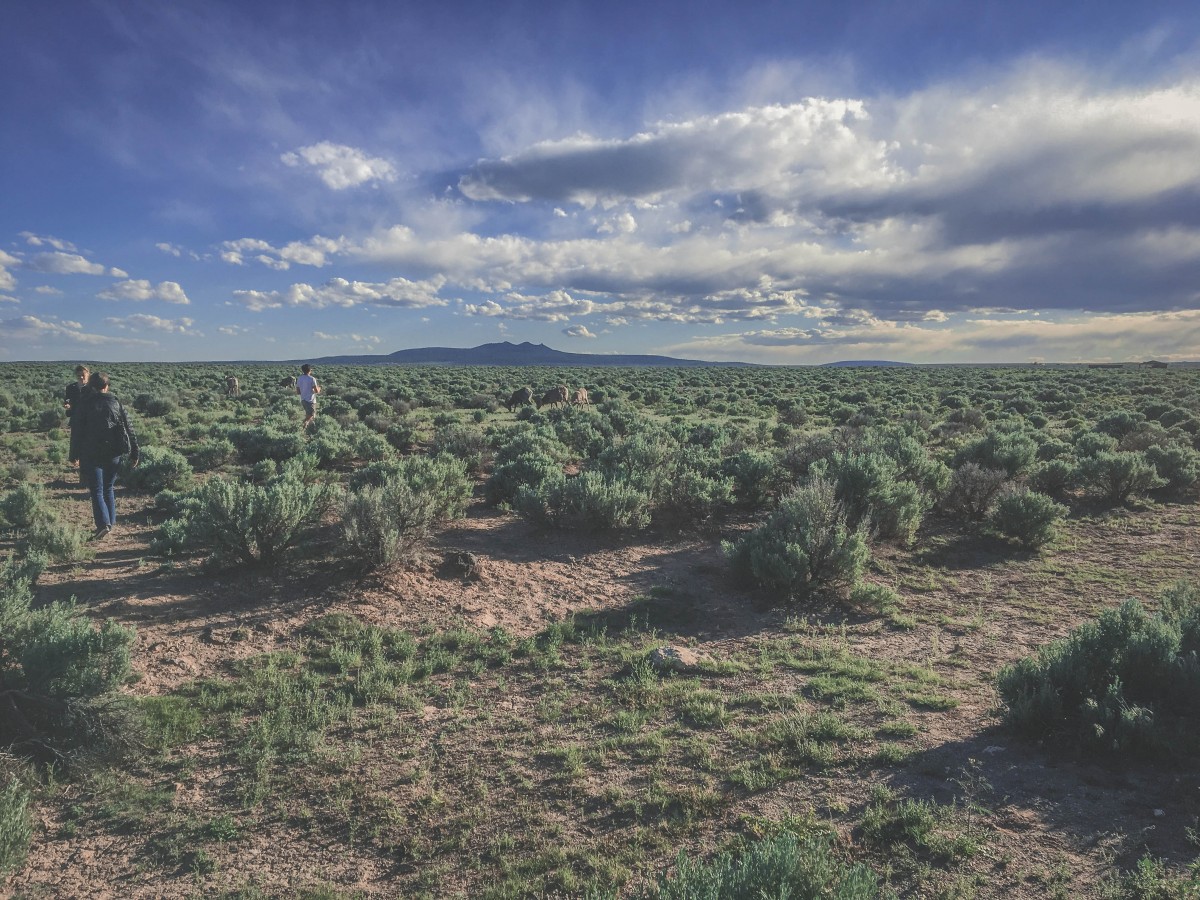 Take the Low Road (heads up, there is a small scary stretch of the Low Road that hugs the side of an unrailed cliff as you gain elevation), a scenic state highway that eventually curves into Taos.
There are also plenty of other sights along the Low Road that make great day trips from Santa Fe – The Classical Gas Museum, Dixon Wineries, Taos Junction Campground.
Kasha-Katuwe Tent Rocks
Drive Time From Santa Fe: 1.5 hours
---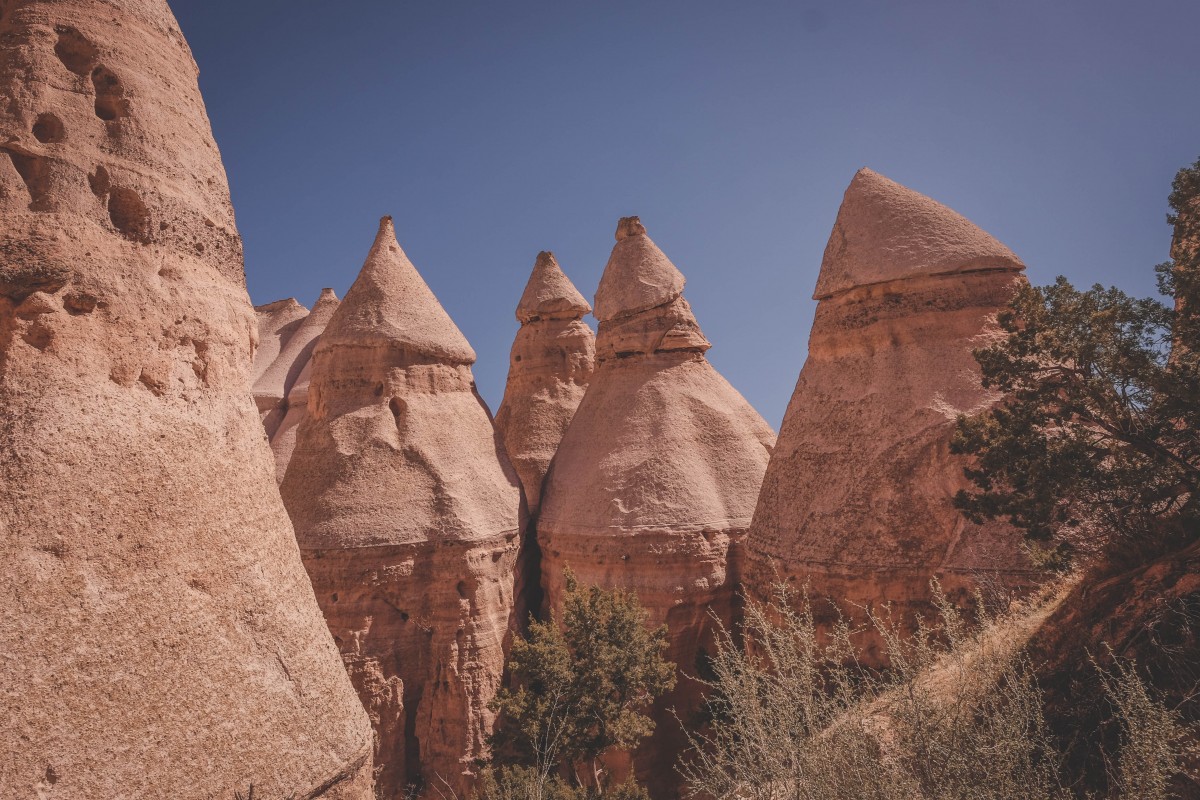 You'll want to visit Kasha-Katuwe Tent Rocks early in the morning. It's a beautiful area – tall ice-cream cone peaks and vanilla-colored slopes.
The rocks formed millions of years ago from spills of pumice, ash, and tuff – a patchwork of escaped deposits from Volcanic Eruptions.
The park opens at 8 AM. And if you're planning a day trip from Santa Fe, you'll want to be there by 8 AM. Kasha-Katuwe gets crowded quickly.
The hike ranges from easy to moderate. There are simpler stretches, tighter paths, and narrow walks.
But getting to nice views isn't too challenging. Tent Rocks is gorgeous in all directions.
Shiprock
Drive Time From Santa Fe: 4 hours
---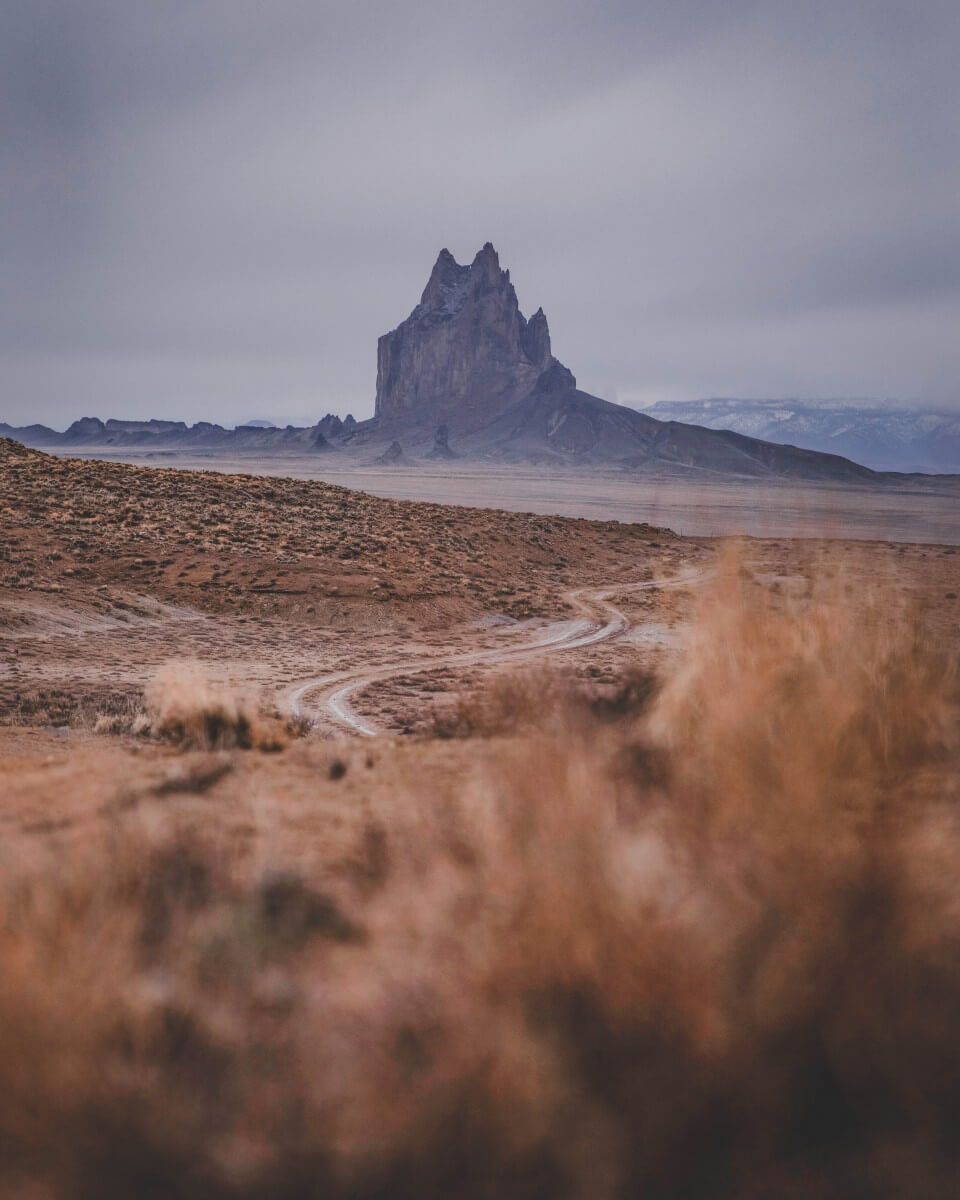 Driving to Shiprock is almost a spiritual experience. You'll pass a lot of empty towns and flatlands until you hit four corners, where you'll roll by Bloomfield and Farmington towards Tse' Bit' ai'.
Shiprock is a peak in Navajo Nation. It's over a mile high. You can't hike or walk or climb the mountain. This is a culturally significant destination for the Najavo people (so it's important to be respectful).
But just the journey of finding a drive-by view (along US Highway 491 or Indian Service Route 13) is incredible. It's worth the drive.
Taos Pueblo
Drive Time From Santa Fe: 1.5 hours
---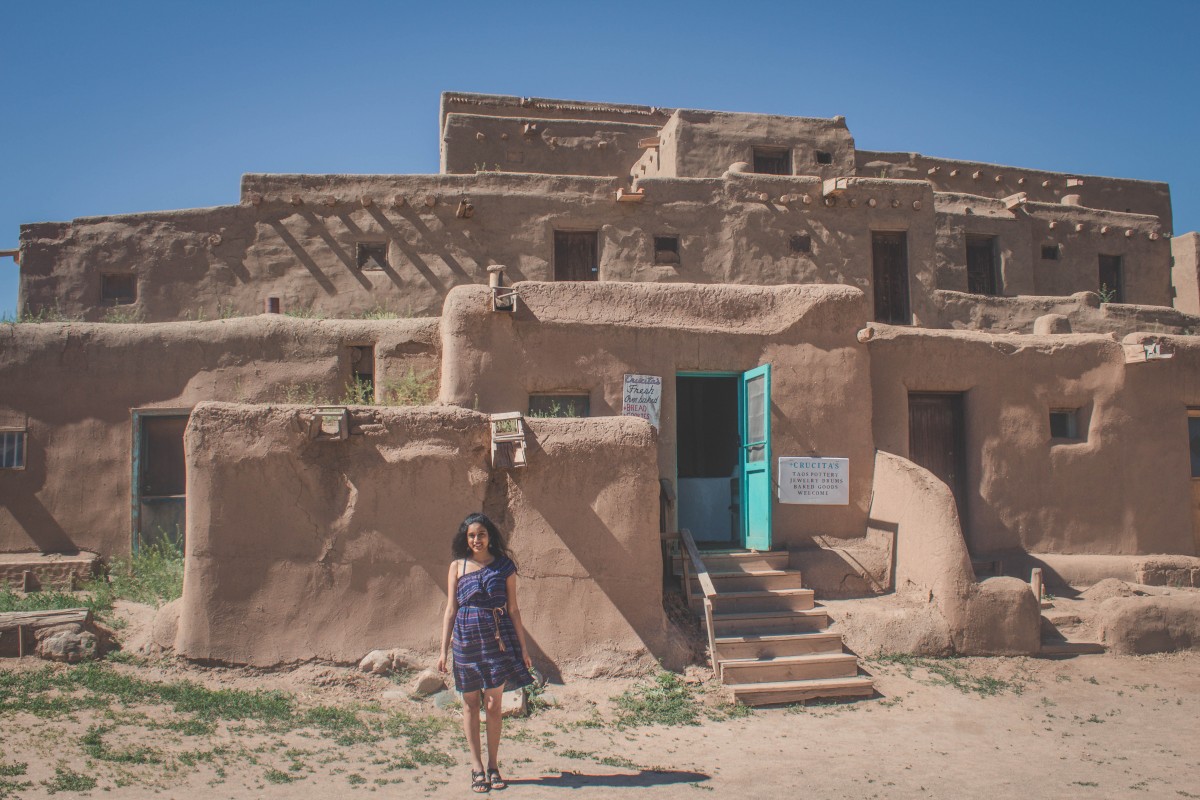 One of the most popular day trips from Santa Fe is Taos Pueblo. Taos Pueblo is a UNESCO World Heritage Site and National Historic Landmark.
On the base of the Sangre De Cristo Mountain Range is an active Native American community. Walk into the homes-turned-businesses and you'll learn about a culture through food, beadwork, and art.
You'll hear stories and see a beautiful sun-baked adobe village. The Pueblo is split by a stream. The dwellings hang low under the sky.
Pikes Peak
Drive Time From Santa Fe: 5.5 hours
---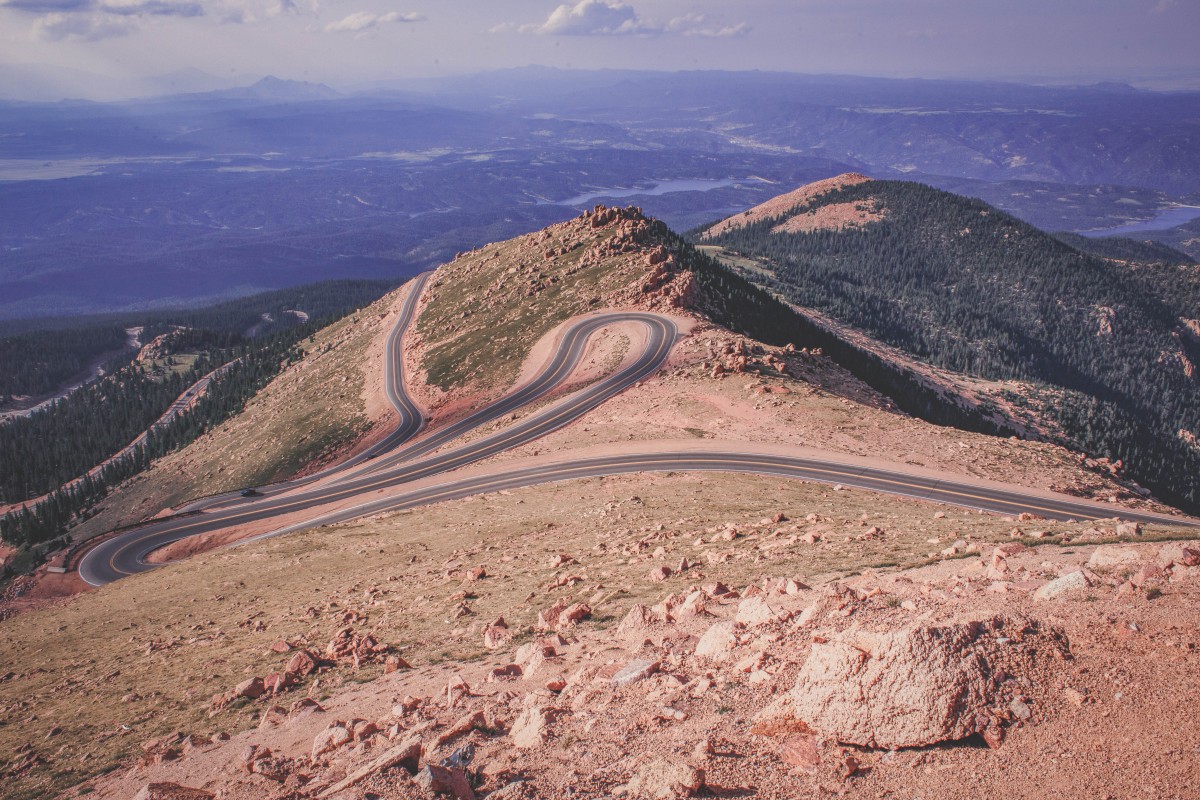 If you like early morning starts, Pikes Peak is one of the best day trips from Santa Fe. It's a bit of a long drive (and you'll be driving up the fourteener as well) but the views, Colorado stretching its fingers out, are gorgeous.
A day trip from Santa Fe that pushes past the New Mexico boundaries, Pikes Peak is easy to fall in love with.
You'll want to take in the drive slowly, pull aside and stop at every viewpoint, and eat a donut at the very top.
Did you enjoy this list of day trips from Santa Fe? What your favorite day trips from Santa Fe? Let me know in the comments below! As always, I love hearing from you.