I have one more day until my Dinosaur Valley State Park hiking adventure begins. One more day until I can feel like Jack and Annie from the first Magic Tree House book. One more day until I can relive childhood nights watching (and re-watching) Land Before Time.
One more day until I can finally feel like a kid again.
I've always been obsessed with dinosaurs. Growing up, I knew the vaguest of dinosaur names and the vaguest of dinosaur facts. As I got older, my fascination never stopped.
To this day, Jack Horner's novel, How To Build A Dinosaur, is still one of my favorite non-fiction books (P.S. If you have never heard of him, Horner is the scientist who advised Steven Spielberg on the original Jurassic Park film).
So will I be overly excited when I take you on a tour of Dinosaur Valley tomorrow? Yes. Will I at some point squeal like a little girl? Probably. For the latter, I apologize.
General warnings aside, I do want to promise you something before we dig into this post (excuse the terrible puns to come).
Whether you are a first time hiker with a dash of curiosity or a pro-hiker just looking to get outdoors in North Texas, this Dinosaur Valley State Park hiking guide will help you get ready for your day-trip. Are you ready?
Disclosure: Heads up, this post contains some affiliate links, which means I may get a commission if you make a purchase. Don't feel pressured to buy anything. I still love that you're here, reading my content (side note: I'd probably suggest getting a coffee or tea first though because my blog posts tend to be long). To find out more, you can read our full affiliate disclosure right here.
Dinosaur Valley State Park Information To Know Before You Put On Your Hiking Shoes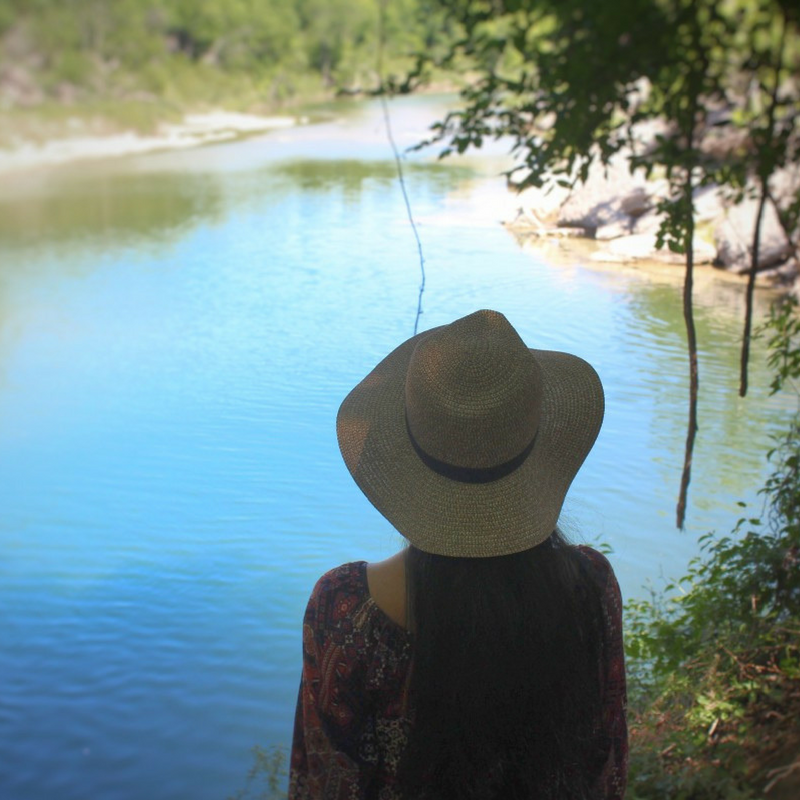 Dinosaur Valley State Park
Dinosaur Valley State Park is a small scenic area set in a quiet corner of Glen Rose, Texas.
Smaller than most other popular Texas state parks, Dinosaur Valley covers less than 2.5 square miles in area. But packed within that space are a few short hiking trails, friendly wildlife, and of course, dinosaur tracks.
What To Eat Before Your Hike
Our morning begins thirty miles away in a small country breakfast stop in the neighboring town of Granbury. Cari's is an old-fashioned diner a short distance from the hub of the city. Homestyle cooking. A cozy atmosphere. Scrumptious pumpkin pancakes. Cari's rings in the fall feelings all year round.
Where To Stay After Your Hike
Camping at one of the 46 campsites in Dinosaur Valley State Park is definitely an option tonight, but I rather you not see me rage a war against our tent in the midst of pitching it.
Here are some properties nearby I've stayed at before that I highly recommend:
Hilton Garden Inn: located in Granbury, Hilton Garden Inn is situated by a strip called the Boardwalk. The hotel, located right along the Brazos River, offers views of Granbury City Beach. It's roughly 30 minutes from Dinosaur Valley. (read reviews and compare accommodation prices here)
Dinosaur Valley Inn & Suites: a rustic inn just a few miles from Dinosaur Valley. The lobby of this property is quite cute (once you get past the moose antler chandelier). And there are framed pictures and colorful murals that brighten up the halls. The bedrooms are simple and standard. It's a nice hotel for the price. (read reviews and compare accommodation prices here)
The Best Time To Go Hiking In Dinosaur Valley State Park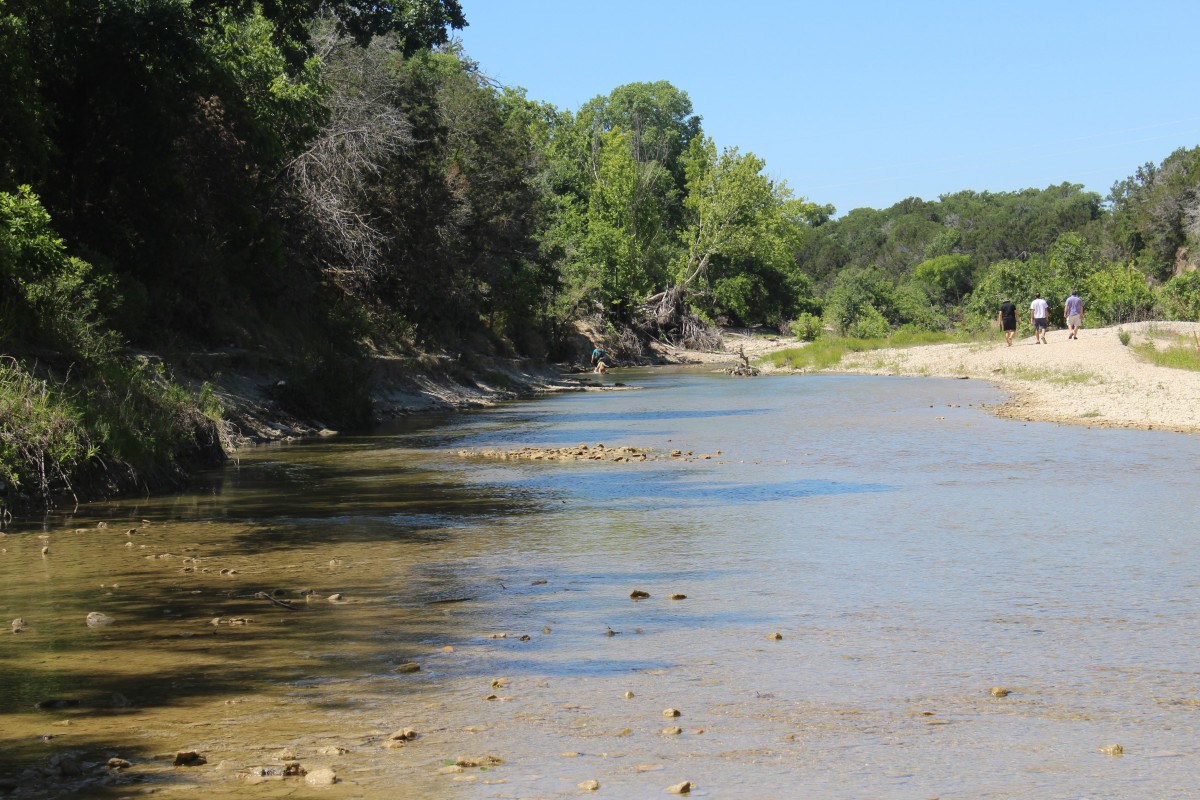 This is a short day trip and we've selected the best time possible to arrive. We've come early, avoiding the rush of families.
It's the start of summer when the weather isn't bathing in heat, but the simmer is still there – a certain sizzle that dries the depths of the Paluxy River and allows us to visibly see the dinosaur tracks.
Travel Tip: While the most tracks are visible at the end of summer, late May and early June are really the best times to go hiking in Dinosaur Valley State Park.
Dinosaur Valley Packing List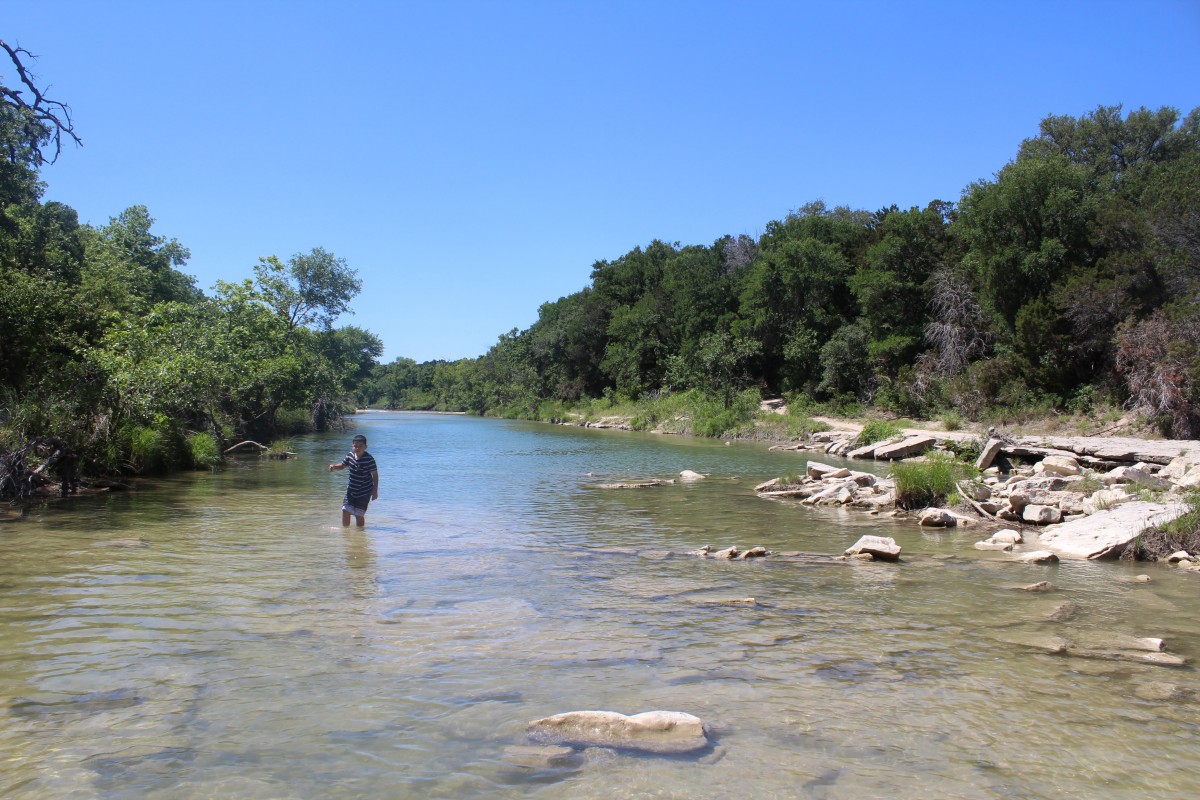 I can't emphasize this enough: if you're planning on going one of the water trails, bring a pair of waterproof hiking shoes. My first trip to Dinosaur Valley, I visited without waterproof hiking shoes and I wasn't able to see several of the tracks. You have to cross the Paluxy River, which on a good day is fairly shallow but on the day I visited it was knee-deep.
Since then, I've visited twice. And the hike is so much more enjoyable with waterproof shoes.
These are the hiking shoes I currently have. I got them from Backcountry and they are expensive. If you're not planning on water hiking (or hiking) a lot, I recommend looking at reviews for some cheaper alternatives (like half the cost cheaper) here.
My shoes from Backcountry might actually be the most expensive shoes I own. I'm usually someone who buys shoes for $10 from Walmart. But after hiking Enchanted Rock last year and spending a week in Colorado and another hiking through Tennessee, I was tired of wasting money on buying new $10 shoes.
In a few months, I went through several pairs of damaged shoes and the cost was adding up quickly so I had to re-evaluate.
The Backcountry shoes I own have lasted several months thus far (and I hike at least two days out of every week). The best part is they don't smell gross after water hiking (which is a big problem I've had with regular shoes).
In the past, I've filled up my regular shoes with rice and let them air out for months before they were wearable again. And even then, they were still a little squidgy at the bottom so they smelled nasty. They took me a little while break into (the arch support took some getting used to since my feet have naturally high arches).
You'll also want to bring waterproof socks. I have neoprene socks (these are the ones I personally use). If you're new to hiking, neoprene is a kind of rubber that's completely waterproof.
The neoprene socks I have are designed for water sports in particular but they work really well for water-passing hikes too.
I'd also recommend shorts (instead of hiking pants) and a breathable t-shirt.
P.S. Since the trails at Dinosaur Valley are on the shorter side, I tend not to bring out my day bag from the car. I just bring a bottle of water (and if you're visiting in the summer, I recommend two – welcome to Texas heat).
A Little Bit About The Dinosaur Valley State Park Hiking Trails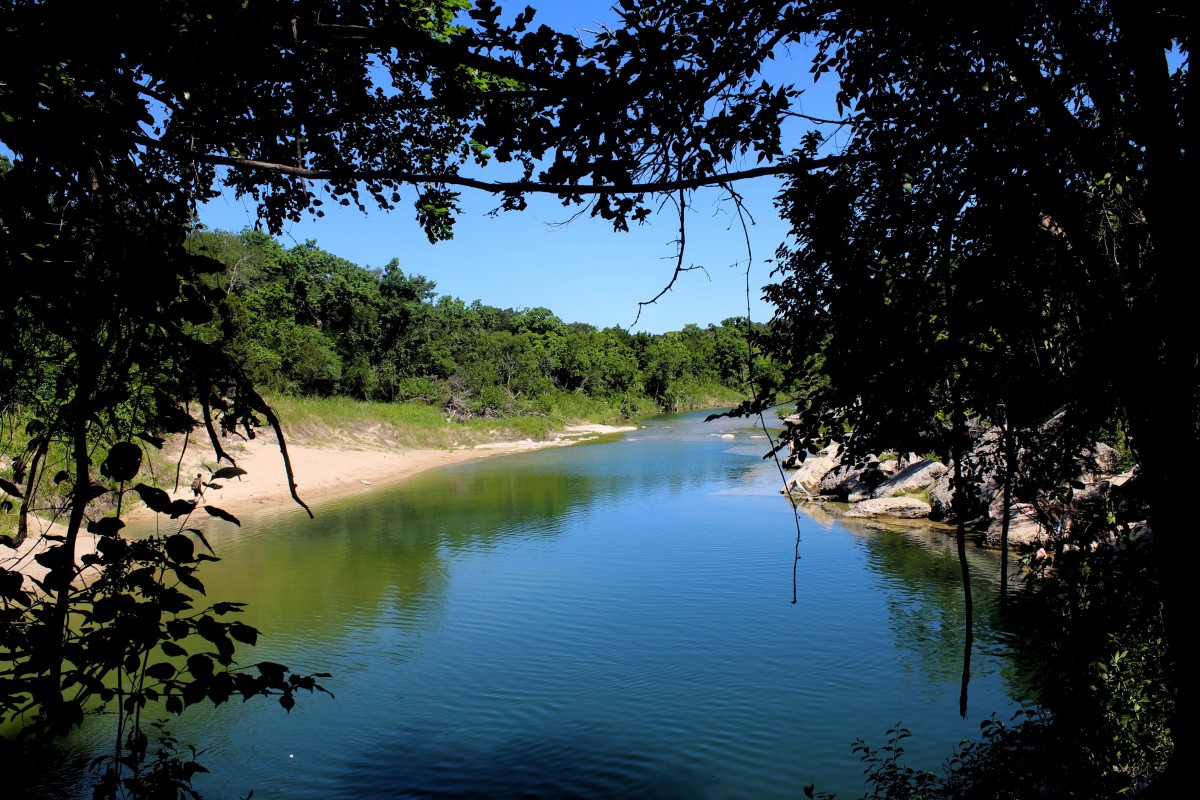 The trails at Dinosaur Valley State Park are a mix of easy and medium.
We warm up with two short trails – the Blue Hole Trail (to get a little taste of dinosaur tracks) and Oak Springs Trail (to get us into the hiking groove) – before tackling the longest trail in the park.
Cedar Brake Outer Loop rounds off at approximately 7.5 miles and takes 4.5 hours to complete. The official trail map estimates 3.5 hours which implies that a) the trail map is intended for Usain Bolt or b) I'm a tortoise. Probably the latter.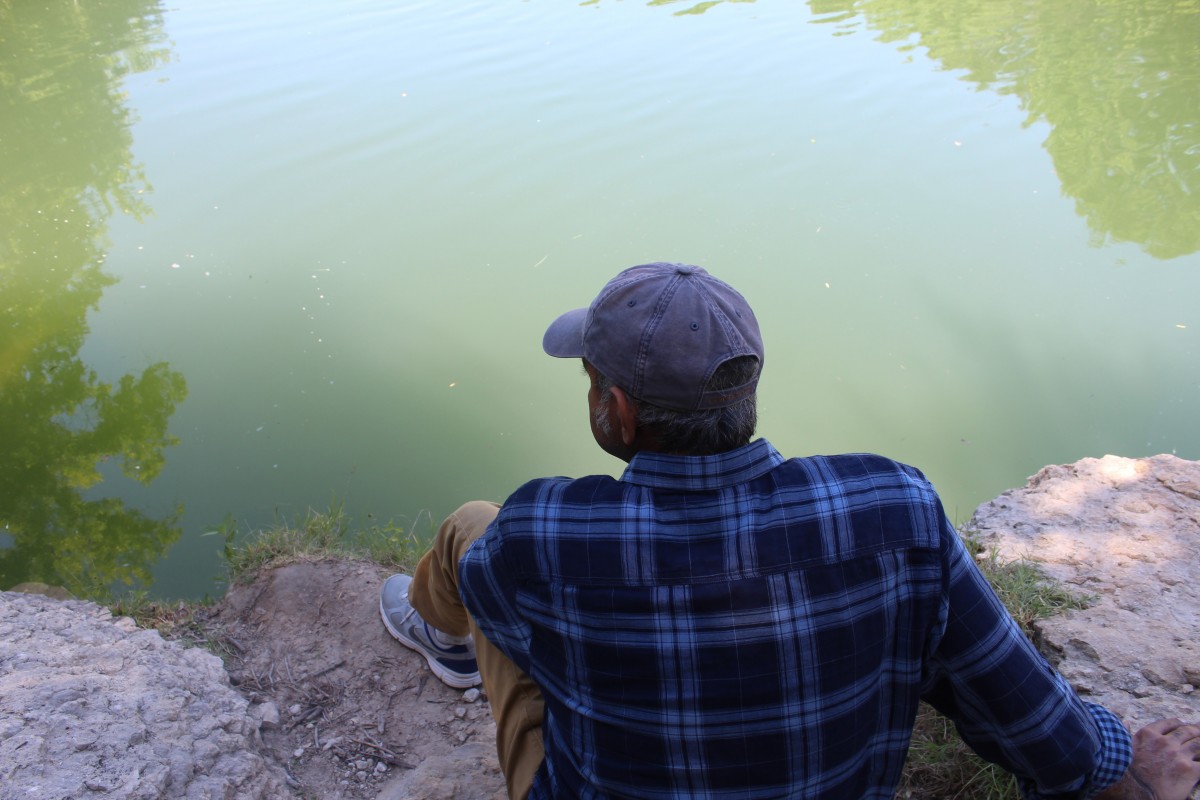 While there are many other trails here, Cedar Brake Outer Loop along with the Paluxy River Trail are two of my favorite spots for hiking in Dinosaur Valley State Park.
After all, we get to bask in the glory of dinosaur tracks.
Finally.
I let my foot hover above one of the tracks. Suddenly, I feel small. Very small.
In fact, this reminds me of the "Jane meets Tarzan" moment, except Tarzan, in this case, is Sasquatch's primitive cousin.
Finding Tracks While Hiking Dinosaur Valley State Park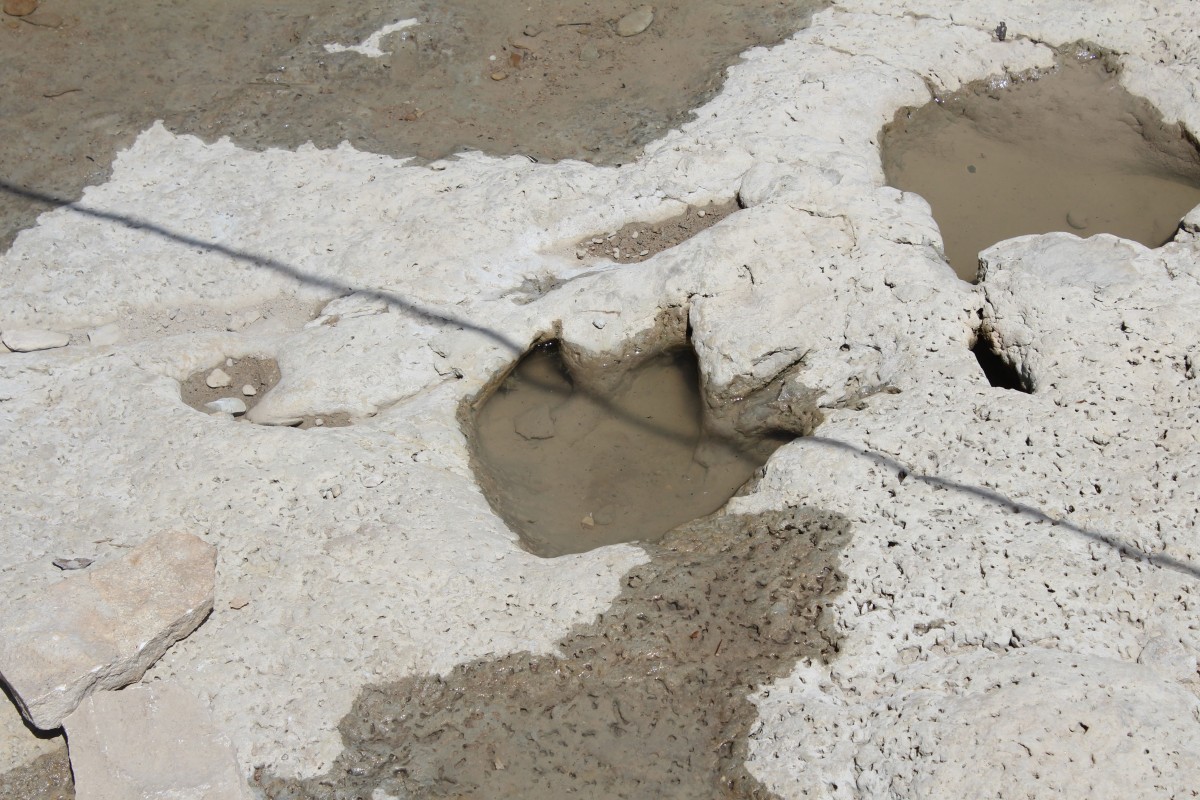 My foot is angled above a Sauropod track, one of the two kinds of tracks found in Dinosaur Valley State Park.
The Sauropods in the Texas area are Sauroposeidens, which roughly translates to "earthquake god lizards".
I compare my foot to the cast set in stone. If I curled up into a ball, my whole body could easily fit into the track. "Earthquake god lizards" is beyond an apt description, it's an understatement.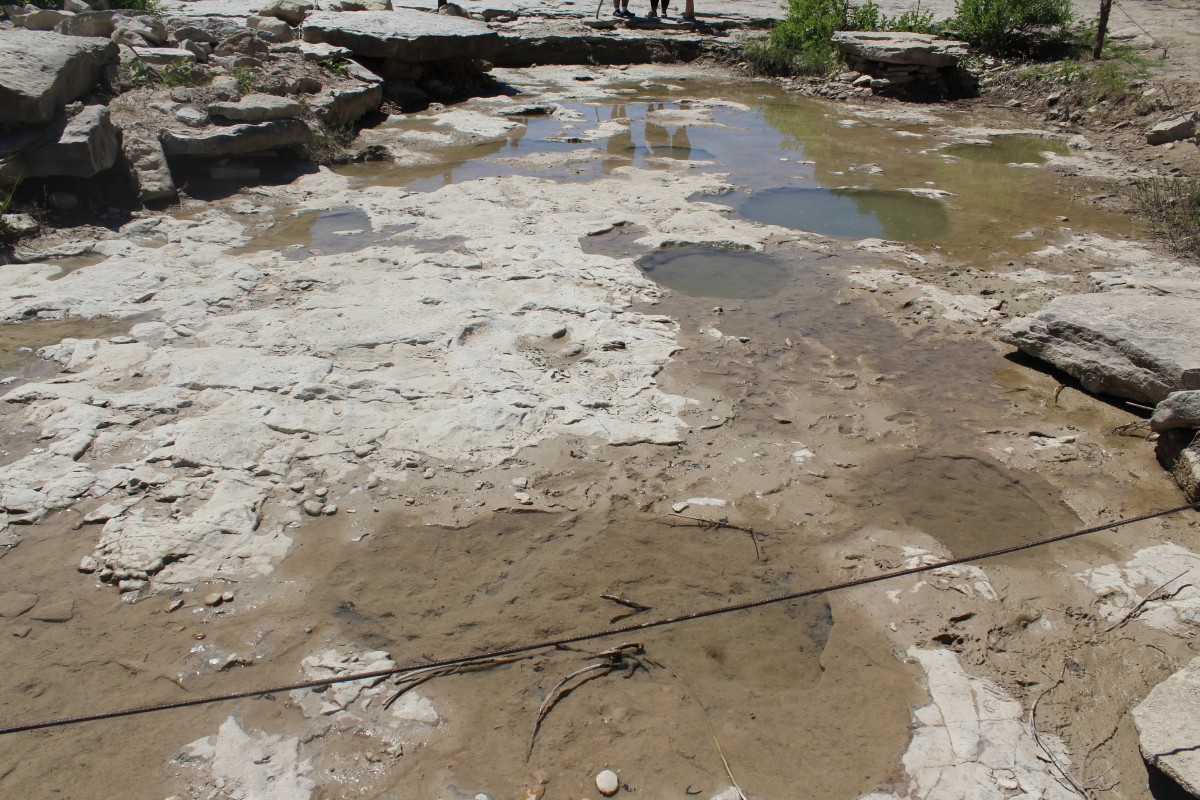 Before I get too sidetracked (again, I'm so sorry about the puns), I want to mention that most of the trails here have some set of tracks or the other along the way. Don't feel scared or worried that you won't find dinosaur tracks. You will.
In fact, there are five official track sites. Though, the must-see sights within them are:
"The Ballroom" in Track Site 1
"The Main Site" in Track Site 2
"The South Ozark Site" in Track Site 2
"The North Blue Hole" in Track Site 1
Several of the dinosaur tracks in other areas erode quickly, are difficult to identify, or are hard to get to.
Both the "Ballroom" and "The Main Site" are fairly easy to access and show off the two kinds of tracks you can find at Dinosaur Valley State Park: Sauropod tracks and Theropod (T-Rex like animals) tracks.
I can almost hear the roar of the T-Rex from Jurassic Park.
Yes, I know that isn't actually what a T-Rex sounds like.
But the beauty of this place lies in imagination.
Going on a Dinosaur Valley State Park hiking adventure inspires images of canopy reaching dinosaurs, large and in charge, roaming the land, the ground shaking with every step.
After all, isn't that what books and movies depicting the prehistoric era show us – the grandeur and majesty of a time that we can never return to.
For a moment, we feel like we are actually there amongst the dinosaurs. But when we open our eyes, it's just us and the Paluxy River.
The water gently washes over history as we try to resurface it.

Did you enjoy this Dinosaur Valley State Park hiking guide? Do you like dinosaurs? Let me know in the comments below! I'd love to hear from you.
Disclosure: My tickets to Dinosaur Valley State Park were kindly paid for by Visit Granbury. Please note, this post is not sponsored by or made in partnership with Visit Granbury and all thoughts and opinions are very much my own.