It's the end of spring. A Sunday. It's a Sunday like most Sundays, except quieter. Stiller. Calmer.
Maybe, it's because it's early in the morning. Maybe, it's because Mass hasn't started and I'm sitting on a ledge, above St. Elizabeth's Catholic Church, listening to the trees whisper good morning and the birds sing hello.
My shadow pools onto the grass in front of me. The sky is gauzy, stretched thin by dew.
Crickets chirp. Leaves rustle. The breeze is wet and cool.
And as the bell tolls (a fluttery chime that's just as soft and soothing as the alpine air), I hop off the ledge, open my eyes, and start to explore.
Disclosure: Heads up, this post contains some affiliate links, which means I may get a commission if you make a purchase. Don't feel pressured to buy anything. I still love that you're here, reading my content (side note: I'd probably suggest getting a coffee or tea first though because my blog posts tend to be long). To find out more, you can read our full affiliate disclosure right here.
Eureka Springs Travel Guide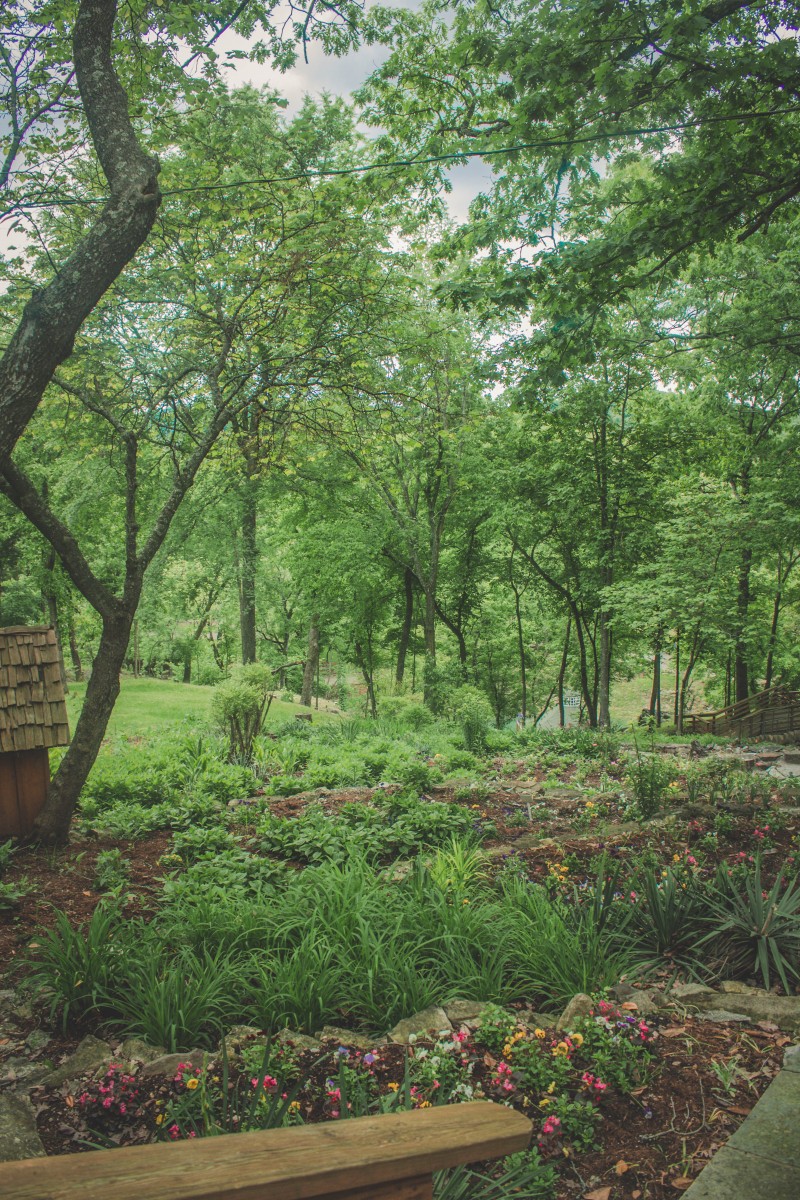 About
Eureka Springs is a mountain town built into the forested folds of the Ozarks. With over-the-top attractions, a Victorian-style shopping district, and sweeping views of tree-dotted drops, Eureka Springs, a tiny hamlet of only 2000 year-round residents, is a well-deserved tourist magnet (drawing over 750000 annual visitors).
Built around centuries-old healing waters, the town was born in the late 19th century. Today, it's part historic-destination and part classic summer getaway.
How To Get To Eureka Springs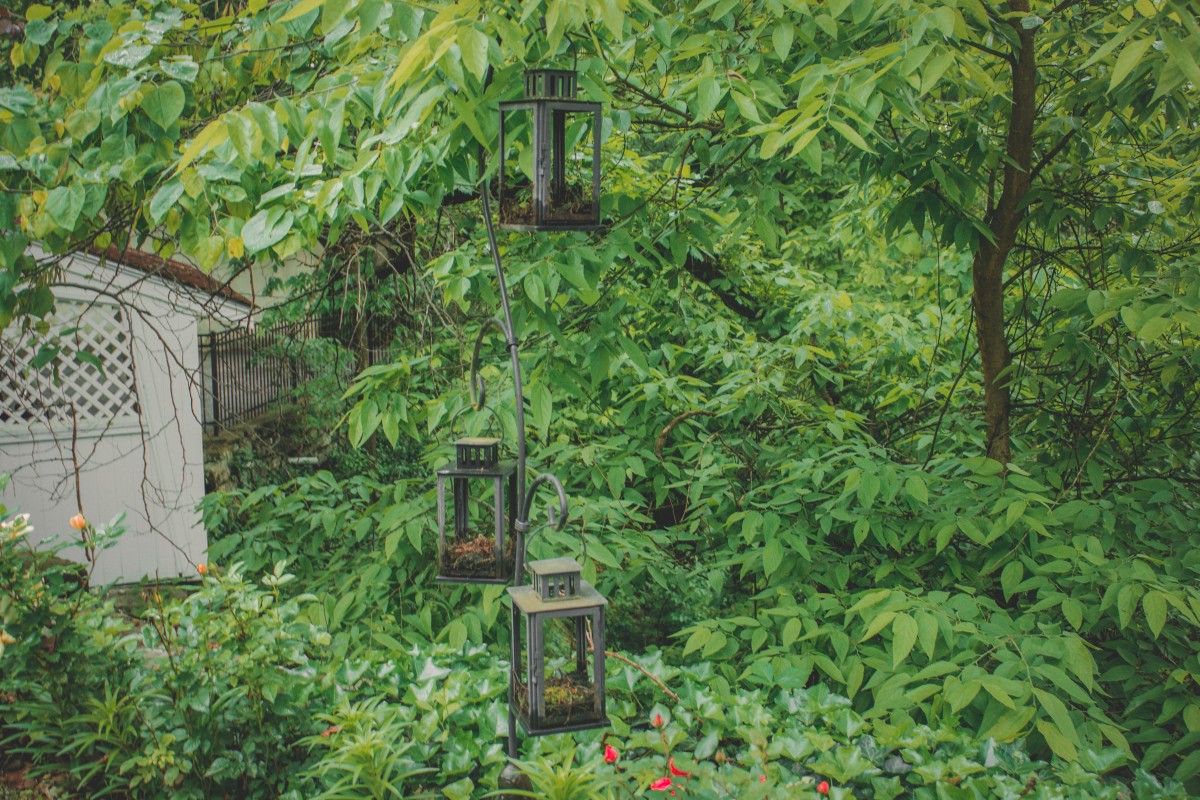 Fly into XNA (Northwest Arkansas Regional Airport), roughly an hour from Eureka Springs, and head to downtown early in the morning.
If you can, avoid driving at night. With spaghetti-like streets, Eureka Springs is a curvy town that climbs upwards – at times, almost vertically.
And once the sun sets, the road signs disappear into a black sky.
Where To Stay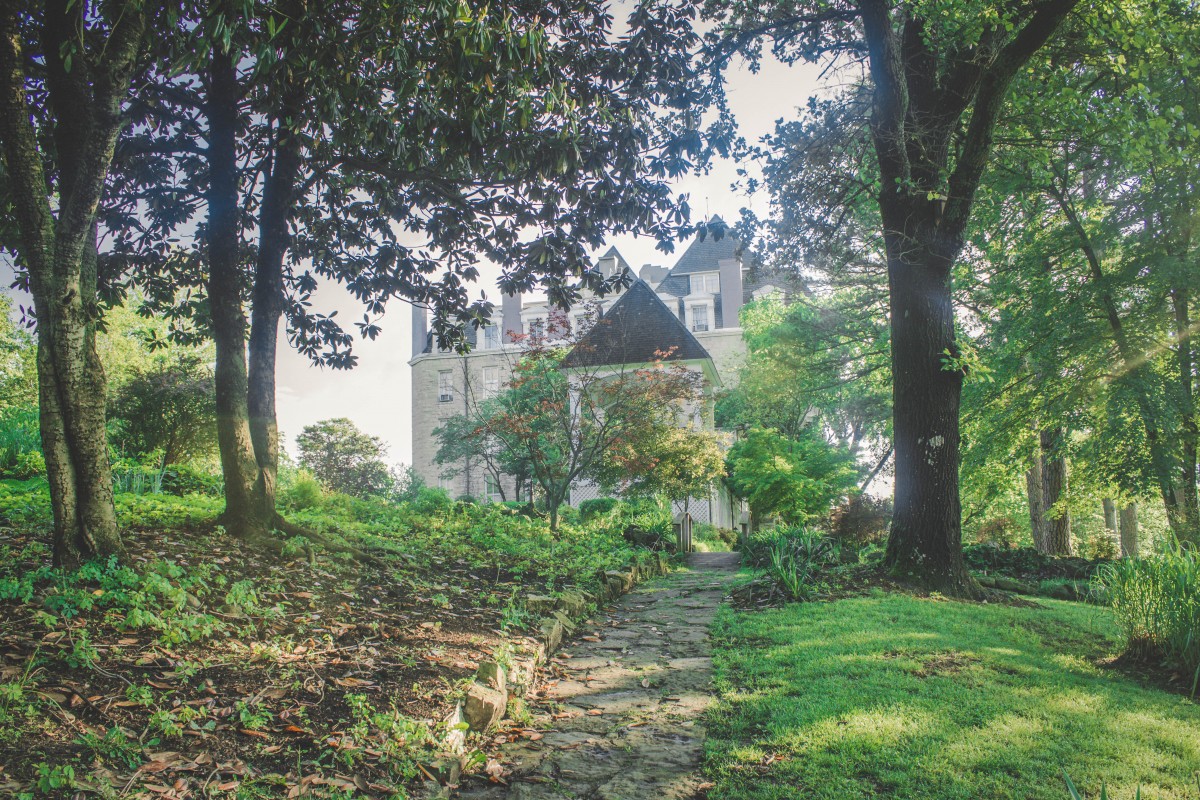 My first night in Eureka Springs, I checked into Stonegate Lodge, a rough-and-rustic indie stop. With a played-out cabin feel and oak-lined walls, Stonegate Lodge is a steal for the price (check current prices, availability, and reviews for Stonegate Lodge here).
I'll be honest, the decor freaked out my inner vegan – moose-antler chandeliers, fur drapes, animal heads. But I fell in love with the hotel regardless. It's located on the outskirts of town, away from the main tourist hub, surrounded by pastel villages and boutique eateries. The owners are sweet. And the spot feels like a home away from home.
Stonegate Lodge is cozy.
Other places to stay in Eureka Springs:
Where To Eat
In a tourist-defined hamlet like Eureka Springs, traditional Arkansas food is a tough find. Expect a mix of South-of-the-border and standard American eats.
Start your morning at either Oscar's Cafe or Mud Street Cafe (huge-portioned breakfast joints). As you cool down a walking-heavy afternoon, grab an early dinner (most restaurants close by 9 PM) from one of the many fine-dining stops.
Things To Do In Eureka Springs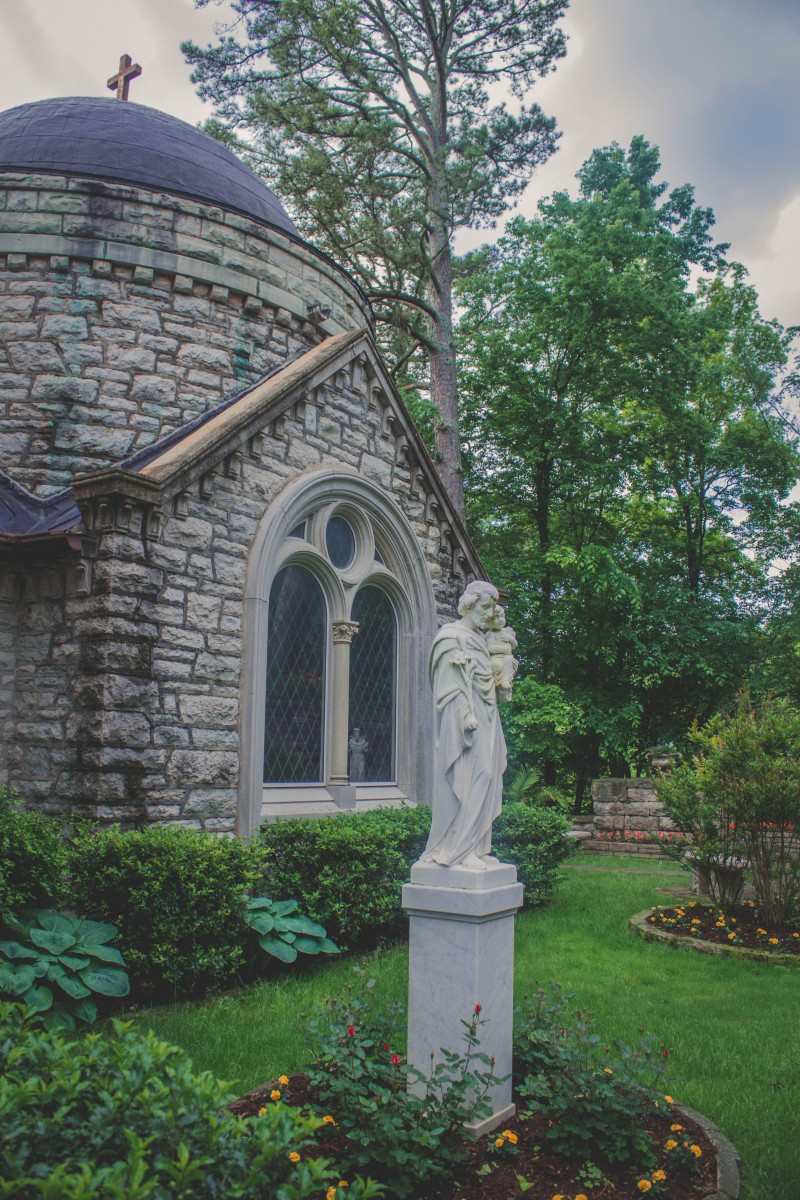 Known as "Little Switzerland", Eureka Springs dances around ski-quirky architecture.
It's a kitschy town that has a little bit of everything and then some. From the Christ of the Ozarks Statue (#BigJesus) to Quigley's Castle (where trees grow inside), there are plenty of funky attractions in Eureka Springs.
St. Elizabeth's Catholic Church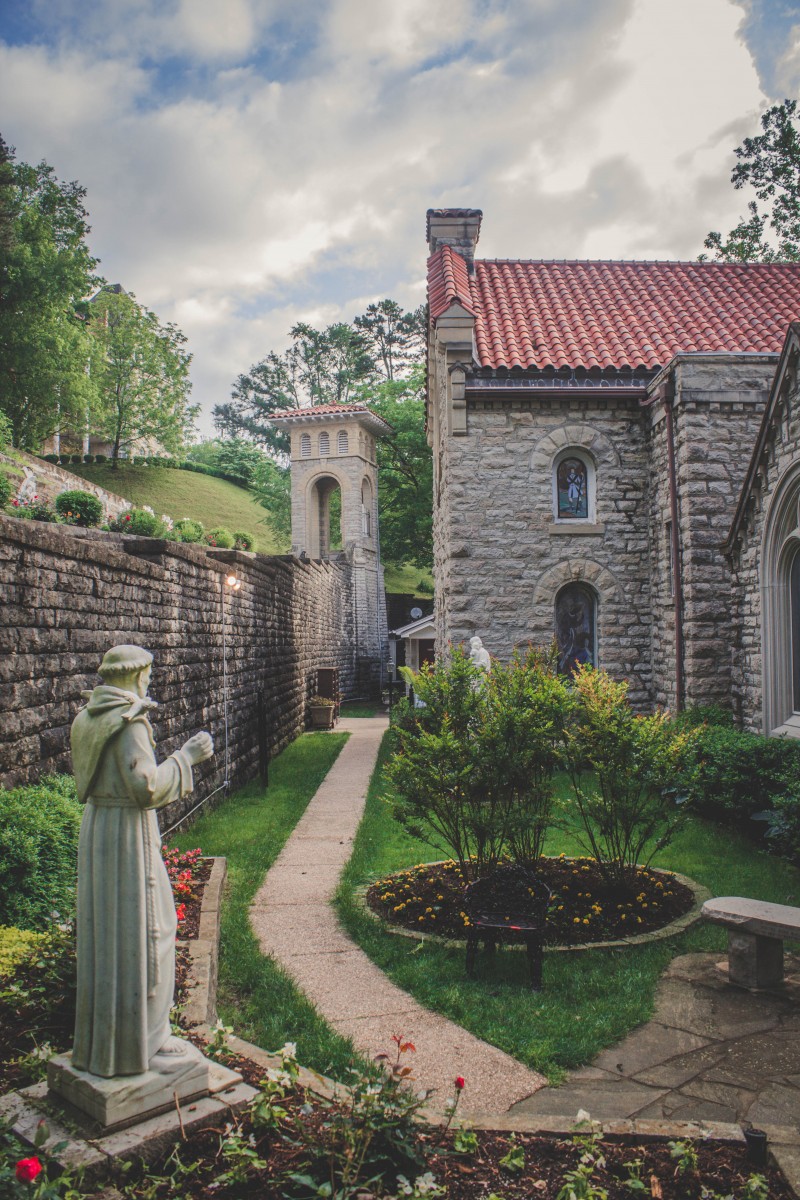 Sunlight gilds an old-stone church.
It's pretty, I think as I enter through the bell tower. The path to St. Elizabeth's gently winds down past a big, blue dome and a red-toned rooftop.
The priest's quarters are dotted with glimmering coins. Signs of hundreds of wishes come true, according to local legend.
The church is gloved in emerald grass. And towards the back, you can see fringes of the Ozarks.
It's a view that's so gorgeous, I have to pinch myself to make sure I'm not flitting through a dream.
Crescent Hotel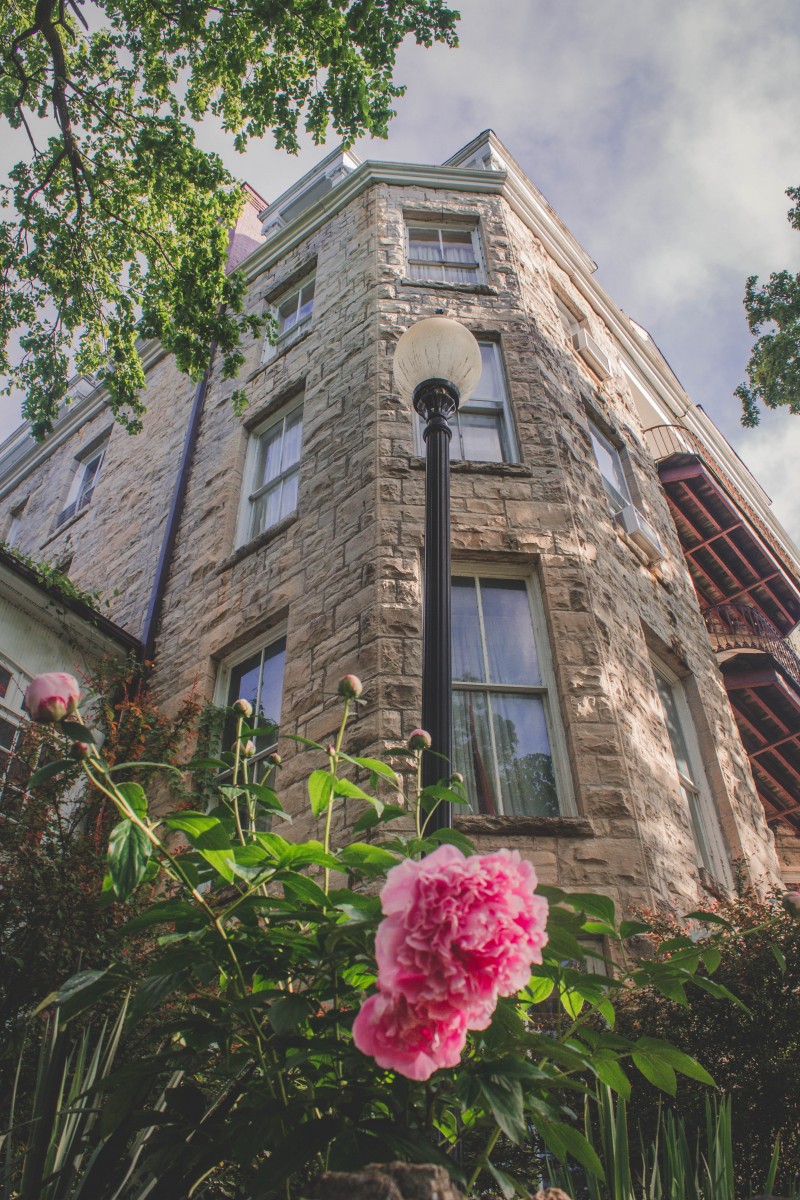 Located above a hospital morgue (why did I go in here again?), The Crescent Hotel is billed as America's most haunted hotel for good reason.
The staircase is mummy-wrapped in a dull patterned carpet. As you wind up, you'll notice its creaky bones taper off into dark-lit halls.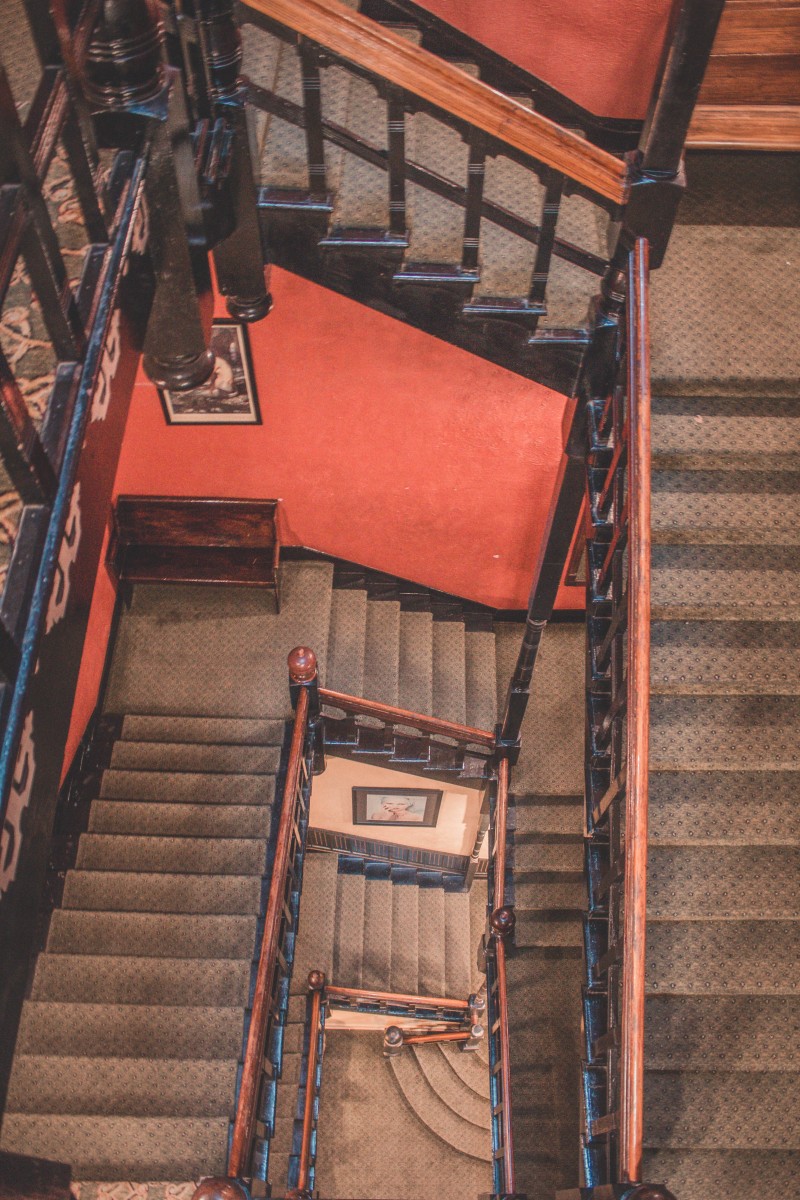 Every step you take makes a coarse, hollow sound. And as the floorboards groan, eeriness screams against old walls.
The weirdest part? The Crescent Hotel's grounds tell a completely different story. The exterior is lush and green and wooded. Spring-time flowers innocently cup the benches and gazebo.
It's a contrast worthy of a cozy mystery movie – a shift between dark and mellow.
Travel Tip: The Crescent Hotel marks the start of Harmon Park, a 1.4 mile lightly trafficked loop in Eureka Springs.
Historic Downtown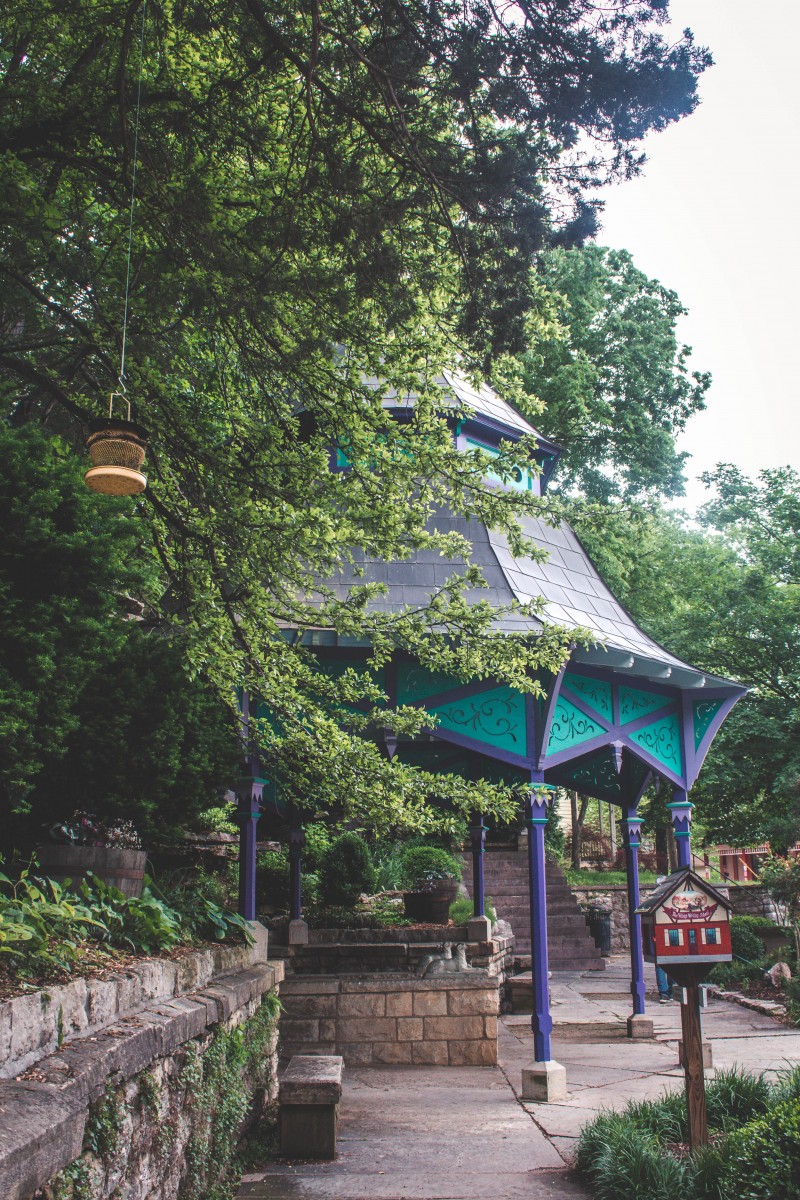 Historic Downtown is the heartbeat of Eureka Springs.
The streets are brought to life through color and live music. From the rainbow staircase to Aquarius Taqueria, historic Eureka Springs is swept up by vivid and bold attractions.
You can easily spend a few hours to a whole day here.
But before you amble along the storefronts (or follow the Natural Springs Trail), stop by the Eureka Springs Historical Museum, a mix of permanent and temporary exhibits located in the 1889 Calif House.
The Villages At Eureka Springs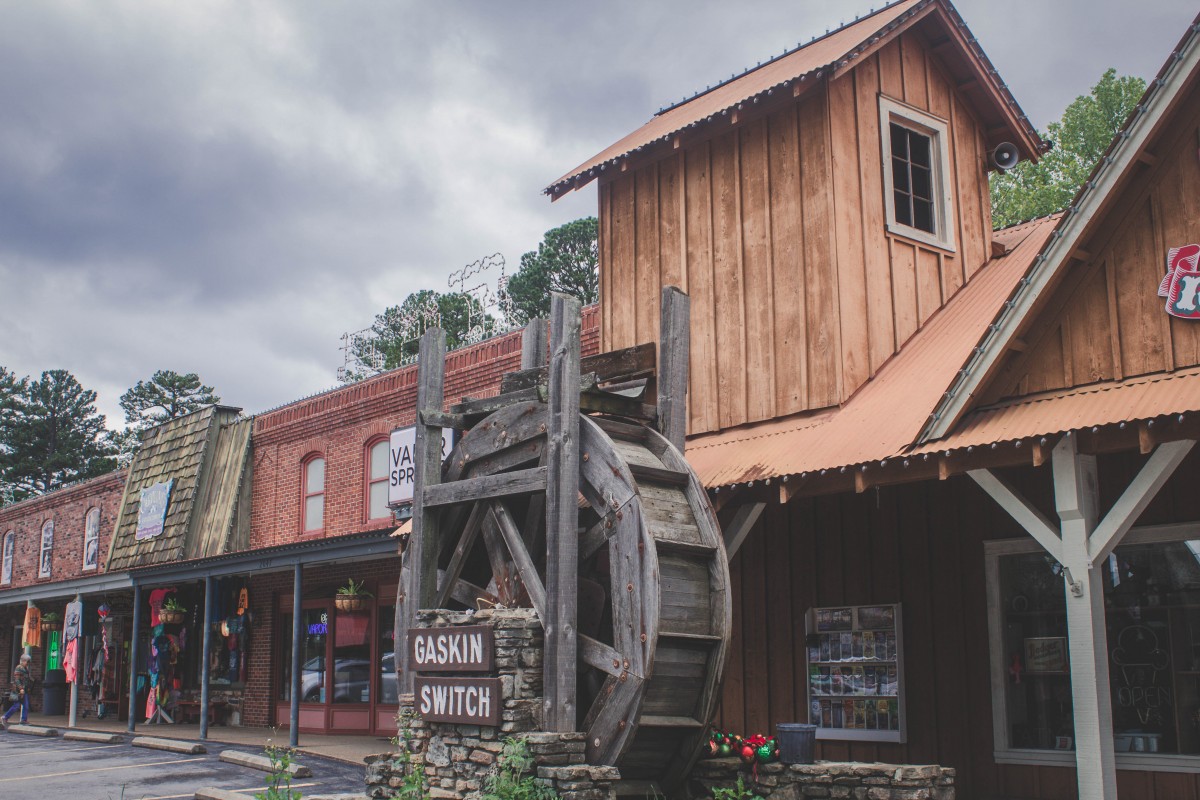 A buzzing cluster of stores in Eureka Springs, Gaskin Switch is a laid-back shopping spot in Northern Arkansas.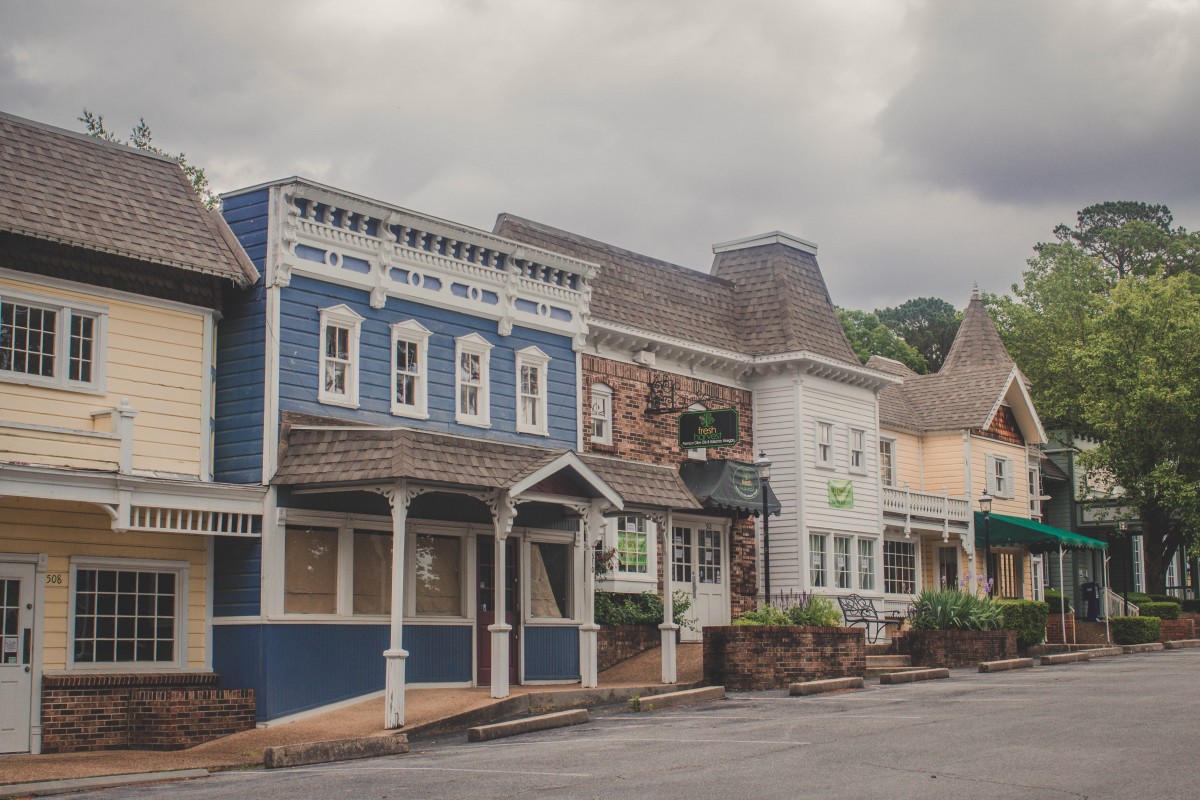 Nearby Gaskin is another retail village, home of Razorback Tower, a 100 ft high observation deck formerly used by the Arkansas Forestry Service.
The tower's entrance is just past a coin-only slot. Fair warning, the climb is intimidatingly high (I couldn't stomach even the thought of following the stairs).
Thorncrown Chapel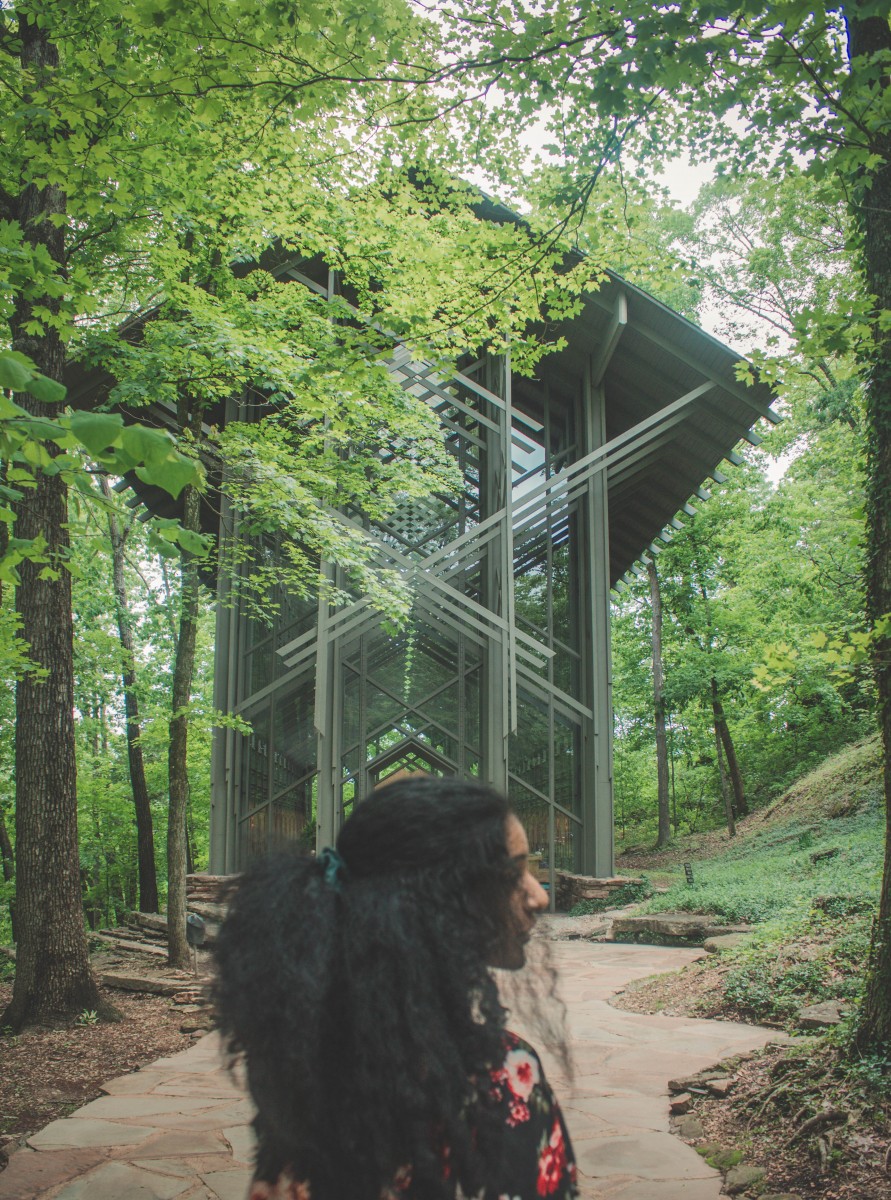 Thorncrown Chapel is a popular wedding venue in Northern Arkansas.
Designed by Fay Jones, who apprenticed under Frank Lloyd Wright, the chapel's architecture matches the thick of oaks, pines, and maples that surround the structure.
With over 6000 feet of sky-high glass, Thorncrown feels intimate, raw, and exposed to nature. But it's not. That's just the beauty of the building.
The chapel is free to visit (but temporarily closed during weddings).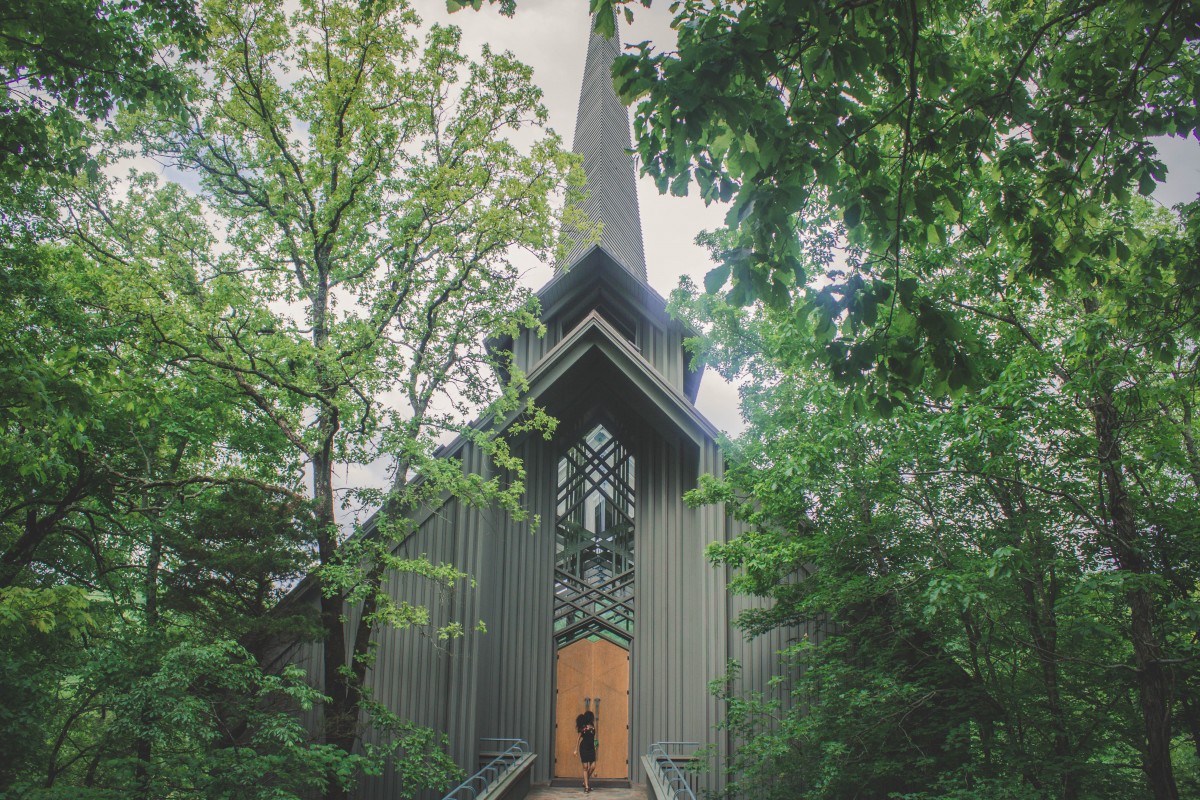 Blue Spring Heritage Center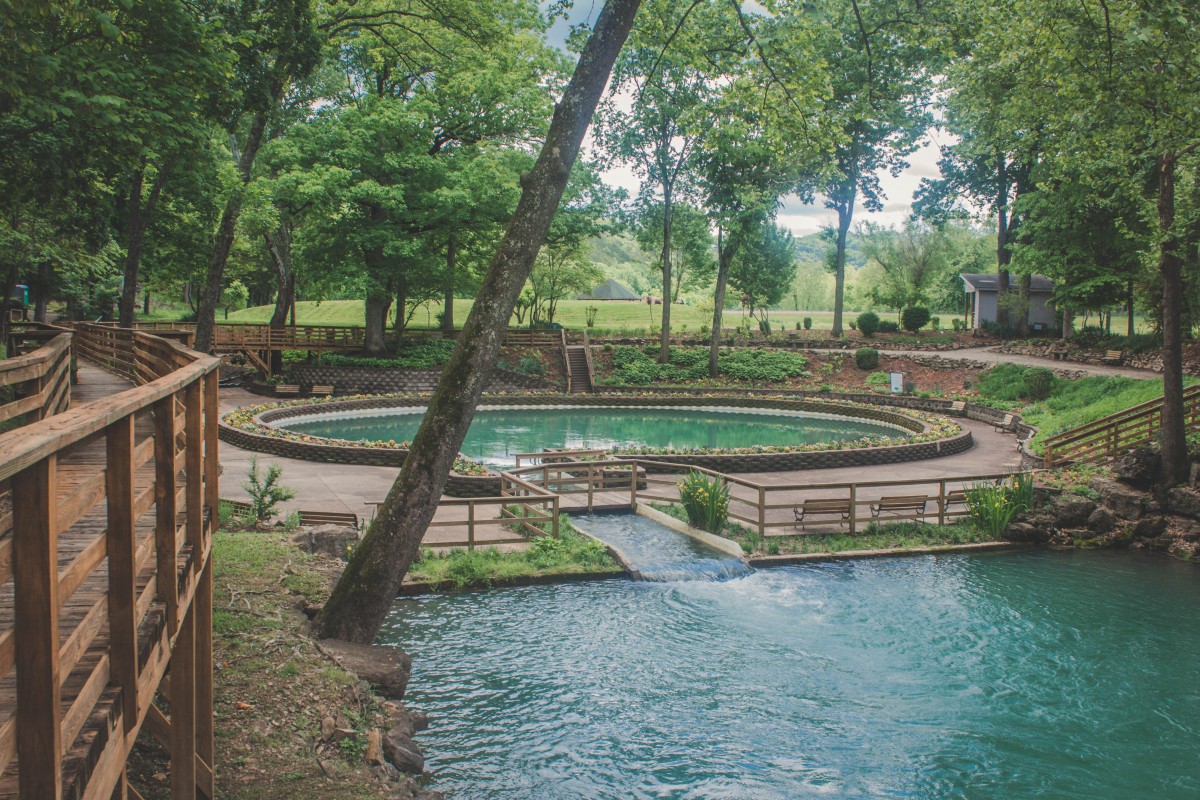 On the edge of Eureka Springs is Blue Spring Heritage Center, the entrance to a turquoise colored lagoon.
Filled by a spring (Blue Spring, naturally) that pours 38 million gallons of pure water every day, the lagoon is a place that's both mystical and magical.
The waters have been sacred to Native Americans for centuries.
And today, the area, set in a woodland botanical garden (roughly $10 per person), is one of the most popular attractions in Eureka Springs.
Inspiration Point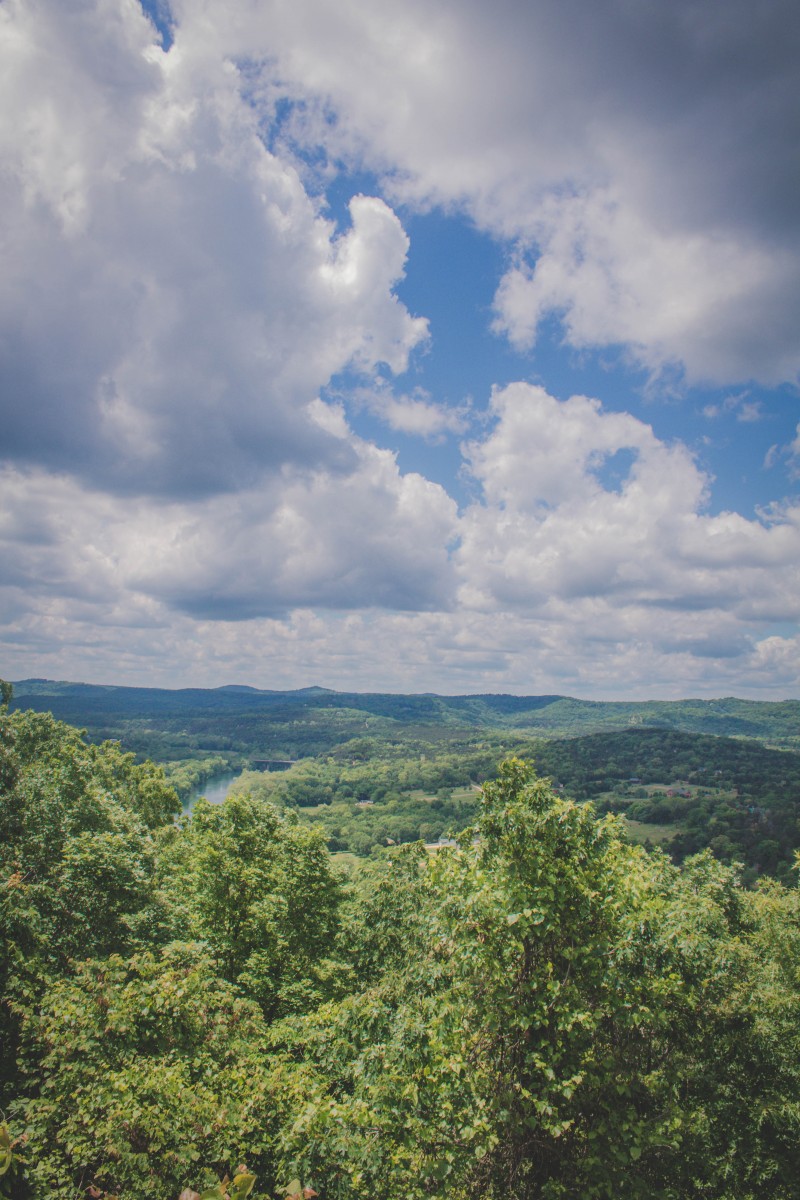 Inspiration Point, a scenic lookout area straddled between an antique store and a gift shop, is easy to miss.
But it's well worth a stop.
From the gravel lot, you'll notice a small banner that reads "inspiration point" in big, choppy block letters.
Wander closer to the wiry fence to get a view of White River snaking through sylvan hills.
Eureka is Greek for "I found it". And while you're looking down at the Ozarks, you'll feel like you've found more than just it.
Because this view, right here, is everything.

Did you enjoy this Eureka Springs travel guide? Have you ever visited Eureka Springs? Let me know in the comments below!