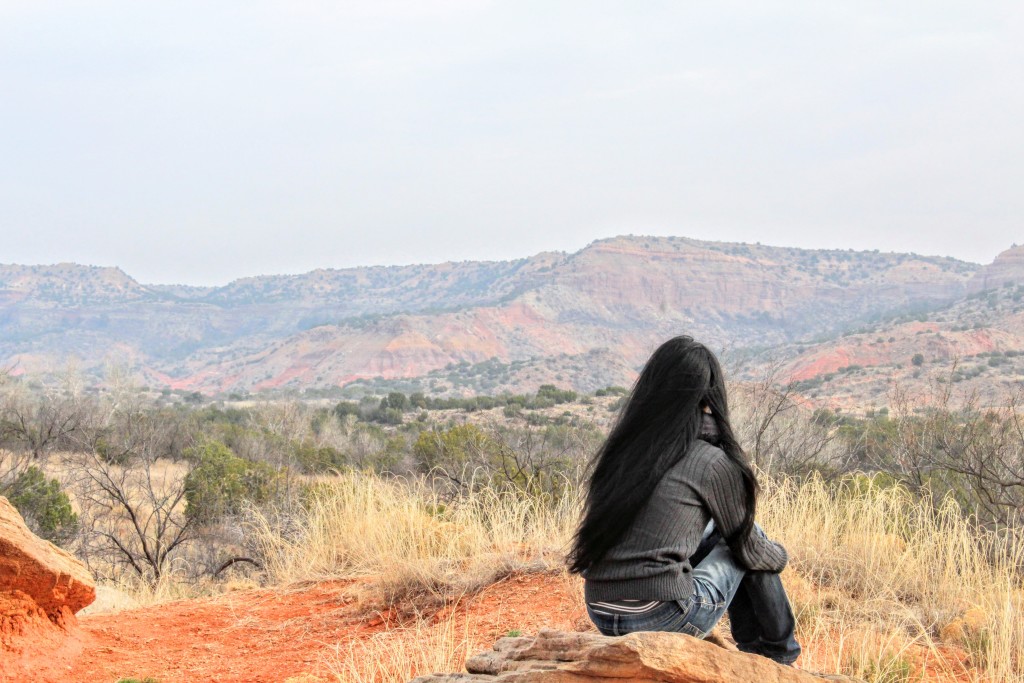 I don't think I can express the beauty of this state park in words so instead, I'm going to be sharing some jaw-dropping pictures of Palo Duro Canyon that will (hopefully) make you want to pack your bags and head out for a camping trip. 
Painting A Picture Of Palo Duro Canyon In Words (Scroll Down Below For The Photos)
We are in the midst of farmlands. Tall, thin strands of Indian grass mesh together in a flat blanket expanse. There is an occasional structure, but a ramshackle of one. The log-like cabins, with broken roofs and rusted pipes, are sporadic and rare. We cross over worn railroad tracks and older, not taken, roads. The boundaries of the colonnade are blocked off with streaks of barbed wire fence posts. They line the grounds where cattle graze in the sparse dry terrain. For a few moments, the scene continues.
Then it shatters. The flatlands drop down into a sudden rugged, rocky depth. The acute change in landscape is unlike anything we've seen before. And this unorthodox juxtaposition of countryscape and abyss is only a teaser for what is coming next. Aren't you excited?
There aren't many signs here, save for one. "Palo Duro Canyon. Eight miles," it reads.
Palo Duro Canyon State Park, located just thirty minutes from Amarillo, is the second largest canyon in the United States. At 120 miles long and over 800 feet deep, Palo Duro Canyon wears a special laurel wreath. Don't believe me? Come on, I'll take you for a drive.
We cruise by the park entrance, where traces of leafless trees pop up, and steer along the byway before stopping at the first designated vantage point. Bold clay colours are alien streaks against the rich brown rock. We can see red and white layers ribbon around the base of the cliff. The incline of the Canyon slashes downwards in an abstract jagged manner, like a painter's brushstrokes flying outside the lines.
Palo Duro Canyon stretches out but curves inwards. We roll down faster, the gorge skating past us. The deep earthen colours fire against the clouded sky. The match of umber rock against the brilliant Texan blue can only be seen here. This was once home to Native Americans and later ranchers occupied the secluded region. How lucky were they to witness that view? It wasn't till Franklin Roosevelt's era that the Civilian Conservation Corps arrived, armed with the tools to chip out a national park. Many of the original buildings from 1934 are still in tact. The lodge (now visitor's center), cabins, and trails are entrenched in Great Depression-era history.
The original CCC trail is still there, stretching from the Canyon Rim to floor. But as a warning, this is a challenging hike. A more moderate and much more popular option is the Lighthouse trail, where you can see a natural lighthouse like structure set in rock amongst the harsh rock.
There is a picnic area a little way below where we park. Seeing the Canyon from over 3000 feet above sea level was captivatingly astounding, but seeing it from below is unearthly. We feel like specks against the rock. They seem to stretch infinitely up above us.
We look out – above, below, left, right. Our eyes are everywhere. My legs are curled under me, on a slab as I feast on the allure of the scraggy rock. It doesn't take long to see that we are the only ones here. There is a sense of isolation that reigns over the region. Surprisingly, it's not loneliness that engulfs us, but power. We feel like conquerors of a forgotten kingdom.
The bare undergrowth folded in a tangled mat and the shrubs pinned down at the bottom of the abyss are face-level now. From above, they were darkened dots spread across the breadth of the Canyon. From below, we are with them as potent dots under the Texan sky. 
These Pictures Of Palo Duro Canyon Will Inspire Your Next Trip