If you're looking for free things to do in St. Augustine, think Juan Ponce De Leon. You can't go wrong with a 560-year-old guide.
Ponce De Leon takes credit for being the first explorer of east coast Florida, a flat, loose landscape once thought by the Spanish to be Asia. This dagger-trim man is present on every page of St.Augustine's tale, from 1513 to now.
Every story has a main character and St.Augustine's is Ponce De Leon.
So I thought it might be fun to let the man, the soldier, the page, ahem, Ponce De Leon, show you all the top free things to do in St. Augustine, Florida.
Free Things To Do In St. Augustine Over A Weekend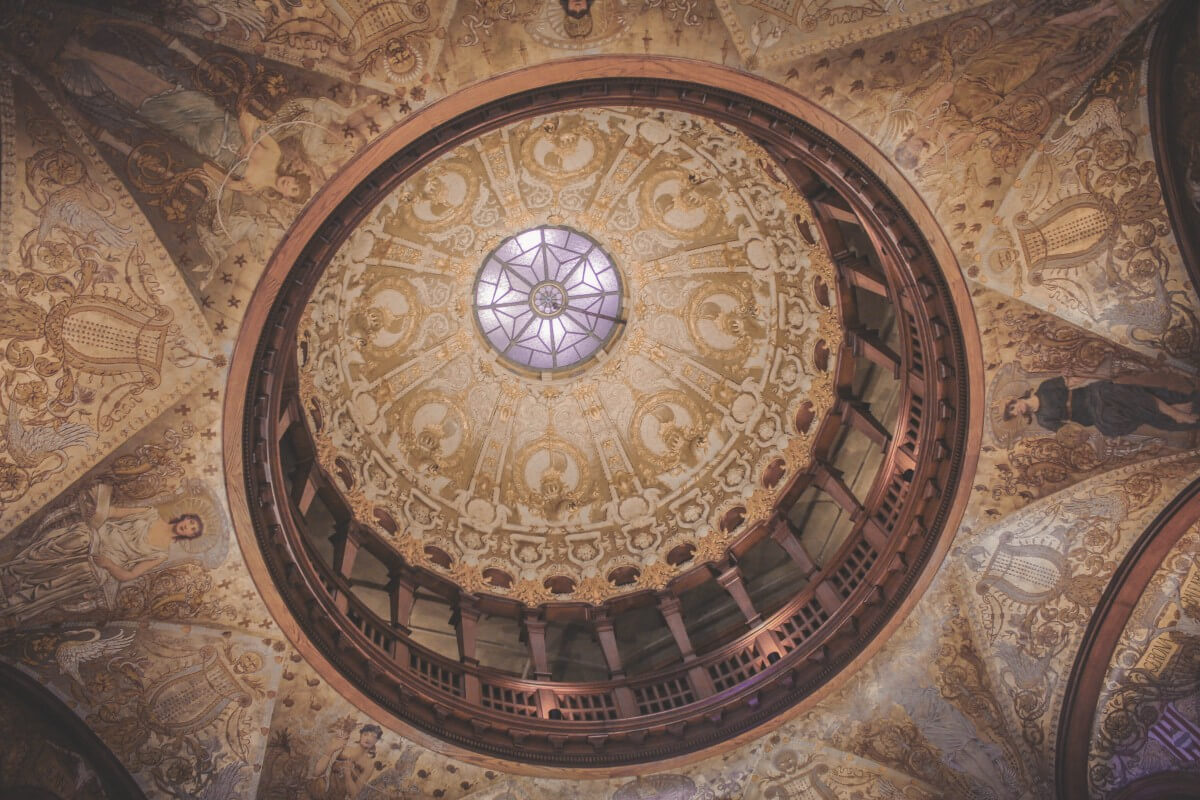 Me: Hi, Ponce. Do I call you Juan or Ponce? [awkward pause] Um, I was hoping you could share some of your favorite free things to do in St.Augustine? When I first spent a day there, I think I broke my wallet.
Ponce: Hola, Anshula! Cómo estás? Call me Juan. And I'd be delighted to show you around. Together, we'll seek God, glory, and gold! (*pumps fist*)
Me: (*gulps*) I think I'll just settle for the walking tour.
Ponce: Suit yourself.
Take A Free Self-Guided Tour Of Flagler College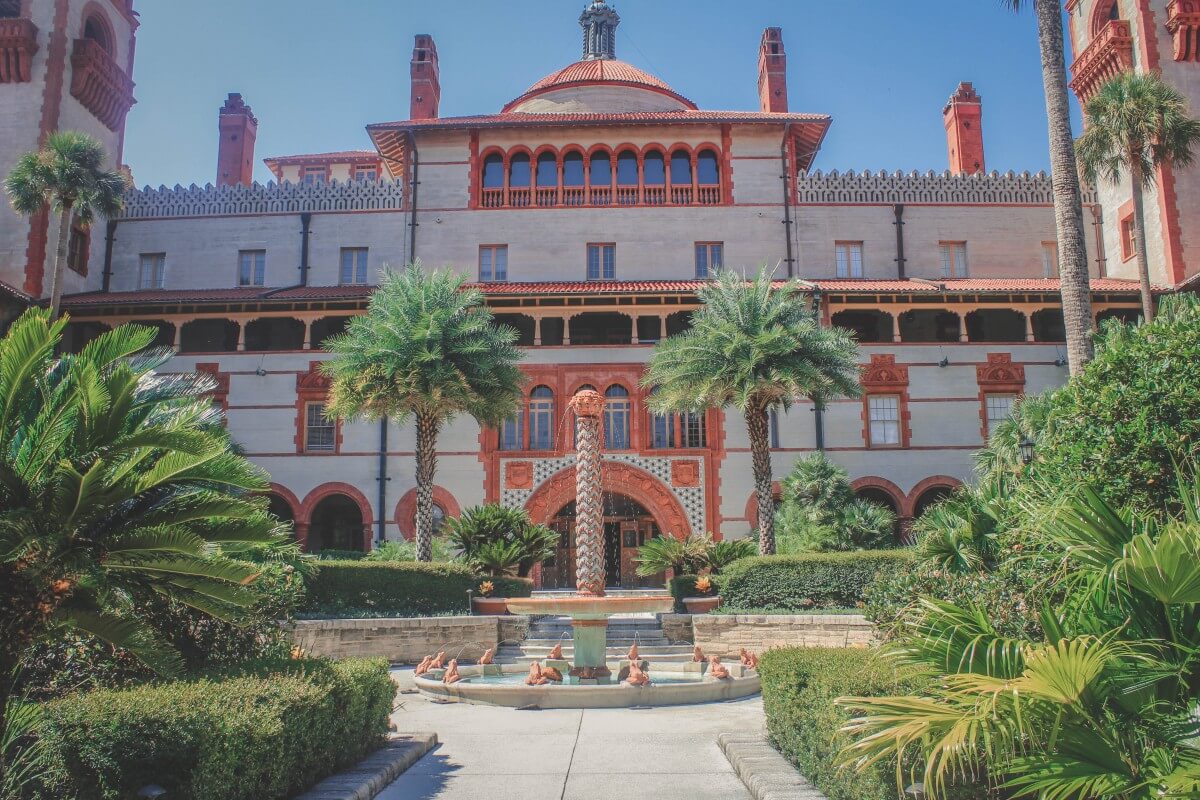 Ponce: We'll start our day at Flagler College, one of the most unique looking universities in the United States.
The distinguished red trim has a carnival air, sí? Inside, the vibrant hues disappear into rich dark tones. Paintings scale the walls.
Flagler might look like a typical Florida campus with palm trees, wide walkways, and bright facades, but it's not.
The college is set in the former Ponce De Leon Hotel (known fondly as The Ponce – what. a. name), a luxurious getaway swollen in opulence. The hotel dates back to the 80s. The big draw is the fine-crafted Tiffany stained glass windows.
And like most old hotels, The Ponce is riddled with ghost stories. Ida Alice and Henry Flagler supposedly tread the floor come night.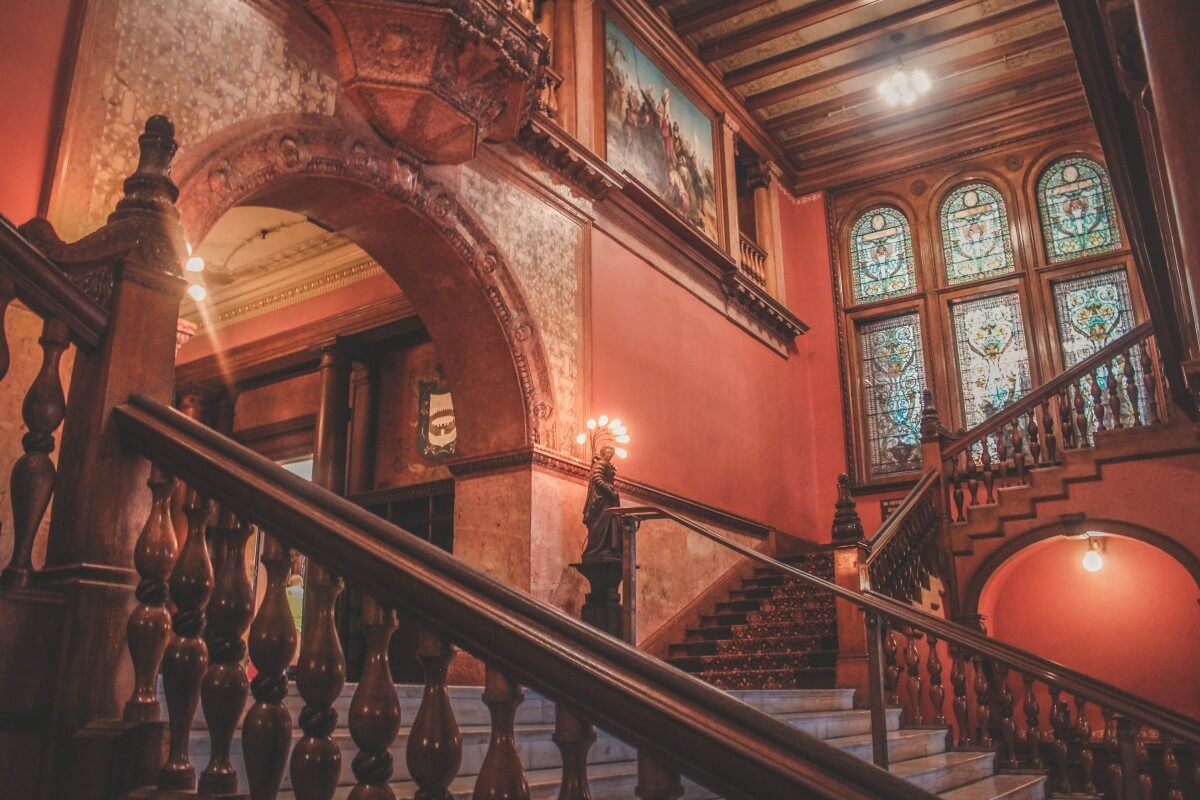 But I've flitted in and around these halls. I'm the only ghost as far as I can see.
Although a guided tour is $12, a self-guided tour doesn't cost a thing. So we'll walk around, take our time, and drink in the youthful atmosphere.
Me: Hey Juan, random question. Did you ever find the fountain of youth?
Ponce: I'm here, aren't I? (*wink*)
Don't like Ponce's suggestions? Here are some alternate free things to do in St. Augustine:
Pena Peck House Museum: One of the oldest colonial buildings in St.Augustine. The Pena Peck House Museum has lived many lives and hosted many families. Today, it's the property of the Women's Exchange. Tours (which run between 12:30-4:00 PM every day) are donation-based. While it's 100% free to visit, donations are much appreciated (the money goes into a scholarship fund that helps women return to school).
Father Miguel O'Reilly House Museum: The second oldest structure in St. Augustine is a historic landmark run by the Sisters of St. Joseph. The Sisters do an amazing job of preserving the museum. History buffs will enjoy the artifacts (be sure to watch the video and talk to the Sisters as well. They're very knowledgeable). Also free to visit.
Get A Deeper Grasp Of St. Augustine's History For Free At The Governor's House Cultural Center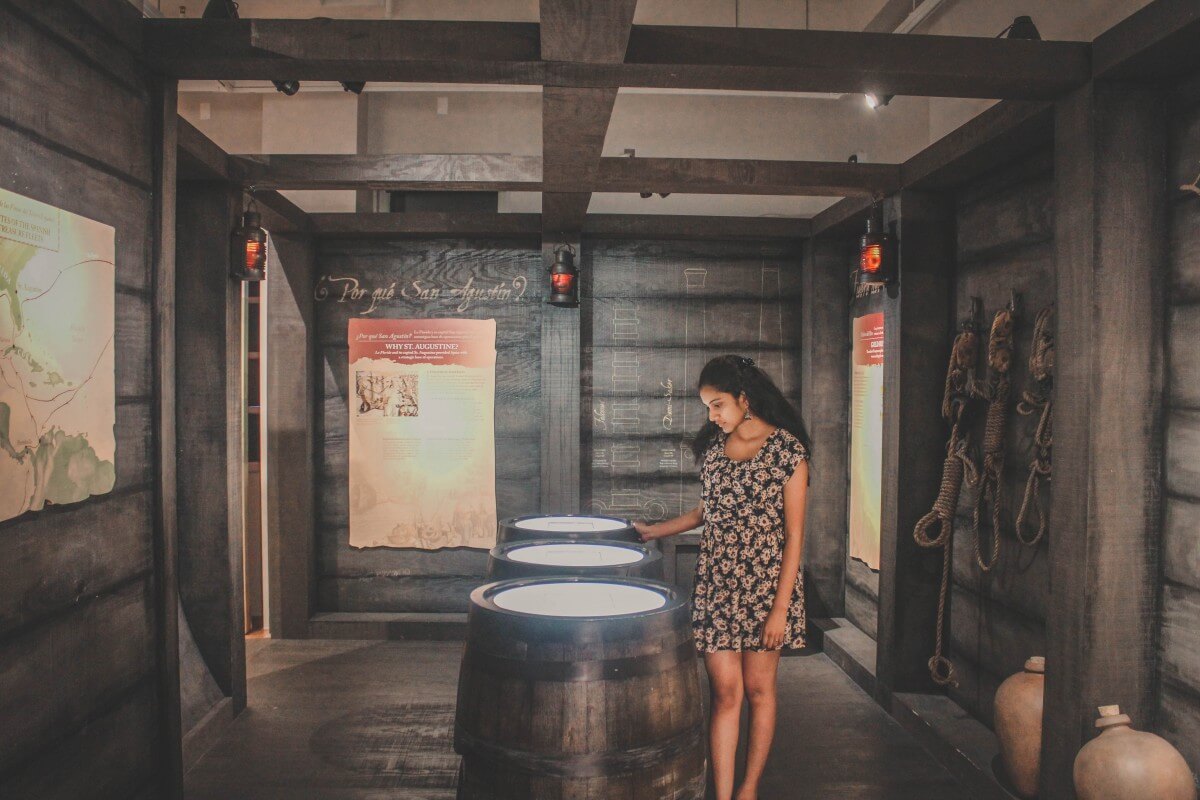 Ponce: If you're hunting for free things to do in St. Augustine, start or end your trip at the Governor's House Culture Center.
This museum weaves together St. Augustine's early days. Pedro Menéndez de Avilés built this town. I don't know him very well. I mean, we met at a dinner party (at the dining hall in Flagler – it was a smash for the price) recently. I think he's slightly bitter that some of the tourists visiting the Lightner Museum mistake his statue for mine.
I mean, can you blame them? (*flexes arms*)
Me: Umm…okay. You were saying?
Ponce: Huh. Right. Where was I? Oh, the Governor's House Culture Center. It's a series of history-focused exhibits hidden in plain sight.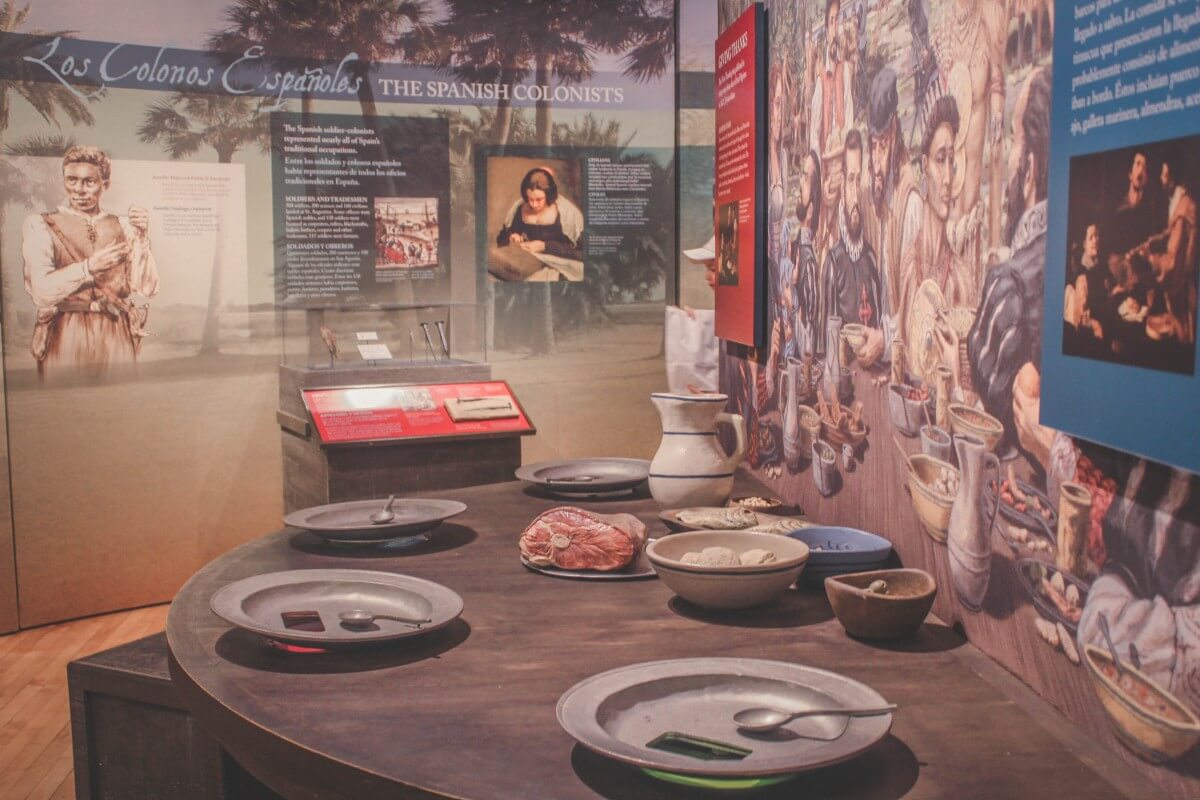 It's a small museum but it highlights some of the lesser-known tales that brought St.Augustine to its present-day state (I understand. Not everyone can talk about me all the time. I'm willing to spread the wealth. Unless it's real gold we're talking about. That's mine).
Anyway, it's a quick stop. If you're looking to get an overview of St. Augustine's history within an hour (the museum really puts the whole town into perspective), this is the place. The displays are text-heavy, but there are lots of interactive bits.
Are Ponce's suggestions too dry? Here are some boozy free things to do in St. Augustine:
St. Augustine Distillery: The St. Augustine Distillery is all about hard liquors. Tours, which run every 30 minutes, are absolutely free. The samples (also free) are extremely generous so you may leave slightly tipsy.
San Sabastian Winery: Winery and jazz bar. Premium wines. Sweet flavors. Complimentary tours seven days a week.
Stop By St.Photios Greek Orthodox National Shrine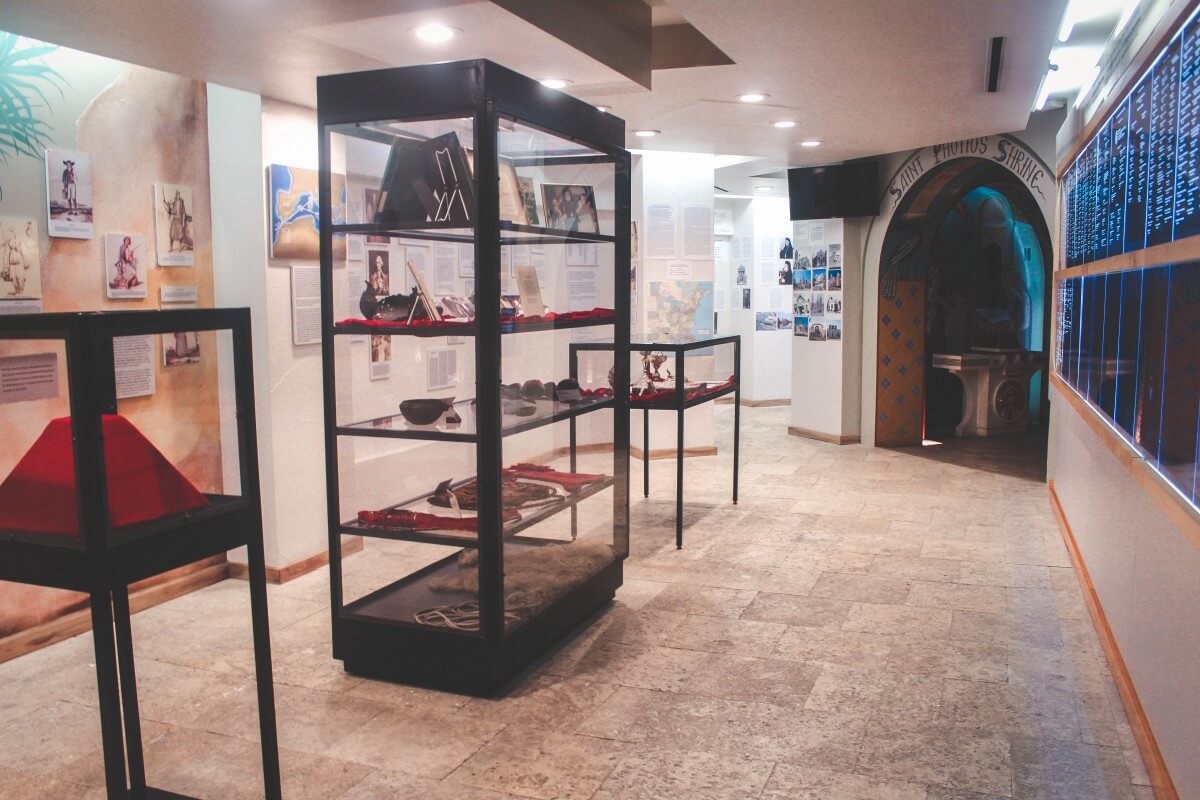 Ponce: St.Photios Greek Orthodox National Shrine is along St. George Street but still easy to miss. Enter through the courtyard. Walk under tall trees shading the tiny pathway. You'll be led to a blue room dressed in iconography. ¡Cómo mola!
It's a small place (takes roughly 20 minutes to visit) but an important one if you're interested in learning about Greek influences in St. Augustine. I really didn't know much about the early Greek settlements in the USA before visiting.
To tell you the truth, I also don't know much about early Spanish settlements in the United States either. People think I discovered Florida and landed here in St.Augustine. My memory's foggy so I don't remember. All I know is that I landed along the Gulf Coast (probably not here). The rest is a blur.
Maybe, it's better that way. I rather not remember some of the things I tried to do.
Me: I know you're not a hero. Just a character who took over a story.
Ponce: I tried to obtain slaves. As many as I could. I treated people like objects for my own personal gain. Viciously. Violently. Without a care in the world. I didn't see how different could fit into my world view (a world view that was growing cartographically was severely limited mentally).
Going to places like St.Photios with an open mind would have made me a better person or so I'd like to think (albeit I'm dead so who knows?). Perhaps, I would have learned that differences are beautiful and should be celebrated – not manipulated. At least, I hope so.
But yes, I am not the hero people think I am. It's hard for me to admit. I've been put on a pedestal…literally.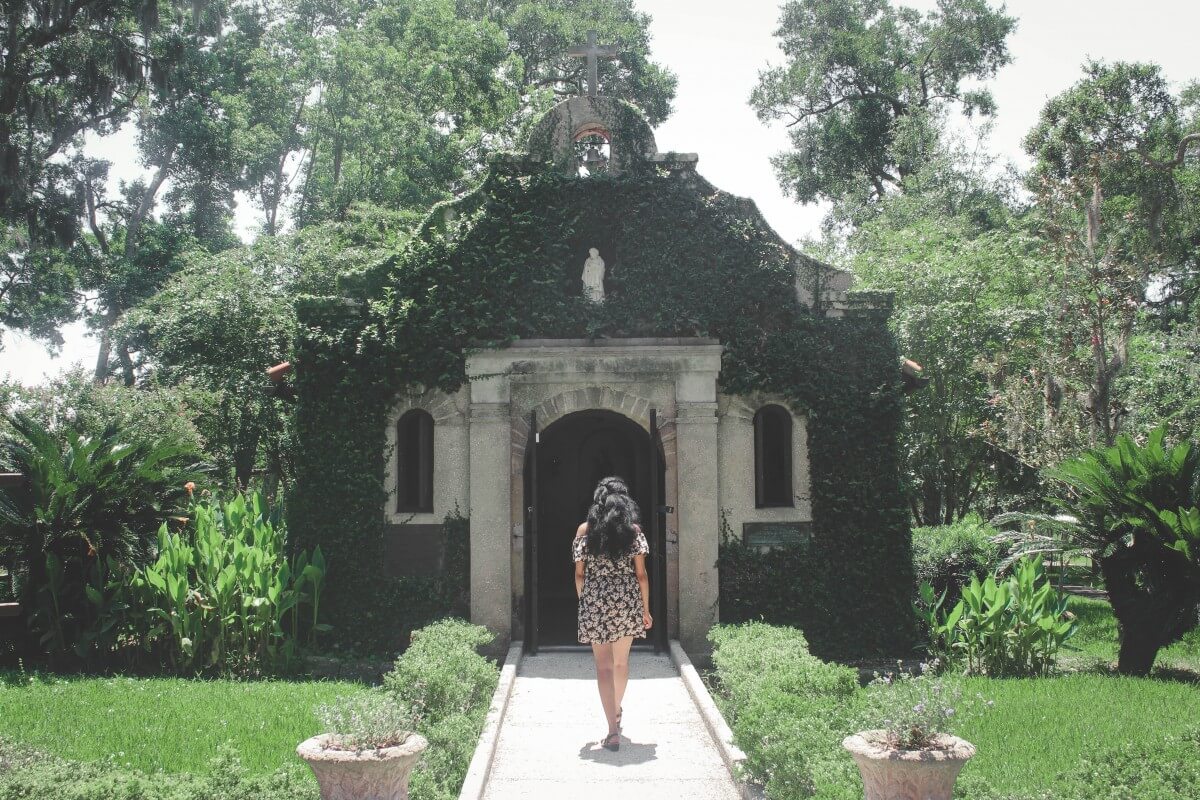 Mission Nombre Dios: The origins of this site trace back to the mid-1500s when Father Lopez became the first parish priest in St. Augustine. There's a mini-museum. And located within the gardens is one of the most popular free things to do in St.Augustine (Chapel Of Our Lady De Leche).
Fort Matanzas: Like Castillo de San Marcos, Fort Matanzas is built from coquina. But the story that follows both structures is different. This underrated attraction is just a short ferry ride away from St.Augustine (you can pick up a completely free pass from the Fort Matanzas Visitor Center). But note that the fort is sometimes closed to weather (check here to see if it's open).
Walk Along St. George Street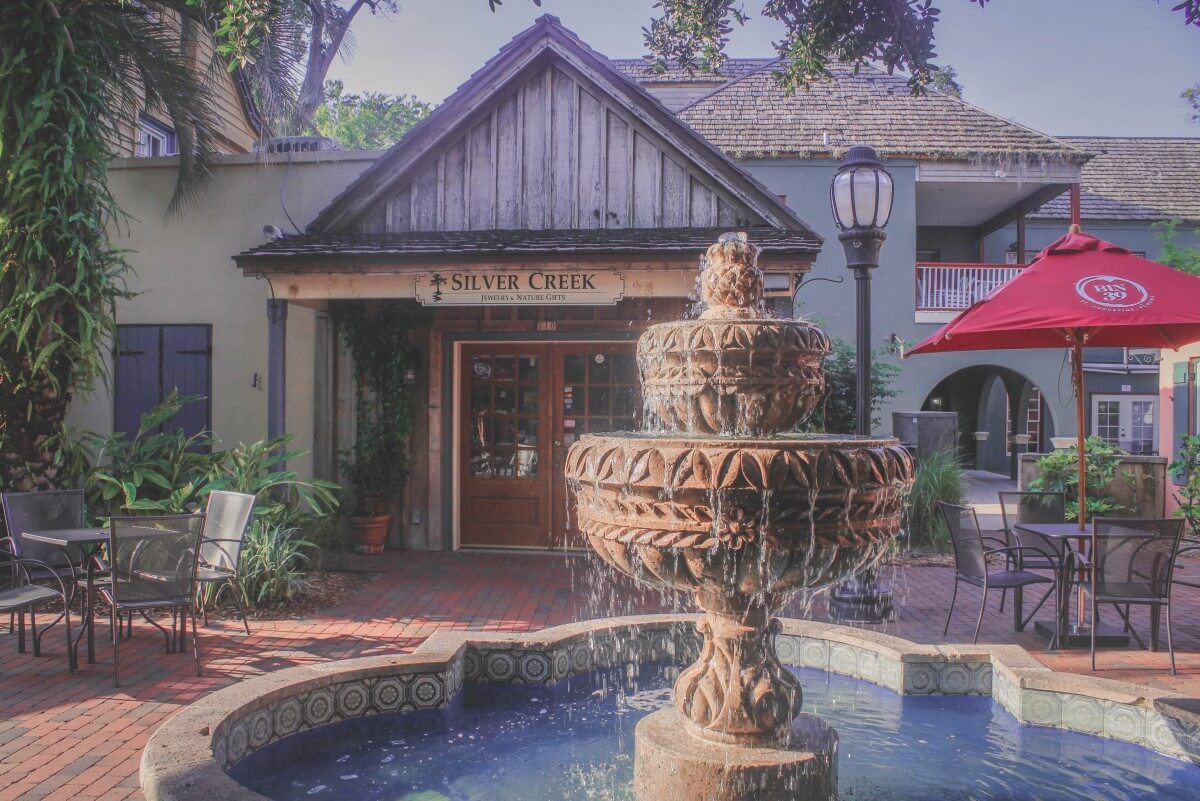 Ponce: St. George Street, a wide, walkable, foot and cycle traffic only pathway, is popular amongst tourists and locals alike.
It's an evening spot. The shops (some more kitschy than others – Ponce De Leon bobbleheads. Would you believe? My head is not that big. Sometimes) are open late, making walking along St. George Street one of the best free things to do in St. Augustine at night.
I often find myself diving into slivers of alleys, strolling past galleries, and wandering into the sweet shops (although I've never tried any of the desserts myself, I've always fancied them).
It's the hidden parts of St. George Street that I'm most fond of. Amongst the lights and smiles, you'll get lost in the magic of the main pathway. But one aside and you'll discover something old and something new.
Me: When's the best time to visit St. George Street?
Ponce: Mornings. No doubt. Although the evenings are laced with a congenial spirit that I can't quite describe, mornings along St. George Street are peaceful.
Want to walk more? Here are some alternative free walking paths in St.Augustine:
The Bayfront: A boardwalk-length strip by beating waves. At night, The Bayfront is illuminated by a string of soft yellow lights. On one side, you can see the cityscape, and the other, boats idly traveling along the waters.
Aviles Street: One of the oldest streets in the United States is free to visit. It's a cobblestone path, home to artist lofts and European eateries.
Visit The Beach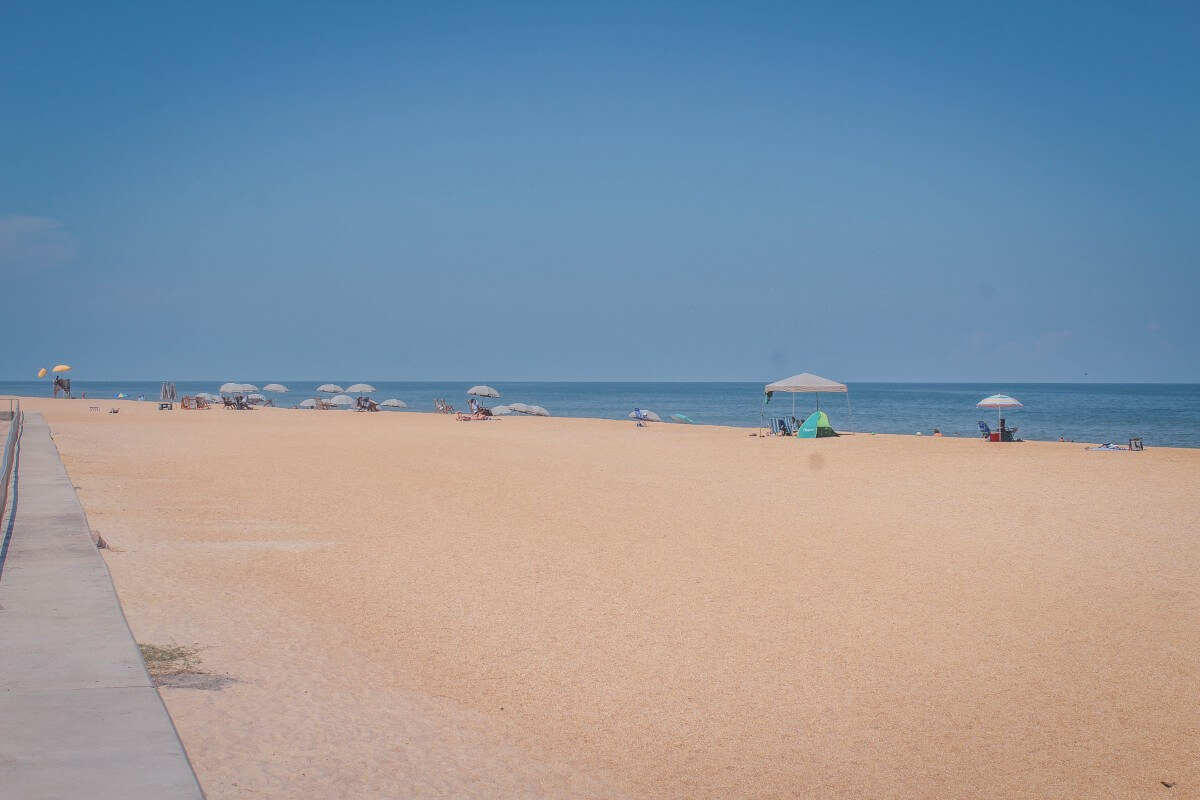 Ponce: I'll admit, I don't visit the St. Augustine Beach very often. It's hard when you're dressed in long white sleeves and an armored breastplate.
But here we are. With long stretches of sand and light waves, hitting up the beach is one of the most popular free things to do in St. Augustine.
If you're looking to get away from hustle and bustle of Old Town, pack a beach blanket and set fort at the St. Augustine Beach.
I get it. Ponce isn't a beach expert. Here are some alternative free beaches to visit in St. Augustine:
Vilano Beach: Nestled in a tiny summer village, Vilano Beach is a popular kiteboarding destination.
Crescent Beach: Sand draped in a crescent by the Atlantic Ocean. A family-friendly hard sand beach.
Did you enjoy this post on free things to do in St. Augustine? If you didn't like the recommendations, blame Ponce De Leon (not me – just kidding). If you know of any more free things to do in St. Augustine, let me know in the comments below!
Disclaimer: I promise I was sober while writing this post. I don't know what that says about me.