I feel like Indiana Jones today. Of course, I am by no means a gallivanting adventurer. For that, I would need a thin-brimmed hat and bloodied knife and the willingness to pretend to be a Scottish tapestry auditor (if you haven't seen the Last Crusade yet, I highly suggest watching it whenever you get the chance). My version of Indiana Jones would be a bookish archaeologist running to the brink of adventure, but not falling head-first into more treacherous waters. Somewhere though, despite my more academic tendencies, I still have the growing itch to be part of a real archaeological dig – to find something that no one has ever found before and to see what I have only ever heard of in textbooks. I'm sure you've had that feeling at some point. In hopes that I'm not alone, I've decided to take you along with me to a working archaeological dig in Northern New Mexico. Aren't you excited? Let's see what we can find!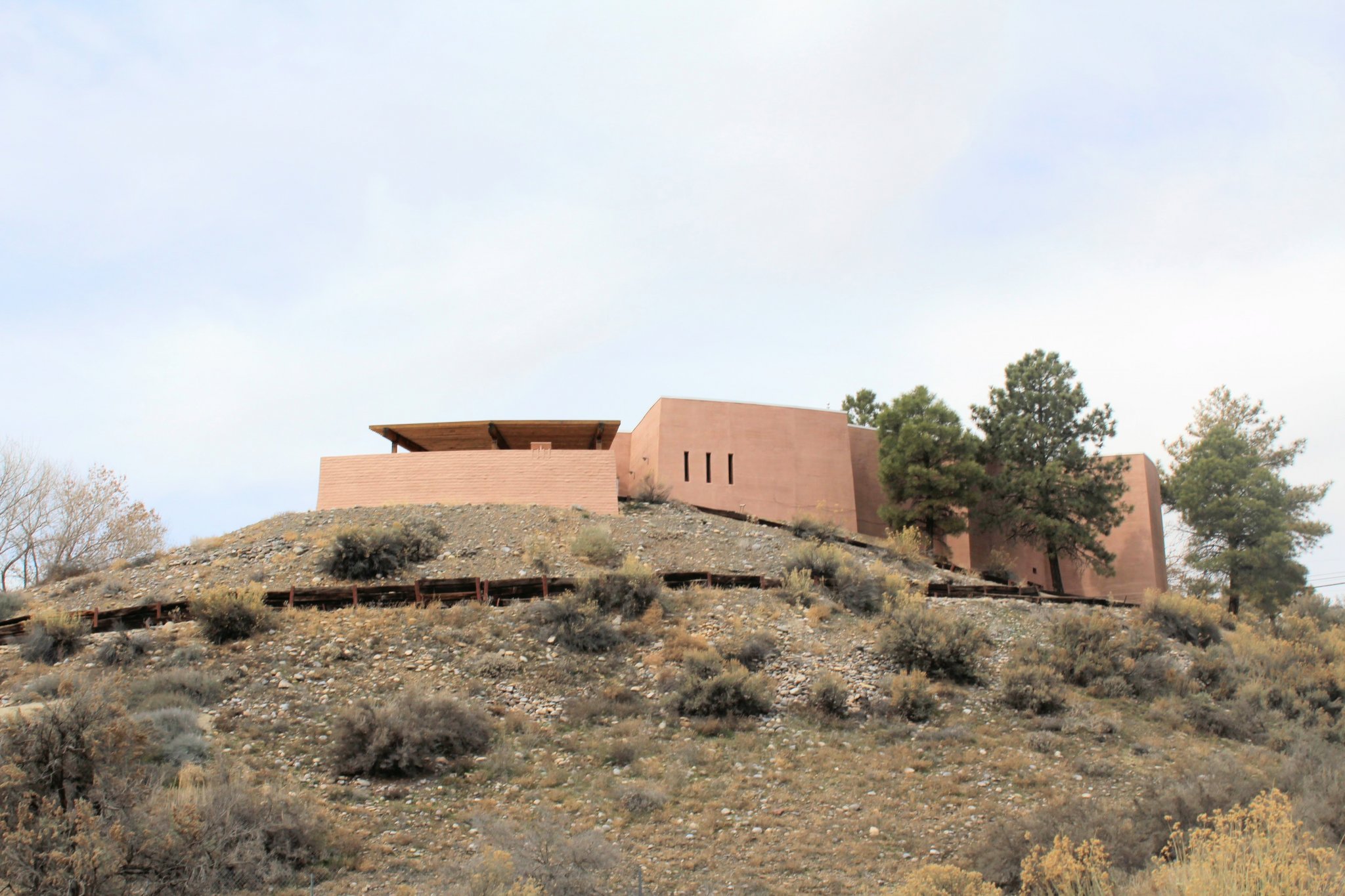 We drive along Highway 64 with the windows rolled down. At some point, the barren landscape, with rolling hills and sudden rugged drops, flattens to a level plain. One story homes and wooden structures with rusted pipes and signs start to line up along the roadside. The buildings meld together into a tidy path and then we spot just the sign we a looking for – a brown board with blocked letters that can be seen from a visible distance. Salmon Ruins. We're about halfway through Bloomfield on the way through Farmington and this stop looks like nothing more than a small library nestled on a hill, but beyond the enclosed space is well over an acre of archaeological discoveries.  
We enter into the main building. To the right is a museum-like layout and gift shop, but we're going to skip the exhibits first (gasp) and come back later on. Not to worry though, I promise we will return.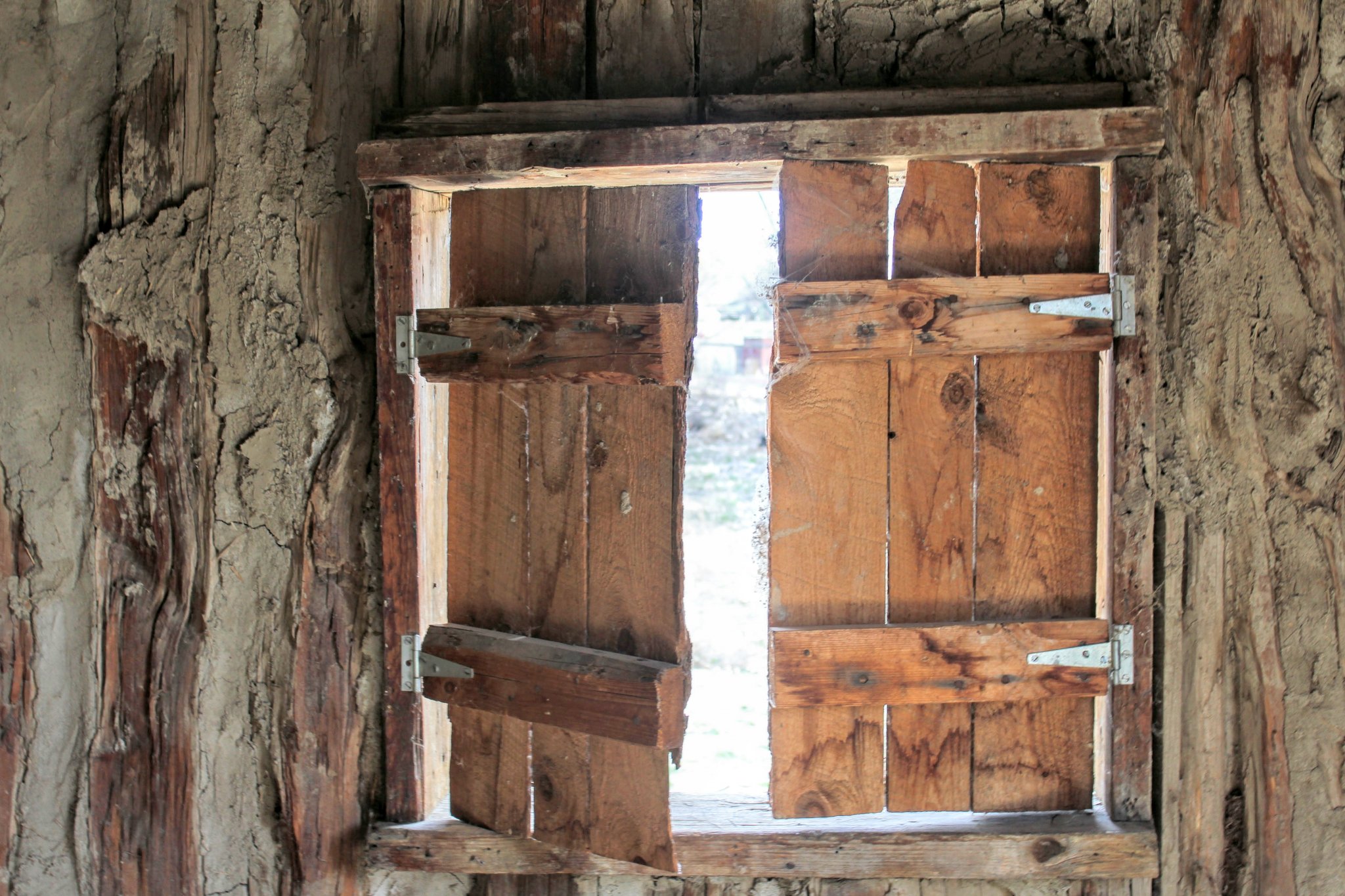 We head out through the back, down a steep, slanted incline into a small area deemed Heritage Park. There are replicas of tipis and sweat lodges that we step inside and poke around. The wood in the hogans is matted together in a thick roof-like top and there are small windows that rest along their walls. We walk along further and discover that the land was part of a Homestead property that originally belonged to the Salmon family (pronounced Solmon, but you're not alone. I called it salmon, like the fish, at first, as well). We continue walking upwards before the entirety of the ruins is spread before us.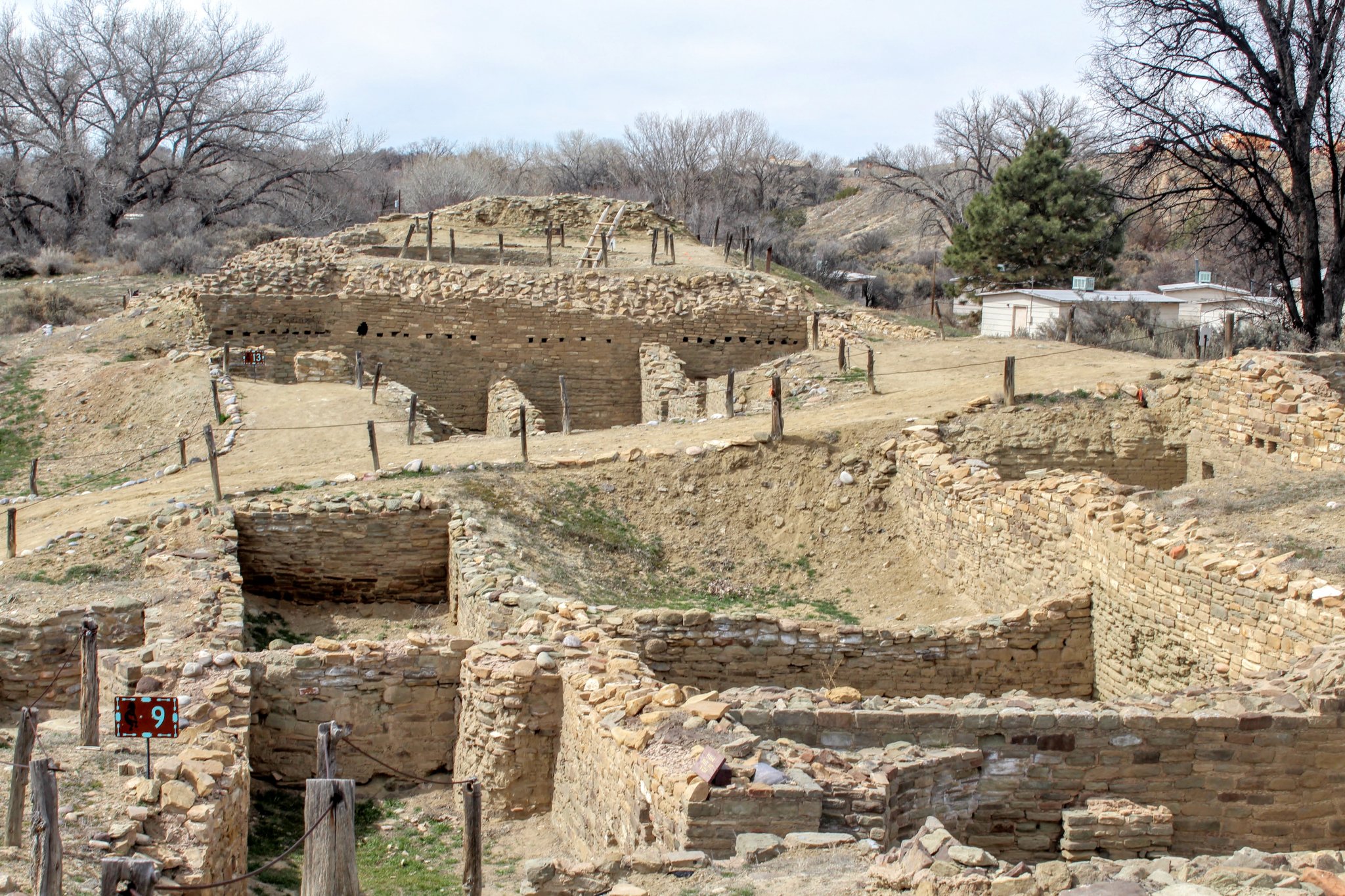 Stone. That's the first thing that grabs our attention. Stone everywhere. Stone half dug up, some lightly coloured and others darker. The stone is laid out into groups, dug up from underneath. These are the remnants of the Chaco culture. We walk past the posts and discover the history of each kiva. Most were used for religious ceremonies, but some had more practical rather than cultural purposes. We maze through the groups of stone, winding in and out of the past. There are relics of the first, Chaco, occupation and the second, San Juan, occupation. The nuanced difference between the architectural styles of the two groups becomes more clear and predominant as we walk from post to post. More circular structures take shape in some areas, while sturdy parallel groups of stone bricks still stand in others. The first floor is well preserved of all of the excavated buildings, but the other floors are mostly rubbles of memories. We have to imagine the Chaco people living in larger quarters that rise higher and higher above what we see.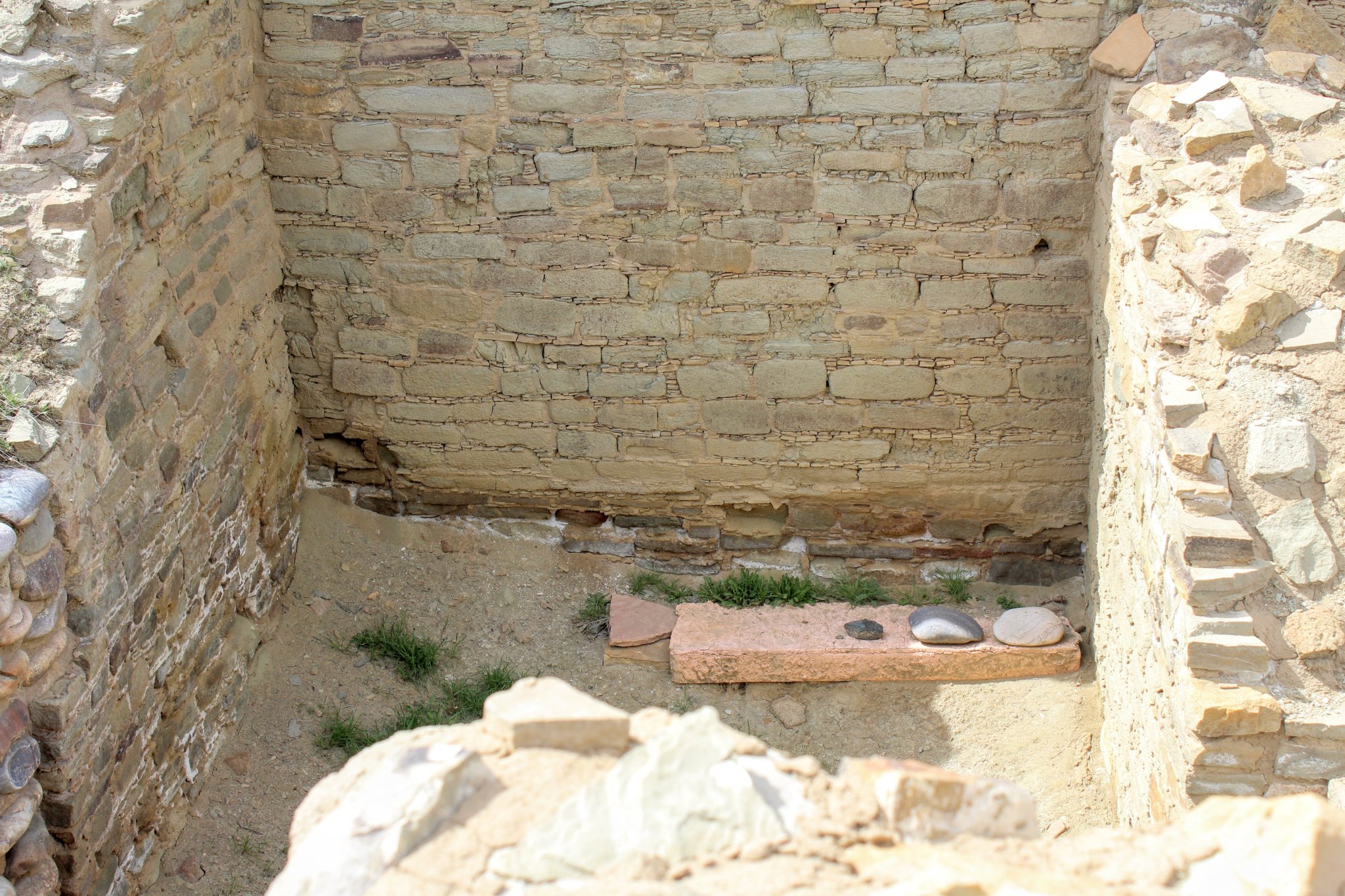 As we continue walking, we spot the first sight that would make Indiana Jones, himself, jealous. Salmon Ruins is home to a rare discovery – an ancient observatory. It's an unassuming little place, a boxed region with a slab that holds two rocks. During the summer solstice, the natural sunlight forms a direct path on the white rock. The rest of the observatory is dimmed in shade. The precision and accuracy at which the Chaco people studied the solar system is unbelievable. As we walk further along, we reach a wall with small red bricks.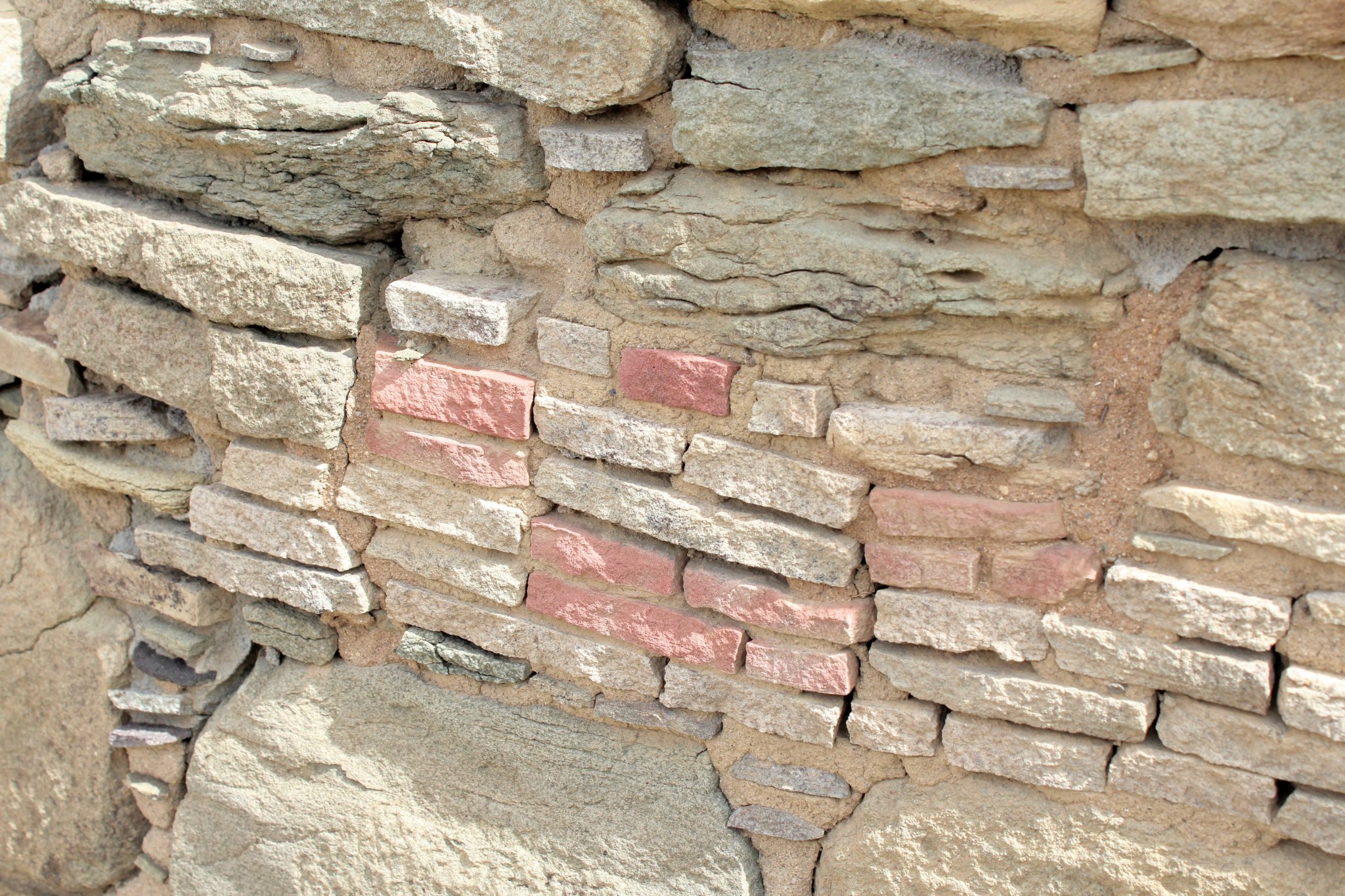 They are hard to notice at first and don't stand out that much, but on a closer glance the cluster of dark hues is clearly intentional. The cluster, it turns out, bisects the entire scope of the ruins. It also serves as a location marker for the chief religious kiva on the opposite side. How amazing is that? The Chaco people were not only incredible astronomers, but also mathematicians as well!  We stroll further along, getting a closer look at the Great Kiva. From far away, it appeared to be shallow, but upon closer notice the Kiva is at least knee deep.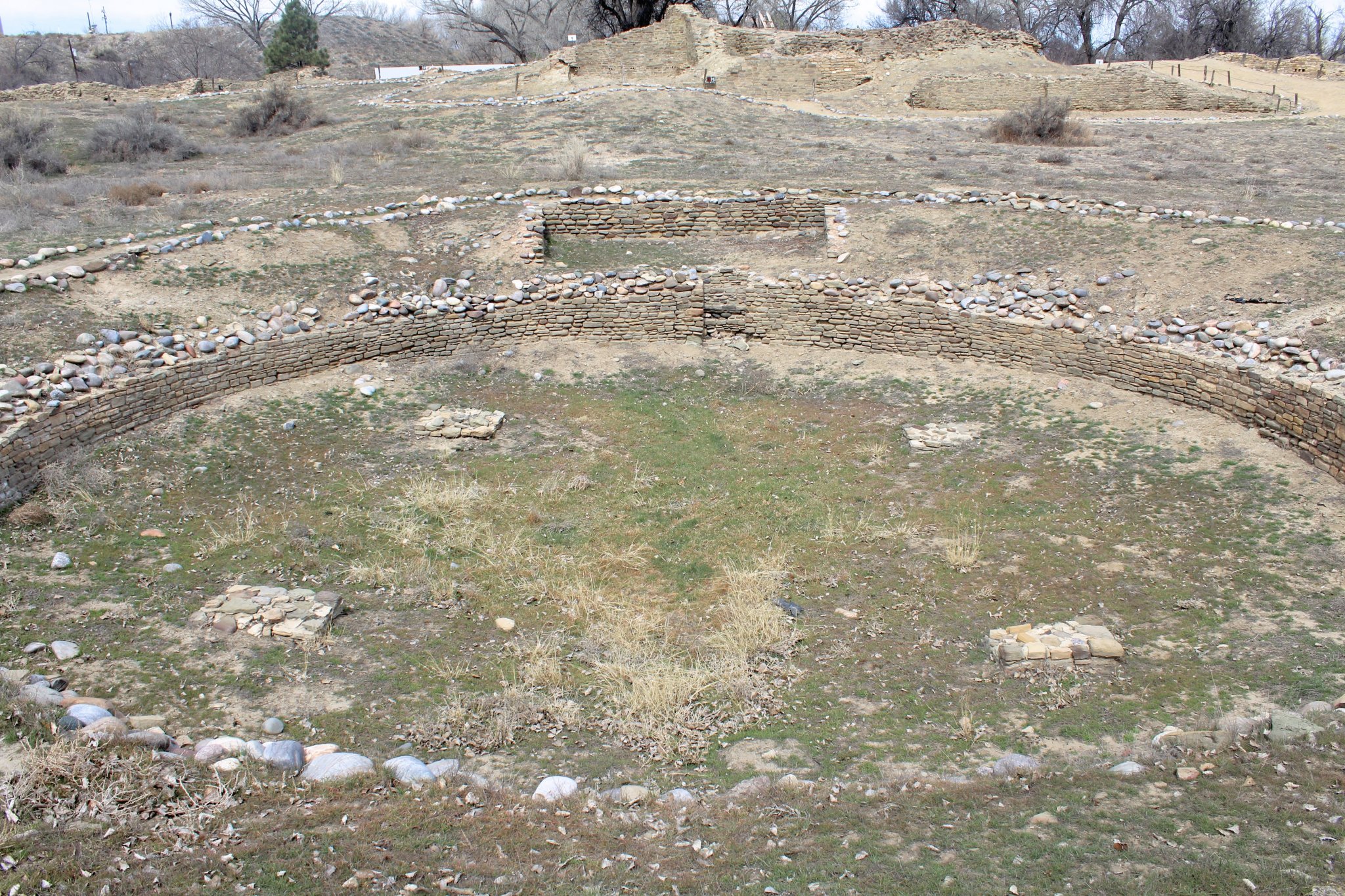 We circle around and head back up the incline (more challenging uphill but there is a lighter slope for handicapped accessibility if needed). The museum is now, not just a myriad of artifacts as it was when we walked in, but artifacts are wrapped in the living history that we just bore witness to. We recognize the names of the places and some of the snippets as we walk through, eyeing the well-crafted pottery and rugs. The story of Salmon Ruins ties together with the discoveries. Each panel has unique findings, most from Salmon Ruins itself, but some from nearby regions. As we finish the tour, we spot a library.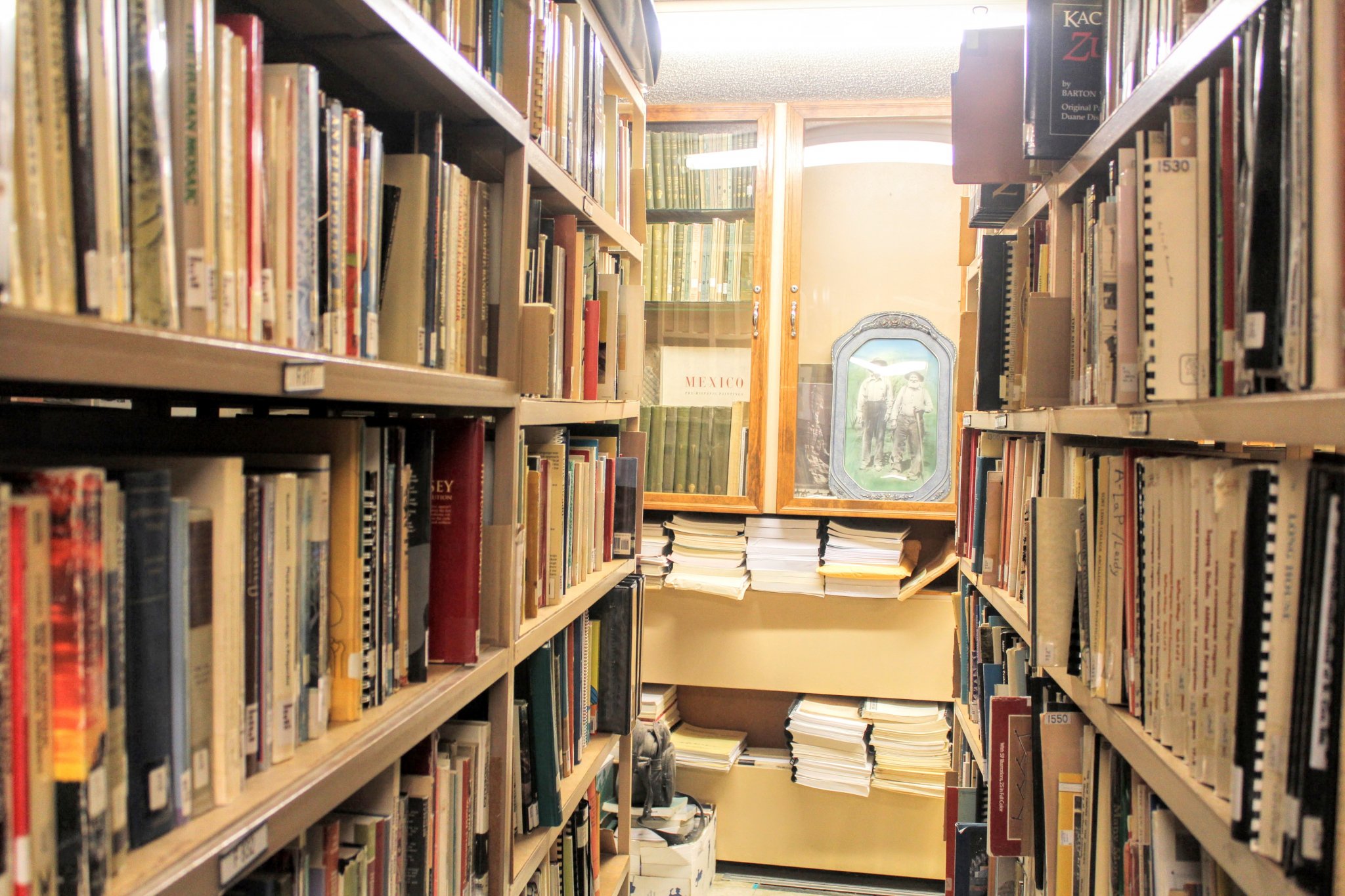 The room has papers scattered on the tables and desks, shoved between the shelves, along the floor. There seems to be chaos, but instead, the library is a research library, and contains the most extensive collection of Native American books that I've ever seen. It's fascinating to look through their collection and see the words from the pages come to life.
We walk back outside smiling. Stand still. Take a deep breath. Close your eyes. Listen closely. Can you hear the stories of the past?
Have you ever been to Salmon Ruins? Or toured an archaeological dig? Tell me in the comments below! I would love to hear your stories. 
Special thanks to Visit Farmington for arranging my trip to Salmon Ruins (and Nancy for the fabulous tour), but as always all thoughts, opinions, and nerding out over amazing historical finds are my own!