I've always loved waterfalls. I fell in love in with them early, before my chin held up high and my arms grew long and lanky.
Waterfalls, to me, are home.
Wedged between jagged rocks, Great Falls spills power and grace. Memorable and majestic, it's the queen of waterfalls. The falls are slow moving, bandaging broken slabs that cut through shallow water.
Today, I'm bringing you another hiking guide (clearly, I'm on a TLC kick). We're chasing waterfalls (again) – this time in Great Falls Park.
Great Falls Park Address (Virginia Side VS Maryland Side)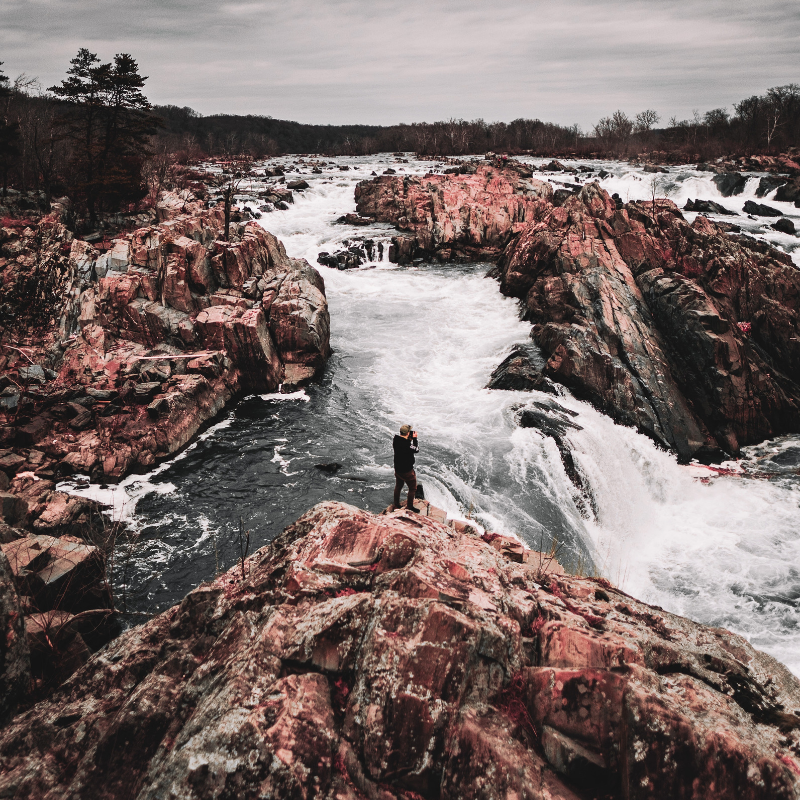 Stretched along the Potomac River, Great Falls Park is a quick day trip from Washington DC. Technically, there are two entrances: one in Virginia and one in Maryland.
The Virginia entrance (9200 Old Dominion Drive, McLean, VA 22102) is a cheat code. You stroll into a well-kept space, swing by easy to access overlooks, and without suffering one drop of sweat, achieve stunning views of the falls. Everything is laid out for you, piece by piece, pretty as a picture.
The Maryland side (11710 MacArthur Blvd, Potomac MD 20854) is a challenge. You have to cut through leafy forests and trod along unpaved paths. In Maryland, the falls come under C&O Canal National Historical Park. Your entry point? A tavern, now visitor center, that dates back to 1828.
I'm ashamed to say this but my go-to is the Virginia side. Dear Robert Frost, I'm sorry I refuse to take the road less traveled by.
Great Falls Park Hours
McLean is a little removed from the rest of Virginia. Skirted by luxurious colonial mansions, Great Falls Park sits in the midst of this showy city (average household income: $190,000).
But the falls are naturally beautiful and outshine even the most opulent homes. Striking and charming, Great Falls invites millions of visitors each year.
The park is open during daylight hours, usually from 7 AM to just 30 minutes after sunset. If you're visiting in the summer, hedge your bets by coming later. Even though the falls get crowded fast, you'll be guaranteed entry and have direct access to the visitor center (10 AM – 4 PM).
Great Falls Park Entrance Fee
I still remember when Great Falls Park was $5 per vehicle. My parents used to bring me here all the time when I was younger. I would run around and sketch the waterfalls (back in the good 'ol days).
Of course, the price has changed since then. Great Falls Park now costs $15 per vehicle ($7 per person). Admission lasts for a full week so take your time and really get to know all the trails.
Bring the money in cash (optional but preferred).
P.S. Cash also helps in case you need to pay via Iron Ranger.
Great Falls Park Map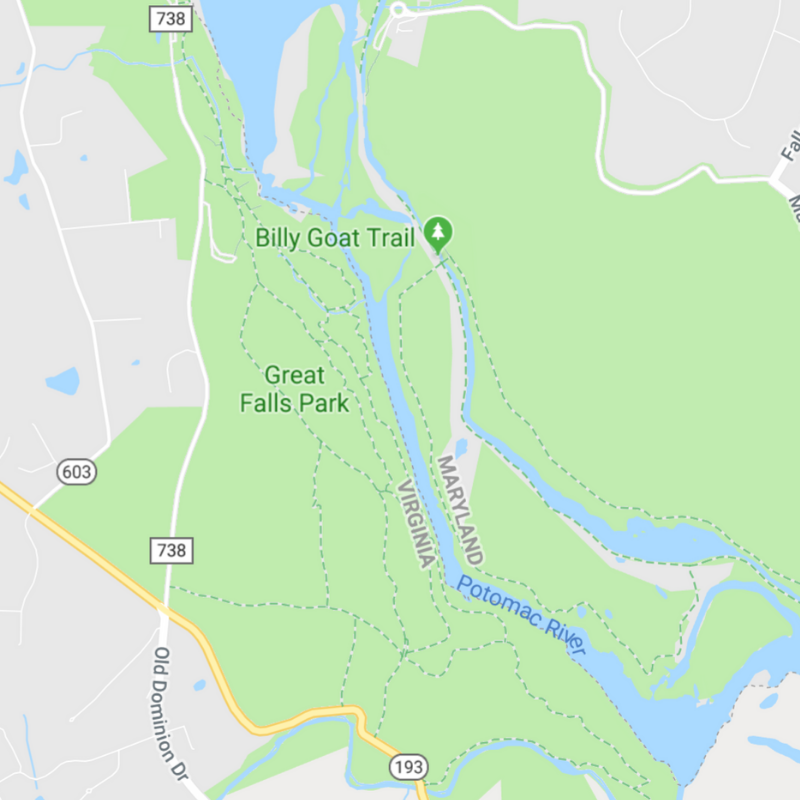 I'm an old fashioned girl. My go-to TV shows are I Love Lucy, Three's Company, and Hazel. So it's no surprise that I love keeping a physical map copy on me when hiking. Print out the second page of this brochure for a detailed trail guide. Alternatively, you can access the same map here.
You can also grab a trail map directly from the Visitor Center.
Great Falls Park Visitor Center
Walk up a ramp and you'll find yourself at the door of a small building marked by an American flag. This is the Great Falls Visitor Center. The building houses a small array of museum-style exhibits, a children's section, and a "theater" (really just a ten-minute video presentation).
Part rest stop, part shop, the visitor center is one of the few information hubs in the area.
Great Falls Park Hiking Tips
Okay, I've kept you waiting long enough (sorry). We're finally going hiking (cue excitement).
With plenty of hiking trails ranging in difficulty, Great Falls Park knows variation. Wear lots of sunscreen, bring enough water for the whole trail and back (recommended amount: 1 gallon), and wear over-the-ankle hiking shoes.
Now, I've personally never run into any venomous snakes while hiking Great Falls Park. But fair warning, Northern Copperheads are common in the area and are a vital part of the park's ecosystem. Copperheads aren't aggressive (unless injured or threatened) so if you see one, just ignore it and move on (or if you're like me, freak out and run for your life).
Great Falls Park Hiking Trails

Billy Goat Trail
On the Maryland side of Great Falls Park lies Billy Goat Trail. It's popular, busy, and always crammed with people, but for good reason. The trail – pretty, scenic, and all-around fun – snakes the Potomac River.
Billy Goat Trail is split into three sections: A, B, and C. At 1.6 miles, the C section isn't the shortest but is definitely the easiest path (and my favorite). Go during a dry season. Parts of the trail hug the Potomac River and can be dangerous after heavy rainfall.
Patowmack Canal Trail
If you're a history buff, the Patowmack Canal Trail is a must. It's an old trail with roots tracing back to George Washington. Construction began in the 18th century and today, Patowmack Canal is an archaeological site.
The route passes all three main overlooks so it's a great way to ease into hiking Great Falls Park. You also catch a glimpse of the Matildaville ruins (bonus points in my book).
Matildaville Trail
Matildaville Trail is standard historic Virginia. Set in the midst of a thick forest, the path pleasantly leads to the remains of a small community built around the Patowmack Canal. It's one of the quieter trails at Great Falls Park.
Great Falls Loop Trail
On a warm weekend day, the start of Great Falls Loop Trail feels like a war zone. A rush of people, armed for a long hike, battle for space along the path. Brace through the first few moments of madness. Crowds thin out twenty minutes into the trail.
And if you do the full 4.6 miles, Great Falls Loop is surprisingly silent.
Moderate in difficulty, Great Falls Loop is one of the few mid-level trails at the park. But to be honest, the crazy bits (rock scrambling, climbing random hills) are the best parts.
Have you ever been to Great Falls Park? Did you find this Great Falls Park hiking guide useful? Let me know in the comments below!