We stand on the base of the curb.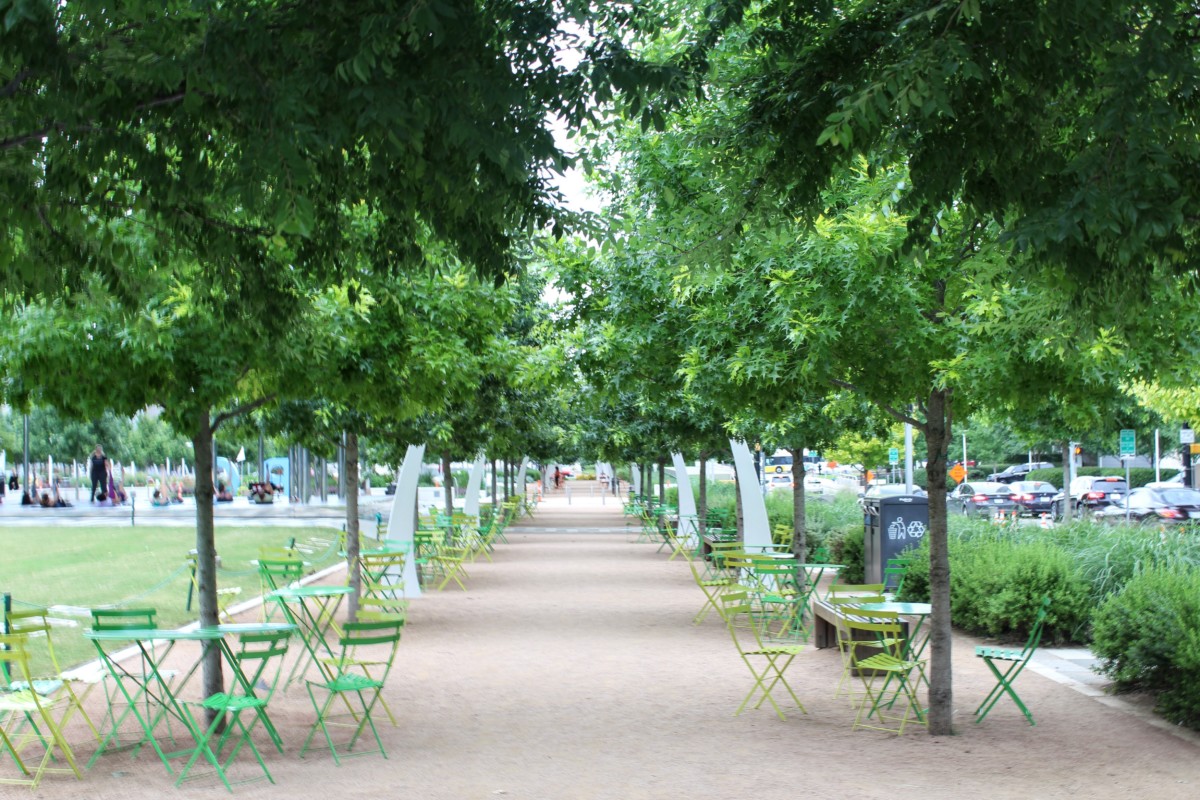 Around us, there are paper-thin buildings that shoot upwards. A few cars are locked parallel to sets of white lines across the road. Some sport a small placard shoved up the front-facing window. The rest? Well, let's hope Santa isn't too harsh on his naughty list this year. And ours? It is there too, right behind Klyde Warren Park. Our speech turns to silenced hushes as we realize, we've discovered the best parking space for Dallas' Arts District and we don't want to let this secret slip out. It seems trivial, at first, but there is an astounding feeling of relief. Dallas parking is a Tim Burton film come alive. It is a slightly horrific adventure of its own. Yes, there are looming spots with emboldened signs around the section. But why pay for a $20 parking garage when there is a quiet, little open parking space for simply half the price?
Parking: Corner of Woodall Rodgers Freeway and North Olive Street
Klyde Warren Park
We slip into the park, treading across the grassy flat expanse. A colonnade of trees shade the row of curved archways. We grab a seat in one of the chairs, each painted a bold antifreeze colour (an equally gaudy lemon is also thrown in for good measure), near one of the book nooks (as I like to call them). These sky blue racks display a unique variety of popular titles and the occasional magazine. Listen closely to the beat of the drums in the distance. There is always an amateur band fostering playful new rhythms here. In the back, we can even see a collage of mats drop like gentle rain against the grass as people stroll in for a morning yoga-session.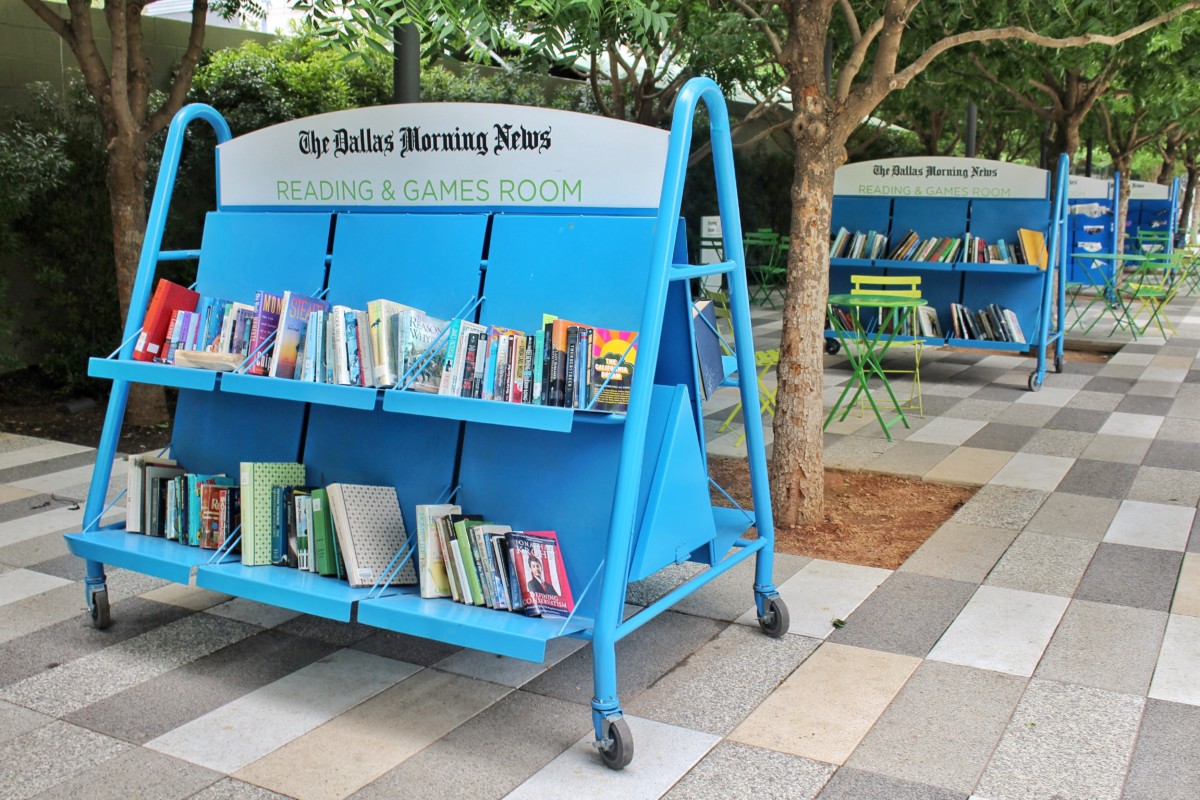 We glance around, first observing the smiling faces on a busy work-fused morning, and then back towards the children's playground. There is something different about this playground – bridges and fountains are placed strategically amongst steely jungle gyms. The children's play area, surrounded by an easy-to-overlook botanical garden, is art in itself. The playground structures aren't the normal plastic or wooden kind, but large imposing pieces that define their surroundings. The coherence is almost reassuring. We are in the right place. Dallas Arts District, we have arrived.
Klyde Warren Park: 2012 Woodall Rodgers Freeway, Suite 403, Dallas, TX 75201; 6AM – 11PM
Dallas Museum of Art
As the sun starts to peek above the high-rise cityscape, we cross the street towards the Dallas Museum of Art, but not before stopping at one of the food trucks curbed along Klyde Warren. The Art Museum itself has dual welcoming entrances. One a series of concrete posts sporting the latest collections and the other a saturated mosaic that extends the full expanse of the bordering wall. As we walk inside, we are met with a collection of shells, neon coloured, that are pressed into the glass windowpane.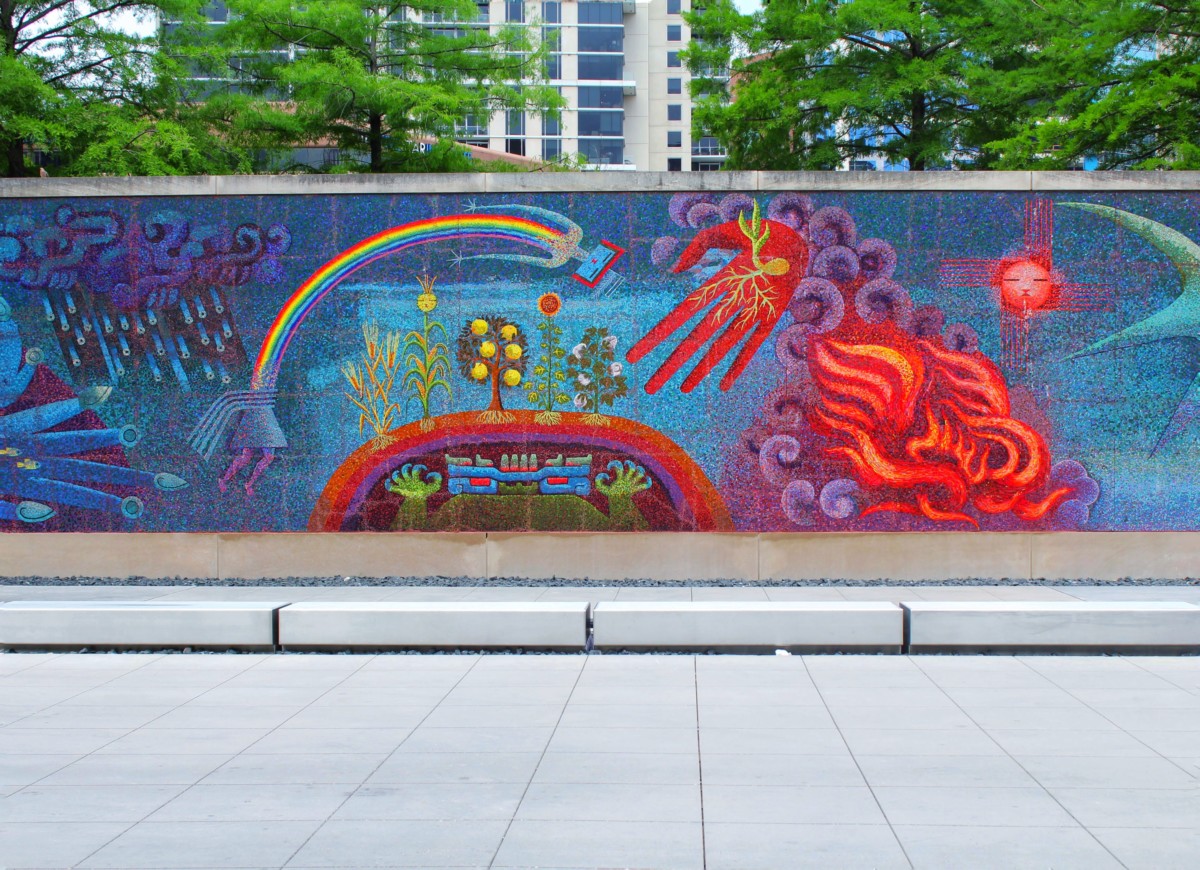 General admission is free so we grab the elevator to the highest level and poke around the ancient Americas art exhibit before threading through room after room. The Dallas Museum of Art is a patchwork of art, varying in style. From rough sculptures to ornate oil paintings, every groove of artwork can be found here. Each piece is unique and beautiful but we delight in the must-sees. The haunting beauty and surreal alien eeriness of Frederic Church's The Iceberg enraptures us. And another piece that strikes our curiosity is the gilded three-framed oil work titled the Conversion of Saint Paul. If a painting ever spoke a poetic story, Benjamin West's masterpiece did.
Dallas Museum of Art: 1717 N Harwood St, Dallas, TX 75201; 11AM – 5PM (closed Mondays)
Crow Collection of Art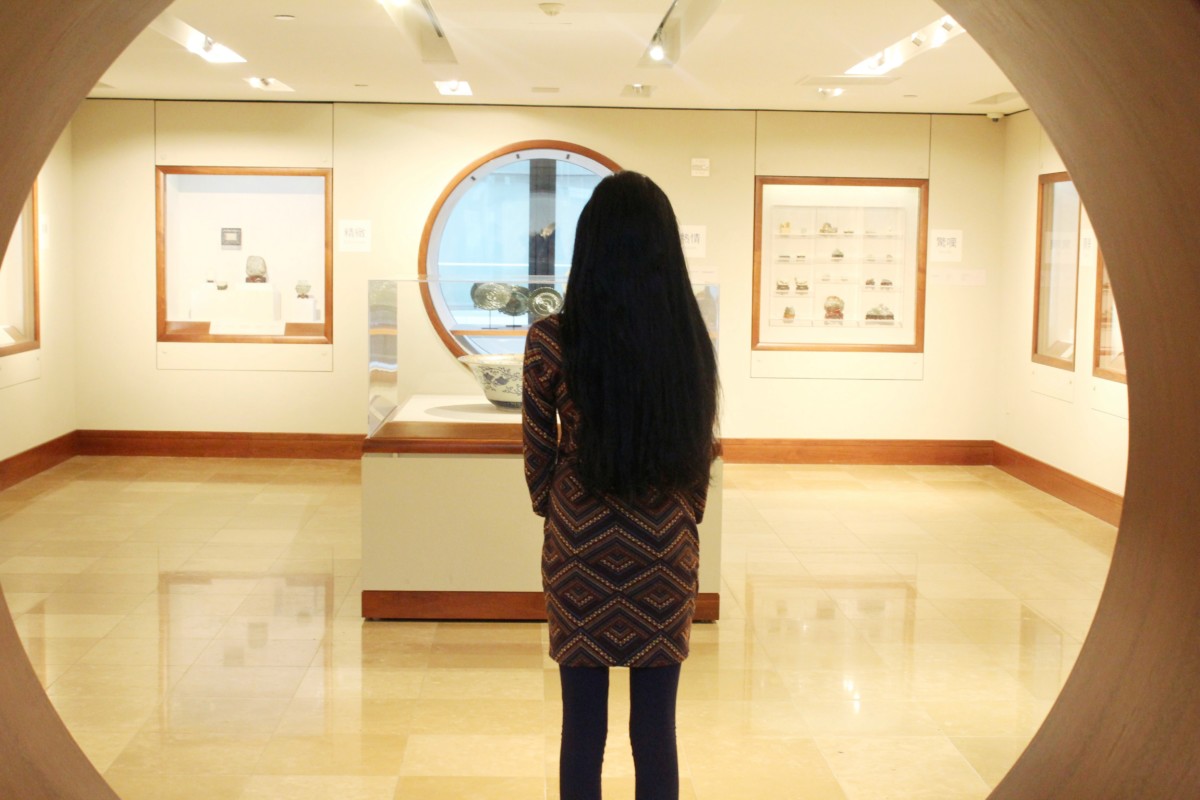 Since we aren't short on time, we will still casually amble through the Dallas Museum of Art's Asian Art Collection. But the collection bears the titles modesty and humility in comparison to the Crow Collection of Art. This gallery contains the widest array of Asian Art in an American museum we have ever seen. The first hint of the Crow Collection is a jovial-faced Chinese Statue. We climb up the stairs to find a small garden before stumbling upon the Hilton Anatole, a hotel peppered with a few Asian Art displays. This isn't the museum but rather a hidden gem with a luxury air that is the perfect teaser for the actual collection.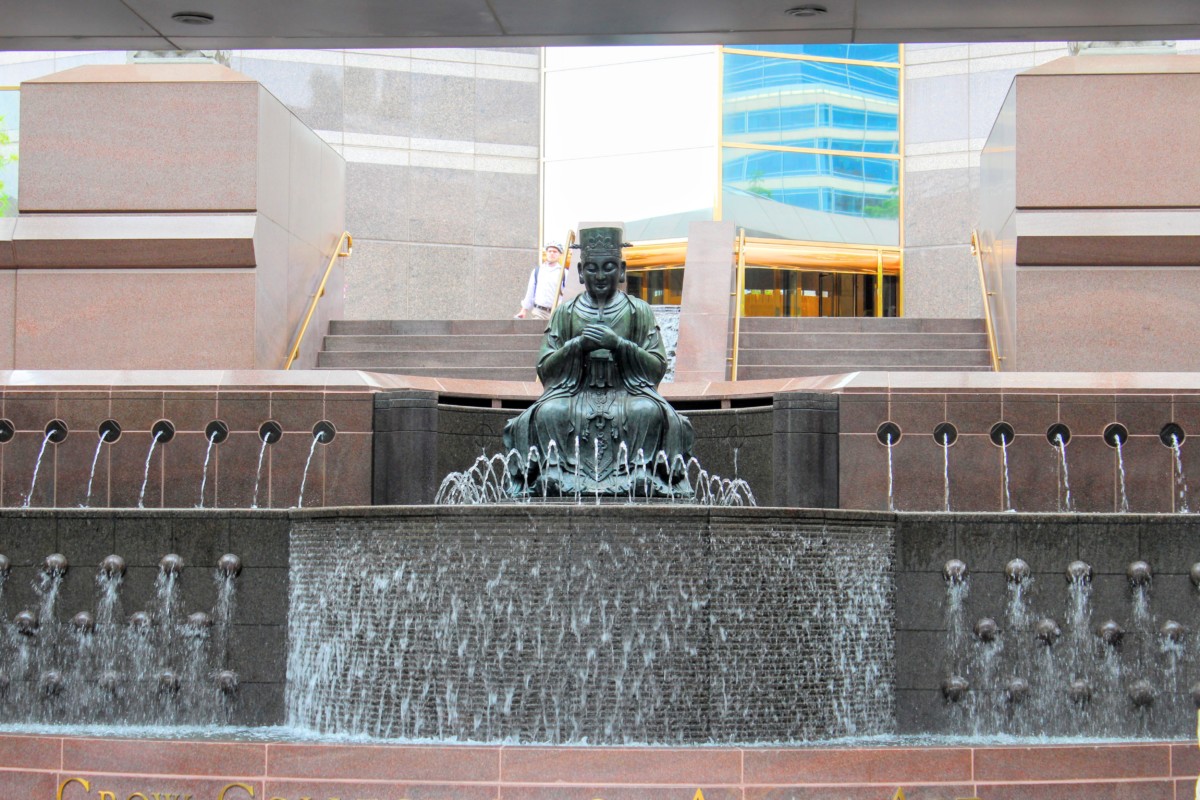 We walk back down, continuing our jaunt towards the end of the street, where a large sign sports the words Crow Collection. We enter a museum flaunting an immersive ambient Asian vibe. The collection is two and a half floors and mainly focuses on central Chinese, Japanese, and southeast Asian art. This is actually quite the private collection for a small family! Yes, all those historic gold and jade jewellery we just saw were owned by a collector and his wife. Impressive? Completely. What's more impressive? The rock crystal sphere on the second floor. We watch the heavenly round orb as it weighs down on a dais with dragon like waves protruding as support. It is so purely spherical in shape. There is not one scratch or blemish to tar the self-perpetuating geometrical symmetry. We are still stunned as we exit, but excited to see what the last stop brings.
Crow Collection of Asian Art: 2010 Flora St, Dallas, TX 75201; 10AM – 9PM Weekdays, 10AM – 6PM Fri/Sat, 12 AM – 6PM
Nasher Sculpture Garden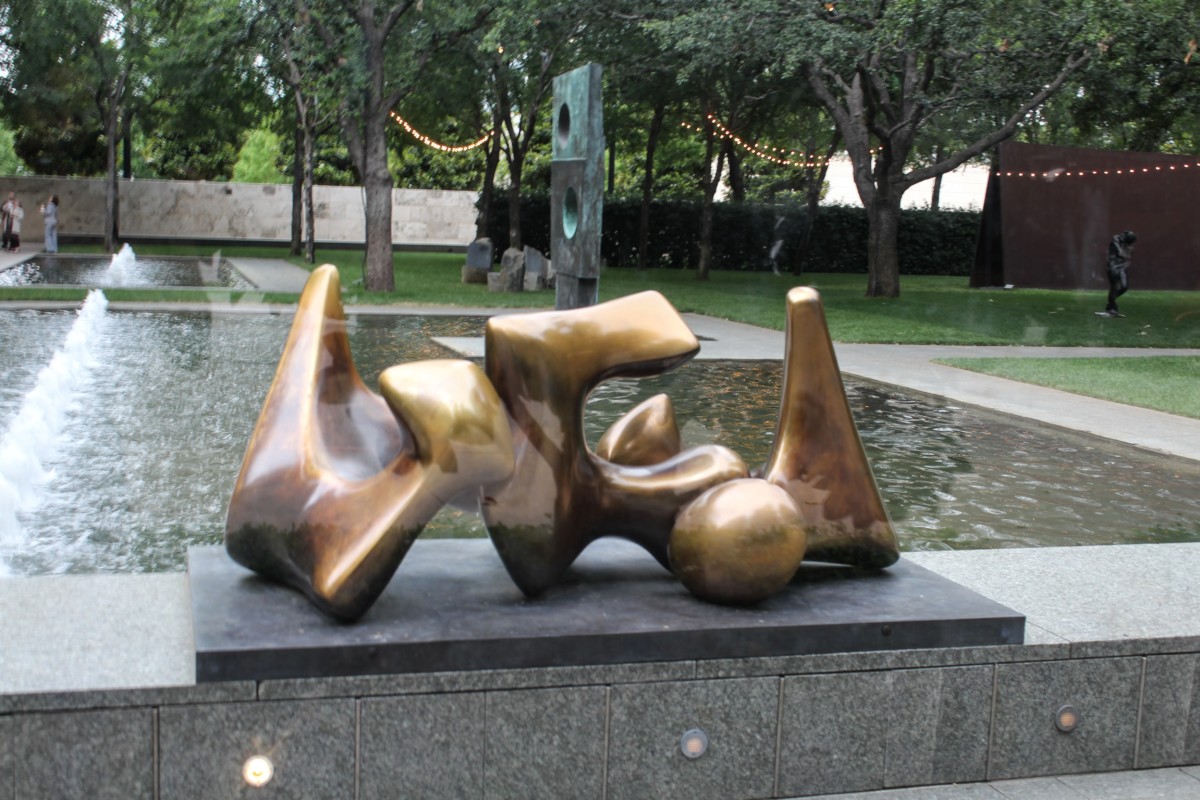 I never fully understand modern art, but I love it regardless. There is something about piecing together the puzzle that creates a sense of fun. We wander through a small garden-like plain. The art isn't obvious, at first, and appears hidden behind seating areas and thick-rooted trees. But as we amble slowly along and attempt to understand each sculpture, piece by piece, we note the mix of depth of proportions. The sun starts to set over the horizon line and the sky's pastel colours play off the metal-based works. It's almost five o'clock and the garden is about to close. But not to worry, we will have plenty more adventures tomorrow.
Nasher Sculpture Garden: 2001 Flora St, Dallas, TX 75201; 11AM – 5PM (closed Mondays)
Outfit of the Eve!
Did you enjoy this guide to the Dallas Art District? Have you ever been to the Art District? Let me know in the comments below!