You're sitting next to me, thinking about the skyline – the Dallas Skyline. You're thinking about how bright it is: how the neon colours dance off the glass. You're thinking about how tacky club greens and blues silhouette dark-roomed buildings and how the kitschy hues should make you laugh, but they are so lively, you simply stare in awe. It's mesmerizing. For a single moment, you're caught up in the scene skating by, until you notice a building within the crowd quite unlike the rest.
Dallas' Reunion Tower At Night
This building isn't blocked or rectangular. It hardly looks like a skyscraper, but it looms bigger and exudes a certain power you can't quite explain. It's lit up as well – Christmas colours right now (in a few minutes, it will be a soft white). The top is a giant orb, a large spherical mass plunked onto a thin multi cylindrical base.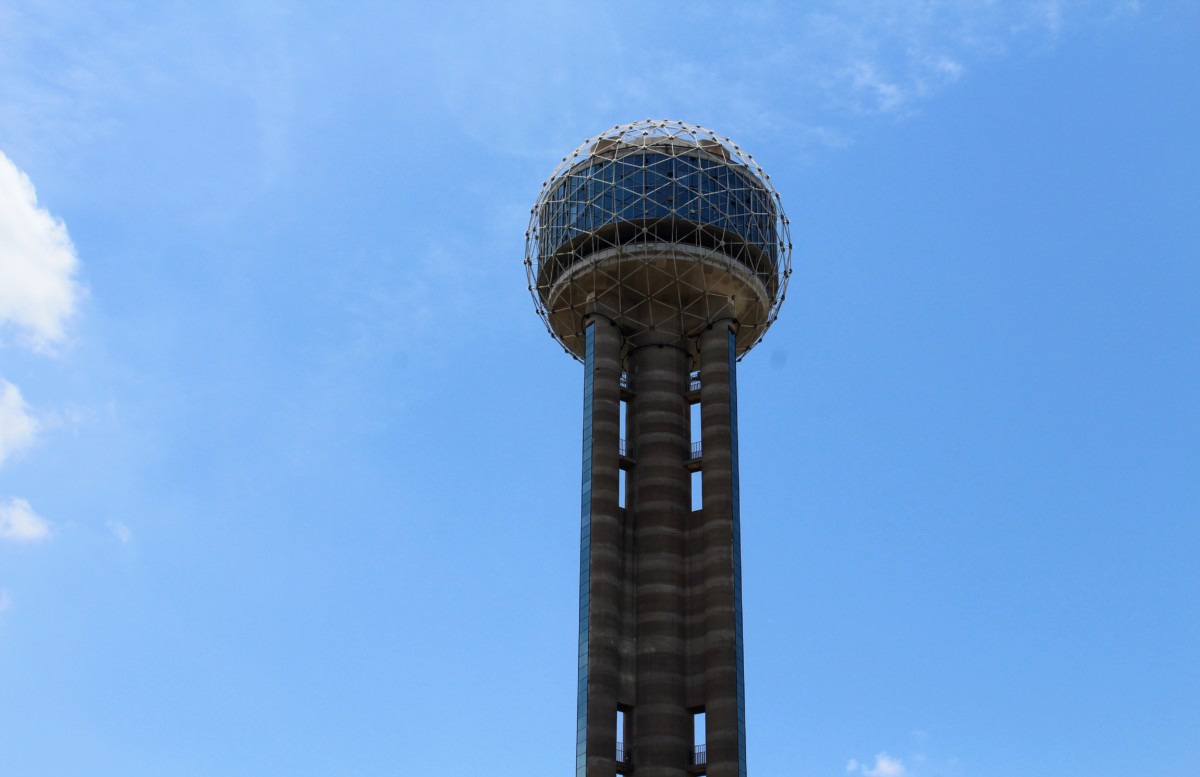 "Hey, Anshula," you ask. "What is that building over there?"
"Oh, that's the Reunion Tower," I say. I lighten my foot on the accelerator (probably shouldn't but I do it anyways) so you get a few extra seconds to witness its unique shape. "It's a Dallas landmark. You should check it out while you're in town."
"Wait, I can go inside?" you ask, intrigued.
"Of course, I'll take you there in the morning."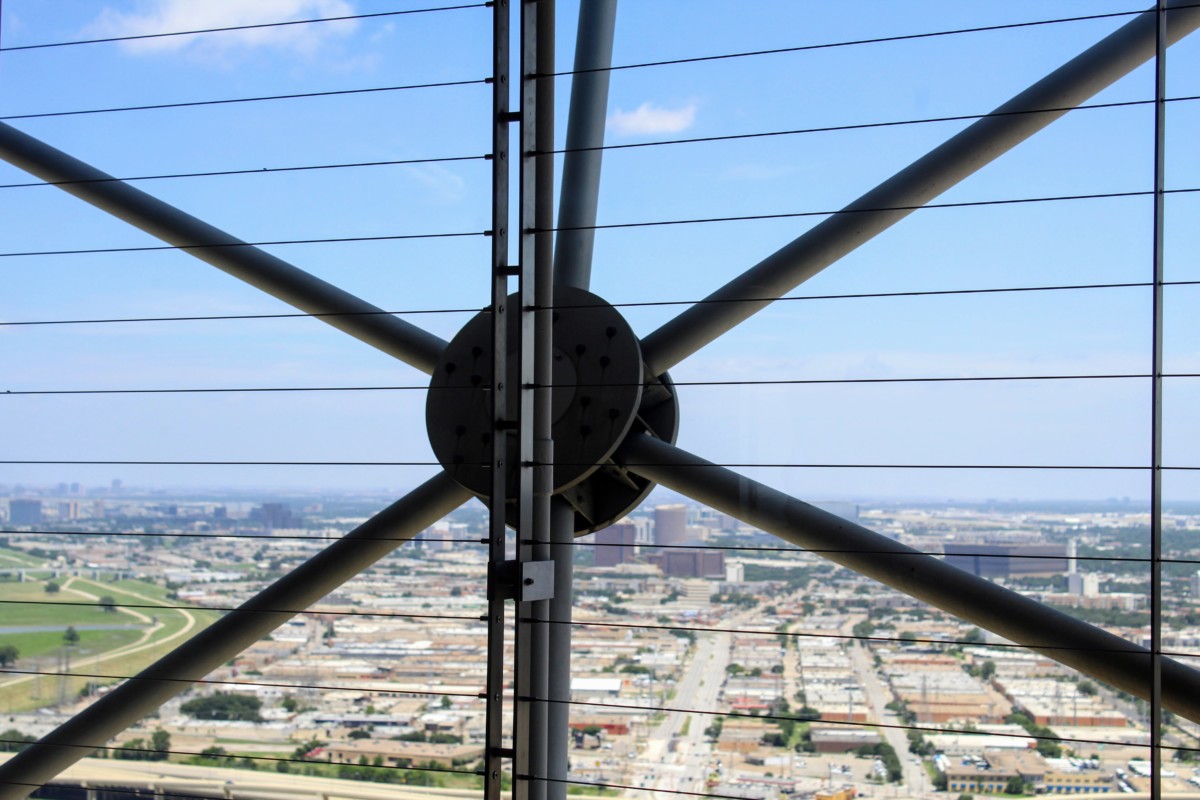 How Much Does Parking There Cost?
So in the morning, as soon as the sky is clear, I grab your hand (even though you're still a little sleepy, but then again, so am I) and take you back to the car so we can visit Reunion Tower, better known by locals as The Ball. The flat rate for Reunion Tower parking is $6 (I'm sorry but Dallas seizes every opportunity to make you pay for parking).
How Do You Get To Reunion Tower?
We enter through the Hyatt Regency Hotel, which is connected to the main tower. The hotel staff directs us to the escalators, which lead us down to the ticket area. At $16 per person, I will admit, the ticket price is quite a plunge into my poor wallet, which only brightens at the thought of free sites. We fork over the cash and continue walking in line to the elevator.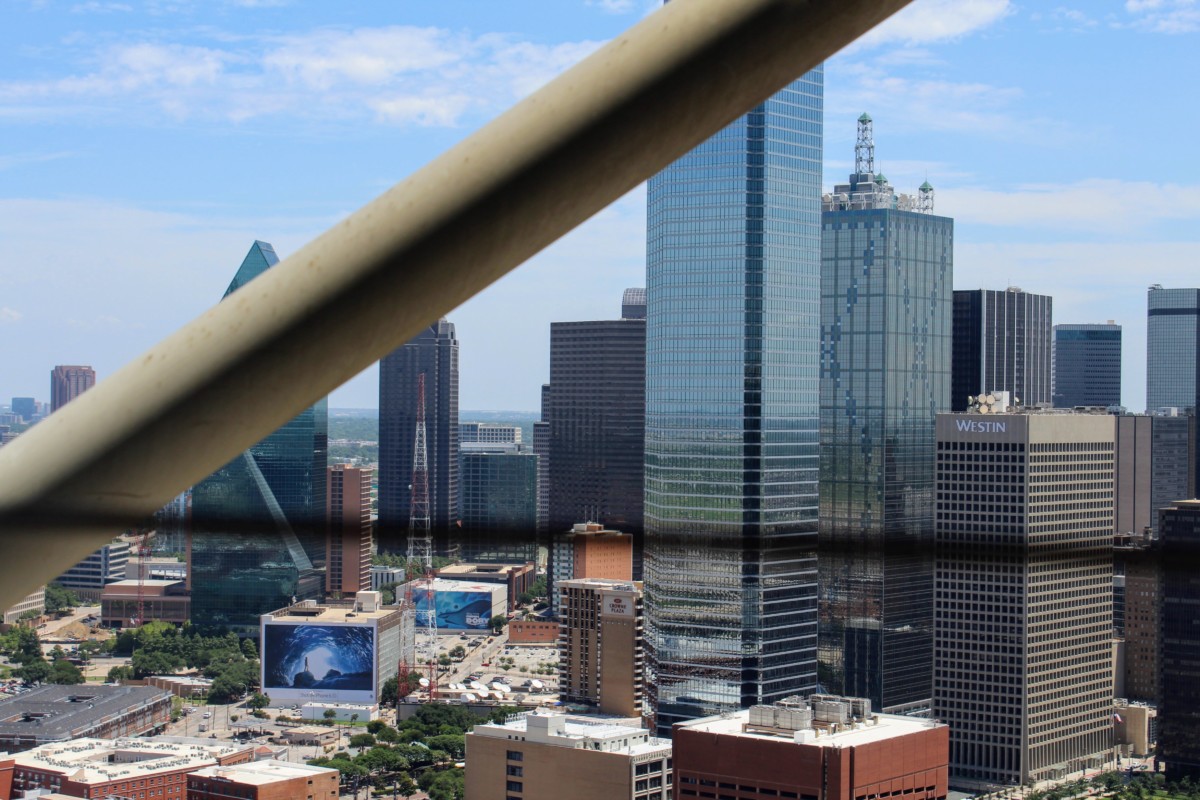 Visiting Reunion Tower
As we start to rise, the friendly elevator attendant (how fancy) begins her spiel about Reunion Tower, but her words are lost, like feathers in the wind, as we stare out the glass.  We're 50 feet high and little bit of the city has already sunk below us. 150 feet. Our ears pop. 250 feet. The city starts to appear elfin. 350 feet. I start to remember my own fear of heights. 450 feet. Fear of heights confirmed. At 470 feet, we hear the calculated ding of the elevator.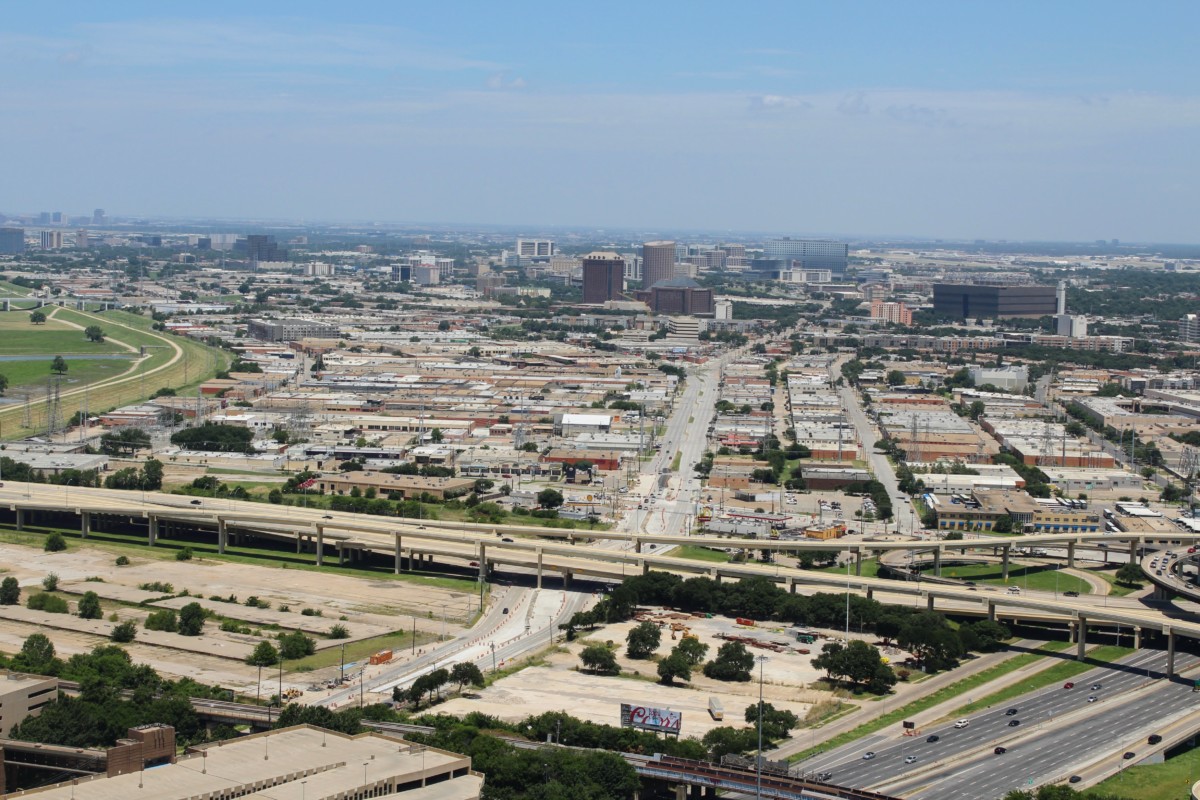 When we step outside, we first notice the carpet, a dull gray embedded with black lines that wriggle in different yet strangely familiar directions. The carpet hosts a street map of the city. How cute is that? We follow the lines to the wall, a display panel titled the "Halo", a lit decorative piece boasting abstract geometric design.
We turn around to a semi-circular region – the interior observation deck. We pat our finger against screens flaunting live shots of the city, zooming in and out of our favourite local destinations, before staggering outside to get a live view of a doll-house sized Dallas. We take a 360 degree run around the observation deck, eyeing the figures that used to tower above us.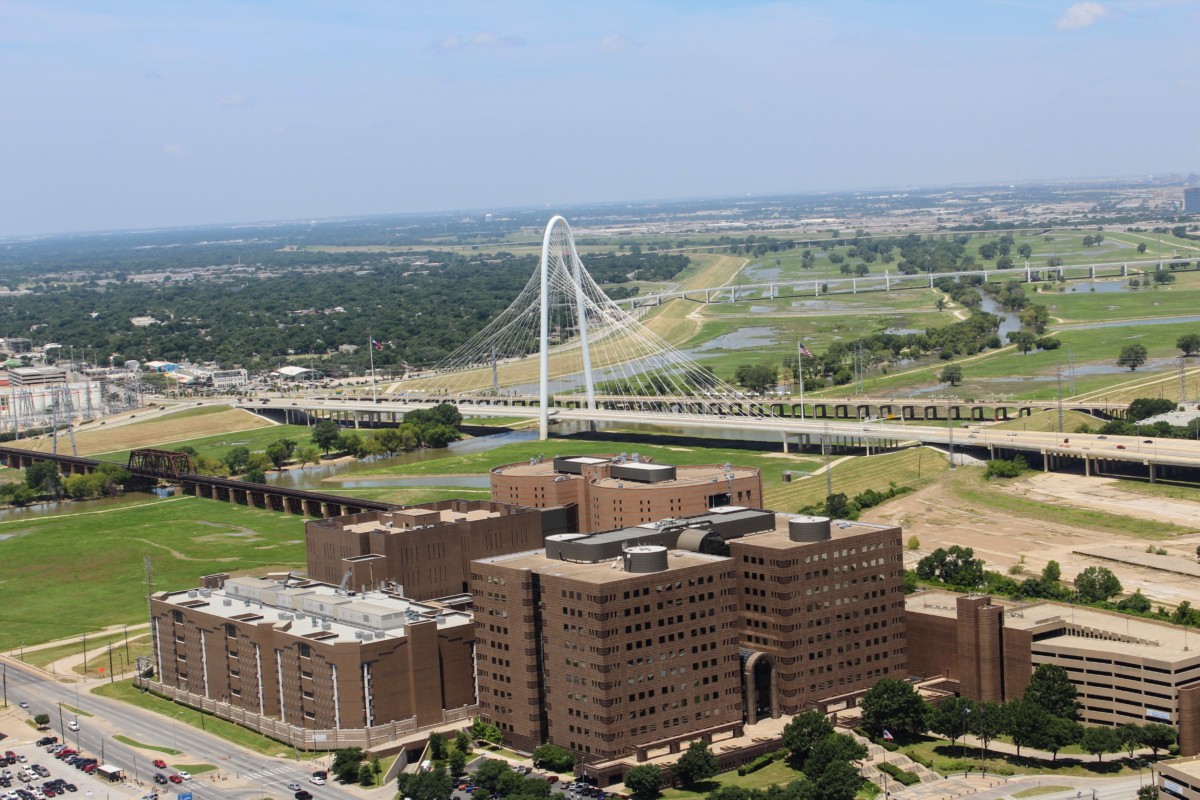 It feels exhilarating to be up so high and to look at the tiny palm-sized structures. Oh, there's Dealey Plaza! And Margaret Hunt Bridge! Is that the Perot Museum?
We press our eyes against the glass of the telescope to check. Yes, that's the Perot and right over there is a cafe where we can even see lilliputian people eating cupcakes (or what look like cupcakes).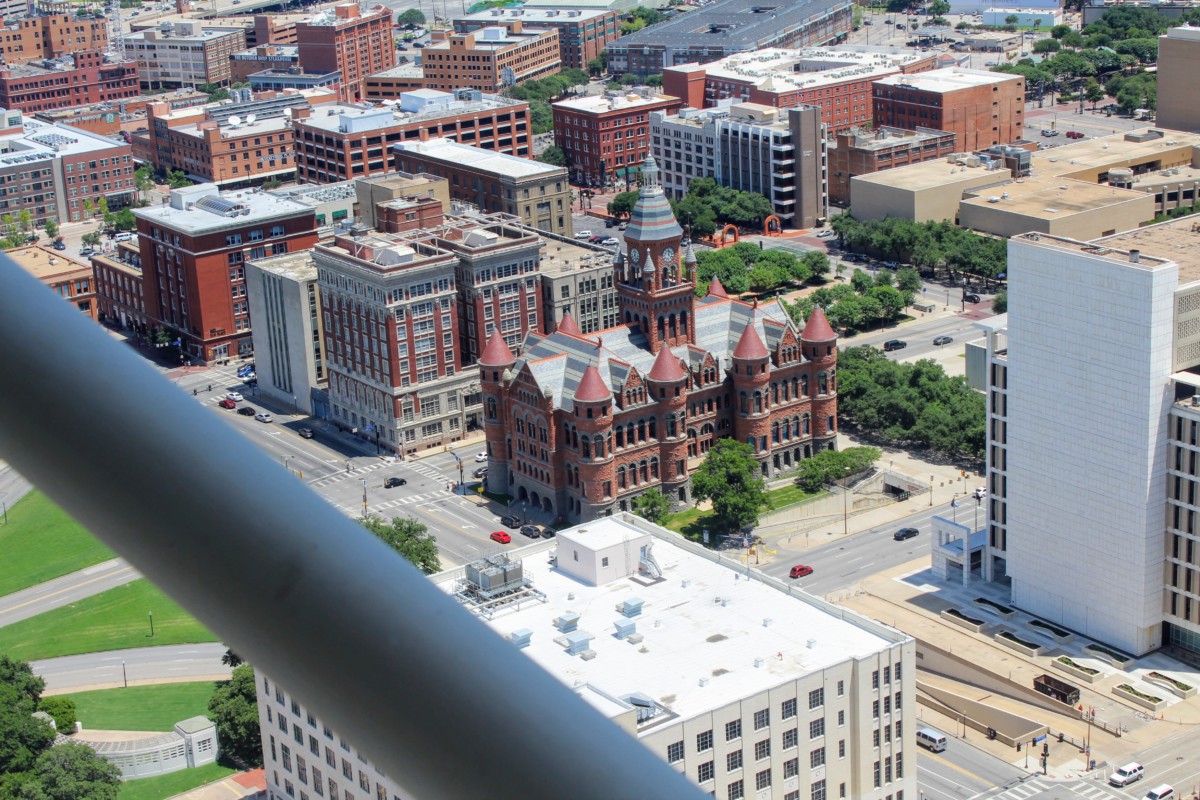 Which reminds me, I must take you to Cloud 9 Cafe, just a floor away from the Geo-Deck. We get in line for the Cloud 9 Signature Chocolate Tower Dessert (a miniature edible replica of the Reunion Tower).
We sit by the window and watch the scene slowly turn past us. The rotating floor makes one complete revolution every hour, so we have plenty of time to enjoy the tranquil yet hip ambiance. We  bite into the cake ball, representing the geodesic sphere, and the chocolate pillars. It's indulgent but the sweetness is slightly cut by fresh raspberries. If you are still feeling hungry after dessert, we can order some more items or we can eat at Five-Sixty (fortunately, I've made reservations a month in advance), Wolfgang Puck's rotating fine-dining restaurant featuring modern Asian-interpreted cuisine.
But after spending the morning at Reunion Tower, I'm suddenly feeling very inspired to not only revisit my favourite places in Dallas but also discover new ones. So I am going to head out and explore the city some more. Would you like to join me?
Address: 300 Reunion Blvd E, Dallas, TX 75207, 10:30 AM – 9PM, Cloud 9 Hours: 11AM-4PM
Did you enjoy this guide to the Reunion Tower? Let me know in the comments below! As always, I would love to hear from you!
Disclaimer: The Dallas Tourism Board kindly sent me a free city pass. No review or guide was expected in exchange, but I wanted to take you on a tour of the Reunion Tower! Some links in this article are sponsored, but as you can tell, all thoughts and opinions are very much my own.