"Llamas don't like me."
"Of course, they like you. Don't be silly," you say, pulling out your phone. You wave your hand, calling me over for a picture.
Three. Two. One. Snap.
As if on cue, the black and white speckled llama turns its head slightly in my direction. Then snorts and continues chewing on the hay gripped beneath its oversized teeth.
"See, llamas don't like me," I say, pointing my finger towards its hairy tail. The llama, tall and lazy-eyed, ignores my gestures and continues grazing. "Pity. I'm quite fond of them."
We're in Hall's Pumpkin Farm And Corn Maze, a low-lit, cozy pumpkin patch near historic Grapevine, Texas. Complete with hay rides, a small zoo, cottage country style goods, and lots of pumpkins, Hall's Pumpkin Farm is Instagrammable, Southern, and autumn-friendly.
Know Before You Go
Hall's Pumpkin Farm is a popular Tarrant County local attraction. So when we arrive, friends and family from all over DFW have already spilled in.
While there are other pumpkin patches in the area, Hall's is a little more Instagrammable. Each straw man, bale of hay, and mesh wooden door is surrounded by a small plot of pumpkins. The result? Dozens of secluded spots where we can snap people-free pictures.
Within seconds of arriving, we notice:
A trio of college age girls dressed in matching maroon dresses and over-the-knee boots
Babies in overalls (too cute for words)
A toddler with a yellow polkadot bow clipped to her hair (also, too cute for words)
A grandma and grandpa, sitting on a wooden bench, holding hands (#relationshipgoals)
The demographic at Hall's spans such a wide range of ages and nationalities, for a moment, I forget I'm not at a Thanksgiving party.
I guess, Thanksgiving comes early at Hall's Pumpkin Farm.
Travel Tip: Hall's Pumpkin Farm is FREE to visit (on-site parking is also FREE).
Things To Do At Hall's Pumpkin Farm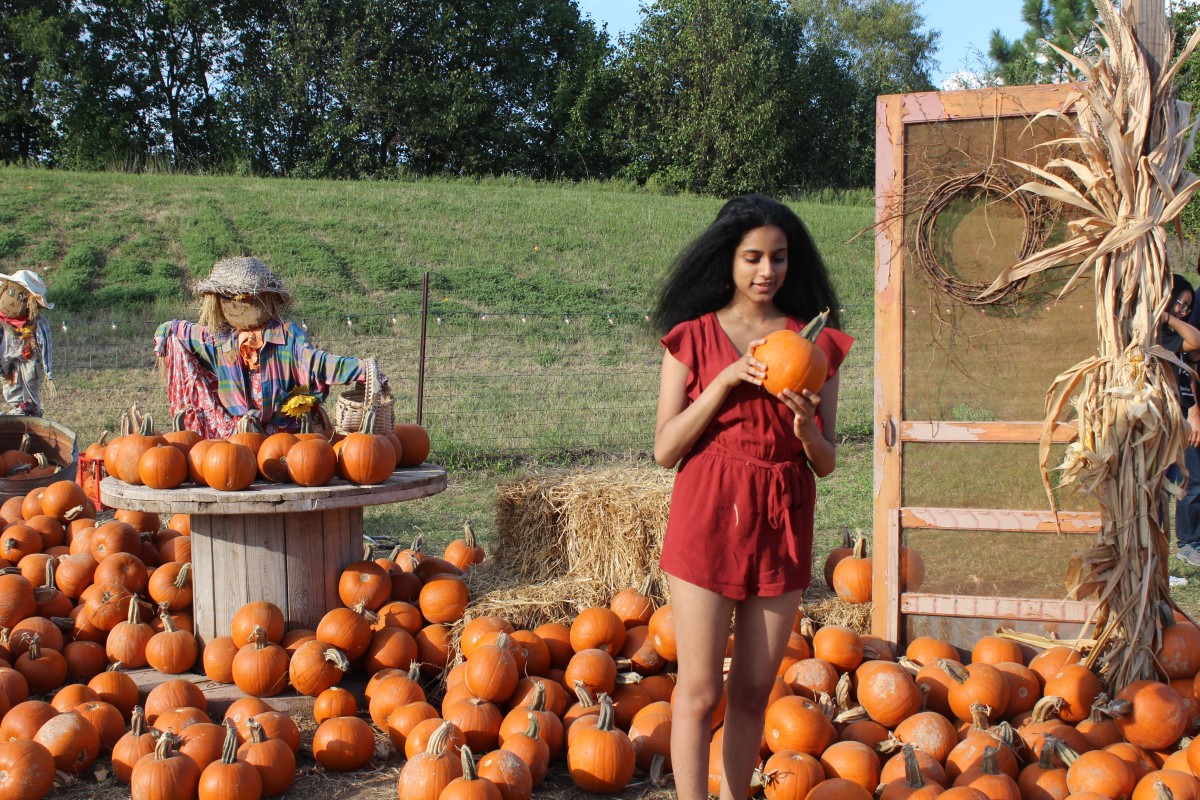 Buy A Pumpkin
Oh, my gourd. I didn't even know there were this many kinds of pumpkins.
As we wander through the farm, we see:
Perfectly spherical pumpkins, just the right shade of orange for carving jack o' lanterns.
Small white decorative pumpkins fit for a fireplace
Fairytale pumpkins waiting to be mashed and blended into a fall meal
You'll never feel the options are limited because there's an army of jacked pumpkins available for purchase.
#SquashGoals
Okay, I'll stop with the pun-kin patch jokes now. Just kidding!
Visit The Corn Maze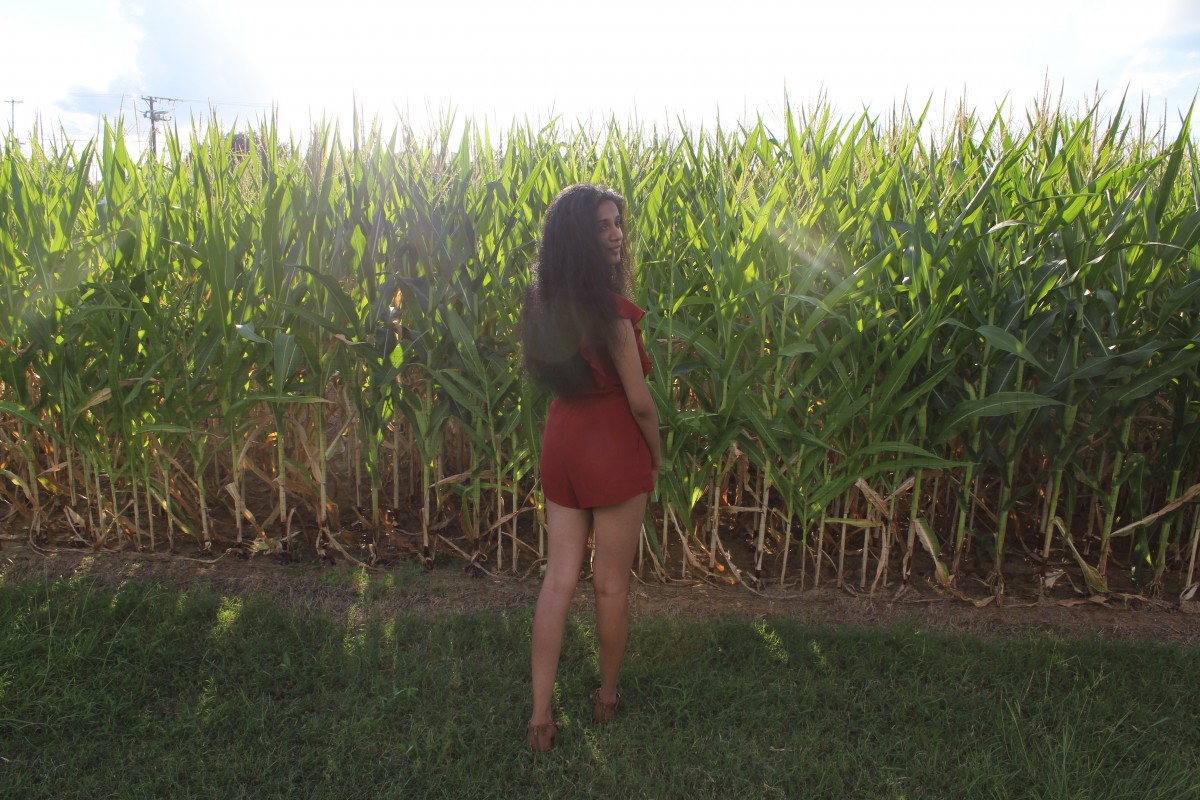 At some point during my vegan phase, I broke down and became completely corniverous.
I ate cornmeal, cornbread, corn salsa, corn topped potatoes, and every possible corn dish you can imagine. And by the end of my no-meat craze, I still had no control over my corn addiction.
Okay, that's the last pun, I promise. I just had to get all those terrible jokes out of my system.
But in all seriousness, the corn maze is one of the first attractions we pass by. At $5 in cash per person, the maze is a tourist trap but oh-so fun (for both kids and adults).
Drink Lots Of Apple Cider
If you excuse me, I'll get us two hot cups of old fashioned apple cider. Drinks are on me today.
Travel Tip: All food and attractions within Hall's Pumpkin Farm are cash-only. Apple Cider is two dollars.
Stroll Through The Shops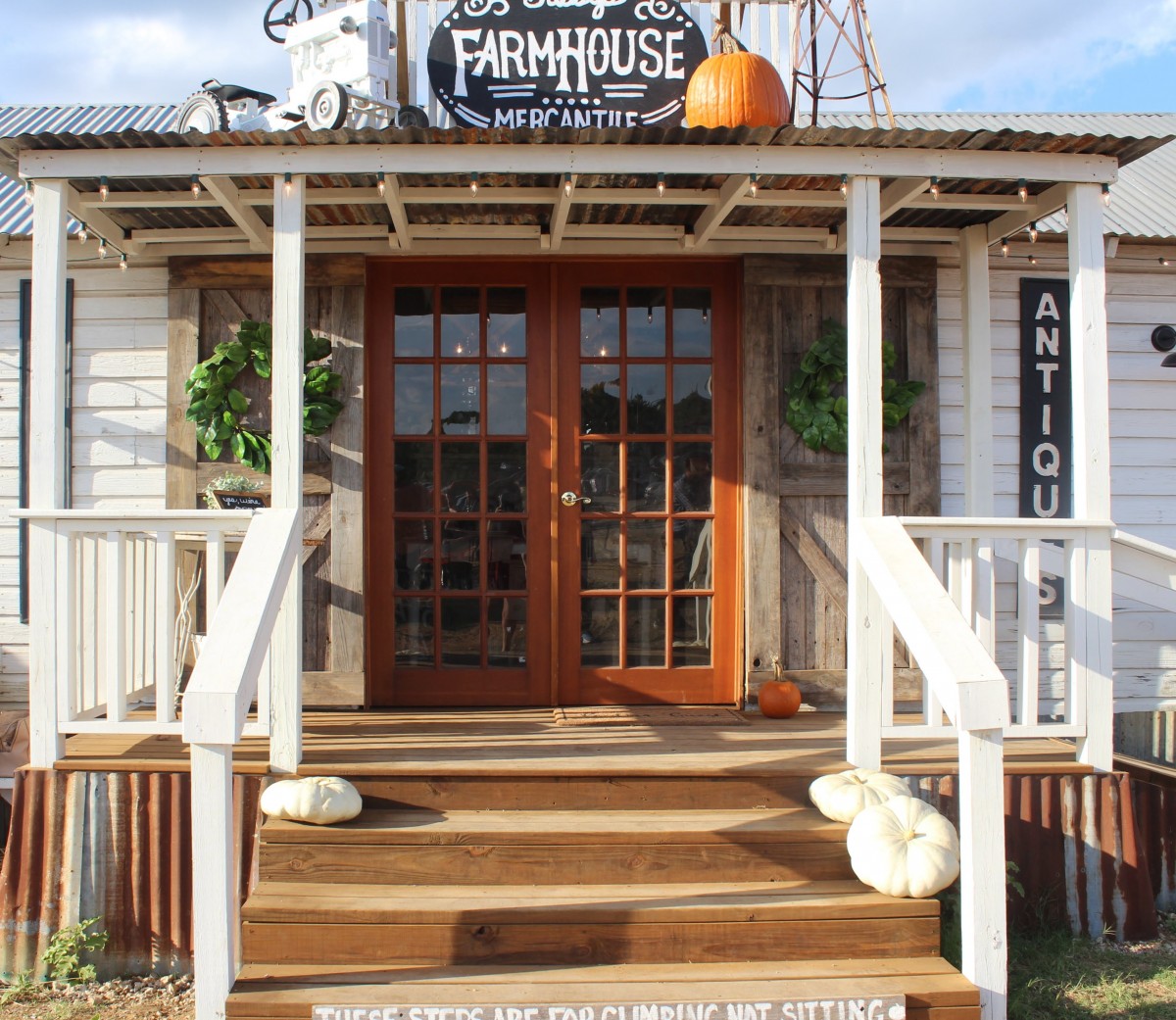 As we sip on our drinks, we decide to visit Sassy's Farmhouse Mercantile, a one-room antique and vintage decor stop.
Decorative plates. Christian merchandise. A waft of spice and mildew. The small, rustic, wooden building hosts all the classic southern fall-feels.
See The Petting Zoo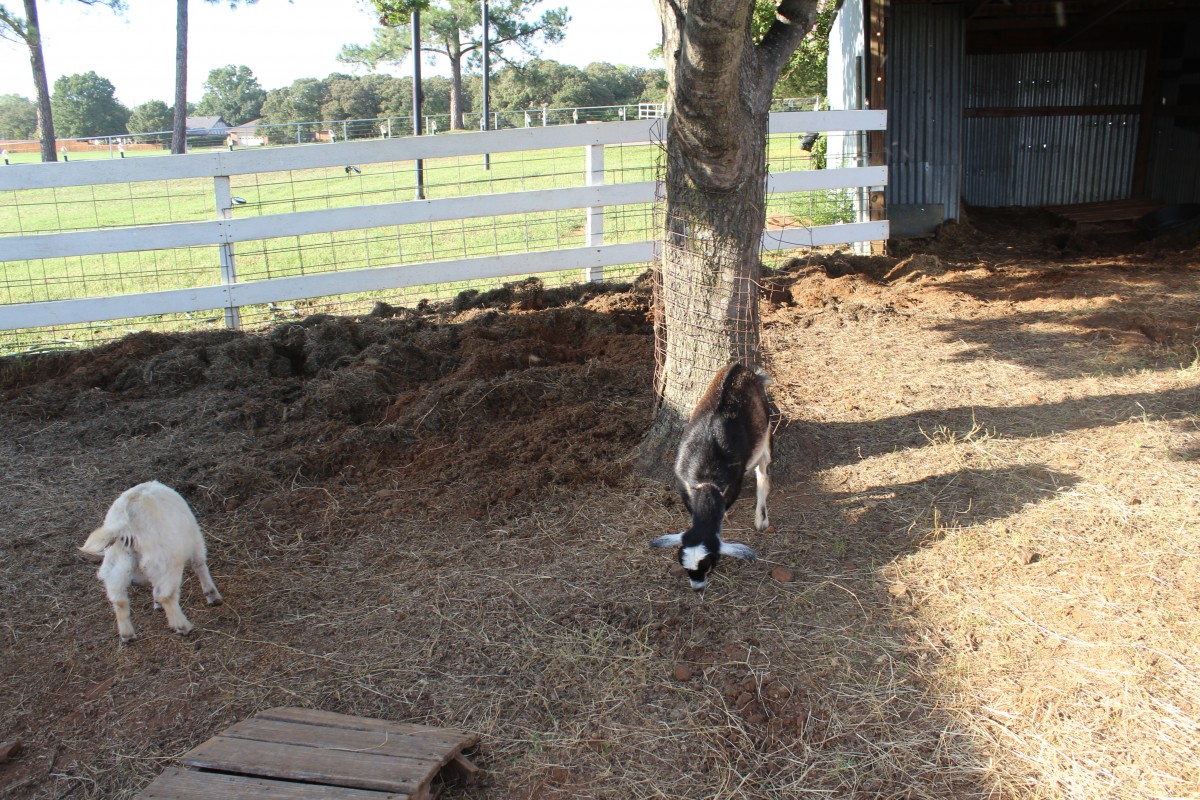 Hall's Pumpkin Farm is part unofficial petting zoo. More of a lightly fenced area where you can openly interact with the animals, the zoo is home to a donkey, chickens, goat, and llama.
The llama stares straight ahead. Calm. Meditative. As the donkey jumps around, the llama sits still, completely ignoring me.
"Llamas don't like me," I say.
"Of course, they like you. Don't be silly," you say, pulling out your phone. You wave your hand, calling me over for a picture.
Three. Two. One. Snap.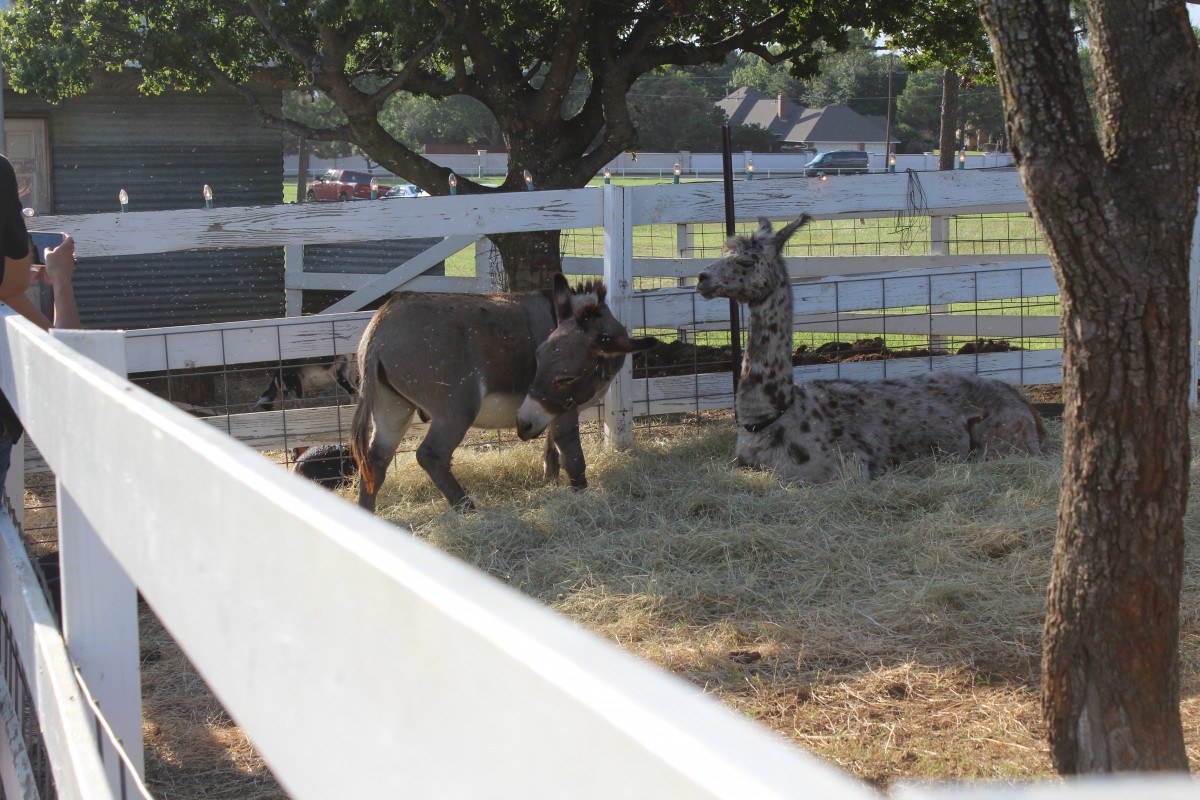 A polaroid shot slips out of the camera. It's a selfie (of sorts). You. Me. And a llama chewing in the background.
"I guess that's it for pictures," you say. "Should we leave?"
It's been an hour. We've woven through the attractions and circuited the farm twice. But there's something egging me to stay a little longer.
I want to us to see the sun sink between the flat land and watch the fairytale lights wrapping the area illuminate a pitch black sky. We'll have a magical, Cinderella moment, amongst the pumpkins and animals.
And then, I'll take one more picture of us. "Is that okay?" I ask. "Just one more hour."
No prob-llama.
Address: 3420 Hall – Johnson Rd, Grapevine, TX 76051
Timings: Monday-Thursday 3PM-8PM, Friday 3PM-10PM, Saturday 10AM-10PM, Sunday 1PM-8PM
Dates: October – November 4th
Did you enjoy this post on Hall's Pumpkin Farm? Have you ever been to Hall's Pumpkin Farm? Let me know in the comments below!