motivational hiking quotes
The city is sprawled below me. Little lights from mountain homes twinkle like stars under the moonlight. I had forgotten this feeling – this feeling of going up, up, up while my world seemed to be spiraling down. I'd forgotten how hiking roots me.
One more step. One more step. As I move deeper into the trail, my thoughts simplify. My breaths deepen. And I realize, this strange twist of being so small and so big at the same time can only happen here.
Hiking is the only form of exercise (alongside rowing) that I love deeply, and these hiking quotes are reasons why. These hiking quotes are about moving forward and pressing on. And in truly cliche words, they're about the journey, not the destination.
P.S. Most of these quotes are from my favorite books about hiking (so you'll find a lot of quotes about hiking from Wild by Cheryl Strayed and an equally disproportionate number of hiking quotes from A Walk In The Woods by Bill Bryson).
Disclosure: Heads up, this post contains some affiliate links, which means I may get a commission if you make a purchase. Don't feel pressured to buy anything. I still love that you're here, reading my content (side note: I'd probably suggest getting a coffee or tea first though because my blog posts tend to be long). To find out more, you can read our full affiliate disclosure right here.
40 Hiking Quotes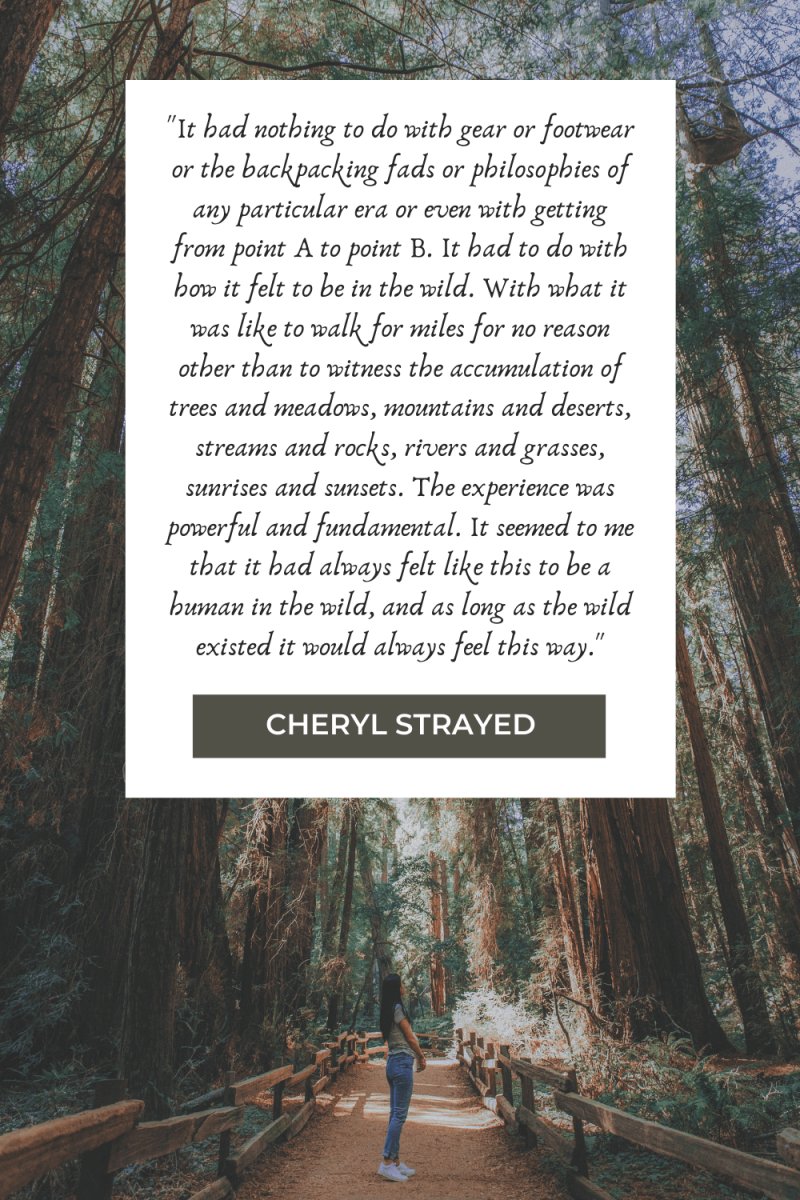 "I gained a profound respect for the wilderness and nature and the benign dark power of woods. I understand now, in a way I never did before, the colossal scale of the world. I found patience and fortitude that I didn't know I had. I discovered an America that millions of people scarcely know exists. I made a friend. I came home." – Bill Bryson
"It had nothing to do with gear or footwear or the backpacking fads or philosophies of any particular era or even with getting from point A to point B. It had to do with how it felt to be in the wild. With what it was like to walk for miles for no reason other than to witness the accumulation of trees and meadows, mountains and deserts, streams and rocks, rivers and grasses, sunrises and sunsets. The experience was powerful and fundamental. It seemed to me that it had always felt like this to be a human in the wild, and as long as the wild existed it would always feel this way." – Cheryl Strayed
"Real freedom lies in wildness, not in civilization." – Charles Lindbergh
"The trail was designed to have no end, a wild place on which to be comfortably lost for as long as one desired." – Ben Montgomery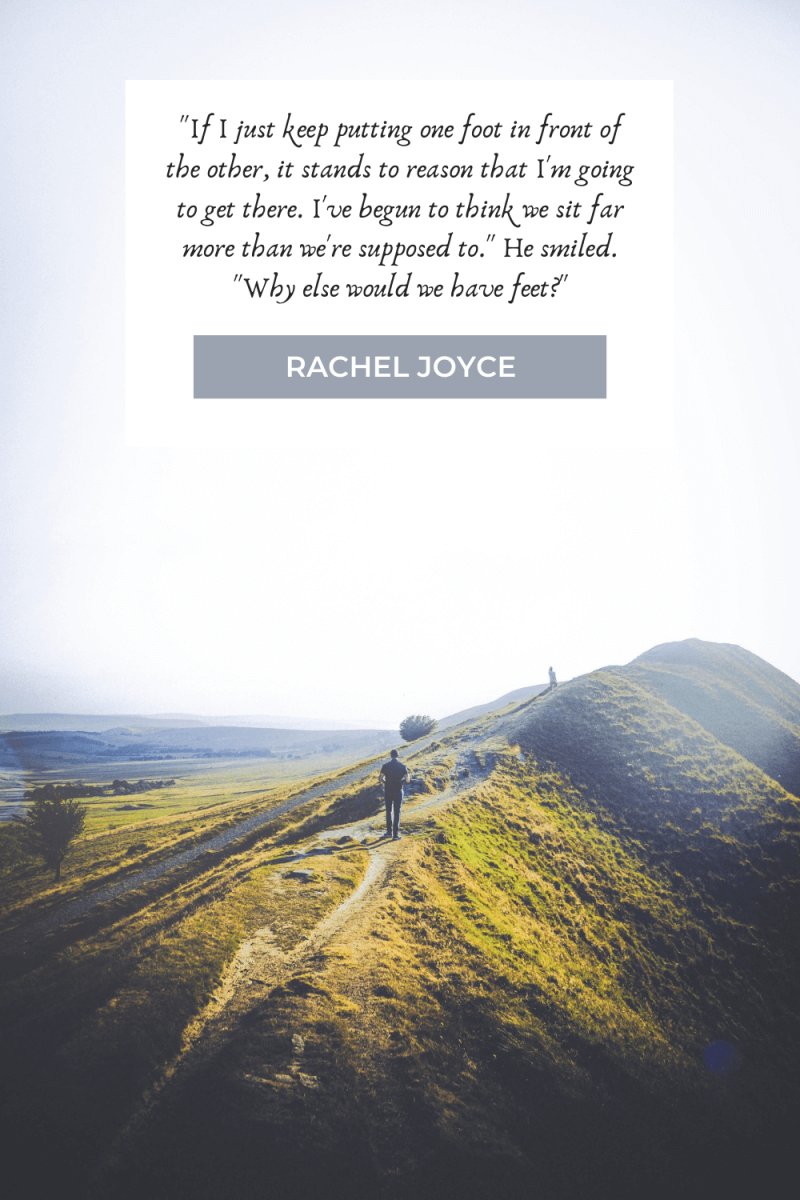 "The forest is a quiet place and nature is beautiful. I don't want to sit and rock. I want to do something." – Ben Montgomery
"If I just keep putting one foot in front of the other, it stands to reason that I'm going to get there. I've begun to think we sit far more than we're supposed to." He smiled. "Why else would we have feet?" – Rachel Joyce (from The Unlikely Pilgrimage Of Harold Fry)
"A man on foot, on horseback or on a bicycle will see more, feel more, enjoy more in one mile than the motorized tourists can in a hundred miles." – Edward Abbey
"The trail is the thing, not the end of the trail. Travel too fast, and you miss all you are traveling for." – Louis L'Amour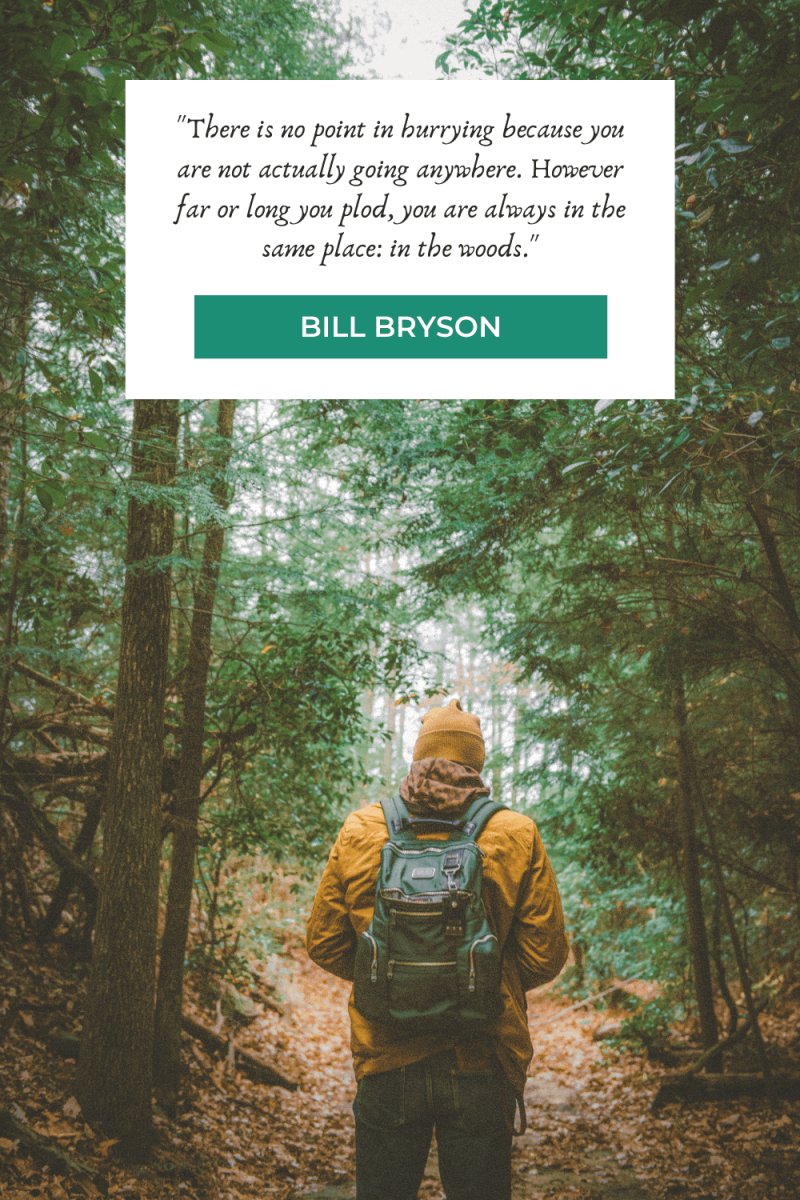 "Complete freedom is not what a trail offers. Quite the opposite; a trail is a tactful reduction of options." – Robert Moor
"You exist in a kind of mobile Zen mode, your brain like a balloon tethered with string, accompanying but not actually part of the body below. Walking for hours and miles becomes as automatic, as unremarkable, as breathing." – Bill Bryson
"There is no point in hurrying because you are not actually going anywhere. However far or long you plod, you are always in the same place: in the woods." – Bill Bryson
"Two roads diverged in a wood, and I—I took the one less traveled by, and that has made all the difference." – Robert Frost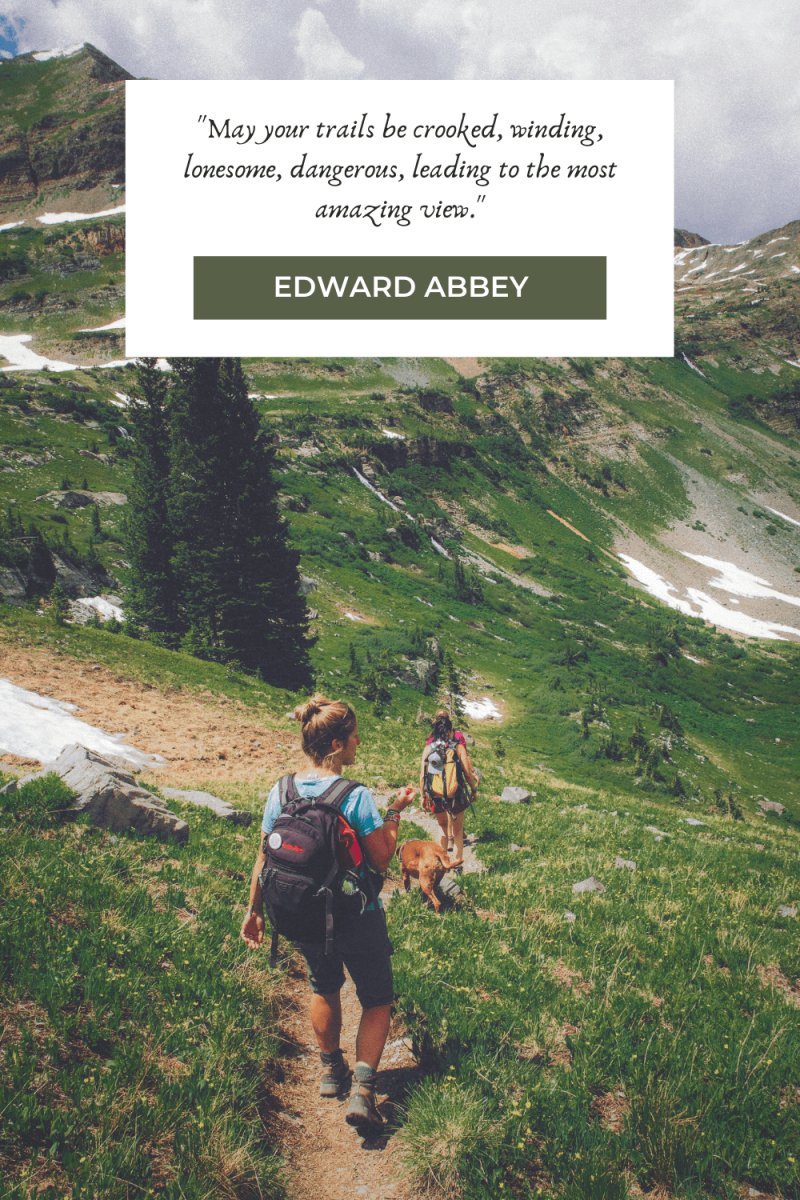 "Of all the paths you take in life, make sure a few of them are dirt." – John Muir
"Some beautiful paths can't be discovered without getting lost." – Erol Ozan
"Some of the best memories are made in hiking shoes." – Unknown
"May your trails be crooked, winding, lonesome, dangerous, leading to the most amazing view." – Edward Abbey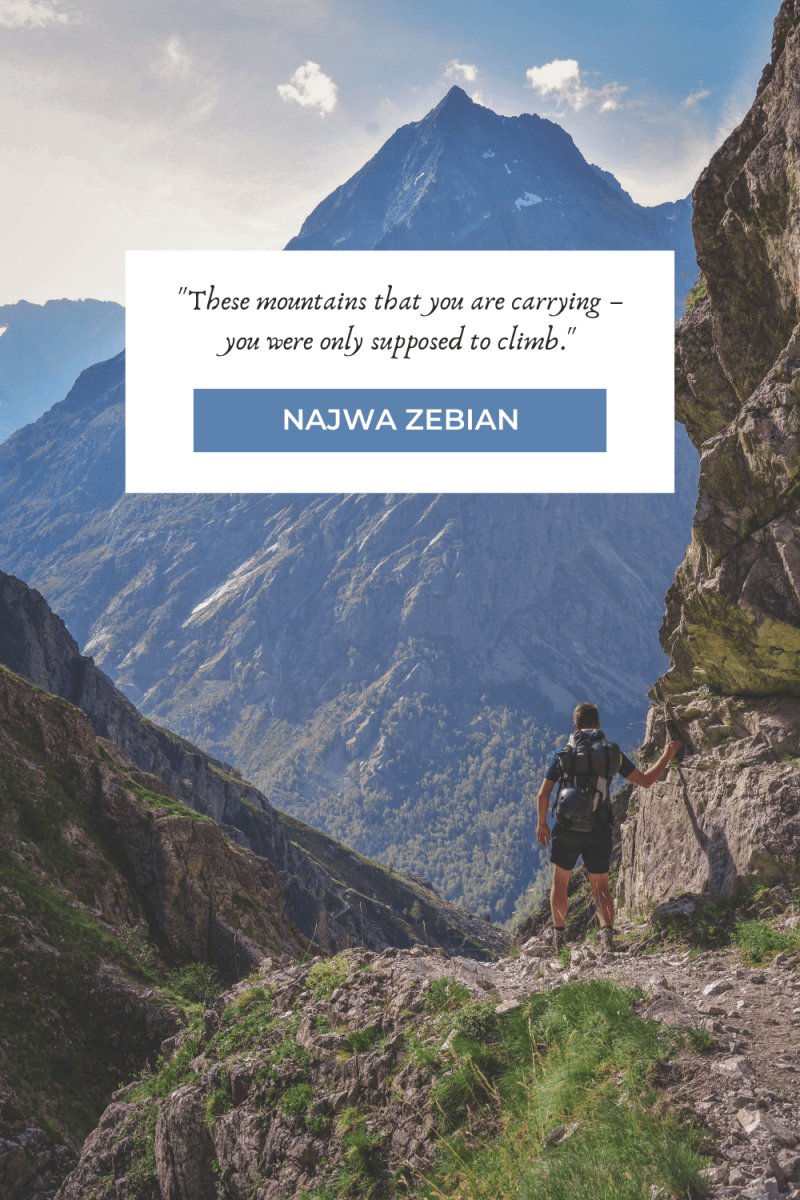 "Late in August the lure of the mountains becomes irresistible. Seared by the everlasting sunfire, I want to see running water again, embrace a pine tree, cut my initials in the bark of an aspen, get bit by a mosquito, see a mountain bluebird, find a big blue columbine, get lost in the firs, hike above timberline, sunbathe on snow and eat some ice, climb the rocks and stand in the wind at the top of the world" – Edward Abbey
"The mountains whisper for me to wander; my soul hikes to the call." – Angie Weiland-Crosby
"It is not the mountain we conquer but ourselves." – Edmund Hillary
"These mountains that you are carrying –you were only supposed to climb." – Najwa Zebian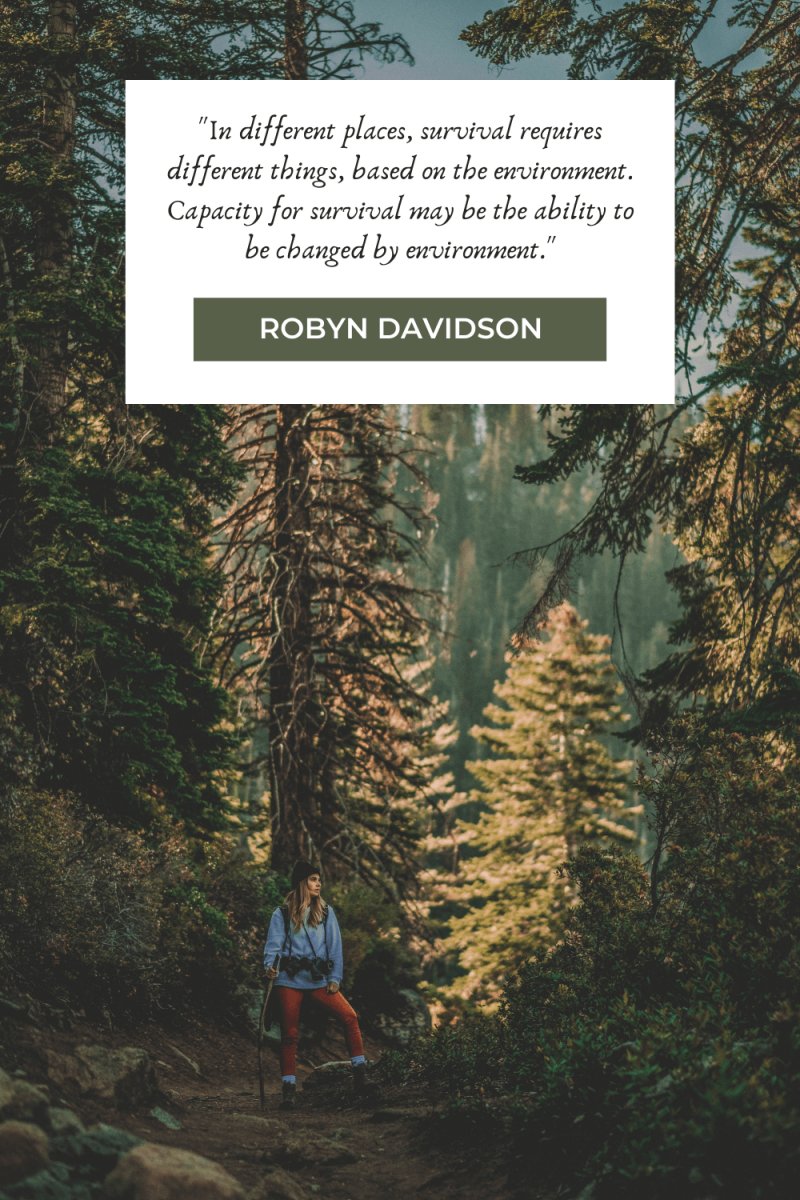 "If we watch the trail and listen to the trees; Squirrels chatter in ancient languages, A moon can rise from behind a flower, You will capture the wind with your hair, The sun with your eyes, And balance your burden." – J.W. Rivers
"Woods are not like other spaces. To begin with, they are cubic. Their trees surround you, loom over you, press in from all sides. Woods choke off views & leave you muddled & without bearings. They make you feel small & confused & vulnerable, like a small child lost in a crowd of strange legs." – Bill Bryson
"We are born to wander through a chaos field. And yet we do not become hopelessly lost, because each walker who comes before us leaves behind a trace for us to follow." – Robert Moor
"In different places, survival requires different things, based on the environment. Capacity for survival may be the ability to be changed by environment." – Robyn Davidson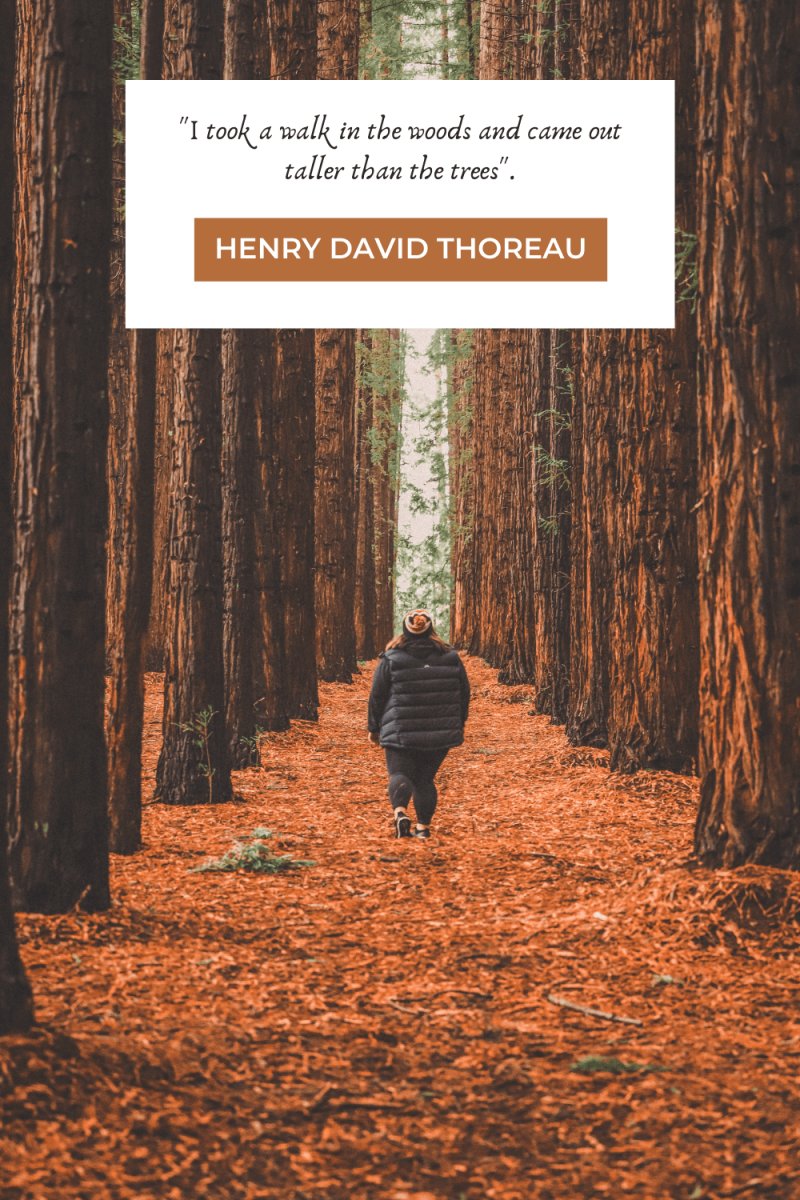 "Distance changes utterly when you take the world on foot. A mile becomes a long way, two miles literally considerable, ten miles whopping, fifty miles at the very limits of conception. The world, you realize, is enormous in a way that only you and a small community of fellow hikers know. Planetary scale is your little secret." – Bill Bryson
"After a day's walk everything has twice its usual value." – G. M. Trevelyan
"In every walk with nature one receives far more than he seeks." – John Muir
"I took a walk in the woods and came out taller than the trees". – Henry David Thoreau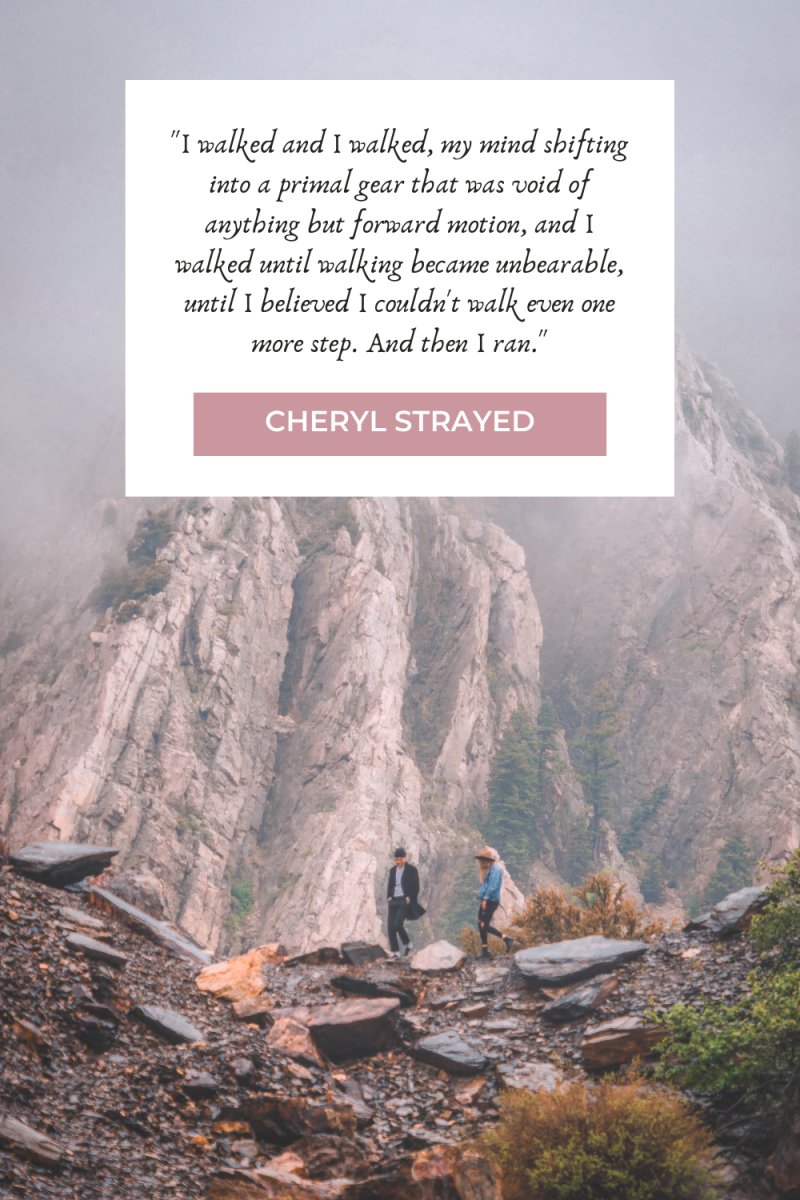 "I walked and I walked, my mind shifting into a primal gear that was void of anything but forward motion, and I walked until walking became unbearable, until I believed I couldn't walk even one more step. And then I ran." – Cheryl Strayed

"And into the forest I go, to lose my mind and find my soul." – John Muir

"It's all still there in my heart and soul. The walk, the hills, the sky, the solitary pain and pleasure—they will grow larger, sweeter, lovelier in the days to come, like a treasure found and then, voluntarily, surrendered. Returned to the mountains with my blessing. It leaves a golden glowing on the mind." – Edward Abbey
"I go to nature to be soothed and healed, and to have my senses put in order." – John Burroughs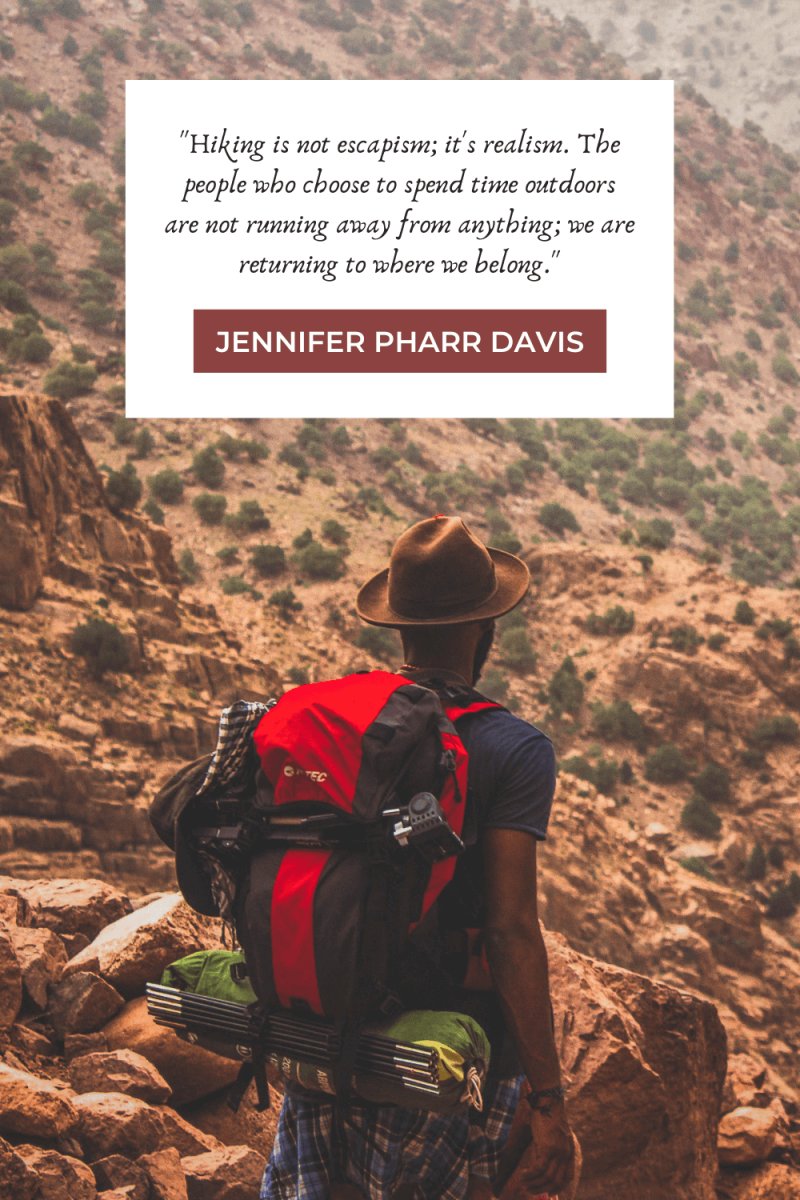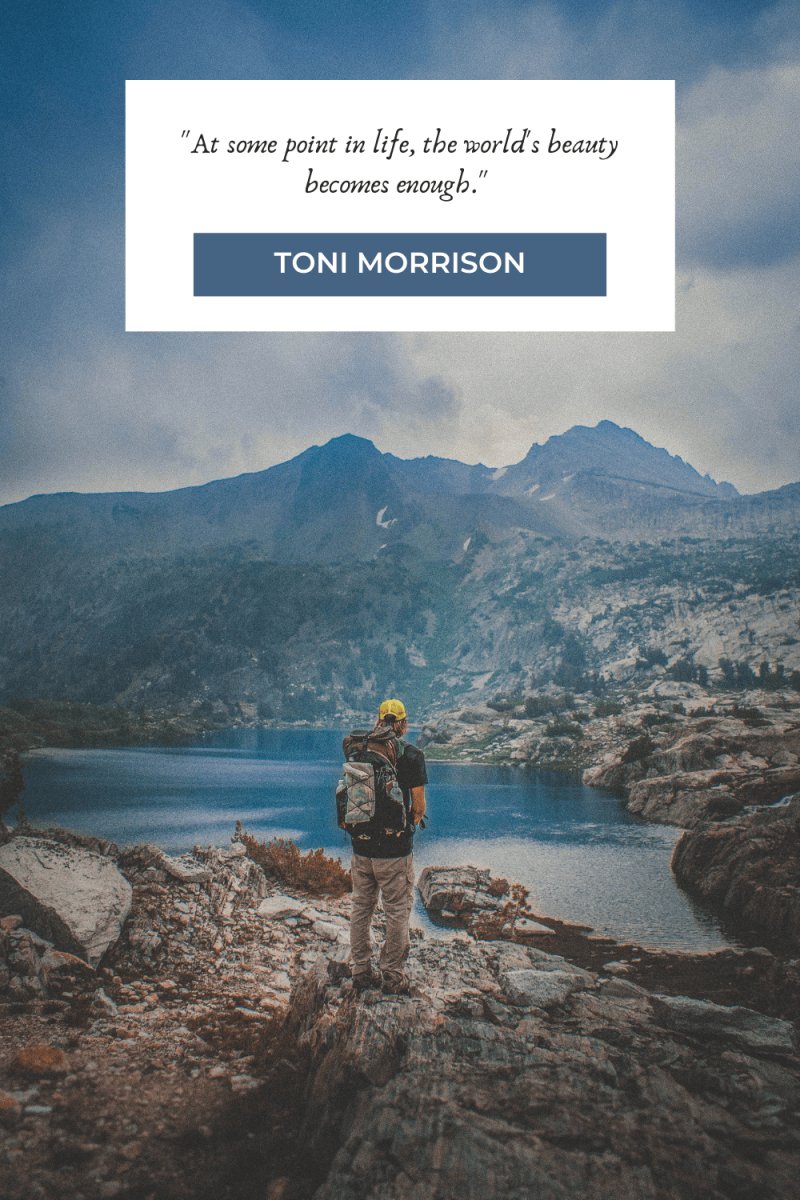 "The best remedy for those who are afraid, lonely or unhappy is to go outside, somewhere where they can be quiet, alone with the heavens, nature and God. Because only then does one feel that all is as it should be and that God wishes to see people happy, amidst the simple beauty of nature. As longs as this exists, and it certainly always will, I know that then there will always be comfort for every sorrow, whatever the circumstances may be. And I firmly believe that nature brings solace in all troubles." – Anne Frank

"At some point in life, the world's beauty becomes enough." – Toni Morrison
"Returning home is the most difficult part of long-distance hiking; You have grown outside the puzzle and your piece no longer fits."- Cindy Ross
"There were only two [options] and they were essentially the same. I could go back in the direction I had come from, or I could go forward in the direction I intended to go." – Cheryl Strayed