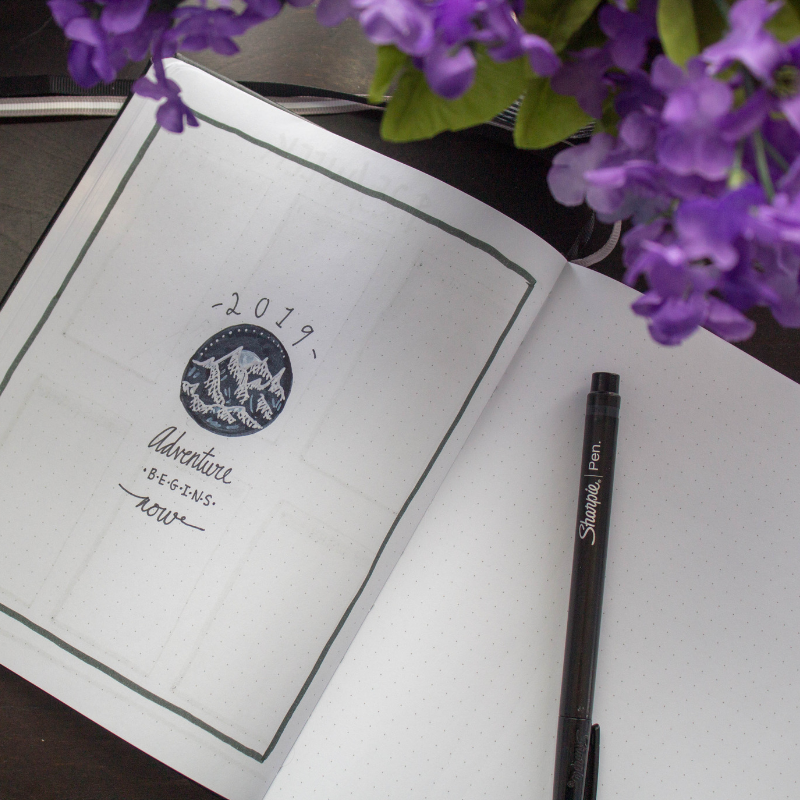 I love spending Christmas at home. Nothing tops my mum's traditional dinner line-up – cranberry sauce, mashed potatoes, glazed carrots, and slow roasted chicken.  
My holidays usually kick off with a little journaling by the fireplace. I snuggle up, under a fuzzy blanket, and start planning for the new year.
This year, I thought it would be fun to write a "plan with me" post. We can chat a little, sip some hot cocoa, and get ready for 2019 together. Are you ready?
Where Is My Bullet Journal From?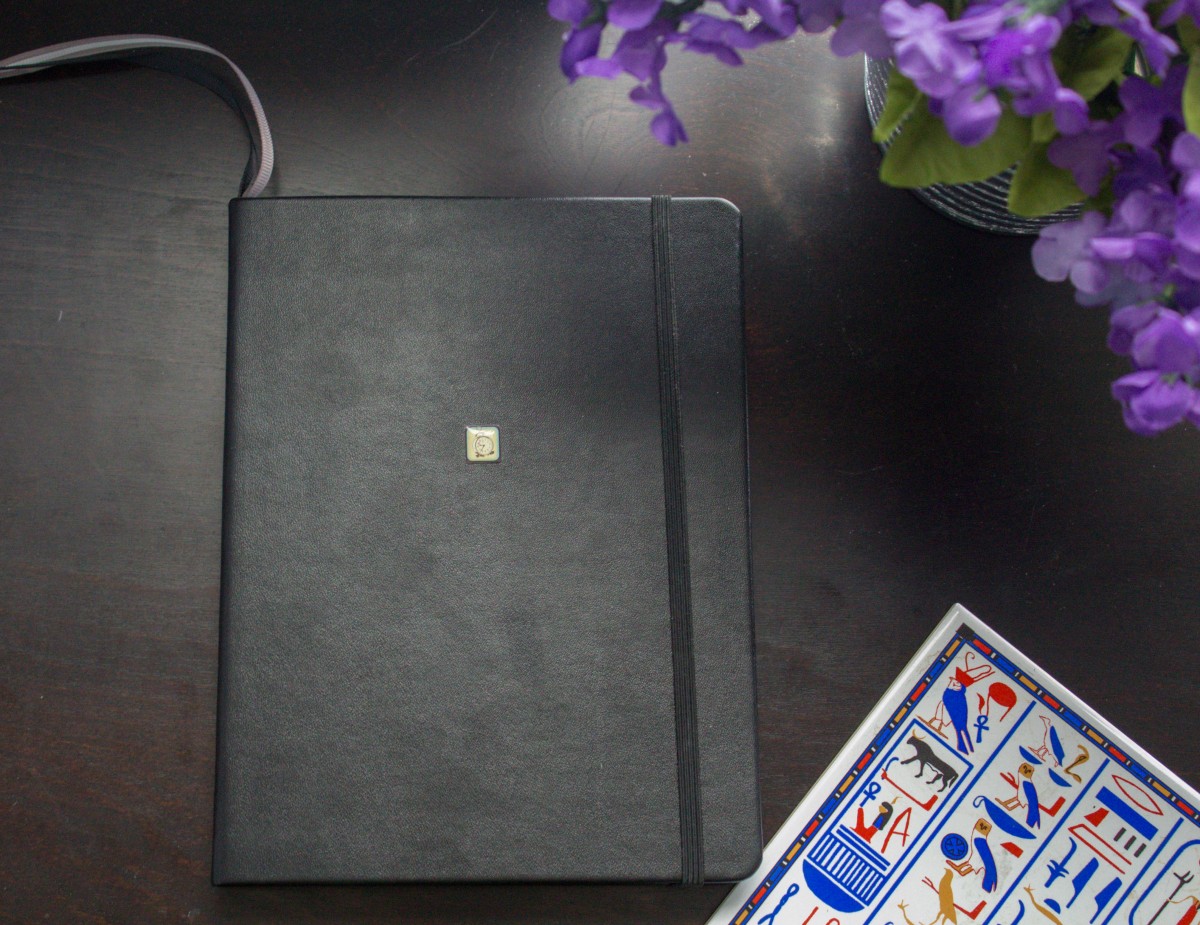 New year. New journal. I picked up this Artist Loft notebook from Michael's.
I've had two bullet journals before. And to be honest, both of them are the Artist Loft brand notebooks. Why? They are ridiculously cheap ($5) compared to most name-brand dot journals (roughly $20).
Journal Tip: The journal doesn't have very thick pages so if you're planning on painting in your notebook, I'd go for this one with canvas sheets.
I added a sticker on the front to bring a little color and dimension to the cover. And I drew the phrase "2019" on the back in block letters.
Pens Used:
What To Add To The Key?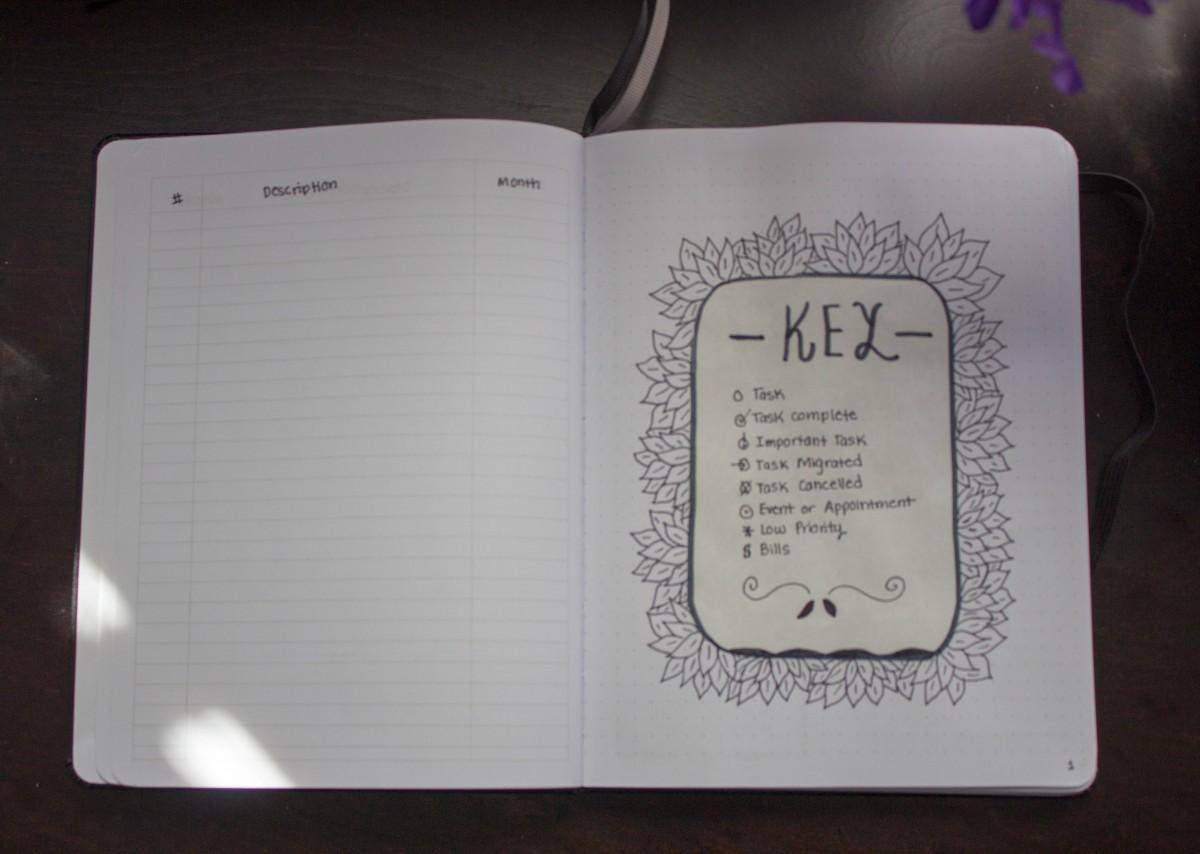 While I normally like to keep a minimalist theme, I just went all out for the key page.
Here's what I included in the key:
Task
Task Completed
Important Task
Task Migrated
Task Canceled
Event/Appointment
Low Priority
Bills
At first, I was slightly hesitant about drawing dozens of leaves. I'm in a love-hate relationship with the repetitiveness of bullet journaling. From the logs to the trackers to the designs – everything just repeats. If you read my November: Plan With Me, you know that by the end of the year, I like to shake up the repetitiveness with some random spreads.
At the start of the new year (I know we're not there yet but I'm so excited), I find the repetitiveness relaxing. Jingles are chiming in the background. I'm taking slow sips of cocoa. Drawing the leaves is calming. And within a few minutes, the border is done. If there's one thing bullet journal has taught me, it's that time goes by faster than I expect it to.
Personal Future Log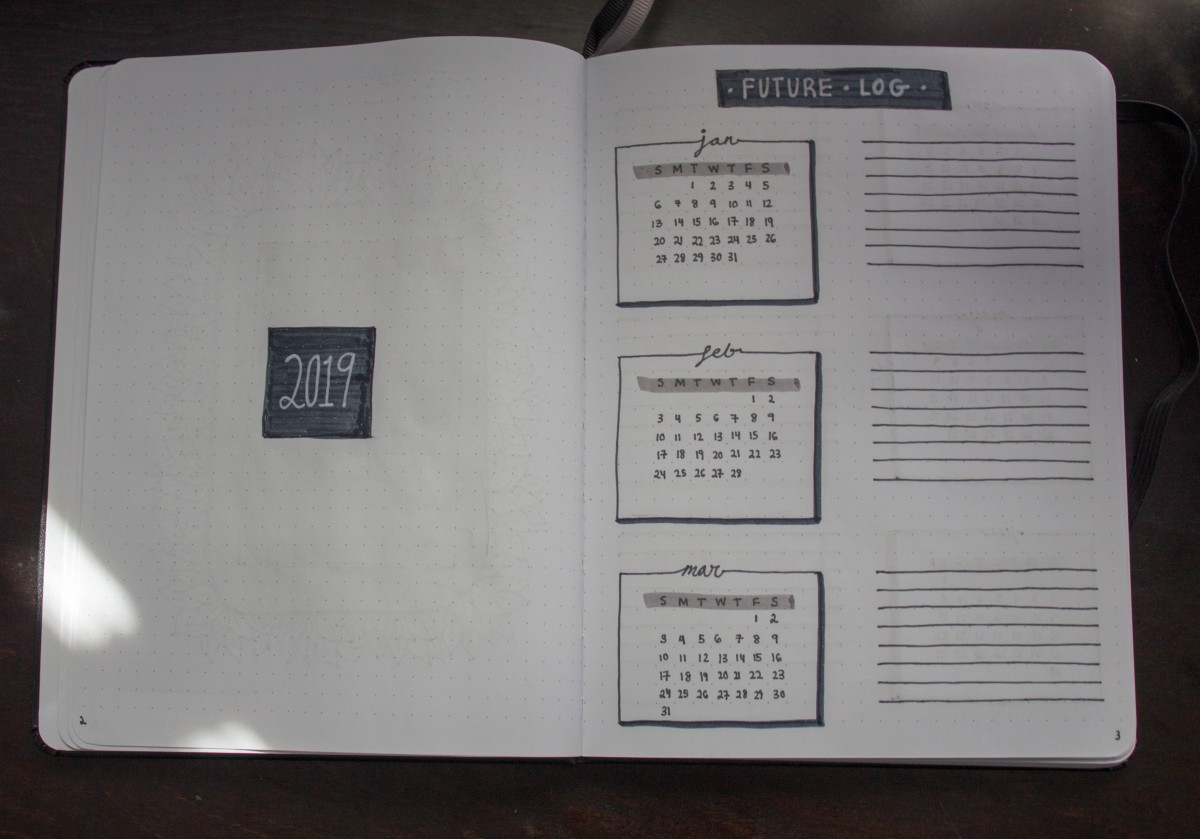 The next page is my personal future log. I actually have two future logs (I've found that works best for me) – one for personal dates and the other for business-related dates.
I normally fill in birthdays, anniversaries, and upcoming holiday information here.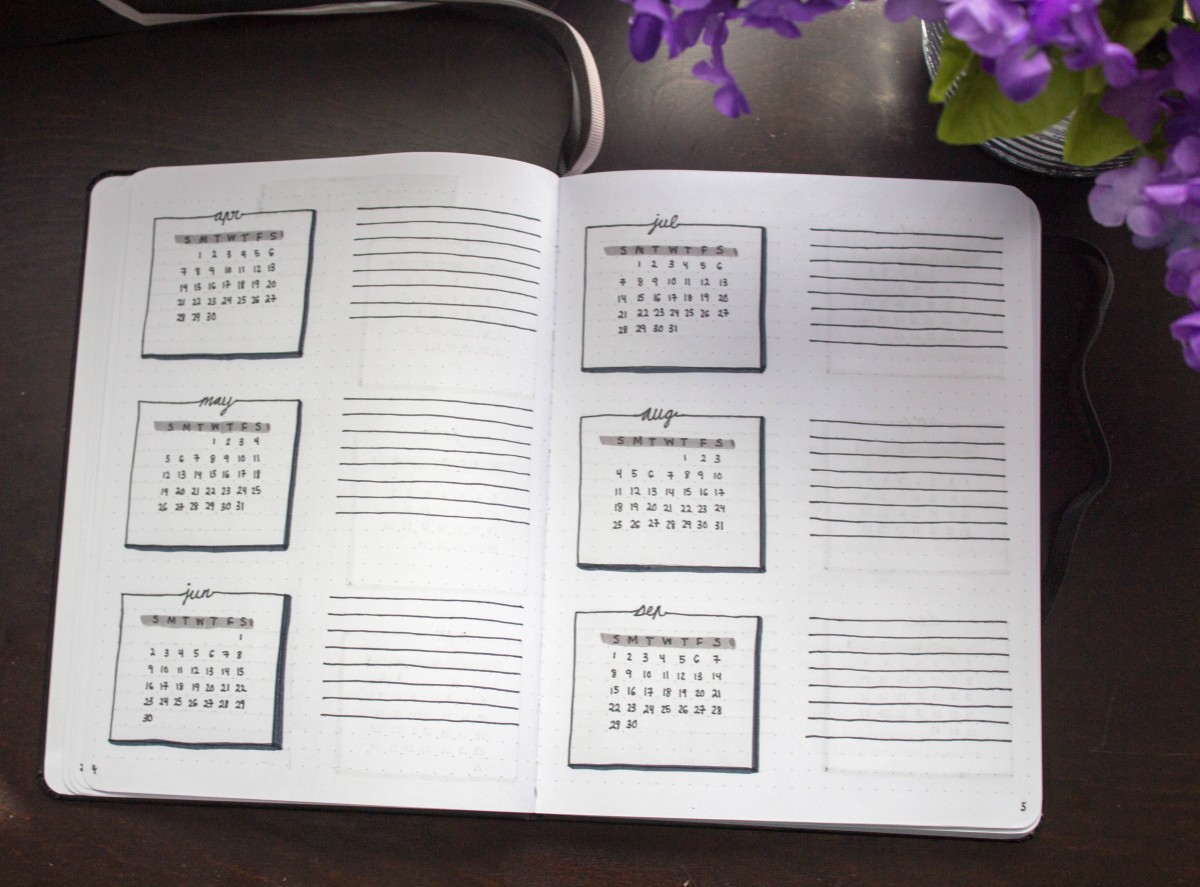 I think the beauty of a bullet journal is that you have the power to create a spread that works for you. Productivity is personal. 
Setting Intentions For The Year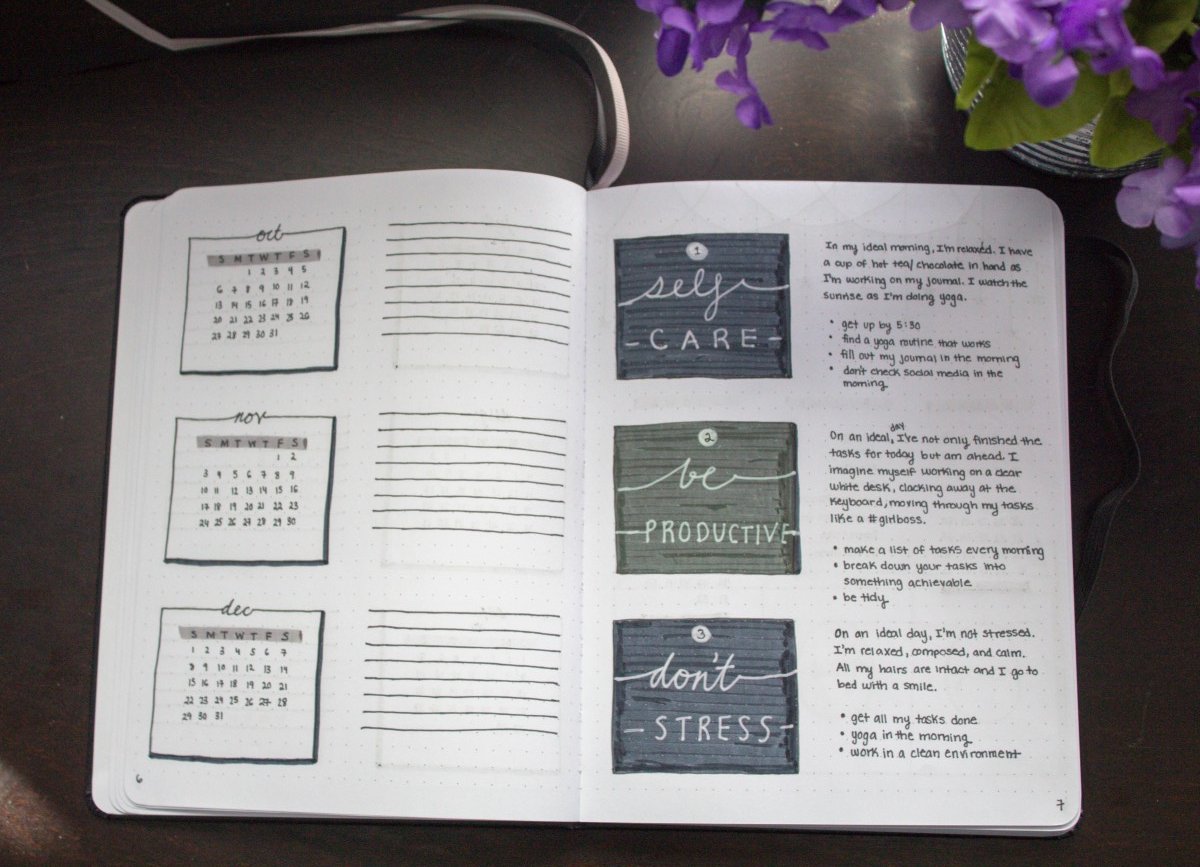 In 2018, I stopped setting New Year's resolutions. I normally write 110 things I want to do and never know which one to start with. Do I start with the first resolution? The most important resolution? Do I go through with them all at once?
As evidenced by the fact that I don't have abs (and probably never will so bring on the fried chicken), resolutions don't work for me. So I decided to set my intentions for the year instead. 
Journal Tip: The white on black aesthetic looks streaky in photographs but trust me, you won't notice the streaks in person.
How To Set Intentions: 
Start by writing three overall intentions for the year. How do you want to feel in the new year? Capture that in a few short words.
For each intention, write a paragraph about what that looks like in a day. Be descriptive. If you have something you can visualize, you are already one step closer to achieving it. This is one thing I learned from all the soul searching books I read this year.
Write steps that you can do to achieve your ideal day (per intention). What steps repeat across the board? These are your New Year's resolutions.
Pen Test Page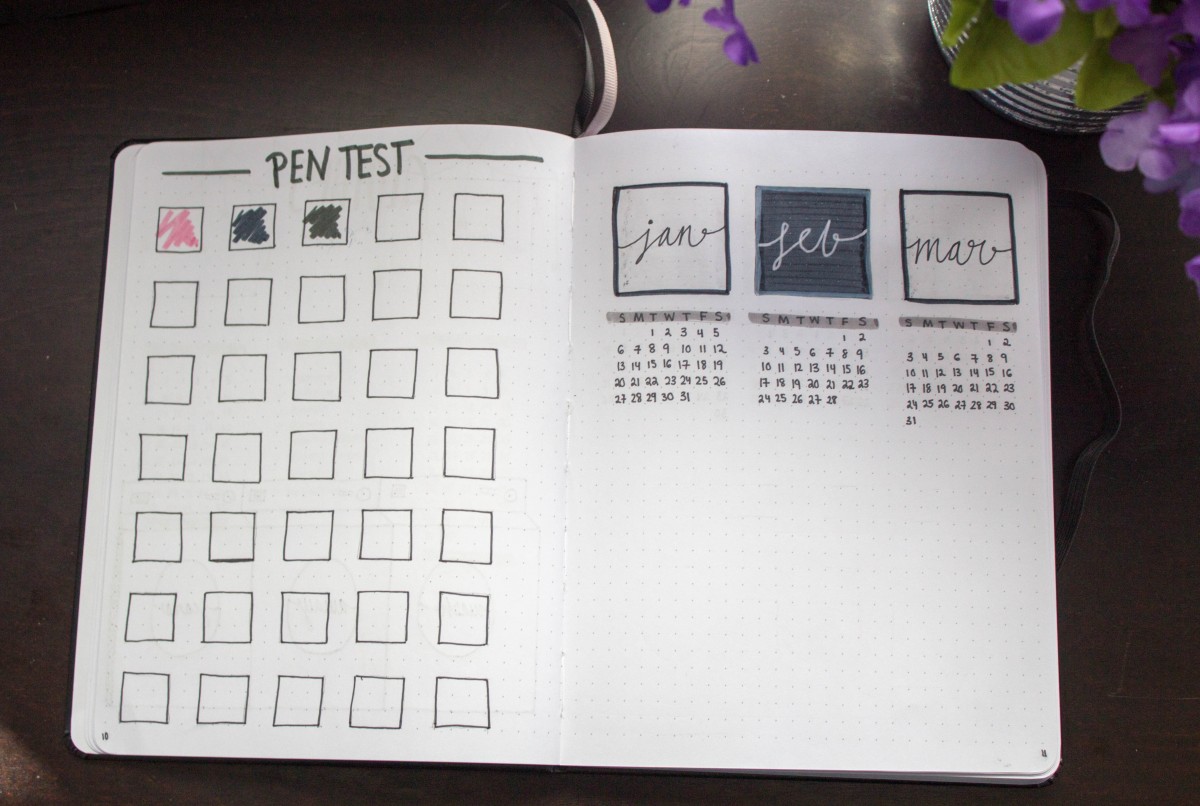 I have a horrible habit of using hotel pens when I travel.
One time, I was spending a night in Bellevue, Tennessee and I opened my journal to a clean white page. I took a black pen and started writing. It wasn't black but a disgusting neon red.
Lesson learned. I now have a pen test page.
Travel Planner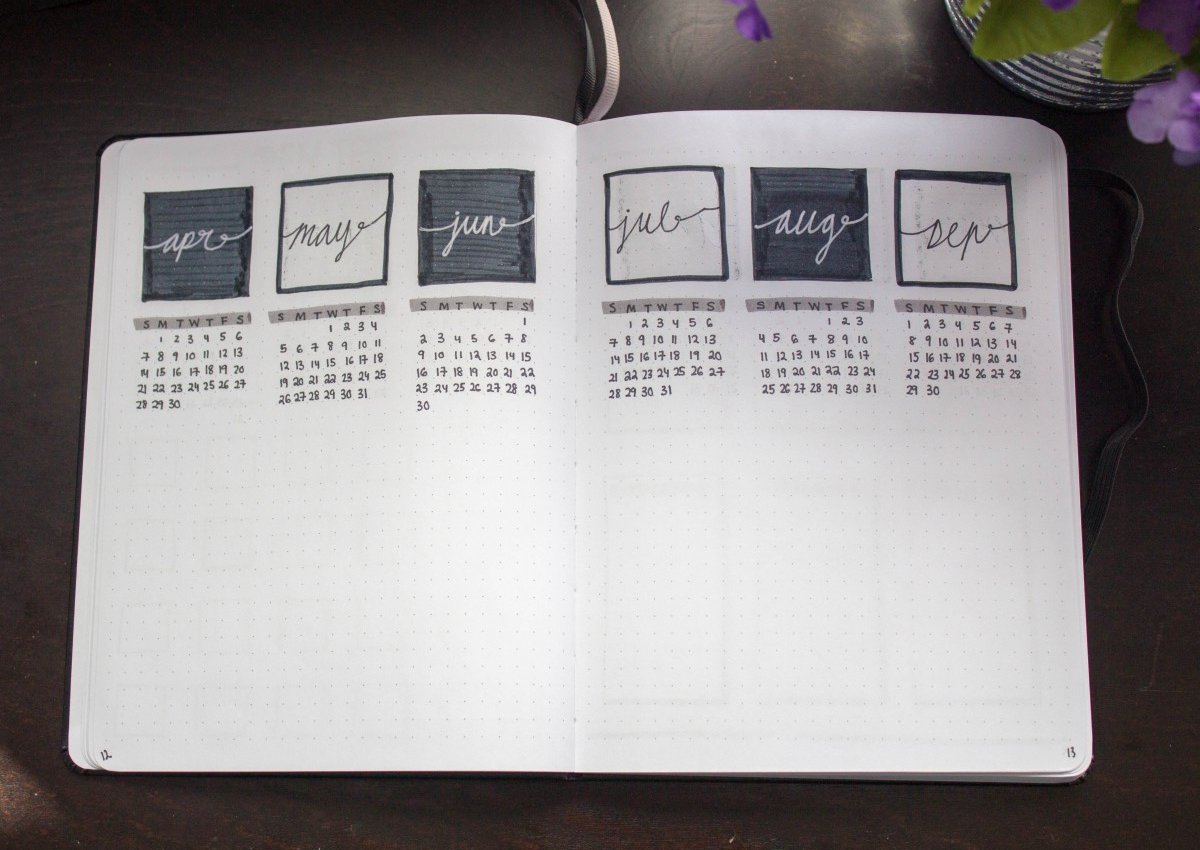 Remember when I said I have two future logs. This is my second. I use this spread to record my travels. I highlight travel dates, favorite memories, and article ideas here. 
Other Possible Travel Spreads:
Page for Polaroids
Travel Bucket List Page
Itinerary Plans
Packing List
USA Map (you can fill in all the states you've been to)
World Map (you can fill in all the countries you've been to)
Vacation Savings Page
I actually had all these spreads in my bullet journal last year, but I never ended up filling them in. To be honest, since I post all my packing lists, itinerary plans, and travel plans on the blog, I didn't feel the need to repeat that information.
I did include a food budget tracker because I'm hoping to map out grocery expenses a little better this year. The leftover money can go towards my travel fund.
Just For Fun Pages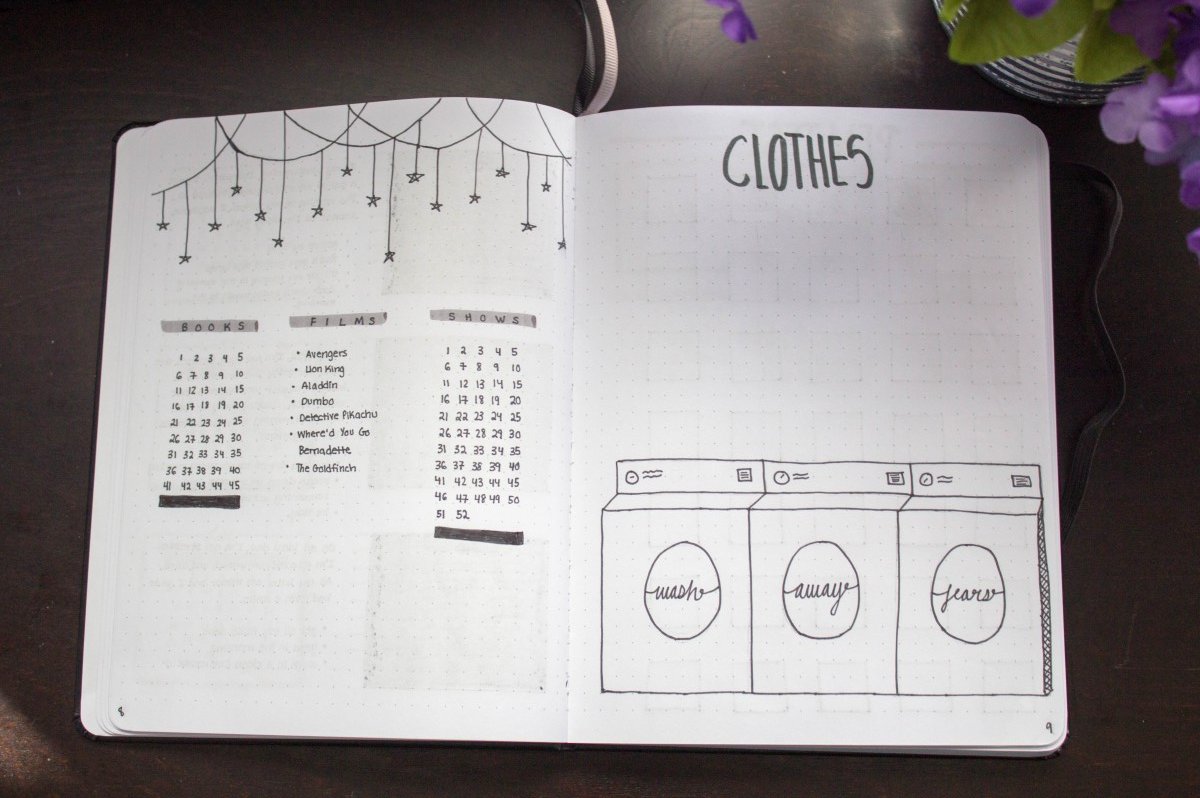 I'm trying to read more this year and not watch any shows, whether that's on Netflix or on TV. I recently got out of a reading slump that I've been in for a year and I'm so excited to keep going on that front.
On my very first blog post, I wrote:
When I was little, I wanted to visit all the places I read about in books. London. New York. Switzerland. Middle Earth. Hogwarts. There was this constant longing to see all the places my favorite characters saw. All the adventures they had were shaped by their surroundings.
Reading has always inspired my travels. And in a travel-filled year, I need all the inspiration I can get.
I'm also trying to be more of a minimalist, which is the main reason for the clothes page. I'm going to try to have a capsule wardrobe (if you've seen my wardrobe, you'd think I was insane and this couldn't be done). Again, as my life slowly shifts to more nomadic, I don't have a place for things that don't give me joy in life.
Hence, minimalism.
Adventure Begins Now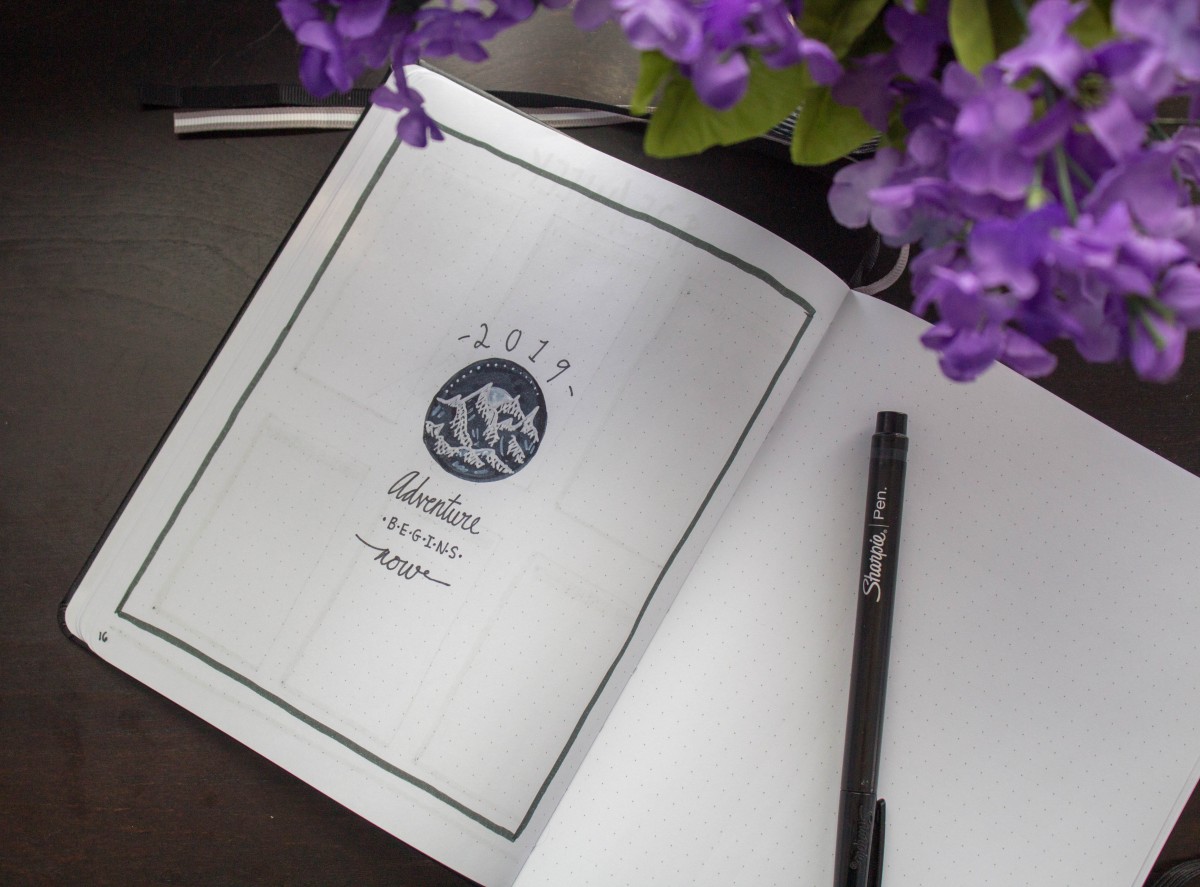 The last page is a motivational doodle with the words "adventure begins now". As 2018 comes to a close, I'm ridiculously excited to start the new year.
New year. New slate. The adventure begins now.
Merry Christmas, loves! Did you enjoy this plan with me post? I thought I'd turn this into a monthly series on the blog. Let me know what you think in the comments below!