a Joslyn Art Museum walking tour.
I open the doors to chess-board tiles hoisting big columns up to even bigger ceilings. Located on Dodge Street, the Joslyn Art Museum is a gallery with a breadth so vast, it stretches from low-slung rooms to sun-lit skies.
There's Monet. There's also Pollock.
You might want to see a little bit of everything (or perhaps focus on the pieces you like). There's no right or wrong way to pore over the paintings and statues and works-in-between.
But if you're standing at the front steps of the Joslyn Art Museum (if you're not, don't worry, neither am I), step up to the top. Grab your free map (the museum itself is also free). And let's dive into this Joslyn Art Museum travel guide.
Disclosure: Heads up, this post contains some affiliate links, which means I may get a commission if you make a purchase. Don't feel pressured to buy anything. I still love that you're here, reading my content (side note: I'd probably suggest getting a coffee or tea first though because my blog posts tend to be long). To find out more, you can read our full affiliate disclosure right here.
The History Of The Joslyn Art Museum
Enter The Founder's Room
---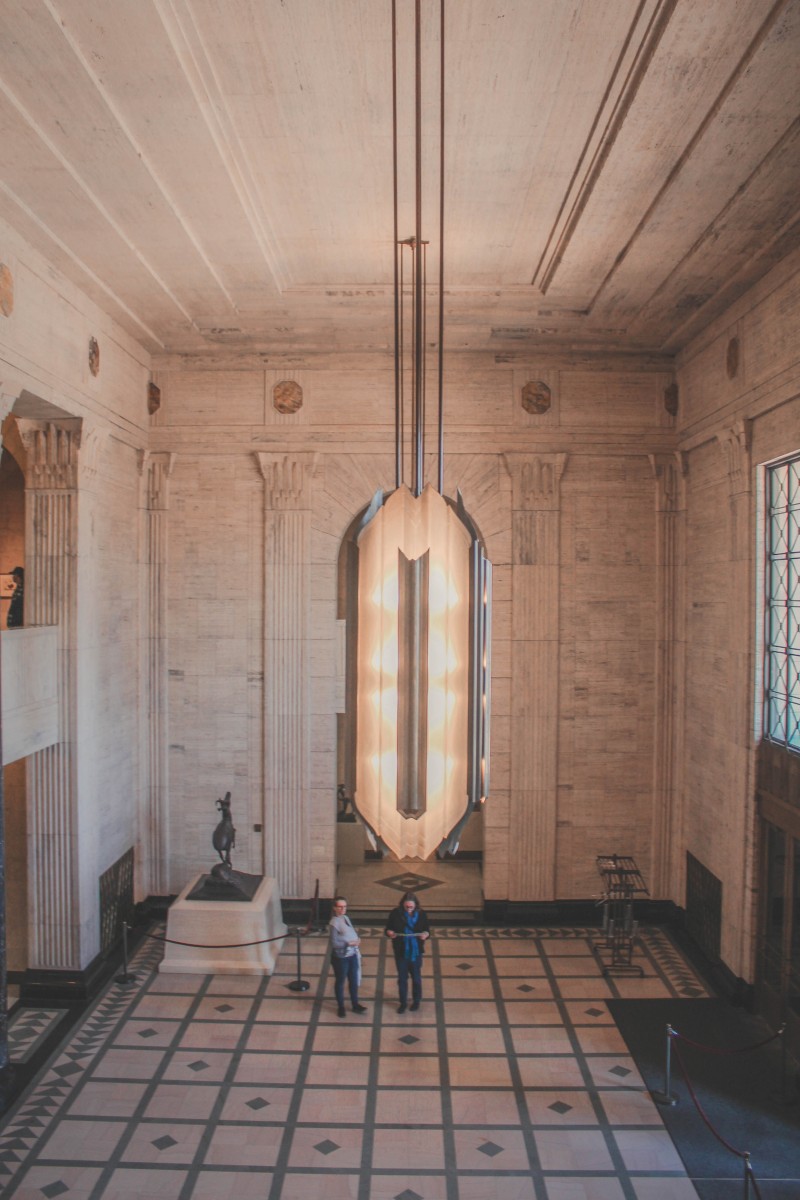 Much like the artwork inside, the Joslyn Art Museum is constructed from bits and pieces of various cultures. Marble and stone from France, Italy, and Belgium.
The interior is art-deco but you'll notice the theme at random moments while looking over the second-floor balcony or skimming past the decadent palettes. For the most part, the exhibits (and the works) take the center stage.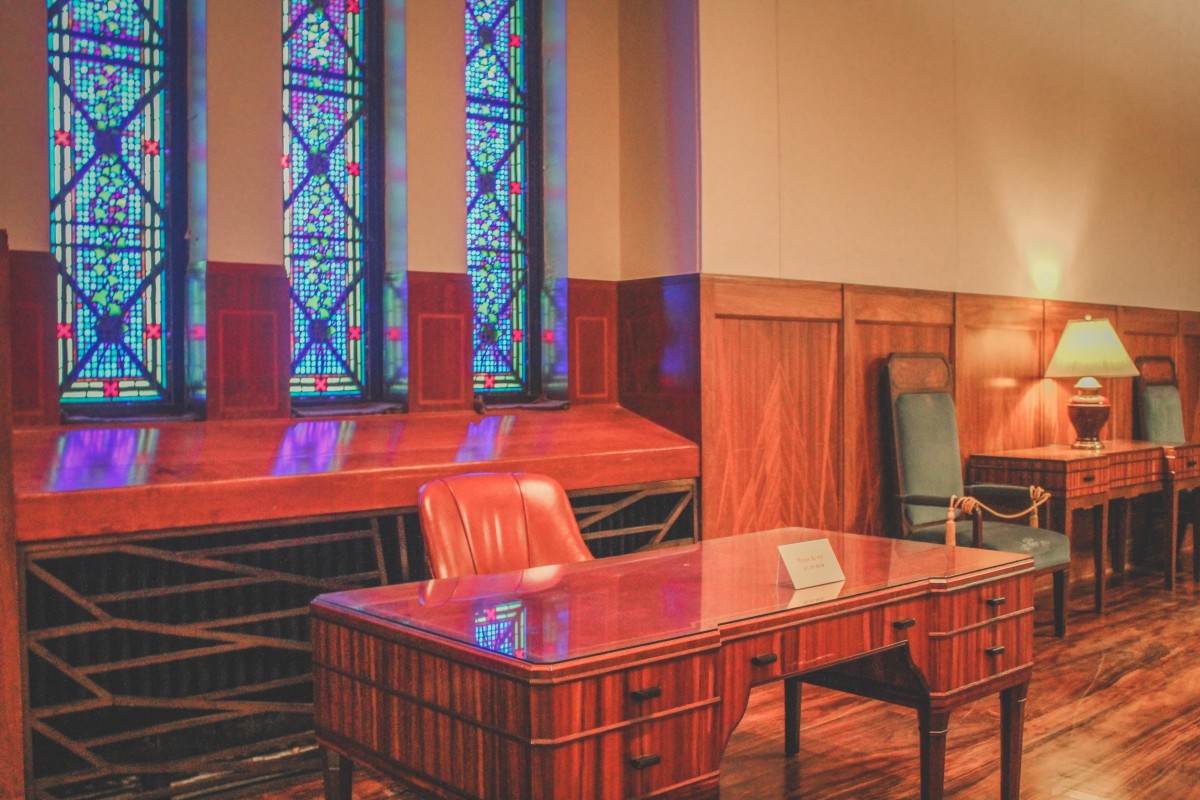 The room you are standing in has most of the museum's original style intact – stained glass windows spilling purple light onto an old wooden table, a fireplace so large and grand and ornate it belongs in a movie.
This room used to be a reception room – still teak floors, walls once draped in silk velvet. Sarah Joslyn spent a good deal of time here.
Joslyn is a household name in Omaha. Sarah and her husband, George, were Vermont natives who eventually became Omaha's most well-known philanthropists (they had their fingers in a number of charities and pro-bono associations).
When George passed away, the Joslyn Art Museum was built as a memorial, a dedication. After three years of construction, the wealthiest woman in town gave Omaha its greatest gift – the Joslyn Art Museum.

There's A Monet At The Joslyn Art Museum
Enter The Drew Gallery
---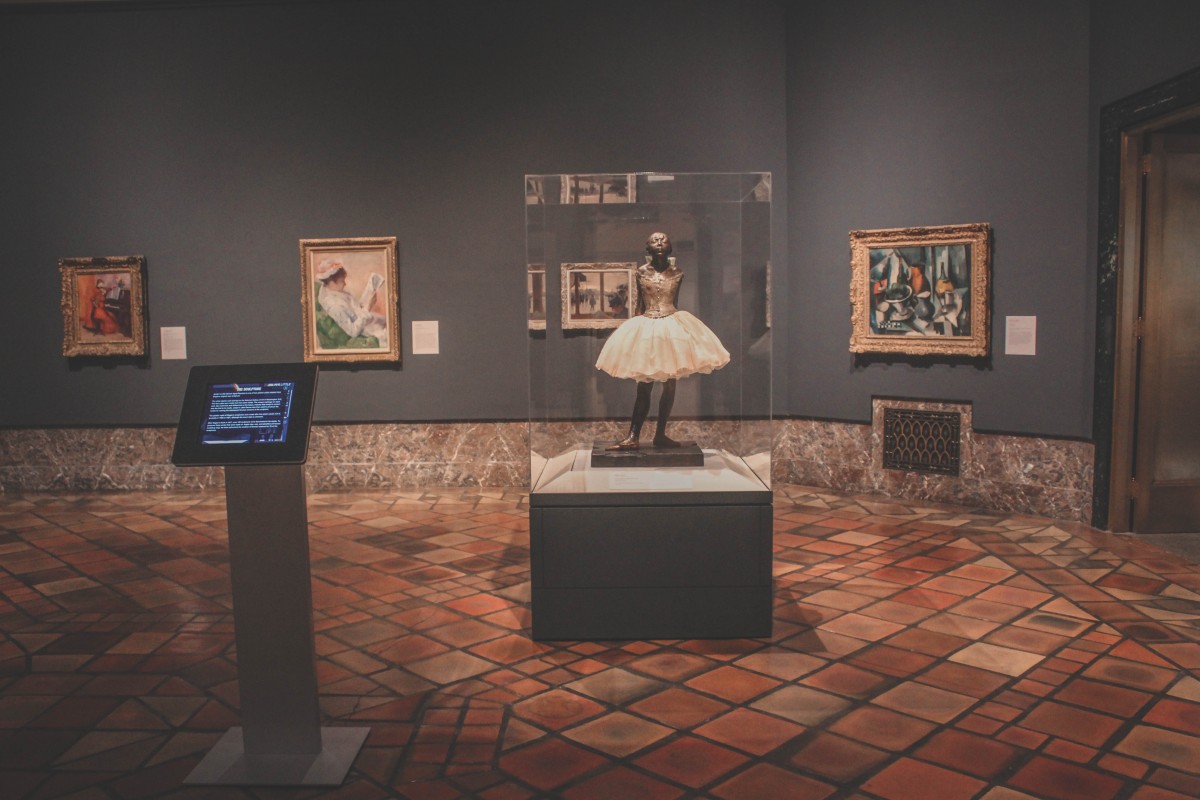 In a small room just past Founder's are works by some of the biggest names in Impressionism.
You'll want to make a round, clockwise, and sip in all the works. But there's one piece that pulls you in almost immediately.
Bordighera is a small town nestled between the border of France and Italy. It's a town captured best by its biggest tourist attraction, the Pallanca Exotic Gardens, a terraced plot of fat cacti and succulents that hungrily drink in heavy sun.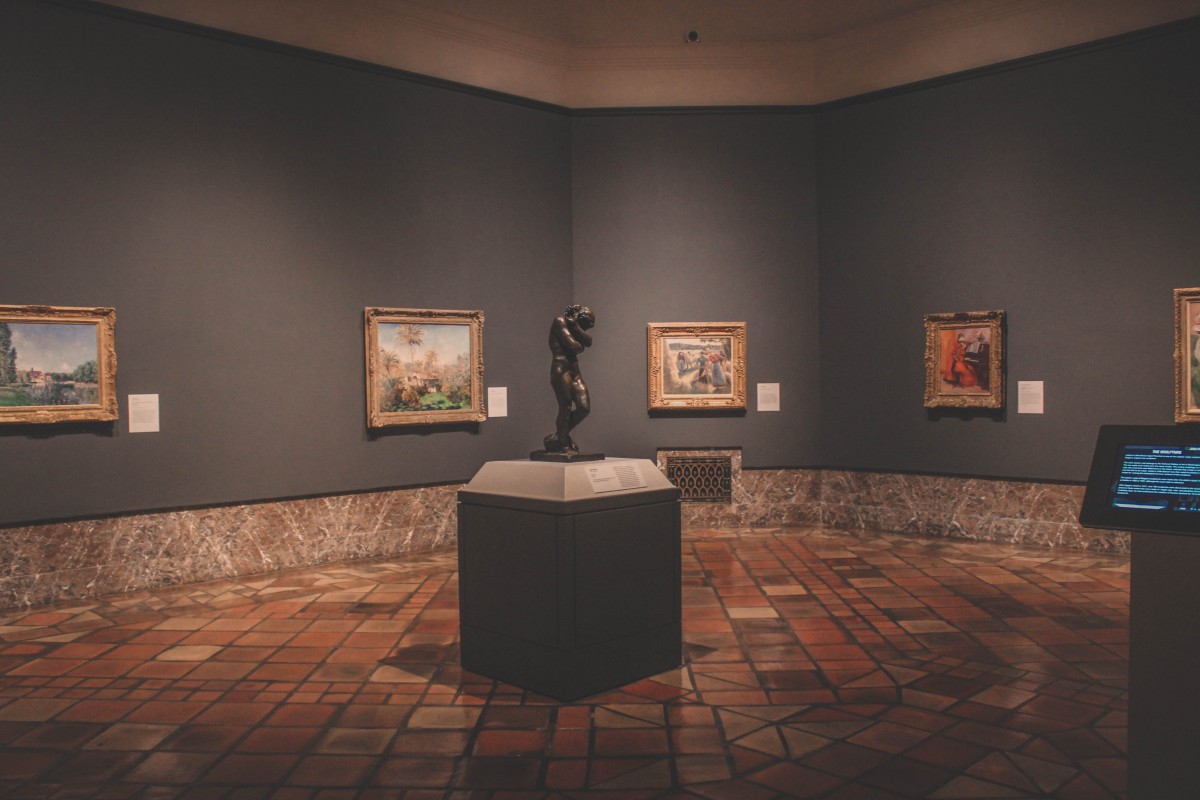 Claude Monet didn't plan to spend a lot of time in Bordighera. But he did. A few weeks turned into a few months. And thus, a series of paintings, inspired by Bordighera were crafted.
Small Country Farm At Bordighera is the piece that landed in the Joslyn Art Museum's hands. It's a beautiful work of Impressionism. An intense palette that's bold in choice but soft to the eyes. Brushstrokes that are intentionally hazy but define the charm of the land with ease.
The palms are gorgeous. Unreal but full-of-life. Monet put a great deal of effort into capturing them just right. In his words, "These palms are driving me crazy."
Touche, Monet.
There's Also A Gorgeous Indoor Courtyard
Enter The Storz Fountain Court.
---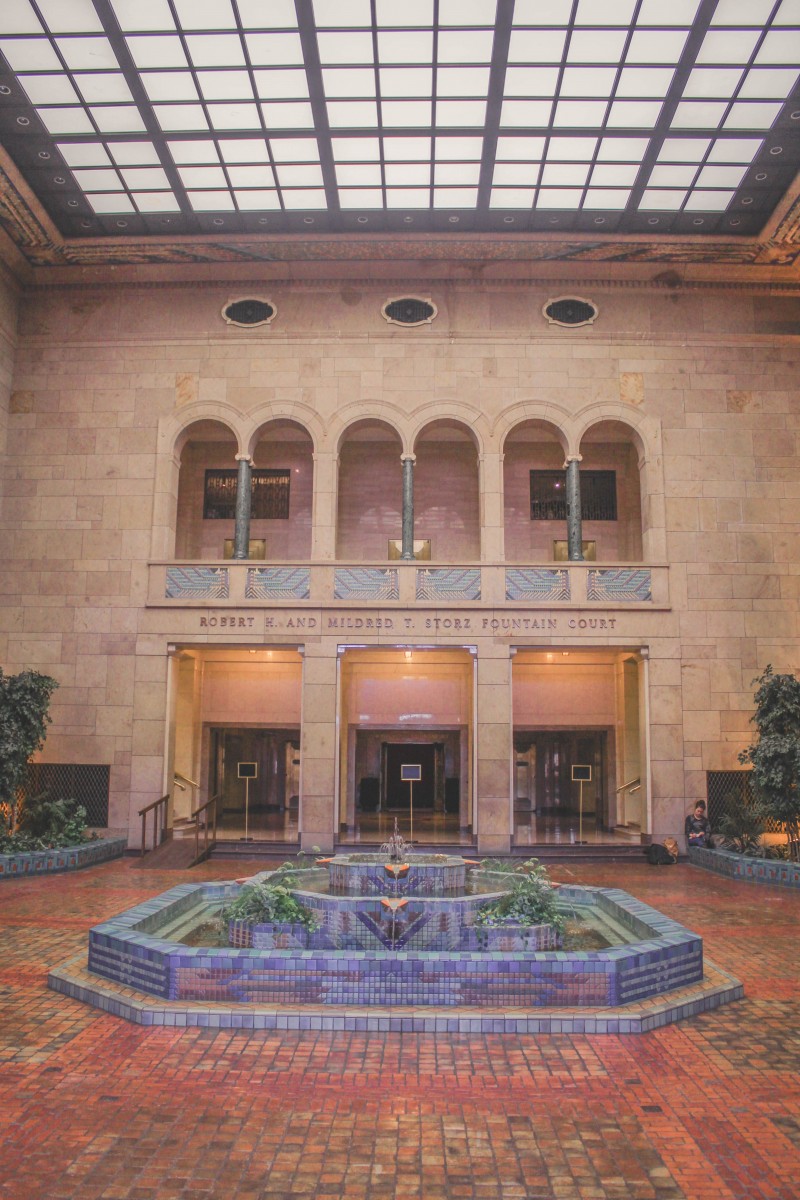 Hidden behind columns tall and wide, the Storz Fountain Court is easy to miss upon entering the Joslyn Art Museum.
But as you walk towards it, you'll hear the trickle of water – a gentle put-put against blue tile – and a silence so loud it stills the room.
The light has weight here. The warm natural glow punches down from a big ceiling opening its hands up to the sky.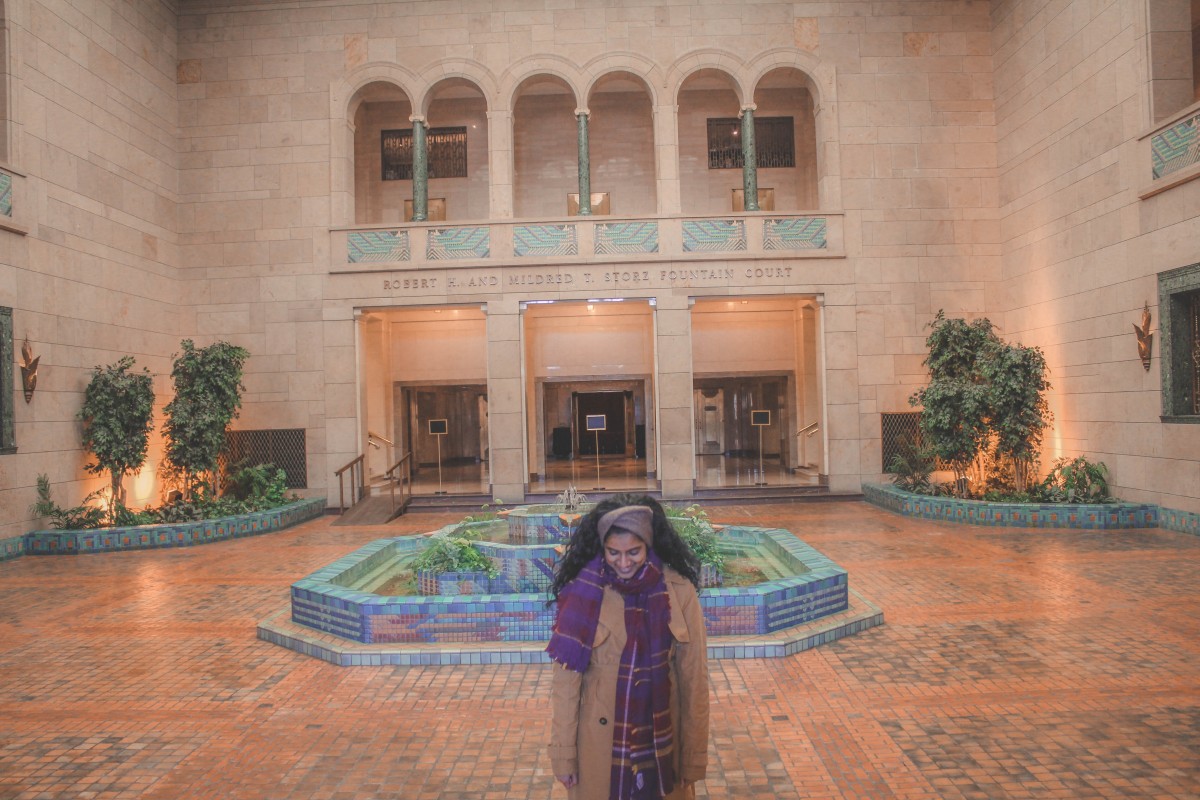 There are usually a few people on the lower-rung of the stairs, legs outstretched or curled tight, reading or sketching.
At the Joslyn Art Museum, the Storz is unavoidable.
As you crisscross the floors, trailing up-and-down, left-and-right, you'll hit it again-and-again.
And when your shoulders lean gently over the balcony on the upper level, you'll see the same view once more but those feelings – the ones you had when you first entered – will hammer you again.
Expect To See A Chihuly Sculpture
Enter The Eastern Wing.
---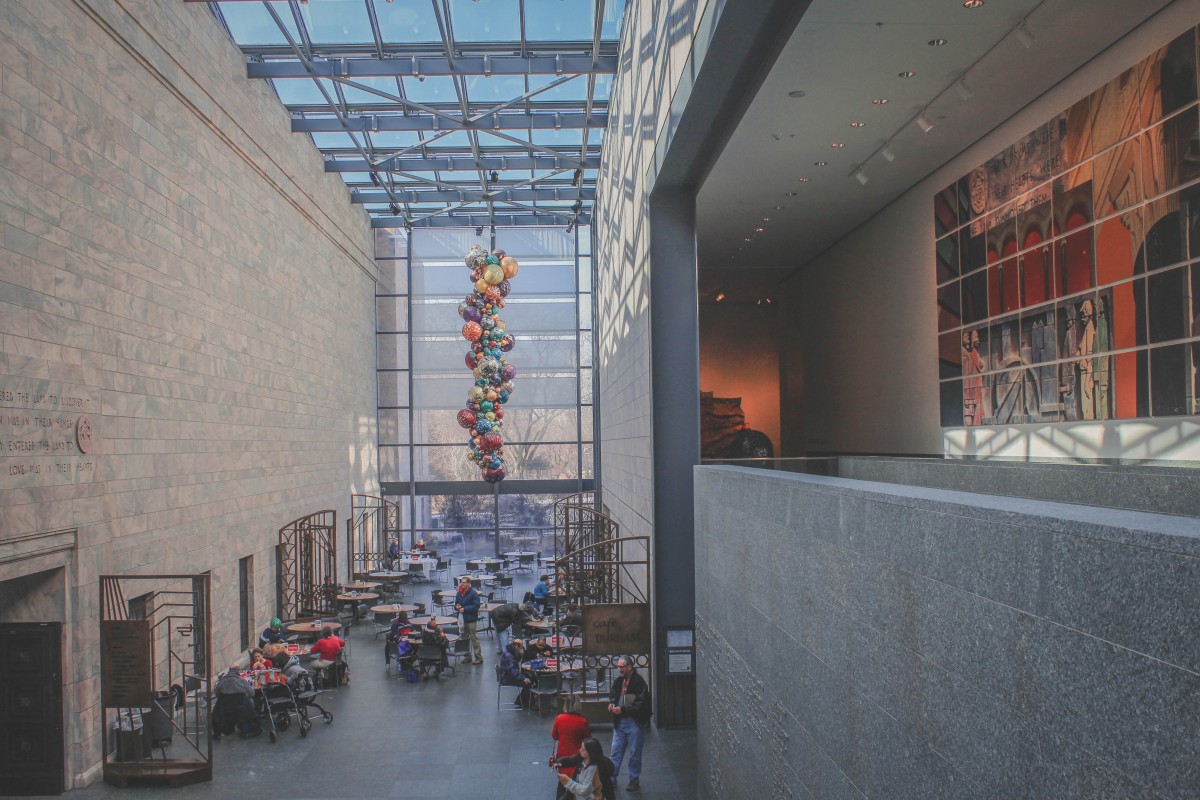 Dale Chihuly's works are big. Larger-than-life.
They're a lot of things. Crazy and manic and gentle all at once.
Chihuly's a master of glass. And you'll see his sculptures everywhere, from the Missouri Botanical Garden to the Toyama Glass Art Museum.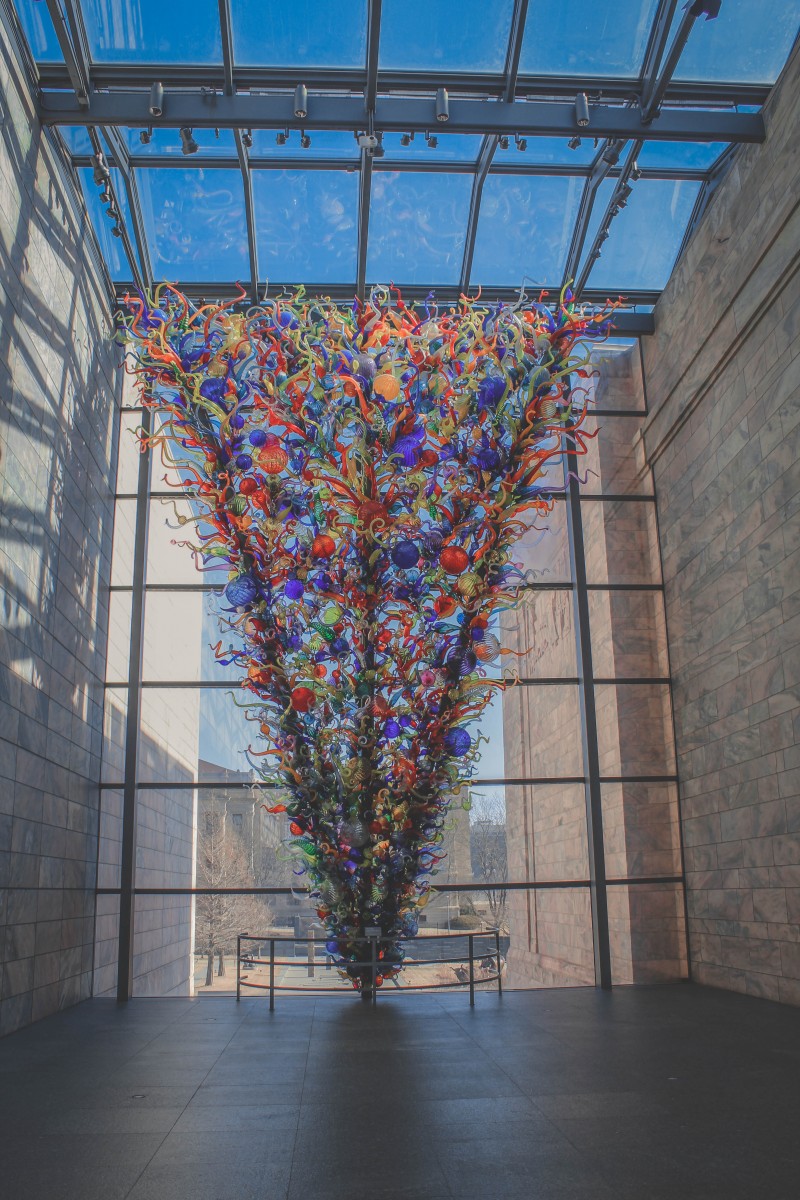 And the piece at the Joslyn Art Museum, Inside & Out, is no different. It's a behemoth. A curl of colors.
Sit down. Grab a cup of joe from the cafe downstairs. And watch the shadows of frenzy calm under the light.
You Learn About What Makes Art "Art"
Enter any of the non-modern art exhibits.
I'm not an art major or an art expert but I do love art in all forms. I used to sneak into art lectures at University (even though my major wasn't remotely connected to it) and I tried, time-after-time, to upgrade my stick figures to portraits (alas, they have remained stick figures).
I love learning about art. And I think the Joslyn Art Museum does an amazing job of emphasizing learning. The museum doesn't just label each canvas. They go into the nitty-gritty details – the technical complexities that build each artist's merit.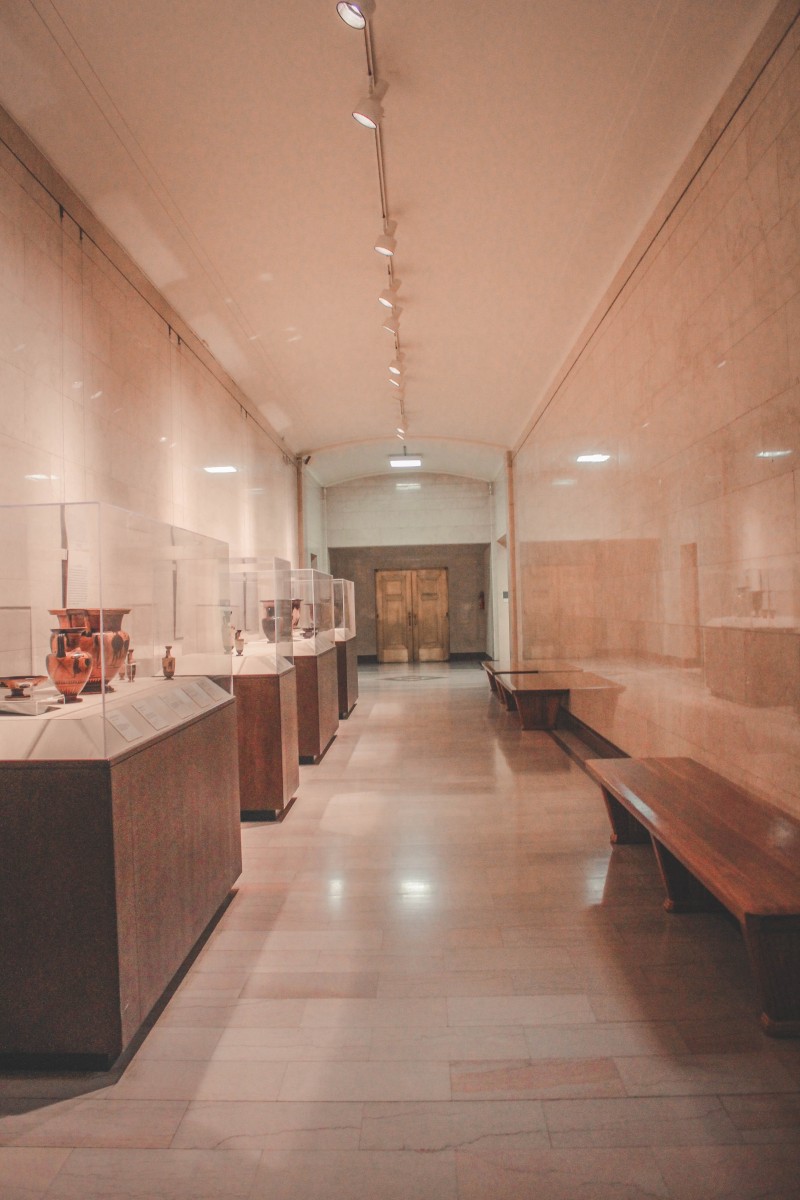 Sometimes, they even run through the myth that inspired a painting. They point out details that make you smile or laugh.
So take this time to explore the rest of the museum (visit whatever you feel pulls you in). I'll be right here with you. And so will the stories that lace the works.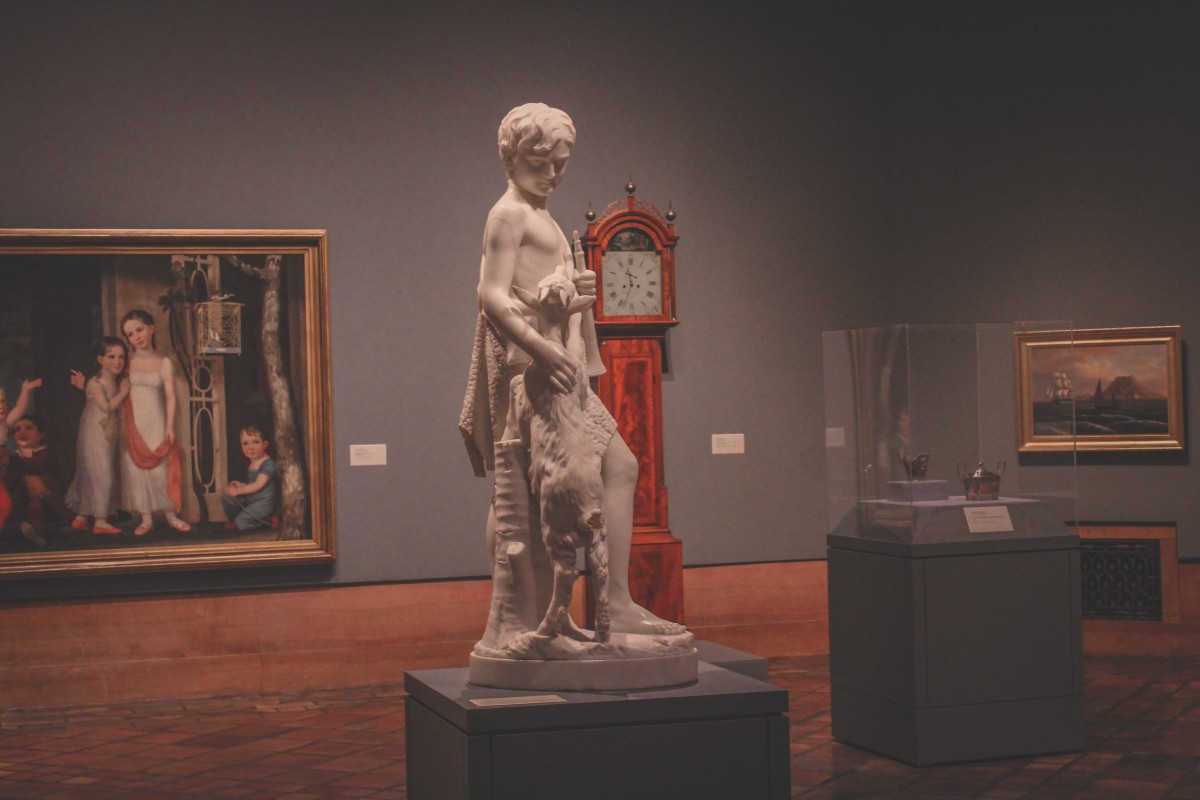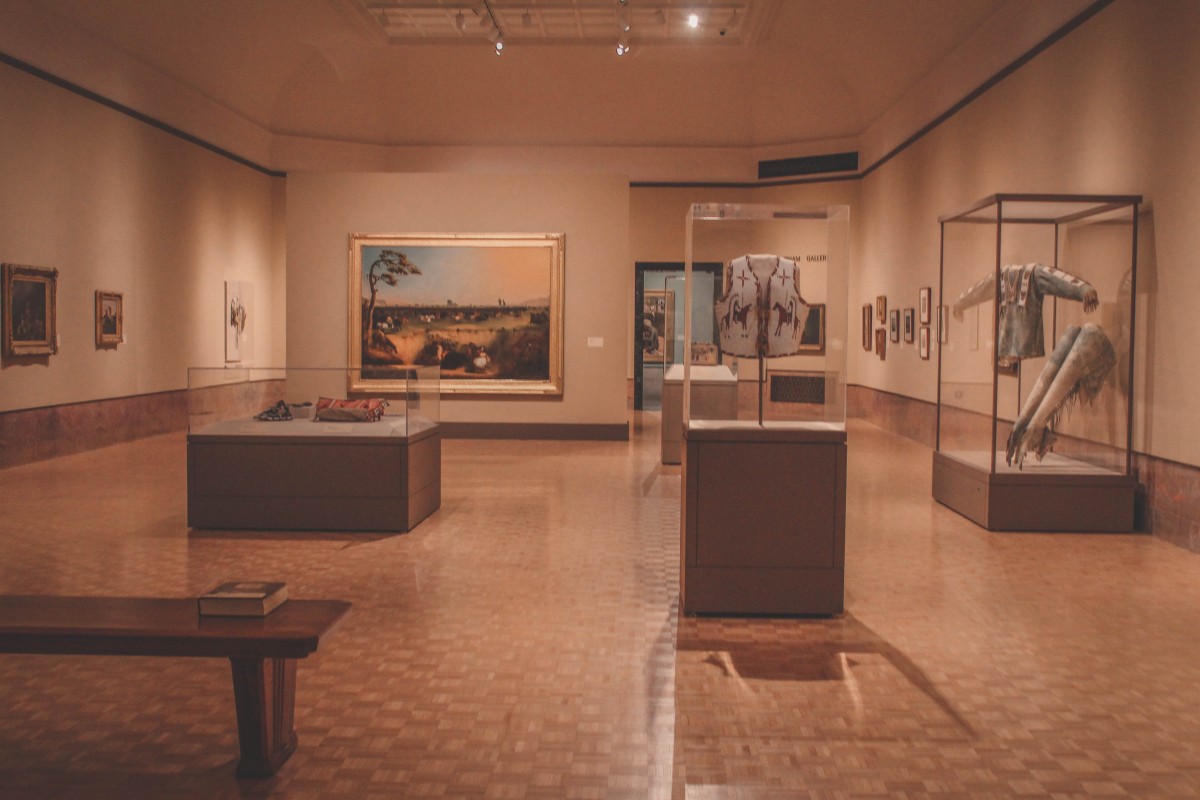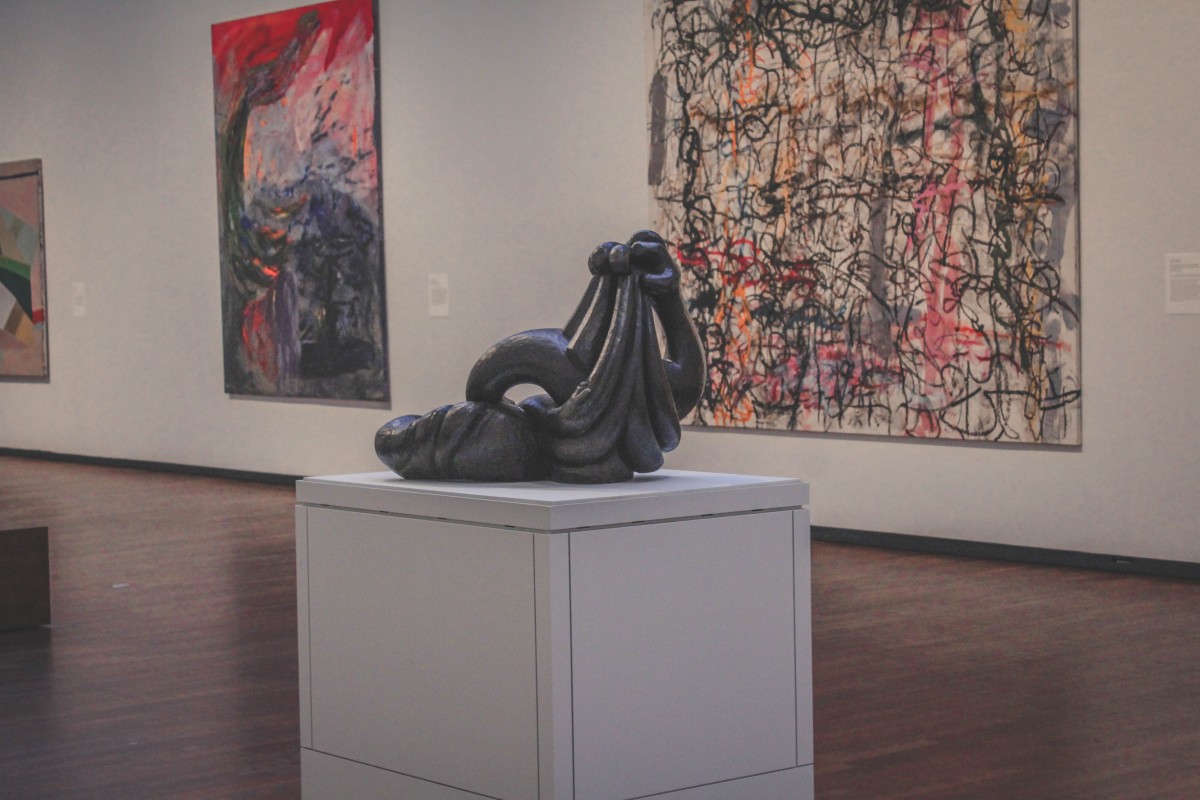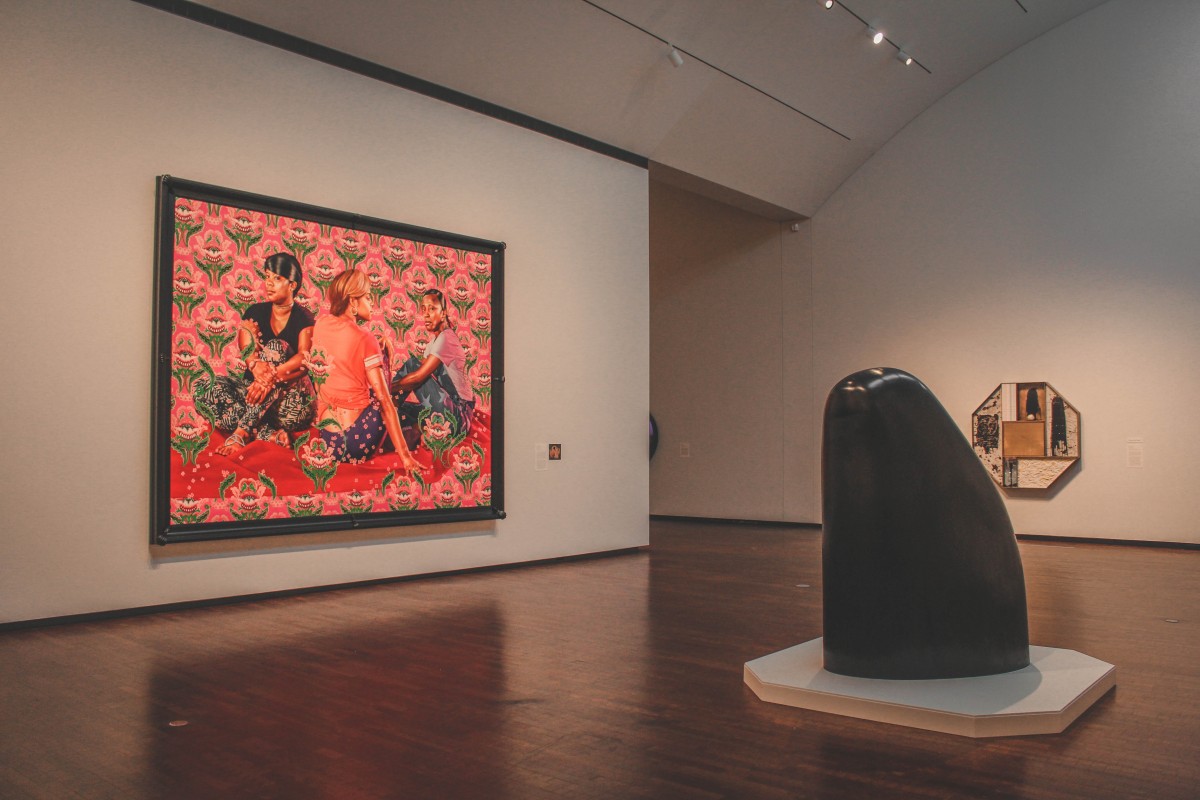 Planning a trip to Omaha? Here are our top recommended hotels :
Did you find this guide to the Joslyn Art Museum useful? Have you ever visited the Joslyn Art Museum? Let me know in the comments below!