forty Miami quotes for a feel of Florida
Miami is tough to describe. It's a complex destination – a melting pot of cultures interspersed around crazy beach life. Equal parts modern and retro, Miami's a place where art deco styles bump up besides contemporary walls.
These Miami quotes started with a Burn Notice-planted seed. I've binge-watched this series twice now (highly recommend the show – it's a bit cheesy but once you warm up to the voiceover, so good) and added way too many of the filming spots to my Miami bucket list.
After looking back on the seasons, I realized I mostly remember quotes about mojitos (thanks Sam) and yogurt (thanks Michael). And of course, Fiona's "sometimes you have to be your own white knight" moment (*clinks glass*).
As a result, this list of Miami quotes has evolved into reflections by travelers and locals. They're by those from Miami and those hoping to go back to Miami. And they all describe Miami in a way that's heartfelt and genuine.
Here are a forty Miami quotes for a feel of Florida!
40 Miami Quotes For A Feel Of Florida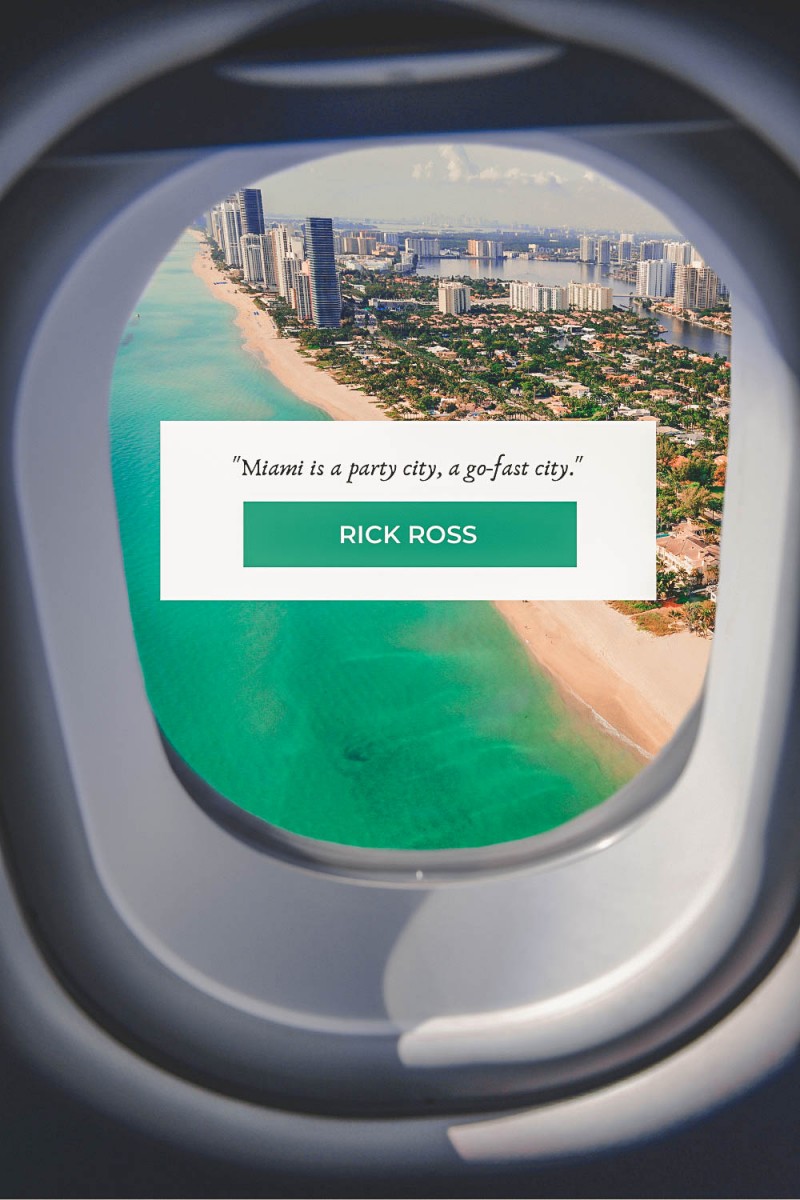 "Miami is nothing like me, and that's why I need to be here – it's the opposite. I'm practical, where this place is moody, I'm stolid in my interior, where this place has a certain flair, and I'm materialistic in a sense that this place is fundamentally spiritual – there's a quicksilver quality about this place." – Iggy Pop
"Miami is a party city, a go-fast city." – Rick Ross
"Miami, in many ways, is a quintessentially American city." – Tibor Fischer
"I love Miami and would love to always be in Miami." – Goran Dragic
"The thing that's really cool for me about Miami Beach is you have this dichotomy between sunlight and family and happiness and innocence and then at night, darker, stranger mob conspiracy stuff sort of comes out. It seems like a storytelling engine. You can just keep writing about how those two worlds smash into each other." – Mitch Glazer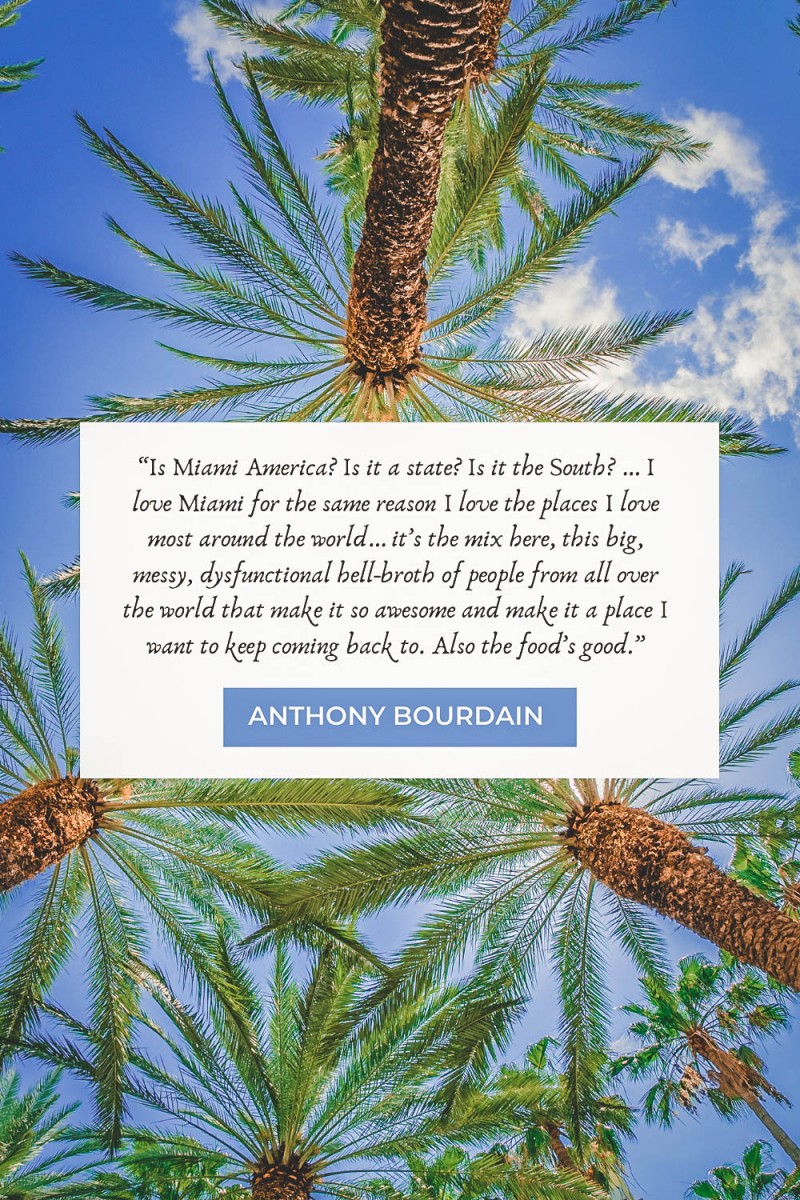 "Is Miami America? Is it a state? Is it the South? … I love Miami for the same reason I love the places I love most around the world… it's the mix here, this big, messy, dysfunctional hell-broth of people from all over the world that make it so awesome and make it a place I want to keep coming back to. Also the food's good." – Anthony Bourdain
"Each city has its own culinary landscape. For instance, Miami, which has already aired, has this wonderful blend of Caribbean culture and Latin American culture and Southern American culture (talking about fried chicken). All those combine to make for a very very interesting array of ingredients, restaurants, and the chefs that come there. It also has great seafood, not to mention the glorious citrus that's there. And all those things inform what you do–and they should." – Padma Lakshmi
"Miami is one of these places where diversity is in our blood, where, you know, if you want to go have a Nicaraguan breakfast, a Cuban lunch, and an American diner dinner, you do." – Ana Navarro
"In Miami, there's a Latin flavor, and I just love every bit of it." – Ryan Guzman
"Another day, another country. Miami's like that. You could eat your way across the Caribbean and through all of Latin America, and then over to Africa if you'd like. It's all there." – Parts Uknown (the Miami episode)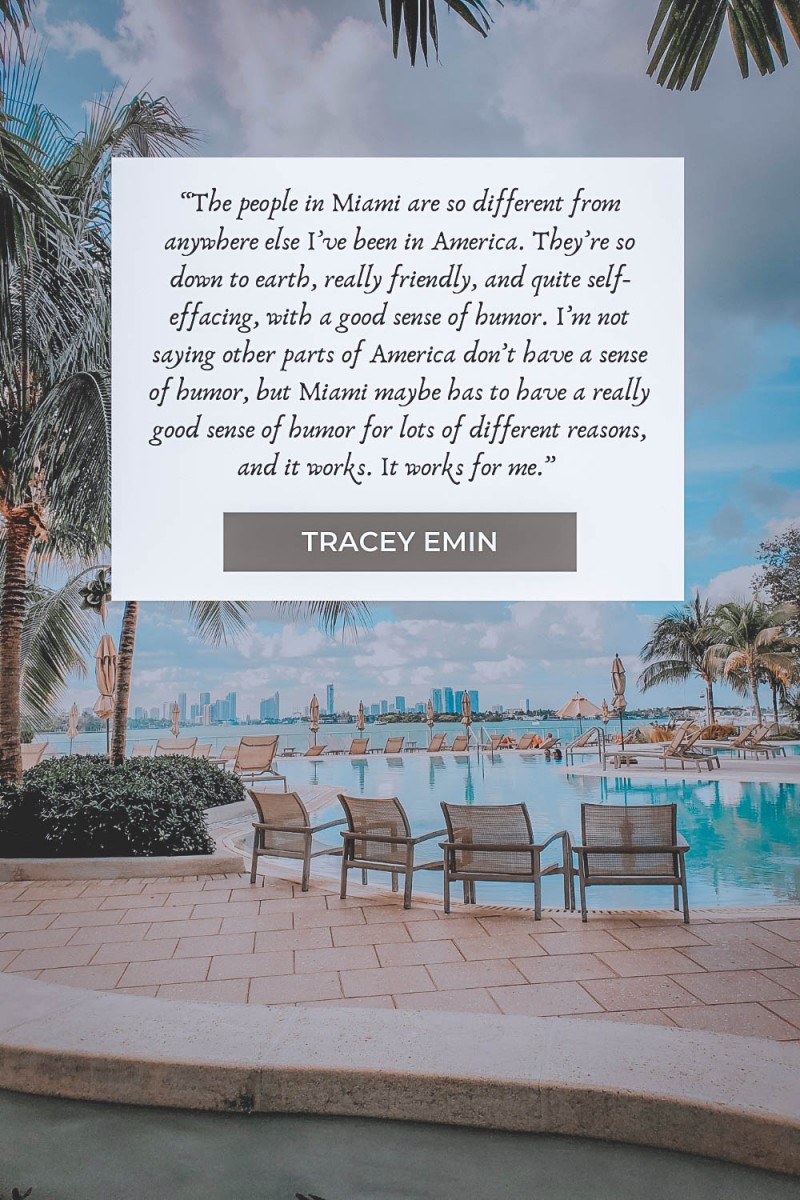 "The people in Miami are so different from anywhere else I've been in America. They're so down to earth, really friendly, and quite self-effacing, with a good sense of humor. I'm not saying other parts of America don't have a sense of humor, but Miami maybe has to have a really good sense of humor for lots of different reasons, and it works. It works for me." – Tracey Emin
"Miami is one of the great cultural melting pots in the world. I love working and living here." – David Caruso
"Miami has embraced me and I love them for that." – Lil Wayne
"I think Miami is such a beautiful, sexy, gorgeous place. I love the people there." – Minka Kelly
"[If Miami were a person] it would be Rudolf Valentino, because it's dark and moody, with a brilliant and sensual side, and it captures and inflames the imagination of a great deal of the western world." – Iggy Pop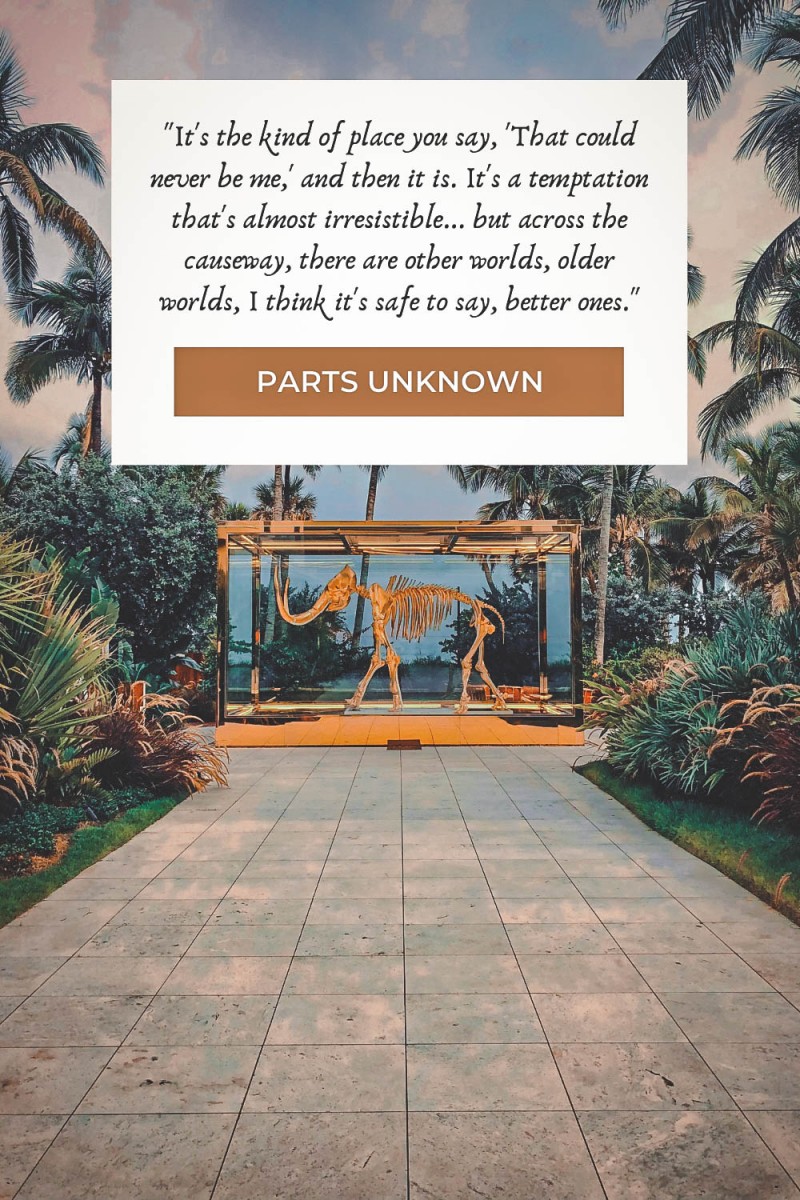 "It's the kind of place you say, 'That could never be me,' and then it is. It's a temptation that's almost irresistible… but across the causeway, there are other worlds, older worlds, I think it's safe to say, better ones." – Parts Uknown (the Miami episode)
"Miami is one of these great places that is a really sensual, physically beautiful place." – Michael Mann
"What's special about Miami is the collision of cultures. And the white sand beaches and fantastic restaurants." – Jeffrey Dean Morgan
"I think just growing up in Miami, there's a gumbo of different cultures that influence us." – Flo Rida
"Miami is a melting pot in which none of the stones melt. They rattle around." – Tom Wolfe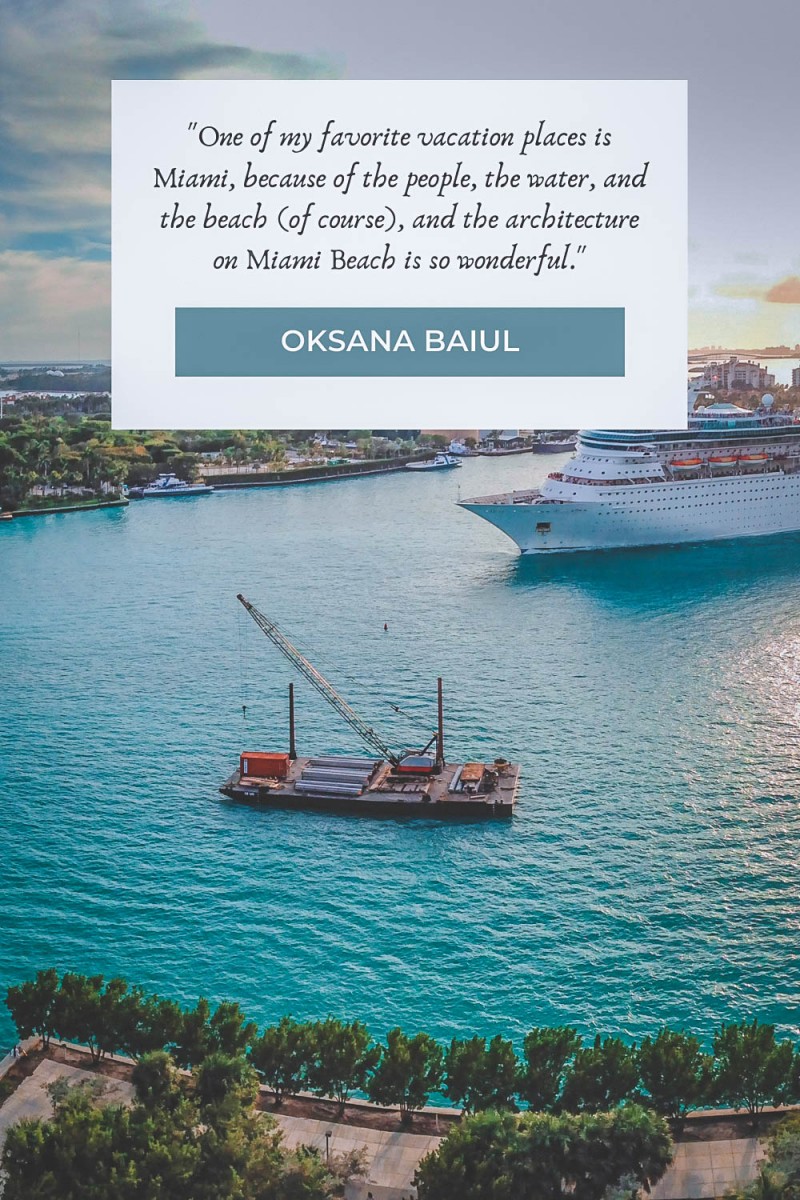 "One of my favorite vacation places is Miami, because of the people, the water, and the beach (of course), and the architecture on Miami Beach is so wonderful." – Oksana Baiul
"I came to Miami for the first time during the winter, and naturally, I fell in love with the weather." – Joanna Krupa
"My favorite city is Miami. It's very fresh and the beach is sunny." – Liu Wen
"Miami can be super-kitschy at times, and it's fun to embrace that." – Camila Mendes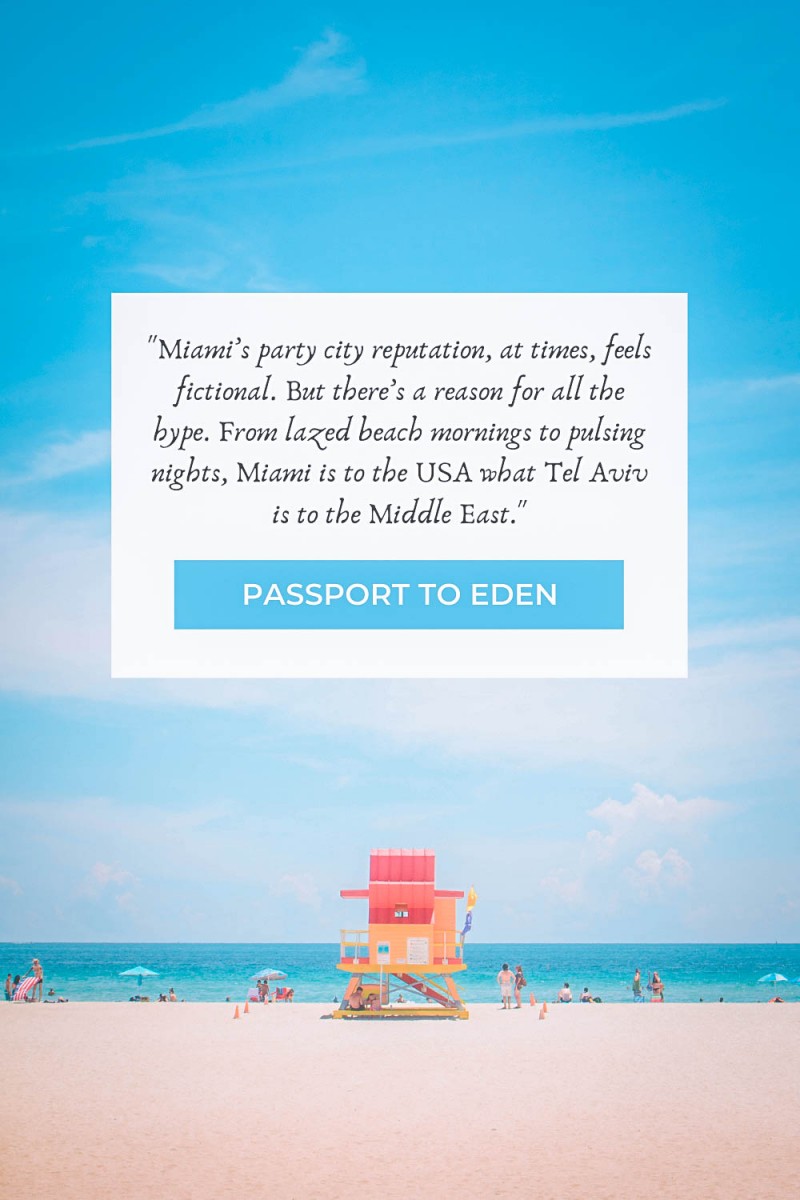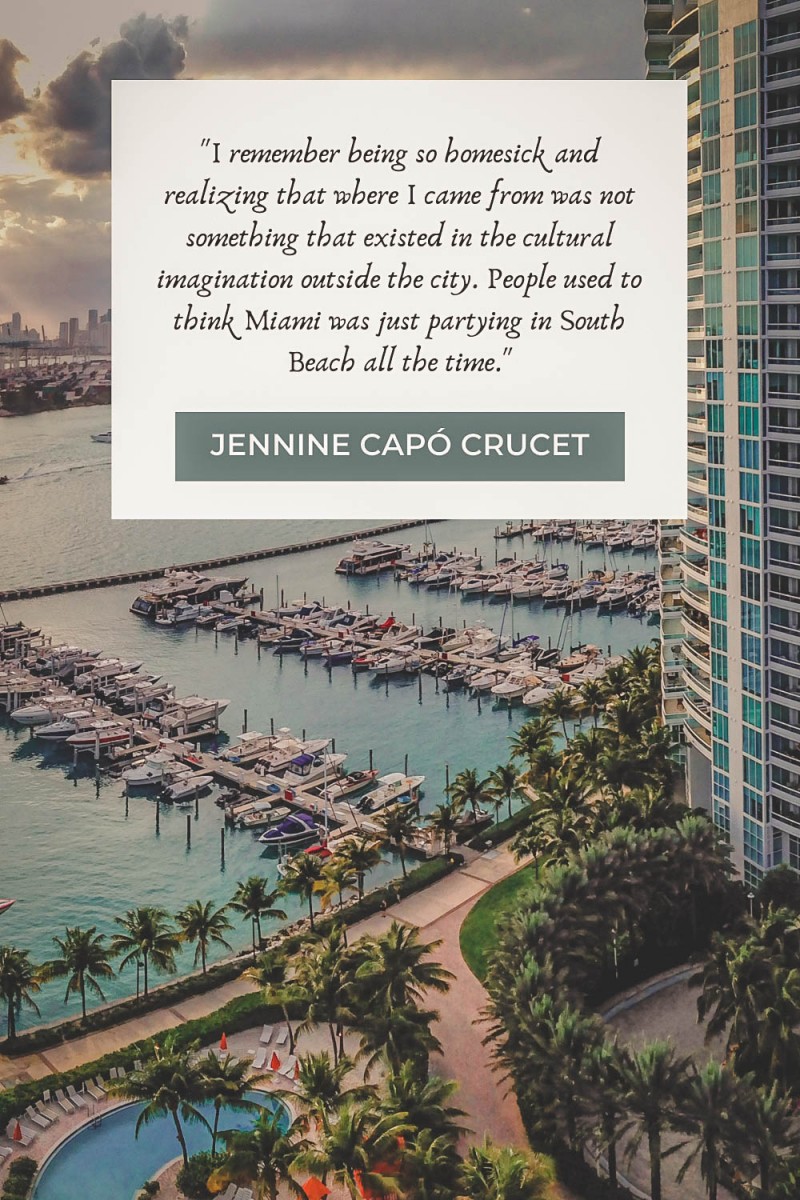 "I'm from a Cuban family, so we're used to talking really loud. You come to a Cuban restaurant anywhere in Miami, and we're practically screaming at each other." – Kat Dahlia
"I love Miami. I miss it so much. I miss the beach – the peace it brings you. I love the sound and smell of the sea." – Genesis Rodriguez
"The biggest thing is, I can never forget where I come from. That's why I wear Miami on my sleeve. I never forget where I grew up." – Manny Machado
"I remember being so homesick and realizing that where I came from was not something that existed in the cultural imagination outside the city. People used to think Miami was just partying in South Beach all the time." – Jennine Capó Crucet
"Hark to the song of the smiling troubadours. Hark to the throbbing guitars. Hear how the waves offer thunderous applause. After each song to the stars." – Ray Charles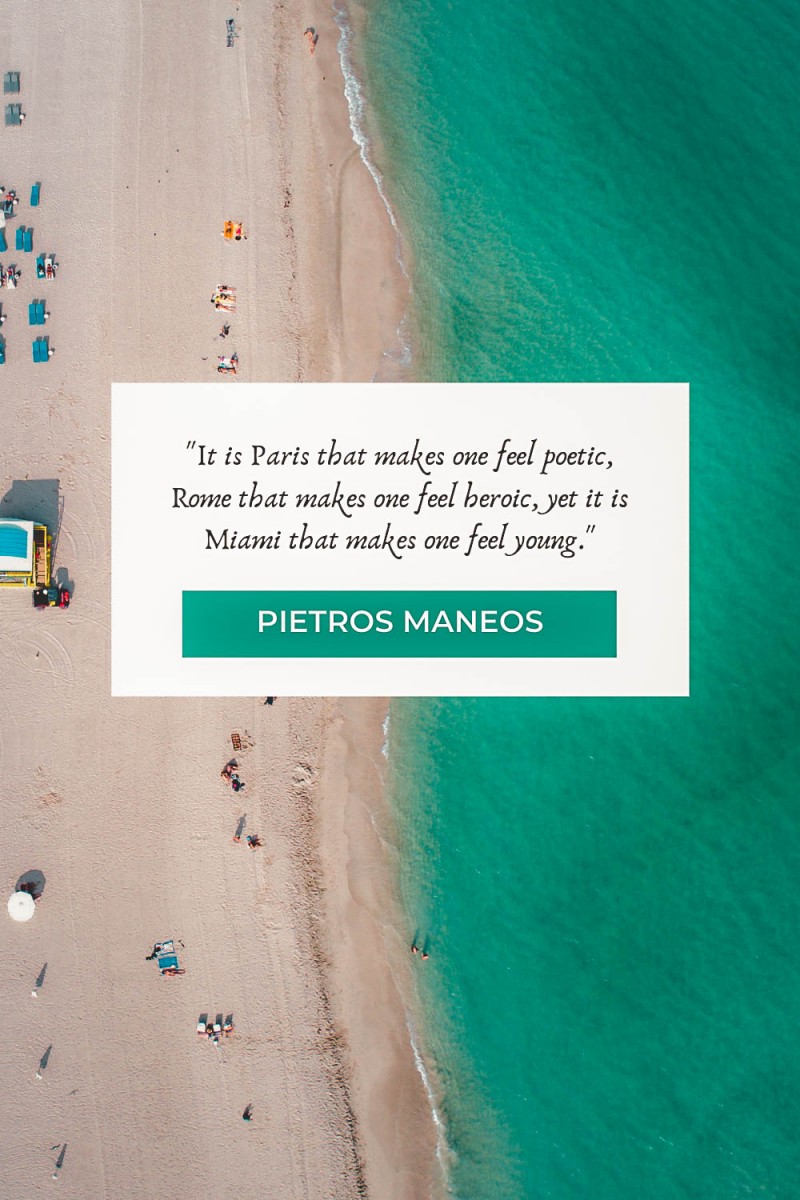 "I'm very comfortable here. I enjoy all aspects of it. This is a place I want to make a stamp and bring something that Miami hasn't seen before." – Giancarlo Stanton

"It is Paris that makes one feel poetic, Rome that makes one feel heroic, yet it is Miami that makes one feel young." – Pietros Maneos.

"Second only to the sea, the Miami sky has been the greatest comfort in my life past 50. On a good day, when the wind blows from the south, the light here is diffuse and forgiving." – Iggy Pop
"All the lights in Miami begin to gleam. Ruby, blue and green, neon too. Everything looks better from above my king. Like aquamarine, ocean's blue," – Lana Del Rey
"I had learned something of Miami from people who had visited there, so I knew what to expect." – Sidney Poitier

Did you find this list of Miami quotes useful? You can use them as Instagram captions (or any social media captions). Let me know what your favorite Miami quotes are!