23 museums in St. Augustine so you'll never feel bored during your getaway.
Whether you're looking for a deep-dive into the arts, a taste of religious history, or a step into the past, there are plenty of museums in St. Augustine that will satisfy your curiosity.
St. Augustine is the oldest continuously occupied European-established settlement in the continental United States. It's a small town, well-preserved. A small town whose memoir is caught in the worn walls and floors of its early structures – the oldest schoolhouse, the oldest house, the oldest drugstore.
Largely tourist-defined, St. Augustine is home to many a kitschy store, dining experience, and attraction.
But with so much historic value, it's hard to miss St. Augustine's top museums (most are hidden in plain sight). Walk a few steps and you'll run into one.
So here we are. Twenty-three museums in St. Augustine. Let's dig in.
Lightner Museum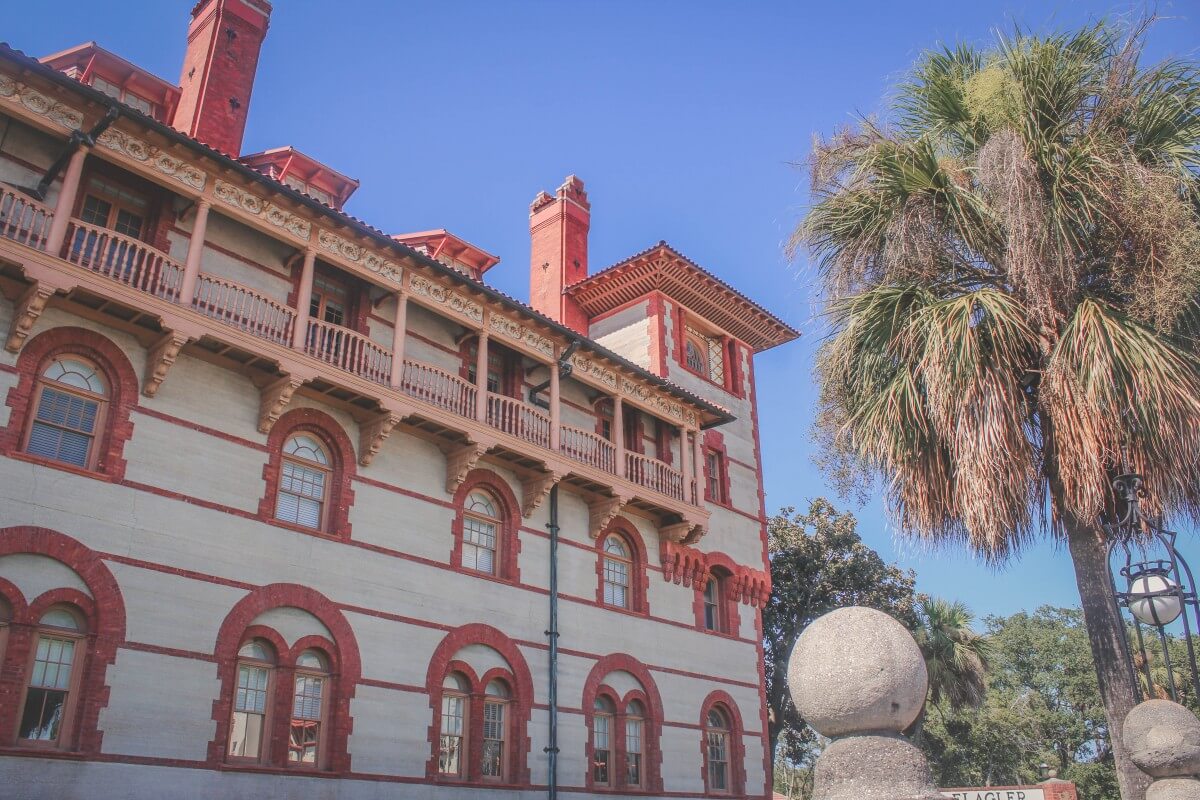 The Lightner Museum is one of the most popular museums in St. Augustine.
Set in the former Alcazar Hotel is a collection of 19th-century (and early 20th century) art spread throughout 5 floors. The exhibits are unique. At times, they're strange. At times, they're opulent. But they're always weird, wild, and wonderful.
Lightner's exterior is equally intriguing – a palm-ridden courtyard walled in Spanish Renaissance revival style architecture.
Every step is magic.
Villa Zorayda Museum
Franklin Webster Smith's 19th-century winter home is easily one of the most extravagant museums in St. Augustine.
It's a gilded age stop, filled with oddities. Known for holiday-time candlelight tours and an over-the-top design, the building, inspired by a 12th-century Moorish palace, is sure to make your jaw drop.
Crisp-Ellert Art Museum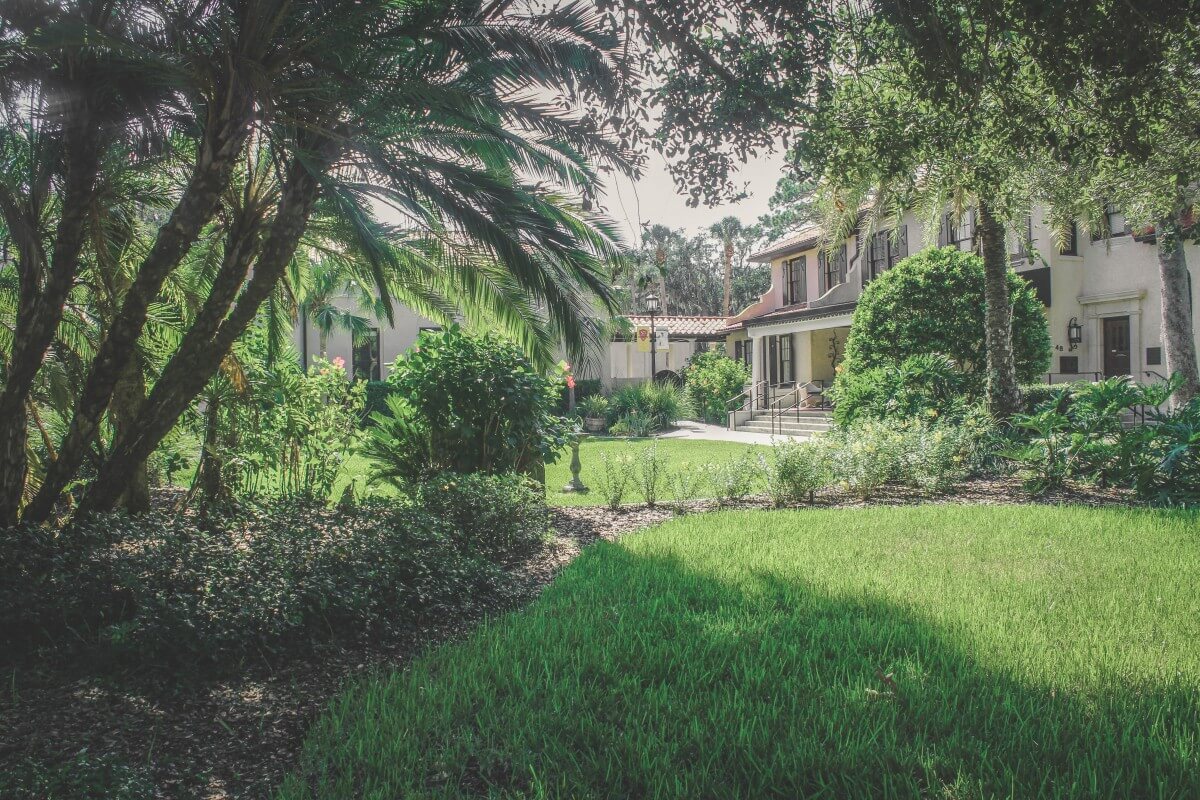 Located within Flager College, the Crisp-Ellert Art Museum is a gallery space hosting contemporary artworks.
If you're touring Flager and looking for a quick escape from the heat, slip in here.
Memorial Presbyterian Church
Memorial Presbyterian Church is the final resting place of Henry Flagler.
The Renaissance-style church was built by the industrialist titan himself (Flager's name is practically synonymous with St.Augustine).
Gold and white terracotta. Deep mahogany pews. While it's not officially a St.Augustine museum, there are usually docents willing to give a detailed historic tour.
Flagler College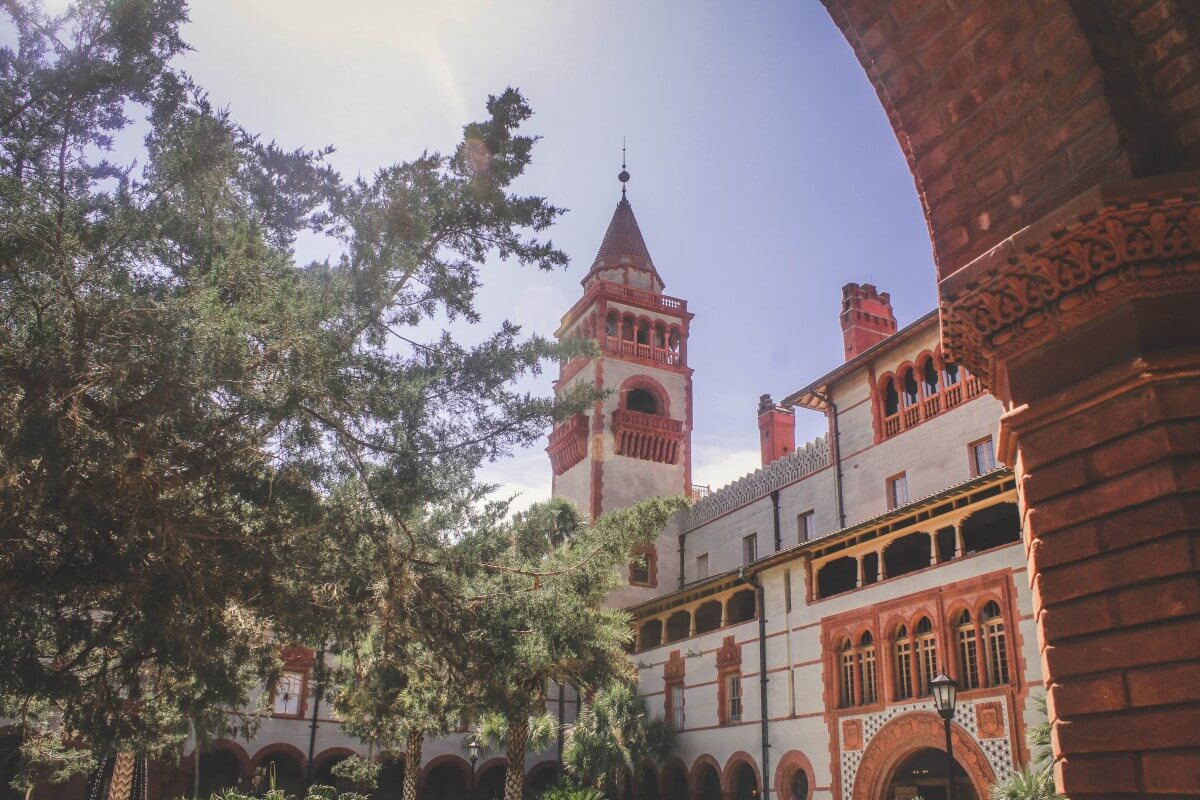 Once a decked-out resort, Flagler College is now a quaint liberal arts college in St. Augustine.
You can take a free self-guided tour of the campus (there are a few displays to poke through) but the big draw is the guided tour, which unlocks exclusive parts of the campus, like the dining room flooded by light from 79 Tiffany stained glass windows (my favorite part).
Peña-Peck House
Run by The Women's Exchange (a non-profit focused on helping women above 30 go back to college), the Pena-Peck House is one of the best museums in St. Augustine.
Constructed in 1750 for Juan Estevan de Peña (a royal Spanish treasurer), the Pena-Peck House has fallen through the hands of many owners since. Today, you'll be led on a guided tour of the house, from the coquina-built downstairs to the upstairs, styled in antique furnishings. There's also a tidy art collection that I loved getting a chance to see.
St. Augustine Lighthouse & Maritime Museum
A little further away from the main hub of museums in St. Augustine is the St. Augustine Lighthouse and Maritime Museum.
Manicured grounds. Interactive exhibits. Volunteer-staffed. Sweeping views (though they do come at the price of climbing 219 steps).
It's a place to take a quick walk, get some exercise in (did I mention the stairs?), and view St. Augustine from a different lens.
St. Augustine Pirate And Treasure Museum
A swashbuckling tour of the Golden Age of Piracy. Myths. Legends. Fables. Truths.
The St. Augustine Pirate And Treasure Museum is geared towards children (but adults will enjoy the displays as well). From pilfering to plundering, this kitschy stop takes a few hours at most to see.
Spanish Military Hospital Museum
A niche museum hand-in-hand with a 40-minute fully guided tour. After reading American Eden a couple of months ago, I have a newfound fascination with early medicines (and the Spanish Military Hospital Museum provided lots of insight).
This is definitely one of the most unique museums in St. Augustine – you'll see an amputation demonstration (no blood) and an herb garden. Although the descriptions are a little graphic (not for the squeamish), I highly recommend it!
Governor's House Cultural Center And Museum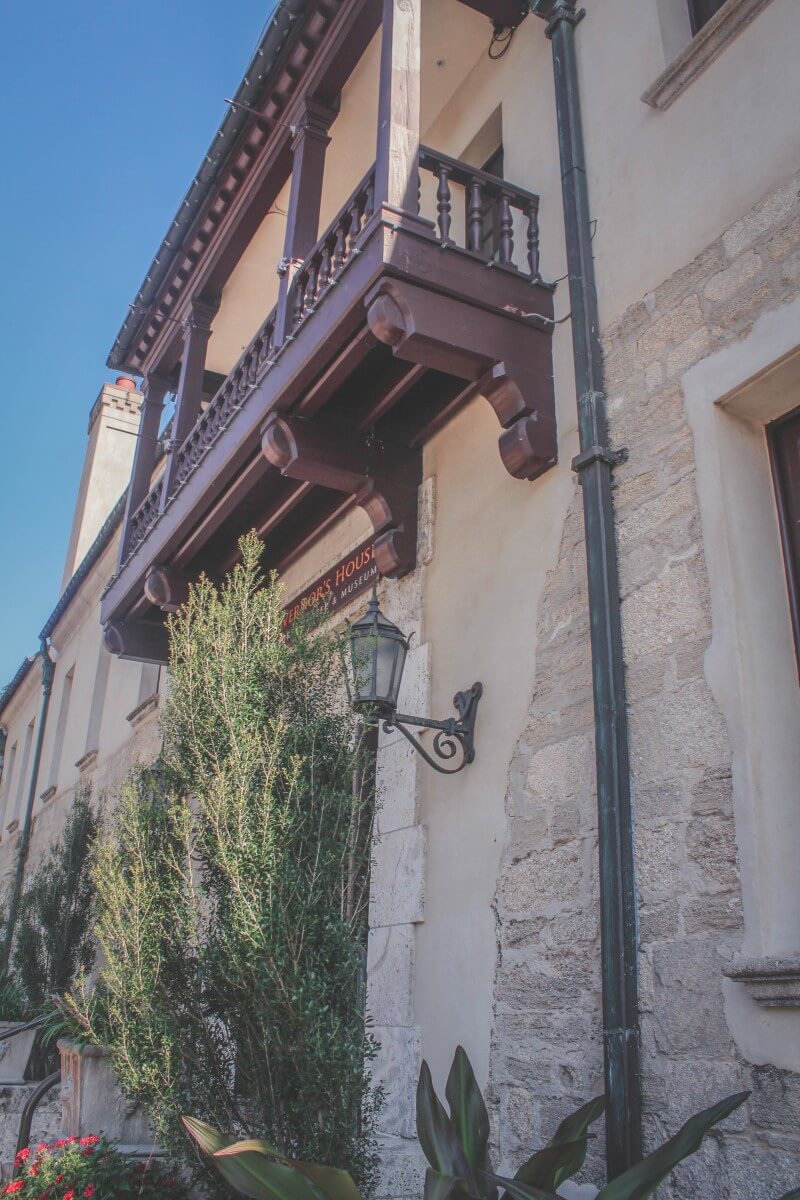 Home to a multitude of government offices since the late 16th century, the Governor's House is a historic stop unto itself.
Walk inside towards a small half-floor exhibit by the lobby. Although only a few rooms, the Governor's House Cultural Center And Museum easily provides one of the best overviews of St. Augustine, from then to now.
It's a long-winded tale that dives deep into the past and present, the changes that shaped the city, and the reason for those changes.
Lincolnville Museum & Cultural Center
Set in the former Excelsior building (St. Augustine's first black public high school), the Lincolnville Museum & Cultural Center focuses on black history and heritage in St.Augustine.
It's an important museum. Amongst the cobblestoned paths and cozy-trimmed cottages, it's easy to get lost in the allure of old town. St. Augustine seems like a time warp but the clock still strikes every night.
The Lincolnville Museum & Cultural Center shows a different side of St. Augustine: one that stretches pre-and-post Civil War. One that sheds light on injustices but also celebrates wins.
Saint Francis Barracks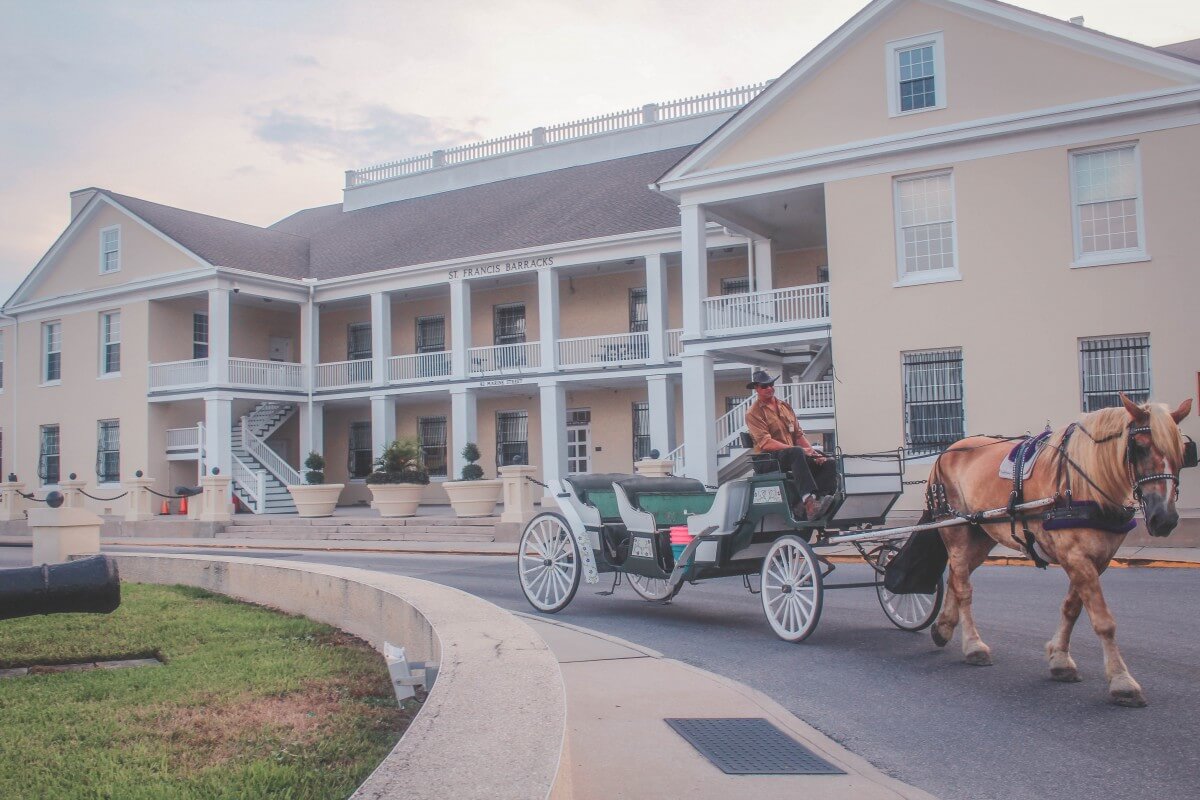 Built from coquina by the friars of the Order of St. Francis, the St. Francis Barracks, like many of St. Augustine's buildings, is wrapped in a unique history.
Today, the Barracks are home to the Florida National Guard Headquarters. Inside the complex is a small exhibit on military history in Florida (by appointment only).
Ximinez-Fatio House Museum
Formerly a popular boarding house, the Ximinez-Fatio House Museum was run by a series of entrepreneurial women many years after Andres Ximinez built the property.
The tour is quick (albeit a little rushed): a brief (and fascinating) 30-minute jaunt through history. The museum offers a glimpse into the role of women in St. Augustine over the years.
Cathedral Basilica Of St. Augustine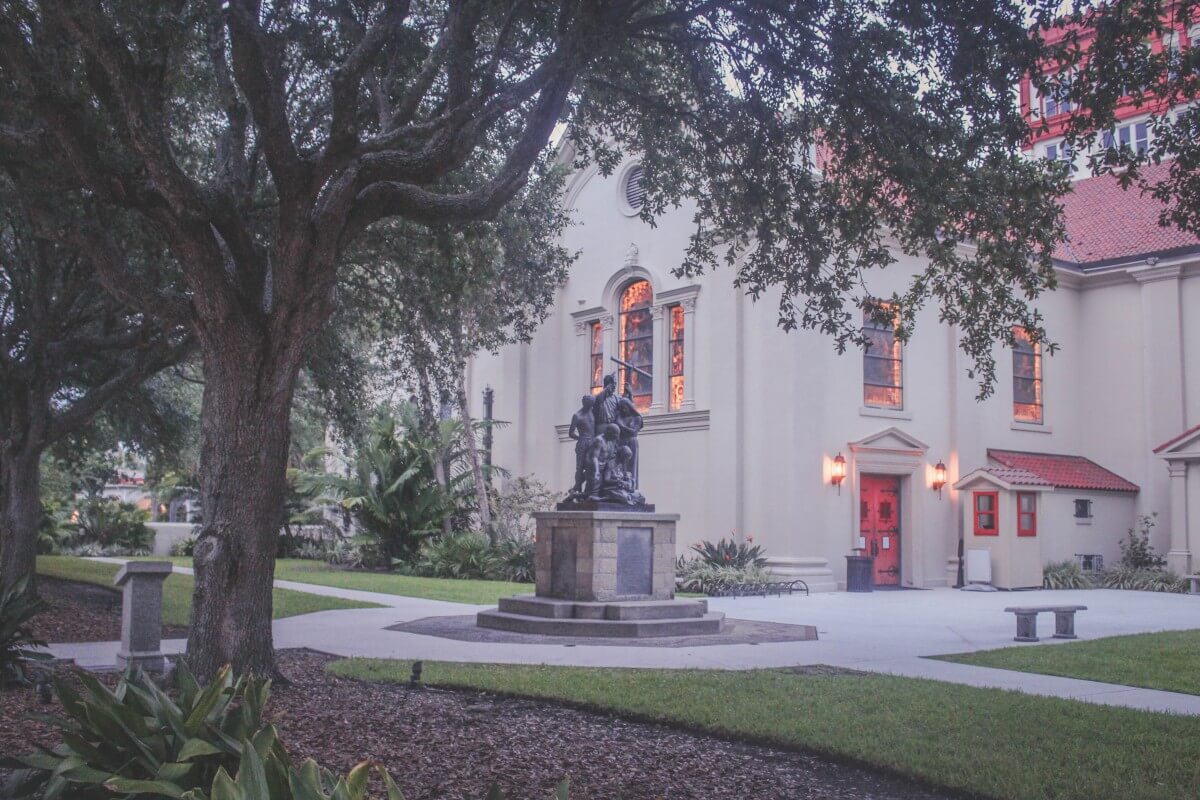 The oldest Catholic church in St. Augustine, the Cathedral Basilica Of St. Augustine, with its stained glass windows and intricate murals, is a surprisingly quick stop.
It's a large building. Old but well-maintained. If you can, go for the afternoon (3 PM) tour.
Father Miguel O'Reilly House Museum
One of the smaller off-the-beaten-path museums in St. Augustine, the Father Miguel O'Reilly House Museum is a hidden gem.
The museum is run by the Sisters of St. Joseph. There's a short video and a few artifacts.
The Father Miguel O'Reilly House spans six rooms and a garden and the history detailed inside is partially about the Sisters themselves (so they are more-than-willing to answer any questions).
Oldest House Museum Complex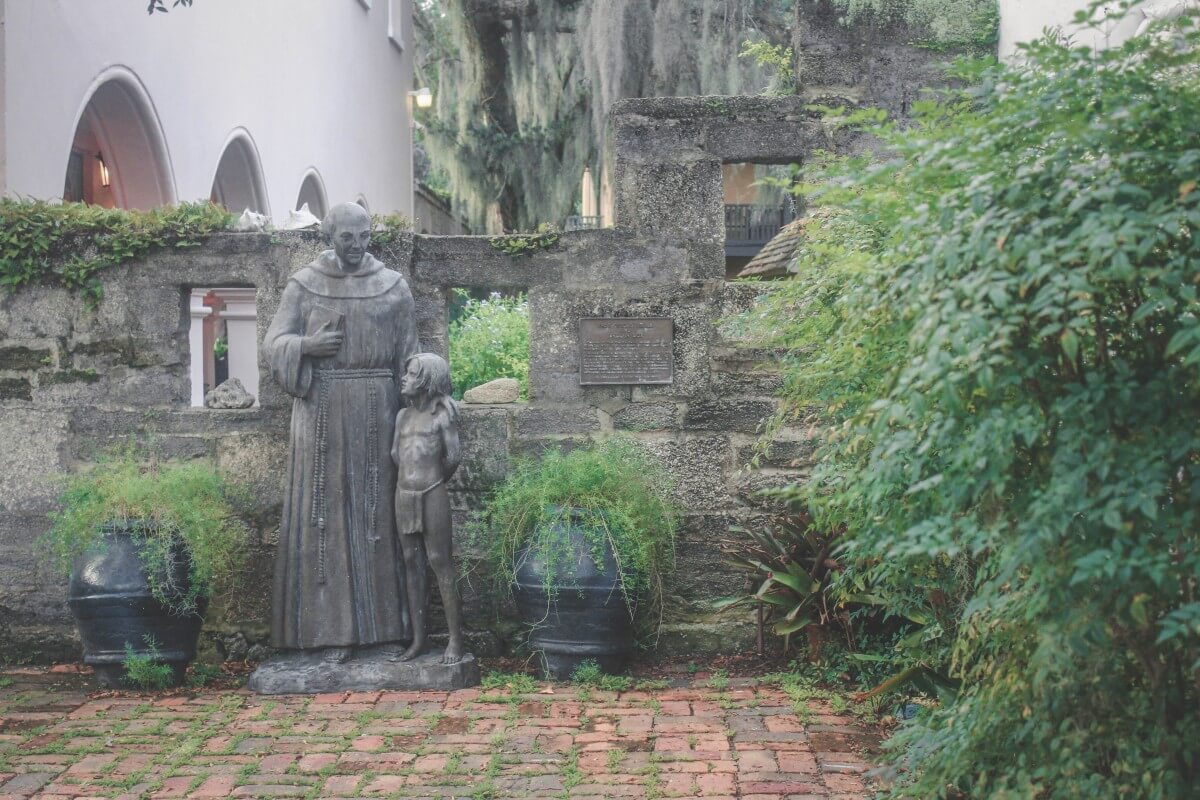 Like many of the oldest attractions in St. Augustine, the Oldest House Complex is one of the most popular museums in St. Augustine.
The Gonzalez-Alvarez House is a neat stop for history lovers. The tour is quick, just under 30-minutes, and snakes through colonial times. The Oldest House Complex is a lot more than just the house though – an oak-shaded courtyard, a local history museum, and a small gallery are also on-site.
Old Jail Museum
Drive past the Old Jail Museum and at first (or second or third) glance you won't believe this building once held criminals.
It looks like a Victorian house, one plucked straight out of a movie. And the design is 100% intentional.
In an almost living-history museum-style setting, visitors to take an in-depth look at St. Augustine's penal system. The tour is kitschy and slightly touristy but fun all the same.
Oldest Wooden Schoolhouse Museum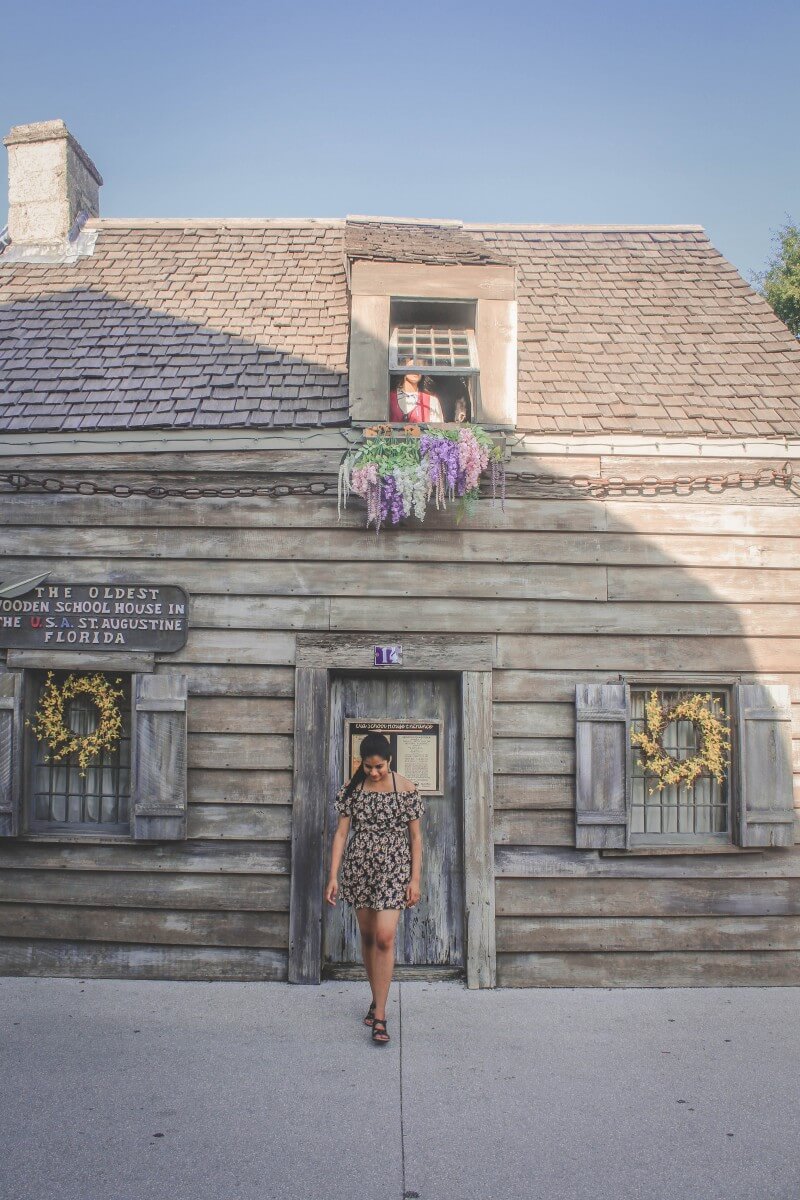 Having once been a tutor, I had to see the oldest wooden schoolhouse museum (even though I was told it was a tourist trap and probably not worth the cost).
It's a tiny museum in St. Augustine, very much geared towards children (think kooky animatronic displays) and yes, it's cheesy. But there were certain things I learned that I would have never expected, like the fact that kids who misbehaved were put in a dungeon of sorts (yikes).
Oldest Store Museum Experience
Like a lot of museums in St. Augustine, your trip to the Oldest Store is highly dependent on your tour guide (they make or break the visit).
Although the experience was a little kitschy, I, personally, enjoyed the tour. My tour guide played the part of a store owner from the 19th century (from the speech to the outfits).
Inside, there were cabinets filled to the brim with old medicine bottles and lots of outrageous knick-knacks.
Mission Nombre De Dios Museum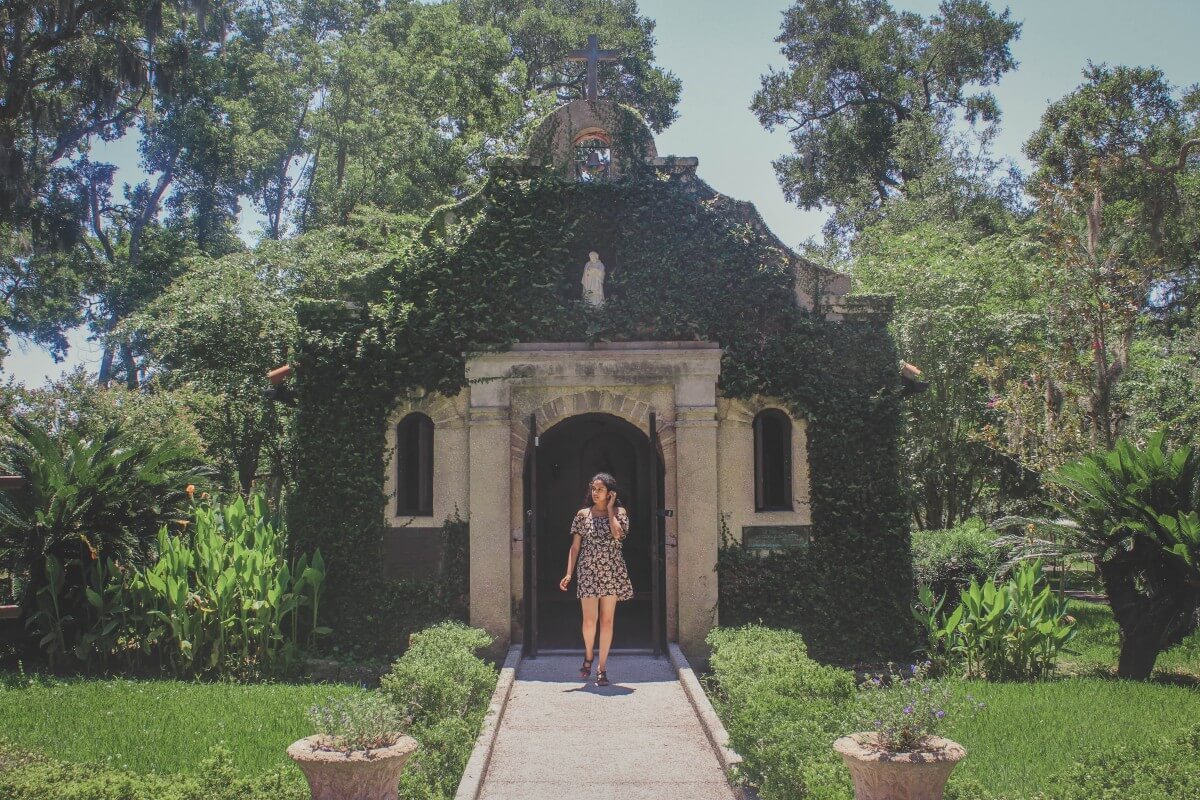 Known for Our Shrine Of La Lady De Leche (the exterior of this chapel is so pretty), Mission Nombre De Dios is a small museum in St. Augustine just off the grounds.
It's a place that contains over 450 years of history. Early Catholicism was well-documented during this time, leading to a handful of present-day exhibits.
St. Photios Greek Orthodox National Shrine
I stumbled upon this museum while walking along St. George Street one morning. It was hot and my hair was being to look like a poodle so I needed a place to duck into.
I entered a small courtyard leading up to a small building. Inside, to my surprise, was a free museum in St. Augustine!
St. Photios Greek Orthodox National Shrine shares information about the first Greek colony in America. It's a very text-heavy museum (I wouldn't suggest it for kids, but if you're a history buff, you'll want to know about this hidden gem).
Castillo De San Marcos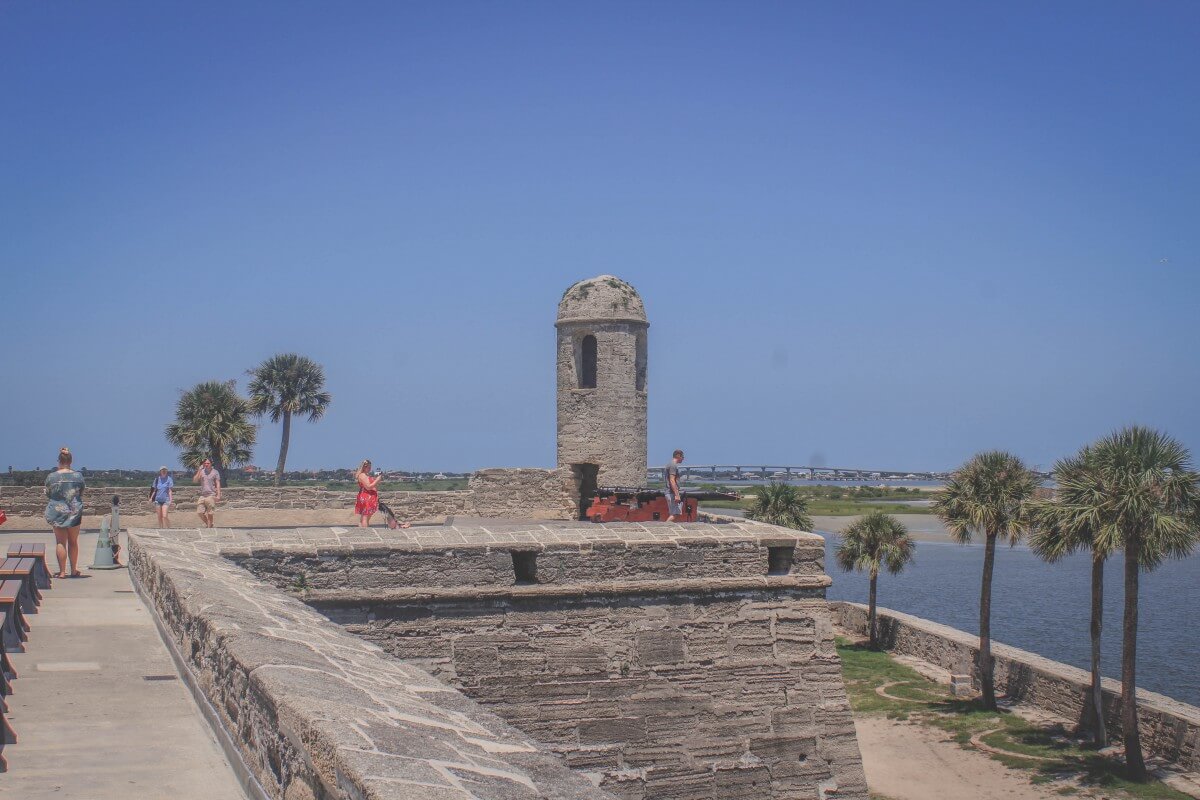 Castillo De San Marcos was hands-down one of my favorite museums in St. Augustine. It's a National Monument – the oldest masonry fort in the United States.
I loved being able to feel a sense of history as I treaded between the dim rooms on a hot day.
And the views from the top of the fort were stunning to boot. I sat on one of the benches, overlooking the coastline, for hours, watching the waves lap in the distance. It was incredibly relaxing. I would 100% visit again (highly recommend if you have a National Park Pass).
Fort Matanzas
Another old but often overlooked fort in St. Augustine is Fort Matanzas. The story of this site starts with the founder of St. Augustine, Pedro Menéndez de Aviles, who slaughtered over 200 French Huguenots, giving Fort Matanzas its name – slaughter.
The history of the fort is fascinating. It's an easy half-day trip so if you're looking for a free alternative to Castillo De San Marcos (or want to visit both), stop by here during your St. Augustine getaway.
Did you find this post on my favorite museums in St. Augustine helpful? Are there any museums in St. Augustine you think I should add to this list? Let me know in the comments below!