Here's how to spend one day in St. Augustine, Florida.
The high Florida sun bakes over the roof of our car as we slowly drive into St. Augustine. The air is hot and sticky. Tourists color the streets.
After spending a crazy morning in Daytona, this part of Florida's coast, a soft grayish-blue stretch washed in time, is welcoming.
St. Augustine started off as a day trip but as I fell more and more in love with the city, one night quickly turned into two and two quickly turned into three.
So this one day in St. Augustine itinerary is a patchwork quilt of our trip highlights.
Disclosure: Heads up, this post contains some affiliate links, which means I may get a commission if you make a purchase. Don't feel pressured to buy anything. I still love that you're here, reading my content (side note: I'd probably suggest getting a coffee or tea first though because my blog posts tend to be long). To find out more, you can read our full affiliate disclosure right here.
One Day In St. Augustine Travel Guide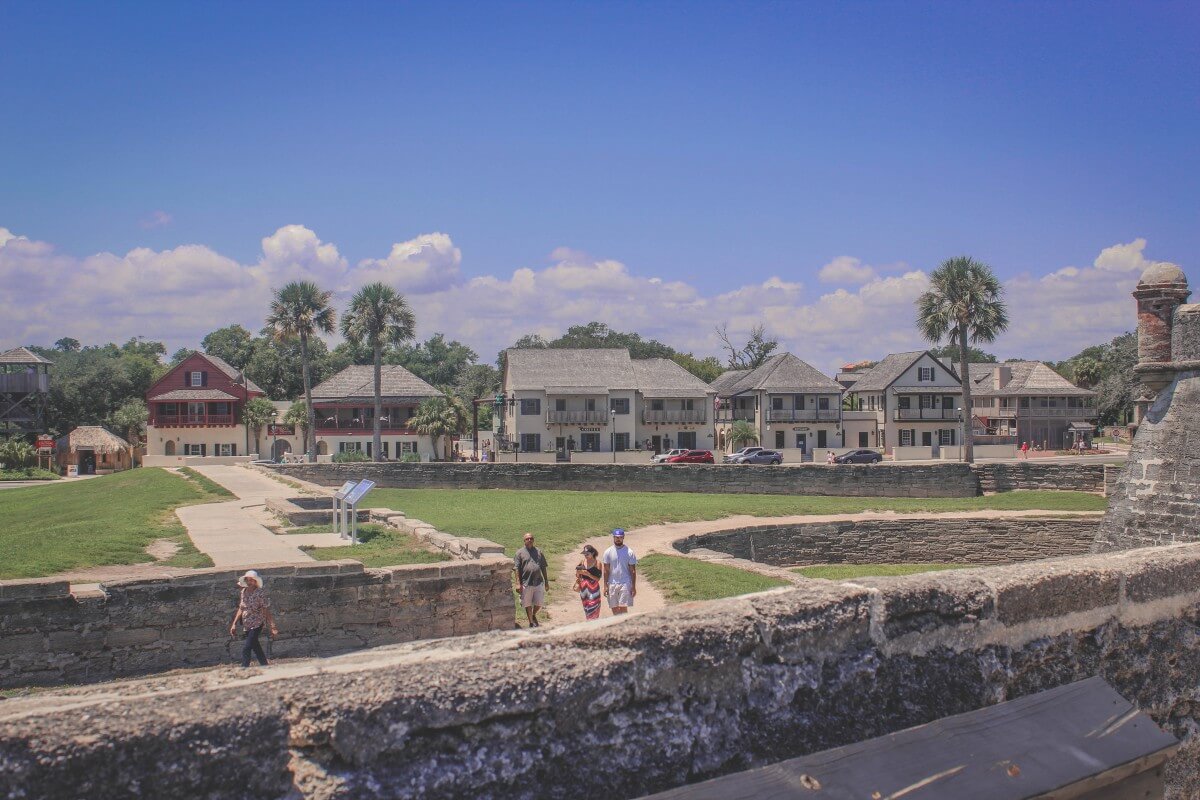 About
St. Augustine is the oldest continuously-inhabited European-established settlement within the borders of the continental United States.
The real history of St. Augustine begins with the Natives in the area (called Timucua by the Spanish and French). But in a whitewashed version of St. Augustine's past, Pedro Menéndez de Avilés' arrival pinpoints the start of St. Augustine's story.
Menéndez sculpted St. Augustine, the town, the community. But St. Augustine, the land, was occupied well before then (a fact that most attractions in the city, unfortunately, gloss over).
Travel Tip
In fact, historical inaccuracies are pretty common amongst several popular St. Augustine exhibits. The story of St. Augustine is constantly changing as new evidence surfaces under the harsh Florida sun.
It's hard to keep up. And some tales popular amongst tourists bring the city good money. So the town rolls with them.
If you're a history buff, complement your trip with a little extra research. Suspend your disbelief whilst visiting the attractions. Have fun. Play along with the kitsch. But know that what's marketed as the truth is occasionally just fiction.
When To Visit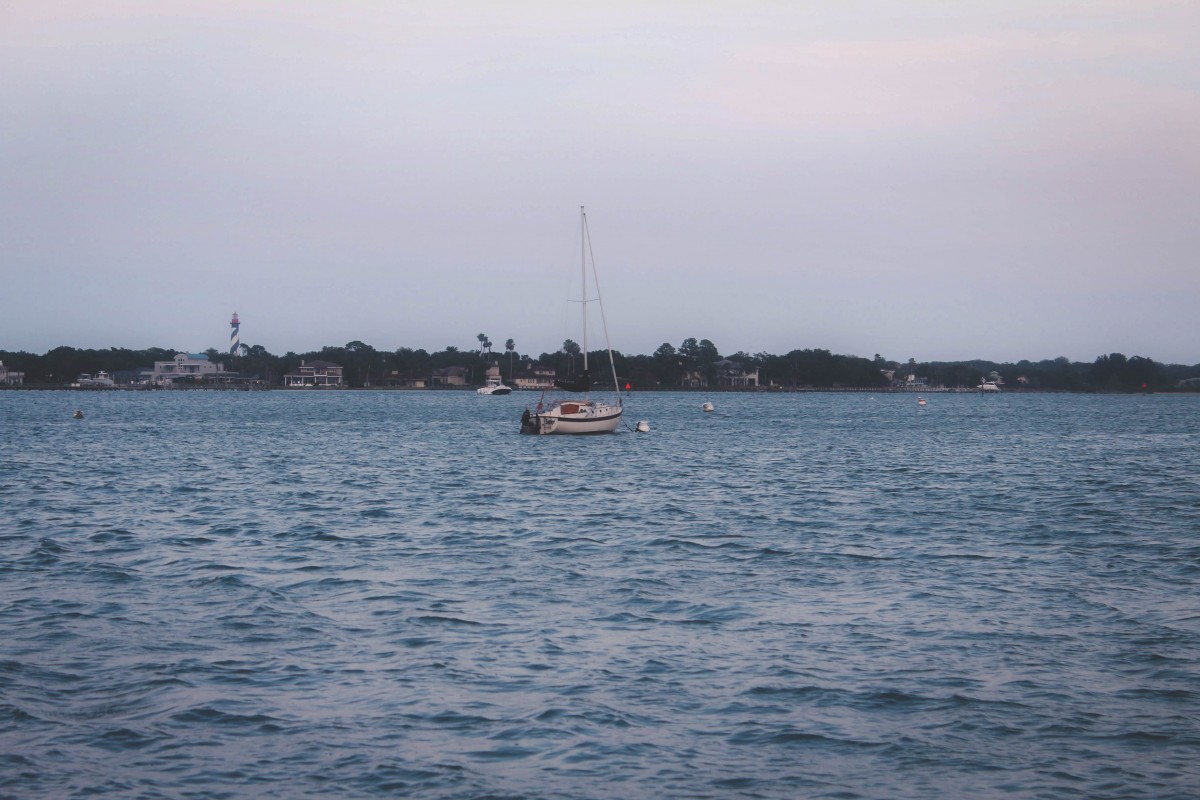 Summer is peak season in St. Augustine.
If you're looking for a quiet weekend getaway (and have flexible dates), head to St. Augustine in early fall or late spring. There's less traffic, as school is back in session. But you'll also have standard beach weather with just a pinch of chill.
Where To Stay
I ended up staying at Holiday Inn in St. Augustine as that was one of the few properties available last-minute (we booked late in the evening, well after arriving in the city).
Located near Mission Nombre De Dios Museum, the hotel was clean and unfussy (the kind good for just kicking up your feet after a long day walking).
Old City House: set in a Spanish revival building, Old City House is a cute inn perfect for a romantic weekend escape
St. George Inn: a conveniently-located property right in the heart of the most popular sightseeing spots in St. Augustine
One Day In St. Augustine Itinerary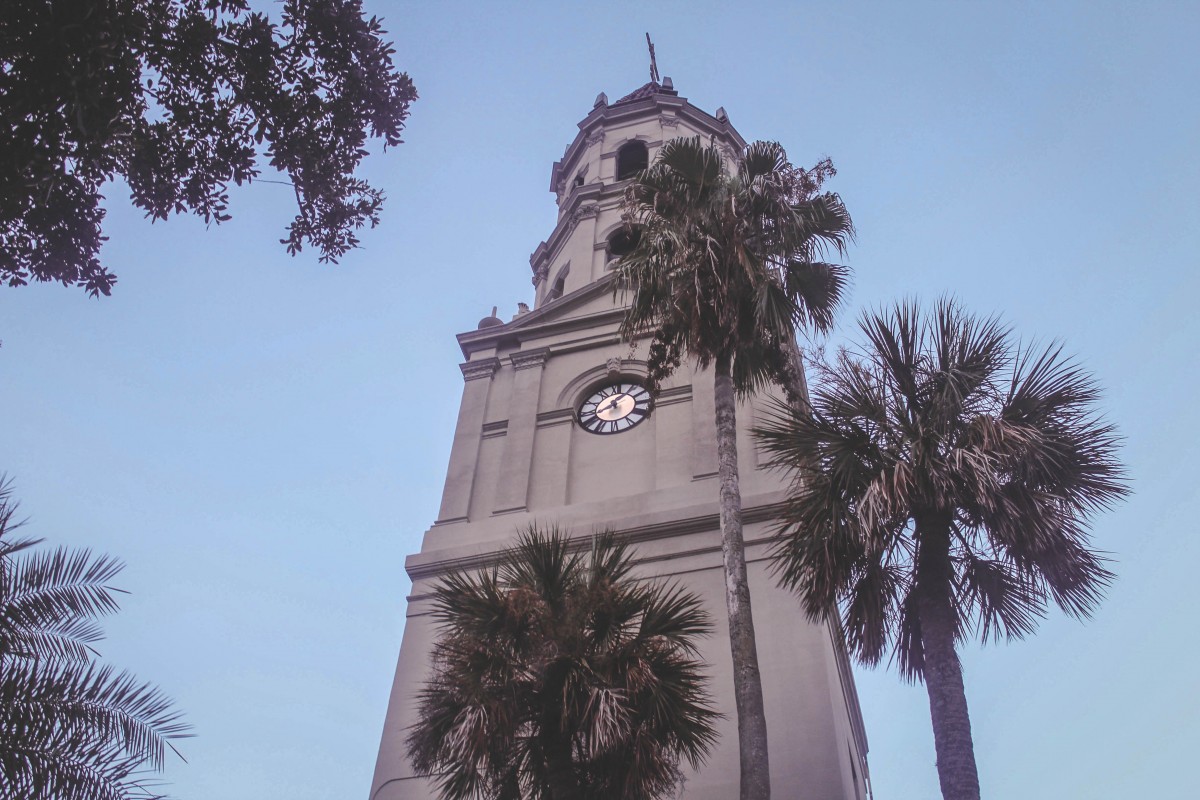 At the start of our one day in St. Augustine, we head out to St. George Street, a long straight road riddled with meandering alleys and side-streets.
In the small of the morning, the footsteps that trace the pathway are soft echoes but by the time night falls, they march to drumbeats.
You could easily spend a whole (scratch that – two) days on St. George Street, getting to know it intimately.
Grab An Aussie Pie At The Kookaburra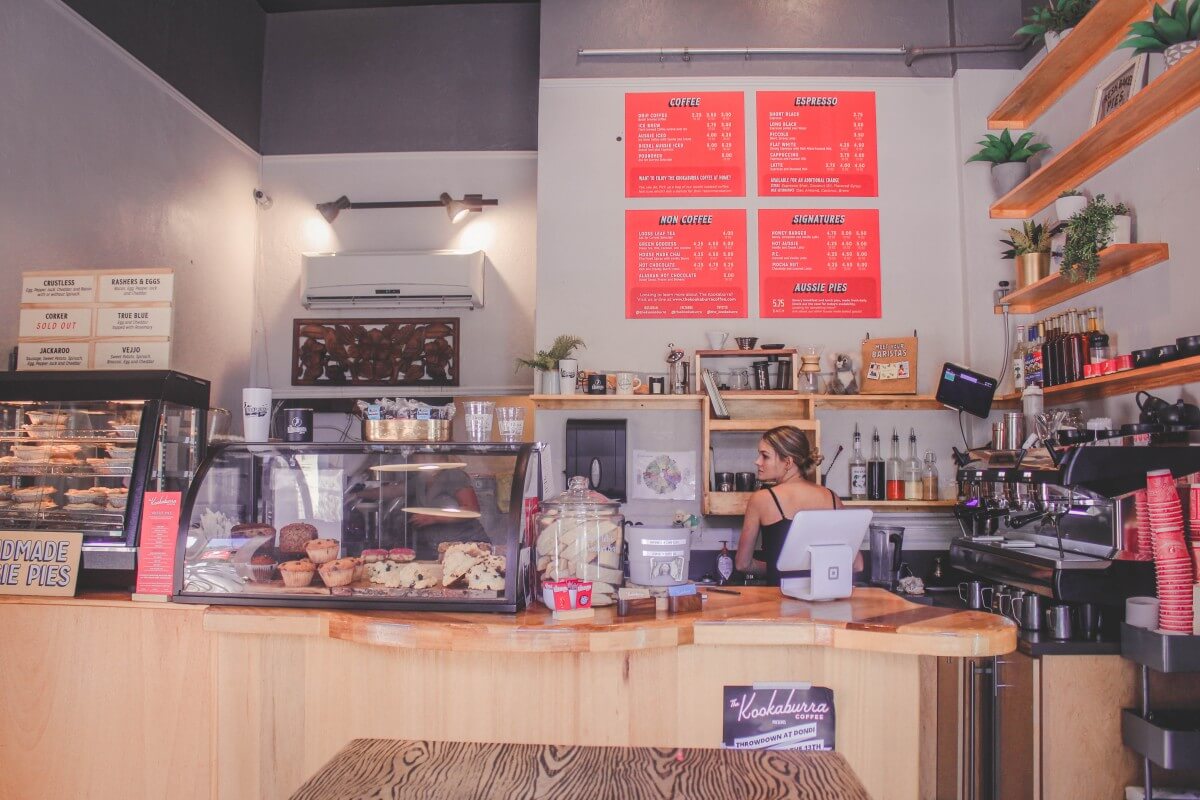 After strolling through St. George Street in the heat, I was craving something intensely cold.
When I saw the sign for Kookaburra, a coffee shop by the Cathedral Basilica Of St. Augustine, I entered without hesitation (I mean, I've never seen my feet move so fast. You'd think I was planning on competing in the Olympics).
I ordered the Alaskan Hot Chocolate (because of the name alone). It's a frozen hot chocolate, heavy on the chocolate, light on the ice.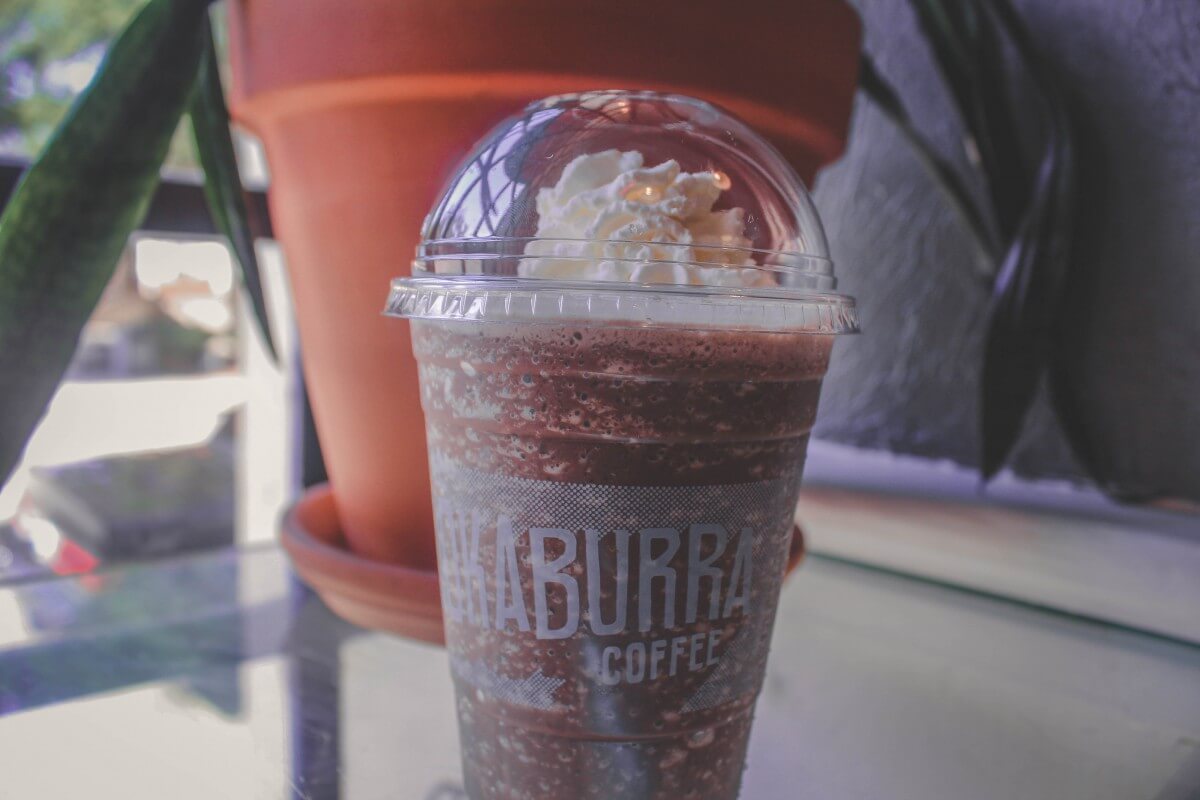 The cup was so perfectly frosty that I didn't even want the semi-solid liquid inside, I just wanted to hold the cup in my hand as I walked. But after taking a sip, the rest was history (that drink did not last long).
At first glance, Kookaburra, a St. Augustine chain, seems like a small hole-in-the-wall shop (but there's a spacious room next door).
And it's an Aussie-American espresso bar so picking up an Aussie pie is non-negotiable (I loved the Thai Chicken Chili).
Visit The Lightner Museum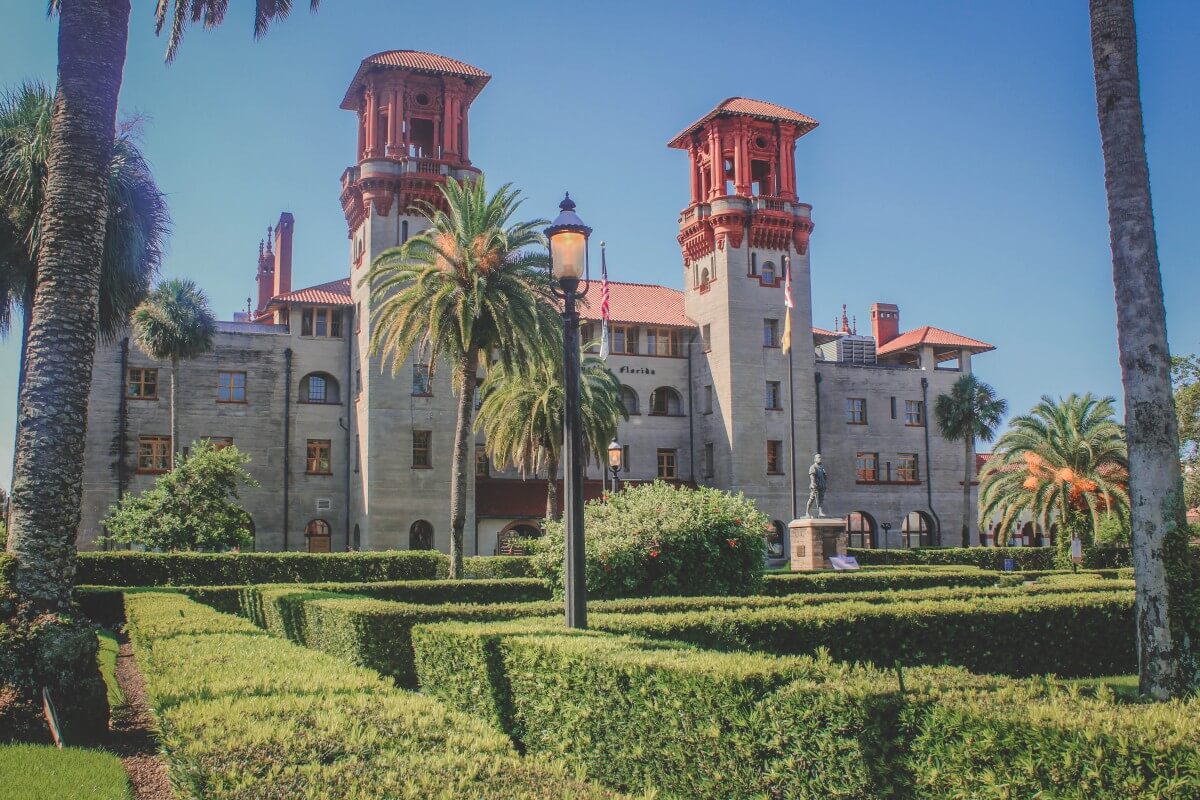 The architecture of The Lightner Museum – Spanish renaissance revival – drew me in immediately.
It's an art museum, multiple-floors, dressed head-to-toe in quirky displays and rich works.
You enter through a quasi-hedge maze, neatly trimmed. The path leads into a lush, palm-decorated indoor courtyard. Circle the courtyard and you'll find the door to the Lightner Museum.
A lot of the works inside are conversation pieces, making this attraction one of the best things to do in St. Augustine in one day for couples.
Quick note: If you aren't a fan of art galleries, I also published a list of twenty-three museums in St. Augustine a short while ago (hopefully, you can find one that aligns with your interests).
Take A Walk Along St. George Street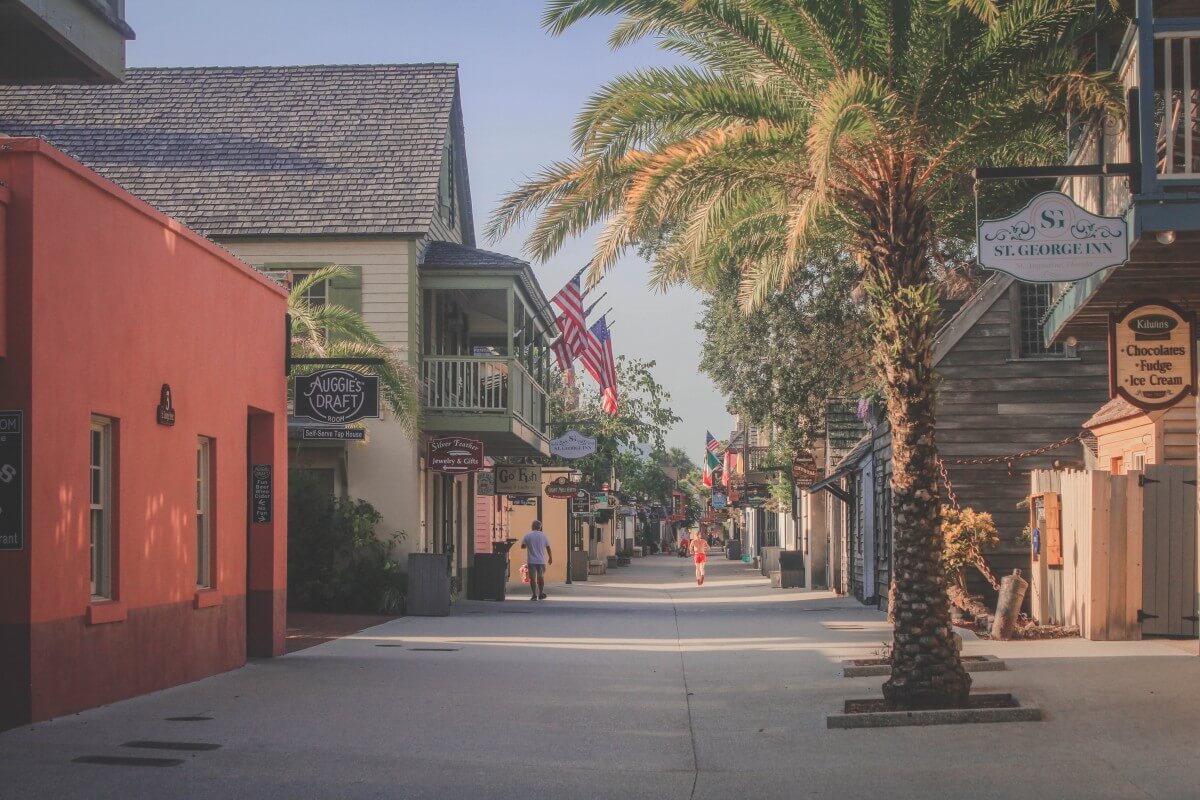 St. George Street is the heart of St. Augustine.
A footpath styled like a road, St. George Street, a thread of colorful boutiques and restaurants (think bright oranges, greens, yellows, and reds), is easy to fall in love with.
Although touristy, this lane is what gives St. Augustine its quintessential small-town vibe.
There's a certain hum to the bakeshops (so. many. sweets), a lilt to the museums, and calm to the sea breeze that makes St. George Street addictive.
Grab A Bite By Colonial Oak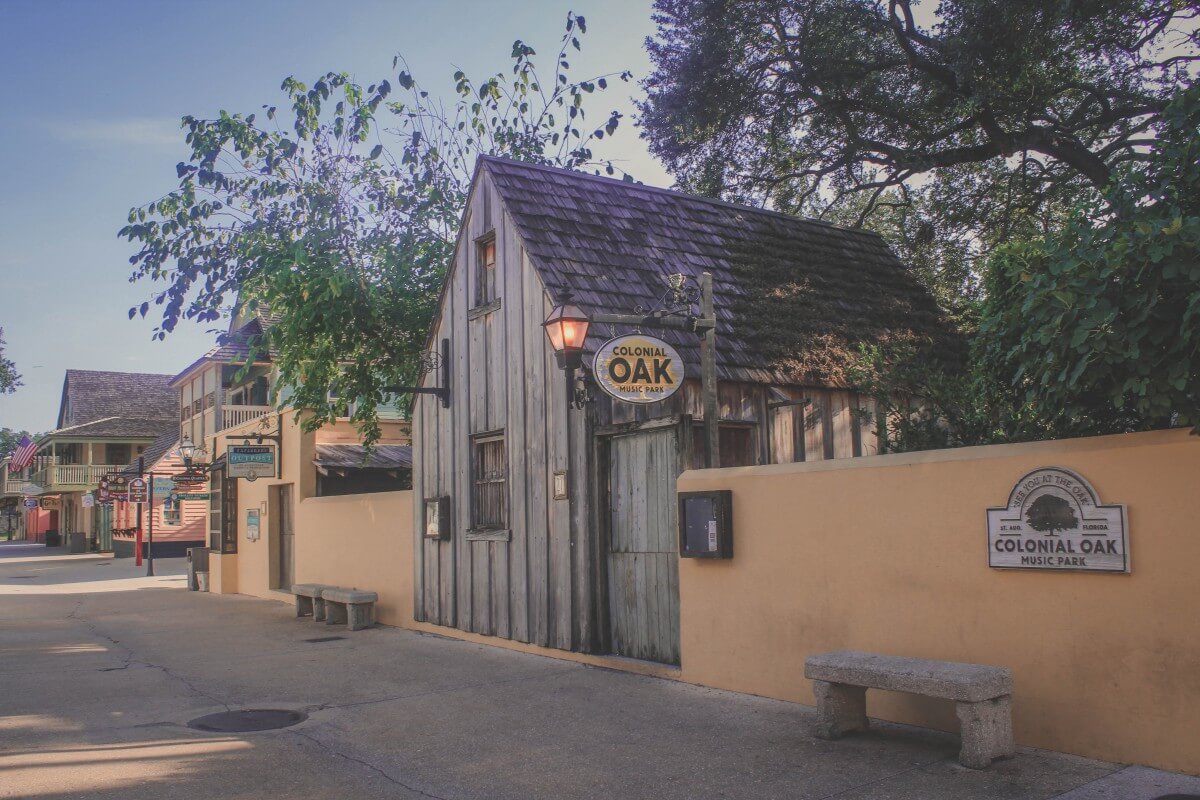 Colonial Oak is a live music venue. A swath of picnic tables and benches cubby-holed by tall trees, Colonial Oak has a hidden gem vibe. And it's 100% free to visit.
If you're craving lunch, hit up St. Augustine Seafood Company next door.
St. Augustine Seafood Company is a fast food joint. The food is good, local-inspired. Fair warning, it's a bit on the expensive side for the portions (I loved St. George Street so much, I forgot I was smack in the tourist district).
But if you're searching for a quick bite that's freshly made and in a great location, you can't beat St. Augustine Seafood Company.
Castillo De San Marcos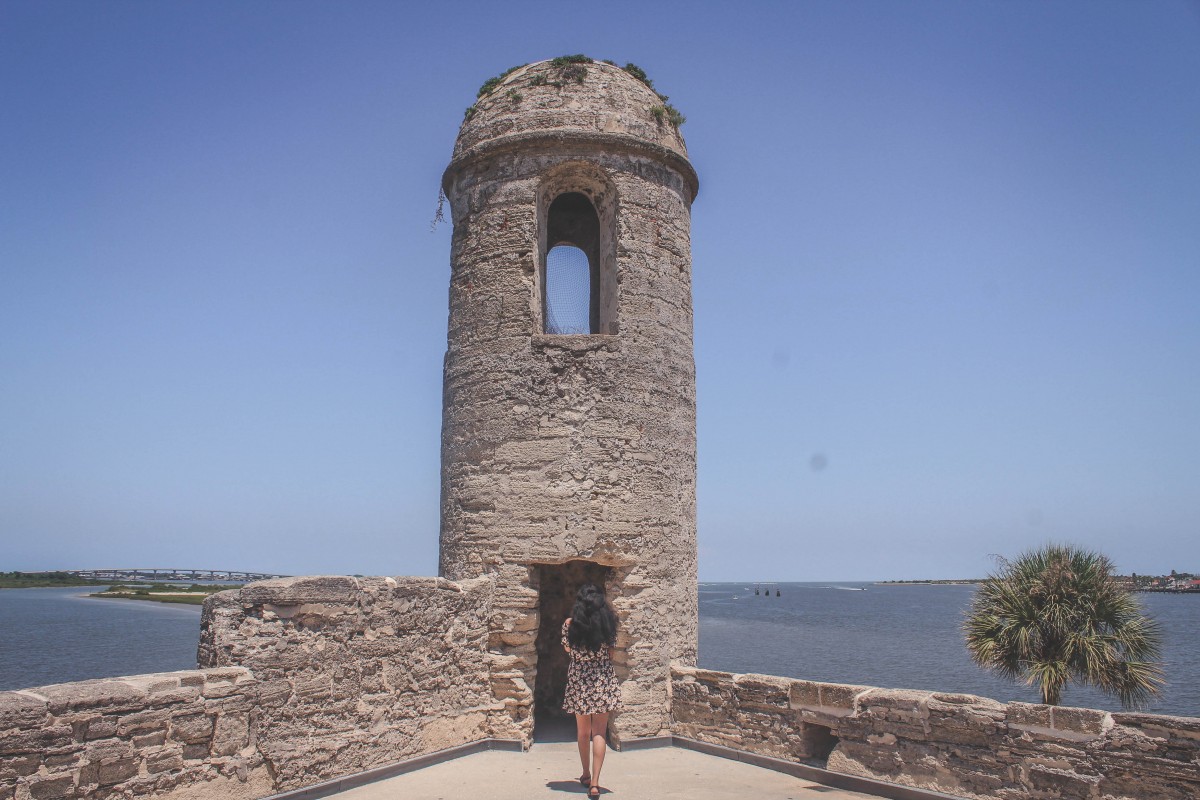 Castillo De San Marcos is built from coquina, a porous limestone of broken shells.
It's a fort and National Monument. It's 300 years of history and more.
By the time you touch the inside corners of Castillo De San Marcos, you'll have walked past a wide drawbridge into a dark unlit room.
Room to room, you'll find the story of Castillo De San Marcos, unearthed bit by bit. As I made my way to the top, I could see the grayish blue of a rougher patch of water slap against the shore.
On the opposite side was all of St. Augustine, doll-sized. Flagler College. The Lightner Museum. St. George Street.
So I decided to pause. Sit down. And enjoy the view.
Bridge Of Lions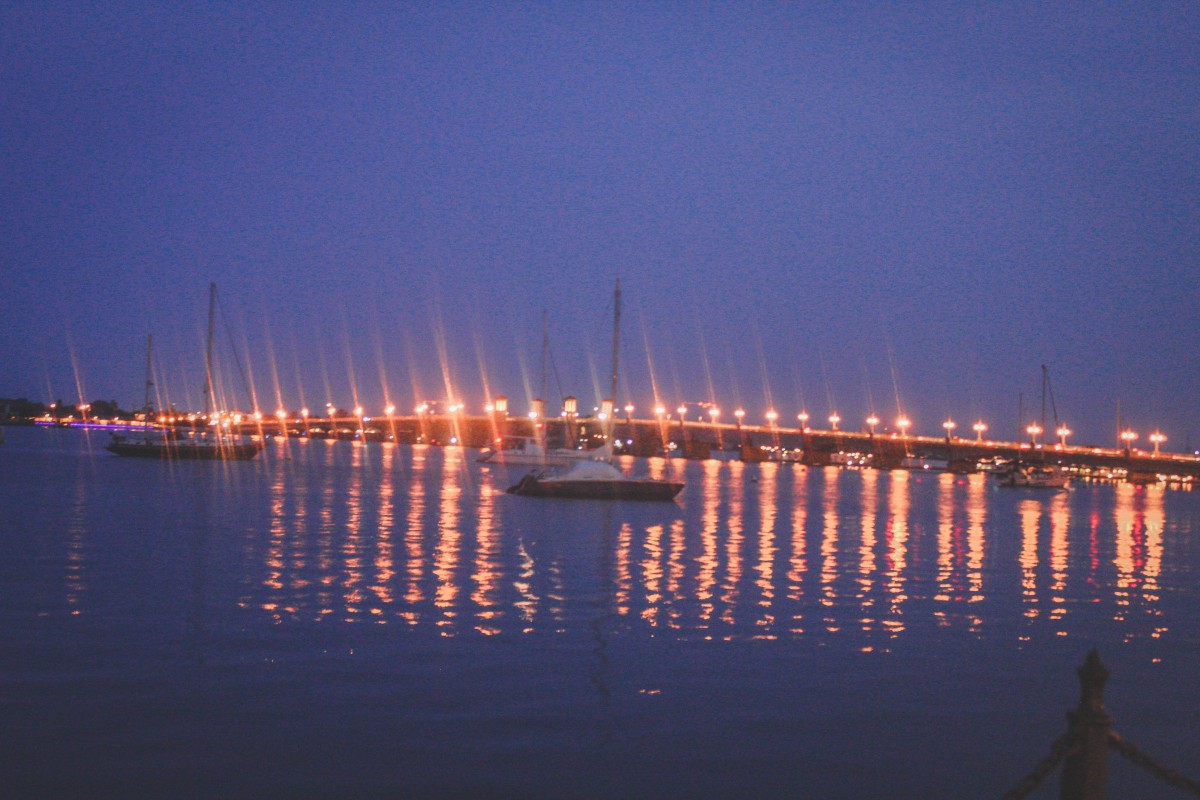 When I travel, I'm an early sleeper. But the glitz of St. Augustine pulled me deep into the night.
I wanted to feel the riverside winds against my skin and music rumble through my veins. So I strolled along the tiny sliver of a sidewalk that connected Castillo De San Marcos to the Bridge Of Lions, a double-leaf bascule.
The lights, a soft glow of yellows and reds, reflected in little swirls across the waves. Shadows of boats and (the occasional) yacht lightened the black waters.
Across the sidewalk was St. George Street. Laughter and chatter carried over quaint buildings.
By the time I got back to the hotel, it was midnight. And as my feet fell onto the bed, I realized one day in St. Augustine wasn't enough. I was already hungry for day two.
Did you enjoy this one day in St. Augustine itinerary? How would you spend one day in St. Augustine? Let me know in the comments below!