As the plane tips its wings towards the deep blue water, I know one day in Tampa isn't going to be enough. Tampa is a sprawling city, glitzy and cool from up here in the clouds.
I arrive at TPA on a Saturday. The air is sticky from humidity. My crown of ringlets, sucking in all the moisture, coils like a slinky.
But after a late morning flight, the only thing on my mind is food. Well, one kind of food in particular – Tampa's iconic Cuban Sandwich.
One Day In Tampa Travel Guide
About
Located along Florida's Gulf Coast, Tampa is a big business city. It's a place of chains and brands and big names. But hidden amongst the well-known titles are a few smaller boutiques that give Tampa its resident charm.
This city looks all modern (especially the skyline), but it's actually incredibly historic. Tampa's roots trace back to the early 1500s. And its trunk grew strong, sturdy, and tall during the 19th century when railroads and hospitality and mining and shipping industries pollinated the region.
How To Get There
I arrived in Tampa via TPA. The Tampa International Airport is just as cool and breezy as the city itself.
It's a small airport – cool-toned and stylish in its simplicity. Vividly colored abstract structures are woven into the airport's slick layout.
Alternatively, you can fly into the St.Pete-Clearwater International Airport (PIE).
P.S. Here's how I found and booked cheap flights to Tampa.
Travel Tip: Over the past few years, I've found that that TPA is usually cheaper than PIE, but I still like searching for flights at both airports just in case.
When To Visit
The best time to visit Tampa is during the shoulder season.
Tampa doesn't see as much spring break traffic as some other popular Florida college getaways (Miami, Destin) so March and April are great times to visit.
Mid-August (in between summer and hurricane season) is also a good week to snag a beach vacation. But fair warning, afternoon thunderstorms are common during this time period.
Travel Tips
Speaking of thunderstorms. Florida is the lightning capital of the United States. And the lightning here is crazy (to say the least).
Rain invites flashy shows that feel like fireworks dropped straight-from-the-clouds to the ground. If the storm hits Stephen King-inspired, take advantage of all the amazing indoor museums this metropolis has to offer.
One last note, Tampa is filled with one-way streets. I personally find one-way roads extremely confusing to navigate (in other words, this was a family trip and I failed to give coherent directions to my dad). So if you're like me in that regard, you might want to make your itinerary a little looser to adjust for the extended driving time.
Travel Tip: Watch out for speed traps (especially in the northern outskirts of Tampa).
Where To Stay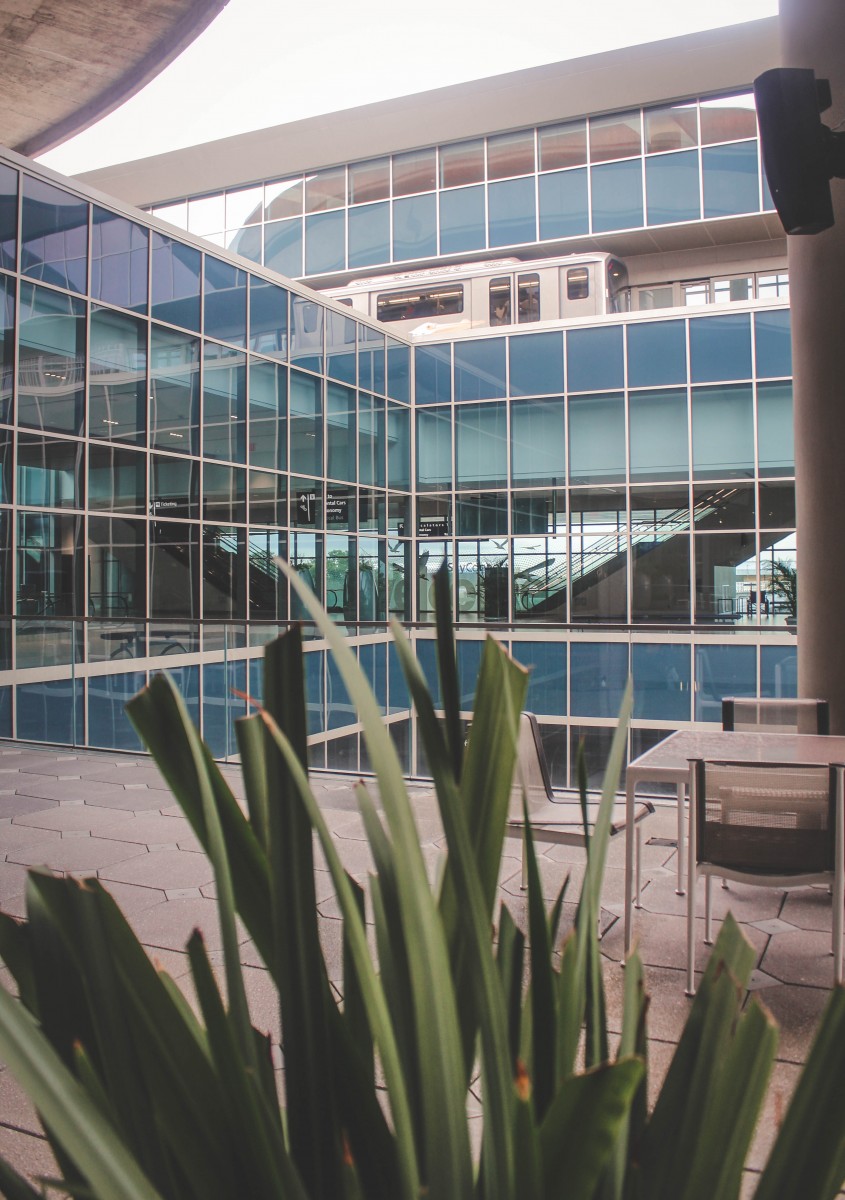 Tampa is known for its boutique hotels. Even though there are plenty of budget-friendly spots around town, this is the city to splurge on accommodations.
My favorite Tampa hotel is Le Meridien Tampa, an age-old courthouse transformed into a modern-day lux escape. Every guest at Le Meridien receives complimentary entry to the Tampa Museum of Art, a hip local stop near the Tampa Riverwalk.
The hotel is also home to Bizou Brasserie, an upscale New American restaurant that is just as much a feast for the eyes as it is for the tastebuds.
But what sold Le Meridien for me were the little details that encased the history of this site: the court's former witness stand is now a hostess stand; its original leather doors, today, lead into a ballroom; and the judge's bench still remains the stronghold of the operation as a business center counter.
Start Your One Day In Tampa Itinerary With Ybor City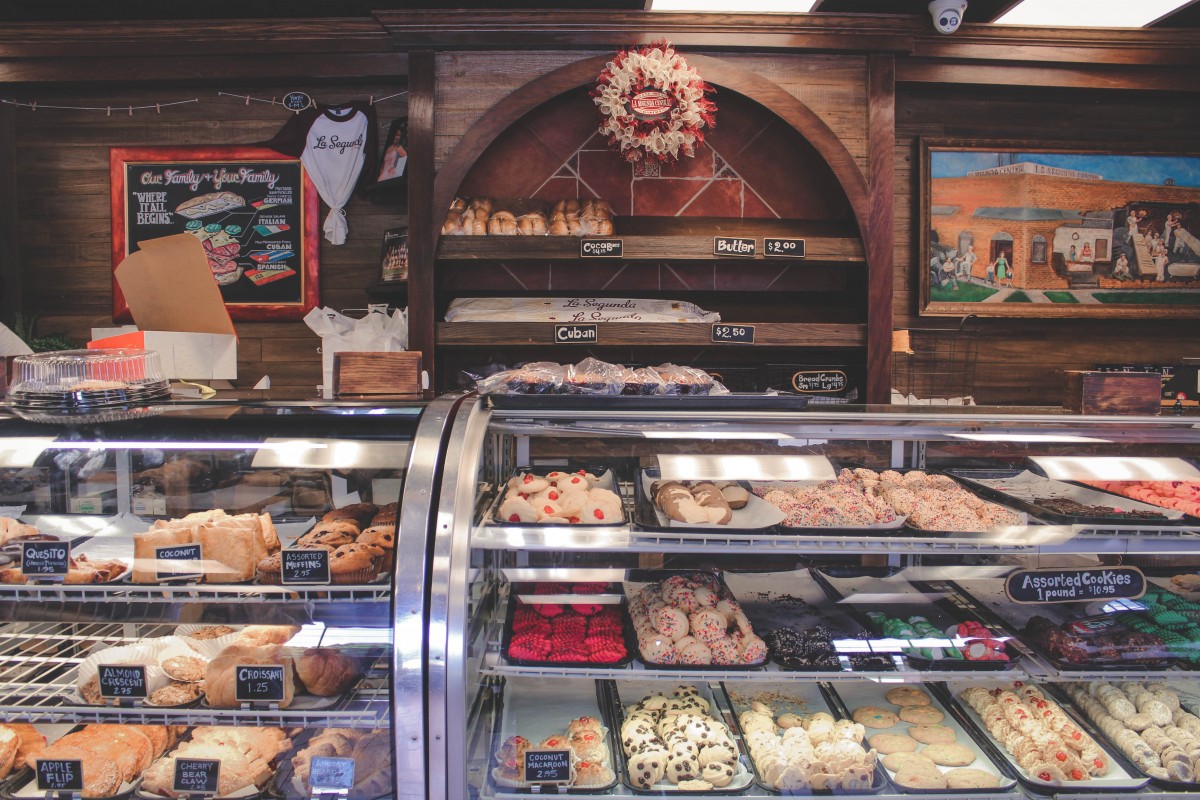 Ybor City is the center of Tampa's historic heartbeat.
Know Before You Go:
The best time to visit Ybor City is weekend mornings. As day slips into night, Ybor's atmosphere slowly grows from family-friendly to more adult.
There's a tiny park in Ybor that's technically the only foreign-owned land in the United States. Parque Amigos de José Martí (thanks for the update Stephanie), composed of actual soil from each of Cuba's provinces, is a historic symbol along Tampa's Cuban Heritage Trail. The park was donated to the government of Cuba in 1956 and the land title has been with Cuba ever since.
Wild chickens run around Ybor City, clucking I'm free, I'm free. Actually, I'm not sure what they cluck, but they are cute and active (and a tad bit noisy). These Tampa chickens are directly descended from the backyard chickens Ybor residents kept in the early 1900s. The birds are protected by a city ordinance [Chapter 14, Section 14-176]. Although fowl in Tampa are pretty used to tourists and stick to the grass, exercise extra caution when driving around the area.
Columbia Restaurant is Florida's oldest restaurant. And it's gorgeous. And the food is delicious. Enough said (but seriously though, you won't regret eating here). Y'all, I loved this restaurant so much, I ended up trying their St.Augustine location as well (equally good).
Grab A Cuban Sandwich From La Segunda Bakery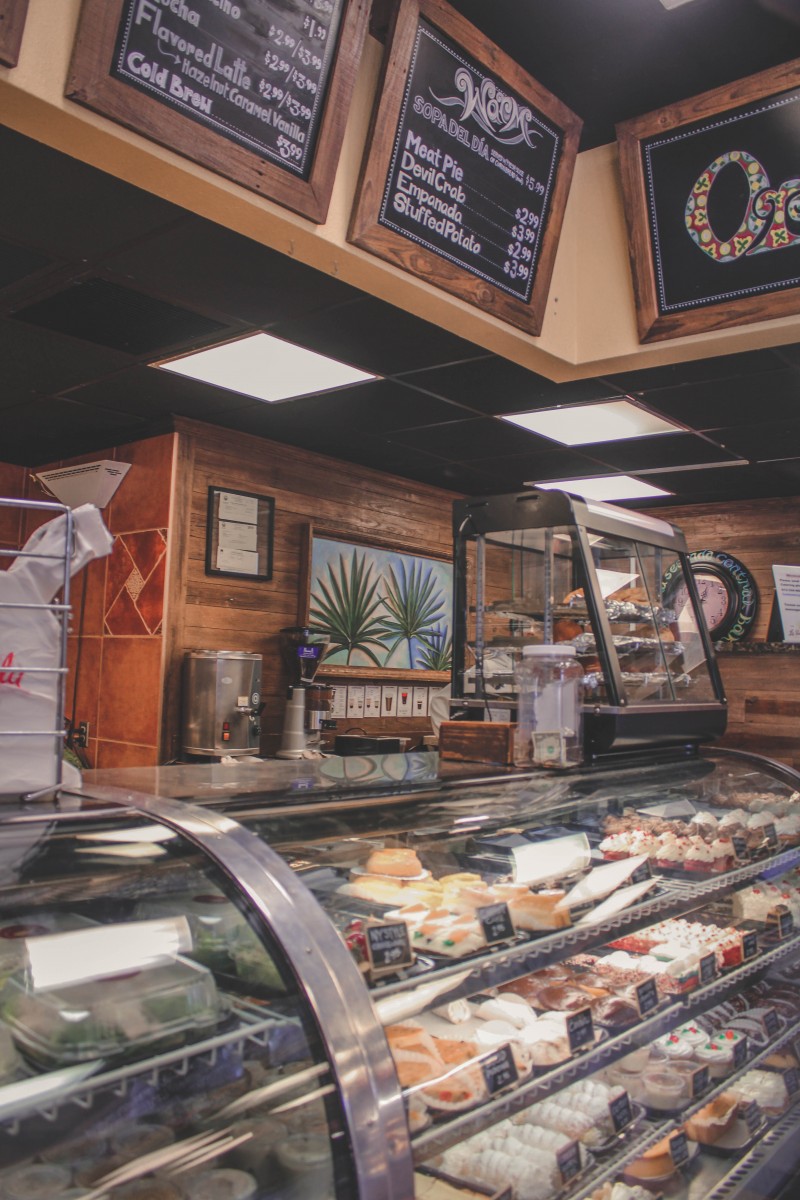 Located less than a mile away from Ybor City's main attractions, La Segunda Bakery is a small shop with a big cultural heritage. As I walk inside, the smell of fresh-baked bread snakes up my nose.
The scent is warm, mouth-watering, and inviting.
Creating authentic Cuban bread is hard work and La Segunda Bakery goes the extra mile. It's one of few remaining bakeries to lay a palmetto leaf overtop, creating the loaf's iconic split down the middle.
I order a Cuban Sandwich and lean against the yellow walls coloring the shop vibrant.
La Segunda has many treats, some infused with off-the-coast tropical flavors like guava and pineapple. But they all have one common ingredient – sugar done right.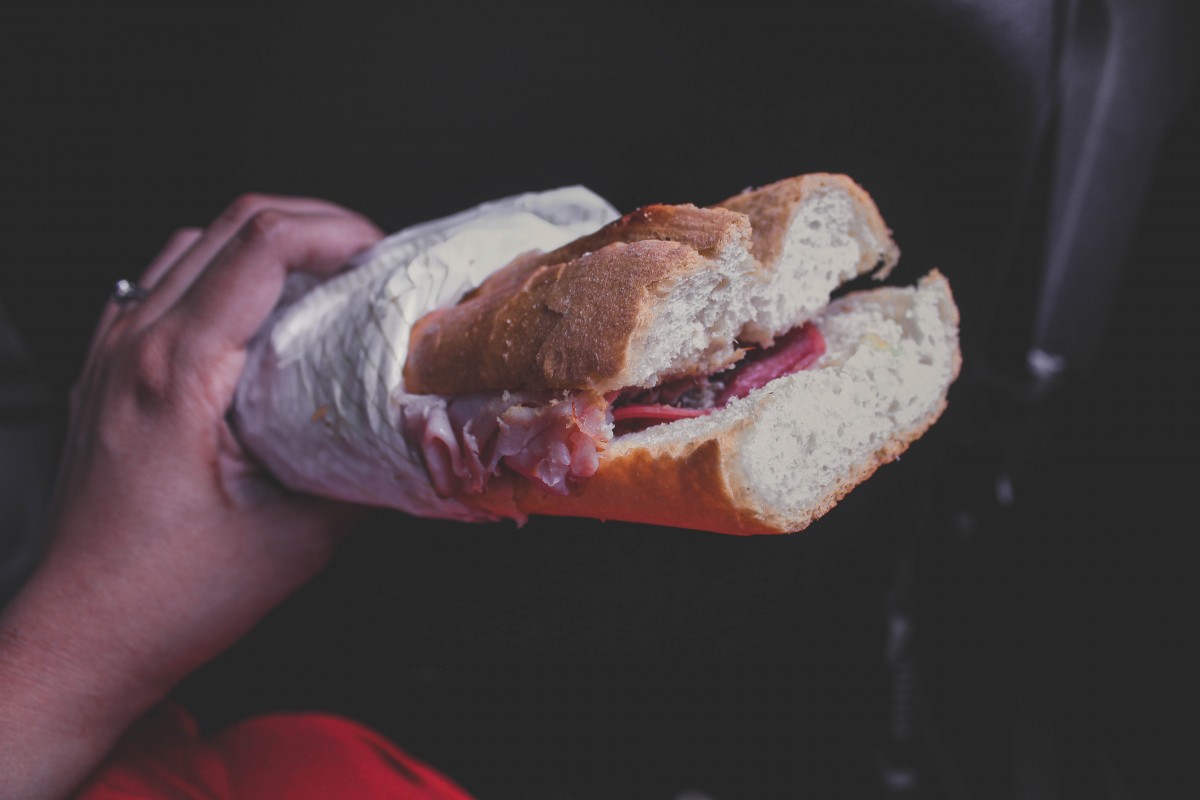 My Cuban sandwich arrives thinly wrapped, but it's huge – sized for two, priced for one.
The bread is crisp. You can hear the crunch as your teeth bite through. The pork inside is soft, lean, and juicy – a meaty butter slathered onto a generous layer of addictively spiced ham and melted cheese.
And it's good in a way that only a 100-year-old recipe that has lasted this long can be.
Stroll Through The Ybor City Museum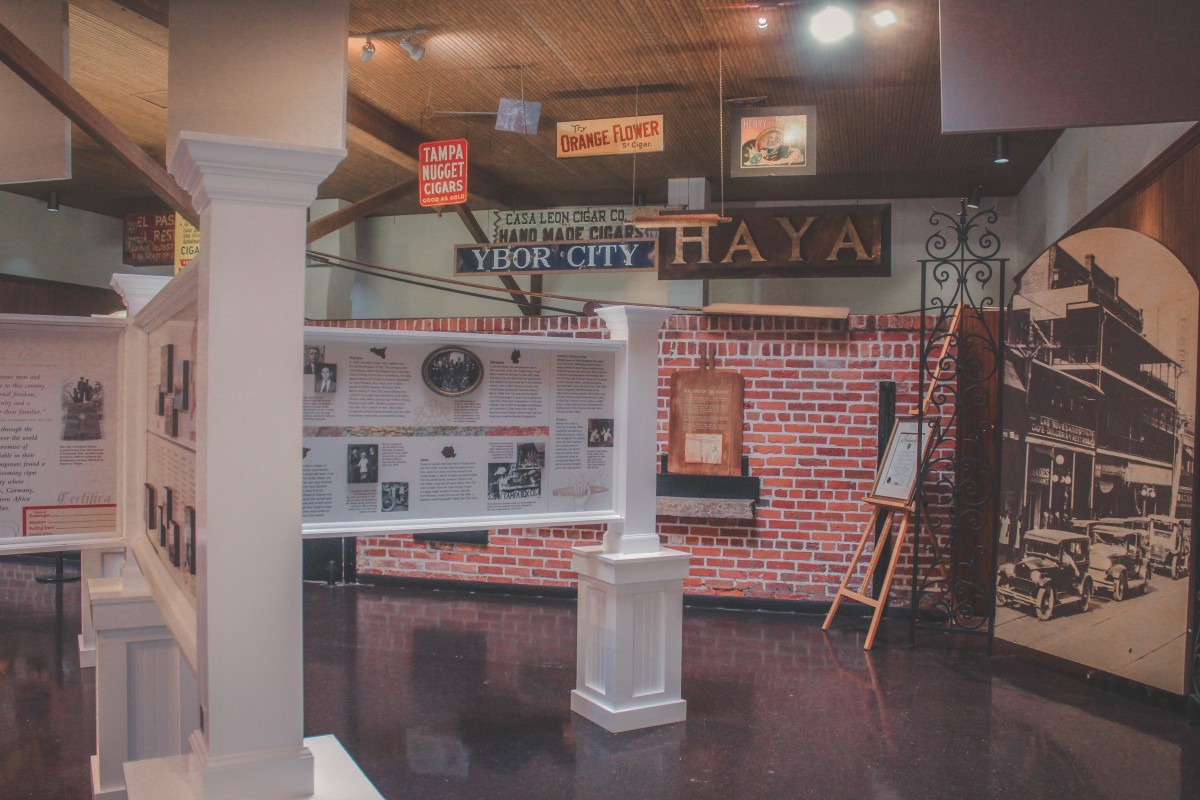 I stumbled upon the Ybor City Museum by mistake, but in the immortal words of Bob Ross, "there are no mistakes, only happy accidents."
The Ybor City Museum is a one-story house set in the former Ferlita Bakery. The museum follows Tampa's detailed backstory.
I'll be honest, before arriving in Ybor, I always thought of the Tampa Bay area as solely Cuban defined. But it's not – far from it, in fact.
Tampa is a melting pot. A mix of Cuban, Spanish, Italian, and Chinese influences carve up the backbone of this city.
Tour A Casita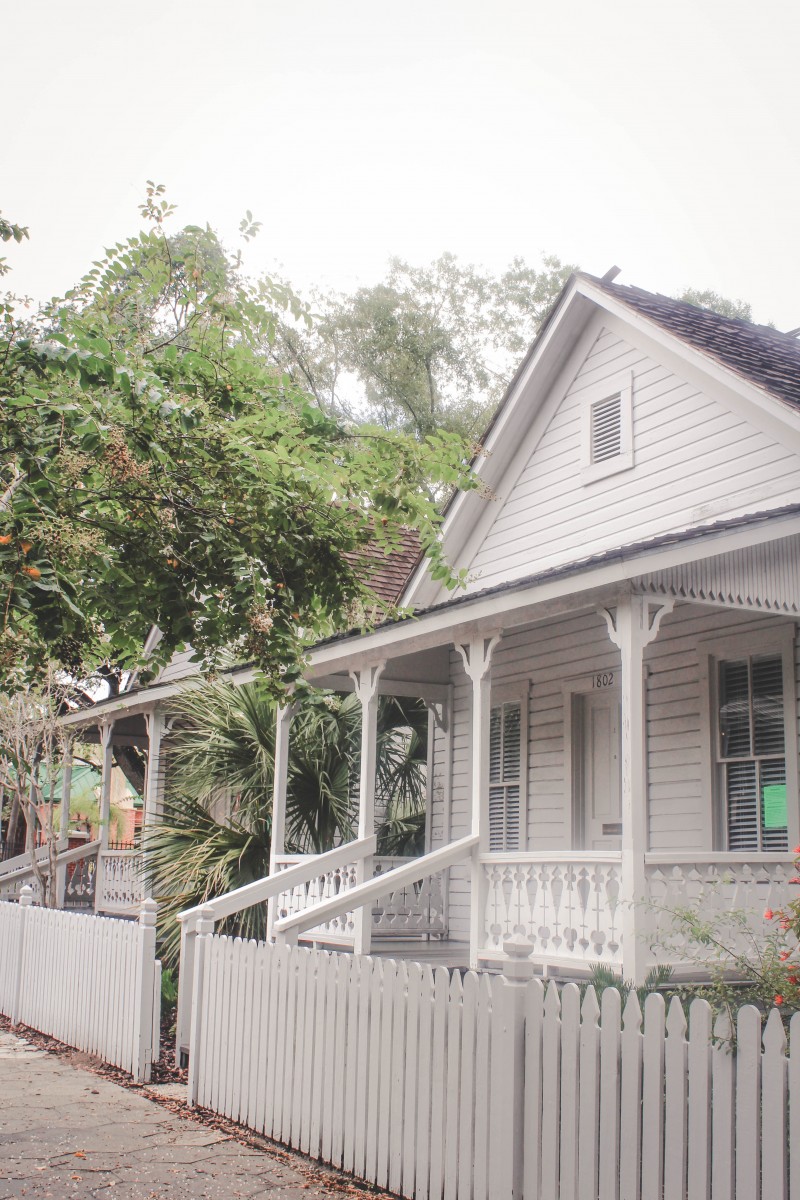 The Ybor City Museum also offers casita tours along with admission (every hour between 10 AM and 3 PM).
Travel Tip: Stick to the front of the casita tour. I promise it's so much more rewarding.
The casita, a small clapboard bungalow, looks like a doll's house.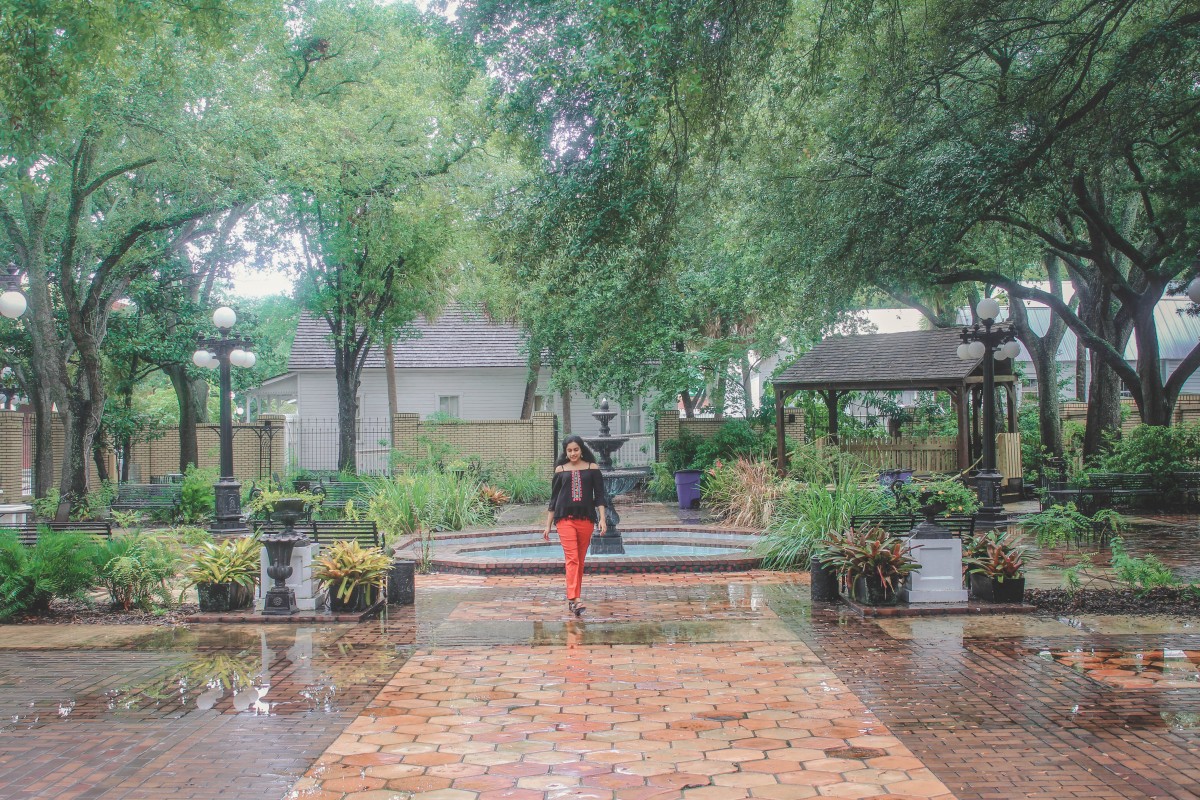 Find My Tampa Outfit Details Here
There were only a handful of people in our tour group. But unfortunately, I got caught in the back and couldn't see anything the guide was pointing to. So I just cocked my head like one of the wild chickens running around outside, hoping to catch a glimpse of something beyond loose hand motions.
Visit Centennial Park (Especially If You Love Chickens)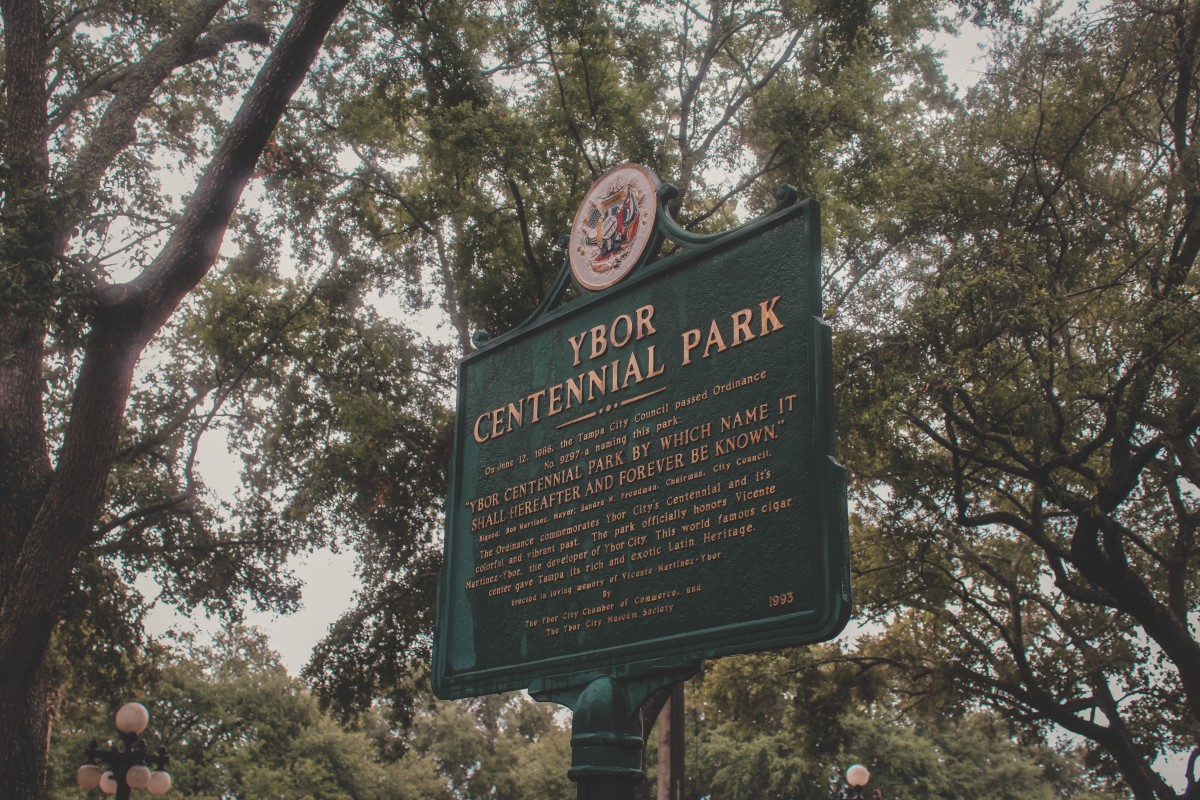 Centennial Park is a small 2.5-acre park in the center of Ybor City.
It was late afternoon when I arrived. The grass was damp. The leaves, a deeper, darker hue from the rain, drooped slightly. The Saturday farmer's market was beginning to close shop.
But there was something about this place that felt alive. The hints of speaker-loud music. The trail of travelers who had taken a side route from downtown Ybor's shopping scene. The warm faces and congenial smiles.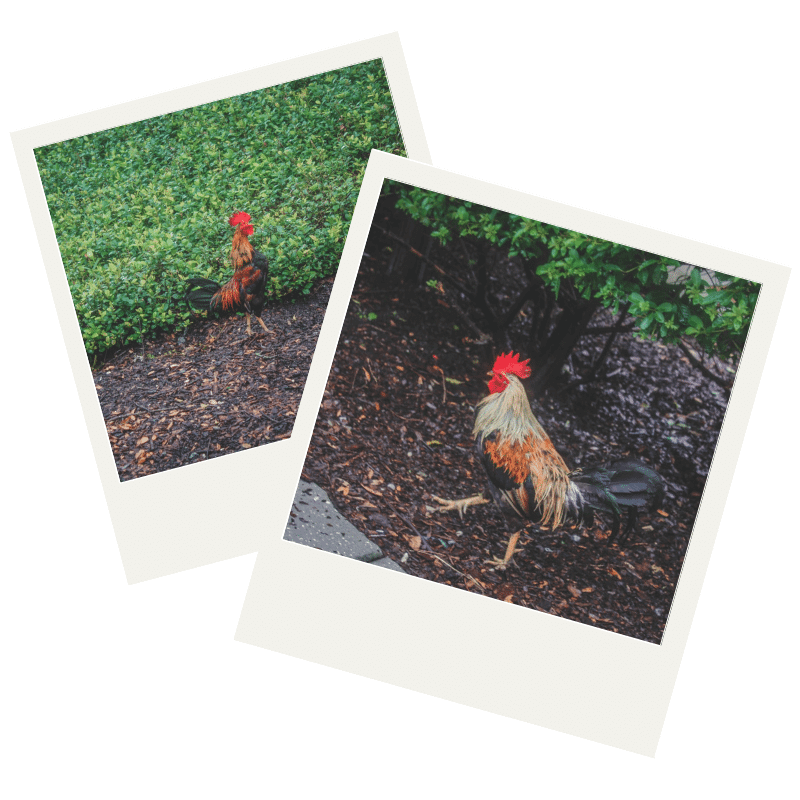 And of course, the roosters…
Travel Tip: If you're interested in learning more about Ybor's history, there's a wealth of information on the plaques peppered throughout the park.
Go On A Cigar Tour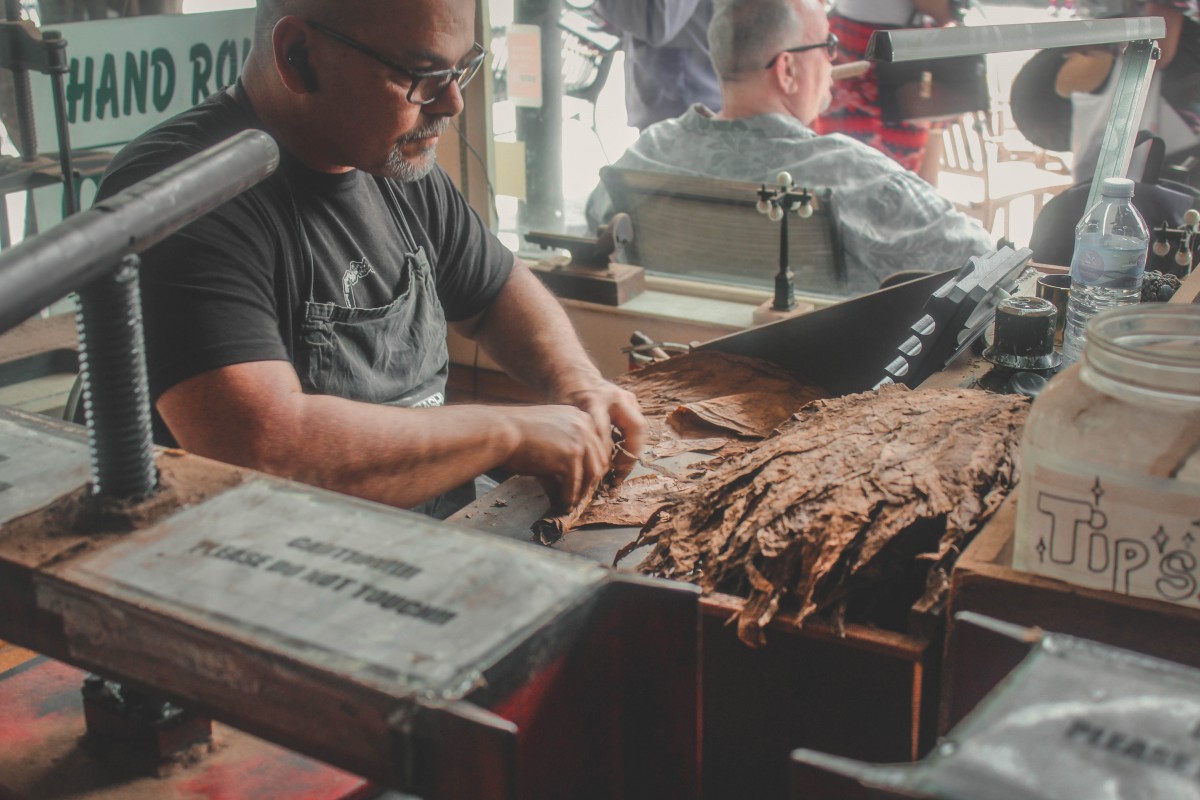 Cigar tours are a quick sell in the former Cigar Capital Of The World.
Today, Tampa's smoke-drawn name is washed away by beachy waves. But there are plenty of small shops around Ybor that still hand-roll cigars.
The big factory is J.C.Newman. Newman is the oldest family-owned premium cigar factory in town. It's a large building, orange in the afternoon light. Tours last an hour (Cuban Coffee included) and cost $15 per person.
If you're planning a self-guided tour, make a window stop by Tabanero and Long Ash to see cigars being hand-rolled.
How To Wind Down Your 24 Hours In Tampa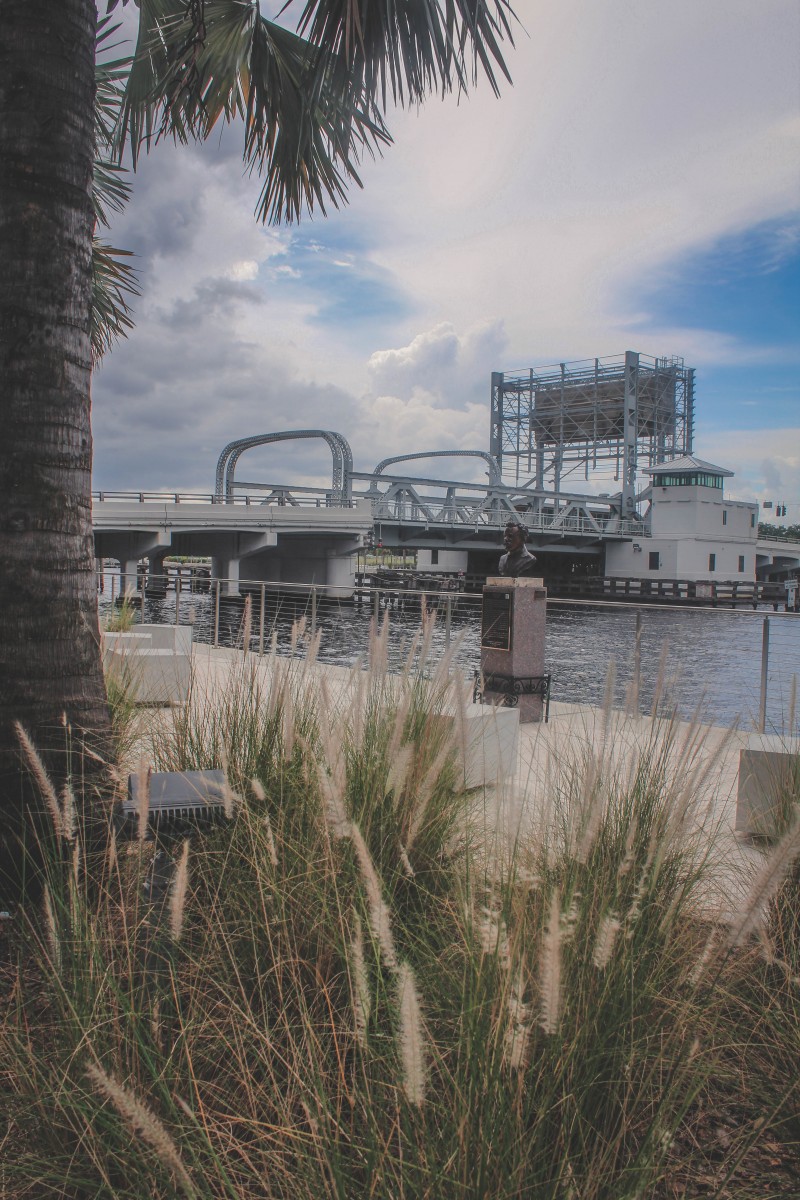 After a busy afternoon in Ybor City, I knew that I wanted to spend the rest of my day unwinding. So I hit up the Tampa Riverwalk as soon as the evening started to roll in.
Travel Tip: If you're visiting with kids, you might want to consider purchasing The Official Tampa Bay CityPass. The pass helps you save over $100 (per person) on big-ticket attractions like Busch Gardens, the Clearwater Museum, and the Chihuly Collection!
Jog Along The Tampa Riverwalk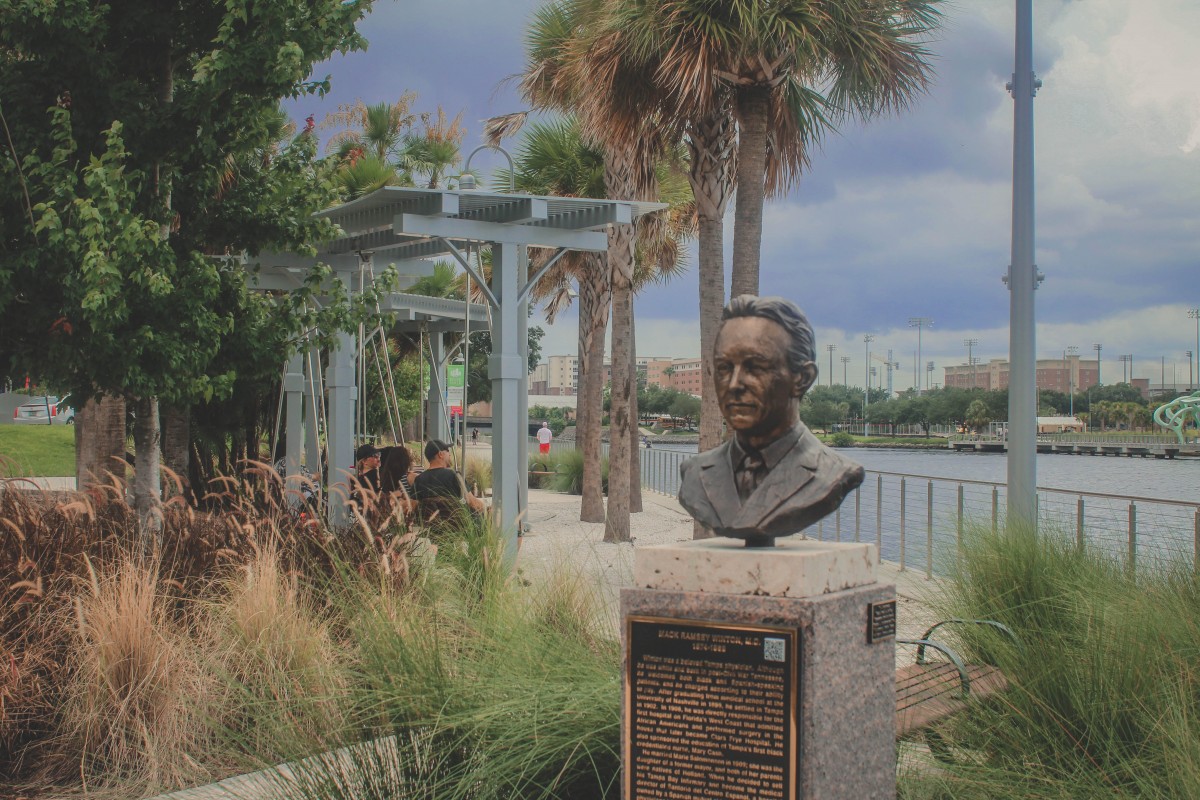 Jogging along the Tampa Riverwalk feels refreshing (though I'm pretty sure the locals think I'm insane, considering my camera gear is flopping against my hips. ah, you win some. you lose some).
The Tampa Riverwalk was designed to be a respite after a working day and it's just that. It's the Tampa you imagine in your head. The one with palm trees, clear blue water, and a slight breeze that swallows the heat.
The Riverwalk extends 2.6 miles and connects several big-ticket Tampa attractions:
Travel Tip: By the Mack Ramsey Winston statue, there's a group of swings where you can sit down, relax, and enjoy the views.
Stop By The Henry B. Plant Museum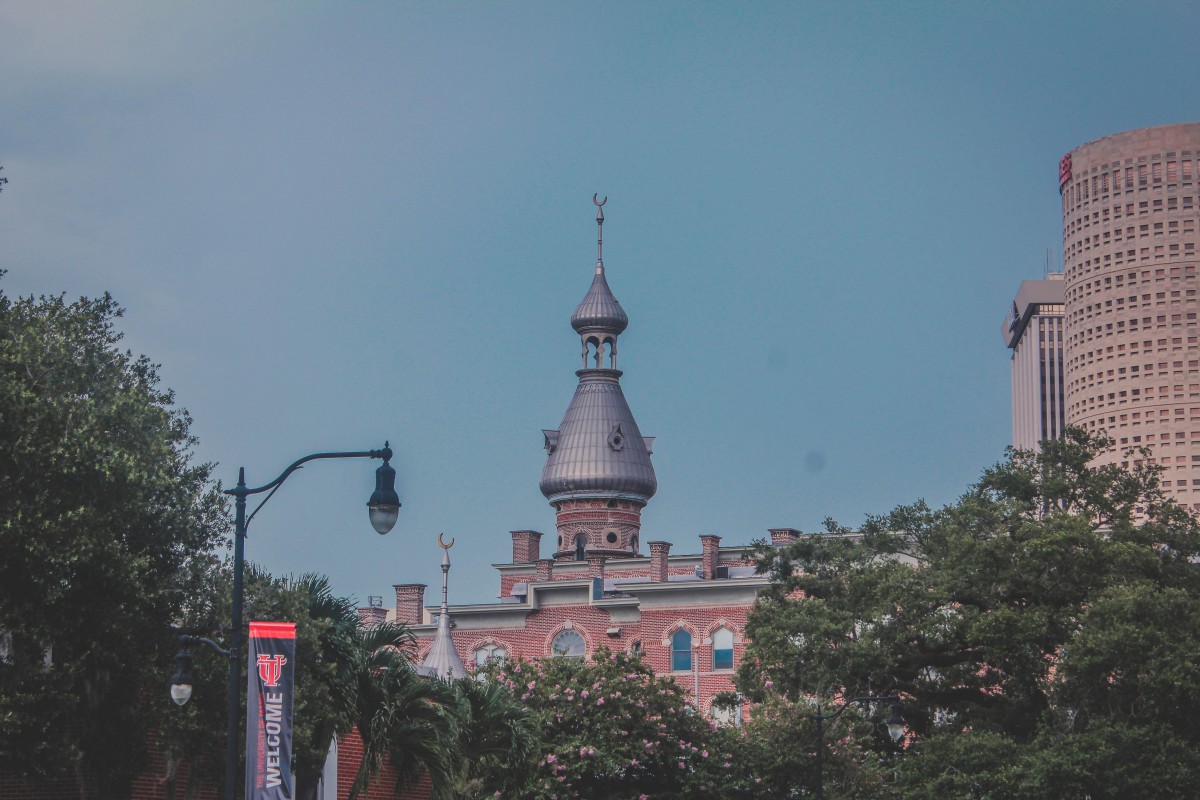 The Henry B. Plant Museum is a former railroad-era resort turned National Historic Landmark. Close your eyes and picture a sci-fi steampunk crossover film. This museum's vibe runs on those gears.
It's an art museum of sorts, ripe with late 18th century furnishings. Crafted with a well-preserved opulence, the museum plates the story of Plant, a big businessman whose head was dug deep in the railroad industry.
Grab A Bite From The Oxford Exchange
Part food hall, bookstore, gift shop, and coworking space, the Oxford Exchange is a hip hangout near the University of Tampa.
With checkerboard marble floors, plush oversized seats, and an open center, the Oxford Exchange punctuates its atmosphere with old-world charm.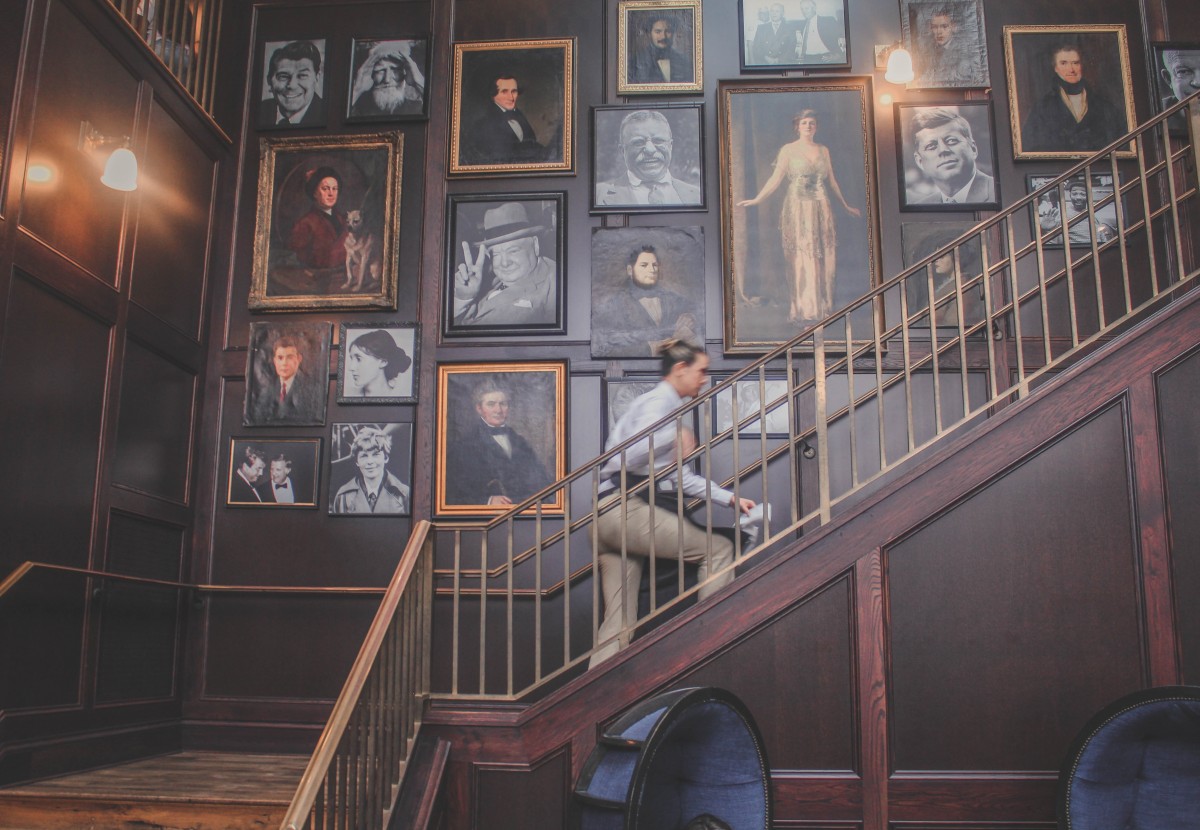 The interior, a splash of rustic brown hues and pops of gold, feels lush. And as I walk up the stairs, past the gallery of gilded frames and black and white headshots, I'm transported back in time. I'm transported to an era whose name I can not place, but whose story I hear grow louder and louder, footstep after footstep.
Travel Tip: Take a free tour of the Commerce Center, a co-working space upstairs. I fell in love with the views from Smith, a meeting room sketched with natural light.
Finish Out Your Day With A Coffee From Buddy Brew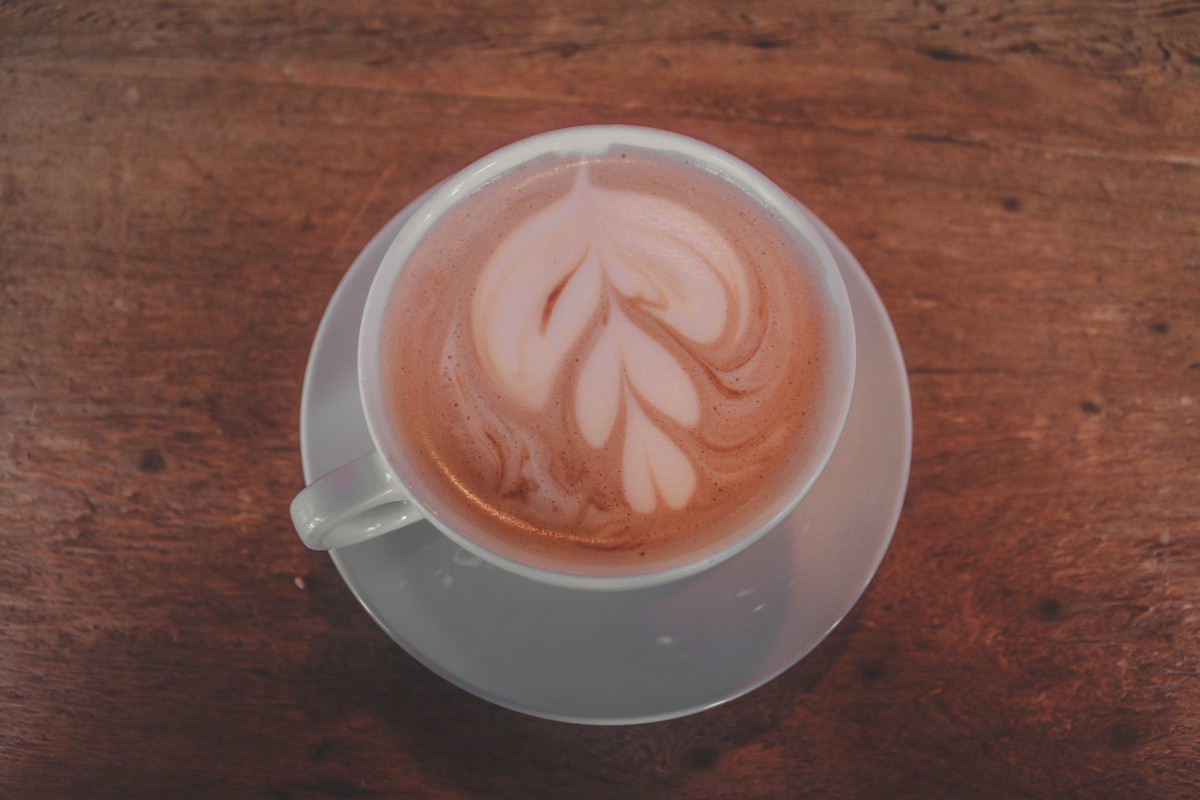 Buddy Brew is a house name in Tampa. It's a local coffee shop set in Hyde Park, a high-end entertainment district that's equally vibrant night and day.
I met up with Crystal, one half of the duo behind Travel Pockets. Crystal is a Tampa local and if you're new to Tampa's foodie scene (or Tampa, in general), her blog has incredibly informative restaurant reviews (like this one and this one).
Buddy Brew along with Oxford Exchange were her recommendations and I wasn't disappointed by the ambiance of either!
We chatted about the blogosphere and shared travel stories (she recently visited Chernobyl as a solo female traveler, you can read about her trip here).
Travel Tip: If like the idea of meeting up with fellow female travelers on the go, but don't know where to start, I highly recommend the Girls Love Travel Facebook Group!
For me, this was the perfect way to end my one day in Tampa: coffee and a good conversation.
Recommended One Day In Tampa Tours
Did you enjoy this one day in Tampa itinerary? How would you spend one day in Tampa? Let me know in the comments below!