Imagine an evergreen city – a place that is perfect throughout the seasons. Wednesdays? No problem. There is something different to do here every night for a year or 100 more. For me, New York crosses my mind – once, twice, maybe thrice. Now, imagine a city that you have to go to on a specific day of a specific month because thats when it blossoms and is ripest. Canton, TX is the best example.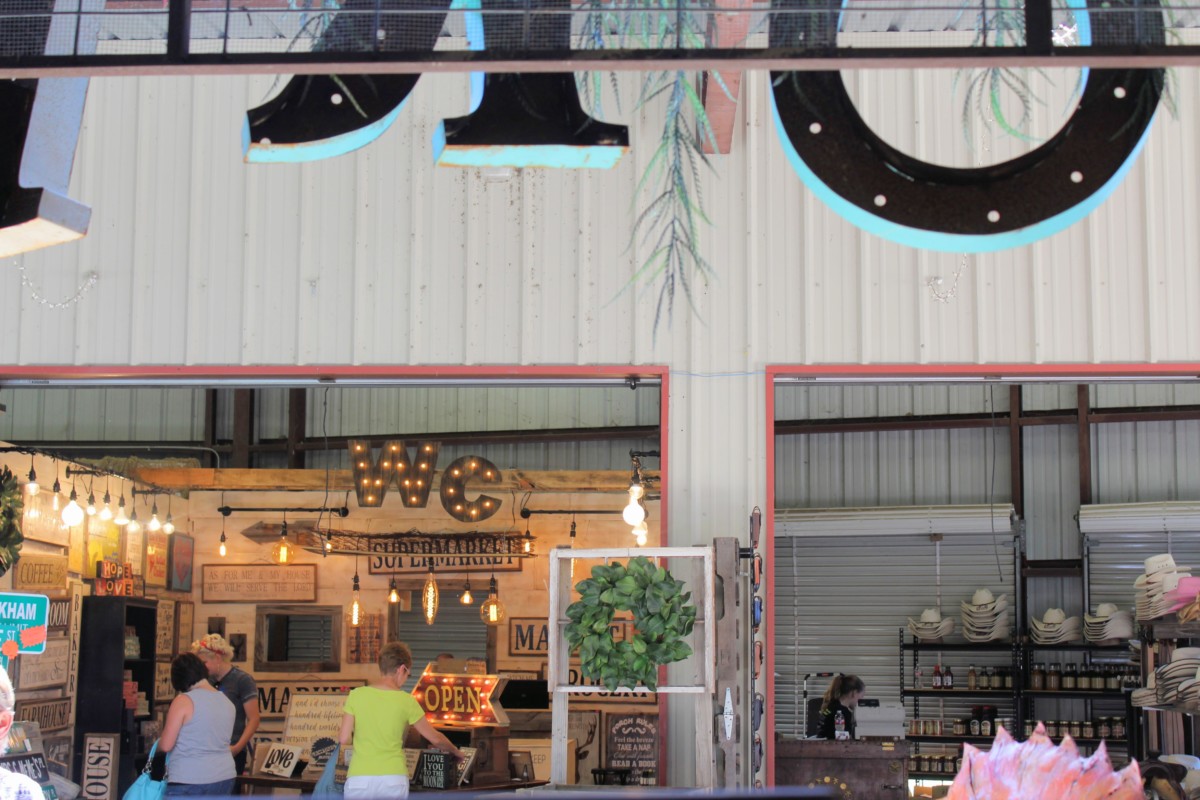 The Market
You see, the first weekend prior to the first Monday of the month, Canton, a small town with a population just over 3500, is host to the oldest and largest flea market in the United States. It arrives without warning. There are no signs or announcements. The flea market is simply there, when yesterday it was not. It pops up just like the Night Circus.
Do you remember the saying "everything's bigger in Texas"? Keep that in mind as I take you on the grand tour. We'll arrive at sunrise and keep walking alongside Canton locals till sundown (and we still won't have covered the whole market). 
We walk through an array of white-topped tents. There is no cohesiveness in the items sold: we see antiquated typewriters stacked haphazardly on one side and wire-based outdoor garden sculptures on the other. Romantic Western novels prop up on every third table or-so. There is a complete disorder and a haywire strew of objects, but that is the beauty of this flea market. It forces us to pick through each and every item.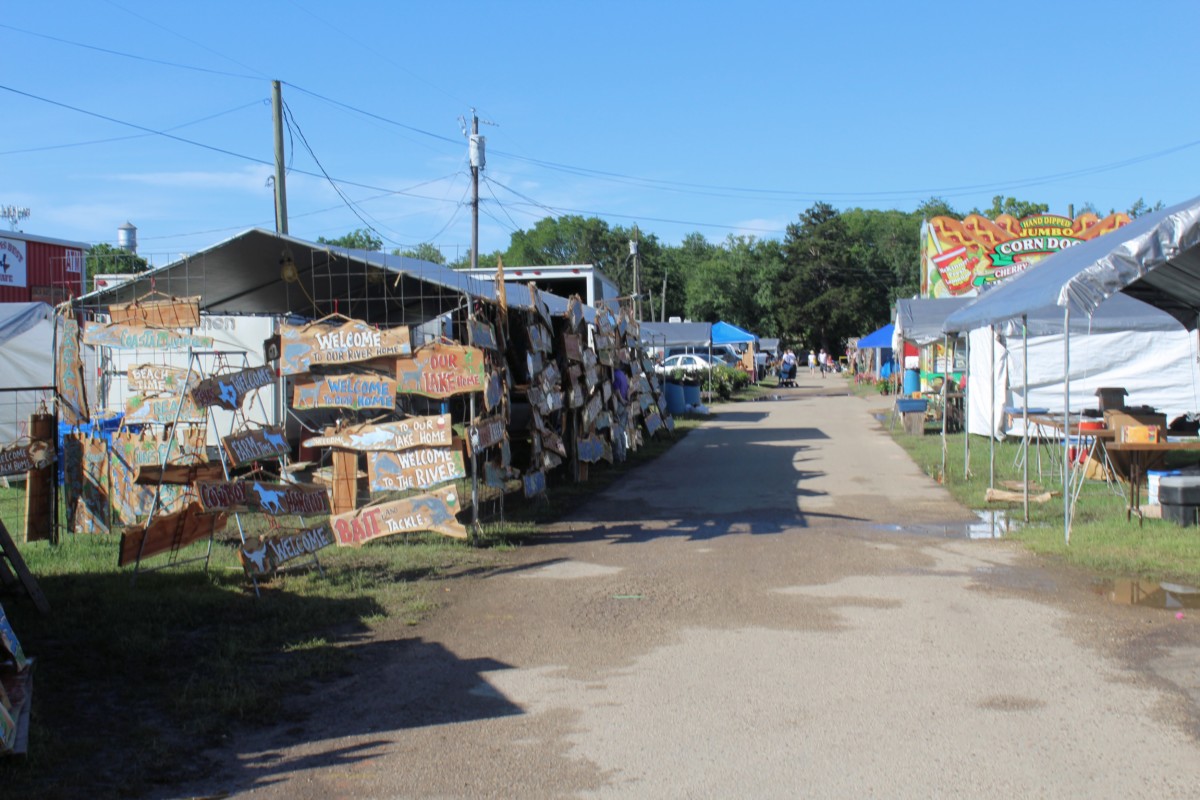 We stroll through the outdoor space for a few hours and eventually find our way to one of the three Arbors, expansive indoor stops crawling with vendors. Here, we find custom crafts, oil paintings, journals, hand-stitched pillows – everything and anything. Some of the vendors tip their hats and shout "Howdy" as we walk by (they are so sweetly Texan). The exposed roofing and wooden frame of the Arbors moderates the heat, making this a welcome (and more crowded, if at all possible – maybe, we should have come on Thursday) respite.  
Where to Eat?
Eventually, we have to stop for breakfast. The restaurants here, in the Third Arbor, sport rustic names like Chuck Wagon Chili and Double Bubbas. My personal favourite is Joe Mama's, a small eatery with green paneled wood and playful pink highlights. I order some biscuits and gravy for myself and strawberry waffles for you.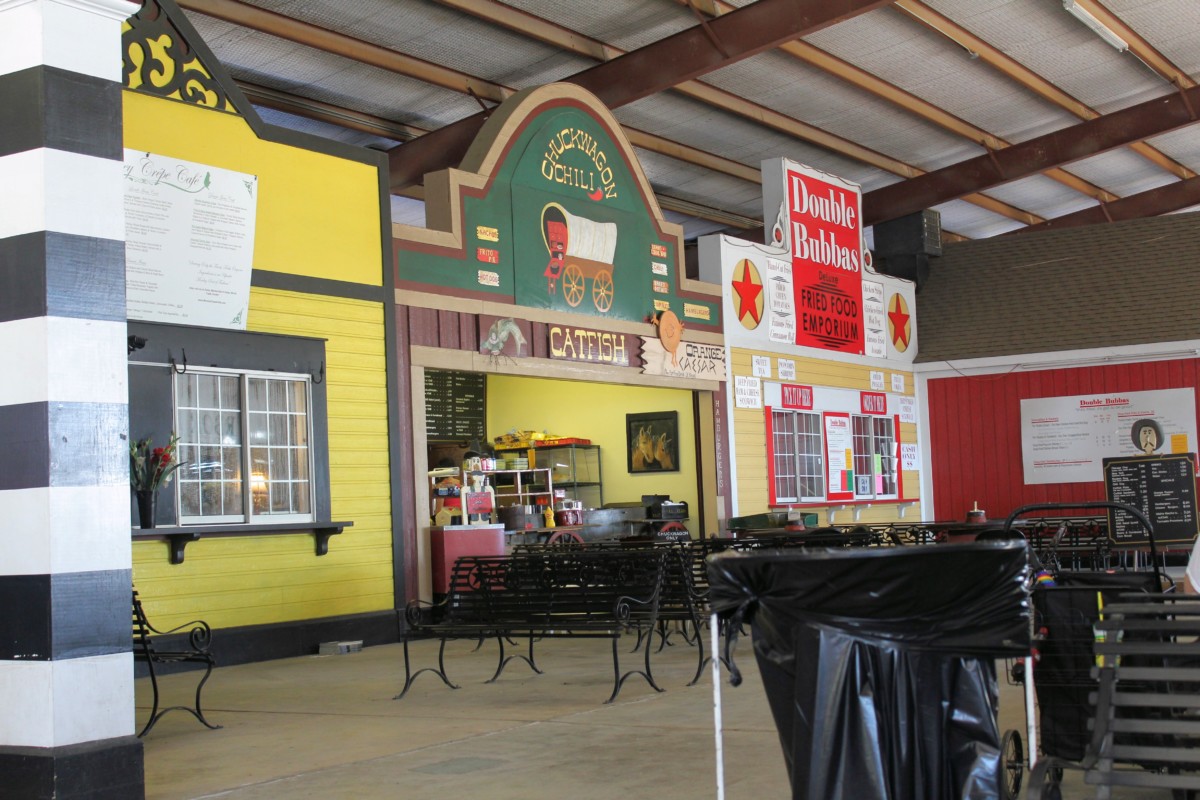 Both arrive in closed plastic containers that we take back to a bench. The biscuits are soft and heavily-buttered. The gravy is thick in cream and well-peppered. You take a bite of your waffle. How is it? The whipped cream seems minimal as only a mildly generous layer skirts just the outside of the syrup-dosed treat. It's sweet and feels more like dessert than breakfast, but you love it, regardless.
Slightly reenergized, we continue walking around the back paths. We wind our way around furniture and more baubles. We climb into a second series of interior shops that stretch a road. Each is coloured in light pastels. We enter the shops and inspect the items. Outdoors, there are several small carts selling corn dogs and funnel cakes. As it begins to near the afternoon, the crowds raise to extreme. There are locals and outsiders rounding every corner.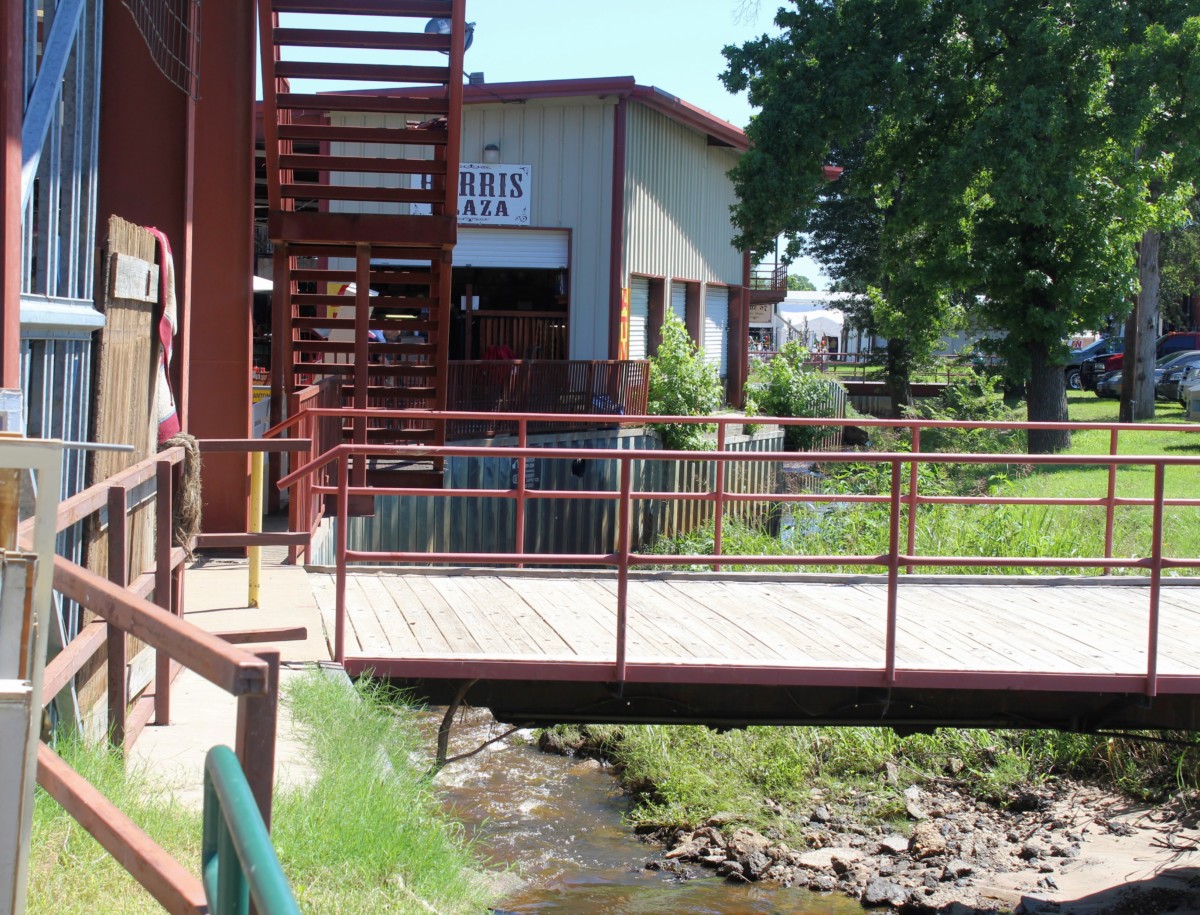 As we keep walking, we start to see specialty stands: The Book Lady and Dupaco Paints. We walk through the rows and keep circling for hours, poring through the knick knacks, until we reach the entrance once again.
What Else to See?
If we left a little earlier, we could have visited some of the small local museums that abound in Canton. The Canton Plaza Museum is a great free pre-first market stop because has holsters facts that draw the town's history and traditions into perspective. But today has already been quite the experience (whew!) and I'm ready to get back into the car and hit our next road trip stop.
Have you ever been to a flea market? Have you ever been to the Canton Flea Market? Let me know in the comments below! As always, I love to hear from you.