The first thing I realized upon visiting Amarillo is that this has to be one of the most underrated cities in Texas.
It would be cruel of me not to tell you all the little secrets of Amarillo that I uncovered while visiting, so I put them together in this quick guide. As always, get yourself a cup of coffee or even better iced tea (just to get into the Texas panhandle vibe) and relax as I guide you through this notable town and show you how I spent a perfect day visiting Amarillo.
Morning: Check Into The Downtown Hotel Courtyard Marriott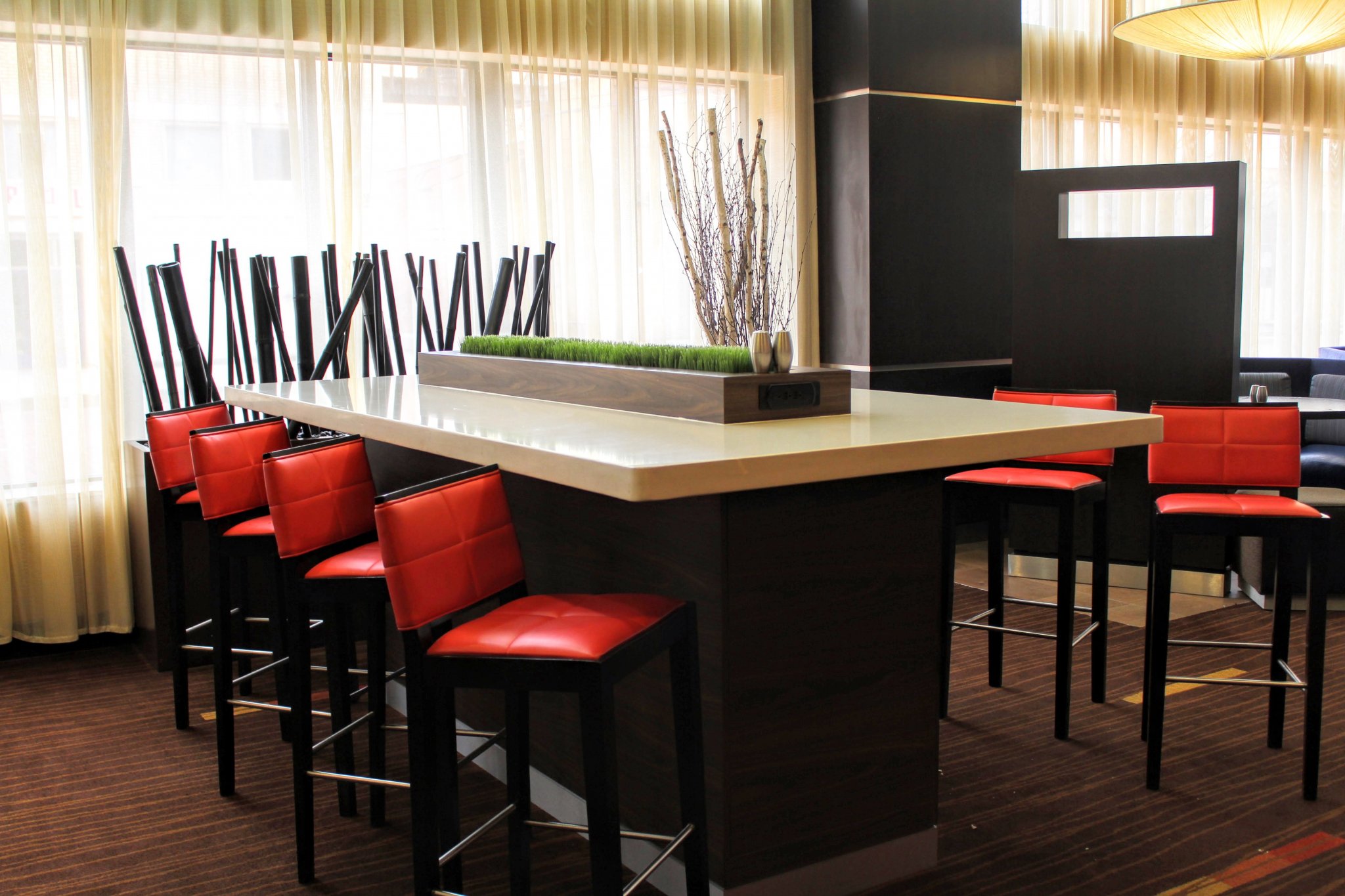 Amarillo is not short of places to stay. You can easily find budget hotel options here and luxury accommodations. But if you are looking to stay in a hotel with a touch of history (we are in a historic area after all), then the Downtown Hotel Courtyard Marriott is the perfect option. The hotel is the renovated Fisk Medical Arts building that still retains its distinct Gothic revival style architecture, complete with retro meets modern furnishing. The hotel is also conveniently located amongst the midst of offbeat attractions and there are many great dining options nearby.
Cost: $100+ per night
Afternoon: Know Where To Eat In Amarillo
If there is one thing I remember about Amarillo, it is the food. Goodness, I have never had so much Chicken Fried Steak in my entire life. Personally, I don't think that it is a bad thing, but I'm sure my dietician would beg to differ. And the portions are so deliciously perfect that I have decided to drag you around from eatery to eatery with me. Is that alright? I'm sure you're hungry after the tour I gave you around the city anyways.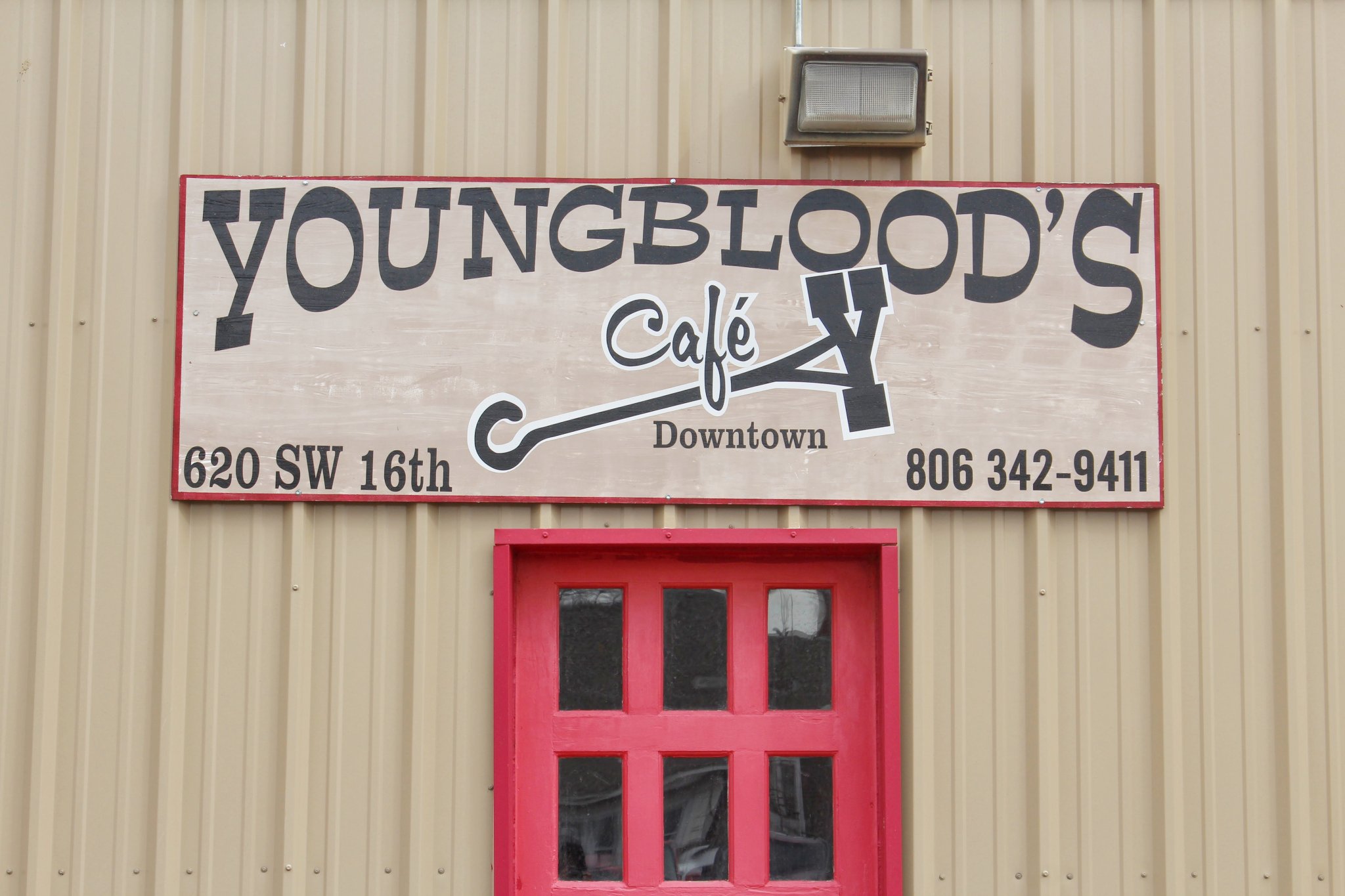 We start off our foodie outing in Youngblood's Cafe. Now, I know that the name begs "hipster joint sprawling with teenagers carrying spray paint cans", but let me assure you that Youngblood bleeds the opposite end of this spectrum. While the main demographic (at least, when I went) looms over fifty, I still fell in love with this charming little place. The cafe is lightly decorated with Lone Star knick-knacks, creating the same personal allure as a Southern family's private kitchen.
Now, there are two wings to this restaurant. The Western and Eastern wing. The Eastern wing has a handsome brick fireplace, so let's head in there.
We sit down in light coloured wooden chairs and take a closer look around. Rope loops over nails and a fair mix of black and white posters and bold coloured works can be found plastered on the wall. The food definitely reflects the cozy ambience. Youngblood's Cafe is famous for it's homemade-style Chicken Fried Steak, so I highly suggest trying that first.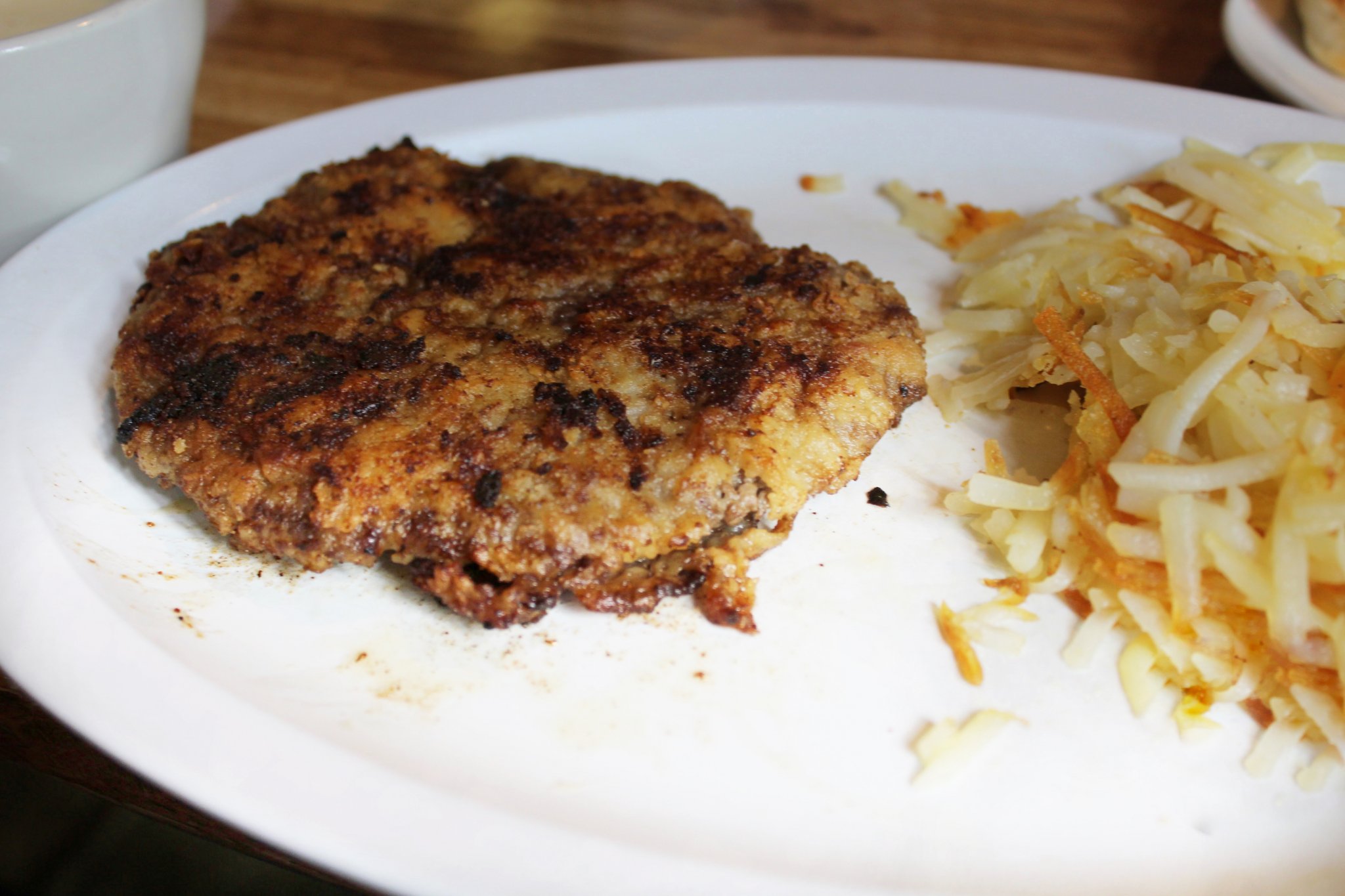 Doesn't that look good? Let's take a bite, shall we? The steak is flawlessly seasoned and seared to perfection. It doesn't taste like any Chicken Fried Steak we've ever had before. Why? Youngblood doesn't deep fry the steak, like most other restaurants, but rather cleverly grills it in butter, adding a rich twist to this Southern country classic. The dish is served with a side of hash browns. There isn't anything special regarding the hash browns, but it stands as a time-honoured side with the seven ounce steak. But what seals the breakfast as commendable is the gravy.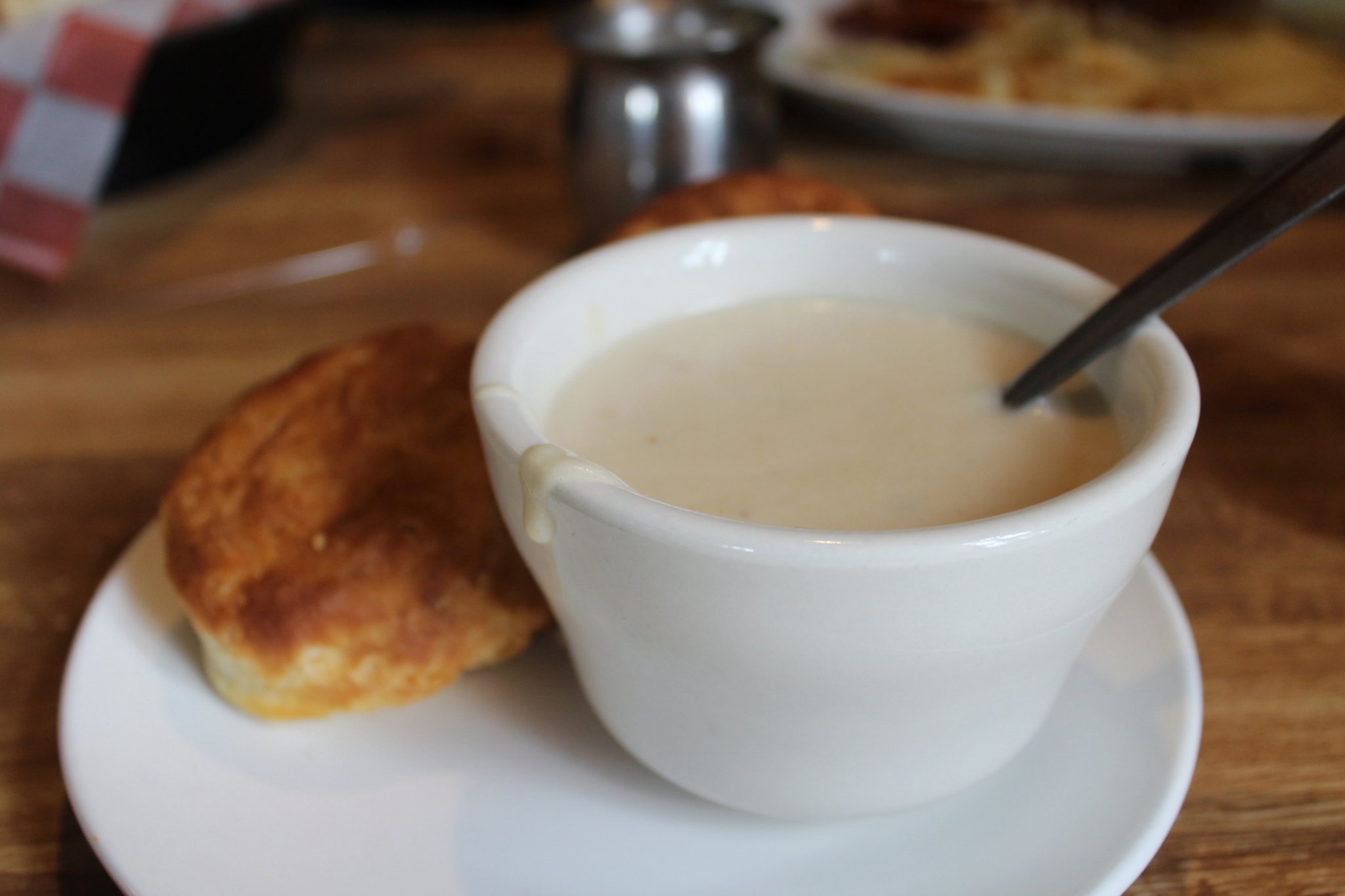 The white gravy is creamy and served in a side bowl along with some eggs, which you can get cooked any way you like. Naturally, I smothered the gravy all over the steak and devoured it in a not-so-attractive Adam Richman fashion, but granted, when you taste it, you are bound to do the same.
By now, you are probably feeling a little full, but I have one more restaurant to show you. This is perhaps the most famous restaurant in Amarillo, and as we drive down towards it, we can see why. I promise, this will be an interesting experience.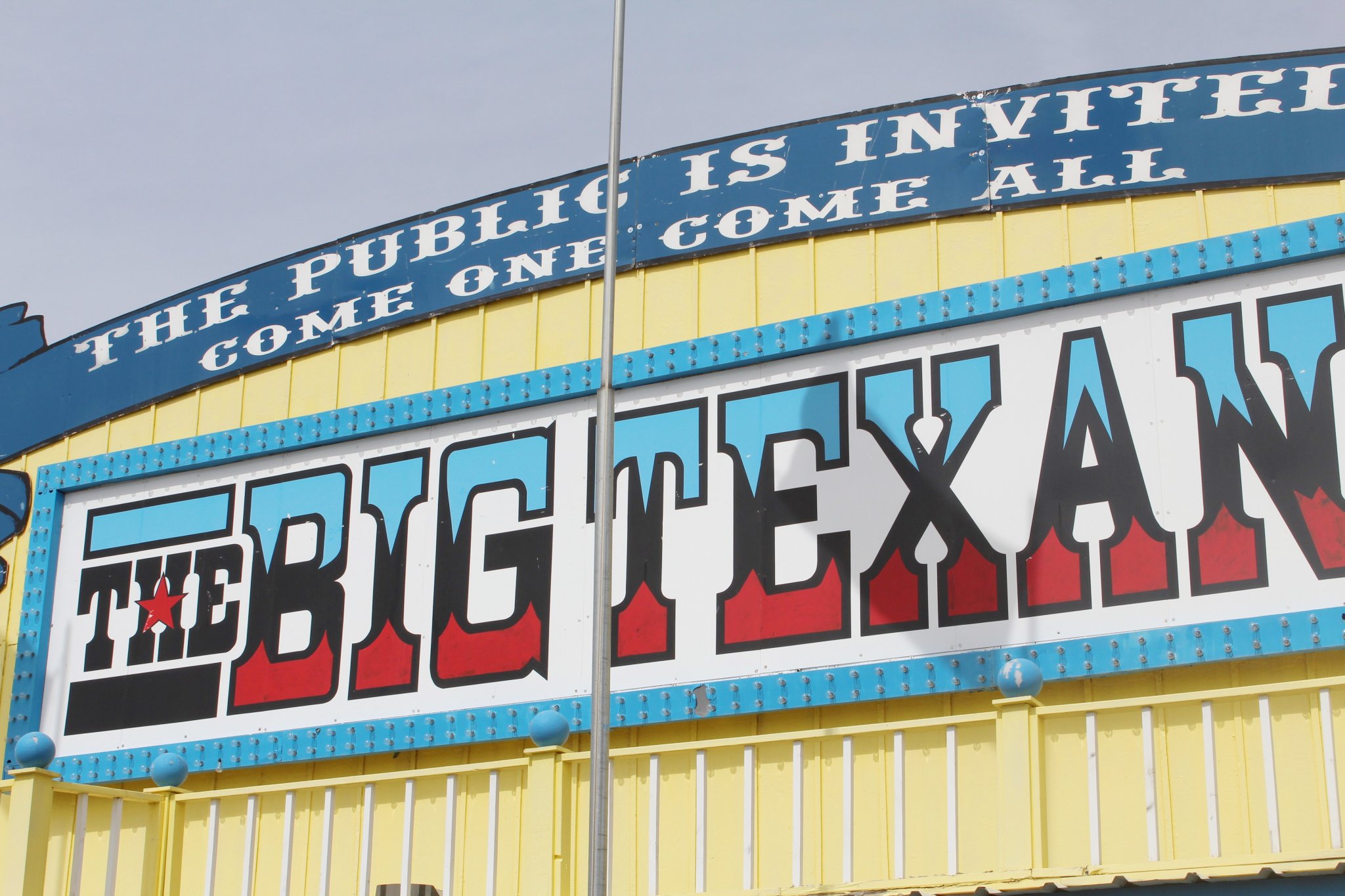 The Big Texan Steak Ranch blends the phrases "go big or go home" and "everything is bigger in Texas" into a unique medley. From the outside, it looks like a runaway circus. The title of the restaurant is written in a garish manner on a sunflower yellow backdrop. The outside panels are the same outrageous yellow with a striped blue. A windmill swirls mechanically in the background. Outside, is an ironic statue of a baby cow (mind you, the statue is at least five times the size of me). If that sounds incongruous and clashing, it is.
As we enter, the carnival-like feel doesn't halt but rather crescendoes. Statues and animal heads are thrown casually in odd locations. We spot Toy Story characters (I have still to figure out how they fit into this restaurant). The restaurant is huge. There are two floors and it is packed for a good reason. Entering the restaurant is like walking into a Disney theme park food stop. The detail, albeit not coherent, is impeccable, but that just adds to the fun. Big Texan Steak Ranch screams family-friendly from every angle. You can take kids there, and I can guarantee you that they will have a great time. But let's see how the food is first.
We slip into a secluded booth and wait to order. All the waiters and waitresses here wear cowboy hats and have a natural twangy drawl. From our booth, we can see the chefs cooking the dishes. Everything isn't prepared behind closed doors so it notches up the entertainment value.
Let's start with an appetizer. I'm going to order some smothered BBQ Steak Fries. The appetizer is a meal in itself. The fries are thick and soft and are mixed in with several layers of cheese and tenderized steak bits. Fresh red onions are sprinkled generously on top, adding a fresh new texture. The fries lack a little in the salt department, but make the perfect pairing with the slightly briny Dill's pickles that are layered on top.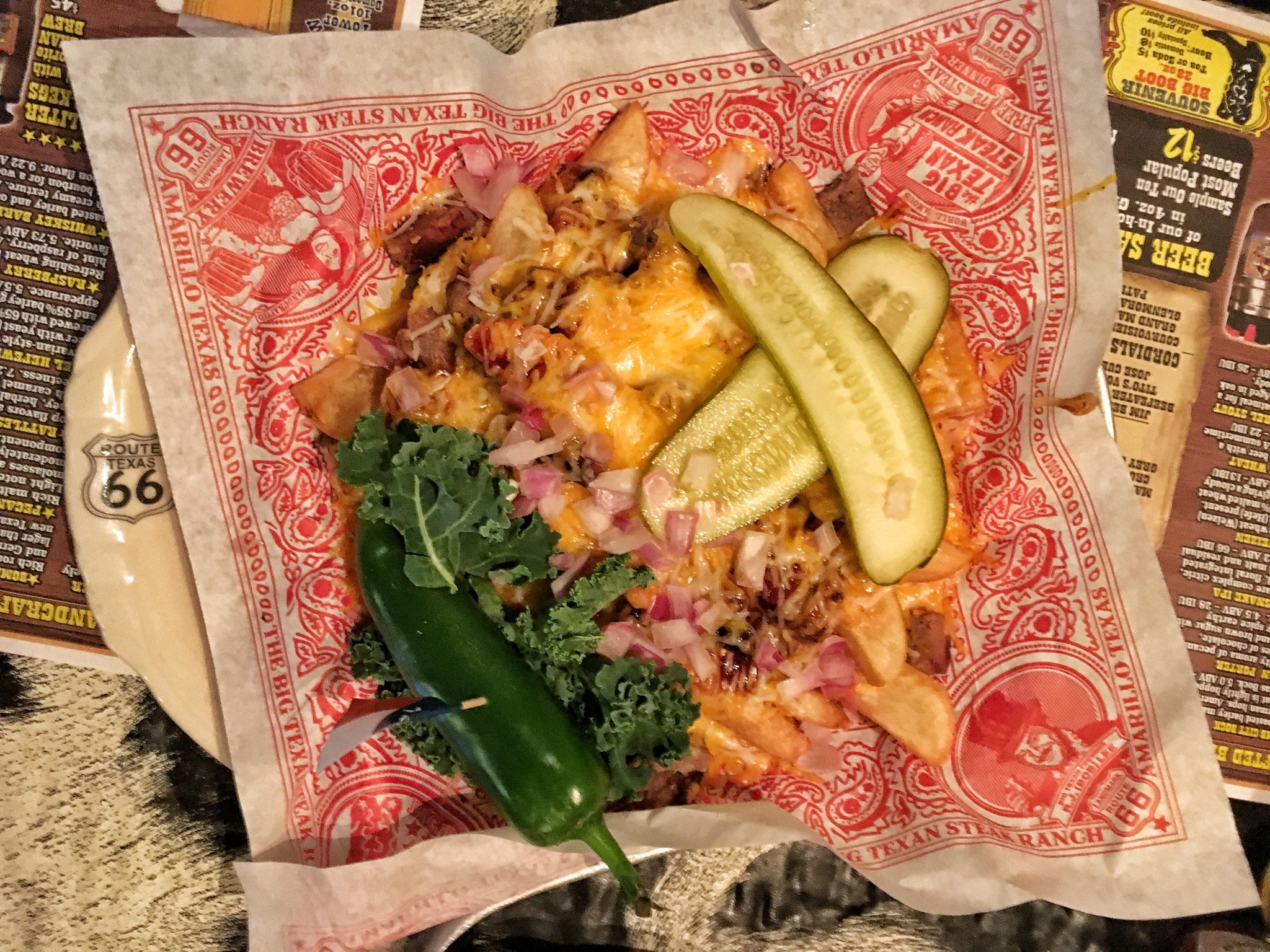 Next up, the main course. If you are feeling brave, try the famed 72 oz steak. If you have a Scooby-sized appetite and can eat it within an hour, the steak is free. I think I'll play it safe right now, and order a sampler of Baby Back Ribs. The waiter scurries over with a dish fresh from the pan (don't touch it). The ribs are firm and tender. They aren't seasoned much, which makes for a perfect Barbecue Sauce entry. The Barbecue sauce is powerful – the smoky and sweet taste can be overwhelming on it's own, but heavenly with the Ribs. Fried onions are served as a side along with light, airy Texas toast. There is an entire bucket (yes, a bucket – no, I'm not joking) of butter situated at each table, so feel free to apply a generous dose on the toast. Since this is just a sampler, let's add a side dish as well. I'm going with some coleslaw, how about you? The coleslaw is cold and crunchy, as expected, but the mayonnaise vinaigrette runs slightly too watery and tart at first. However, the taste quickly grew on me.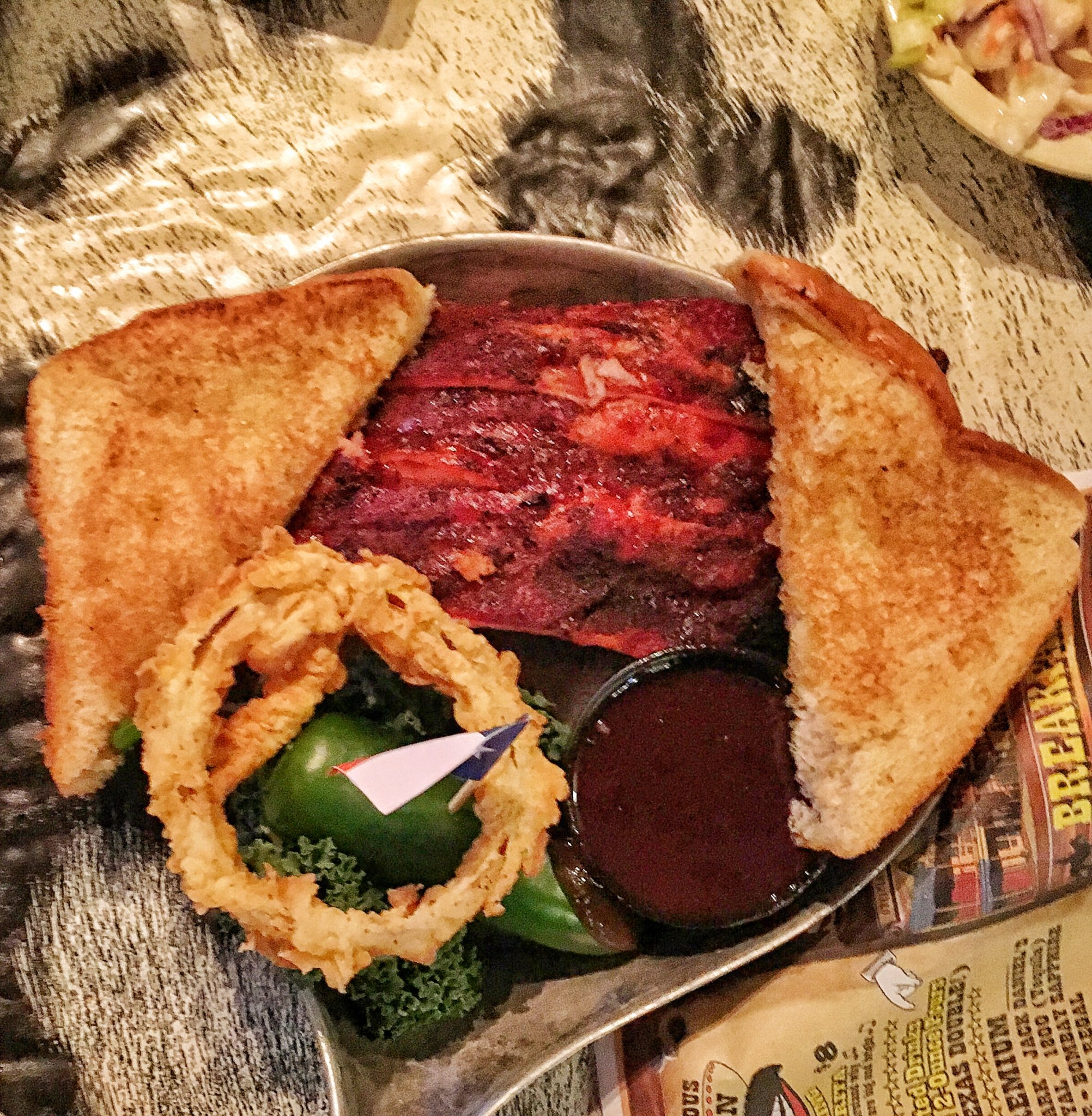 Are you finished? Good. We head out to the main lobby, and the carnival like feel escalates once again. There is a haunted house inside and a giant armchair that looks like a roadside attraction chucked indoors. Big Texan Steak Ranch should honestly be a bucket list item for everyone. There are somethings that just have to be seen and experienced in person, and this restaurant is one of them. It is so delightfully quirky and Texan, that I ended up loving it. But much like the coleslaw, it had to grow on me a little.
If you have a little room left, there is a range of gelato to try. Just because of the name, I'm choosing the Texas Pecan Sea Salt Caramel. The gelato is dense and the intense flavor is slightly softened by the caramel drizzle and nutty topping. But, I'll leave you to pick a flavour of your own and roam around for some more time.
Evening: Try Visiting Amarillo's Top Attractions
Since Amarillo is right on the path to Route 66, there are also several unique antique stores that line the once transportation destination. Most of these stores sell vintage items, and the 6th Street Antique Mall has a vast collection of items that are well over fifty years old. Amarillo also has a plethora of museums. For the equestrian at heart, check out the Quarter Horse Hall of Fame. If you are part of a fun-loving family, your kids are sure to fall in love with the Grossology Exhibit at the Don Harrington Discovery Center.
But everyone, I'm not joking, should see the RV museum. It was the highlight of my trip to Amarillo. The RV museum is a mix of charm and history unlike any other. You will truly enjoy seeing all the RVs from varying decades first-hand. Bill's Backyard Classics is a car showcase, part of Bill Pratt's personal extensive collection of over 100 classic cars, some of which were the last of their kind! The showcase costs about $10 per person, but much of the money is donated to charity. Lastly, there is Cadillac Ranch, which needs no introduction. Any roadtripper heading to the South has heard of the infamous ten cadillacs entrenched in mud against a slick sky backdrop. Bring spray paint if you choose, but there are plenty of half-used cans lying on the ground (if you aren't too picky about colours).
Best Day Trip Option: Visit Palo Duro Canyon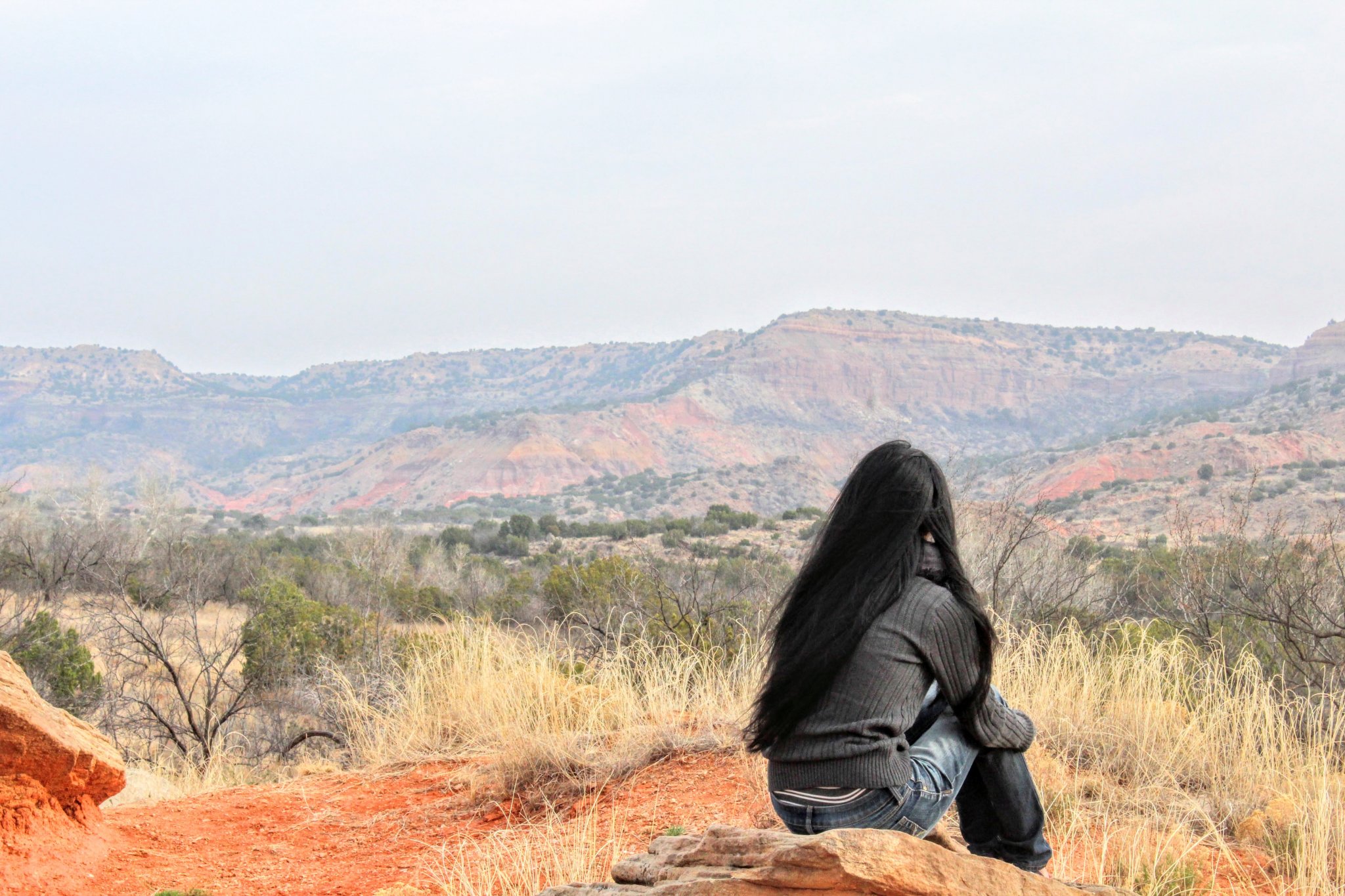 Did you see the last bit of the video? Wasn't the view beautiful? That was Palo Duro Canyon. Palo Duro Canyon is a rugged landscape nestled amongst farmlands, just thirty minutes from Amarillo. I highly recommend visiting it if you have extra time. I certainly went photo crazy during my trip and started snapping all these pictures of Palo Duro Canyon. It costs $5 per person (definately one of the cheaper state parks). It is also the second largest canyon in the United States. There are plenty of hiking trails in Palo Duro and each trail takes on average three hours to hike. The hardest is the CCC trail and it scales from the top of the Canyon to the bottom. Make sure to stop at all the vantage points in the byway path so you get the full sense of man vs nature (and nature wins with man at its side).
Have you ever been to the Texas panhandle? Are you planning on visiting Amarillo? Tell me in the comments below! I love hearing from you (yes, you)!
Disclosure: Some of the activities and the accommodations mentioned above were provided for free in partnership with the Amarillo Tourism Board, but all thoughts and opinions are my own.