There's a little self-growth that happens every trip I take, but when I packed for Santa Fe, I didn't expect that a "little" wouldn't be a little and a "lot" would be an understatement.
Infinite takeaways. One trip.
Santa Fe let me accept my personal style. I always loved boho-clothing and long, flowing dresses with fringes and patterns. Yet, most of the places I had been to (or lived in) sport a much more clean-cut, preppy, solid colored look. For a large part of my life, I felt left out and awkward. But Santa Fe taught me to embrace my style because it was so common and loved there.
Since moving from Kingston, Jamaica well over a decade ago, I have never felt more connected to a place. There was something about Santa Fe – the vibe, the aura – that I was completely drawn to. And the people I interacted with – every single one of them – were so incredibly nice. I wanted to stay there forever. And to be honest, if the city wasn't so expensive (Dallas still wins on that front), I would have moved in a heartbeat.
To me, Santa Fe is the Pied Piper, and the steady hum the city plays lures me still.
Before I begin rambling (not that I haven't done that already), here's my perfect go-to Santa Fe packing list.
As per usual, feel free to add on anything you want or remove anything from this list. I know perfect is a very relative term.
Disclosure: Heads up, this post contains some affiliate links, which means I may get a commission if you make a purchase. Don't feel pressured to buy anything. I still love that you're here, reading my content (side note: I'd probably suggest getting a coffee or tea first though because my blog posts tend to be long). To find out more, you can read our full affiliate disclosure right here.
Santa Fe Packing List Essentials
Tea Mug: I may have consumed way too much during my last trip, but in my defense, Santa Fe has a huge tea-drinking culture. I honestly thought it would be unfair to the spirit of the city if I didn't binge on all the herbal flavors available (this is my terrible excuse for having tea instead of water….) so I packed a travel mug to keep my drinks warm.
Yoga Mat: I can't count how many yoga classes I wanted to attend while in Santa Fe. I feel like there is a yoga studio in every corner of the city. While most do offer a mat, I always like to bring my own skid-resistant eco-friendly blue mat.
Sunscreen: Even though Santa Fe is generally somewhat cold or mild, the sun still shines happily most days. Hence, I brought sunscreen. The one I use is a mineral-based, eco-friendly sunscreen.
Sneakers/Socks: Most parts of Santa Fe are very walkable so bring a cute pair of sneakers and socks. I bought mine for $20 from PUMA on clearance at an outlet mall.
Toiletries: As per usual, I skipped out on packing most toiletries (simply because hotels provide them). I did pack a toothbrush, a bottle of toothpaste, a comb, a mini-first aid kit, and all my contact lenses into a small pouch (which I bought from a local thrift store for about five dollars).
Packing All The Outfits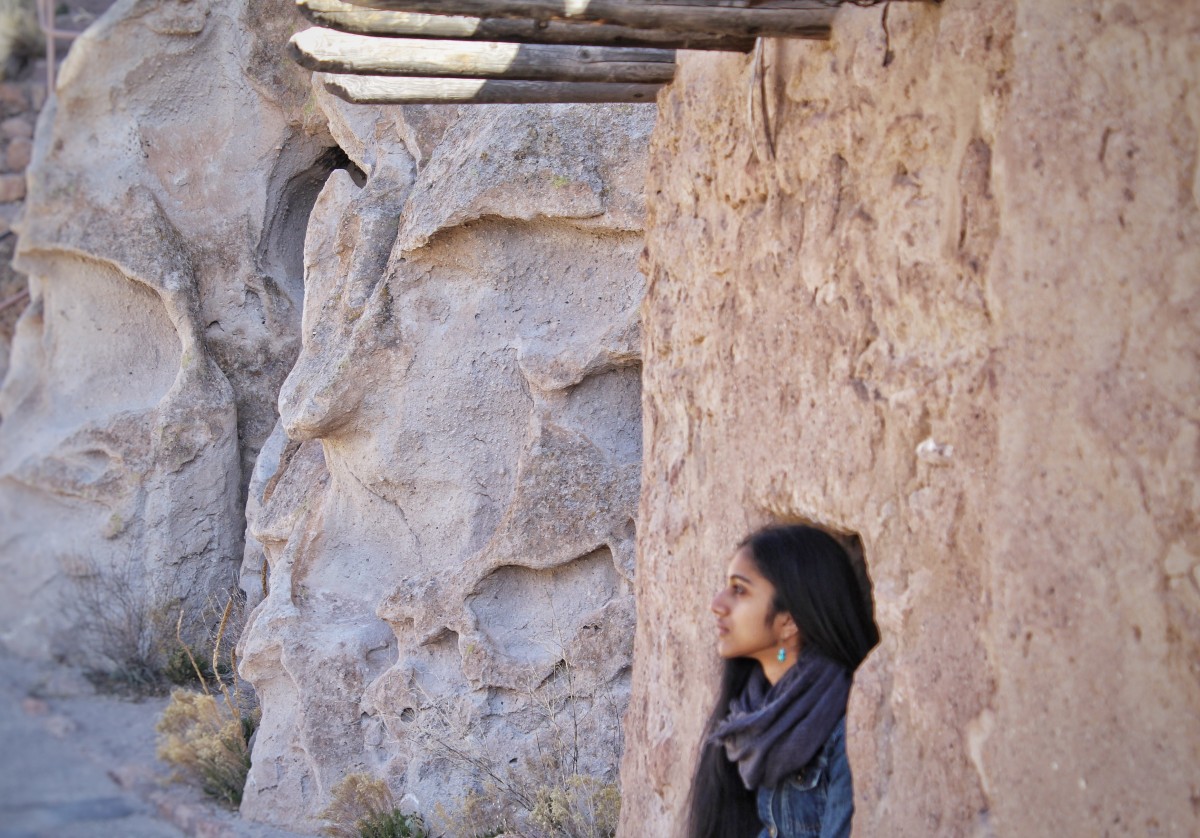 Heavy Jacket: With the exception of summer, Santa Fe is teeth-chattering (any non-Texan, feel free to laugh at my definition of cold). The temperatures frequently dip down to the twenties so a heavy jacket is an absolute must in my Santa Fe packing list. I opted for a black hooded parka which I wore with a semi-thick sweater underneath.
Sweater: The sweater I packed was a charcoal, gray v-neck sweater that I've had since my freshman year of high school. I have no idea how it still fits, much less how it still keeps me warm – but hey, whatever works.
Jeans: I brought along a pair of skinny jeans (Levi's 721 high rise jeans) mostly because I didn't want to deal with a boot-cut that keeps toppling and flaring outside my boots. #TheStruggleIsReal
Leggings: Remember what I said about loving patterns and prints? Well, my bright and colorful bodycon dresses were a little short so leggings were my saving grace (also, they kept me warm – bonus points). I buy all my leggings from Forever 21.
Jean Jacket: When the temperature wasn't quite heavy jacket weather, I used a jean jacket. I think I bought mine from Gap (don't quote me on that) but I love it regardless.
Raincoat: Texas has made me paranoid about rain. Now, I expect it to randomly rain despite what the weatherman says. Did it rain in Santa Fe? Of course not. Would I bring a raincoat again? Yup. I'm still paranoid.
Boots: I have a pair of vegan leather boots that I will wear at any point in time if given the chance (even when it is completely impractical). The one time I actually needed to bring the boots (given how cold it was in Santa Fe), I forgot to pack them. Oh, the irony.
Sandals: I packed a pair of gladiator sandals that I wore when exploring the hotel and most of the galleries. These were my mum's sandals and I may have stolen (ahem, borrowed and have yet to return) them from her. Sorry, mum.
Bodycon Dresses: I packed two bodycon dresses. The first was a mix of earthen tones. The second was colorful enough to be a disco-light. I ended up packing a lace pullover sweater as well because the back of my oh-too-colorful bodycon dress was a bit sexy for day-wear, and I wanted to turn the piece into something more casual and modest. I couldn't find the exact one I own but here's a scarily close match.
Gloves & Scarves: Normally, I would classify gloves and scarves as accessories but in a Santa Fe packing list, these are essentials. I packed one pair of gray gloves and one gray scarf (the latter of which was a last-minute pre-trip Walmart purchase).
Accessories To Add To Your Santa Fe Packing List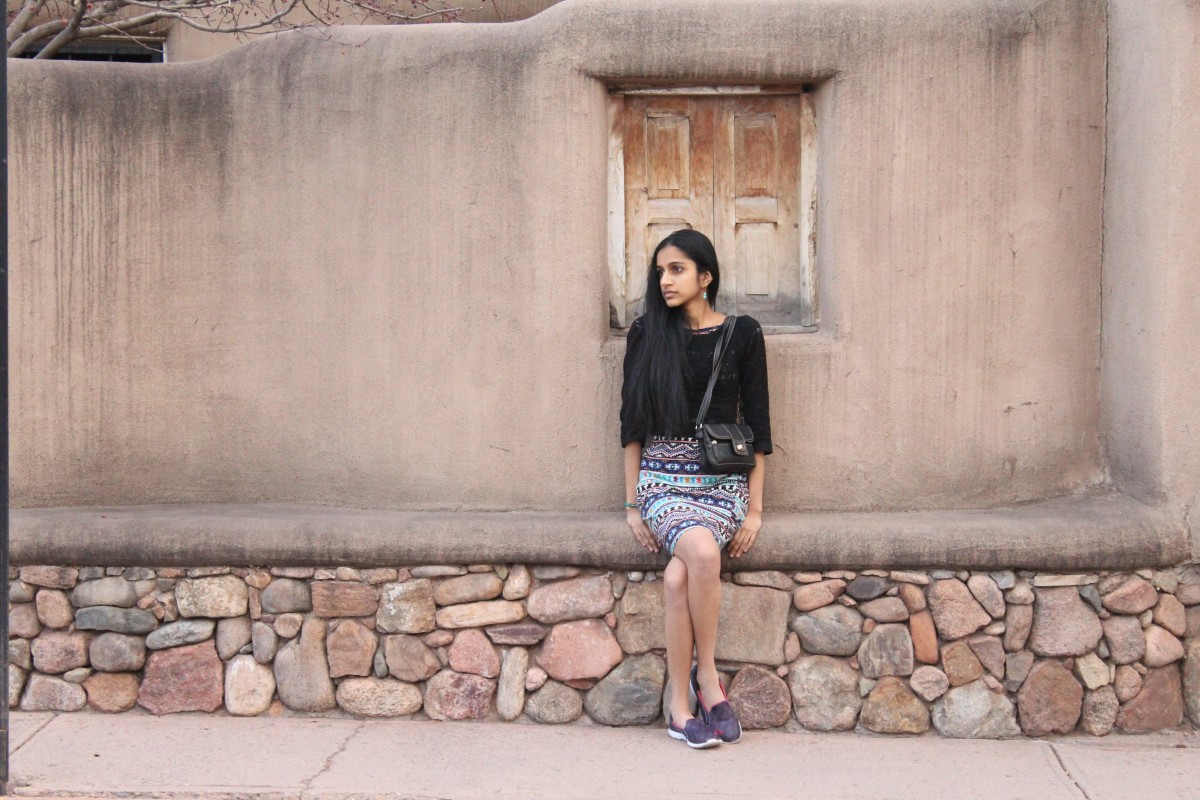 Jewelry: I wore more jewelry during this trip than I ever have in my lifetime. I normally don't like to wear anything beyond earrings, but I had so much fun matching bracelets and statement necklaces while I was last in Santa Fe. Of course, my insanely talented mum designs and makes all my jewelry.
Chapstick: My lips typically dry really quickly when it is cold so I brought my go-to drugstore chapstick – Burt's Bees Pomegranate Lip Balm.
Camera Gear: Last but not least, I packed all my camera gear. I brought a Canon EOS Rebel 3ti DSLR camera with an 18-55 mm lens. Yes, I know – Canon is no longer manufacturing that particular model. But if you are interested in professional photography, I still highly recommend a DSLR.
Electronics: I packed my phone, a really old laptop (AKA a plastic mac), and bundled all the chargers (camera, laptop, and phone) together. I also packed a flash drive, a micro-SD converter, and some headphones.
And that is everything I packed during my extra long weekend Santa Fe trip. I know this post is more conversational than story-based but I've been watching too many "pack with me" videos on YouTube and this is the spillover effect. Hopefully (*fingers crossed*) I've created a resource that helps you plan your trip.
Did you enjoy this Santa Fe packing list? If you have any comments, concerns, or questions, drop them below. As always, I love hearing from you.