how to see Seven Magic Mountains: the colorful painted rocks near Vegas
Seven Magic Mountains was my introduction to Nevada. We'd been driving on Interstate 15 for two hours, making our way up to Sin City from Joshua Tree. The landscape had dulled long ago. We'd now entered a world of potato-skin browns and limp greens. Even the swells of mountains – dry and muted from a distance – had begun to feel repetitive.
In the same-sameness of this stretch of Nevada's landscape, Seven Magic Mountains promised something different: pinks, yellows, reds, oranges. "Looks like the sky isn't the only thing blue here," my partner said as we began the short (almost negligible) off-highway detour towards the colorful rocks near Vegas.
En-route, I had many questions. What is this place? Why are there randomly painted rocks near Vegas? Who created these rocks? What do these rocks represent? Can you visit them? How much does it cost to visit the painted rocks near Vegas? Are the painted rocks near Vegas even worth visiting?
The rapid-fire answers: Seven Magic Mountains. Art Project. Ugo Rondinone. Divergence. Yes. Free. Yes.
I'll get into more details in this Seven Magic Mountains travel guide.
About Seven Magic Mountains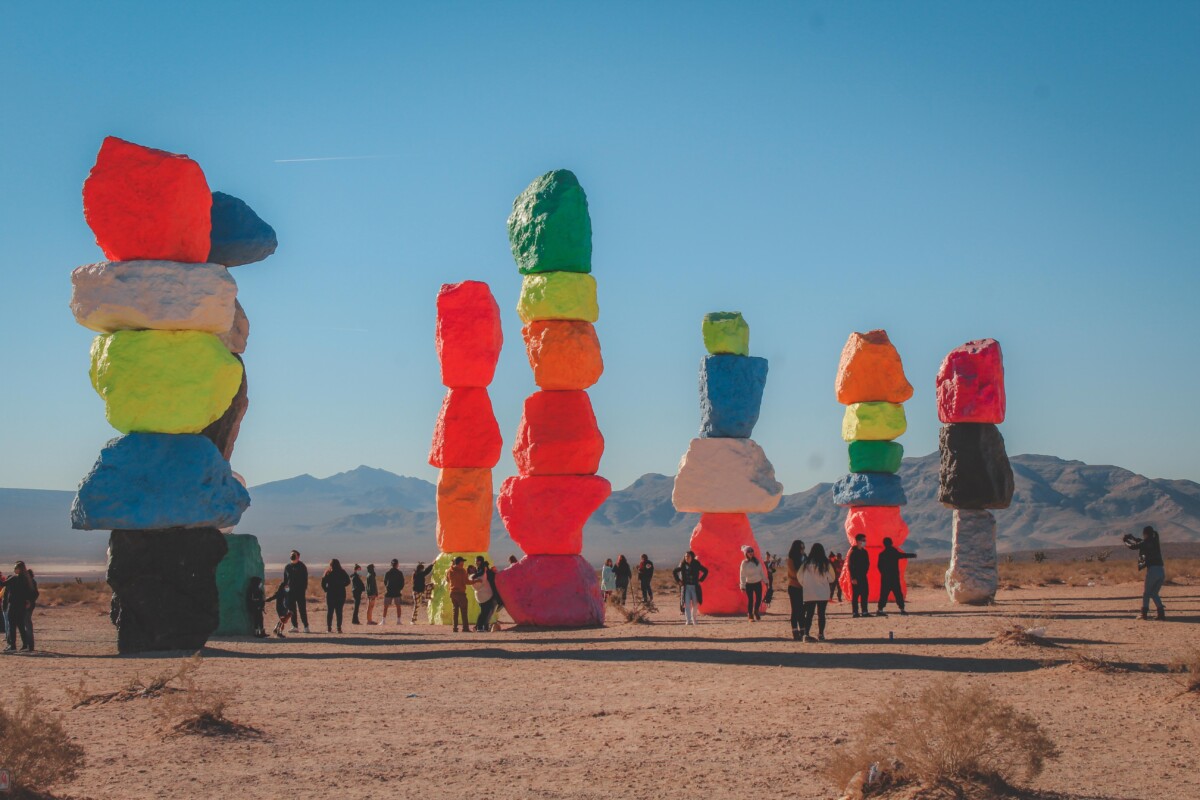 In a wide, open sweep of Ivanpah Valley, shadowed by jagged mountains, lies a small, vivid stack of rocks. These rocks are officially known as Seven Magic Mountains, a public art installation project presented by the Nevada Museum Of Art and Art Production Fund. The artist behind it all? Ugo Rondinone, a rugged Swiss-born Italian known for his impressive medium-fluid roster of works. From haunting, mesmerizing Burn Shy Fly in Venice to dreamy, melancholy Vocabulary Of Solitude in Mexico City, Rondinone's art is known across the globe for its evocativeness, innovativeness, and colorfulness. Seven Magic Mountains is no different.
Seven Magic Mountains Meaning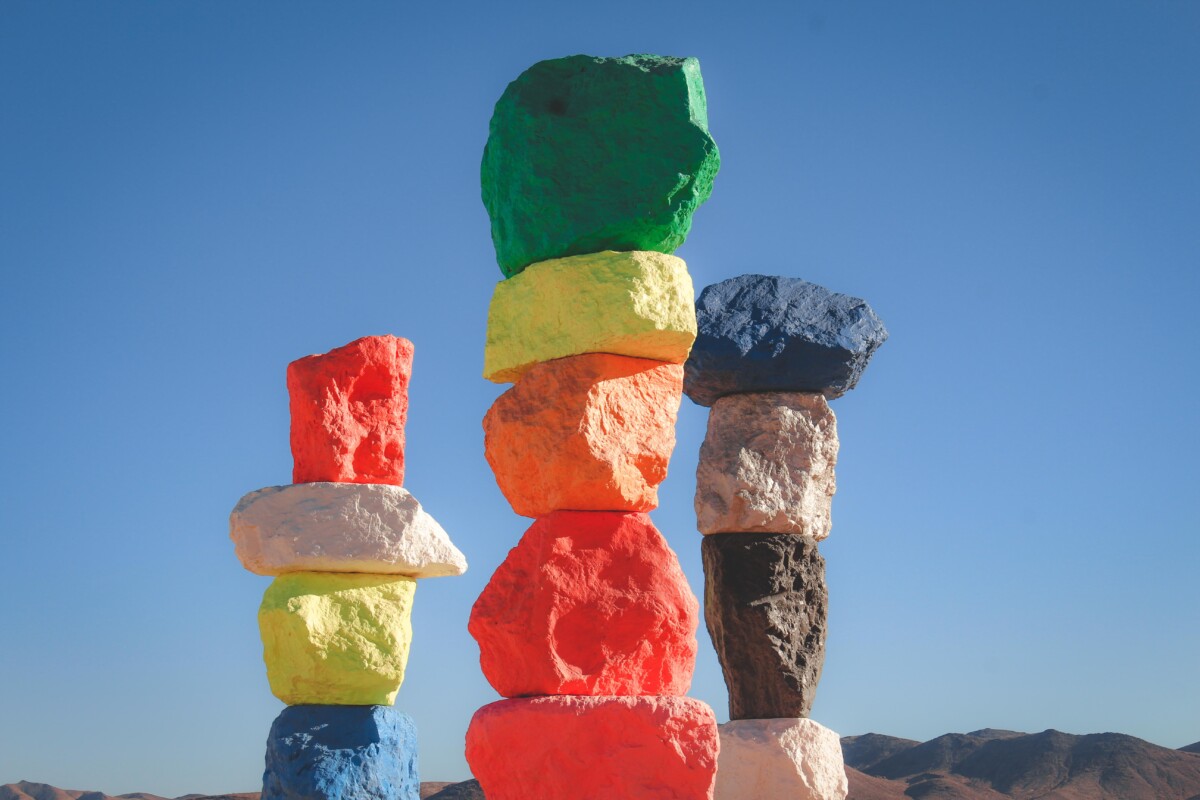 Seven Magic Mountains is one of the most popular tourist attractions in Nevada. It's a booming photo destination. Over two million visitors make the trek to this part of Nevada annually to capture memories, record TikToks, and film IG stories. To many, this quirky collection of colorful painted rocks near Vegas makes the perfect, cool photo backdrop.
Regardless of the crowds (who will clamor over you to get the perfect shot), there is an oft-missed poetic element to Nevada's iconic Day-Glo Stonehenge. Seven Magic Mountains stands between thirty to thirty-five feet tall; its neon colors glare deeply into the sunlight. The gaudy hues are more than penetrative; they make a statement. Seven Magic Mountains is meant to represent an in-between. The location is a physical and metaphorical representation of the midpoint between the natural and artificial [source].
According to Rondinone, "Seven Magic Mountains is an artwork of thresholds and crossings, of balanced marvels and excessive colors, of casting and gathering and that contrary air between the desert and city lights [source]."
This isn't a random pile of painted rocks near Vegas. Seven Magic Mountains is a powerful and purposeful art installation. The location was selected to highlight the artificiality of glitzy, glamorous Vegas and the natural landscape of the coarse desert wash. The totems themselves are a mix of the same themes: artificial colors painted onto locally-sourced boulders.
Seven Magic Mountains Travel Tips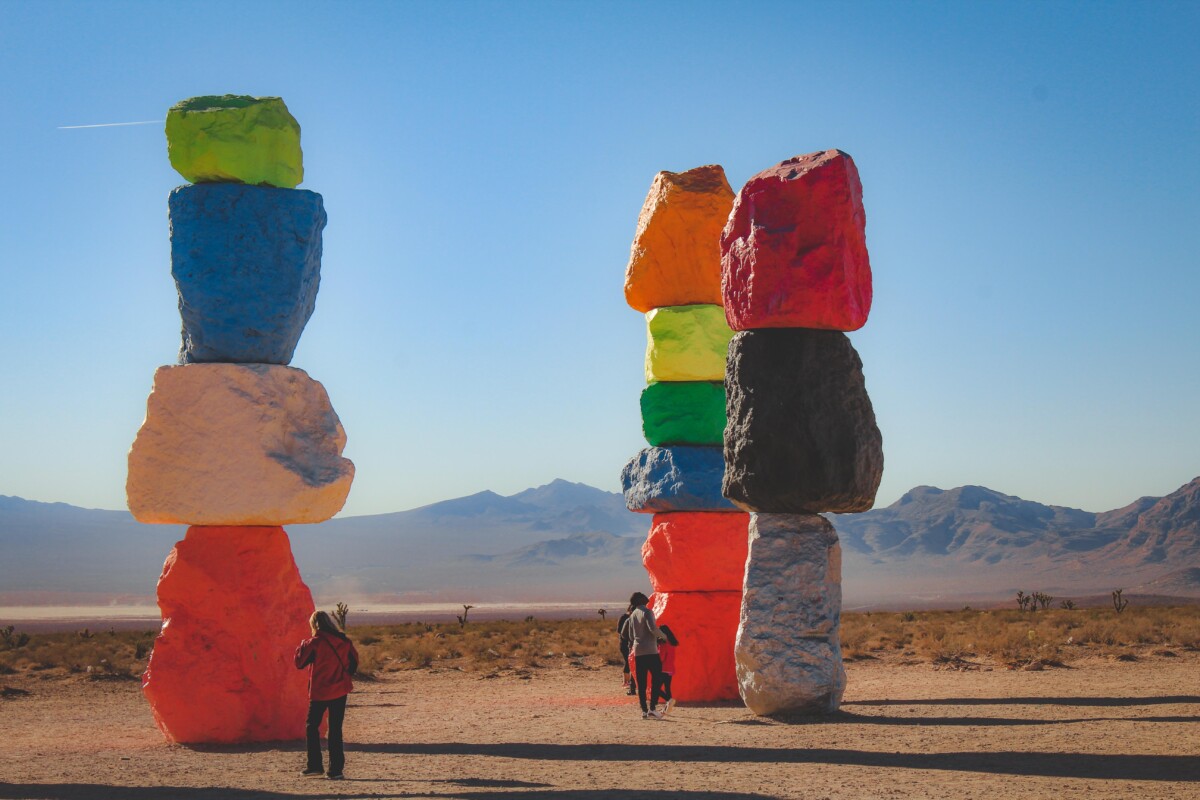 Wear close-toed shoes. Although the sign outside the installation warns against snakes (which do live in the area), the biggest threat to your feet are other tourists (who might fumble and step on your toes while trying to get a picture).
Bring water. You don't have to necessarily bring a water bottle with you to the site (unless you're taking an Uber to the area), but you do want to have quick access to one. The art installation is less than a five-minute walk from the parking lot, but on hot, dusty Nevada days, five minutes will feel like an eternity.
Listen to the audio guide. There's a free, in-depth audio guide for Seven Magic Mountains! All you need to do is call 702-381-5182 and dial in the prompts (press 1#, 3#, 5# on your phone in that order). I'd suggest bringing headphones or earbuds as, between the chatter of tourists and hum of drones, the audio guide is hard to hear on-site.
Where Are The Colorful Rocks Near Vegas Located?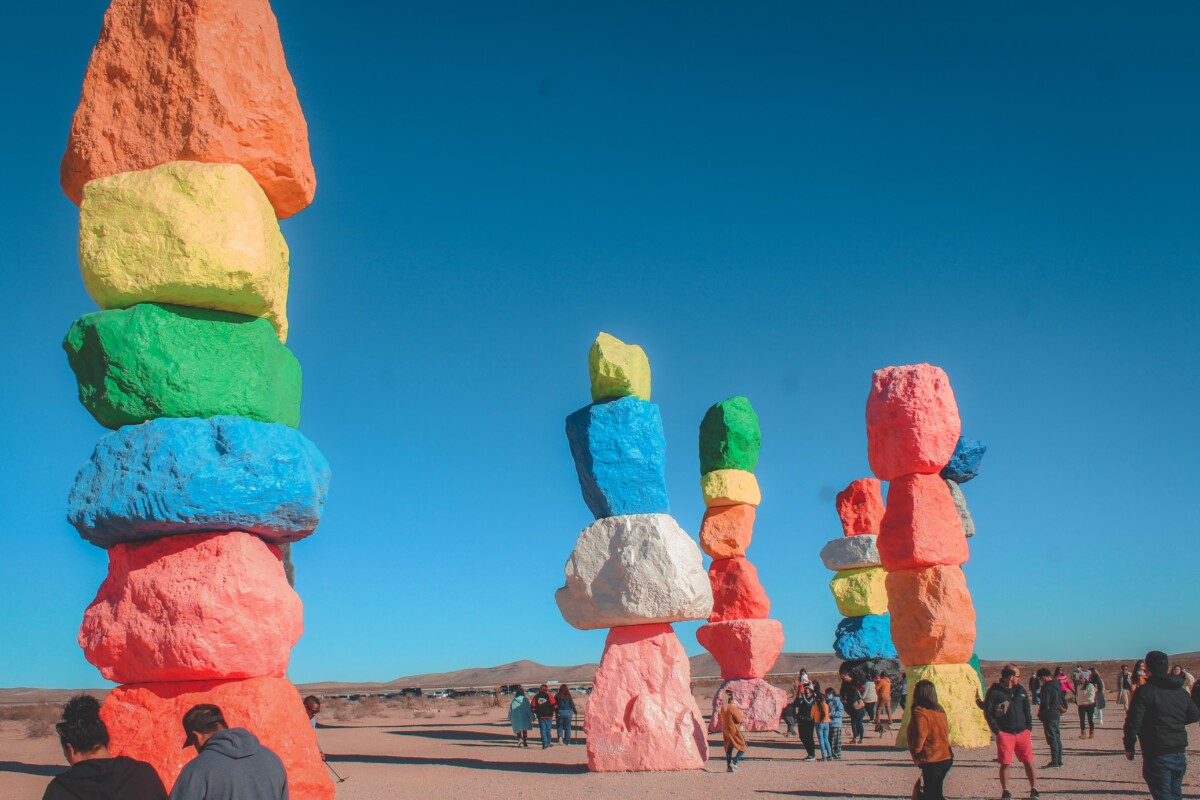 Situated on S Las Vegas Blvd, Las Vegas, NV 89054, Seven Magic Mountains is thirty minutes from The Strip, forty-five minutes from Boulder City, two and a half hours from Lake Havasu City, and four hours from Los Angeles.
It's best seen on a drive to Vegas (as the direction of the work preps you for what's to come in Vegas).
How Much Does It Cost To Visit The Painted Rocks Near Vegas?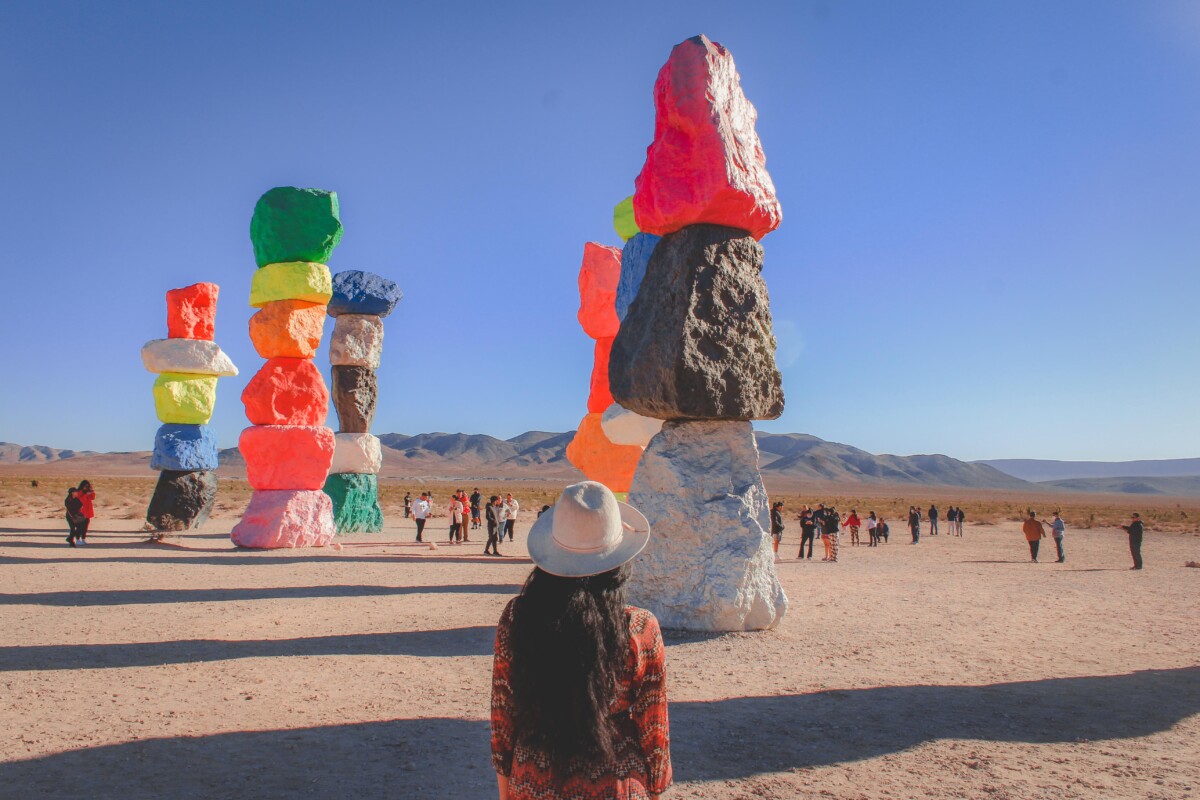 There is absolutely no charge to enter Seven Magic Mountains. I mean, there's even a free parking lot with ample parking space so you don't have to pay for parking either!
Please keep in mind that although the art is open for the public to view, it can't be modified by the public. Please don't spray paint your own colors or graffiti the artwork. Don't climb or scramble up the totems for photos. Routine maintenance (which includes pressure washing and re-painting the boulders with environmentally friendly paint) is time and labor-intensive. Respect the effort that goes into keeping this attraction free and open to all.
Is Seven Magic Mountains Still Open?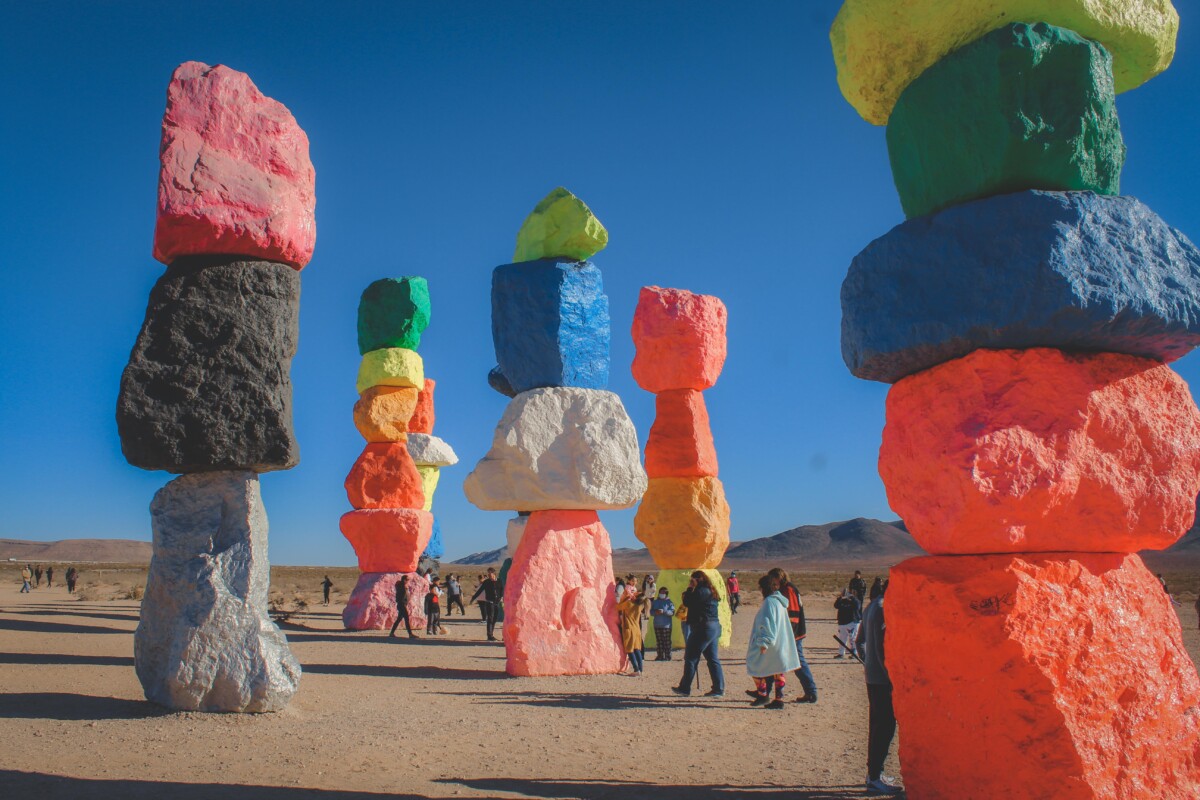 Yes, Seven Magic Mountains is still open! When the art installation debuted in 2016, it was meant to be on exhibition for two years. But it's gotten extended several times since (and last I heard, plans are being made to hopefully keep the project running until 2026).
Is Seven Magic Mountains Worth Visiting?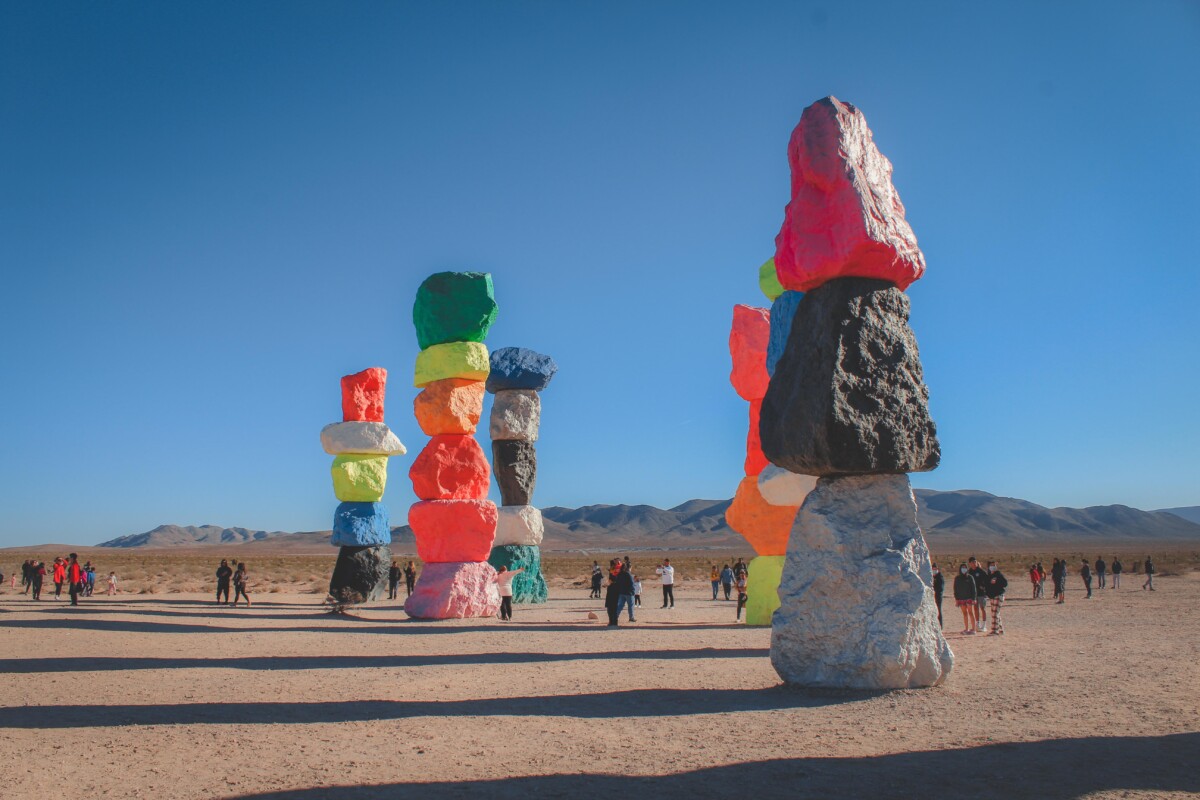 If you're driving along Interstate 15 en-route to Vegas, Seven Magic Mountains is absolutely worth visiting! Go at sunrise (when there are less people surrounding the boulders) for the best photos. And if you just want to enjoy the exhibit, ponder its significance, and listen to the audio guide, drop by anytime before evening strikes and the Nevada sky dims to black.

Passport To Eden uses a mix of on-site research, interviews, high-quality websites, museum placards, and books to strengthen our articles. We usually link web sources right in the post, but occassionally, we do use print materials. Here are the print sources used for this article.
1 Object label for Seven Magic Mountains by Ugo Rondinone. Seen on: November 27, 2021.
Collapse Sources
Have you ever visited the colorful rocks near Vegas? What do you think of Seven Magic Mountains? Let me know in the comments below! As always, I'd love to hear from you.