In the white-hot heat of summer, we draw ourselves outdoors. Counter-intuitive, I know. There isn't a lick of shade lapping this street. Most of the buildings here are awning less, marked by a pull of beige with thick swatches of red and green and blue.
"Can we please go inside?" you ask, in a stew of sweat and perspiration. "Inside. Now. Anywhere. Pick a store. Any store."
But I'm standing on the edge of the sidewalk, still thinking. It's hard to choose a single place to see within St. Louis' Delmar Loop. Delmar, fondly called The Loop, is over six blocks long and hosts specialty shops, restaurants, and art galleries. The Loop breathes the words "heart" and "soul" into our quiet mid-afternoon stroll.
We quicken our pace, searching for just the right spot. The serenity we are holding onto will only last a few more hours, before the throngs arrive to slip into the heavy nightscape. Until then, I will be your guide. Are you ready?
Stop 1: Get A Drink From Fitz's Restaurants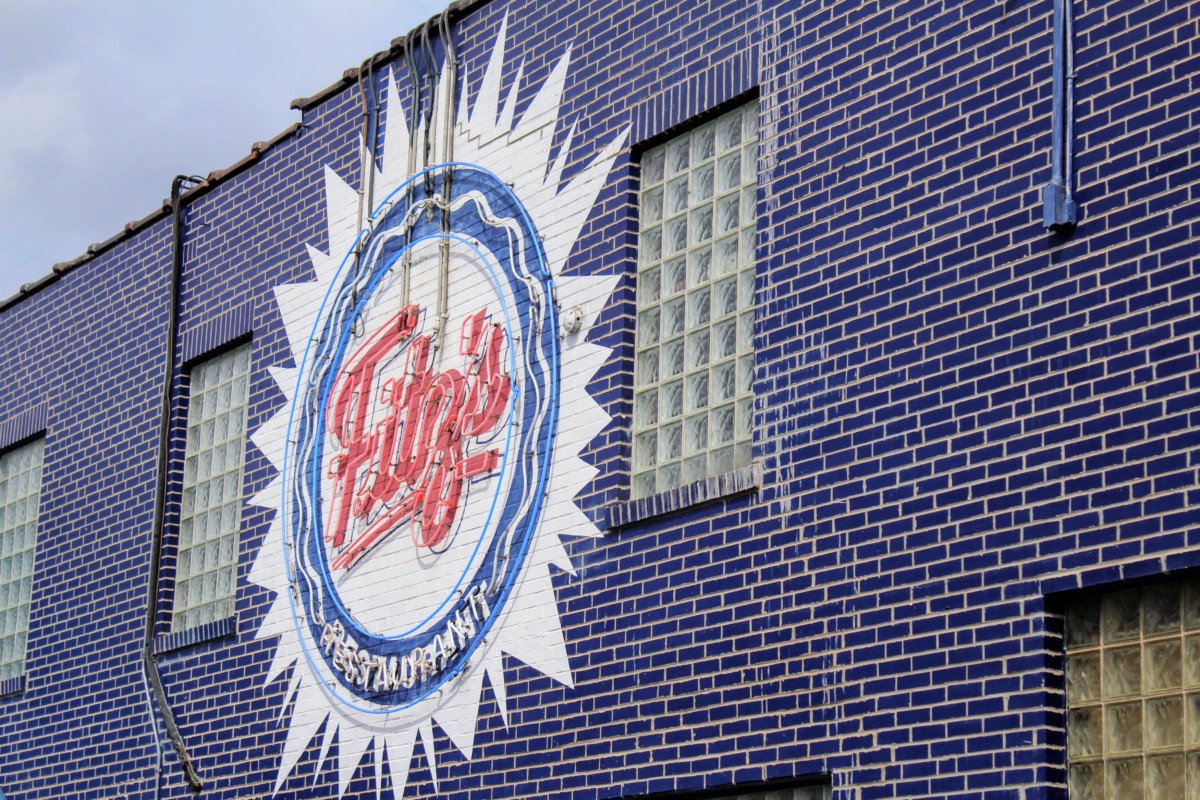 We can't visit The Loop without stopping by Fitz's Restaurant – a soft drink microbrewery. Imagine premium flavours secured in vintage bottles. Cream Soda. Orange Pop. Vanilla Mint Soda. The house specialty – Draft Root Beer.
We expect just a small sip to quench our thirst, but the portions at Fitz's are just as large as the logo itself (which, to be fair, encompasses at least a fourth of the quirky blue exterior panel).
The root beer floats are a messy eat – scoops of ice cream overloaded dangerously on a glass mug. As the ice cream melts inwards, the flavour of the soda is slowly accentuated. Fitz pushes the line of an old-fashioned malt shop and enters the realm of gourmet soft drinks.
Fitz's Restaurant: 6605 Delmar Blvd, St. Louis, MO 63130, 11AM – 9PM, Menu
Stop 2: Visit An Indie Movie Theatre or Book Store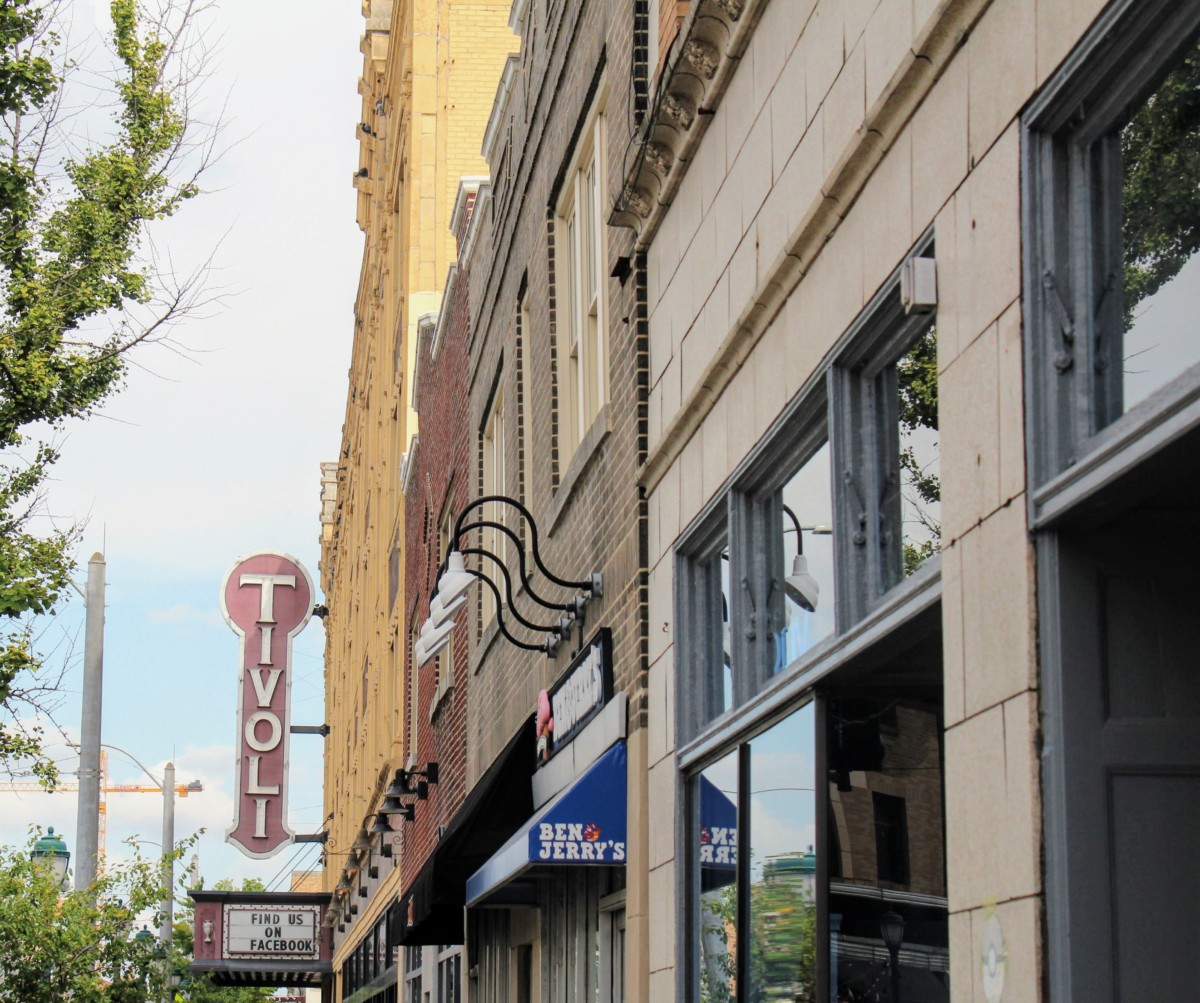 Tivoli is where we head next – this time to get our indie-movie fix. Tivoli, a three-screen theater, plays movies that are both artful and whimsical: classic films, gorgeously animated films, and storyline-heavy films.
But as the credits roll, we're still itching for more indie-delights. Luckily, just a little walk down from Tivoli is Subterranean Books, a locally-owned bookstore molding the concepts of warm, cozy, and intimate together. We dig through the hand-selected collection. Most are new releases – popular titles at that. But somehow, the smell of fresh paper and the shine of glossy covers pulls us deeper and deeper into Subterranean.
Soon, we find a title that catches our eye so we let our fingers rest against the pages as we search for a reading area. There is one upstairs – quiet, comfortable, and homey. That little nook mines the essence of Subterranean.
The Craft Alliance Center of Art & Design is on the other end of the street, so we're going to be stretching our legs a little as we head towards this non-profit arts center, which culls from gifts crafted by local artists.
Our shoes click against the pavement – past the Hollywood-style stars embedded in the block of gray, past the weld of storefronts, past the Chuck Berry statue –
You pause.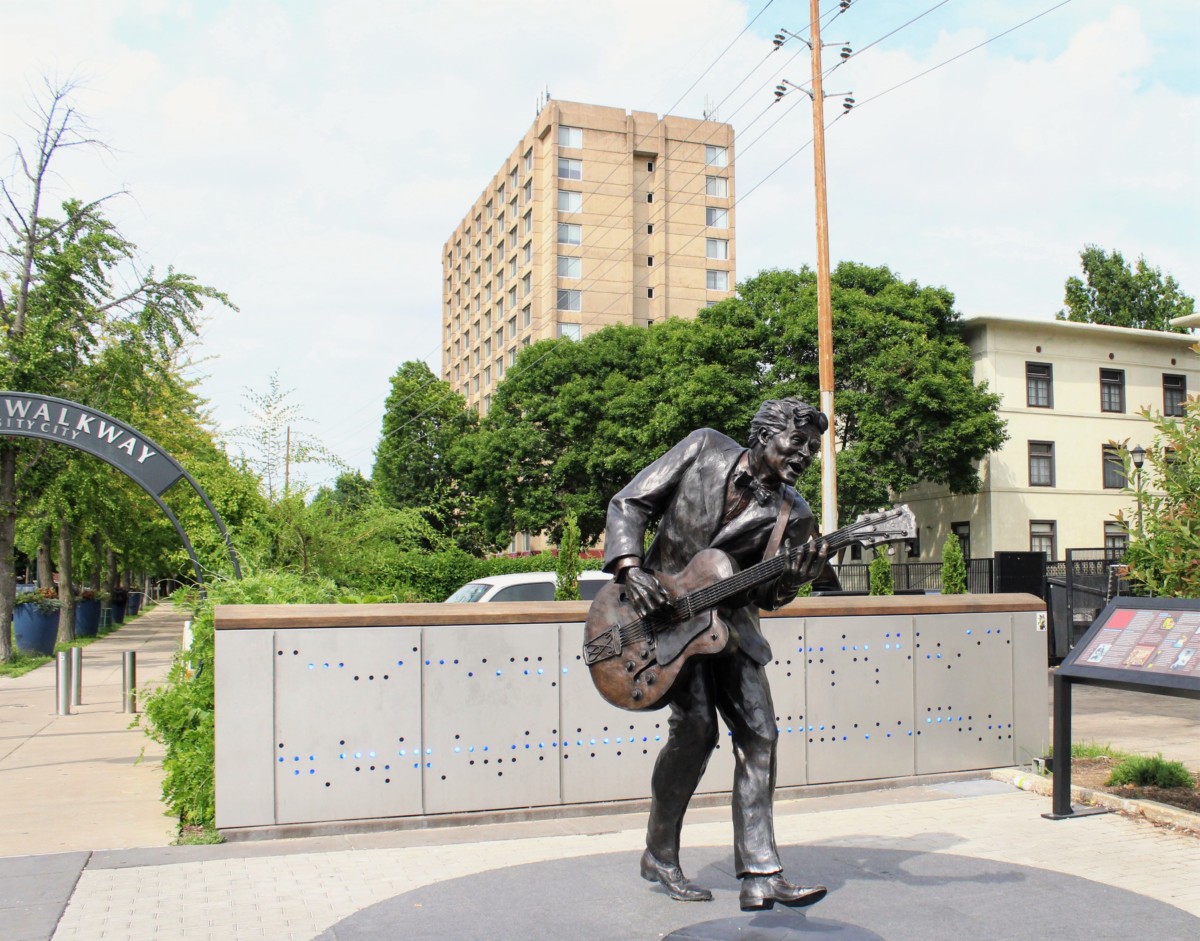 Chuck Berry, an artist whose name is now synonymous with The Loop, made a monthly concert appearance at Blueberry Hill, a ritzy American restaurant serving down-to-earth grub and tasty jukebox tunes with a side of live music. The statue is a tribute to his legendary Rock and Roll performances and a photo-stop in Delmar (Don't tell me that you've never tried tackily posing like a statue for a picture. No? Not even for Instagram? Okay, maybe it's just me.)
Tivoli Theater: 6350 Delmar Blvd, St. Louis, MO 63130, Website
Subterranean Books: 6275 Delmar Blvd, St. Louis, MO 63130, 11AM – 8PM, Website
Craft Alliance Center of Art & Design: 6640 Delmar Blvd, St. Louis, MO 63130, 10AM – 5PM, Website
Stop 3: Grab A Late Lunch In The Loop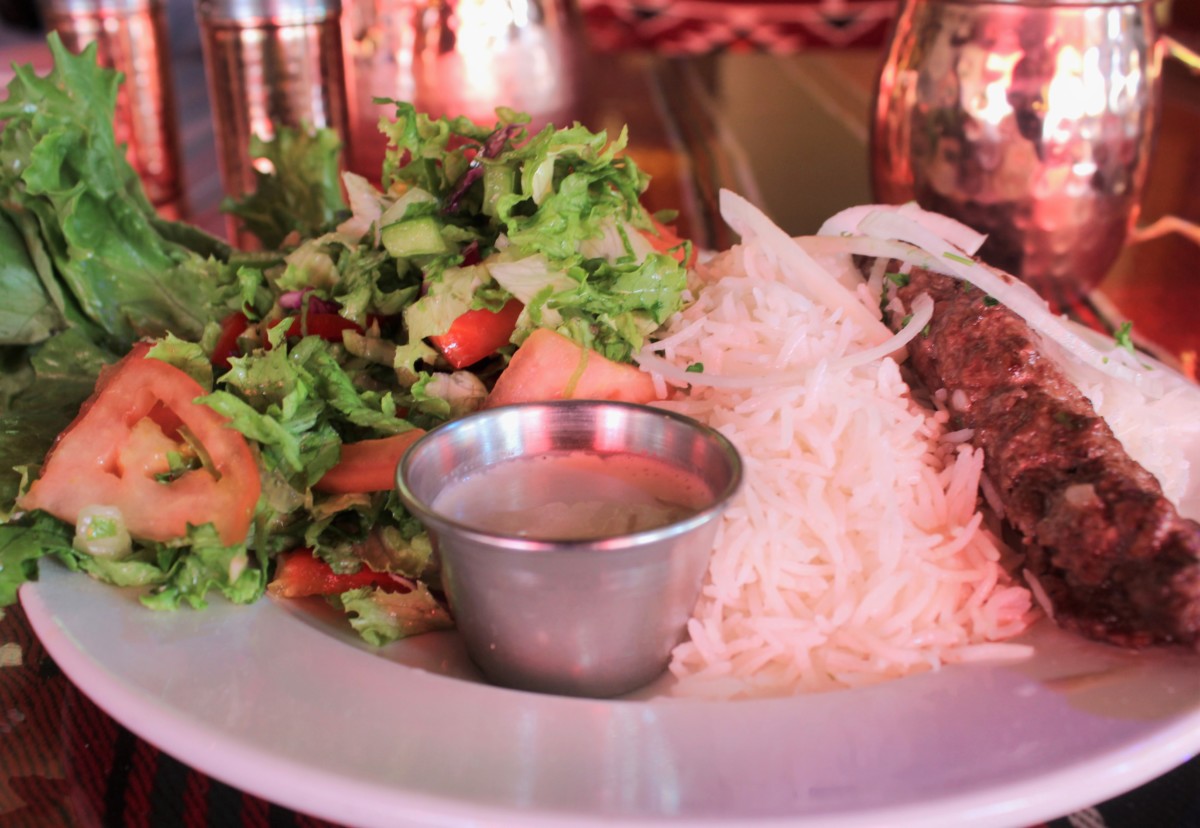 Food sounds good right about now so we scout for a few places to eat. Delmar is a melting pot of cuisine. Thai. Asian. Italian. The Loop crosses every international culinary path.
The most popular eatery is arguably the 24-hour Peacock Diner, popularized by its vibrant neon sign. The bright colors extend inwards as the interior lighting, a gel of glowstick colors, softens the striking U-turn tables. The Peacock Diner serves traditional American cuisine, decently priced and a steal for the ambiance (update: a reader kindly informed me that this restaurant is no longer 24 hours but the ambiance is still 10/10).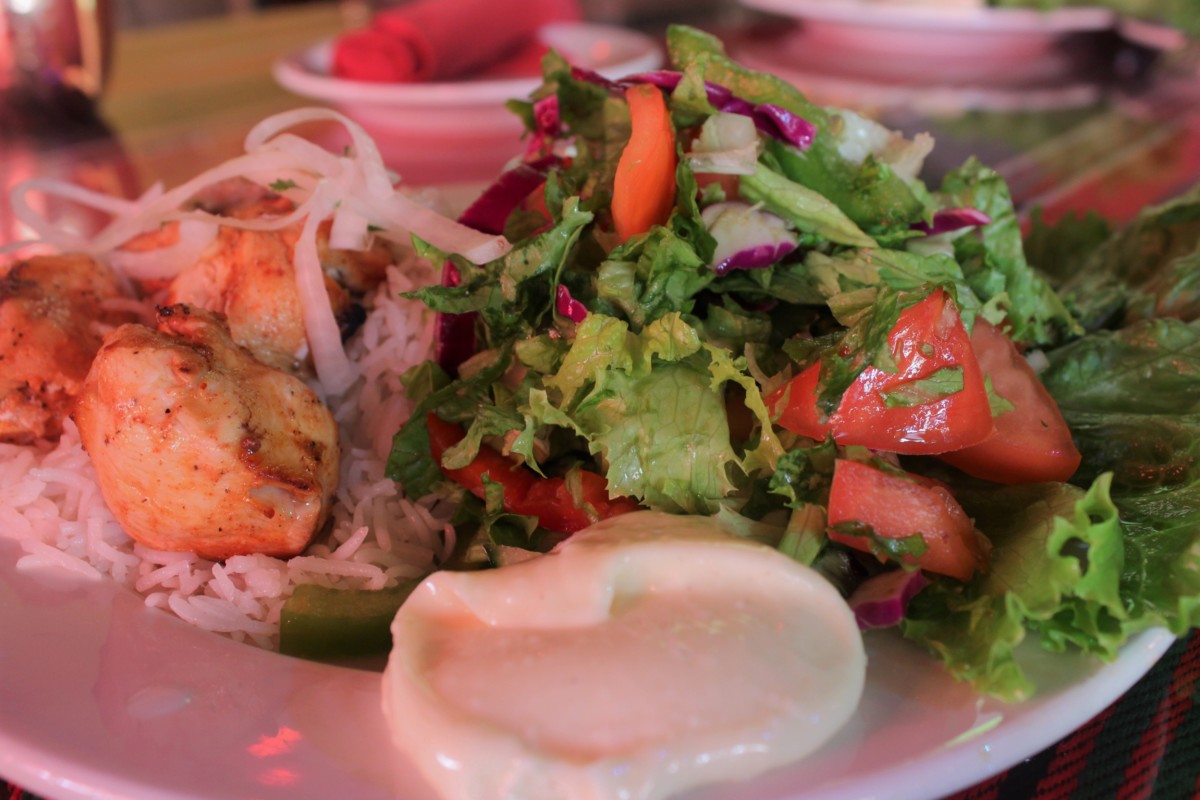 But for a late-lunch special, we instead head to Ranoush, a hodge-podge of Syrian cuisine. Billowing striped red drapes, street-art style murals on the walls, wicker chairs, and copper utensils transport us to the Middle East.

I order a Chicken Shawarma for myself and a Kafta for you. The meats run juicy rather than dry and the bland flavour of the rice is offset by a mildly-spiced limed salad. The real highlight is a yogurt-based dipping sauce that complements but doesn't mask any of the flavours in either the chicken or the light Arabic salad.
Peacock Diner: 6261 Delmar Blvd, University City, MO 63130, 24 hours, Menu
Ranoush: 6501 Delmar Blvd, St. Louis, MO 63130, 11AM – 12AM, Menu
Stop 4: Check Into The Moonrise Hotel
It's starting to get late, but there is still so much more to see in St.Louis. I, for once (or twice or maybe more), am ready to hit the bed. The Moonrise Hotel in The Loop, a kitschy astro-themed boutique hotel, is the live-action version of Hitchhiker's Guide to the Galaxy. With black and white space-themed photos and quirky baubles that eclipse each room, the hotel experience is one we will be mooning over even after we leave.
Moonrise Hotel: 6177 Delmar Blvd, St. Louis, MO 63112, Website
Did you enjoy this guide to Delmar Loop? Any other suggestions? Let me know in the comments below! I would love to hear from you!
Disclaimer: All puns in this post are absolutely intentional. I apologize in advance.