our ultimate Texas sunsets guide
Texas sunsets are attractive. Every evening, pale blue skies dress up in oranges and reds and yellows and put on a runway show of colors. You'll see sashes of violet and strips of white clouds slip in too. It's not a subtle performance by any means. Texas sunsets let you know when they're in town.
If you've never seen a sunset in Texas before, add it to your bucket list. And if you're in Texas, you already know that sunset hunting here doesn't involve any work. There are beautiful sunsets everywhere.
From an Austin bridge to Western dunes, here's where you'll find the best sunsets in Texas.
White Rock Lake, Dallas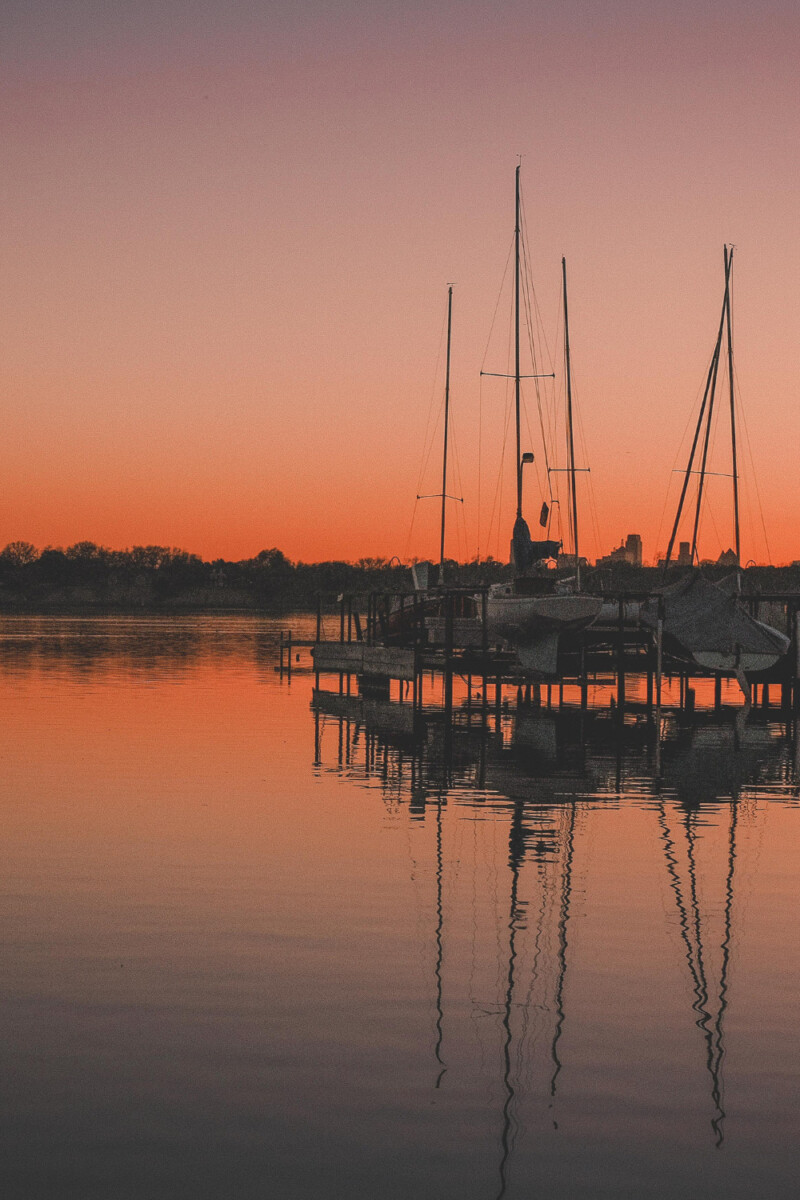 As the sun's rays start to sink into the Dallas horizon, orange taps against the waters of White Rock Lake, a thousand-plus acre, in-city reservoir. The best place to view sunset here is Sunset Bay, a branch-framed snapshot of gently rippled blues that soften under dusk.
Attendees to this show include birds – lots of them. You'll see ducks, geese, pelicans, swans, and a hundred-or-so other waterfowl swoop down and claim their spot by the banks. You'll want to do the same.
Congress Avenue Bridge, Austin
When I think of sunsets in Texas, I imagine standing shoulder-to-shoulder amongst the thick crowds that line Congress Avenue Bridge on summer nights. Everyone is facing east, waiting to see hundreds of Mexican free-tailed bats take flight. Bat watching is an integral Austin experience, one of those cool, weird, only-in-Austin moments. Arrive at least thirty minutes before the sun sinks down, well before the first drops of warm color bleed into a cool-hued sky. Once Austin strips down to silhouettes, you'll see the bats take off.
The Oasis On Lake Travis, Austin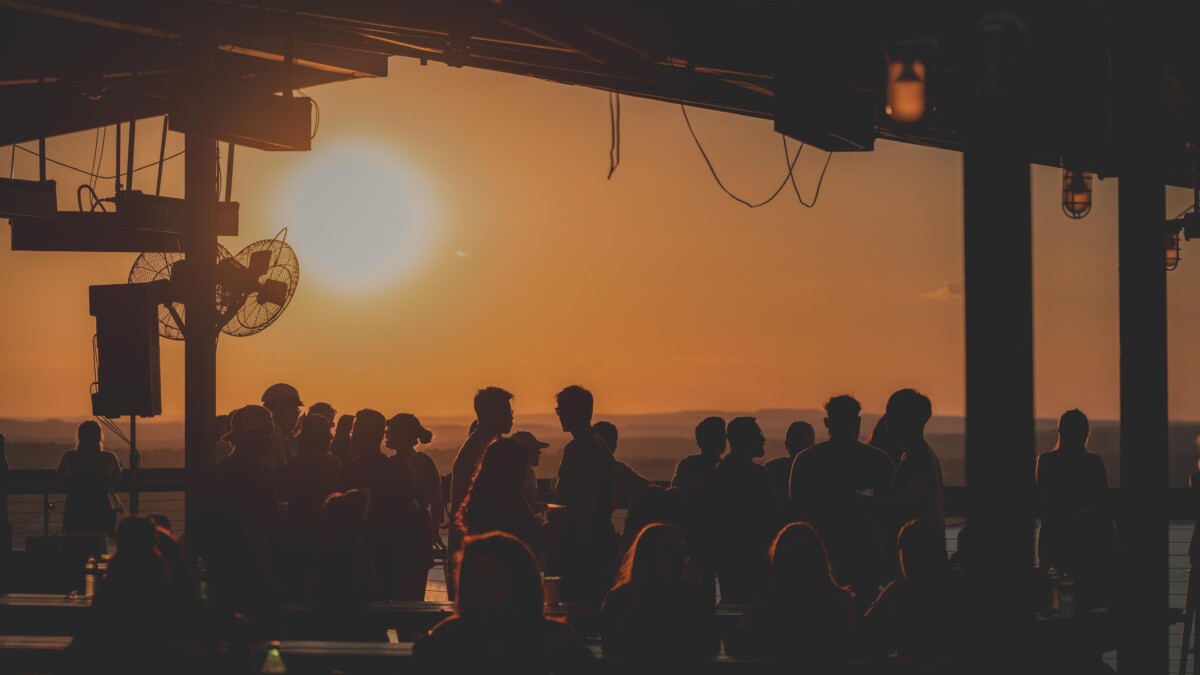 A multi-deck restaurant perched high above Lake Travis, The Oasis, in Austin, is known for one thing: killer views. It's the largest outdoor restaurant in Texas. Monstrously-sized. Split-level. The Oasis can easily seat a couple of thousand people. And somehow, despite the sheer magnitude of The Oasis (seriously, how can a restaurant be this big?), you still need to arrive a good hour and a half early to snag a spot. That's how congested this restaurant gets.
The menu and margaritas are priced for the views alone (think of it like paying admission). The food itself is a step below basic, but the sunsets here are spectacular. Self-titled the Sunset Capital Of Texas, The Oasis offers sweeping orange-coated views of Austin's very own slice of Hill Country.
Enchanted Rock State Natural Area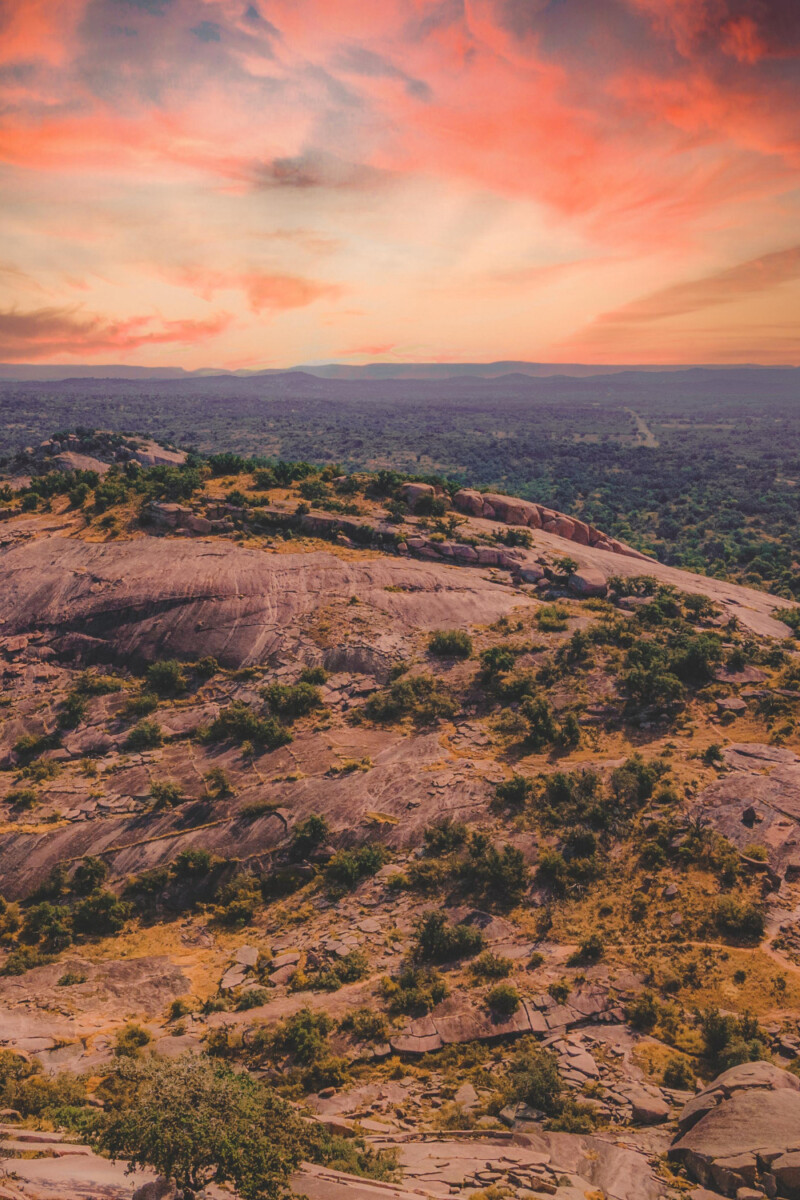 Enchanted Rock is one of the prettiest places in Texas, so it comes as no surprise that some of the best sunsets in Texas lie here too. Arrive early, stay late, and pack a heavy picnic lunch. Make a day out of hiking and slowly sipping in the views.
An hour before sunset, visitors will start clambering up to the top of the rock, a hike that's tougher than it looks. I'm personally a fan of easy hikes so we headed to Loop Trail instead and took a little detour. The detour's name says it all: Scenic View Trail. It's short and sweet and intimate – the perfect sunset-watching spot in Hill Country.
Big Bend National Park
Big Bend National Park can cubbyhole you into seclusion. It's a humbling reserve. You'll feel small – no, tiny. The Chisos Mountain Range is big and the skies above are bigger, hugging the tips of peaks and shooting up-and-up-and-up. Needless to say, sunsets here are beautiful. They're amber and orange and sometimes, pink. But it's the sun – crayon-yellow and comically round – you'll remember.
Franklin Mountains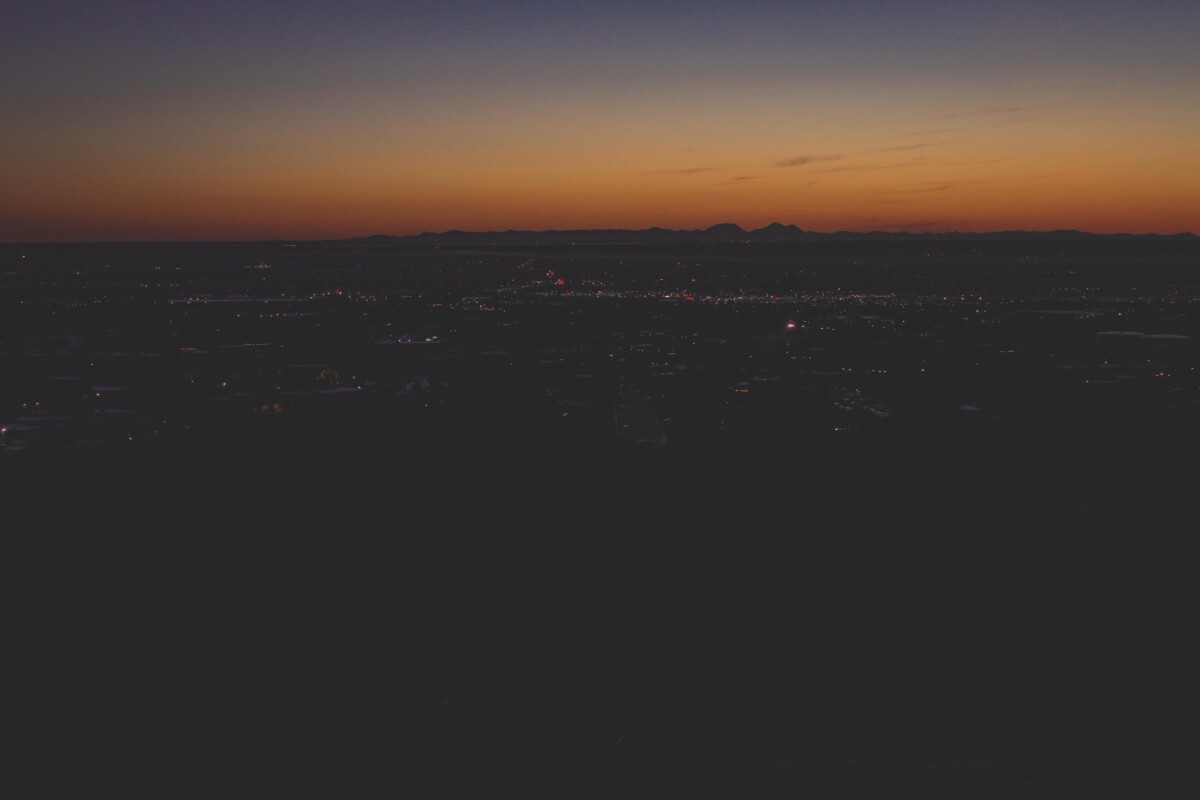 By the time we reached the top of the vista, darkness had already crept into El Paso. The cityscape looked like it was sleeping under a big, black blanket. A few lights – soft and penetrating ones that reminded me of when I was young and would read under the covers, a book in one hand and a flashlight in the other – peeked through. It was twilight and we had just hiked to the top of an unmarked trail, carved out behind a neighborhood. From that viewpoint, twilight was surreal. I still remember the piercing orange that cut into a slab of yellow. The colors faded slowly, lingering long into the evening.
Guadalupe Moutains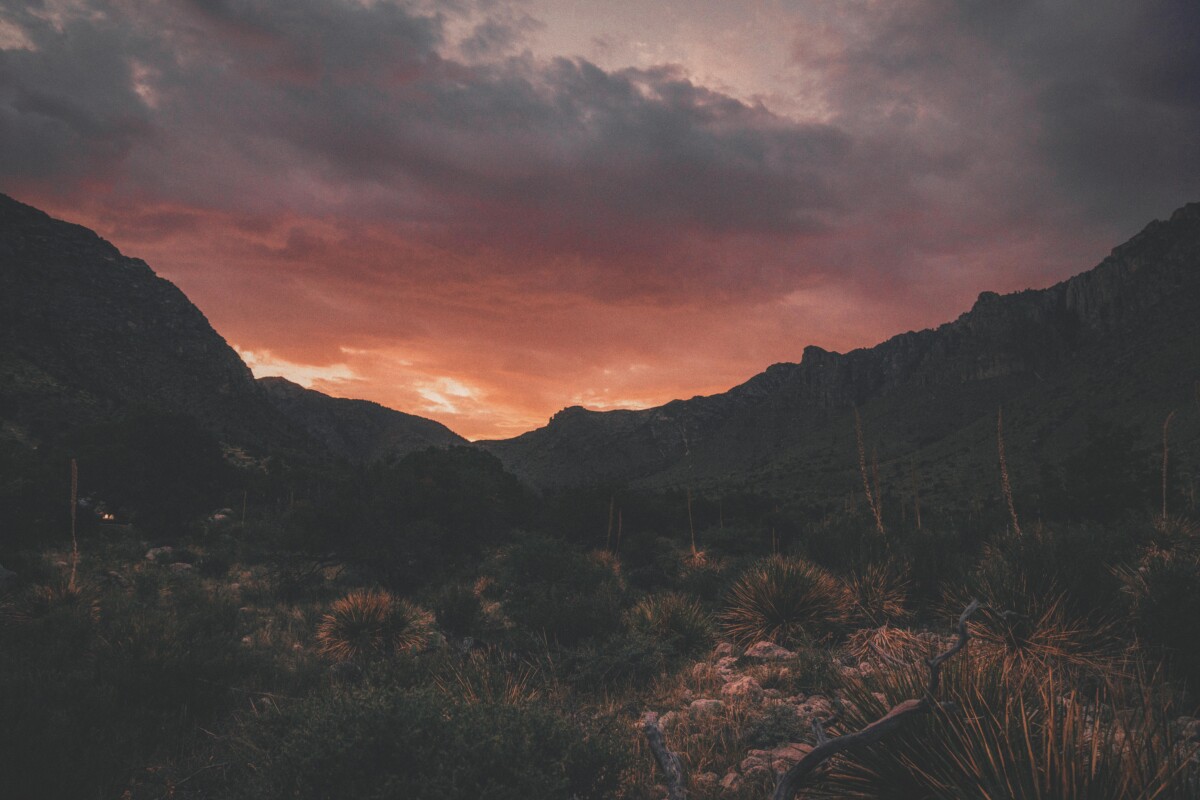 Sunsets in Texas are dramatic. Guadalupe Mountain sunsets are no exception. You'll find deep, dark notes of pink, caressed by clouds, composing a romantic melody. The colors are so vibrant and pretty, you'd be forgiven for thinking Bob Ross himself picked out the palette. The hike, however, is rough and tough. High Point Trail is exhausting. Your legs and neck will start screaming "please have mercy on me" (sung in Shawn Mendes's voice) about four hours in. And then there are the views – some of the best you'll see in Texas. If you're an avid hiker, it's worth it.
Along The Coast Of Texas
Stating "Along The Coast Of Texas" in this list of best Texas sunset spots feels like a cop-out answer, but hear me out: there is no such thing as a bad beach sunset. I mean, I've never seen a coastal sunset that hasn't been a magical, pinch-me-I-need-check-if-this-is-real moment. Pick a beach in Texas (here's a shortlist of the best beaches in Texas), drive down to it, pop open the hood of your car, grab a jug of sweet tea, and drink to an amazing sunset view. As a Dallasite, I don't get to do this as often as I'd like because the coast is quite far from where I stay. But if I lived near Corpus Christi or South Padre Island, sunset watching, right by the shores, would hands-down be a part of my weekend routine.
San Antonio River Walk
River Walk restaurants don't have the best reputation for food (minus a few small exceptions), but they are known for one thing: great patio seating. You'll find colorful umbrellas and mini-canopies shading outdoor tables. Most of the chairs are needle-close to the rails that separate the sidewalk and the river. As you dine, you'll see the last glimmers of sunlight reflect off the water. Tour boats come and go, their lit-up underbellies in tune with San Antonio's fiery sunset scenes. If you want to take it all in from different angles, stroll along the path that slinks past busy River Walk businesses. You'll see shards of orange and yellow fall through a criss-cross of branches.
San Gabriel Park, Georgetown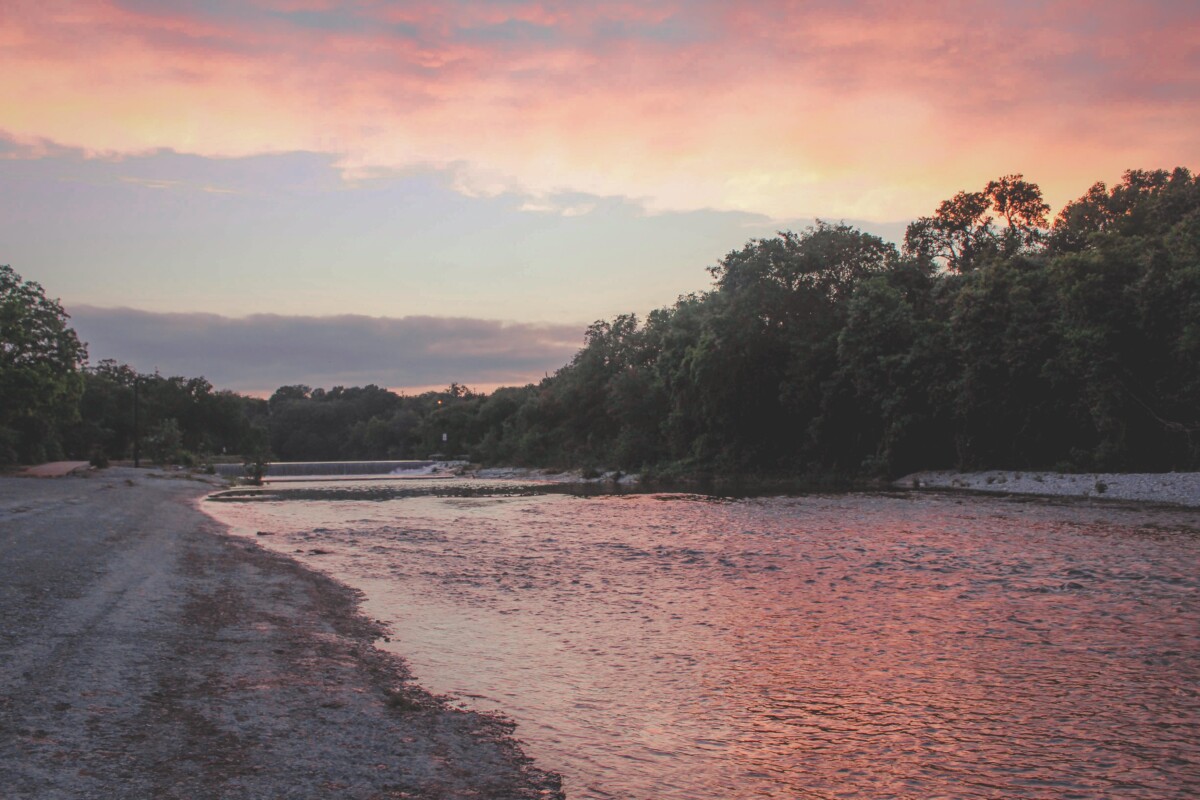 I came across San Gabriel Park quite accidentally. After a long road trip, I searched up "places to stop near me" and San Gabriel Park showed up first. It's a big park, close to 200 acres large. You'll find trails and a garden and pavilions and century-old oak trees. You'll also see a snippet of the San Gabriel River.
San Gabriel River was where I first saw a cotton candy sunset in Texas. I had heard the phrase before, but it didn't quite register how bubble-gum pink the clouds would be, how pale the sky would look, and how the ethereal the water, all wrapped in blush, would seem.
Fisk Medical Arts Building, Amarillo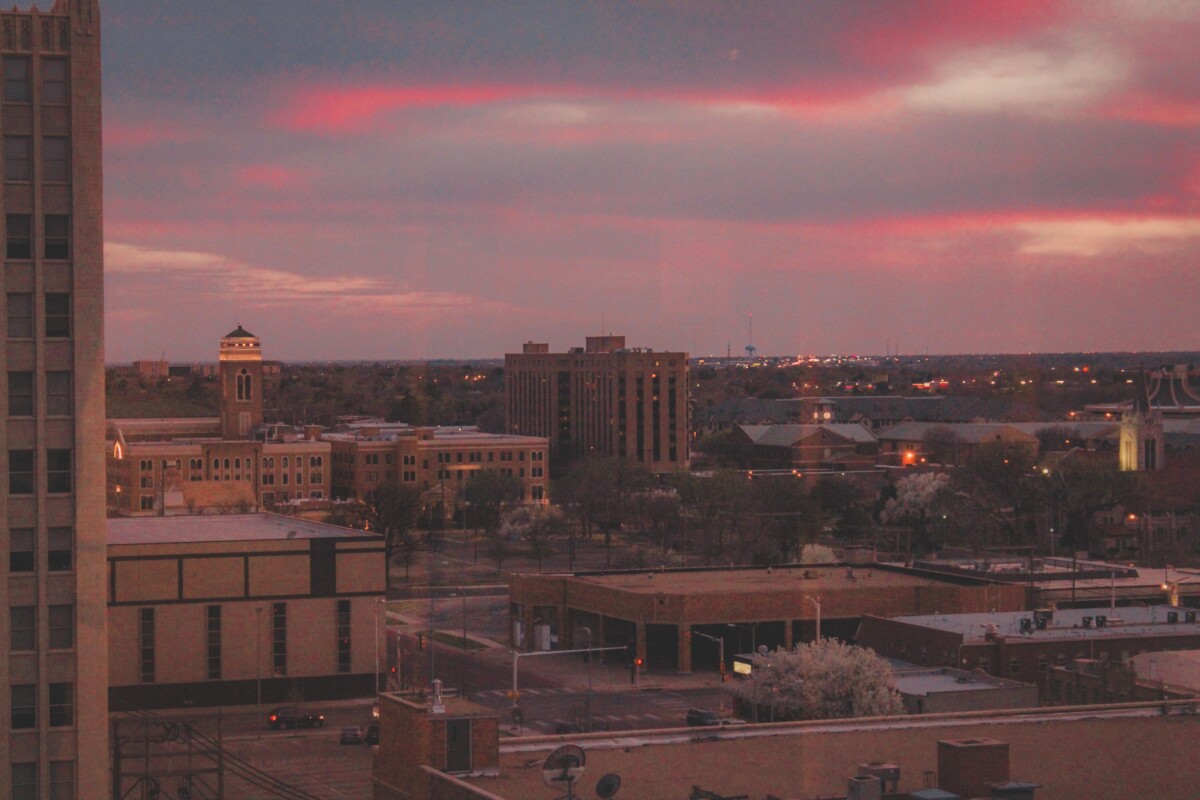 I remember my first evening in Amarillo distinctly. I had just checked into the Courtyard by Amarillo Downtown, a tall hotel set in the former Fisk Medical Arts complex. It was almost dusk. The room was clean and minimalist with pops of modern art, but the view – oh my goodness, I still dream about that view. The cityscape was dipped in violet and pink. Long shadows were cast over terracotta-colored buildings. It was a better-than-an-IMAX showing. I could feel the Amarillo sunset down to my bones – the calmness of it all, the peacefulness underneath.
I try to catch a sunset every time I'm in Amarillo. Some of my favorite spots to sunset watch are Palo Duro Canyon (roughly thirty minutes away), Cadillac Ranch (a quirky roadside attraction), and just along the roadside as you're driving into the city.
Monahans Sandhills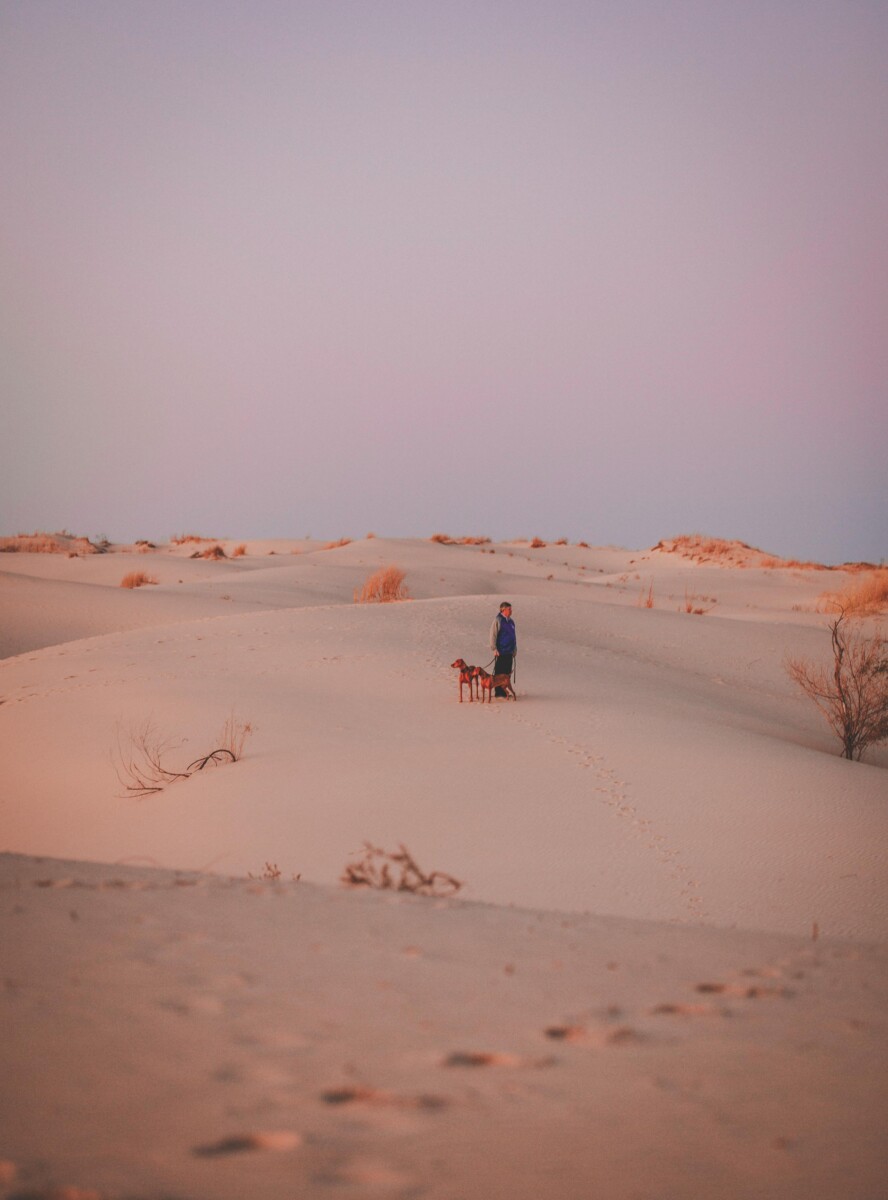 Monahans is the kind of place you have to see to believe. As you start to trek up the sandhills, you'll see more mounds stack up. Under harsh light, the sands take on yellows and oranges, and are reminiscent of the cover of Dune. Under the softness of sunset? The colors thin out into pastel shades. Sunsets at Monahans trigger a different kind of magic. Stake out a spot and allow yourself to be enveloped in the beauty.

Did you enjoy this list of the best sunsets in Texas? What are your favorite Texas sunsets? Let me know down in the comments below. As always, I love hearing from you!