there's a taylor swift themed bar in San Francisco
Editor's Note: I recently sent our Bay Area writer, Tina Casalino, to a Taylor Swift themed pop-up bar. This bar is in no way affiliated with Swift (she will not be there as Bucket Listers, the group behind the event, adamantly wants you to know). But here's the deal: Swifties will love it.
Atmosphere Check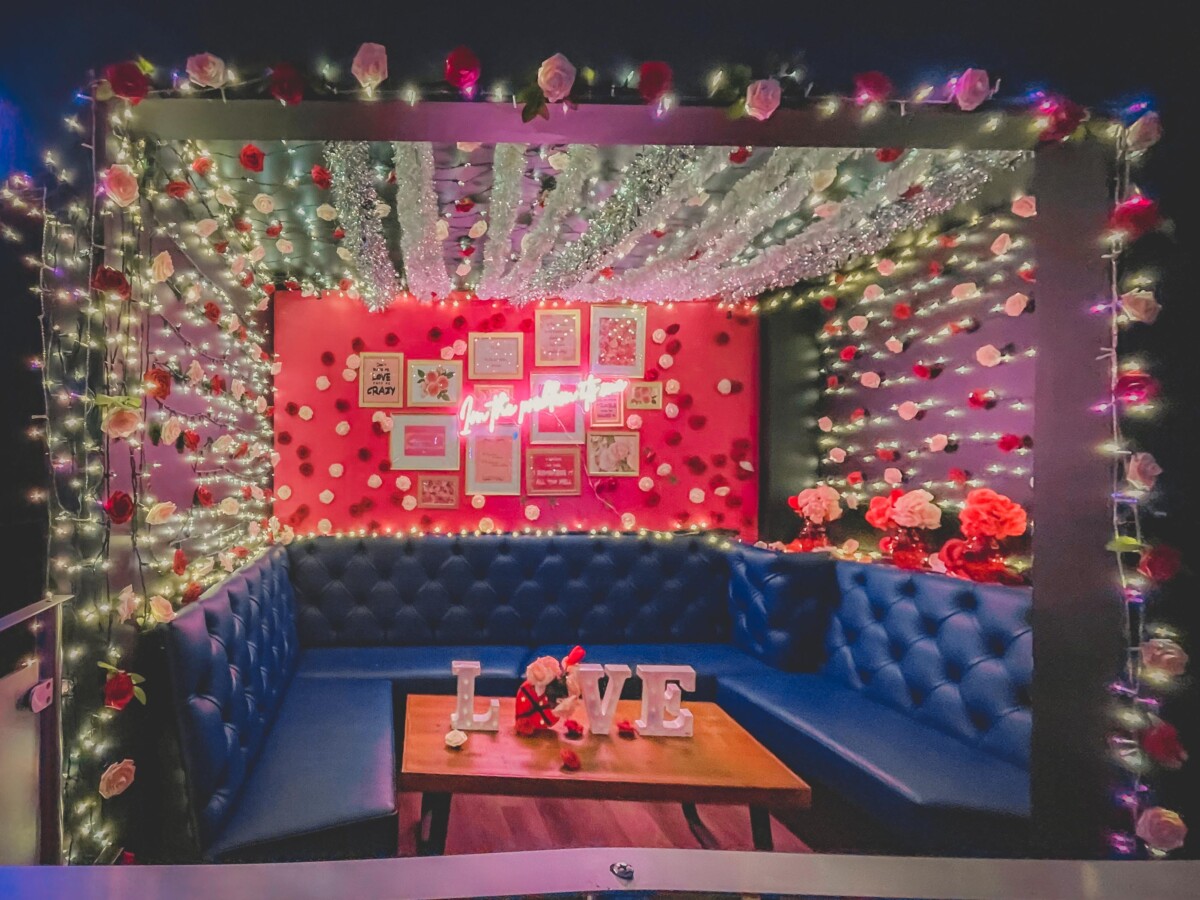 Who else could inspire a pop-up bar in the middle of the Marina District in San Francisco more than Taylor Swift, and who else could truly appreciate a Taylor Swift-themed pop-up bar more than a Swiftie (is this a rhetorical question)? Enter Bad Blood: a Taylor themed Heartbreak Bar at the Westwood Annex now through April 8th. You'll most likely forget about your own heartache.
Instead, you'll be thinking about Taylor's past loves and her songs spanning more than 15 years, as nearly every decorative detail depicts a song, a reference, or a headline which has made her popular (she's also famous for her outspoken lyrics often calling out many of her former lovers). Brightly colored neon signs featuring various song titles such as Blank Space, Shake It Off and I Knew You Were Trouble are spread out throughout the venue, which includes a small seating section upstairs. Other elements definitely not overlooked include the clothing rack of cardigans greeting patrons upon entering the annex room, complete with a Taylor standee blatantly propped up next to it (behind both is a wall displaying framed pictures of a few of her ex-boyfriends, with large black Xs across their faces).
Reputation: What's The History?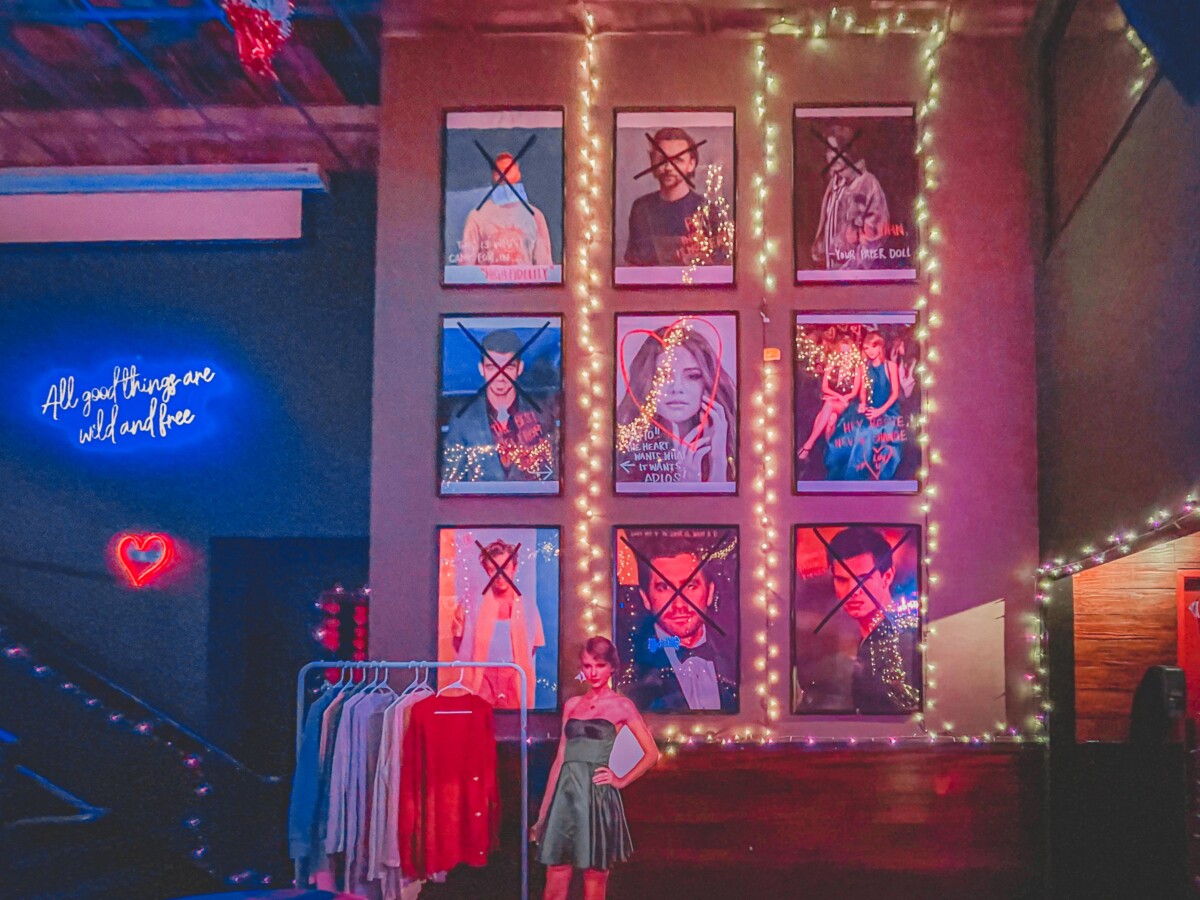 Originally conceptualized as an anti-Valentine's day event leading up to arguably the most despised day for singles without a current Love Story, the event's name speaks for itself. What could be more genius than suggesting a venue where Swifties (or anyone scorned by an ex-lover) could gather together for an entertaining evening to hang out with friends, (or make new ones), and discuss their Champagne Problems, or maybe meet their next Superman?
Word spread quickly and popularity for the event grew, resulting in SF Bucket Listers extending the event's dates past February 14 (no stranger to quirky activities, Bucket Listers is also responsible for the Los Angeles pop-up bar with a Blockbuster Video store theme). It should be noted that Taylor does not appear nor will she, except in spirit only, through her music via large speakers and also big screen TVs hoisted above the bar counter (amid the alcohol bottles) where she can be seen performing one of her concerts.
Attractions: Look What You Made Me Do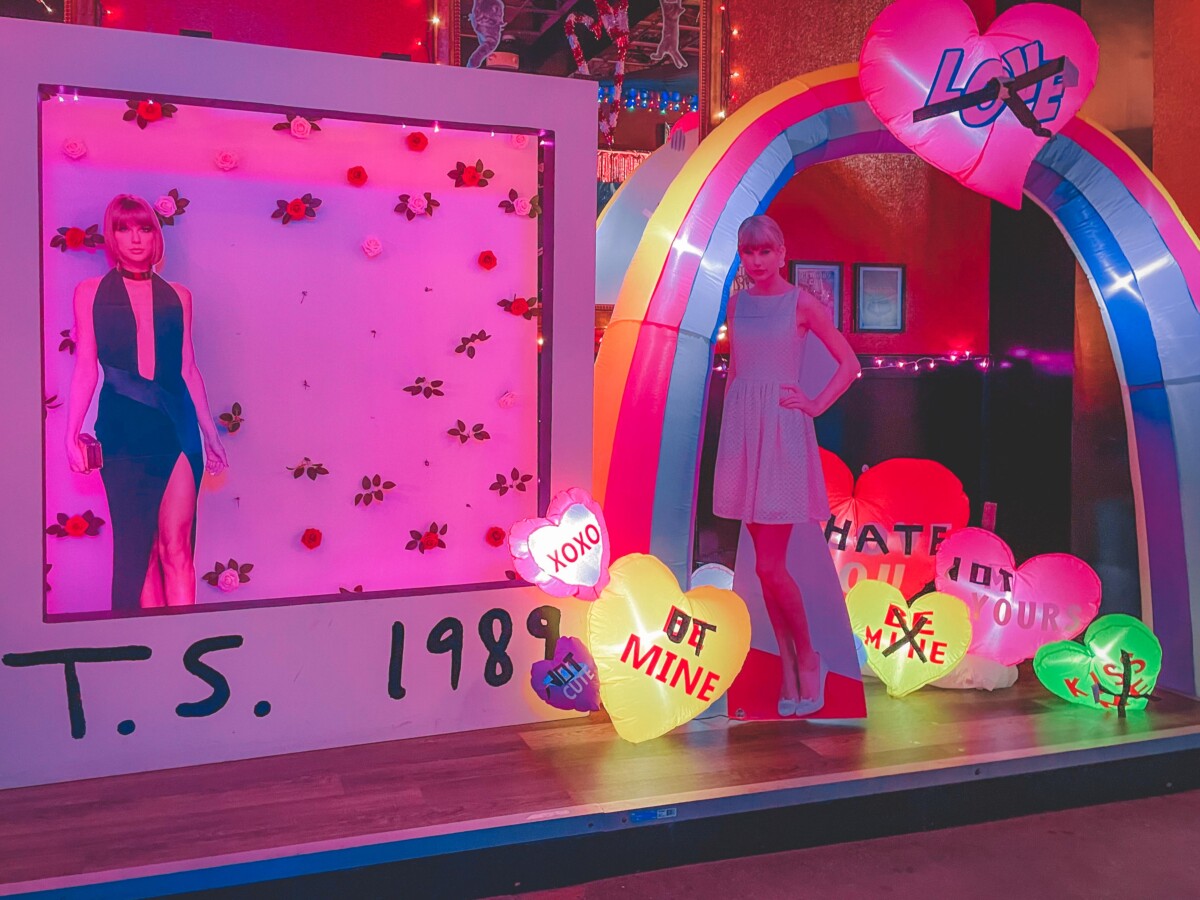 By far, the most popular activity based on visual evidence is the impressive Letter To Your Ex wall, encouraging attendees to write their Dear John anti-love handwritten sentiments in a sea of pink Post-It Notes affixed to a mirror.
The other highly entertaining aspect was just wandering to check out all the photo opportunities to take. My favorite was the photo booth room, which was beautifully and decadently designed with love in mind, from the cushy purple booth with white lights surrounding it on the sides and above, large roses on the cut-out frame of the room and vases of roses sprawled about, and a white LOVE sign centered on the table. More options for photo-taking include her infamous 1989 photo devised to look like a Polaroid with Taylor in an evening gown standing to the side. Next to it, an inflatable rainbow stands next to candy hearts with sayings like Be Mine and Kiss Me, and then, like some of the fore-mentioned pictures of the exes on the wall, large black Xs crossing out the words on the candy hearts.
Swifties won't have to look too hard to find more Easter eggs at the event. Just look at everything closely, from mirrors with hilarious random cat stickers on them to (more) mirrors featuring lyrics and phrases written in lipstick. And if you can't figure out a reference to something you see, perhaps a tarot reader can lead you to the answer. That's right, for those wanting insight into their future, you can get a reading for a nominal fee (not included in admission price). If you still can't get enough of Taylor, you can ask one of the bartenders or wait staff for a sheet of trivia questions (which celebrity did Taylor write "We Are Never Getting Back Together" about? Hint: he has a sister named Maggie).
Food & Drink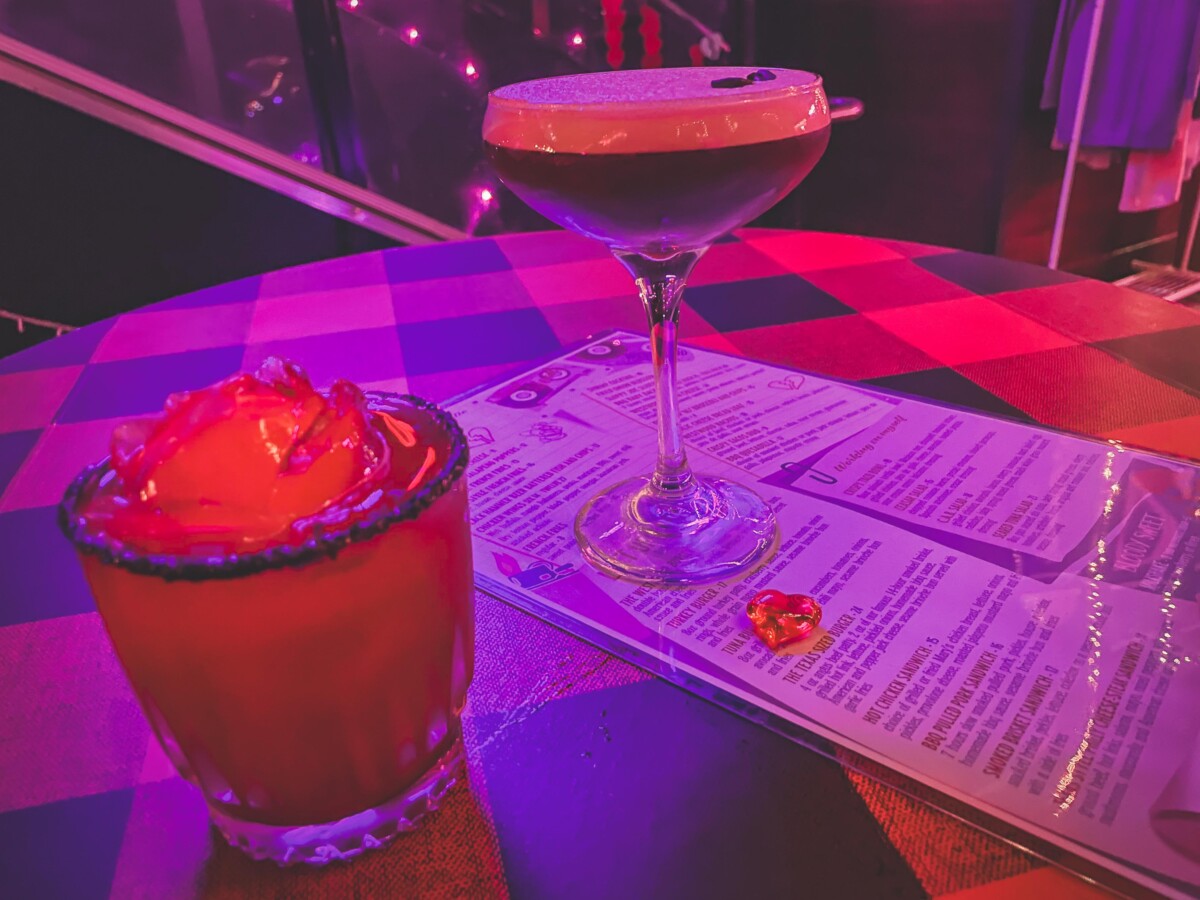 What would an evening out be without food and drinks, especially at a bar? But remembering where we are, you can't just expect any menu – just like the rest of the bar, you know at least the cocktails have to also be Taylor-themed. The price of admission (there are four ticket tiers) includes one free drink per person (there are also additional drinks that are not free but available for purchase, and anything after the first drink per ticket comes at a cost). From the complimentary section, I tried Bad Blood – the deemed crowd favorite – essentially a margarita with tequila, blood orange puree, agave and lime juice, and also picked my fiancé's drink, I Knew You Were Trouble, which was delicious and made of Jameson cold brew liquor, hot chocolate and whipped cream. We also picked Ex-Lover from the paid section which was similar to a White Russian with Grey Goose Vodka, Kahlua and cold brew.
Each drink was tasty and aesthetically pleasing, from the espresso beans floating on top of foam of Ex-Lover to the large rose-shaped ice cube that accompanied Bad Blood. Food selections were separated by categories including "Sharing With My Bestie" appetizers like bacon-wrapped jalapeño poppers and animal style French fries to "Working On Myself" choices like Caesar salad and a crispy taco bowl.
Is It Worth Visiting?
Anyone who considers themself a Swiftie would thoroughly enjoy this experience. The proof? I brought along my fiancé, who although not a fan of her music, couldn't help but admit that the the concept behind the bar was clever. And, he texted a fellow Swiftie before we left telling her to book one of the remaining 90-minute time slots before they sell out (here's the official link to book). As Taylor sings, "It's Time To Go!"

Would you visit a Taylor Swift themed pop-up bar? Have you ever been to a themed pop-up bar? Let us know in the comments below!