best things to do in Birmingham, Alabama
We're close to the rail, looking out at tall corporate buildings. The sky pinkens; buildings dim. Night light seeps in. Darkened trees canopy emptying sidewalks and streets. Somewhere between these rambling roads and unyielding urbs are some of the best things to do in Birmingham: the Civil Rights Institute, Sloss Furnaces, Birmingham Botanical Gardens, Vulcan Park And Museum. It's these places I'm told I must visit. There are more too: breweries, museums, galleries.
Birmingham is nicknamed Magic City for its concentration of coal, limestone, and iron ore. I'm told Birmingham is an iron dream; that the city is home to the largest (museum) collection of English Bone China outside of Britain; that Veterans Day was coined here; that this was once the largest city in Alabama; that in 1963, Birmingham was the focal point of the Civil Rights Movement.
I fall into conversation after conversation. Birmingham locals are curious about visitors. They ask questions. They lead me to local coffee shops and morning markets, long hikes and day trips. I'm struck by how many people have chosen to return to Birmingham after years of college, traveling, and jobs abroad. Choice didn't exist for many in Birmingham fifty years ago. Choice is taking shape here now. A sentiment that is repeated to me several times over cups of coffee, shared meals, and run-ins is this: I've come back to Birmingham because I believe in Birmingham, I believe Birmingham can be better.
Bring an open mind as we dive into all the best things to do in Birmingham. Here are twenty-two places to see in Birmingham, Alabama.
Things To Do In Birmingham Alabama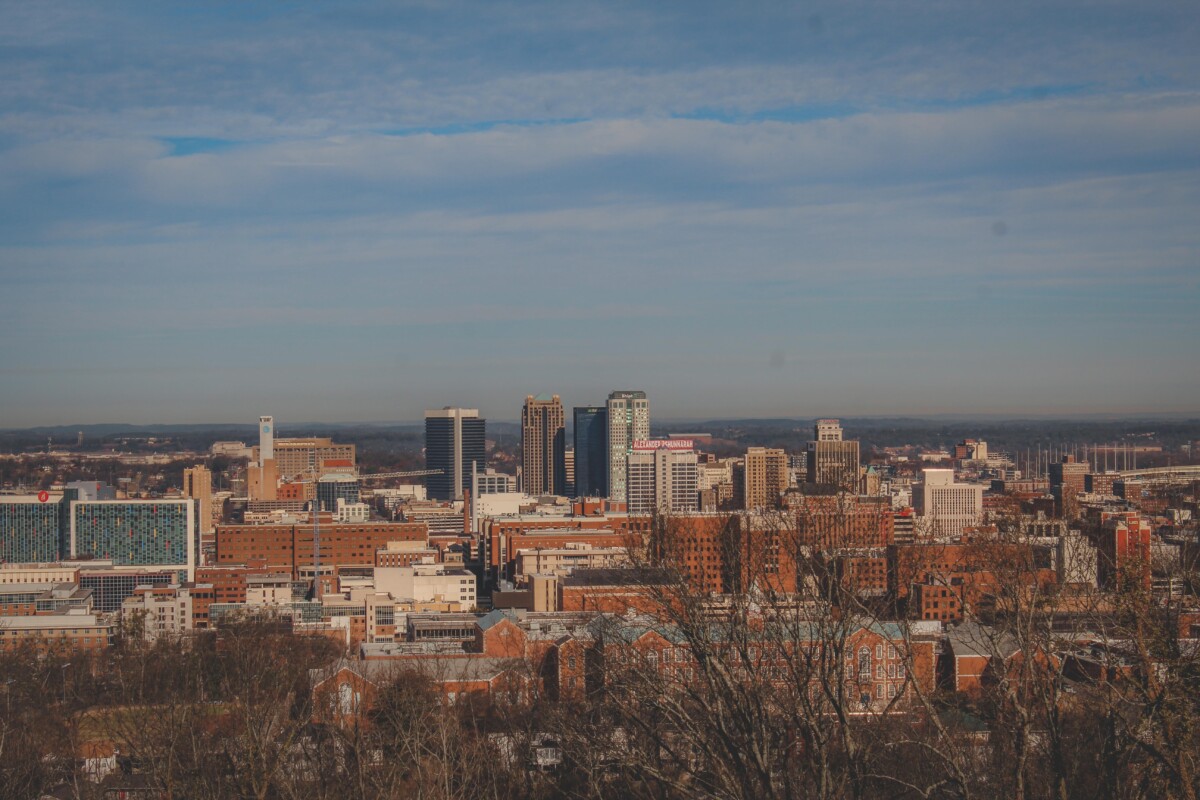 Birmingham is a beautiful city, it really is. It's small and compact with mostly long, tan buildings. A few salt and pepper edifices push stories higher into a sweeping Southern sky. Blue shadows of hills skirt the cityscape. It's a view best taken in from a high vantage point (luckily, Birmingham has lots of them).
Vulcan Park And Museum
One of my favorite vantage points is Vulcan Park And Museum. Home of Giuseppe Moretti's cheeky sculpture (its bare lower back, muscled arms, and bearded face carving up one of the most recognizable symbols of Birmingham, Vulcan, Ancient Roman god of fire), Vulcan Park And Museum is dedicated to immersing visitors in a rounded Birmingham experience. Sweeping views of the city stretch wide and far below Vulcan's position atop Red Mountain. Exhibits (currently highlighting the legacy of Birmingham's earliest known Middle Eastern community) lie in a nearby glass-lipped learning center. A multi-mile urban trail, just a bit beyond, will stretch your legs (and take you past quiet neighborhoods and gentle woods).
Super City Birmingham Self-Guided Tour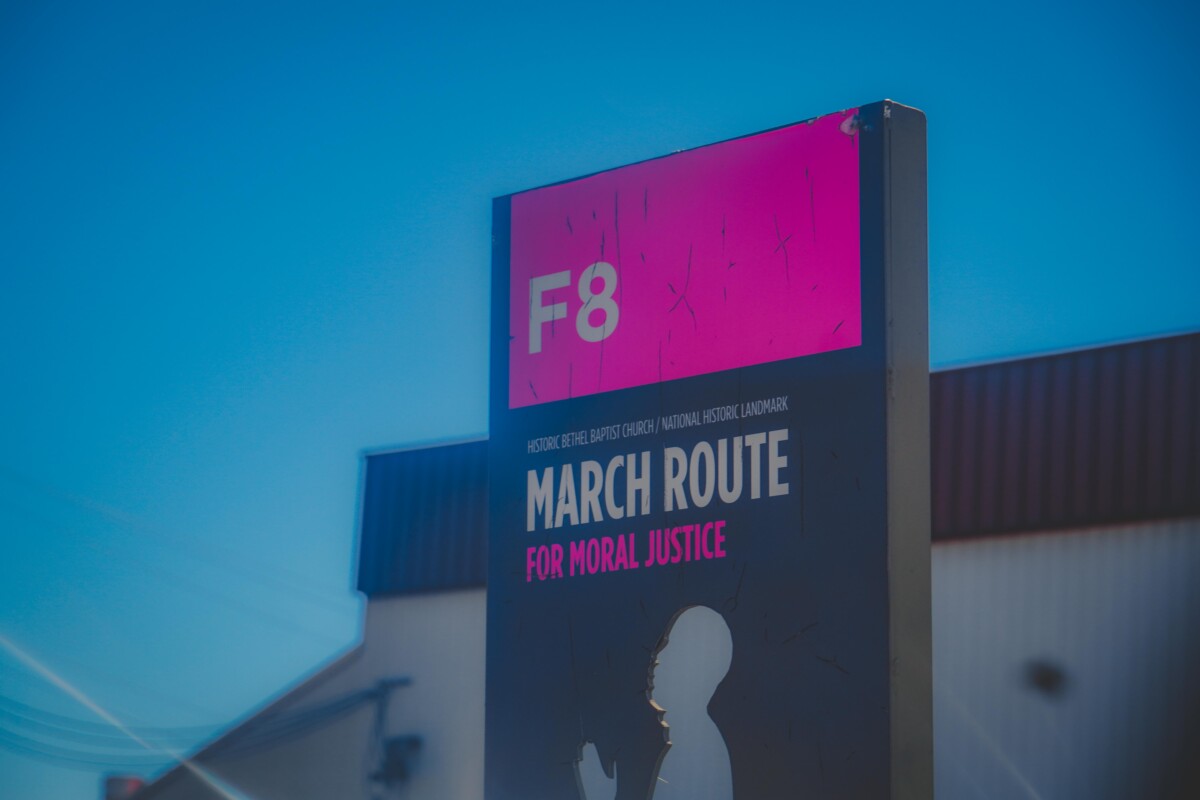 To get a better feel for the city circling out beneath Vulcan Park, check out Super City Birmingham, a self-guided audio tour (available on iOS and Android through Voice Map). It's a drive best done on clear sky days when the sun is warm and comforting. You'll wind past many of the most popular Birmingham attractions: Railroad Park, Birmingham Zoo, Southside Historic District. You'll roll by Civil Rights sites like Bethel Baptist Church and Kelly Ingram Park. You'll get a sense of lesser-visited Birmingham neighborhoods and districts.
Birmingham Civil Rights Tour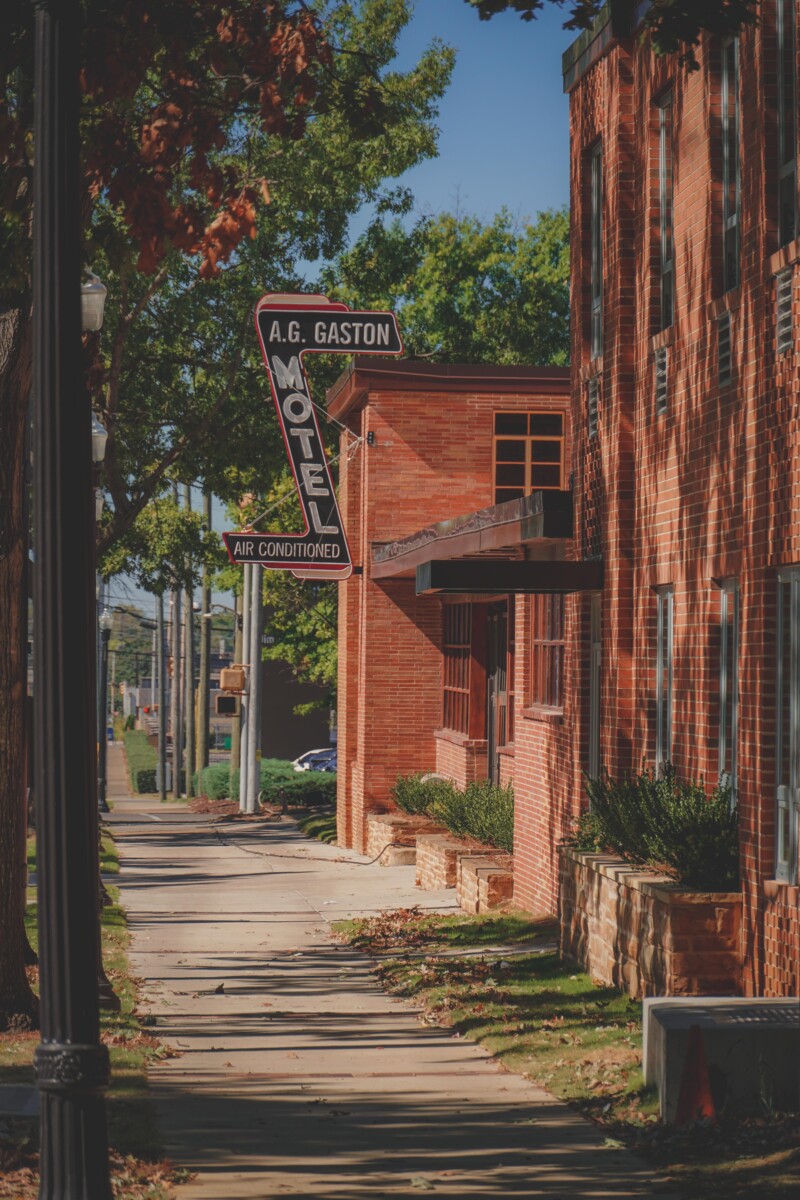 Super City Birmingham is voiced by Antonia Martinez-Revell, the founder of Freedom Line Tours, one of the only minority-owned and operated Civil Rights tour companies in Birmingham. I met Antonia on a sunny Saturday. She told us about the historic churches in the area, took us through Kelly Ingram Park, walked us through 4th Avenue Historic District. We stepped into 16th Street Baptist Church, listened to audio recordings, somberly held hands in front of the Three Kneeling Ministers. Throughout the tour, Antonia exuded endless passion for sharing African-American history. Her mission to shine a light on lesser-known stories brightened our trip. Unlike any other tour I've been on, Freedom Line introduced us to local businesses and initiatives and the people behind them. Antonia showed us not just Birmingham as a city, but Birmingham as a community.
Going on a Civil Rights tour in Birmingham is non-negotiable. Birmingham can't be divorced of its past. It's important to understand that, reflect on it, and remember it.
16th Street Baptist Church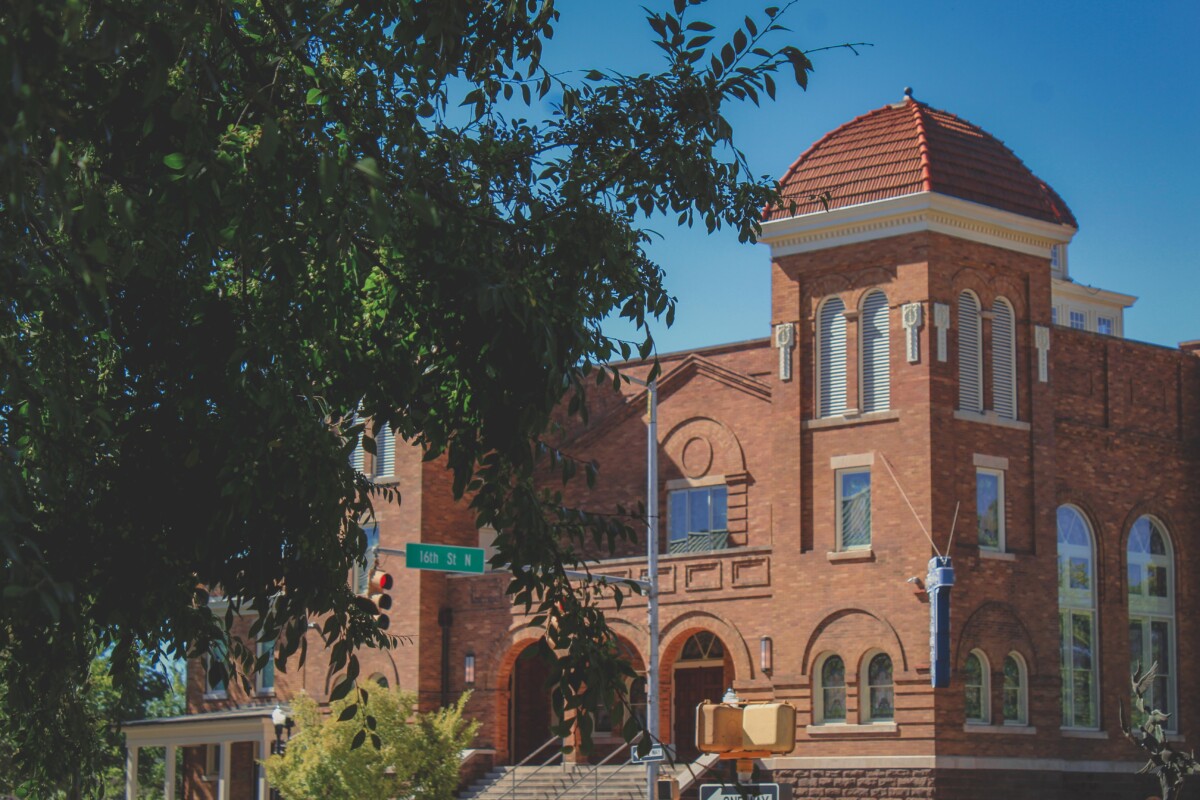 One of the most tragic moments in American history occurred here in 1963. Members of the Ku Klux Klan bombed 16th Street Baptist Church, stealing the lives of four little girls: Denise McNair, Carole Robertson, Cynthia Wesley, and Addie Mae Collins. Addie Mae's sister (Sarah Collins) survived. Sarah suffered extreme mental and physical trauma. She spent months in a hospital, glass shards lodged in her face, eyes, and chest. She still hasn't received restitution. It's been sixty years.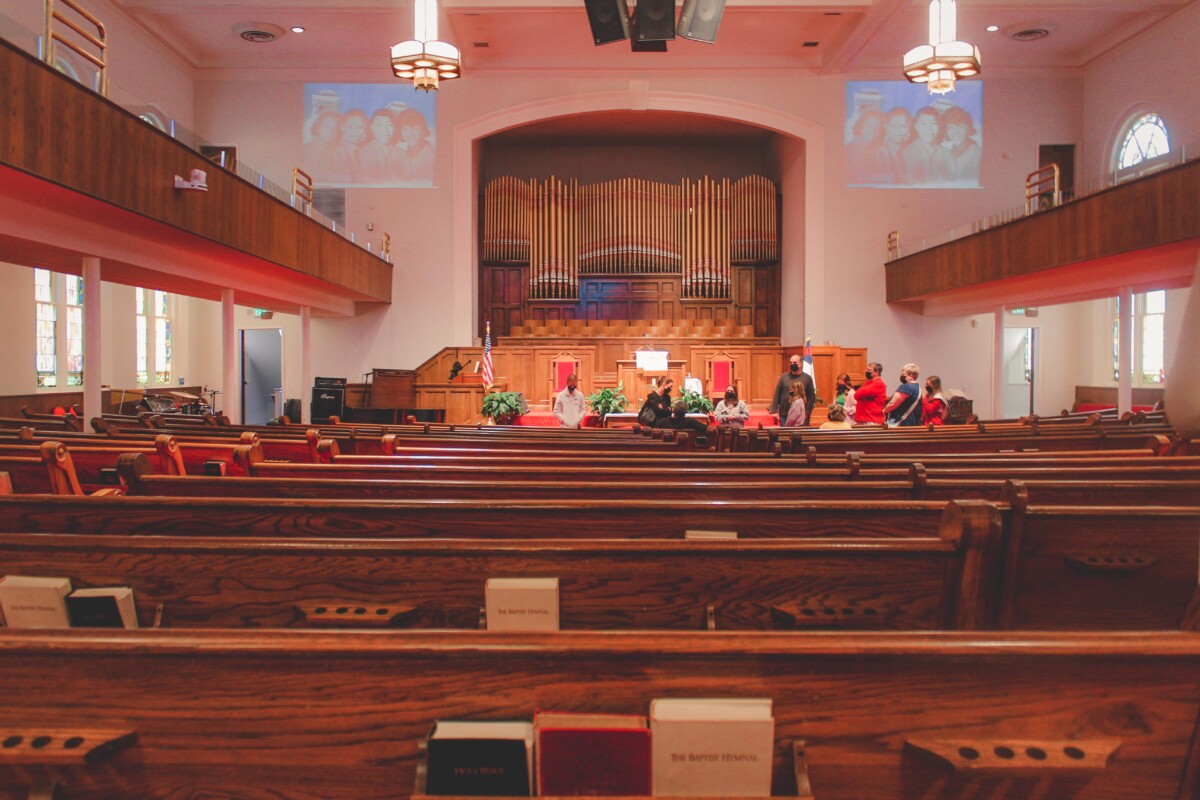 Antonia told us about Sarah – her strength, her fight for justice, her heart of forgiveness – before we entered the church. 16th Street Baptist Church tours are one hour long. Guides give no space to the perpetrators. Instead, they focus on the church, on its place as the first Black church in Birmingham, on its role in the Civil Rights Movement, on how the little country of Wales connected with Birmingham to create the Black Christ Window, on how ministry still reaches the pews every weekend.
Kelly Ingram Park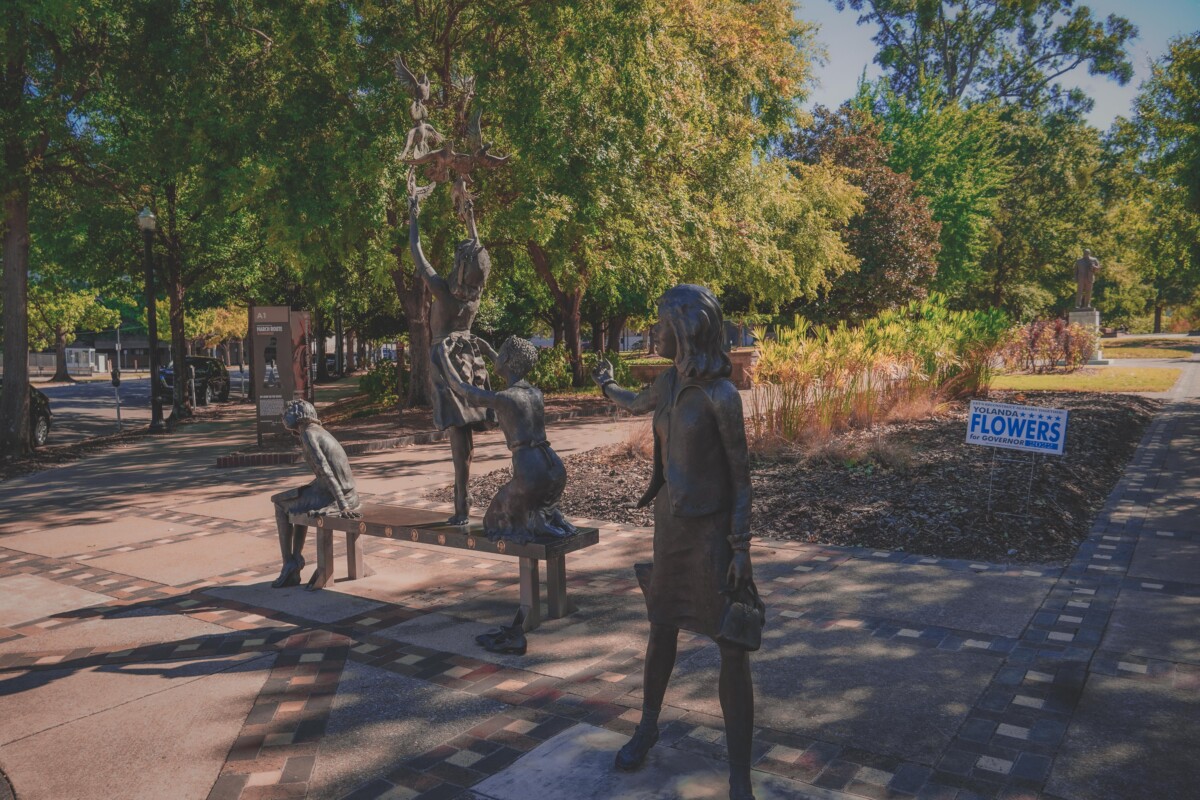 Nearby is Kelly Ingram Park, where Four Spirits, a sculpture memorializing Denise McNair, Carole Robertson, Cynthia Wesley, and Addie Mae Collins, directly faces 16th Street Baptist Church. Throughout the park, along flat, wide sidewalk paths, are more emotions expressed through metal statues, from the helplessness of a young foot soldier to the hope resonating across MLK's face.
Antonia led us through it all, educating us about the Children's Crusade (and the young people who took part). We listened to a dial-in audio tour (205-307-5455), its sharp sounds and descriptions thrusting us into the past like time machine.
4th Avenue Historic District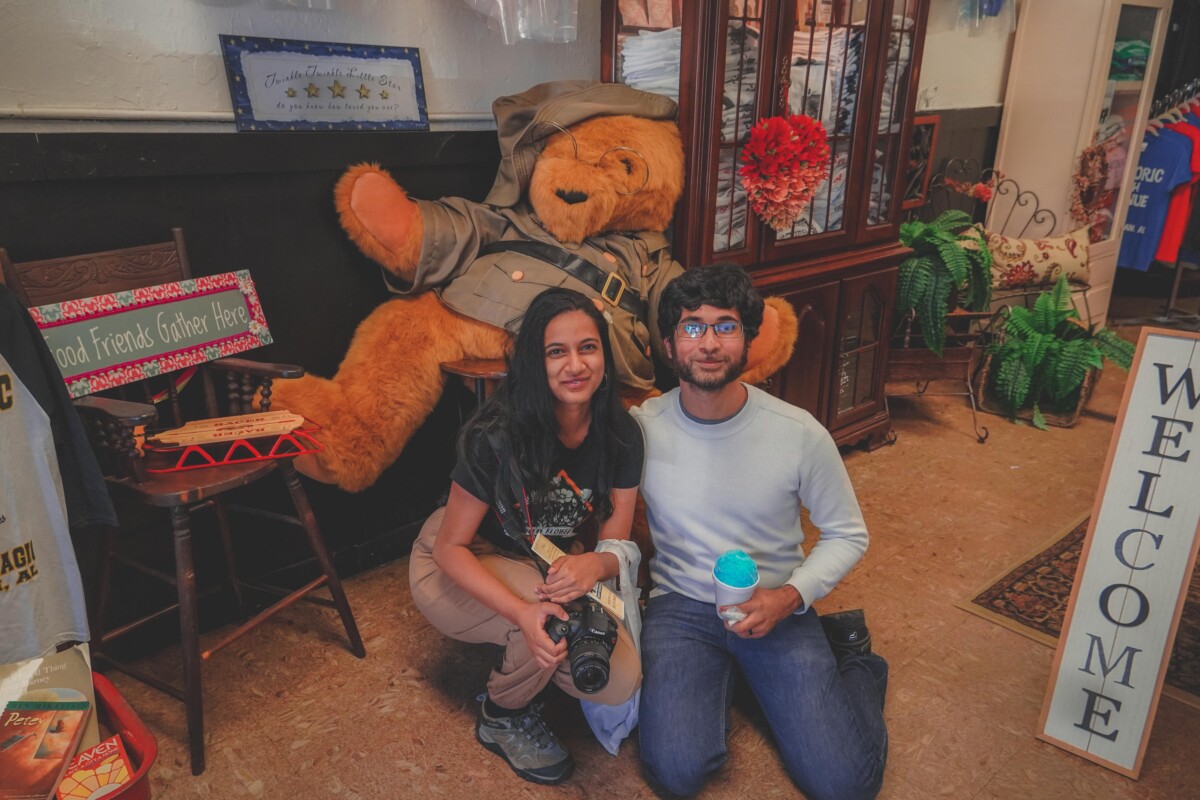 The last segment of our tour took us to 4th Avenue Historic District, a place that once thrived and prospered, a place that continues to carry a long-legacy of Black entrepreneurs. It's being revitalized and preserved thanks in part to Urban Impact.
Antonia guided us to Eddie Kendricks Memorial Park. We passed Carver Theatre, its iconic black paneling jutting above a sign that read Alabama Jazz Hall Of Fame. We strolled by green-awninged businesses and got caught up in the crave-inducing scent of crispy chicken (fun fact: Green Acres, the family-style chain serving up wings and other fried things has a history dating back to the late 1950s).
Next to Green Acres is Historic 4th Avenue Shirts, our favorite shop in Birmingham. Historic 4th Avenue Shirt's owners Peggy and Albert are gems who love sharing the history of Birmingham. Past 100% cotton t-shirts (I got my partner one and he practically lives in it – so comfy) are historic photos (framed and pinned onto a gallery wall) and an old school ice cream counter. The atmosphere back here is friendly and inviting. Historic 4th Avenue Shirts leads to a community space and gathering place where people can talk, relax, have dessert, and enjoy a quiet moment with friends and family.
P.S. Historic 4th Avenue Shirts is a pro-literacy organization, so they provide a free book with each purchase!
Civil Rights Institute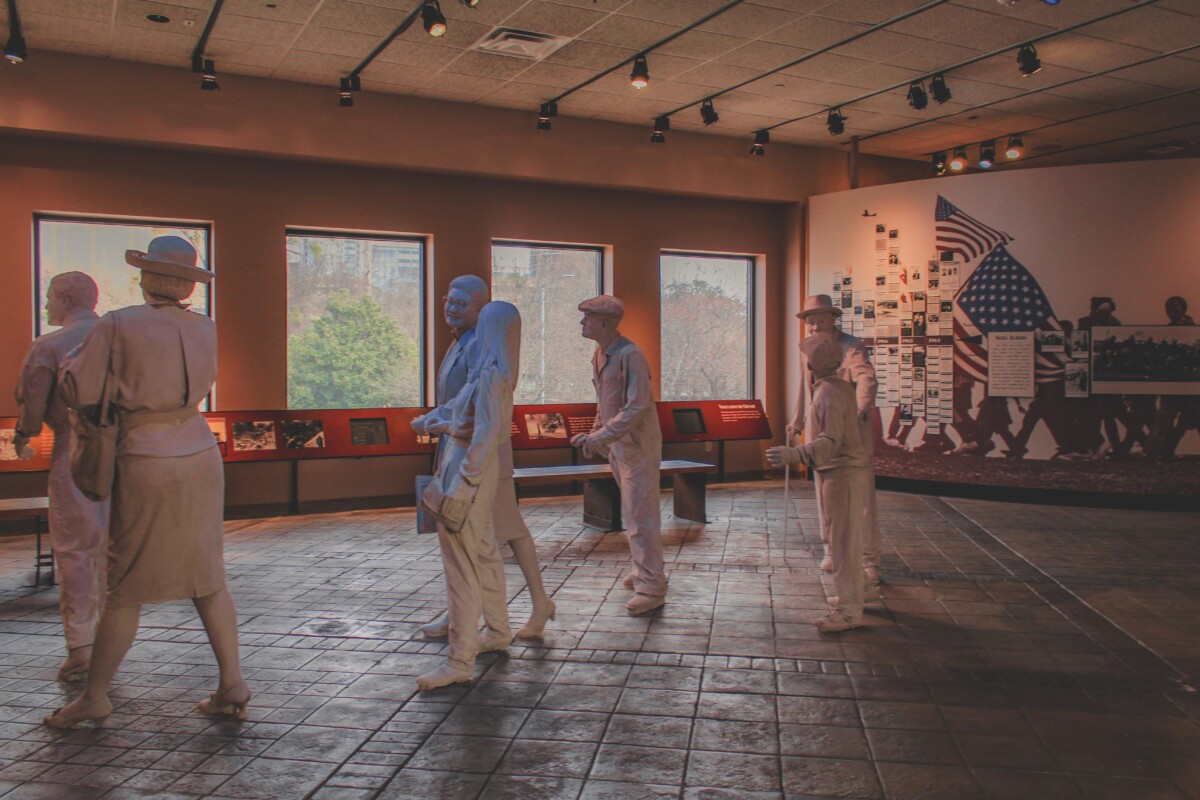 I took an Uber on my way back to downtown Birmingham.
"I was there. I heard the bomb go off where the four little girls died," our driver said as we passed 16th Street Baptist Church once again. Silence clamped the air. Our hearts stilled. "You went to the Civil Rights Institute," he asked. It wasn't a question. I shook my head. "You should go."
The Civil Rights Institute is an emotional experience. Tickets sell fast, so arrive early or reserve your tickets online. The Institute weaves together video, displays, and plaques to lay down the timeline of the Civil Rights Movement. You'll learn how Birmingham and the Federal Government were out-of-sync. You'll hear stories of people (beyond MLK) who fought for change in Birmingham. You'll reframe your perspective of Birmingham, adjust your lens, and fill in gaps with new knowledge.
Travel Tip: Don't bring a purse or backpack to the Civil Rights Institute. Large purses are not allowed (if you need to, the museum does provides the option of putting it in locker for a dollar).
Negro Southern League Museum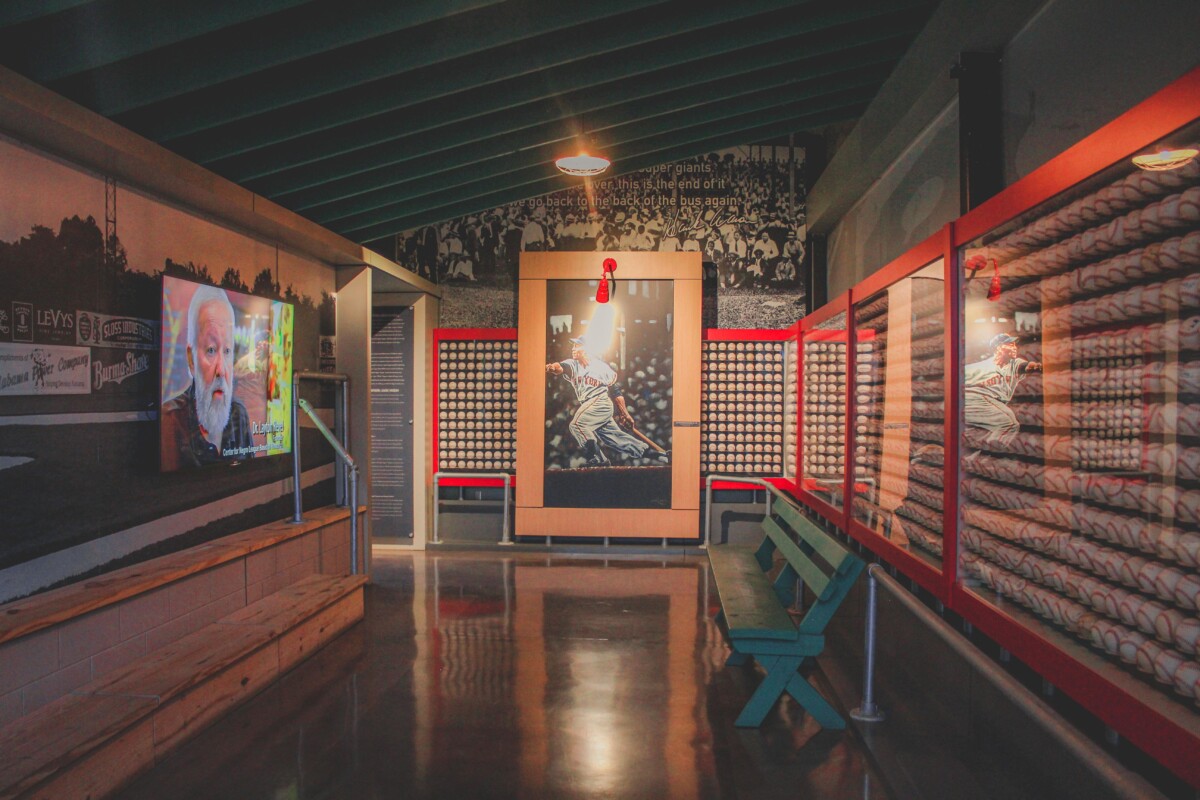 Negro Southern League Museum is another Birmingham museum worth seeking out. It's made for baseball lovers by baseball lovers. The lineup? A hall of signed baseballs, a glimpse into the history of the Negro Southern League, stats (lots of stats), and an interactive hologram of Satchel Paige. The museum hits topics like segregation and (later) integration. It pitches stories of Black baseball legends. If you're a fan of baseball (or looking to learn more about African-American history), make the time to visit (it takes about an hour to see).
Railroad Park Foundation
Just a short walk away from the Negro Southern League Museum is Railroad Park Foundation. I visited on a sunny morning with a glazed doughnut from Hero (it's nearby!) in hand. The park hummed with energy. I passed joggers tackling Magic City Loop, families clambering in a playground, and dog walkers (cute pups on leashes) enjoying the flat walkways. Railroad Park Foundation is a relaxed nineteen-acre urban space aptly hyped for its serene water features (a lake, some ponds), gorgeous horizon-level view of Birmingham (so pretty), and bustling events (check the full calendar here).
Birmingham Museum Of Art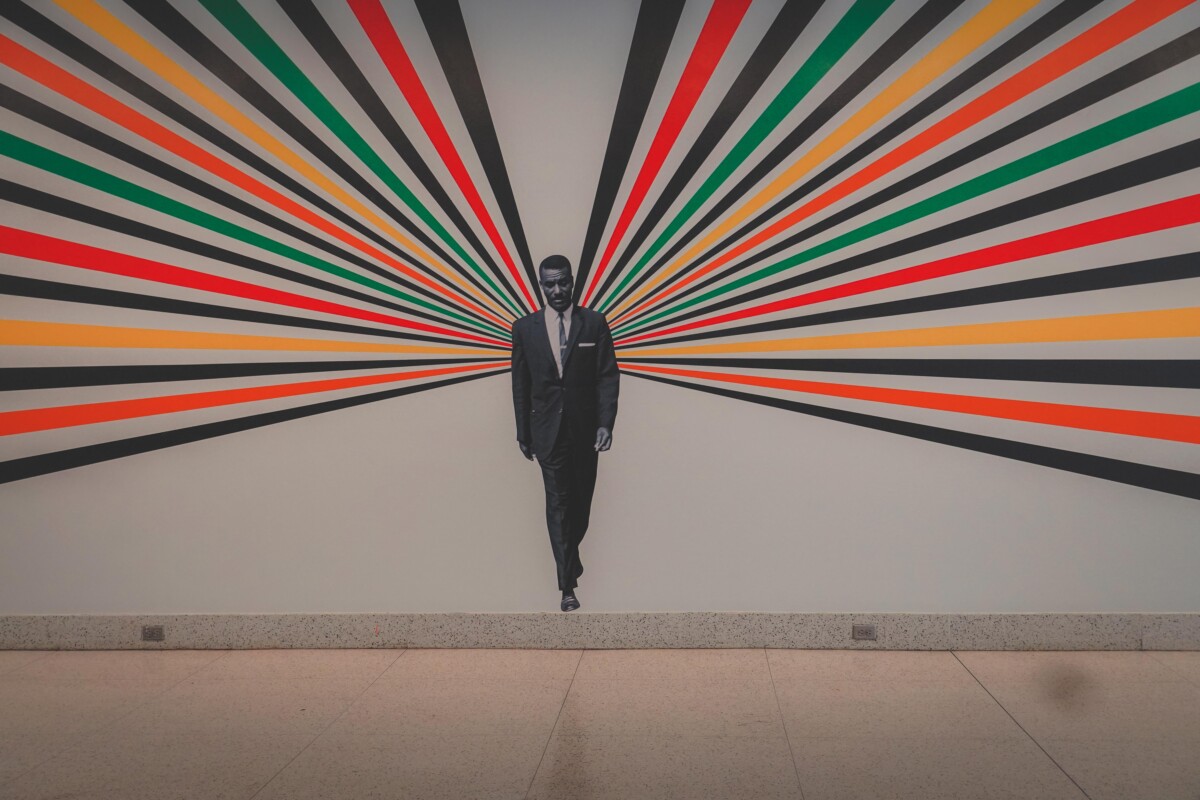 Manjari Sharma's Expanding Darshan, a hall of icons set up like a temple, drew me to the Birmingham Museum Of Art. The exhibit's staging surfaced old, dug-away memories of my childhood: slipping off sandals into a cubby, walking barefoot on cool tiles, bowing to big statues, swallowing seeds as prasadham. I didn't understand much about the myths then; neither did my partner. When we were younger, we felt like we couldn't question stories in front of pandits. So Sharma's exhibition felt fresh and new. It was inviting – stripped of ritual, worship, and expectations. The photographs were of people dressed like the gods; they were rooted scenes, not lifted sculptures.
I don't pray to a pantheon anymore, but I still appreciate the love, care, and detail that went into describing the Hindu gods and their stories.
After strolling through Expanding Darshan, the Birmingham Museum Of Art quickly became one of our favorite places to see in Birmingham on a rainy day. There are more reasons to go: to glimpse over 20,000 works of art, to view Titus Kafar's Unfit Frame, to be surrounded by African ceramics, and to catch your breath in a tranquil outdoor garden.
Sloss Furnaces National Historic Landmark
Sloss Furnaces looks like another world. It's a place of the past that feels like a place from the future, a dystopian labyrinth of blood orange boilers, teal metal bars, and hot blast stoves coated in fiery hues.
On the self-guided tour, you'll walk through a rusted maze, starting from a small Visitor Center (check-in required, don't forget to watch the intro film). You'll pass a pyrometer house and power house, furnaces and a slag pit.
I was overwhelmed by the industrialness of Sloss Furnaces. I kept picturing it as a backdrop in Arcane and Overwatch. I thought about The Hunger Games. If District 12 wasn't known for coal but iron, perhaps this is what it would have looked like.
Signage will brief you on the history. After all, Sloss Furnaces is a National Historic Site dedicated to giving you a behind-the-scenes look into an Alabama merchant's pig iron enterprise.
Birmingham Botanical Gardens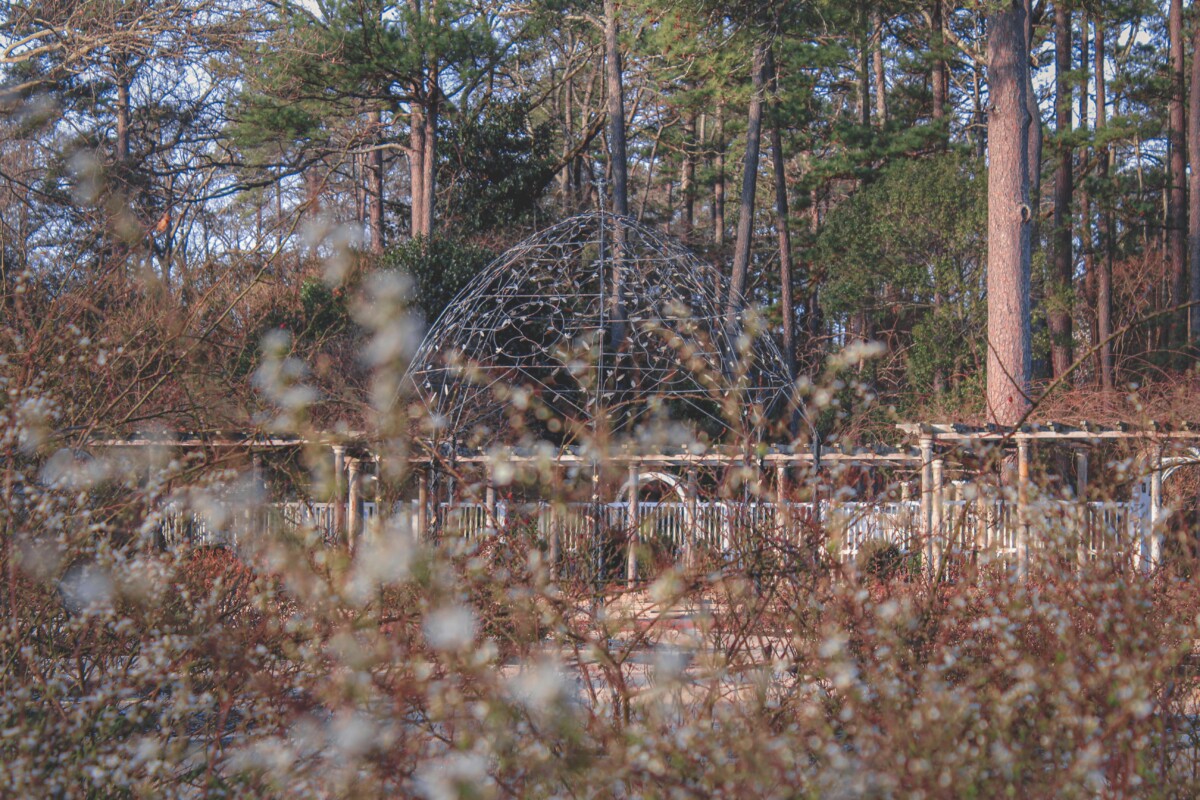 Trip after trip, I asked locals about the top things to do in Birmingham, Alabama. And there was one (only one) unanimous answer: the Birmingham Botanical Gardens. The Birmingham Botanical Gardens spans a little over sixty acres. It's known for its wide walking paths, which meander past terraced beds of irises, formal lawns, and thick glades of ferns.
Past a bright red torii gate is a quiet Japanese garden. Within are waves of raked gravel, a gentle teahouse (built by Kazunori Tago), and a grove of bamboo. Here, by a stream of koi, I fell in love with Birmingham Botanical Gardens – its peacefulness, its meditativeness.
On cool days, when the air is crisp and biting, duck into Birmingham Botanical Garden's conservatory, a warm glasshouse bursting with bright green tropicals. The main hall branches off, segueing into a sparse desert room and tidy citrus house.
Travel Tip: Guided Garden Tours are available seven days of the week. If you want a more in-depth experience, contact [email protected].
Pepper Place Market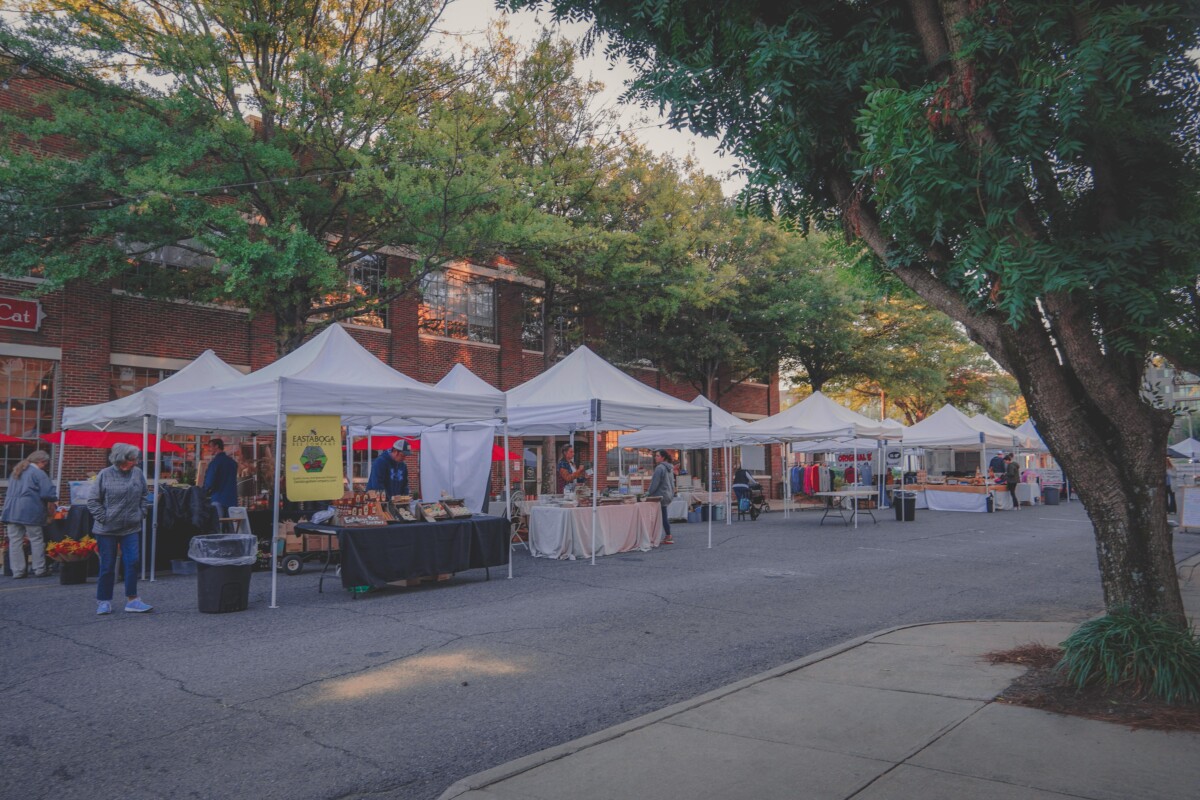 To make a Saturday morning out of Pepper Place Market, arrive at 7 AM sharp (when Alabama vendors are still raising tents), and stay until noon, when the stalls of locally grown fruits and vegetables are barren.
Pepper Place Market is a crossroads of tented distractions. Atop cloth-draped tables are beads of jewelry, slabs of soap, pretty plates, and wood-capped candles. The scents of freshly baked bread, steaming cups of chai, coffee (so much coffee), raw honey, hot tamales, aged cheese, gooey cookies, and glazed cinnamon buns will pull you in every direction. Hunger will tap at your stomach, nudging you to eat – to try something, anything. Our favorite spot? Tay Thai Street Food. Tay Thai's plates are dished out hot and savory. They're drenched in curry and kicked with warm spices Fuel up there, then continue browsing.
Heaviest Corner On Earth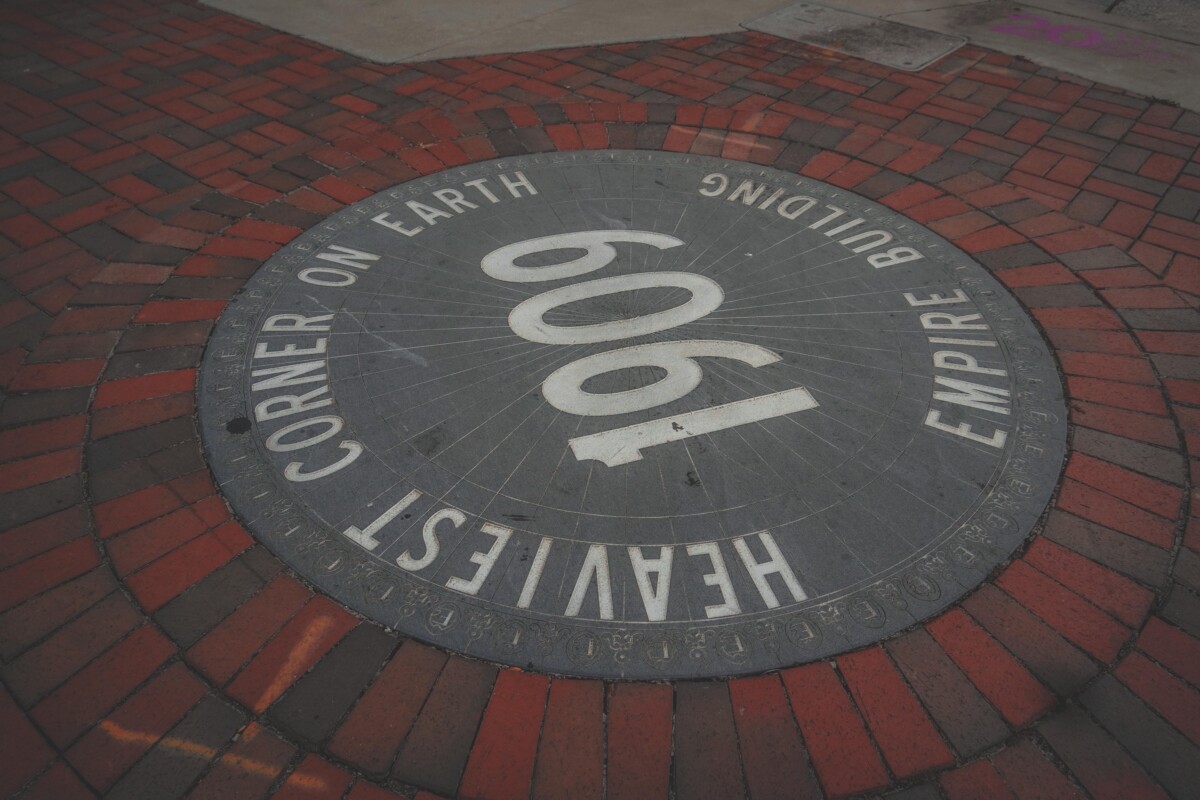 One of the quickest sights to see in Birmingham is the Heaviest Corner On Earth. The history of the sign is more amusing than the sign itself (which is located on a sidewalk near the Elyton Hotel). In the early 20th century, four of the tallest buildings in the Deep South were situated in Birmingham, Alabama. There was the Woodward Building, Brown Marx Building, Empire Building (now an Autograph Collection accommodation), and American Trust And Savings Bank Building. When the buildings were erected, an article called the space the Heaviest Corner In The South. Bada bing. Bada boom. The claim ballooned into the Heaviest Corner On Earth.
Birmingham Art Scene
It was at a hotel near the Heaviest Corner On Earth where I learned that Birmingham's art scene extended beyond the Museum Of Art. The concierge told me her mom's art was up in Studio 2500 (a cool, community-centered art space. Go for their events).
After that, I began to take note of exhibitions tucked away in unassuming locations (side streets, college campuses). As we Ubered through the city, I saw murals scaling across facades and installations filling in corporate walls. Art is a big part of Birmingham. So here are a few more galleries and centers to bookmark:
Birmingham Breweries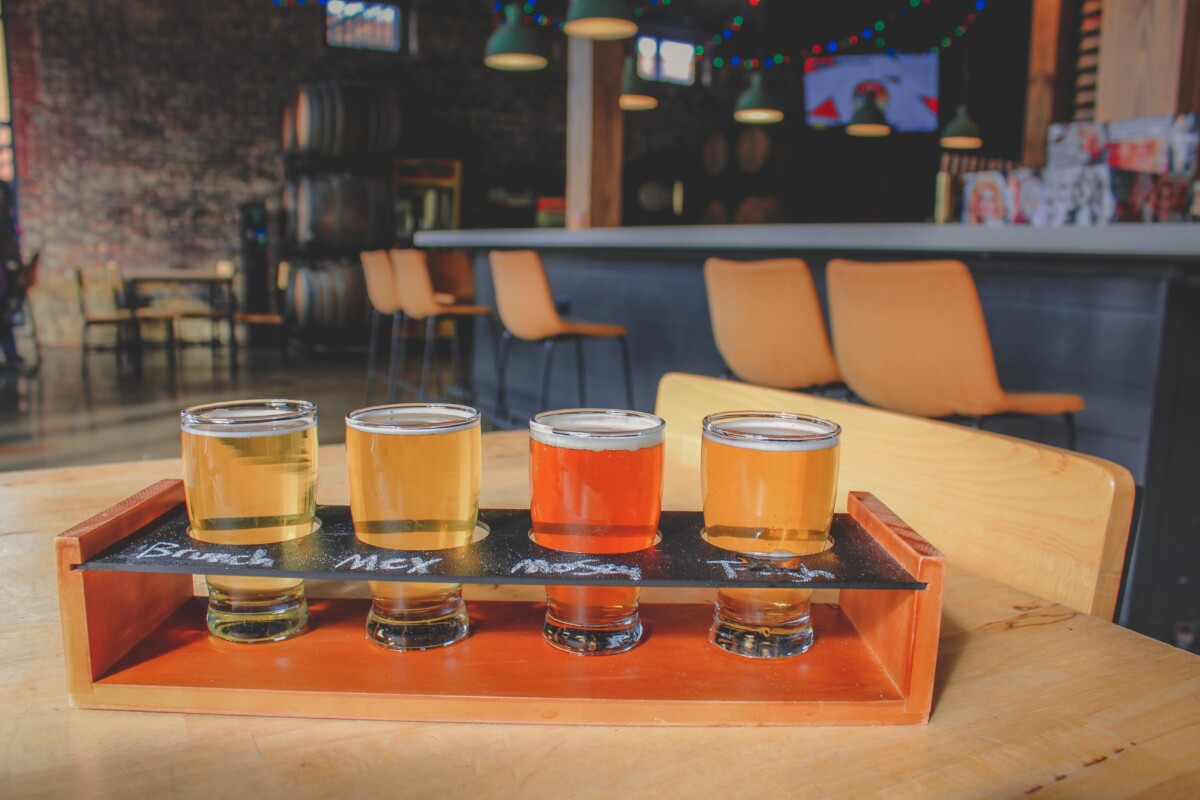 The secret is out: Birmingham has one of the best craft beer scenes in the United States. Over a dozen places in town serve pints of beer with thick heads of foam (if you like stouts, a pub crawl is in order). Right now, my favorite Birmingham brewery is Avondale, which doubles as an event and concert venue. Avondale is chill and laid-back. Go with a group of friends and split a flight (their sours are amazing, your tongue will reflexively recoil and then, for some reason, want more). If you're looking for a lighter brew, try their Mexican Lager and citrusy Brunch Punch Shandy.
P.S. There are usually food trucks by the entrance, so grab a bite to eat before you down your first sip.
Five Points South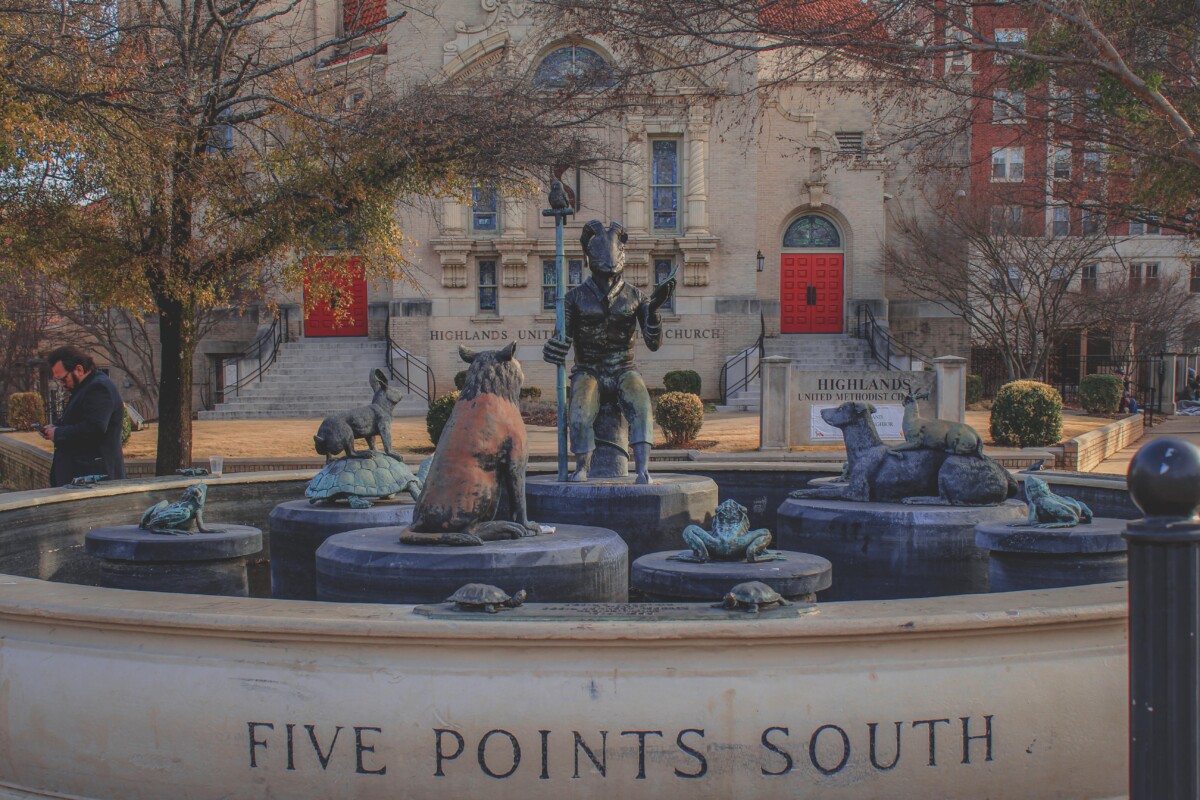 On a later trip to Birmingham, I stayed in a bed and breakfast near Five Points South. It was during this time I saw the mainstays of Birmingham's beloved entertainment district: Frank Fleming's The Storyteller, the bright red awning of Chez Fonfon, boxes atop boxes of vinyls at Renaissance Records. I watched pedestrians (students, professors, business owners) cross busy intersections, FILTER branded cup sleeves in hand. For a deep dive into everything to see and do in Five Points South, read this guide by Birmingham local Javacia Harris Bowser.
McEwan Science Center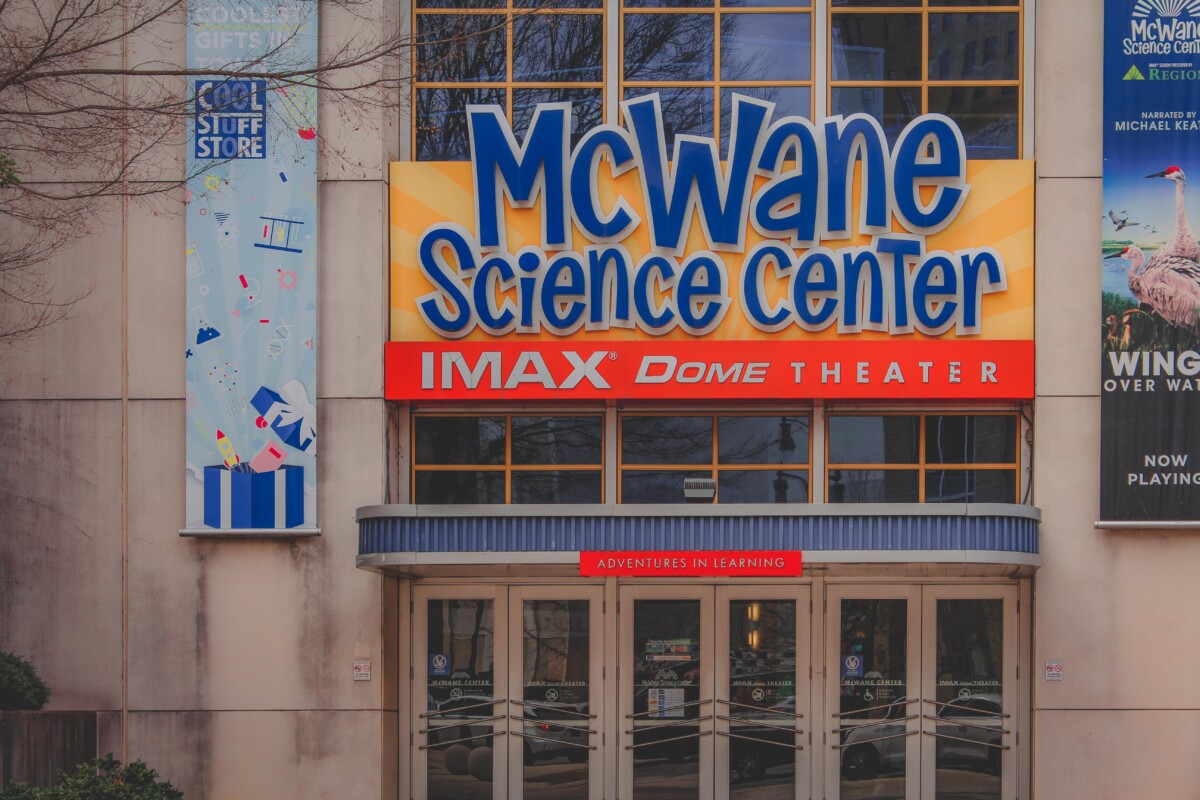 One of the best things to do in Birmingham with kids is visit the McWane Science Center, a buzzy, electrifying place that encourages curiosities. No question is too big or too small.
McWane Science Center is meant to engage the senses, from its Bubble Room to its Audubon Cabin.
P.S. If you want to relax, catch a movie, and rest your feet, this is the perfect place to go. McWane Science Center houses a two-hundred-plus seat IMAX dome theatre (check ticket prices here).
Red Mountain Park
Red Mountain Park's entrance is deceptively mundane, but its quick-to-fill-on-a-sunny-weekend parking lot is a big clue that there's something here worth noting. In the spring and summer, Red Mountain Park's thickets of trees are canvassed in green. Small leaves spill over thin branches and long, looming barks. The entire park spans 1500 acres, a network of trails plotted within. I'll link the official trail map here. If it's your first time visiting, settle on the pathways that roll past scenic points, treehouse overlooks, or historic mines sites.
Birmingham Fencing Club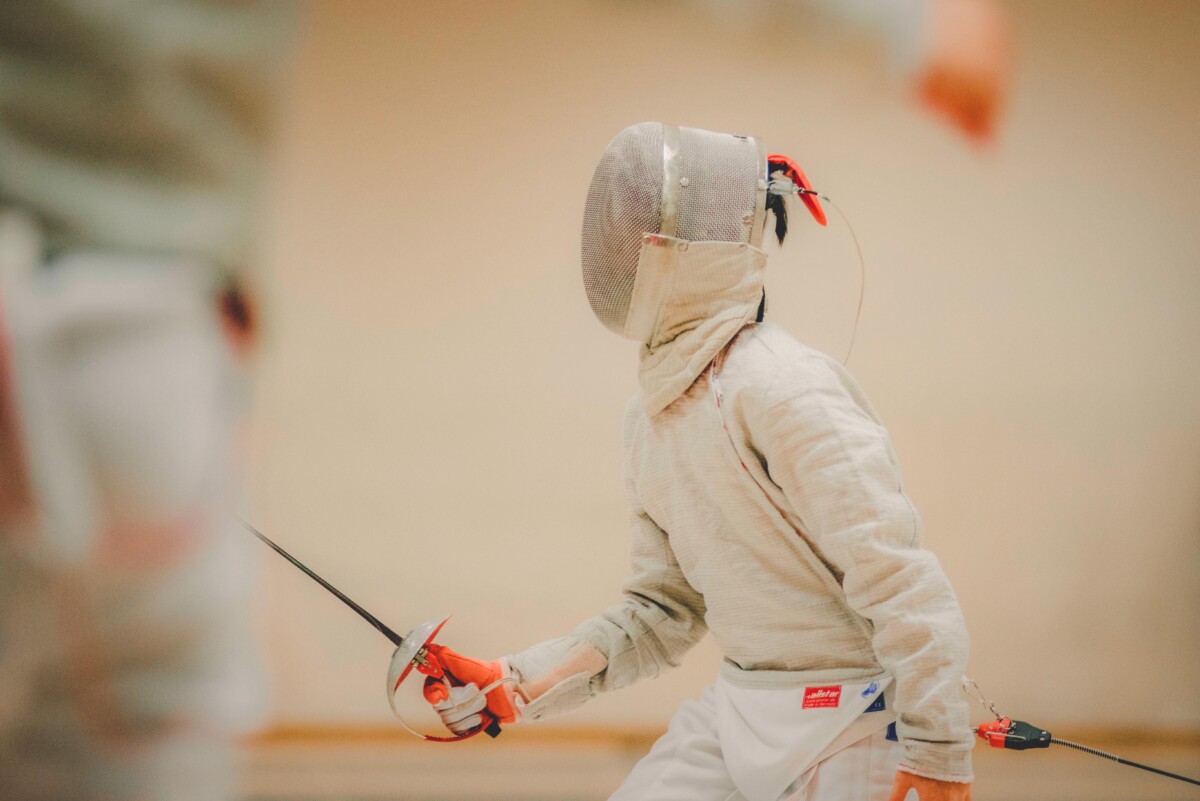 Trying a free fencing class is one of the most unique things to do in Birmingham (you won't find this rec in any guidebooks). I've always loved watching fencing scenes in TV shows (it's one of my favorite let's banter with action tropes), whether it's Wednesday vs Bianca in Tim Burton's modernization of Addams Family or Casey vs Truman in Life With Derek. But I've been hesitant to try fencing in real-life. If you're an absolute beginner like me and want to get a feel for fencing (before committing to a package of classes), book one of Birmingham Fencing Club's free, family-friendly fencing sessions. They occur once a month (always on a Saturday). And yes, you need to reserve in advance (here's the official weblink to hold a spot – no in-person forms necessary).
Barber Motorsports Museum
Working your way through Barber Motorsports Museum is one of the most popular things to do in Birmingham. On the winter day I visited, the floors felt full (not just of vehicles, but also people). Museum-goers gaped at the collection. It's impressive. John Lennon's Beatles Bentley. Harleys (lots of Harleys). A 1959 Ducati. In some ways, Barber Motorsports Museums felt like an ultra-hip, ultra-swish, cross-decade showroom.
Start on the top level and work your way down. Each section is packed with vintage cars and motorcycles. Barber Motorsports Museum is, after all, home to the largest motorcycle collection in the world.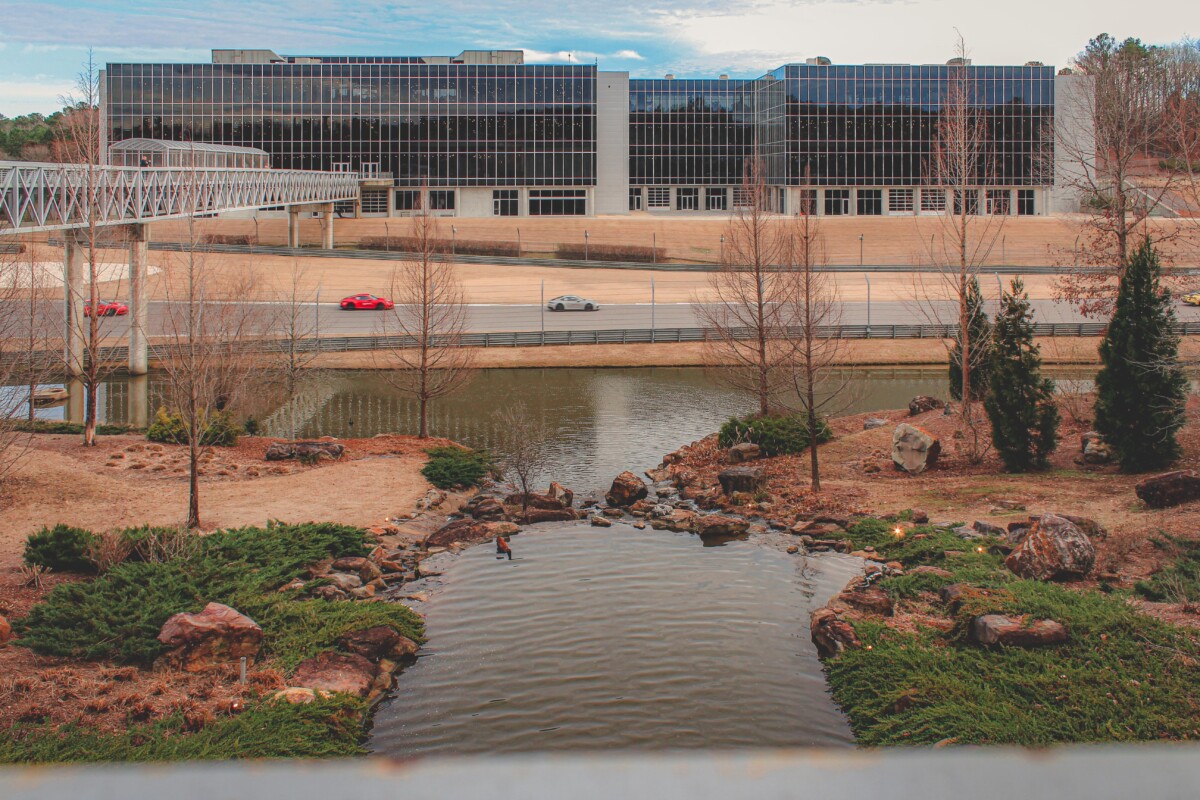 Block out at least three (maybe four) hours to see it all. And don't miss the catwalk, which overlooks a racetrack!
Rooftop Views Of Birmingham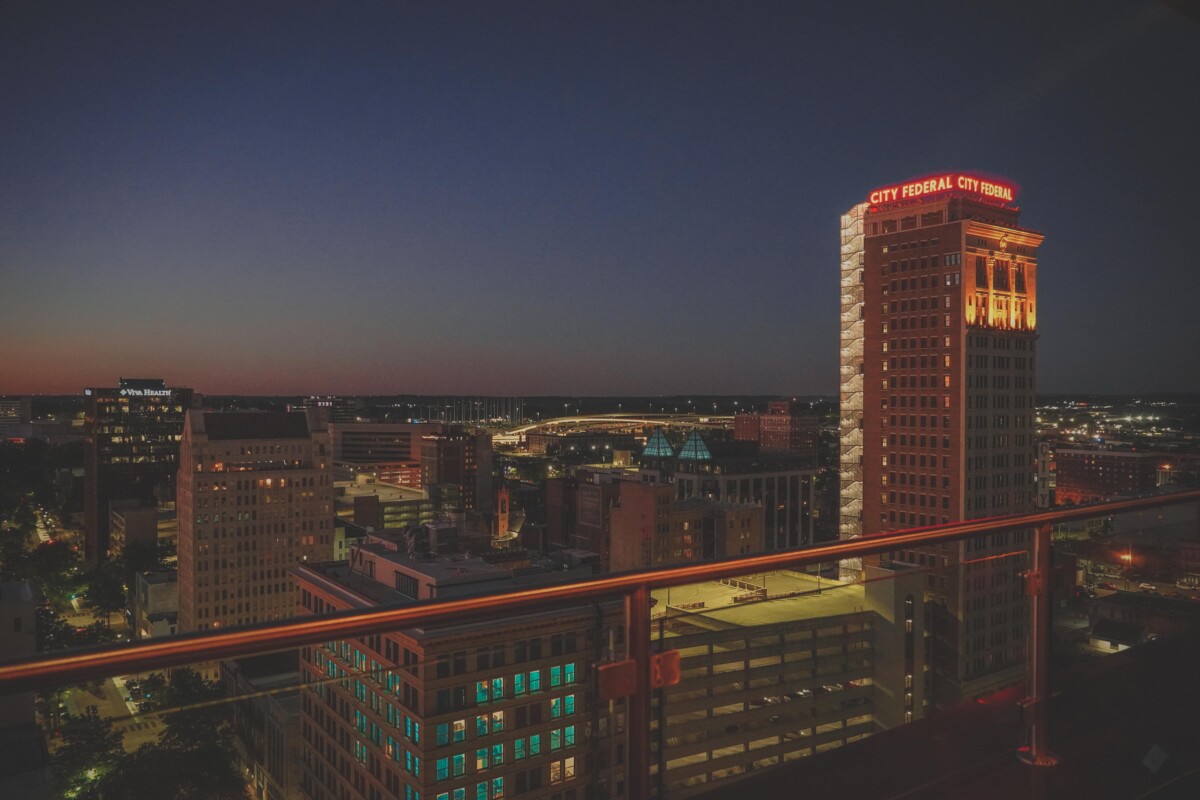 When sunlight seeps out of Birmingham, there's one good place to be: a rooftop bar. There are lots in Birmingham, from Roots & Revelry to The Terrace at Ironwood.
I chose to go to Moon Shine. I was staying at the hotel below and promised gorgeous downtown views. That I got (there are two areas to see views at Moon Shine. Trust me, both sides are good sides when you're sixteen floors high). We were in the Heaviest Corner Of Earth, at The Elyton (once the Empire Building).
My partner asked what we were going to do. "Right now, read a book," I said, flipping to a new chapter. "Tomorrow, we'll grab breakfast at Pepper Place Market and take a tour with Freedom Line. We'll spend Sunday at Birmingham Botanical Gardens. Drink a flight of beer. Visit a gallery. Go home and come back again."
It's these places I told him we'd visit. There were more too. We smiled, sipped our sodas, and looked at the tall corporate buildings, office lights glimmering in the dark. Somewhere beyond the rail were all the places I mentioned (and then some).
Shopping In Birmingham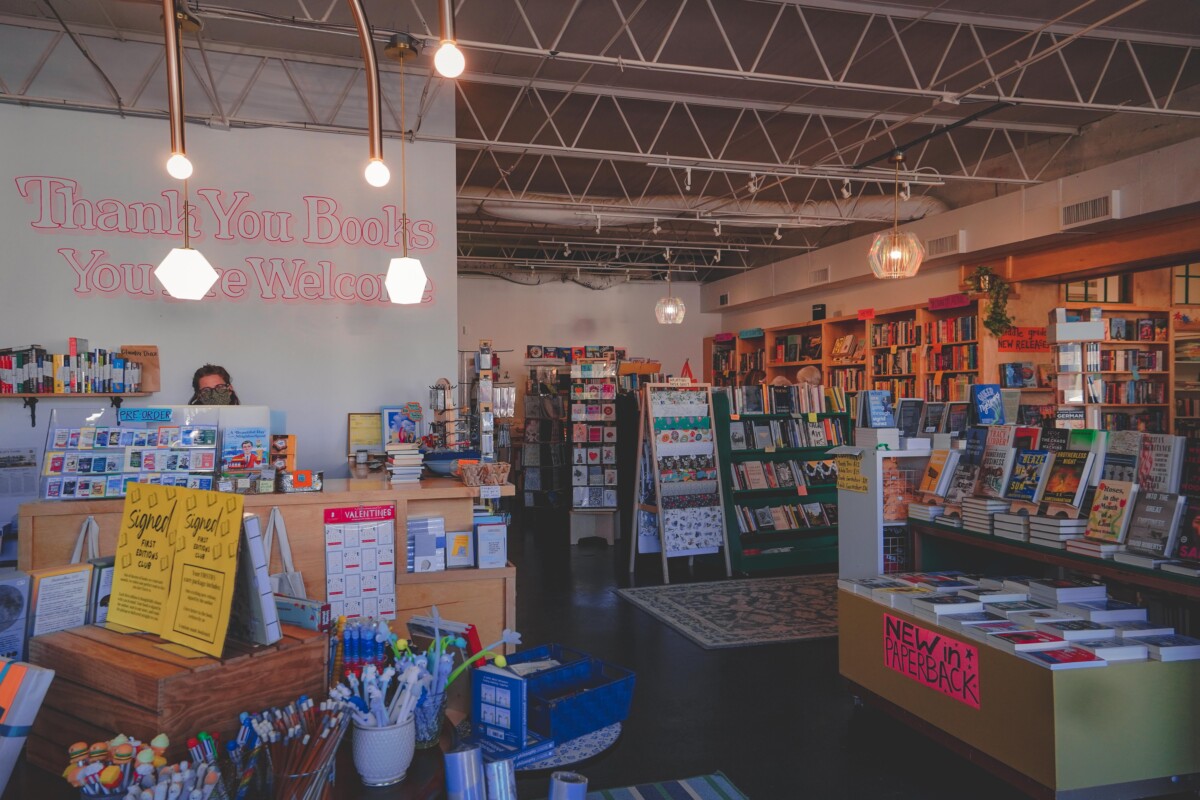 For dedicated shopping trips, go to Pepper Place, Woodlawn Marketplace (where our favorite Bham coffee shop is located), or 4th Avenue Historic District.
Here's where to shop in Birmingham:
Stone Hollow Farmstand: Southern lifestyle boutique with Cavallini puzzle boxes, adorable totes, and hostess essentials
Thank You Books: woman-owned indie bookstore with a diverse selection of lit fic, middle grade, and classics
Jim Reed Books: book loft of rare books and a museum of fond memories
Historic 4th Avenue Shirts: our favorite t-shirt shop in Birmingham (comfy, cozy, happy vibes)
Bridge + Root: stylish menswear shop in Bham (they sell chinos!)
Where To Eat In Birmingham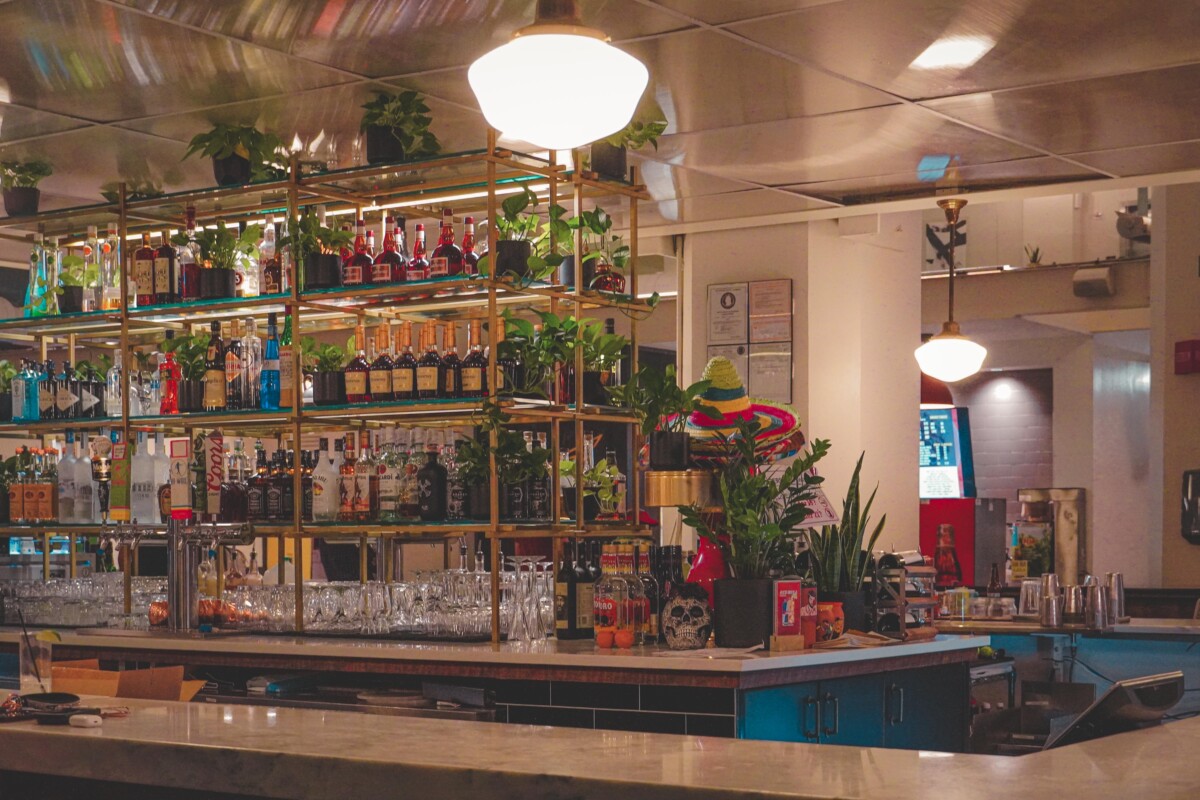 Our Top Pick – The Pizitz Food Hall
First time Birmingham visitors need to swing by Pizitz Food Hall. Pizitz is a place of variety, of endless choices. It is an easygoing food hall with small tables and hard seats. Crowded booths of vendors battle lines. Scents of swirled wine, sizzling burgers, and sweet milk tea fill the hall. The quick-service is one reason to go. The other is its location. Pizitz is in downtown, a short walk from McWane Science Center, Lyric Theater, and Sidewalk Film Center And Cinema.
Other Birmingham Favorites:
Hero: glazed donuts. enough said.
Trattoria Zaza: intimate, Italian-inspired locale (get the frittata)
Caya Coco: Cuban-themed rum bar (fun and atmospheric). love their empanadas.
Travl Love Koffee: try a coffee flight or our favorite Birmingham drink, Mr.Moore's

Did you find this post about Birmingham attractions helpful? What are your favorite things to do in Birmingham? I'm constantly looking for new places to visit (and this post is by no means comprehensive). As always, I love hearing your thoughts and recommendations!