9 things to do in Manitou Springs, Colorado beyond Pikes Peak.
At the front counter of the Poppy Seed, a small gift shop at the foothills of Colorado's mountains, a tall, lanky man in an oversized t-shirt and baggy jeans leans against the counter, chatting up the woman behind it.

"Like, man, this place is, like, the grooviest," he says, pausing. He laughs a little. "I'm having a rad day."
Rad? Groovy? I look around the store at the racks of tie-dye t-shirts and shelves of Indian essence oils. Reggae music drums away. American flags line the wall. But outside, when we walked the streets earlier, the buildings were a pastel-colored-style of elegant and Swiss-world European.
"Anshula," you ask, a little confused. "Where have you brought me?"
I smile sheepishly.
Manitou Springs Travel Guide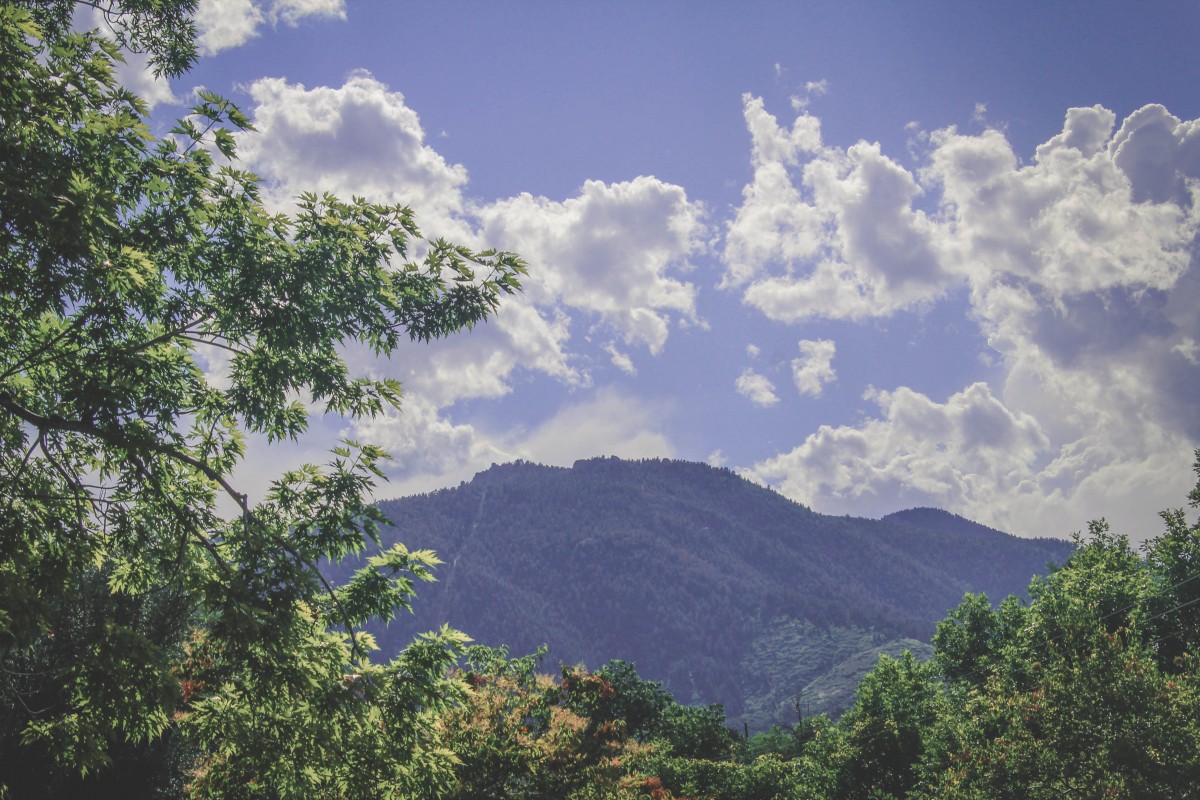 About
Manitou Springs is a small town with a neat population of 5,000. It's the essence of a hippie-paradise. Boho vibes. A new age soul. A little recreational marijuana. Ummm, never mind that (don't worry, I didn't try any but it is legal here).
Festivals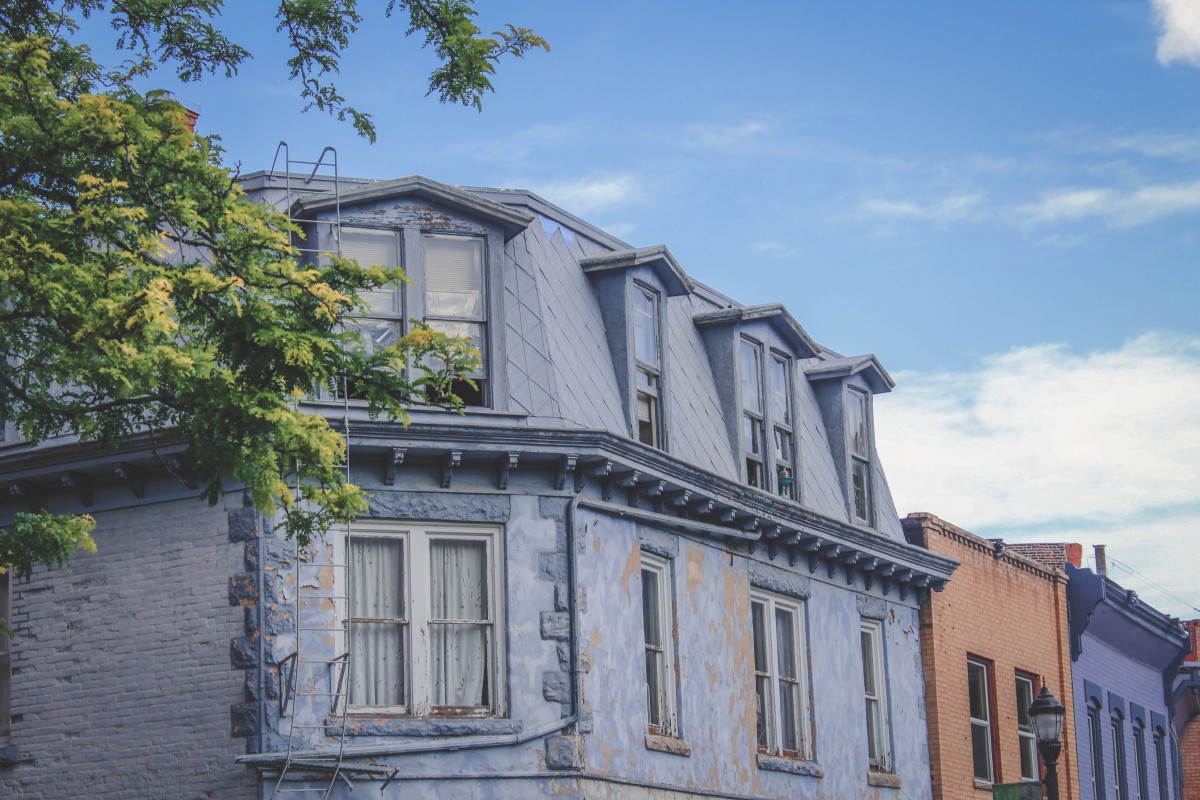 Although Manitou Springs is without-a-doubt one of the prettiest small towns in the USA, it's also one of the weirdest.
There's an annual coffin race inspired by Emma Crawford. Legend has it, during a thunderstorm, Crawford's coffin slid down Red Mountain to a new resting place. So now, in the fall, Halloween-costumed up teams pull an Emma impersonator to the finish line as quickly as possible. It's a full-on event. The night before the race, there's even an Emma Crawford wake at Miramont Castle, a tourable chateau dating back to 1895.
Whilst Manitou Springs is also home to several art shows and marathons, I want to highlight another wacky tradition: Colorado's Great Fruitcake Toss. To be honest, my heart would break if I saw a fruitcake being thrown into the air like a football (because I love fruitcake. I love any cake). But luckily, tossing is only one aspect of this yearly event. You'll also find bakers competing for the coveted title of Fruitcake King and Fruitcake Queen (only natural, non-GMO ingredients are allowed).
Parking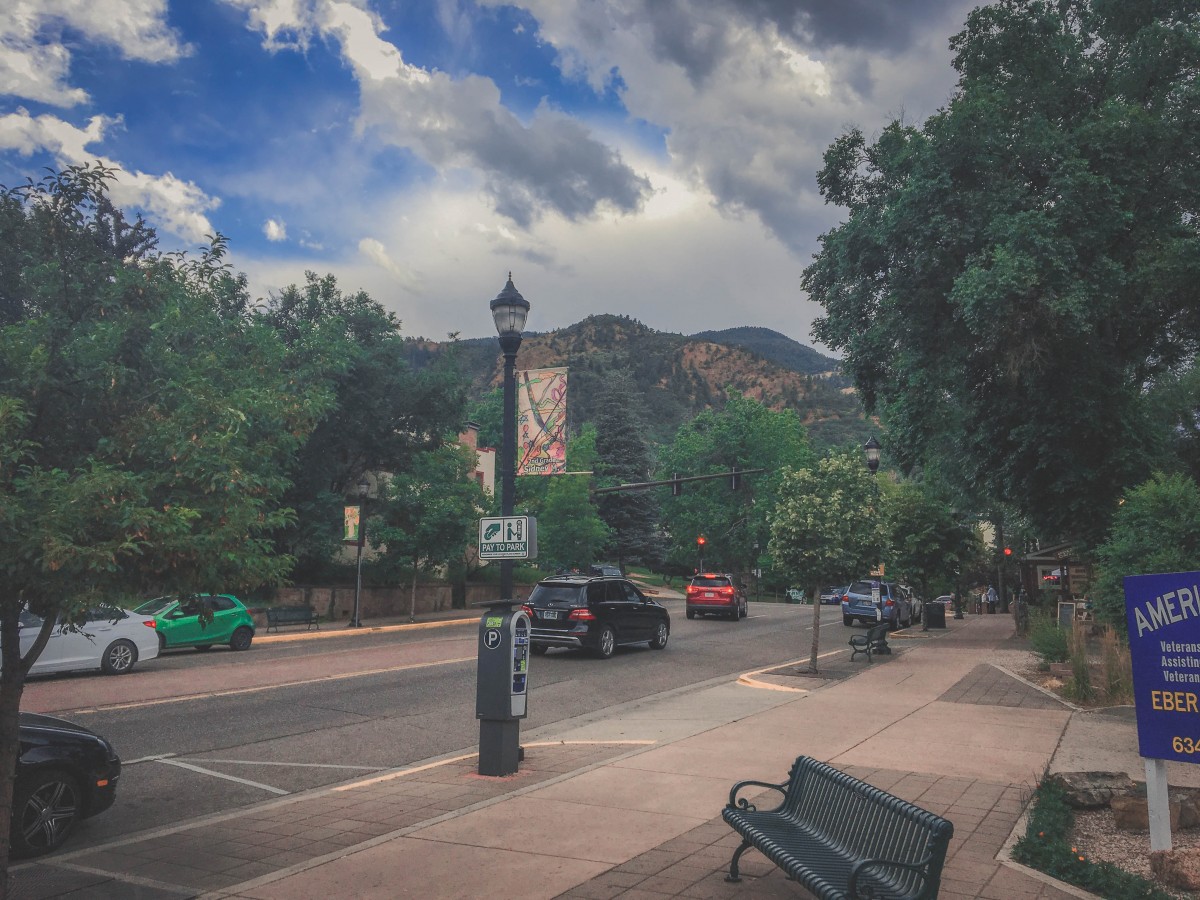 Right before you hit the main block centering the historic district, you'll see streetside pay-to-park spots aplenty (these tend to fill up quickly so you'll want to arrive early if you're planning on spending a day in Manitou Springs).
I initially tried to park at the free Summer Lot (101 El Paso Blvd) but it was completely full. So I ended up parking near Memorial Park (10 Old Man's Trail). From there, it was a little under a ten-minute walk to the heart of downtown.
Where To Stay
Since I had plans to visit The Garden Of The Gods later, I ended up spending the night in the neighboring city of Colorado Springs.
I stayed at Hotel Elegante, a big conference and event center twenty minutes from Manitou Springs. The lobby is an assortment of colors and patterns – lipstick reds and highlighter yellows and neon greens side-by-side. To be honest, it reminded me of my grandma's apartment – colorful but not necessarily cohesive.
The room was really nice though. The beds were so soft! I didn't want to wake up in the morning. I just wanted to spend a day gazing at the faint mountain views from the comfort of my bedsheets (this is why I need a double-shot of coffee every time I visit Colorado Springs).
Some other hotels near Manitou Springs are:
Top 10 Things To Do In Manitou Springs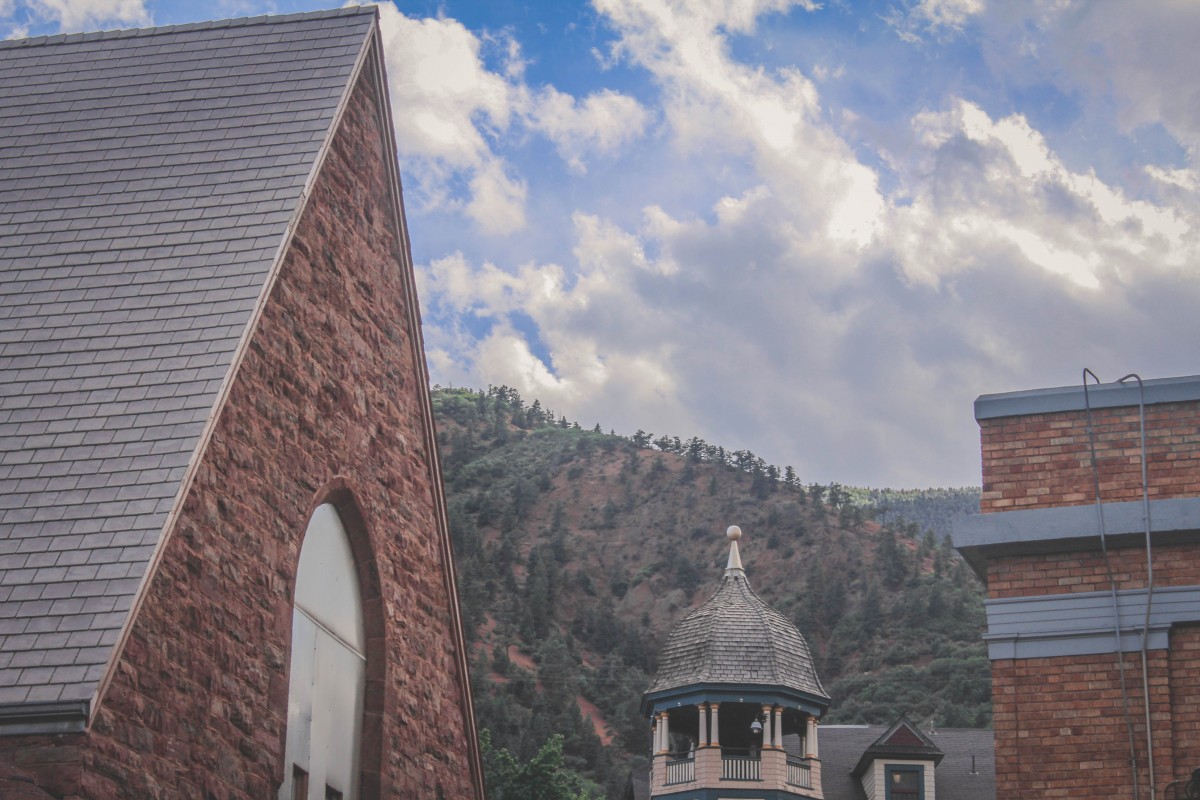 Manitou Springs is Colorado Springs void of chain stores, sprinkled with a cultivated mystic aura.
So how exactly did I end up at The Poppy Seed, next to a real-life Shaggy Rogers? Let's rewind back to the top ten things to do in Manitou Springs.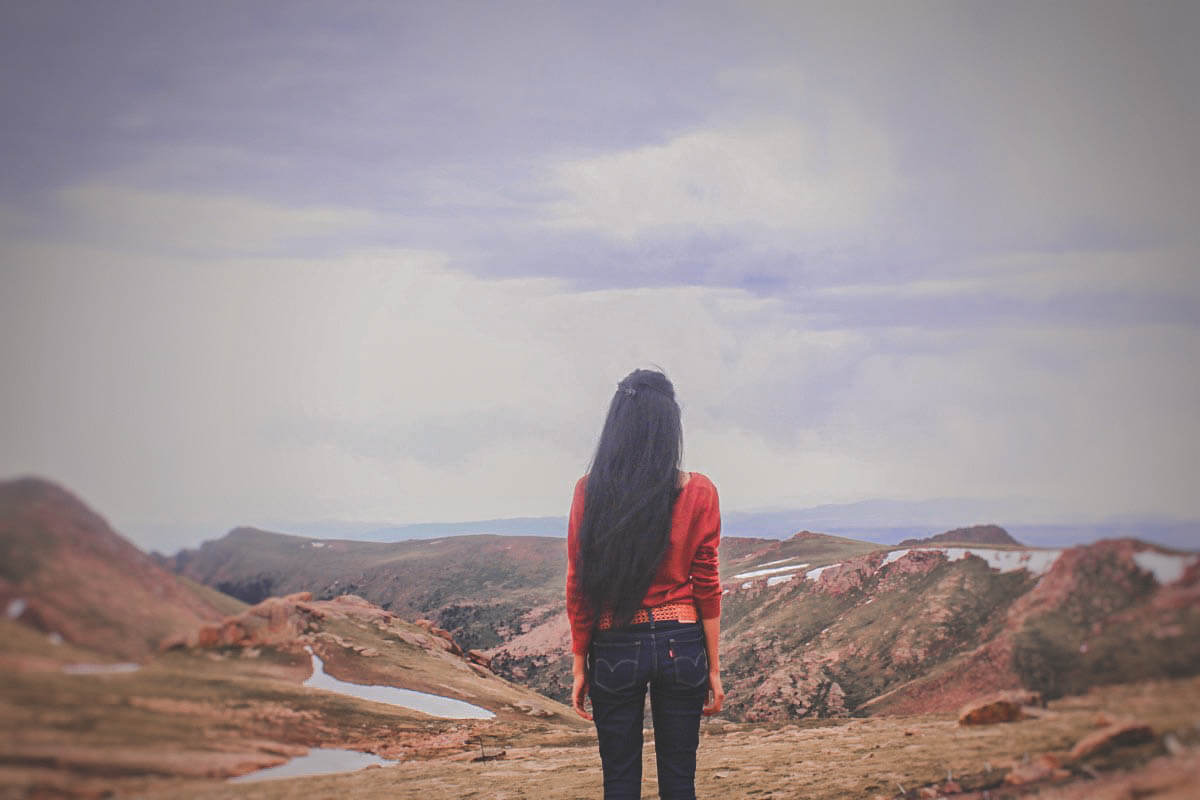 Pikes Peak is the biggest attraction in Manitou Springs. It's a little bit on the expensive side (between $5 to $15 per person) but I thought it was worth every penny!
The Pikes Peak Highway is a 19-mile road stretching up America's Mountain. The drive itself isn't tough. You just have to come prepared.
It's a winding path. And the views along the way – clear blue lakes, alpine dips, ice-capped peaks – are stunning.
P.S. If you have a little extra time, grab a Pikes Peak donut from the coffee shop at the summit! These donuts (just under $2 apiece) are made the high altitude in mind (so you have to eat it at the summit otherwise it will collapse inwards).
Visit The Manitou Cliff Dwellings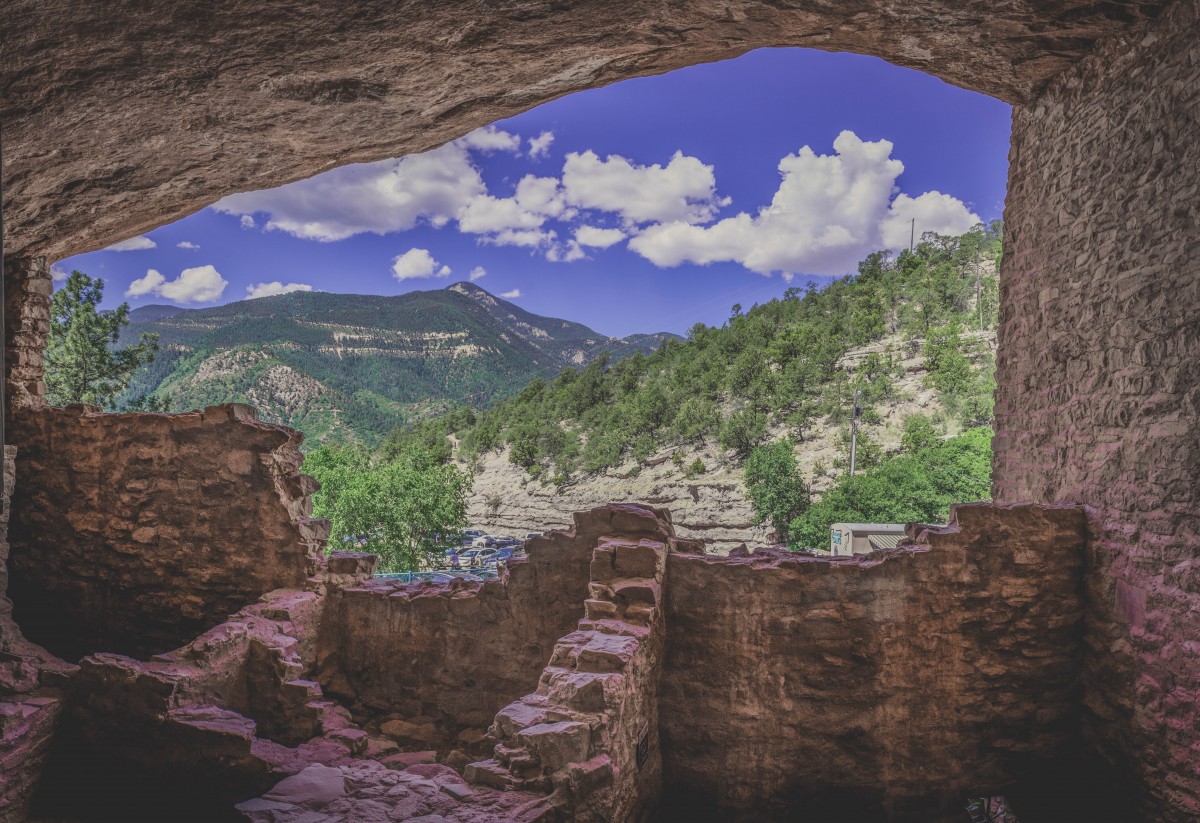 The Manitou Cliff Dwellings are Anasazi ruins dating back a 1000 years.
When I first arrived, I was really confused. I didn't realize that there were Anasazi in Manitou Springs. I thought the Anasazi lived closer to the Four Corners region (this knowledge may or may not be the product of watching too much Scooby-Doo as a child).
As it turns out, the Manitou Cliff Dwellings aren't original to Manitou Springs.
In fact, the 40 room site used to be situated in McElmo Canyon (near Mesa Verde). It was relocated in the early part of the 20th century before it opened to the public. So although the museum and ruins themselves are authentic, they're not in the location you'd expect.
And that's fine. Because visiting the Manitou Cliff Dwellings is still one of the best things to do in Manitou Springs. Inside the pueblo, you'll find a museum dedicated to showcasing the history of the Anasazi and it's definitely a one-of-a-kind experience.
Tour Cave Of The Winds Mountain Park
A little over a mile away from the Manitou Cliff Dwellings is Cave Of The Winds Mountain Park.
Cave Of The Winds is a mix between a theme park and a state park. There are rides and attractions. But it's also a historic destination. The real cave behind Cave Of The Winds was discovered in the early 1880s. And you can still tour it today.
You'll want to visit for the views. Sweeping drops of Colorado wilderness. Dots of trees. Blue skies.
If you're a thrill-seeker, know that several of the attractions at Cave Of The Winds fall into the category of I'm-never-doing-this adventurous things to do in Manitou Springs. I mean, I took one look at a video of the Terror-Dactyl ride, a 150-foot free-fall into a canyon, and died internally.
Climb The Manitou Springs Incline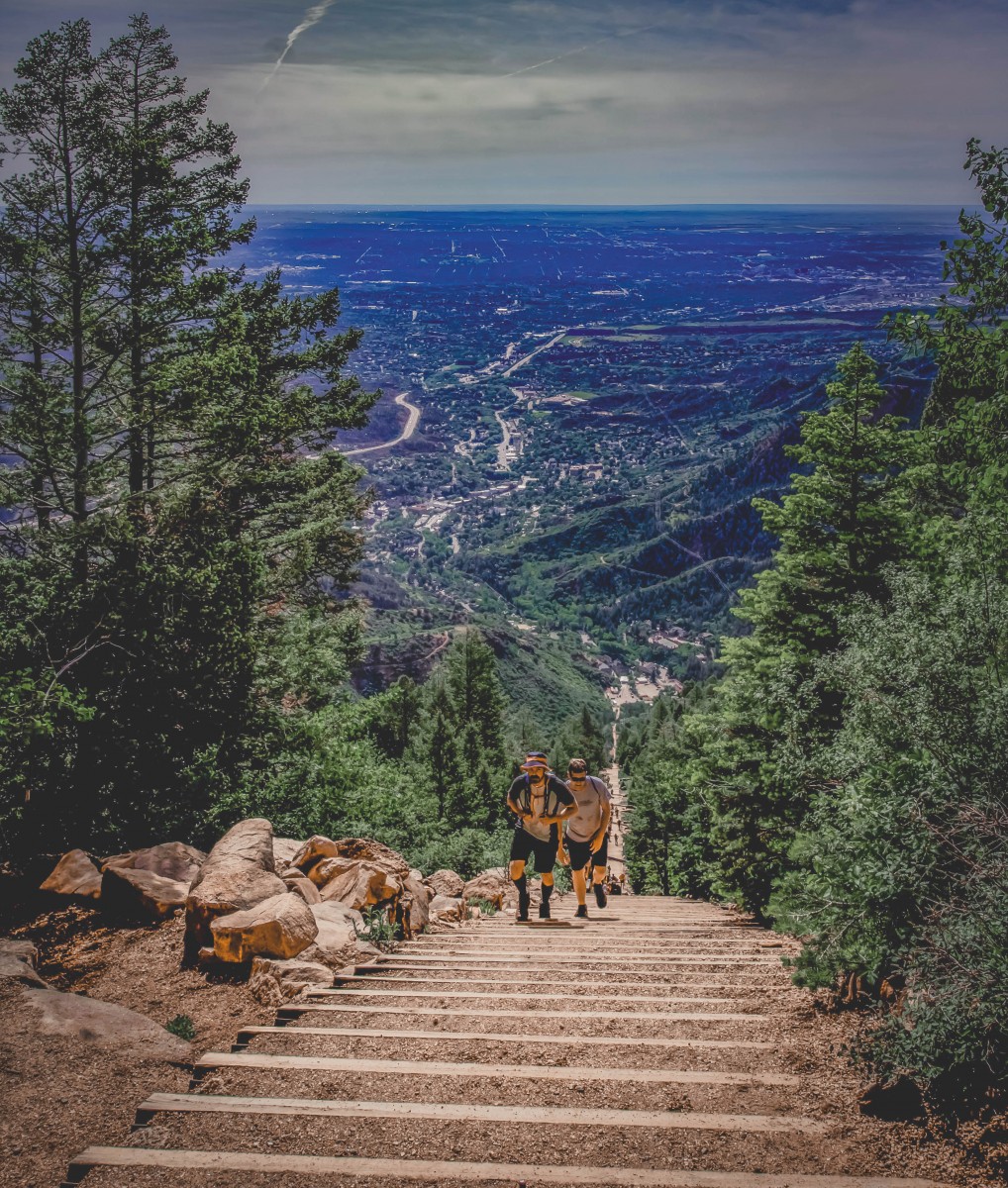 Y'all, I was bushed climbing up Mount Bonnell, there was no way I was going to make it up the Manitou Springs Incline.
This is one of the toughest hikes in Colorado. It's only a mile long but it consists of 2,744 steps (made from railroad ties). There's a false summit about 75% of the way up so it looks like you're done (and you'll be so glad that you're done) but you're not (you still have 300 steps to go). Not going to lie, I bailed out by this point.
This static stair master is here to push you to your last breath limits.
If you're planning on doing the hike, you'll need:
breathable athletic gear (I've linked several of my favorites in my Colorado packing list post)
a giant water bottle (I recently got a 21 oz Hydroflask and I absolutely love it. It keeps water cool for 24 hours and there is nothing more refreshing than taking a cold sip of water in the hot sun).
a tea bag (if you're feeling sick of the altitude, tea really helps. I ended up popping in a green tea bag into my water. Did it taste the best? Far from it. Did it do the trick? Yes).
some dark chocolate (I picked mine up from the local Apothecary)
P.S. Since this is a tough hike, I highly recommend doing it early in the morning when the weather is nicer!
Drink From The Springs In Manitou Springs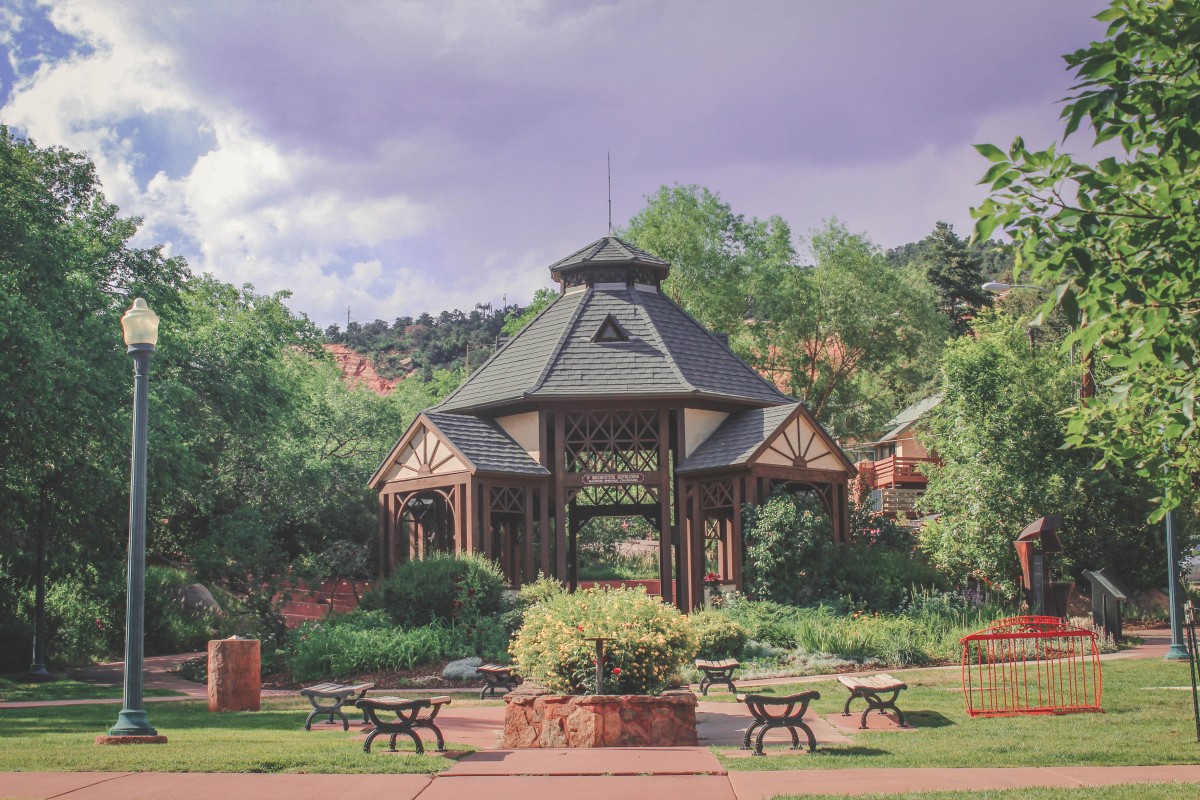 Manitou Springs is known for its eight different mineral springs. I'll link a walking map of all the locations here.
Cheyenne Spring: my favorite spring (I never really thought of water as flavorful but this water is packed with flavor)
Iron Spring
Navajo Spring: supposed to taste sweet but to be honest, I couldn't really tell
Seven Minute Spring: has the prettiest gazebo nearby
Shoshone Spring
Stratton Spring
Twin Spring: faintly tastes like sparkling water
Wheeler Spring
Stop By Memorial Park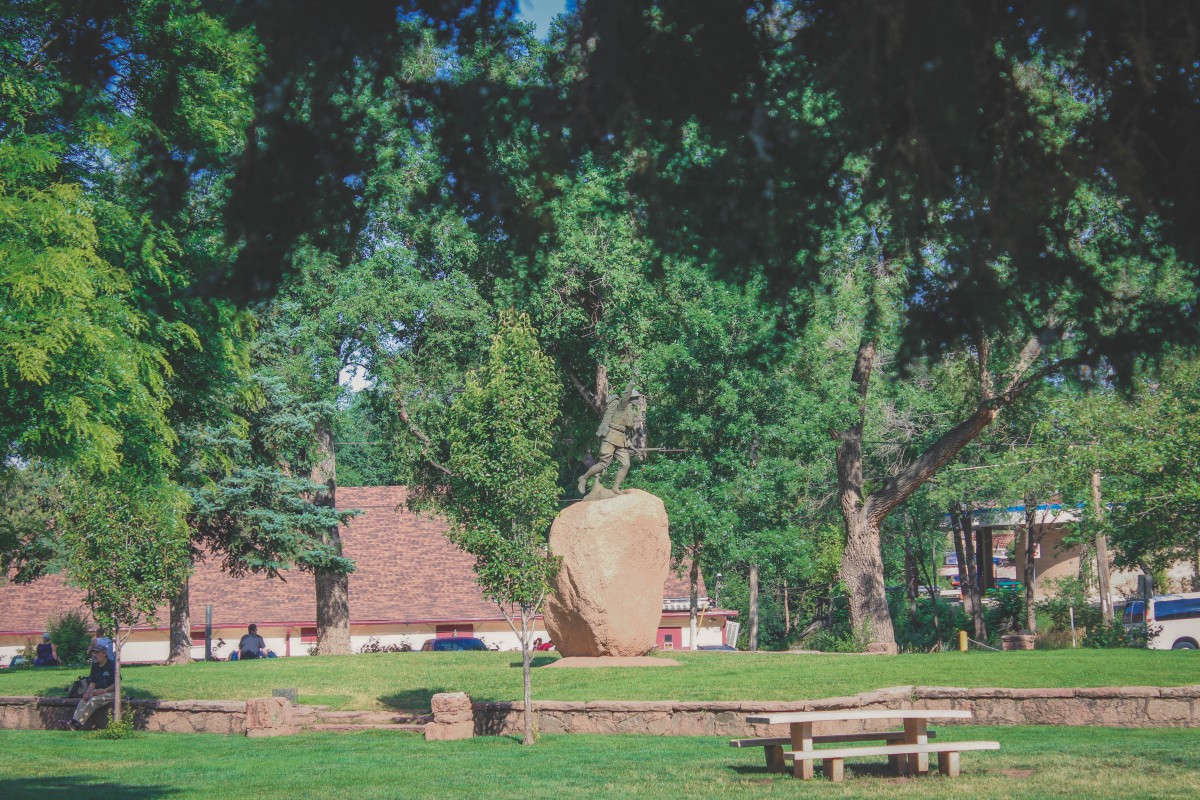 Manitou Springs is peppered with small community parks. Memorial Park, an outcrop of grass, is just a few steps away from Seven Minute Spring.
The block is centered by a statue of George Eber Duclo, the first soldier from Manitou Springs to die in WWI. There are a few stairs and benches nearby. It's a well-shaded area, roughly two acres.
This is one of the best places to cool-off and rest-up in Manitou Springs.
Explore The Street Art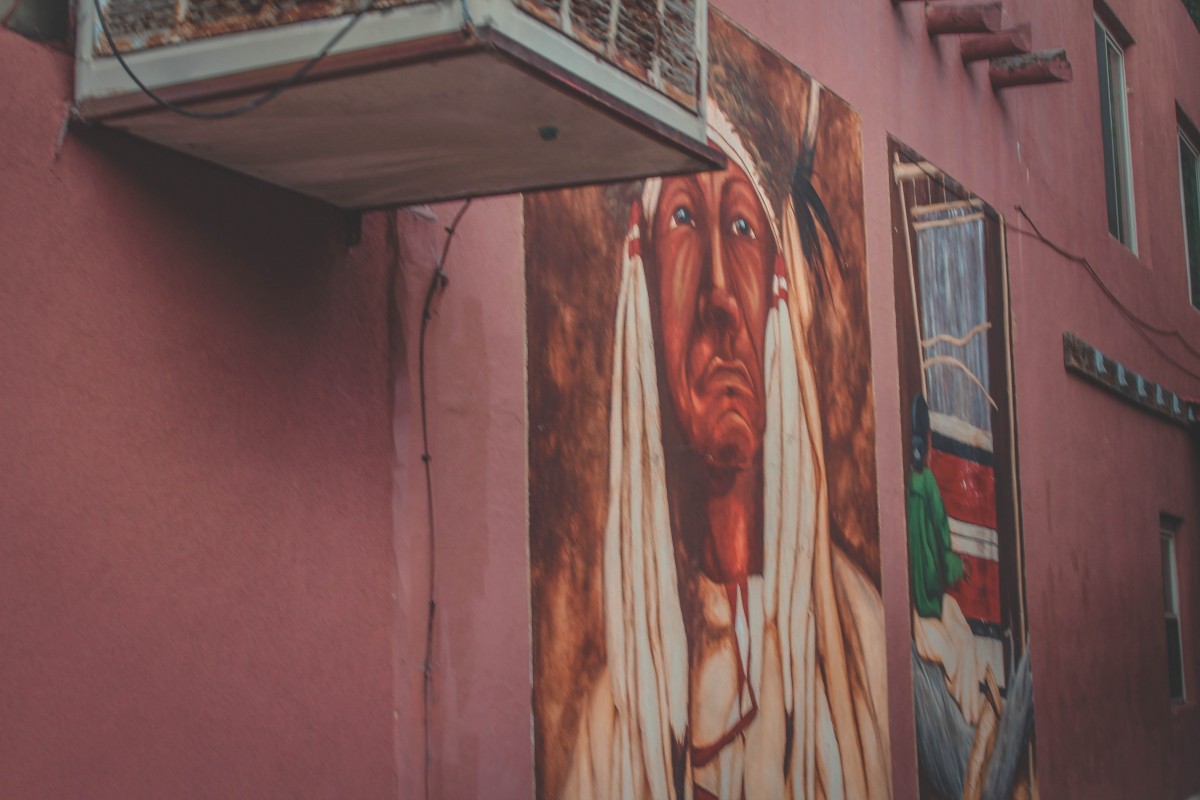 Manitou Spring's street art is masked by tight alleys and closed nooks. It's in the most unexpected (and the most expected) places.
The town is so colorful, it's easy to overlook the murals (I know I did during my first walk-through of the historic district). But they're here, hidden in plain sight.
A few murals to look out for are:
The Floyd Tunson Mural (found on the Manitou Art Center building)
Nymph In The Forest Mural (130 Cañon Ave)
Post Office Mural (307 Cañon Ave)
Spirit Mural Of Manitou (924 Manitou Ave)
P.S. The street art scene in Manitou Springs is constantly changing so these murals might not be there at the time you visit (but you'll definitely see some wall art throughout the historic district).
Stroll Around Manitou Springs Historic District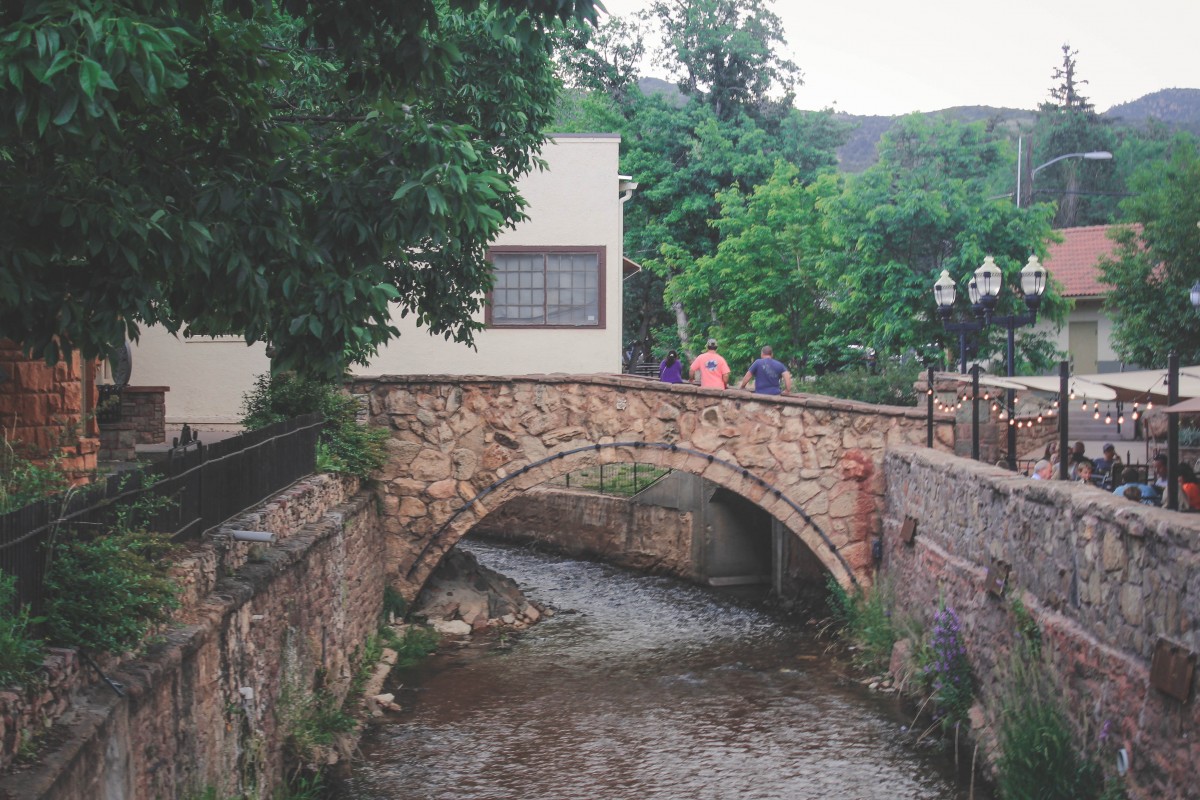 When I arrive at Manitou Springs' historic district, I'm blown away. The paths are lined with pink and purple flowers. Each shop is uniquely shaped and sized.
There's a small brook and a bridge. The architecture, a mix of pastel-pleasing and quirky, forces me to look this way and that. Everything looks and feels so cozy, I instantly relax as I walk further and further into town.
The Historic District is one of the best places to eat in Manitou Springs. So unsurprisingly, there are signs upon signs for chocolates and ice-cream and more chocolates.
There are cute boutiques with long patterned dresses sitting outside the windows. At times, the path smells of saffron and sandalwood. At times, it smells of weed.
Visit The Art Galleries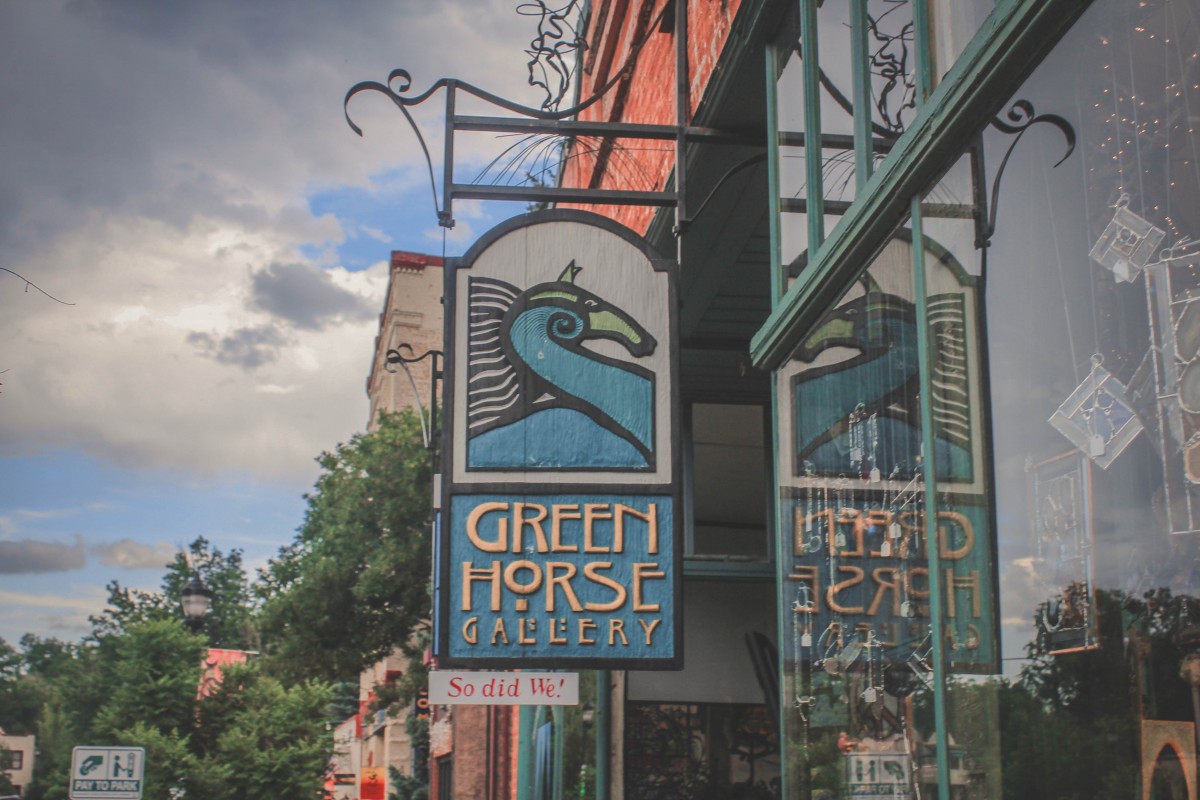 After walking around for a bit, I duck into a big-windowed art gallery (one of many in the area).
Window shopping at Green Horse Gallery turned out to be one of my favorite things to do in Manitou Springs. This chic shop run by seven local artists has a bit of everything: pottery, paintings, jewelry, prints, dolls.
Other galleries include:
Shop At The Poppy Seed
At the end of the street, at the foothills of Colorado's mountains, is a small gift shop. I can see the sun begin to set from the window. The sky is ablaze.
The shop, a funky clothing vendor in Manitou Springs, is called The Poppy Seed. The tagline? Manitou's hippie store for all people big and small.
And at the front counter, a tall, lanky man in an oversized t-shirt and baggy jeans leans against the counter, chatting up the woman behind it.

"Like, man, this place is, like, the grooviest," he says, pausing. He laughs a little. "I'm having a rad day."
Rad? Groovy? I smile. My day in Manitou Springs has definitely been "rad" and "groovy". In fact, there are no better words to describe this small town.

Did you enjoy this travel guide to Manitou Springs? What are your favorite things to do in Manitou Springs? Let me know in the comments below! As always, I love hearing from you.