When my dad first told me about all the things to do in Skaneateles, I thought he was referring to a yoga retreat.
"It's a great place to relax," he said, fist leaning against the kitchen counter.
My father, a listens-to-heavy-metal, rides-a-motorcycle kind of man did not strike me as the type to EVER mention anything as hippie sounding as a yoga retreat. Me? Absolutely. Him? Never.
But when I discovered Skaneateles was a central New York getaway, I knew I had to visit.
With a population under 10000, this village, within a town of the same name, is filled with quaint boutiques and mom & pop diners. It's a lakeside town, which is not too surprising considering the quirky name (pronounced: skinny-atlas) is Iroquois for "long lake."
So today, I'll be taking you on a sweet little tour of one of central New York's most popular spots. We'll be looking for things to do in Skaneateles at a slow and steady pace, starting with a pleasant stroll on Genesee Street.
Buy A New Dress At Cate & Sally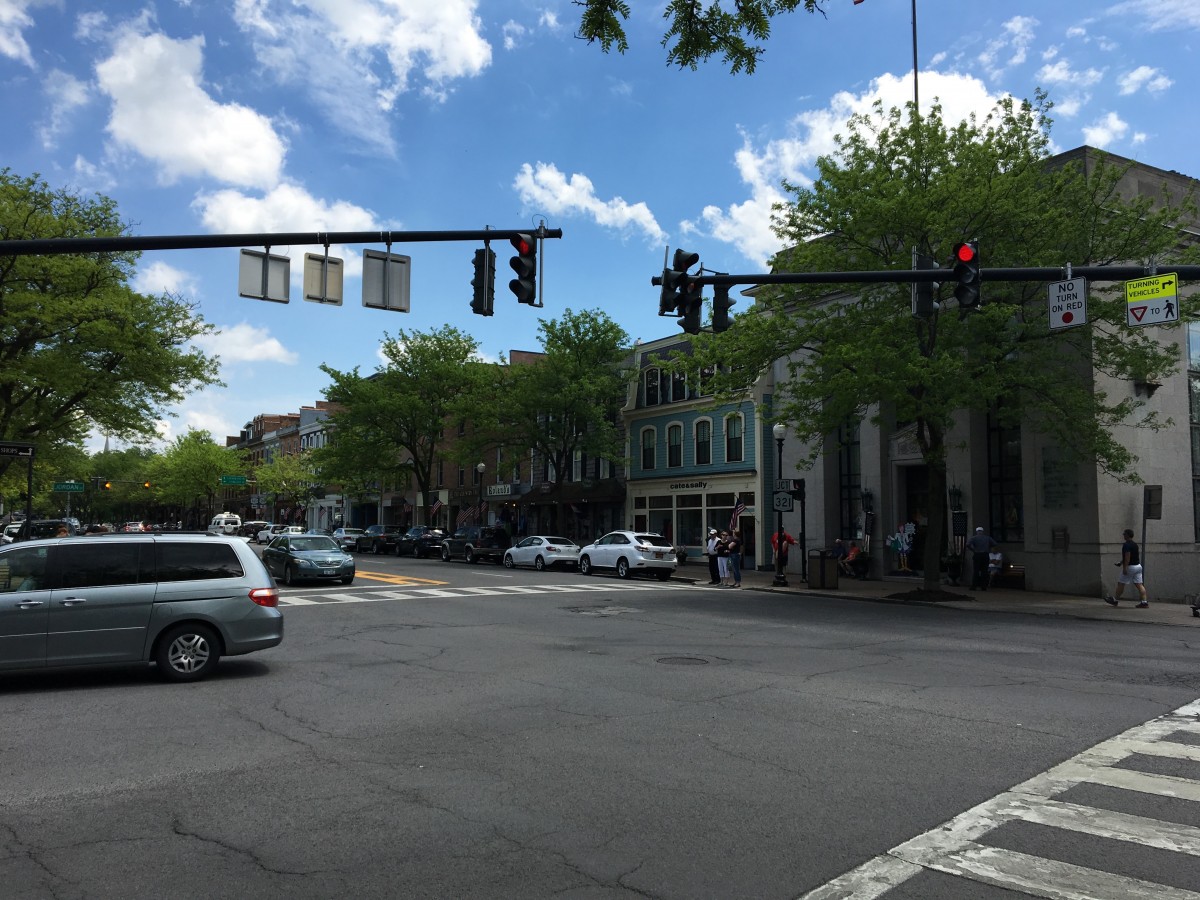 Retail therapy is my middle name. Actually, Varma is but retail therapy is a close second.
If you're a shopaholic looking for things to do in Skaneateles, get ready to be absolutely spoiled.
Cate & Sally, an upscale boutique carrying high-end "made in America" labels, is my personal favorite. The options here are timeless, classic, and elegant staples.
Other adorable boutiques:
Skaneateles 300: On 2 W Genessee Street is one of the best shoe stores I have ever seen. With a soft palette and bright layout, Skaneateles 300 does branding like no other.
Emma James Boutique: Located on 3 East Genessee Street, Emma James boutique has the best selection of date casual outfits. I absolutely adore their winter selection (which is also available online), especially the darling woven caps.
Roland's: Roland's is an active-wear inspired men's clothing store on 14 E Genessee Street. It's also next to Cate & Sally so you could hypothetically leave your partner here while searching for cute clothes (I may or may not be speaking from experience).
Pick Up A Cute Gift From Any Of The Gift Shops
While most of my favorite gift shops are on Jordan Street, we'll be winding through Genesee Street just a little longer.
Our first stop – The White Sleigh.
For a town that was known for being atheist in the mid 1800s, Skaneateles takes Christmas very seriously.
In fact, one of the most popular things to do in Skaneateles is catch a glimpse of the annual Dickens Christmas Festival. This month-long event begins the day after Thanksgiving and rolls out every weekend until Christmas. A large cast of actors remain in character as they chat with onlookers and brighten up the winter gloom through interactive street performances.
What was I talking about again? Oh, right – The White Sleigh. A year-round Christmas store, The White Sleigh is one of the best places to pick up a cute ornament or snow globe.
And that's not the only store to get you into the holiday spirit. If you're looking for gifts to put under the Christmas tree, Hobby House Toys is a quaint, old-fashioned boutique toy store.
After reliving your childhood (the real reason behind my visit), walk a little further down the street and enter Finger Lakes Photography. John Francis McCarthy's photos are feel-good images. If you're Christmas shopping, you can't go wrong with a signed print or two.
The White Sleigh: 24 E Genesee St, Skaneateles, NY 13152, 10 AM – 6PM
Hobby House Toys: 7 Jordan St, Skaneateles, NY 13152
Grab A Bite At Bluewater Grill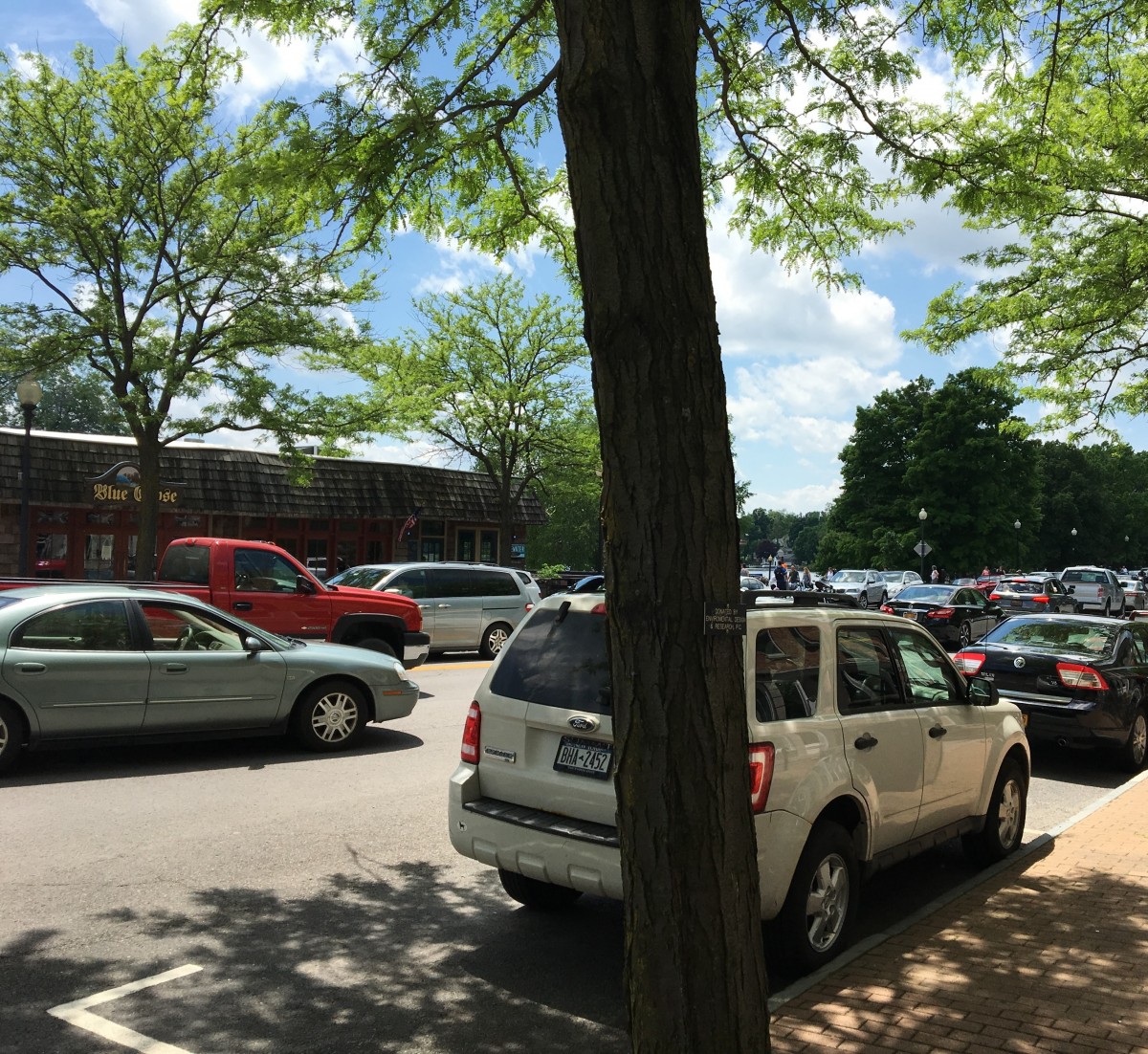 Bluewater Grill is the most hyped restaurant in Skaneateles. And for the most part, the hype is worth it.
Located right on Skaneateles Lake, Bluewater Grill offers direct views of the pier. Even in the rush, the calmness of the deep blue water is relaxing. I want to close my eyes and –
That might be my stomach talking. I may have eaten to the point of a sleep-inducing coma.
The portions at Bluewater Grill are big, too large for one and slightly too small for two. Go for a date-night brunch and order one appetizer and one entree.
If you're up for drinks, head into the neighboring venue, Blue Goose, a popular late-night bar.
Travel Tip: If you're planning to head to Bluewater for a summer dinner, call ahead and make a reservation ( 315-685-6600). The restaurant gets crowded quickly and street-side parking is a hard find.
Other restaurants picks:
Doug's Fish Fry: If you're a seafood lover, Doug's Fish Fry is a must.
Lakehouse Pub: Set in a cozy brick building, this restaurant serves up tap beer and live music.
Johnny Angel's Heavenly Burgers: Greasy, old-school burger house.
Cool Down With Some Ice Cream
Cooling down with an ice cream is one of the most underrated things to do in Skaneateles.
"Anshula, I could eat ice cream in any town," you say.
I know, I know. Grabbing a cone sounds mundane, casual, and corny (and a smidge delicious, in my book).
With large summer crowds, Skaneateles feeds off classic frosty desserts. From Skan Ellus Drive In to Skaneateles Scoops, these soft-serve eateries all offer a piece of Central New York culture (I really say this as an excuse to feed my sweet tooth).
Skan Ellus Drive In: 1659 Cherry Valley Turnpike, Skaneateles, NY 13152, 11 AM – 9:30PM
Stroll Through Clift Park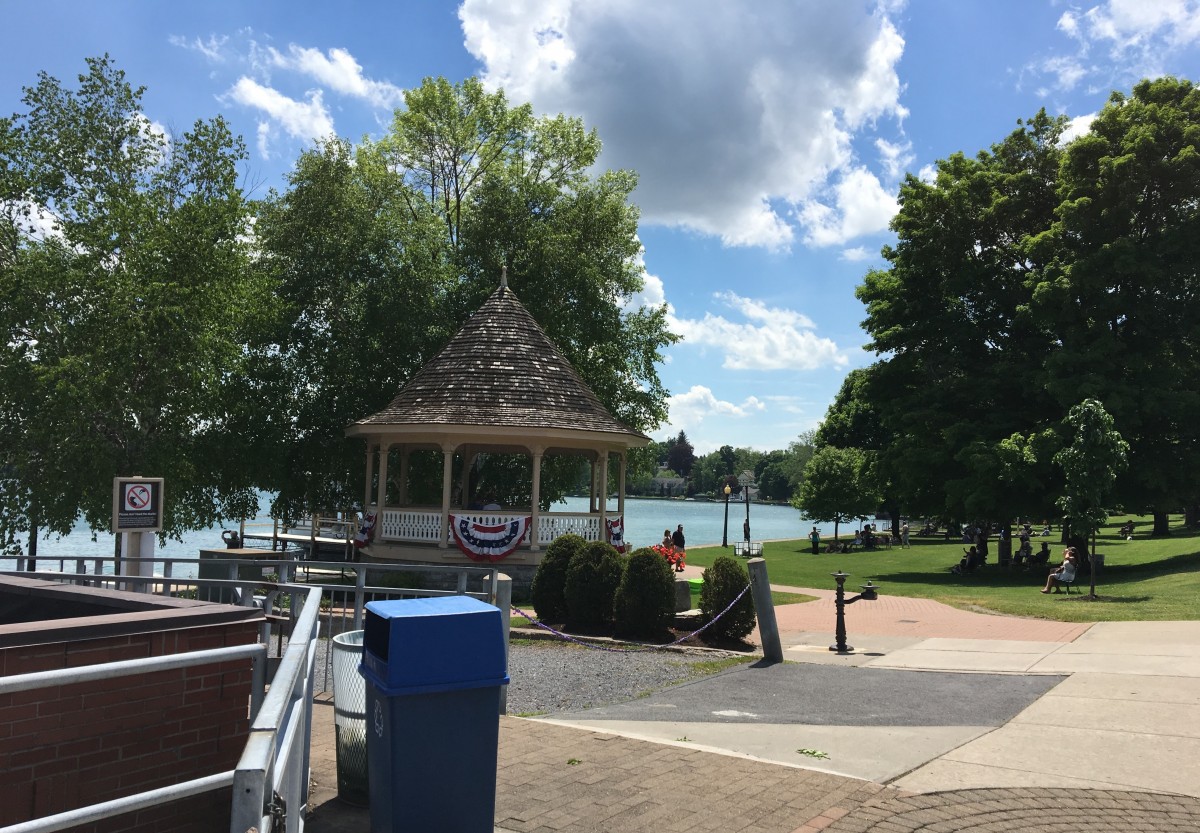 Ice-cream in hand, we stroll through Clift Park.
The gazebo in Clift Park is easily one of the most recognizable icons of Skaneateles. Snap a picture by the gazebo. Grab a seat on the lawn and relax.
Clift Park: 15 W Genesee St, Skaneateles, NY 13152, 6AM – 11:30 PM
Dine On The Lake In A Riverboat Cruise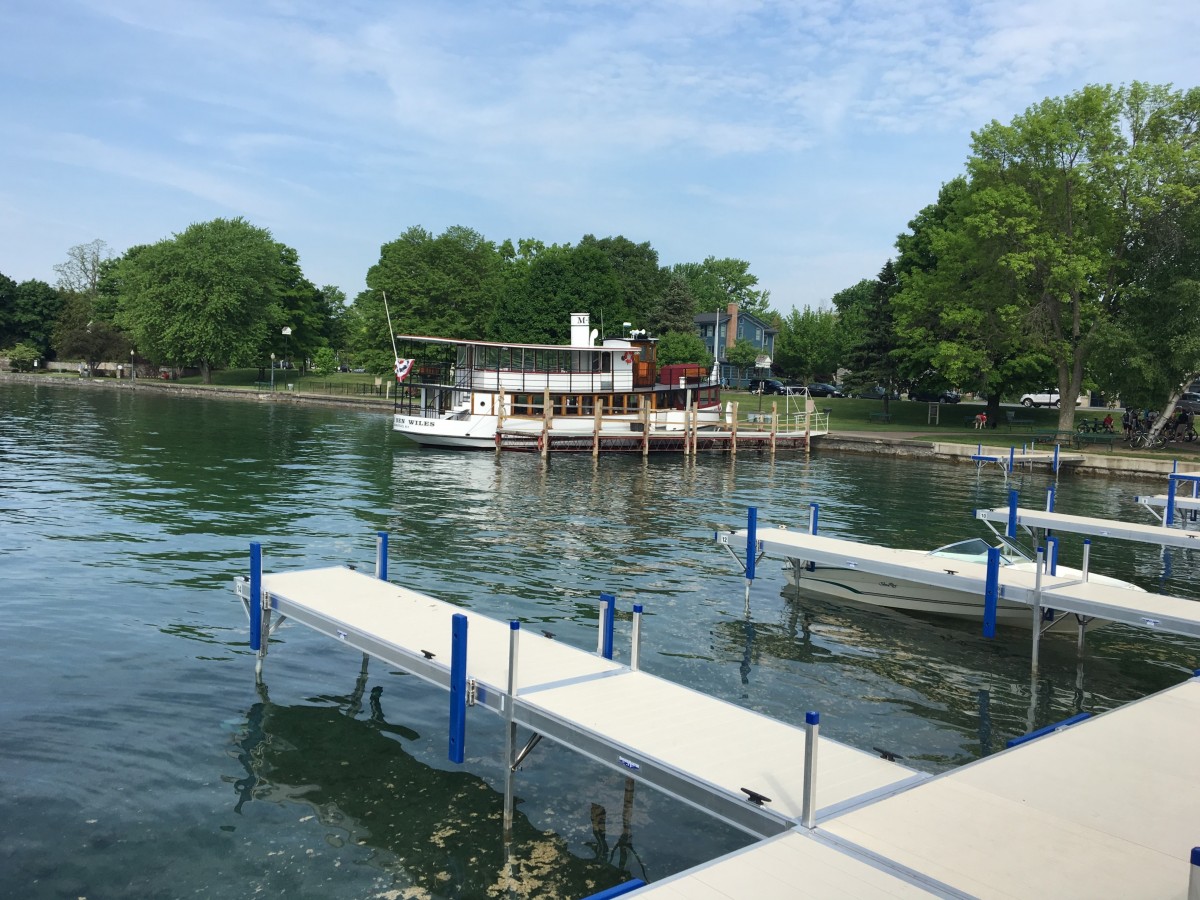 While Judge Ben Wiles is no QE2, I'm still imagining L-O-V-E by Nat King Cole playing softly in the background of this dinner boat cruise.
Maybe, I've just watched the Parent Trap too many times.
While a dinner cruise is one of the most expensive things to do in Skaneateles, this three hour slow ride through Skaneateles Lake is worth it for any splurge-worthy special occasion, like anniversaries, family reunions, and why-the-heck-not days.
The online booking system (you are required to make a reservation) is a bit janky (the most professional term I learned in my Computer Science degree) so be sure to call instead.
Just Drink In The Views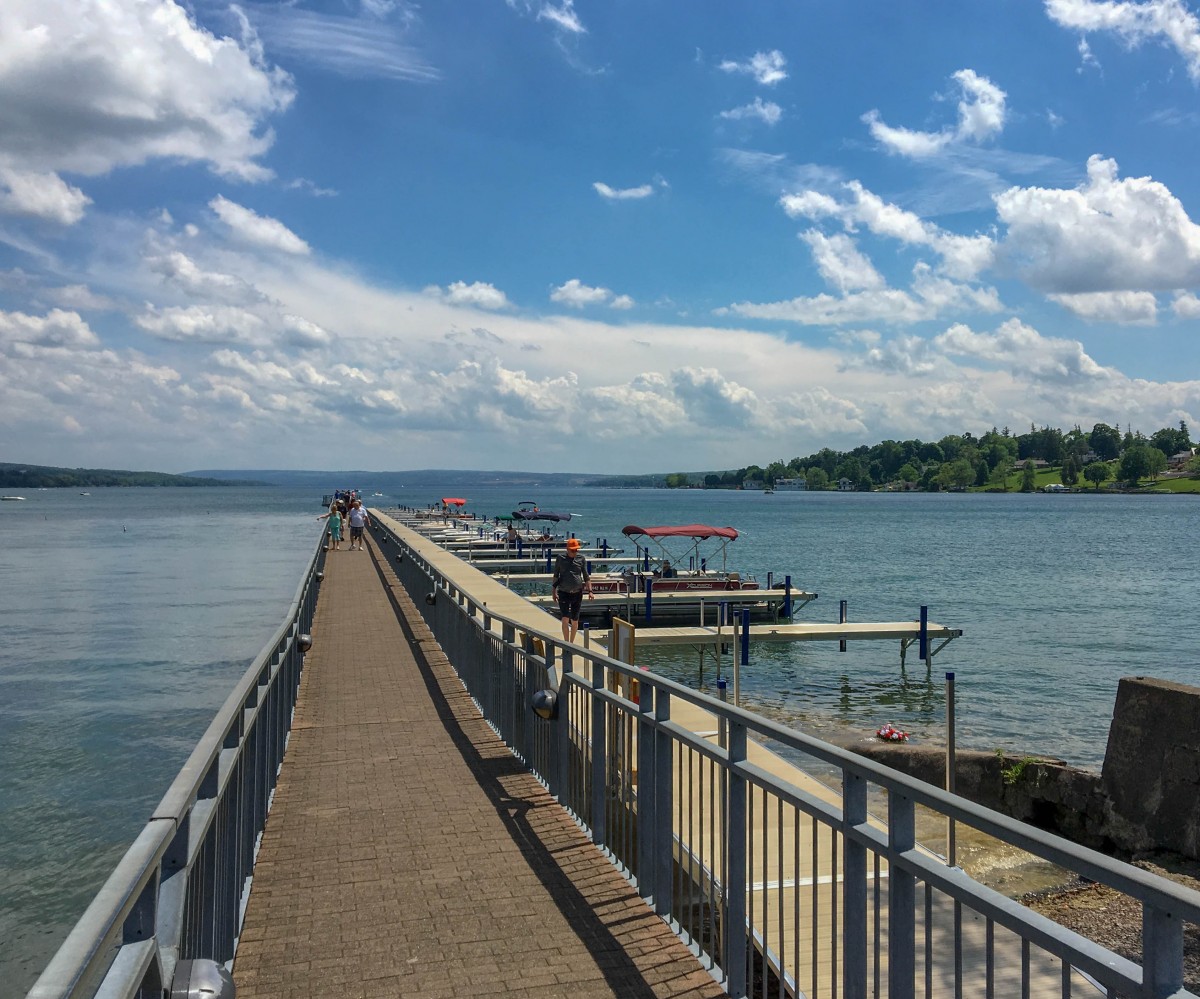 Just drinking in the views is one of the best free things to do in Skaneateles. With cloud wisped skies and clear blue waters, Skaneateles is the crux of scenic.
The lake seems to extend forever, like a sea. In the distance are rolling fairytale hills blanketed by lush trees.
Summer in Skaneateles is a dream.
Drive By The Cobweb Cottage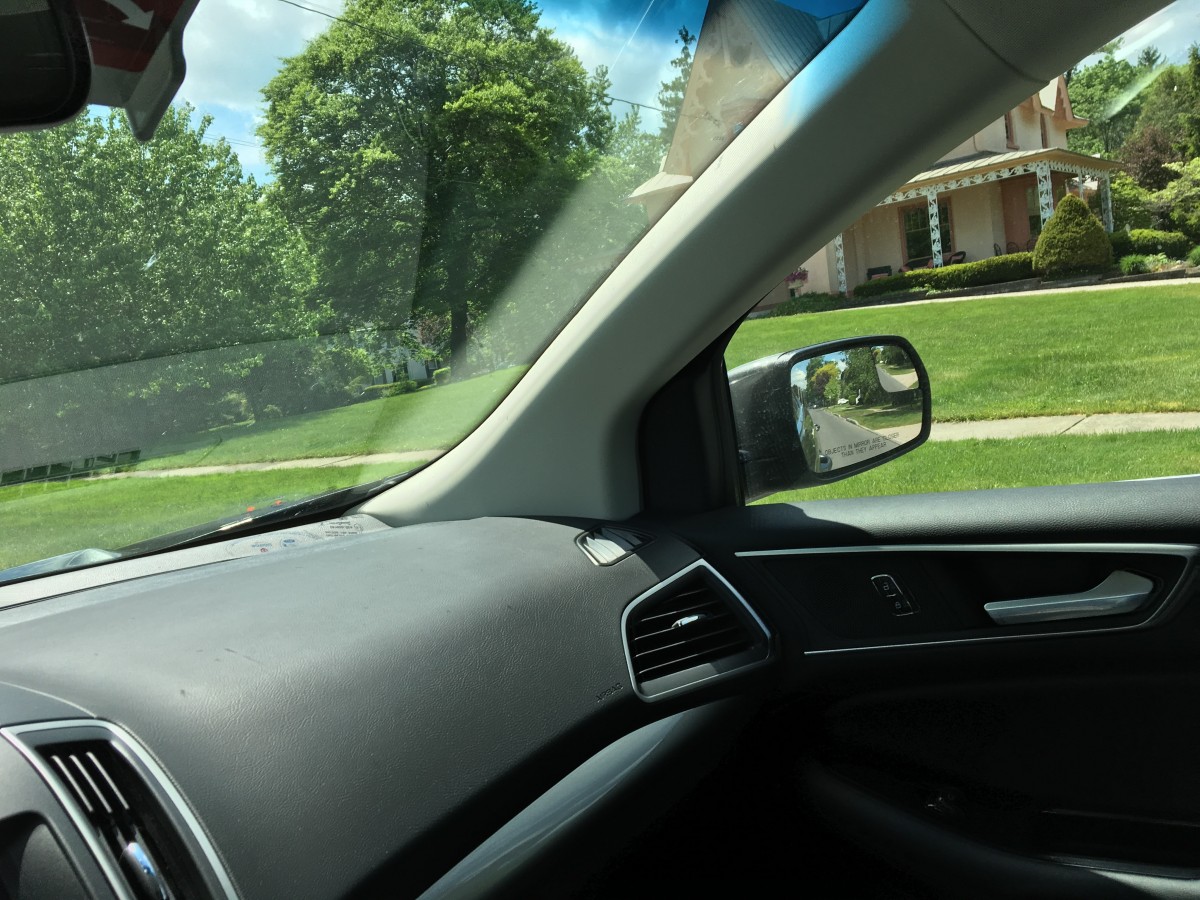 From luxurious historic properties to cozy guesthouses, Skaneateles isn't short of gorgeous accommodations.
I wish we could stay here for the night but it's time to head back onto the road. We'll be stopping over in a small hotel on the way to Alexandria Bay tomorrow.
As we leave Skaneateles, we notice a quirky building. Pale pink with ornate trimmings, this historic landmark, known locally as the "cobweb cottage" looks like a drawing from Hansel & Gretel.
Despite the gothic undertones, the Reuel E. Smith House, designed by world-renowned American architect Alexander Davis, looks pretty as a picture.
Pretty as a picture. I can't think of better words to describe Skaneateles.
Did you enjoy this post on things to do in Skaneateles? Have you ever been to Central New York? Let me know in the comments below!