40 things to do in St. Augustine during your Florida getaway
It was my dad's idea to stretch our St. Augustine trip. "It looks just like a postcard," he said while flipping through one of the brochures packed into a little stand by the entrance of our Orlando hotel. It did: bright blue waves, Skittles colored homes, sunlit streets.
So the next morning, we went up to St. Augustine where one afternoon welded into half a week.
St. Augustine is the oldest continuously occupied European-established settlement in the continental United States. It's a small town, well-preserved. A small town whose memoir is caught in the worn walls and floors of its earliest structures – the oldest schoolhouse, the oldest house, the oldest drugstore.
Whether you're looking for a deep-dive into the arts, a taste of religious history, or a step into the past, you'll find plenty of things to do in St. Augustine. It's a largely tourist-defined location riding along the Atlantic coast. And clustered within its sandy borders are pearly strings of attractions like Peña-Peck and Governor's House Cultural Center.
Without further ado, here's our ultimate guide to things to do in St. Augustine, Florida!
Things To Do In St. Augustine, Florida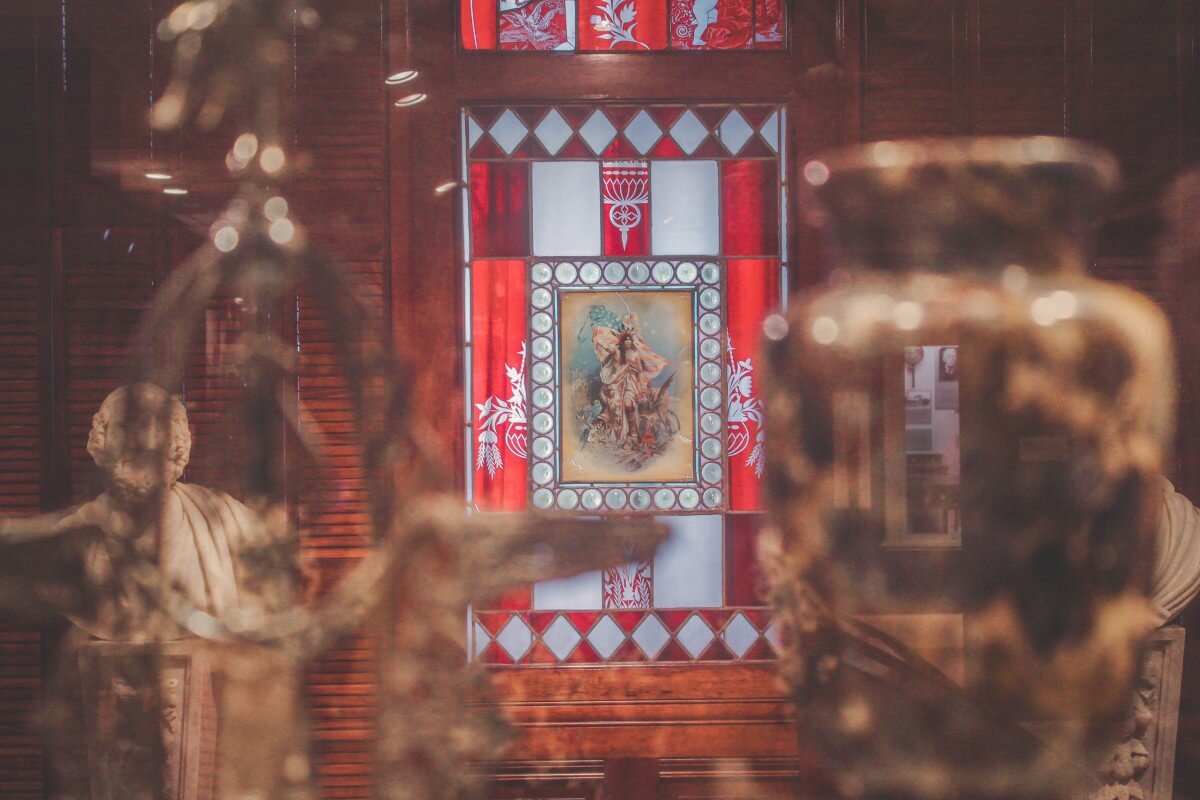 I'm standing in front of the former Hotel Alcazar. What was once a Gilded Age resort is now the Lightner Museum, a blend of Moorish and Italian influences.
Lightner Museum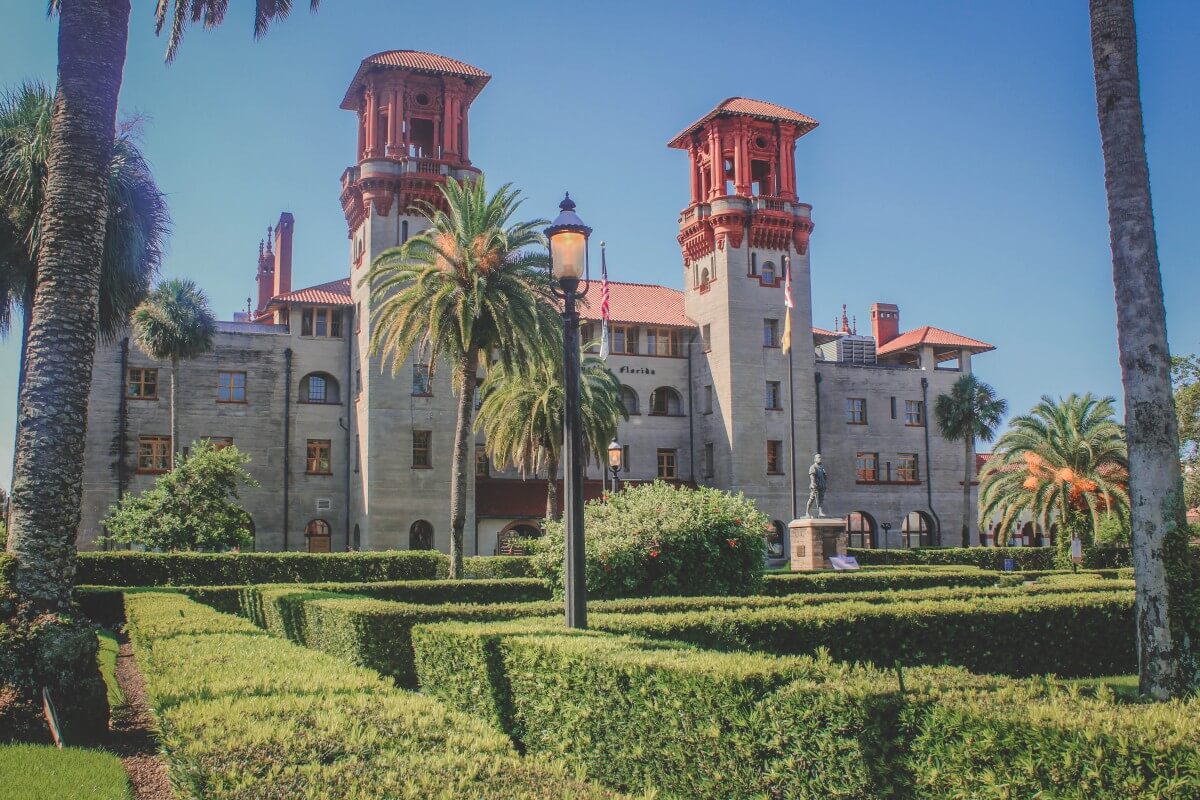 The Lightner Museum is one of the most well-known things to do in St. Augustine. It's a red-roofed, sandy walled building, lying on a plot once parceled for old money East Coasters.
Paintings and jewels and specimens are spread throughout four floors. The collection is mostly unlabeled, thrown together into an eclectic mix (don't try to make sense of the flow, just linger on any piece that catches your eye).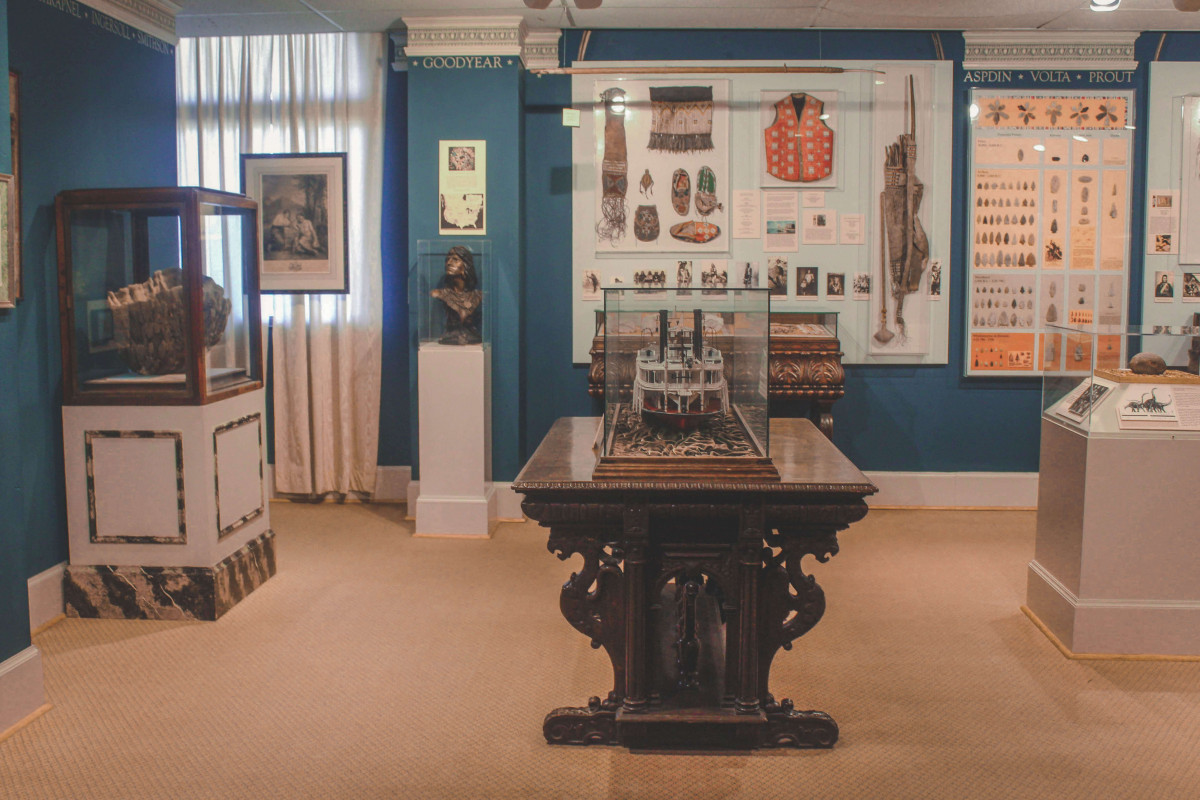 From metal to glass to porcelain, Lightner's curation is made from a hodgepodge of materials. It's a no-touch space that still brings textures alive.
Wind past a hedge-lined path (Memorial Park) into the interior courtyard, a green and grand snapshot of a palm-tree bordered bridge arching above a small pond. As the floors level up, the opulence escalates, culminating in a white balustrade overlook.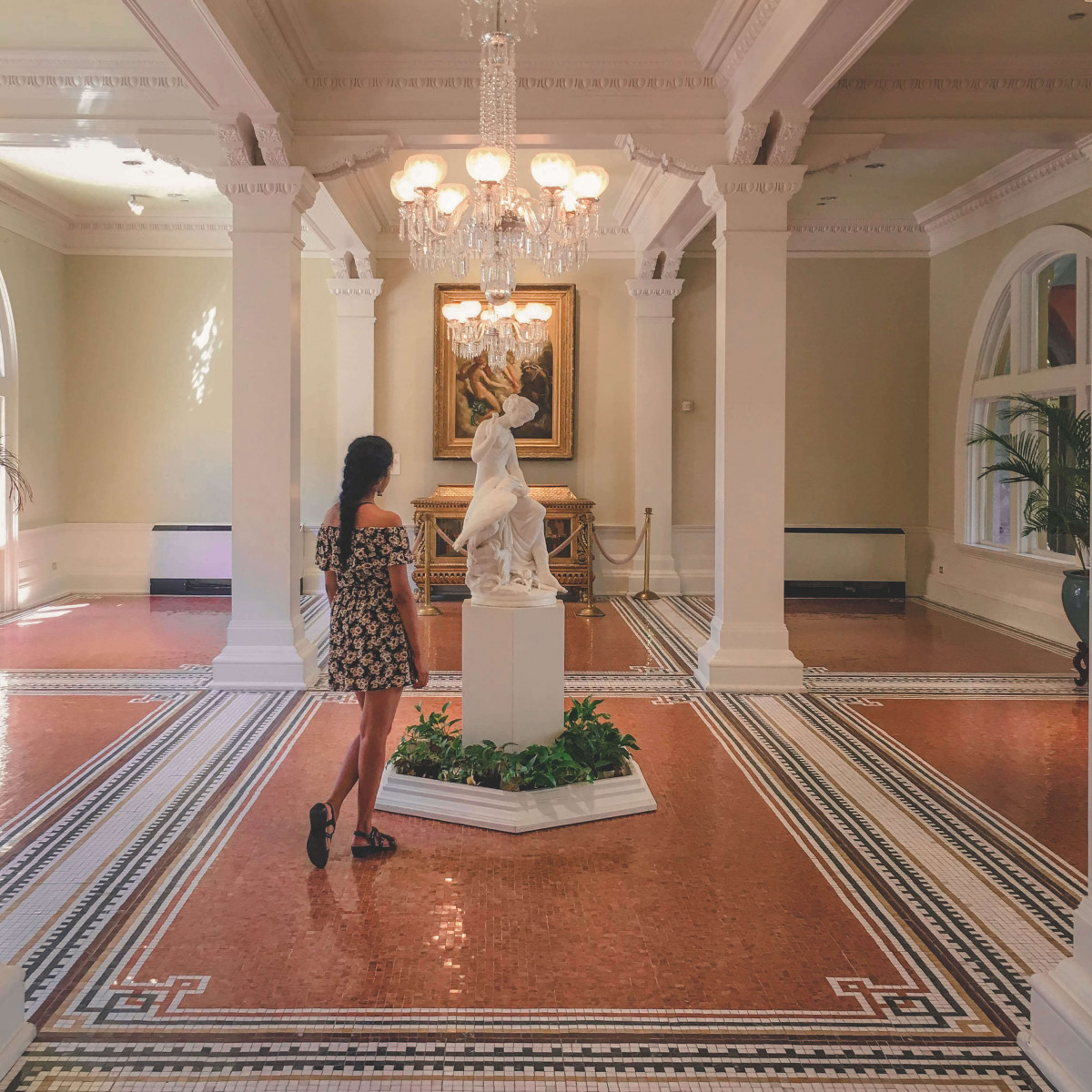 Villa Zorayda Museum
Another show of extravagance, Villa Zorayda, is just a two minute walk from the Lightner Museum. As a Gilded Age stop, Moorish in style, Villa Zorayda has similar undertones to Lightner, but beneath its elegant surface is a circus-like eccentricity.
This miniature replica of Alhambra was the 19th century winter home of Franklin Webster Smith. Today, it's a museum brimming with oddities. Inside Villa Zorayda, you'll find a sacred cat hair rug and unique chinoiserie. There's a Prayer Room and a Harem Room. It's completely bizarre and over-the-top.
For an added layer of depth, plug into the self-guided audio tour (bring your own headphones), which lasts around an hour.
P.S. If you're visiting closer to the holidays, Villa Zorayda holds a themed event around Christmastime (usually a candlelight tour).
Flagler College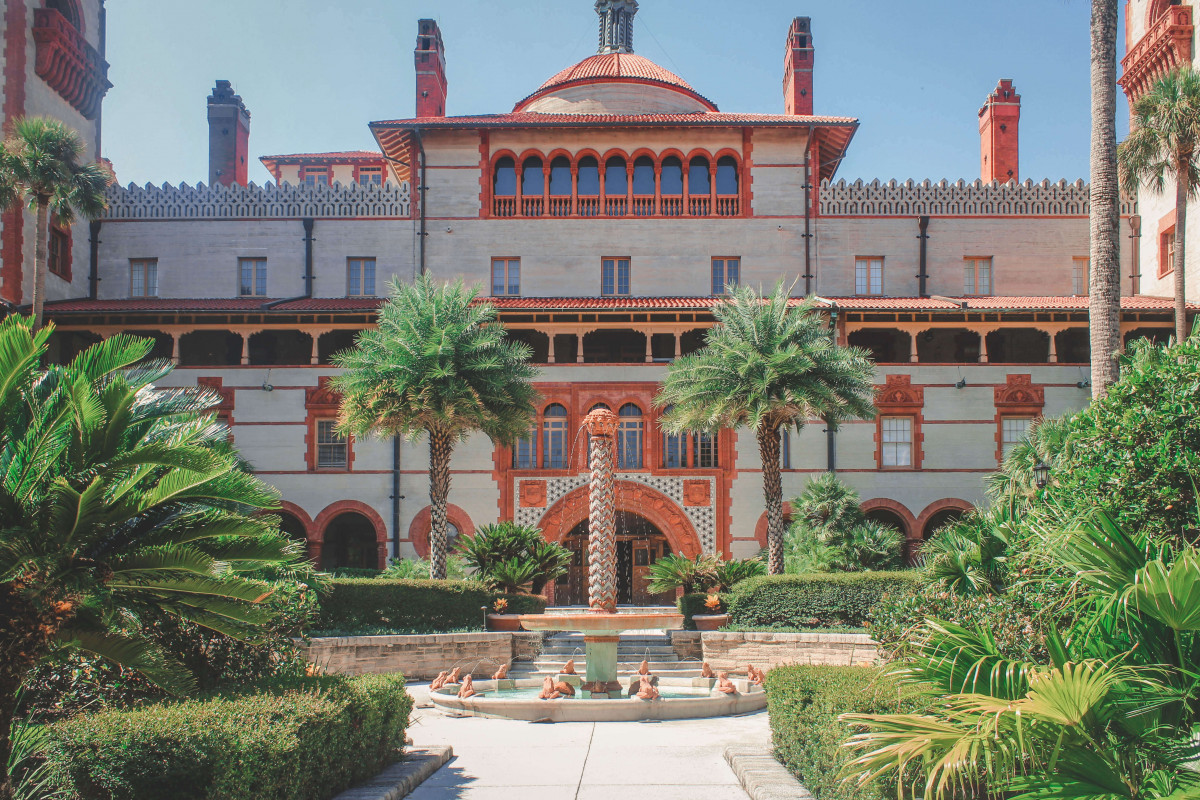 Across from Lightner Museum is Flagler College, a Spanish Renaissance style liberal arts university. Spread out over forty-plus acres are red-lipped buildings like Ponce De Leon Hall, Proctor Library, and Ringhaver Student Center.
And in between, you'll find courtyards, big strips of manicured landscapes, and a thriving palm garden. The interior of many Flagler buildings are warm-toned and old and grand. You can take a free self-guided tour of the campus, which was once a decked-out resort known as the Ponce De Leon Hotel.
The hotel dates back to the 80s. For a more exclusive look inside, opt for the guided tour, which unlocks access to Flagler's dining room, a hall lit up by 79 Tiffany stained glass windows.
Crisp-Ellert Art Museum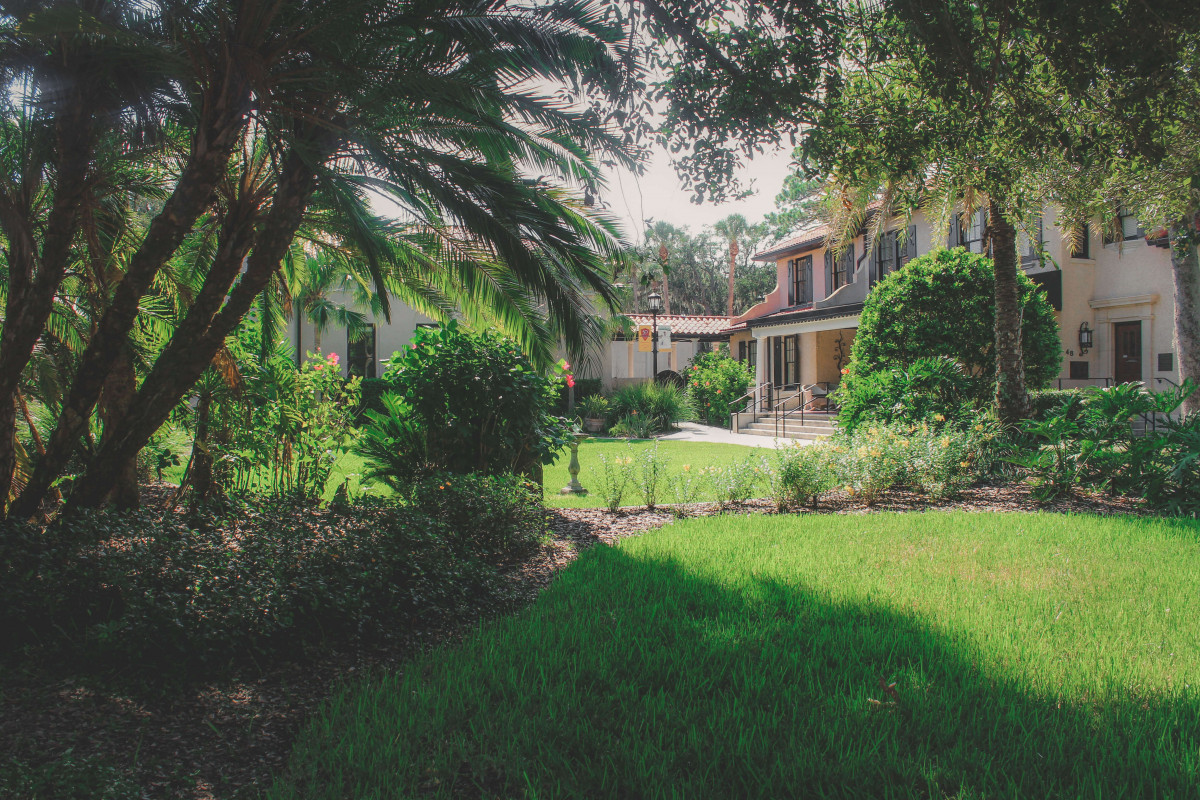 Also nestled within Flagler College is the Crisp-Ellert Art Museum, a free venue and unique gallery in St. Augustine. It's a small space, quick to circulate, featuring a rotating set of contemporary art.
The attraction takes half-an-hour to see, but it's one that you can visit and revisit each year for something old and something new.
The Llambias House Garden
We planned our next day in St. Augustine around quiet and quaint house-lined roads, starting with St. Francis Street.
Moss-draped Llambias House is faded and rustic. It's a creaky old spot known for its wooden balcony and fairytale gardens, which, today, serve as a popular wedding venue.
Unlike many other St. Augustine attractions, Llambias is not a museum that you can tour. Instead, it's a singular viewpoint sandwiched between Checchi House, a restored Sears catalog building, and St. Francis Park, a lush meditative nook.
Oldest House Museum Complex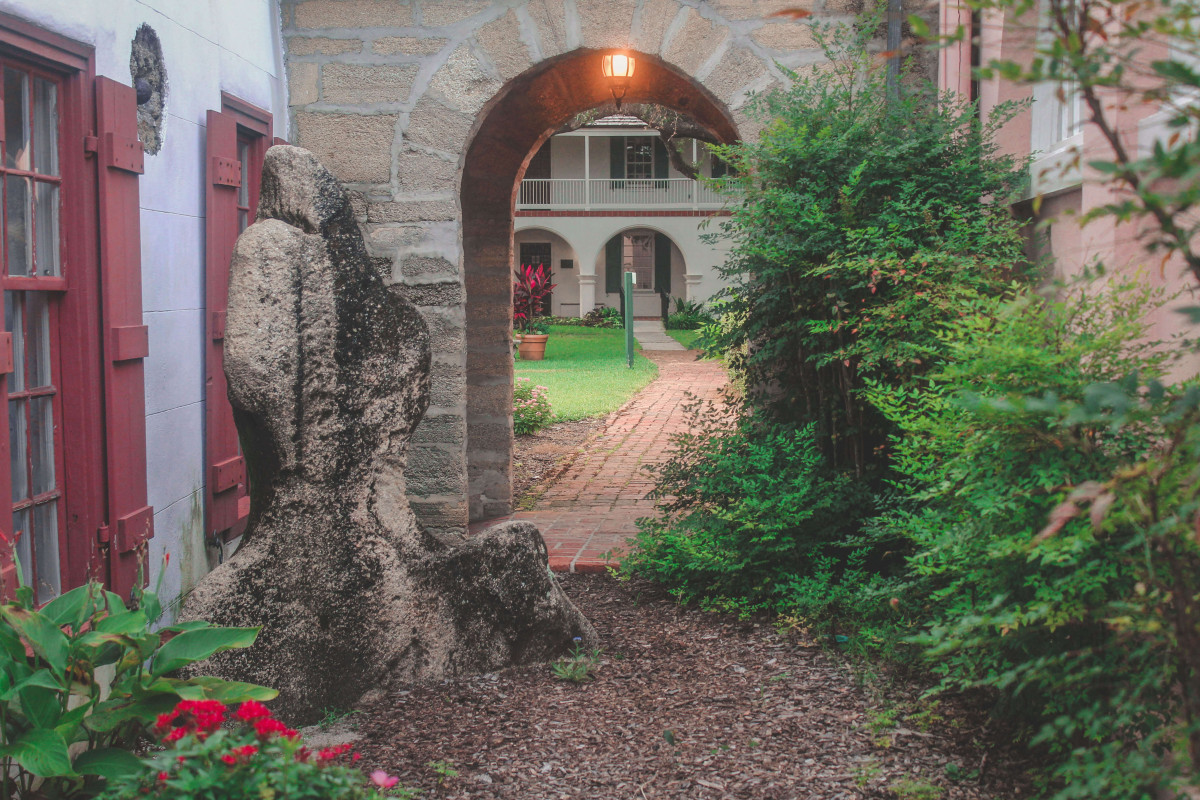 Like many of the city's oldest attractions, the Oldest House Complex, a three-part museum, is one of the most popular things to do in St. Augustine.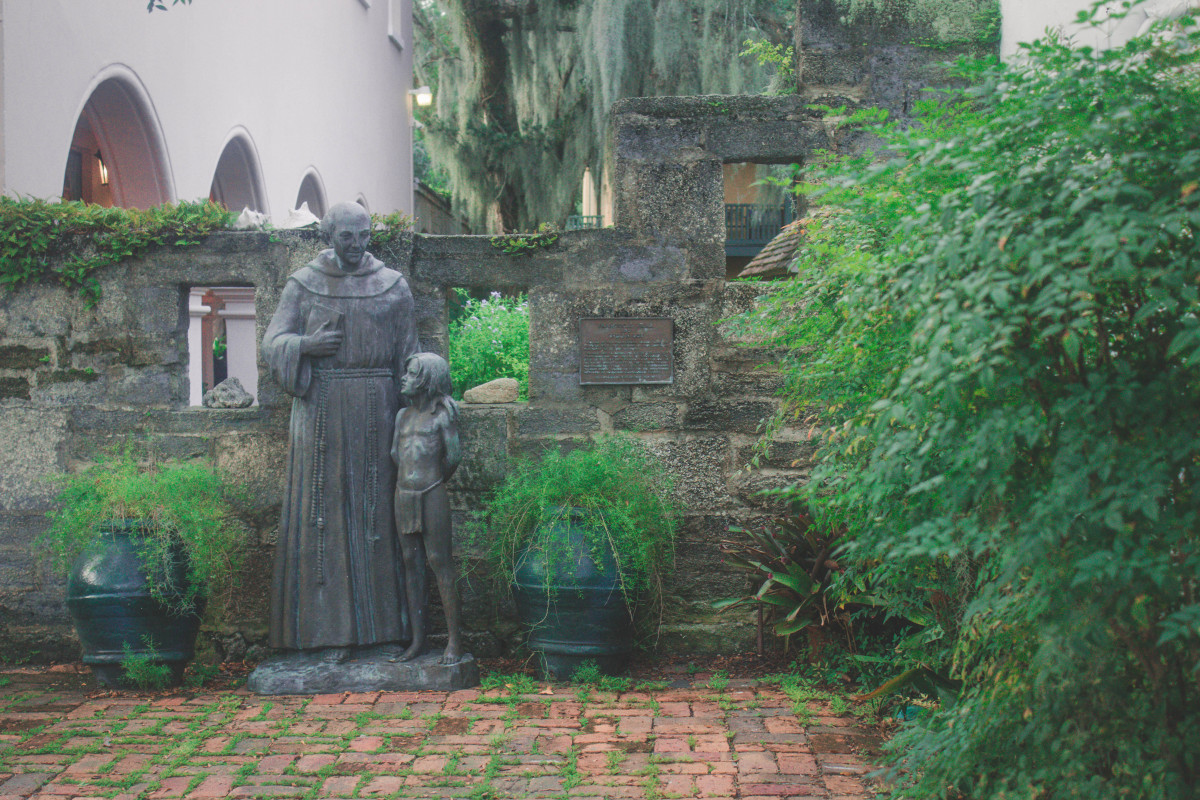 The furnished Gonzalez-Alvarez House can be viewed in just under 30-minutes. It's a unique building (part wood frame, part coquina) that has passed through the hands of many residents. Each owner has added their own mark, stamping time along the way. The guided tour snakes through the Spanish Colonial era. Pamphlet-driven self-guided tours are available too.
Saint Francis Barracks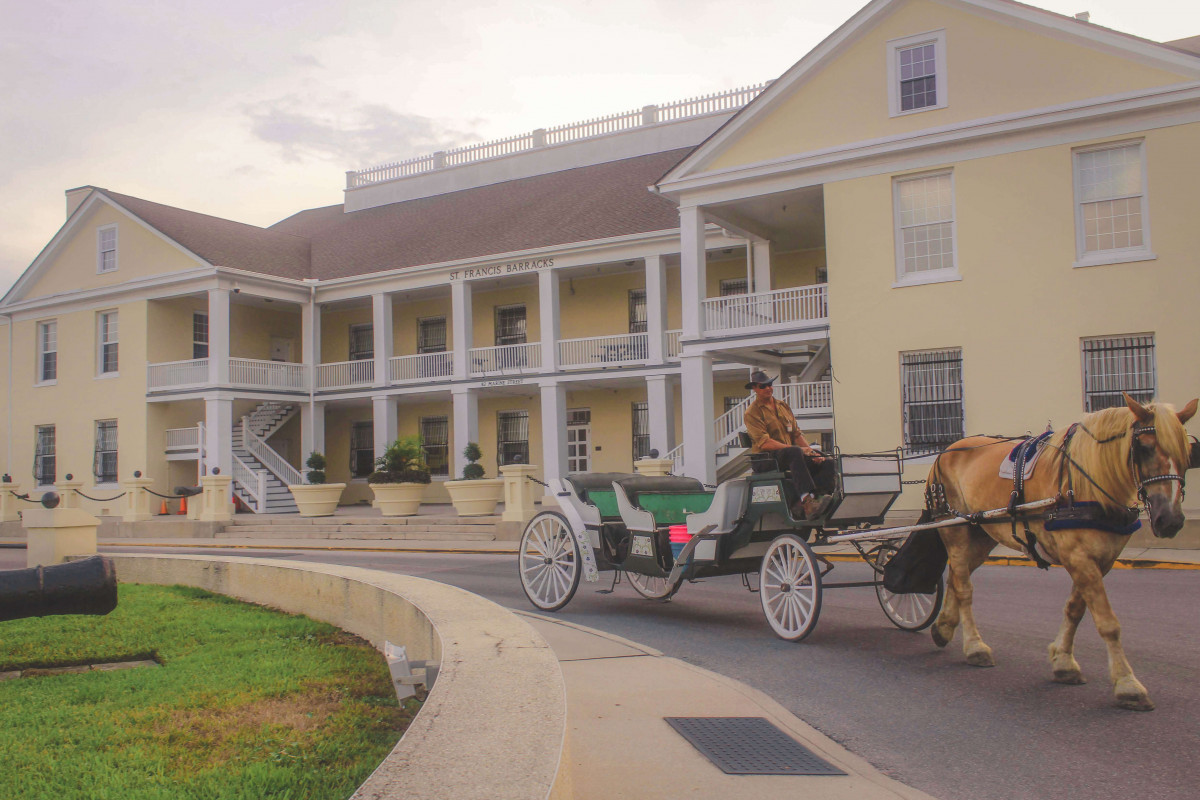 Further up St. Francis Street (officially on Marine St), where the Matanzas river winds draw me in, is St. Francis Barracks. Once built by friars of the Order of St. Francis, St. Francis Barracks is now home to the Florida National Guard Headquarters. Up the steps and behind a pale yellow facade is a small exhibit on military history in Florida (open by appointment only).
Right outside, the clip-clop of horse's feet and steady thump of trolley wheels feels peaceful. From here, I can see wisps of Matanzas Bay. We'll be back soon. But right now, we're about make a horseshoe-shaped drive five minutes deeper into the city – past St. Augustine National Cemetary, past Maria Sanchez Lake, past a church-lined avenue to Lincolnville Museum & Cultural Center.
Lincolnville Museum & Cultural Center
Situated in the Excelsior School Building, the first Black high school in Saint Johns County, Lincolnville Museum & Cultural Center hones in on the history of the African-American community in St. Augustine. You'll learn a lot within a short span of time, from the impact of African-Americans in the military to a bit about Ray Charles' schooling.
St. Augustine Distillery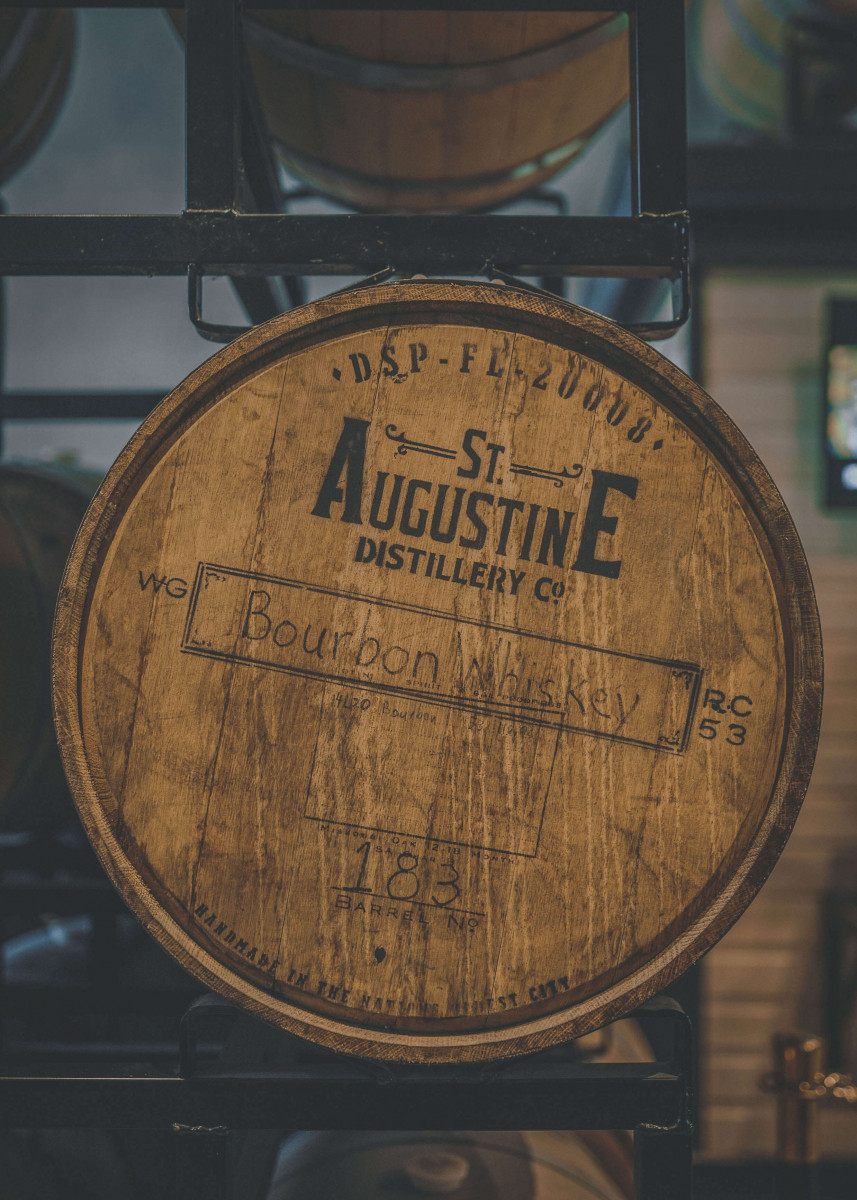 A few minutes further (I love how all the top attractions within St. Augustine are so close to each other) is St. Augustine Distillery.
It's the kind and friendly ambiance that makes a trip here one of the most welcoming things to do in St. Augustine. St. Augustine Distillery is all about hard liquors. Tours, which run every 30 minutes (no reservations required, just walk in) are free.
You'll see how an old 20th century ice plant became host to craft spirits. You'll take a first-hand look at the distillation experience. And as a boozy bonus, you get to sample a few cocktails. The samples (also free) are quite generous so you may leave little tipsy (especially if you have my alcohol tolerance or lack thereof).
English Landing Marina
Recently refurbished English Landing Marina offers hard-to-beat views of the San Sebastian River. Long picnic tables overlook the water. And under a small strip of an overhang, rich aromas waft through the air. Right off the deck is a set of local food trucks. Enjoy a quiet afternoon, grab a quick waterside bite, eat, and repeat.
St. George Street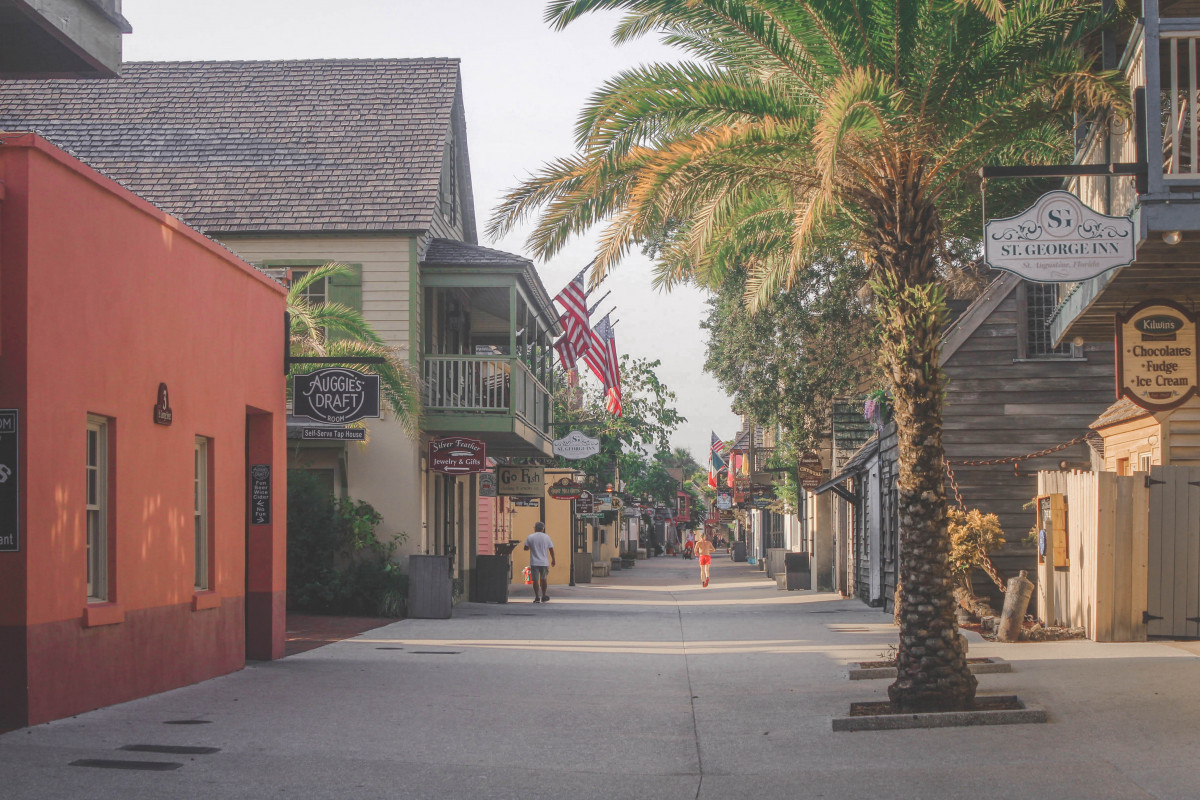 We spent every morning and every evening in St. Augustine exploring St. George Street. St. George Street, a picturesque walking path basking in old-world flair, is what draws crowds. Along the foot traffic friendly road (no cars or bicycles allowed in the main segment), you'll find late-night pubs and all-day ice-creameries; quirky museums and religious sanctuaries; souvenir shops and bauble-belted boutiques.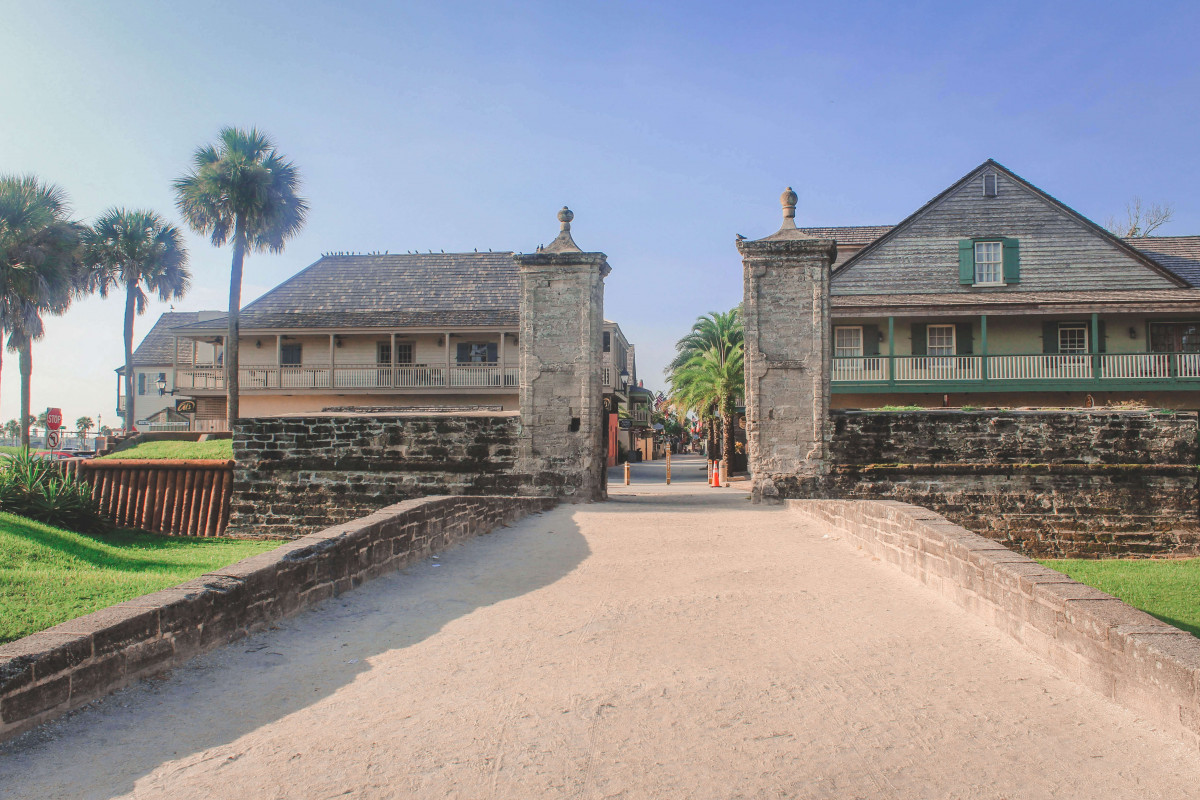 A quick stroll from Old City Gates to Cathedral Basilica St. Augustine clocks in at ten minutes. If you linger in the charm, get lost within the cobbled side streets, and pop into each pastel-signed museum and business, you'll stay long enough to see bright blue skies fade black.
Oldest Wooden Schoolhouse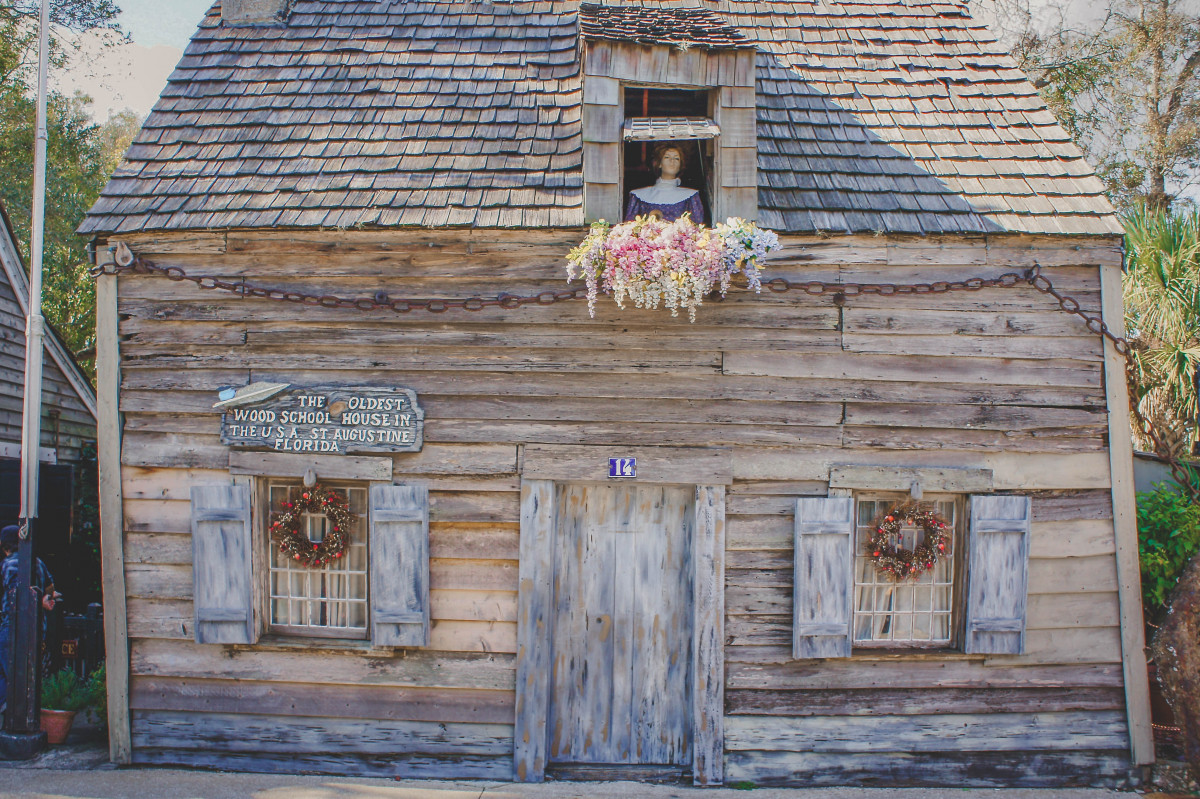 One of the first museums along St. George Street is the Oldest Wooden Schoolhouse. Having once been a tutor, I had to see this attraction for myself (even though I was told it was a tourist trap and probably not worth the cost).
The Oldest Wooden Schoolhouse is geared towards children (think kooky animatronic displays) and yes, it's cheesy beyond belief. But there were certain things I learned that I would have never expected: kids who misbehaved were put in an eerie 18th century dungeon, Juan Genoply (one of the houses early inhabitants) became the Oldest Wooden Schoolhouse's first schoolteacher, and the Minorcan Quarter (where the school resides) has its own story within St. Augustine's much larger epic.
Colonial Oak Music Park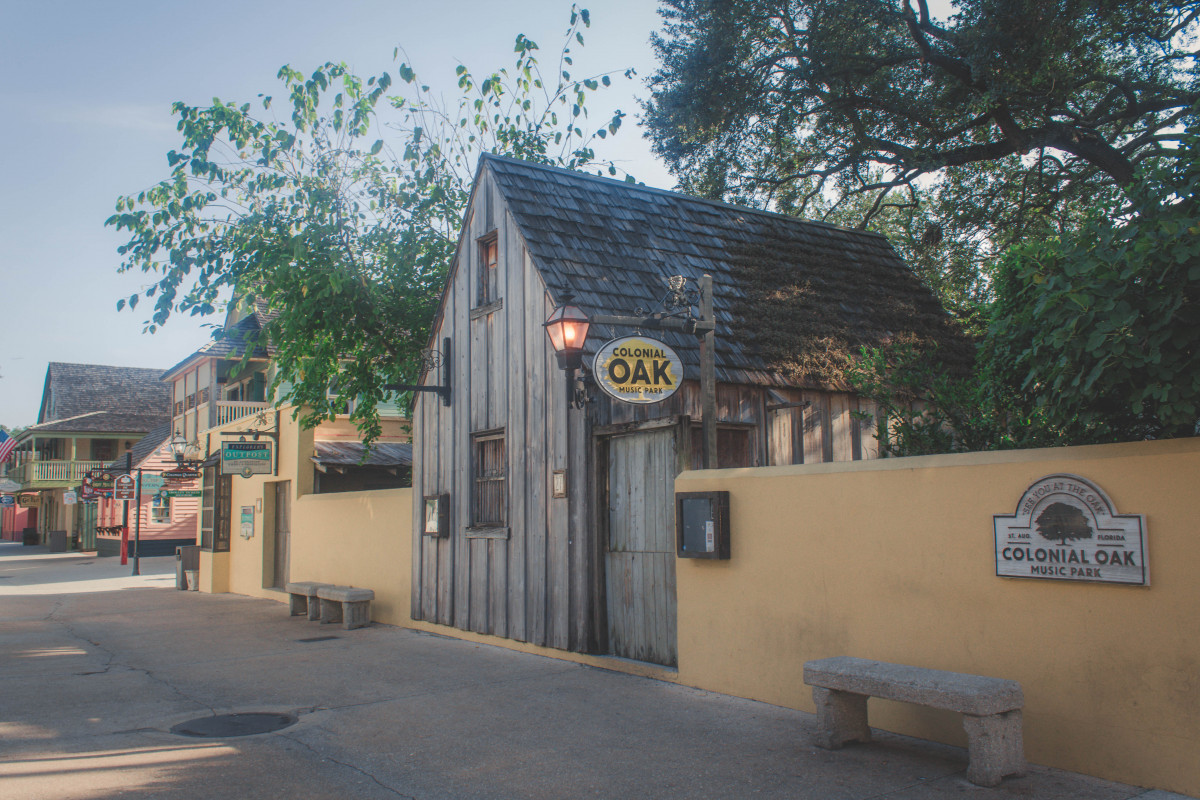 My feet always follow music. And soon after, I found myself dragging my family towards loud drum beats and louder guitar strums.
Catching a show at Colonial Oak Music Park is a summertime essential. Colonial Oak is a live music venue, rooted (quite literally) by a big oak tree. Lanterns hang from gnarling branches coated in green. Most of the benches sit shaded underneath.
P.S. Colonial Oak Music Park's Facebook Page provides more details about their afternoon and evening line-ups.
St. Augustine Pirate & Treasure Museum
Near Colonial Oak is the St. Augustine Pirate And Treasure Museum, a swashbuckling tour of the golden age of piracy. Myths. Legends. Fables. Truths.
With several interactive exhibits and a mini scavenger hunt, the St. Augustine Pirate And Treasure Museum is one of the best things to do in St. Augustine with kids. From pilfering to plundering, this stop along S Castillo Dr takes roughly an hour to see.
St. Photios Greek Orthodox National Shrine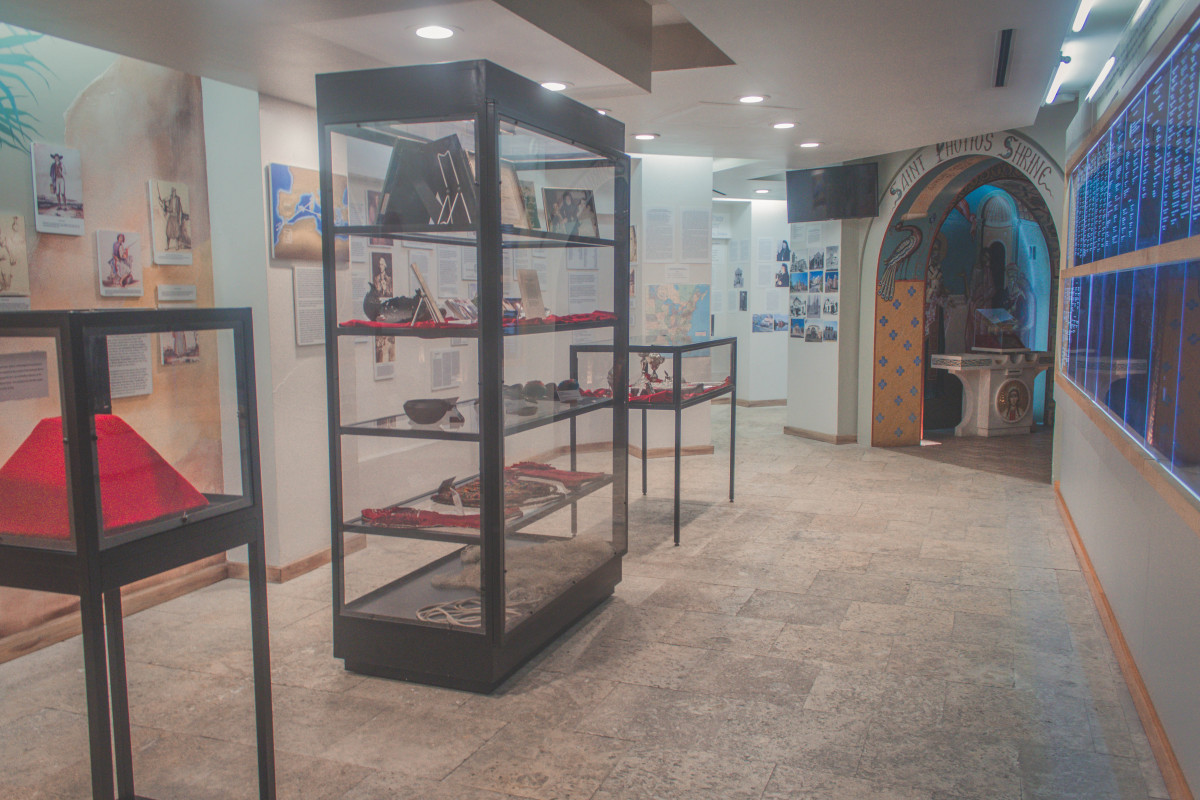 We stumbled upon St. Photios Greek Orthodox National Shrine by accident. My hair was beginning to look like a poodle (I blame Florida's humidity) so I started looking for another place along St. George Street to duck into.
My mum and I entered a small courtyard leading up to a smaller building. Inside, to our surprise, was a free museum (this museum, filled with text-heavy displays, turned out to be one of our favorite things to do in St. Augustine).
St. Photios Greek Orthodox National Shrine shares information about the first Greek colony in America. It's for history buffs and museum lovers. There isn't much beyond the text. But if you aren't familiar with Greek Orthodoxy (I wasn't at all. This was my first time in a Greek Orthodox Church), you'll learn so much. I felt like I was walking through a textbook laid out on white walls.
Colonial Quarter
A two-acre living history museum, Colonial Quarter is fully immersive. The guides don period costumes. There's a slew of demonstrations.
A patchwork quilt of centuries, this little town replica features a 16th century ship, a blacksmith shop, a leatherwork shop, and a print shop. After a rushed guided tour that pinpoints the highlights (I do wish it was longer), you're left to explore a few remaining spots on your own: the watchtower, the pub, the gift shop.
Peña-Peck House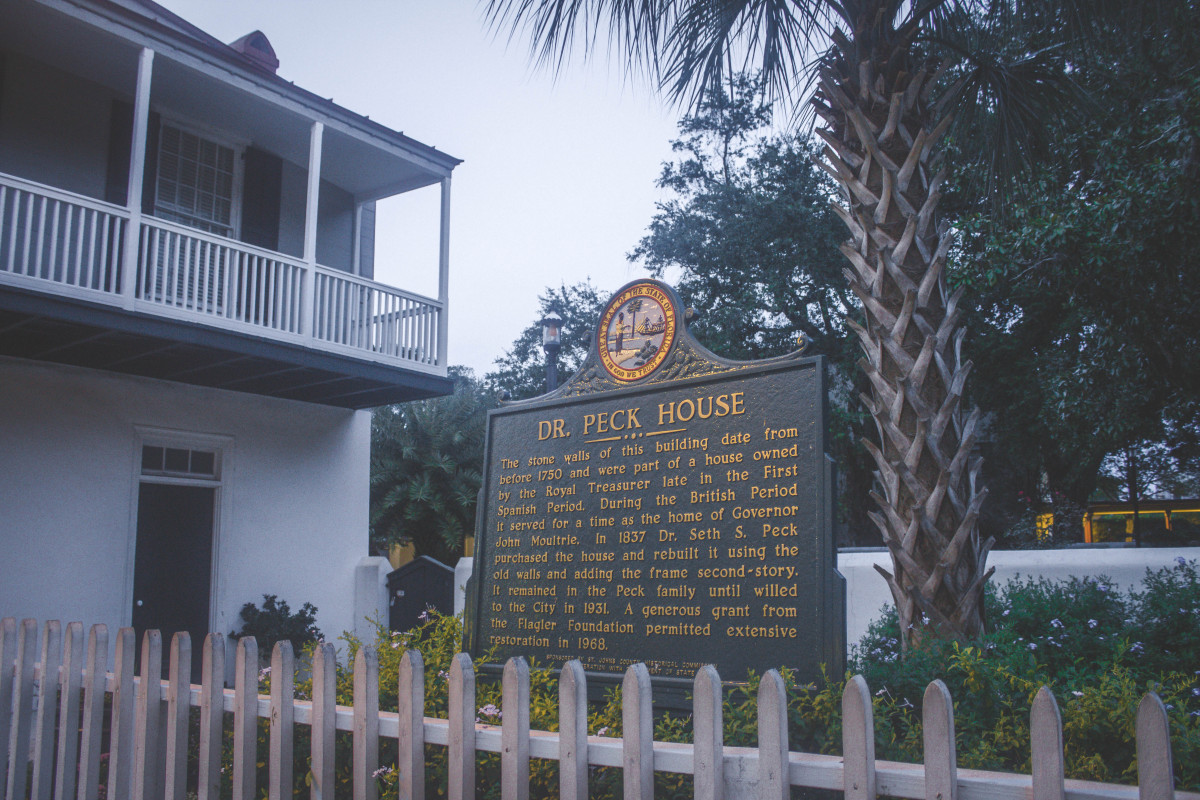 Run by The Women's Exchange (a non-profit focused on helping women above 30 go back to college), Peña-Peck House is one of the best museums in St. Augustine.
Constructed in 1750 for Juan Estevan de Peña (a royal Spanish treasurer), Peña-Peck House has fallen through the hands of many owners since. Today, you'll be led on a guided tour of the house, from the coquina-built downstairs to the upstairs, styled in antique furnishings. There's also a tidy art collection that I loved getting a chance to see.
Cathedral Basilica St. Augustine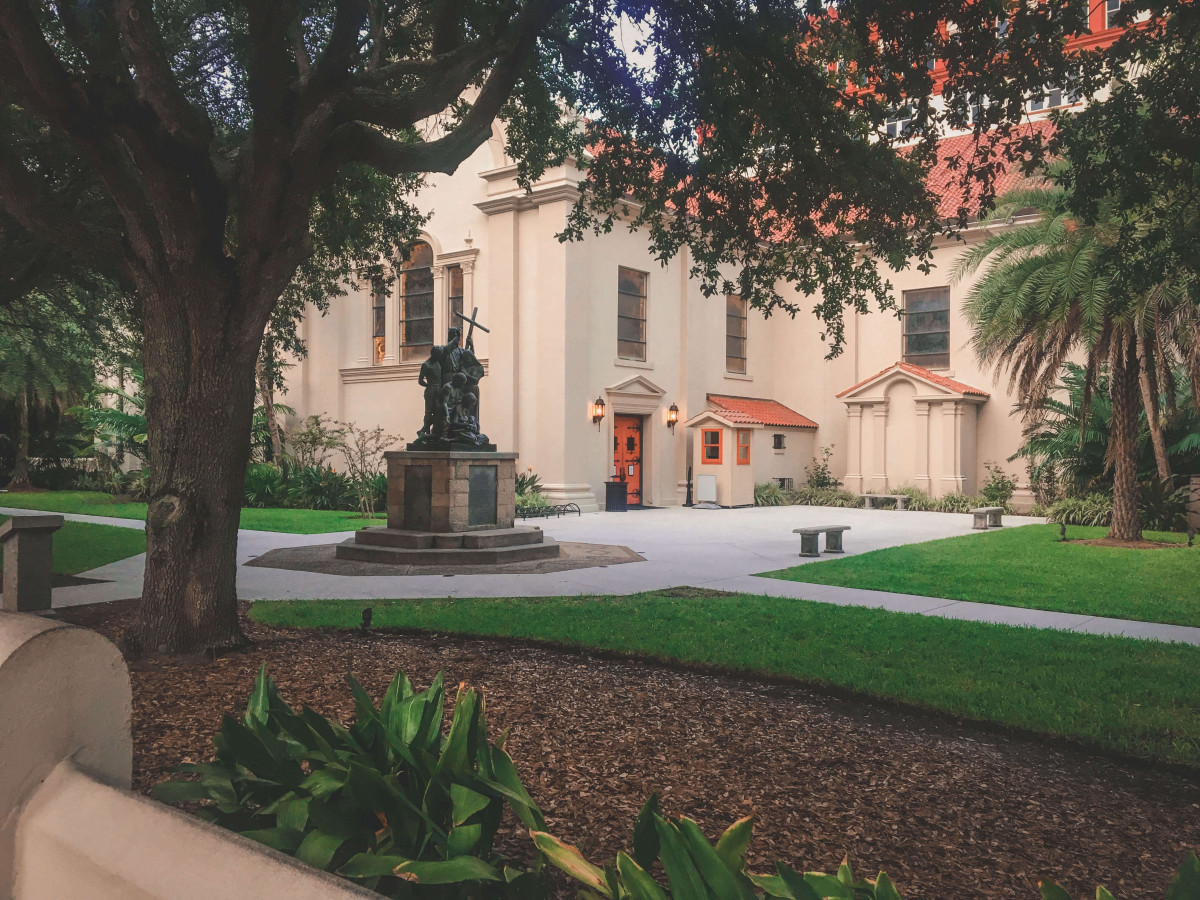 The oldest Catholic church in St. Augustine, Cathedral Basilica Of St. Augustine, with its stained glass windows and intricate murals, is a surprisingly quick stop.
Old and well-maintained, it's a large building – one of the most recognizable in St. Augustine. If you can, visit during the late morning hours.
Governor's House Cultural Center
Few places in St. Augustine mention Native Americans as part of the historic narrative of the city. Usually, you hear that Pedro Menéndez built this town. But the Governor's House Cultural Center is one of the few museums willing to flesh out more details.
Home to a multitude of government offices since the late 16th century, the Governor's House Cultural Center is a historic stop unto itself. If I had to narrow down this list to ten things to do in St. Augustine, this museum would be right there at the top.
Walk inside and you'll find a small half-floor exhibit by the lobby. Although only a few rooms long, the Governor's House Cultural Center And Museum easily provides one of the best overviews of St. Augustine, from then to now. This tiny space weaves together the city's early days and doesn't skimp out on lesser-known tales.
Spanish Military Hospital Museum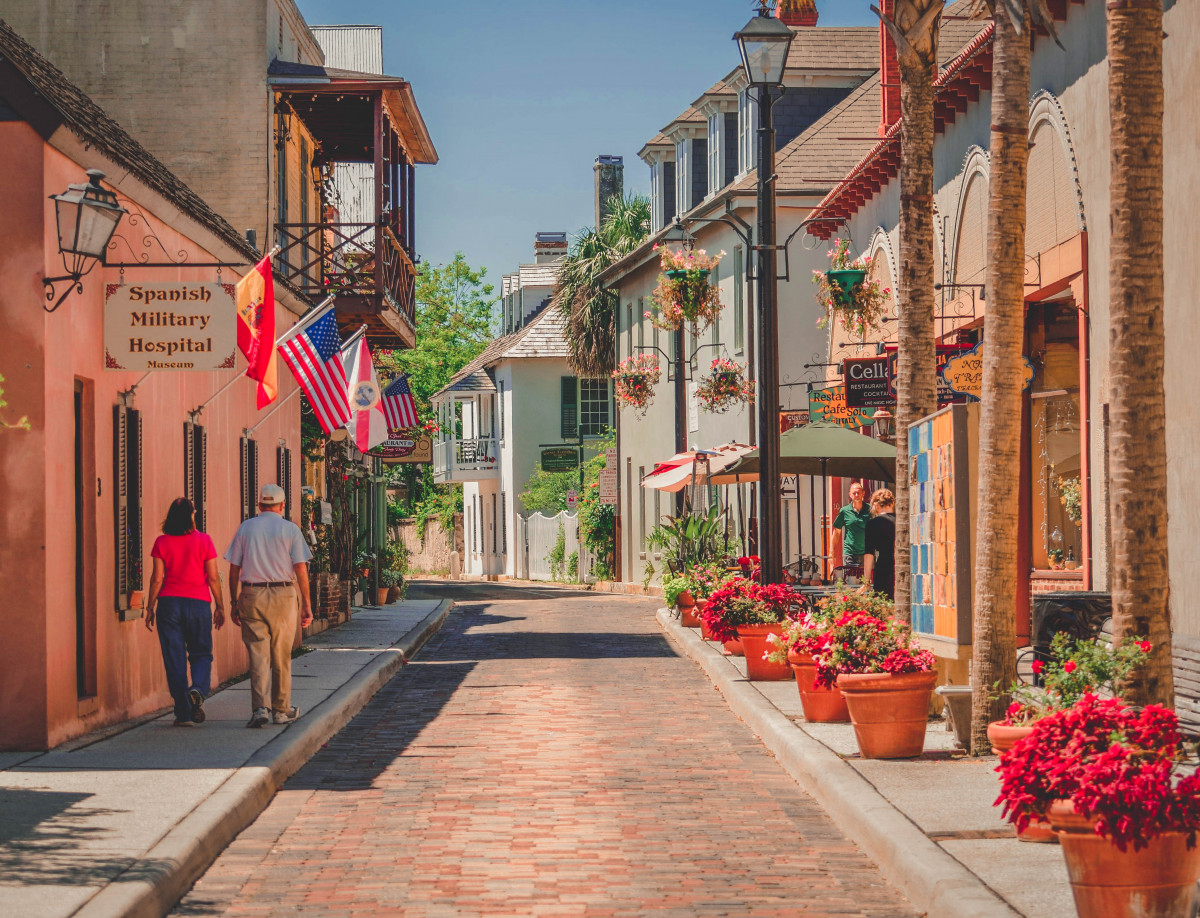 A niche museum hand-in-hand with a 40-minute fully guided tour, the Spanish Military Hospital Museum is one of the most unique attractions in St. Augustine. You'll see an amputation demonstration (no blood) and an herb garden. Although the descriptions are a little graphic (not for the squeamish), I highly recommend it!
Aviles Street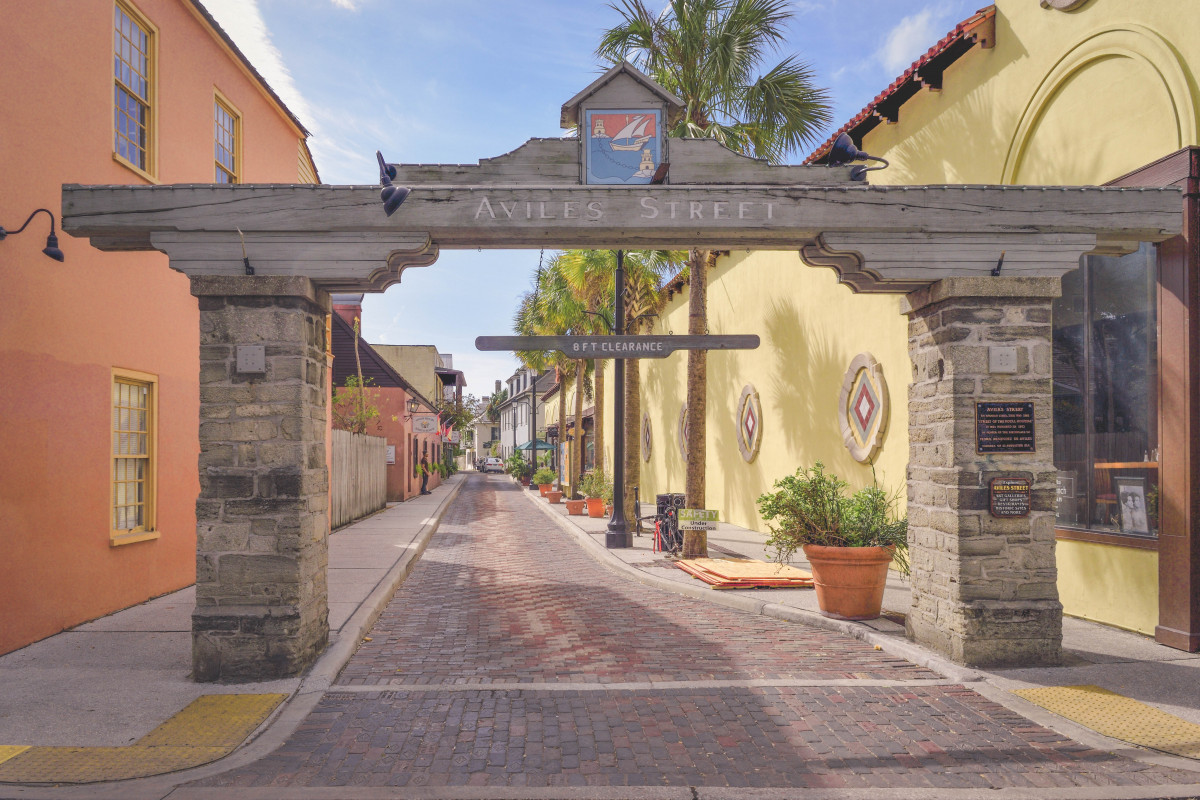 If St. George Street is picturesque, Aviles Street is postcard-pretty.
Aviles is one of the oldest streets in the nation. Under a dark brick pavement lie tales dating back to the 17th century. Today, a handful of museums also trace its sidewalks.
If you can, visit on the first Friday of a month. This is when St. Augustine's Art Walk, an open house of twenty-plus galleries, takes place. Beginning at 5 PM and cooling off at 9 PM, St. Augustine's Art Walk is an evening event coupled with refreshments and live entertainment.
Ximenez-Fatio House Museum
On 20 Aviles Street is Ximenez-Fatio House. What started out as a Spanish merchant's home eventually evolved into a bustling, female-operated boarding house (now a museum). Each room tucks in a different story. And you can stroll the floors at your own pace (there's staff on-site to answer any questions). Guided tours are available too.
If you love escape rooms and cozy mysteries, consider Heist At The Museum, a Ximenez-Fatio House weekend event with a unique premise: a rare 17th century cross has been stolen and is now hidden in one of nine rooms. It's a live board game with a whodunnit element (think Clue with a historic St. Augustine twist).
Father Miguel O'Reilly House Museum
A smaller, off-the-beaten-path attraction in St. Augustine, Father Miguel O'Reilly House Museum is a hidden gem. Run by the Sisters of St. Joseph, the house is introduced through a short video and a few artifacts.
The museum spans six rooms and a garden, and the history detailed inside is partially about the Sisters themselves (so they are more-than-willing to answer any questions).
Trolley Tour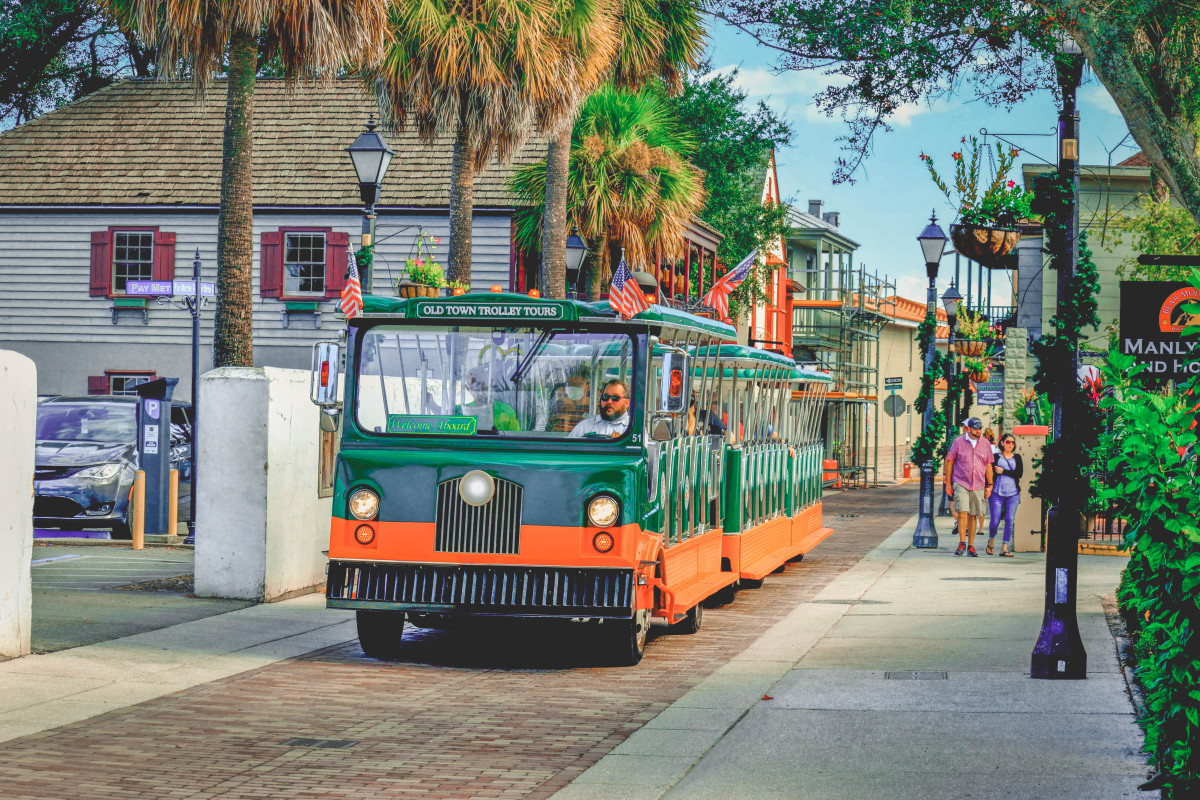 The first time we saw a St. Augustine trolley, we wondered if we should ditch our car and use a hop-on-and-hop-off pass.
"Should we grab tickets?" my dad asked. He unfolded a map highlighting each Old Town Trolley Welcome Center stop.
I shook my head. Long drives win for me. But I have to admit that the trolleys in St. Augustine look so cute, it's hard not to fall in love with them – an orange rim, green sides, little American flags sticking out here-and-there.
The St. Augustine Trolley Tour is one of the best ways to soak in the city. Get a hop-on-and-hop-off pass. The pass allows easy access to all the top attractions in St. Augustine (aka half this list).
Ride the trolley all the way through first. Take in the narration. Get a feel for each of the stops. On the second round, stop at any location of interest.
Castillo De San Marcos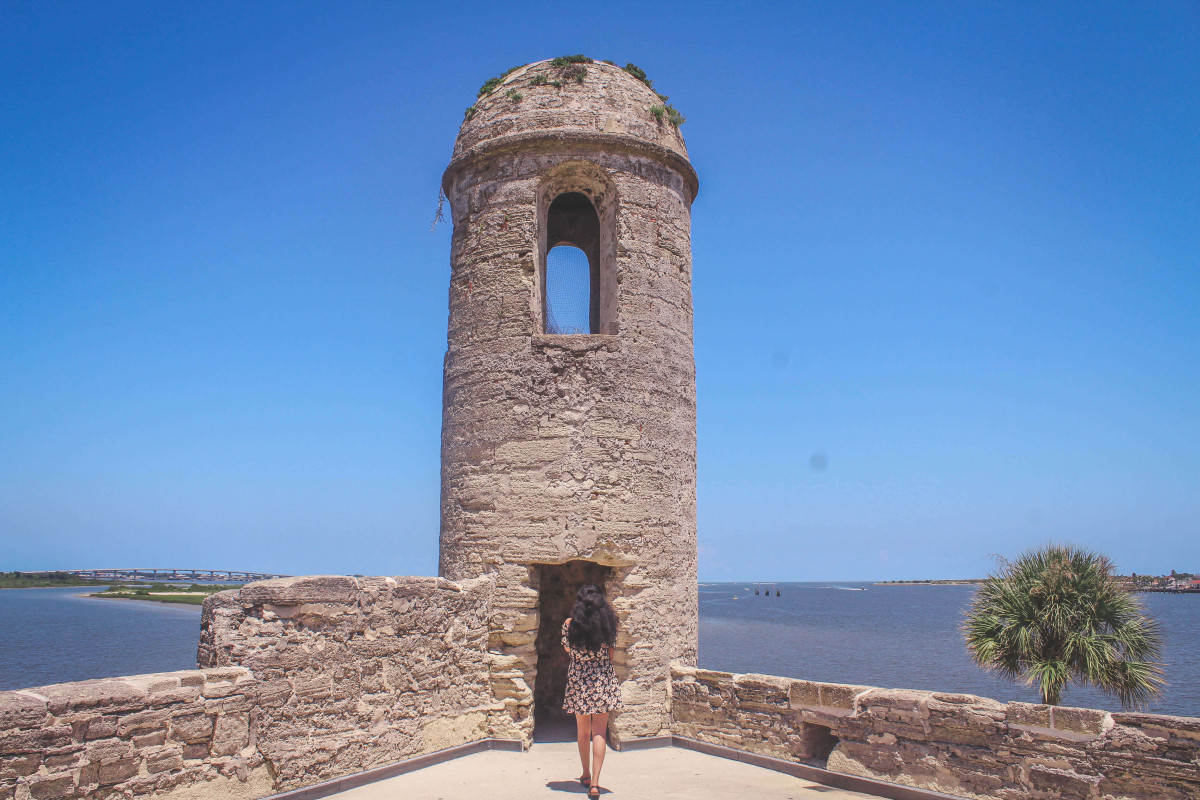 Castillo De San Marcos was hands-down one of my favorite attractions in St. Augustine. It's a National Monument – the oldest masonry fort in the United States.
I loved being able to feel a sense of history. And the views from the top of the fort were stunning to boot. I sat on one of the benches, overlooking the coastline, for hours, watching the waves lap in the distance. It was incredibly relaxing. I would 100% visit again (highly recommend if you have a National Park Pass).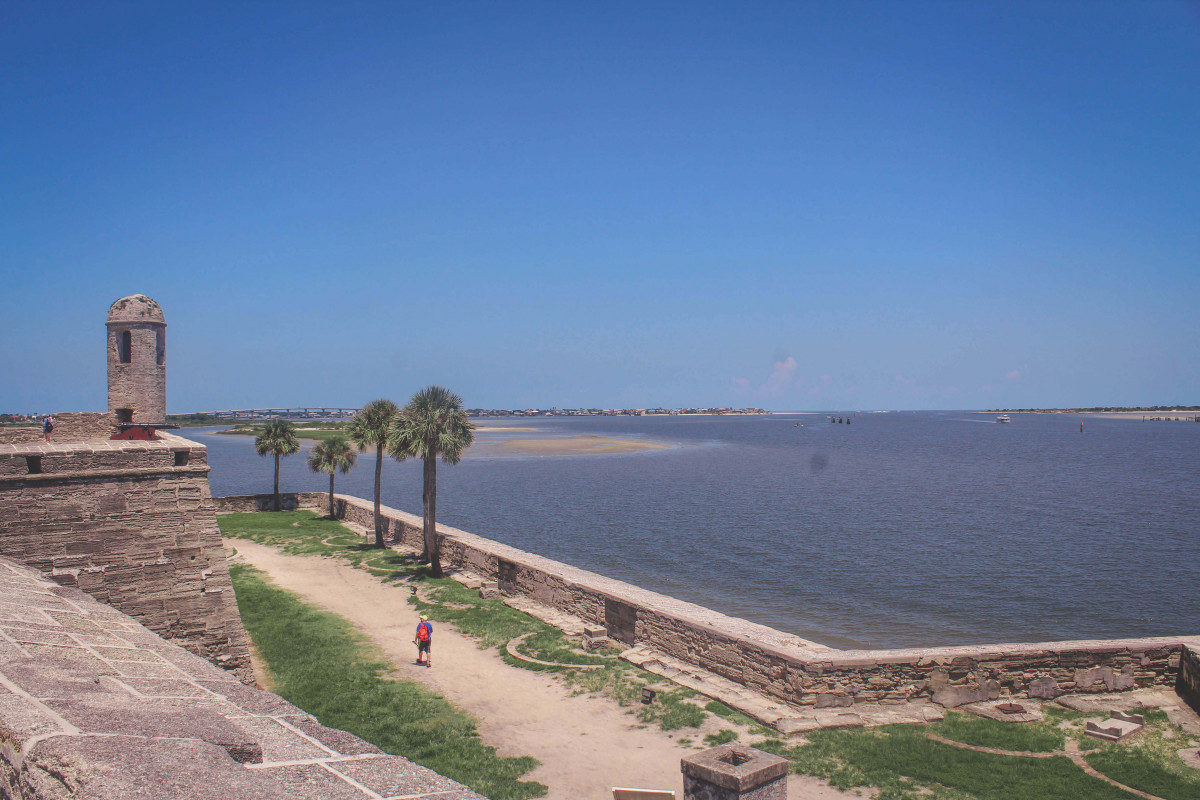 Fort Matanzas
Another old but often overlooked fort in St. Augustine is Fort Matanzas. The story of this site starts with the founder of St. Augustine, Pedro Menéndez de Aviles, who slaughtered over 200 French Huguenots, giving Fort Matanzas its name – slaughter.
The history of the fort is fascinating. It's an easy half-day trip so if you're looking for a free alternative to Castillo De San Marcos (or want to visit both), stop by here during your St. Augustine getaway.
Like Castillo de San Marcos, Fort Matanzas is built from coquina. But the story that follows both structures is different. This underrated attraction is just a short ferry ride away from St.Augustine (you can pick up a completely free pass from the Fort Matanzas Visitor Center). But note that the fort is sometimes closed due to weather (check here to see if it's open).
St. Augustine Seawall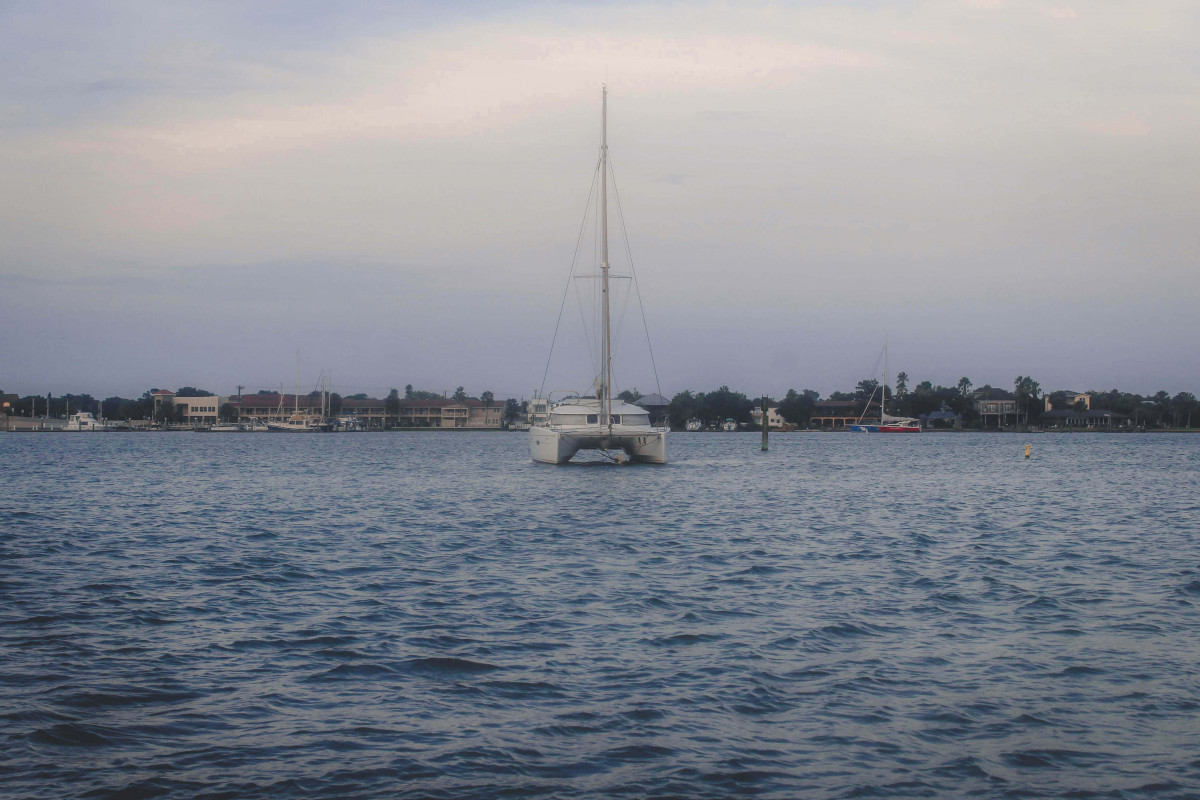 From Castillo De San Marcos to the corner of Avenida Menendez Street lies a big sidewalk bordering Matanzas River. This mile-long promenade is one of the best places to catch a sunrise (or sunset) in St. Augustine. You'll see yachts and small ships splicing rough waters.
And as you walk further along, you'll notice St. Augustine's Seawall, a protective barrier partially dating back to the 19th century. The old seawall extends from King Street to St. Francis Barracks.
Bridge Of Lions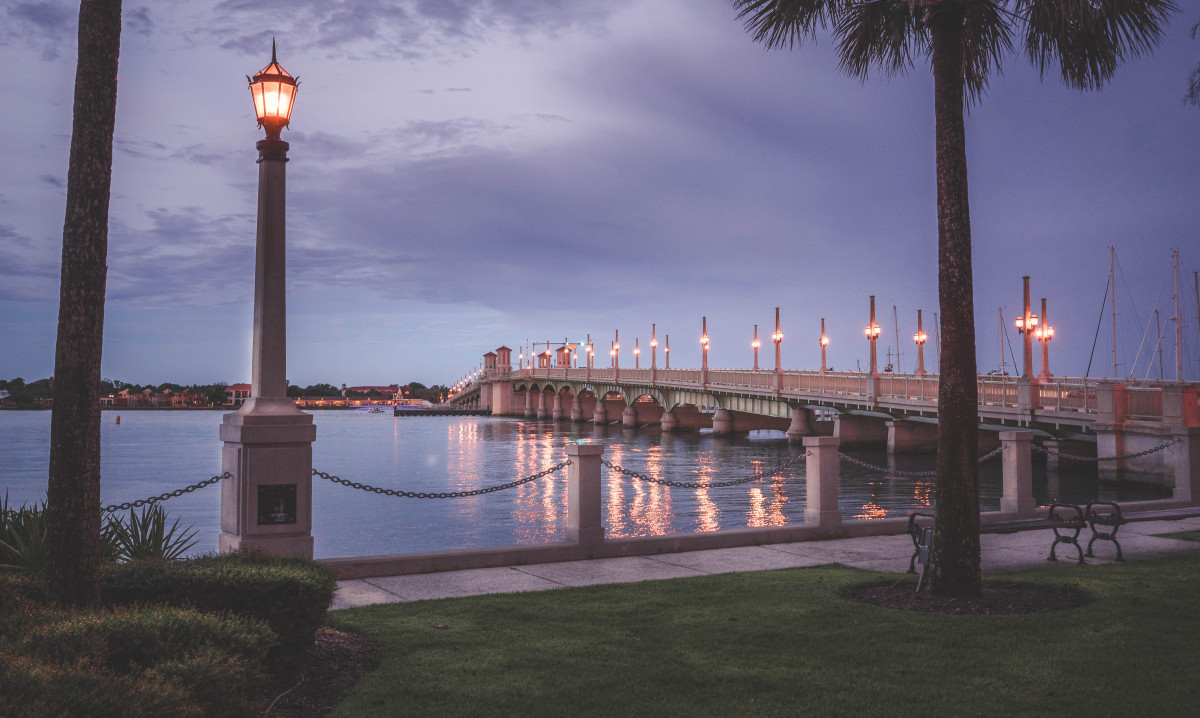 I remember sitting across from the Bridge Of Lions one day, feeling completely overwhelmed that a city could look so beautiful. My partner and I had found a bench facing the water. The sun had gone down. The skies were fading black. Lanterns illuminated the night.
From our little spot, we could see the Bridge Of Lions, a 20th century drawbridge guarded by two marble lions. It gets congested during the day, but at night, under the glow of soft lights, Bridge Of Lions fuses to St. Augustine's romantic waterfront charm.
Ponce de Leon's Fountain of Youth Archaeological Park
Ponce de Leon's Fountain of Youth Archaeological Park is one of the best known things to do in St. Augustine. You can drink from an "eternal" spring, visit a navigator's planetarium, and mingle with the peacocks roaming about.
In a lot of ways, Ponce De Leon's Fountain Of Youth Archaeological Park is representative of many of St. Augustine's top museums. There's history (real history) and stubborn myths at play. And quite dangerously, both are presented as hard facts.
St. Augustine's a city of stories, stories of past that are still clung onto. Not all stories are true. The biggest lesson I learned in St. Augustine? Fact-check everything.
Mission Nombre De Dios Museum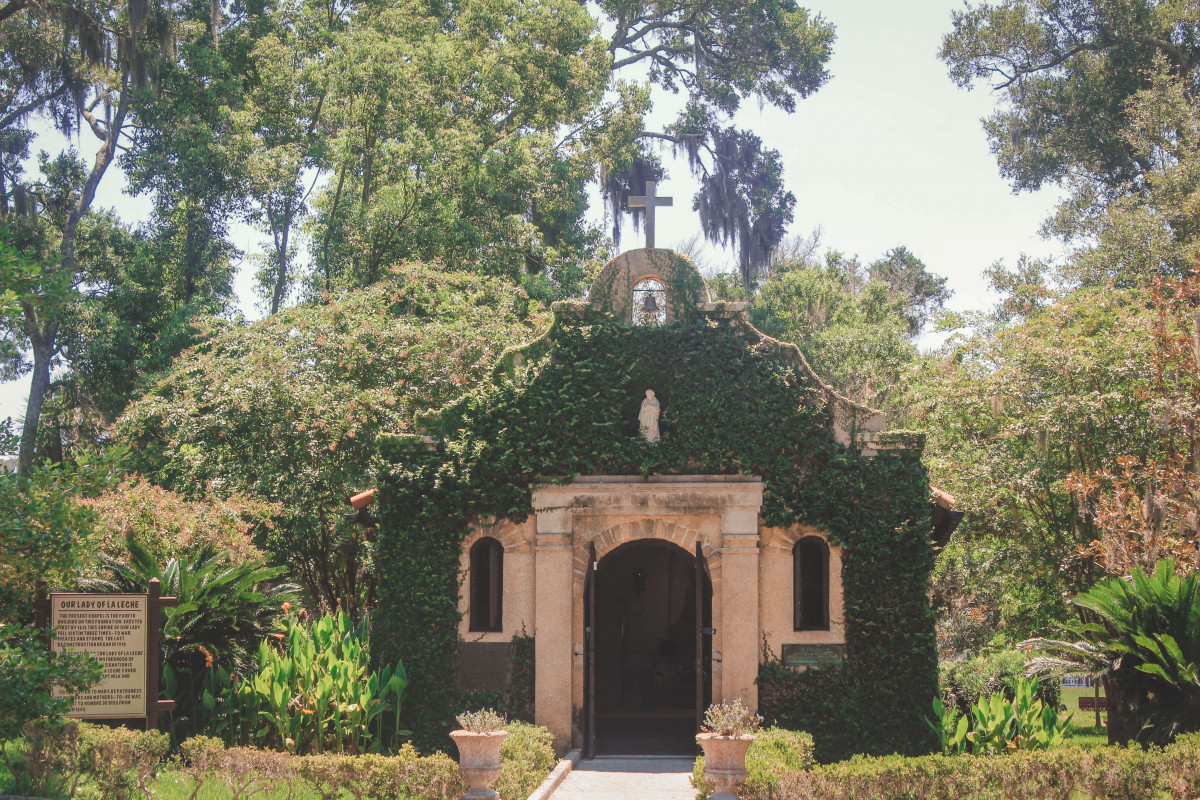 Known for Our Shrine Of La Lady De Leche (the exterior of this chapel is so pretty), Mission Nombre De Dios is a small museum in St. Augustine. It's a place that contains over 450 years of history.
The origins of this site trace back to the mid-1500s when Father Lopez became the first parish priest in St. Augustine. There's a mini-museum on-site. And located within the gardens is one of the most popular free things to do in St.Augustine.
Oldest Store Museum Experience
A trip to the Oldest Store Museum is highly dependent on your tour guide (they make or break the visit). Although the experience is a little kitschy, I thought the concept to be quite fun. Your tour guide plays the part of a store owner from the 19th century (from the speech to the outfits).
Inside, you'll find cabinets filled to the brim with old medicine bottles and outrageous knick-knacks.
Whetstone Chocolate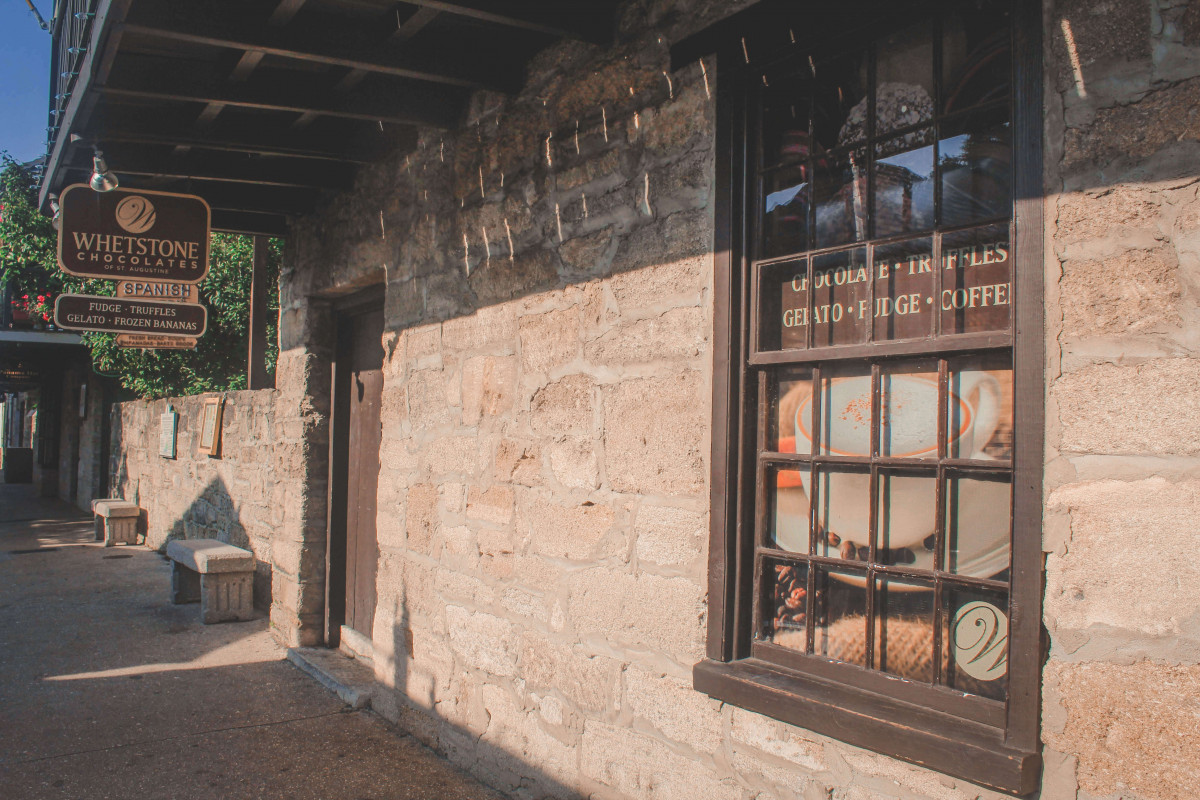 One of the sweetest (pun 100% intended) things to do in St. Augustine is a visit to Whetstone Chocolate. What started out as an ice-creamery in the mid 20th century now carries on a tradition of producing delicious desserts.
It's a tour designed for chocolate lovers. Led by chocolatiers, Whetstone's mini-tour moves through a small factory. There's a four-tiered tasting too: milk chocolate, dark chocolate, cocoa nibs.
Old Jail Museum
Drive past the Old Jail Museum and at first (or second or third) glance you won't believe this building once held criminals. The Old Jail Museum looks like a Victorian house plucked straight out of a movie. And the design is 100% intentional.
In an almost living-history museum-style setting, visitors take an in-depth look at St. Augustine's penal system. The tour is slightly touristy but entertaining all the same.
Memorial Presbyterian Church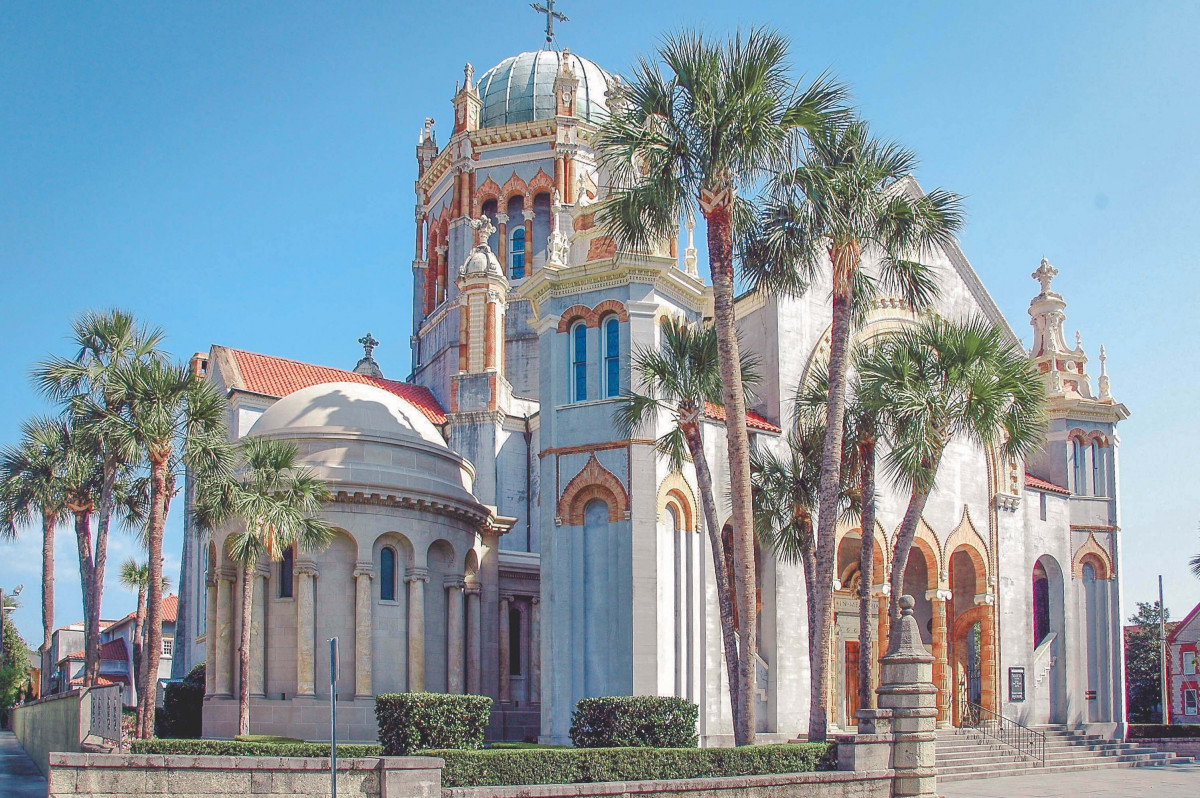 Memorial Presbyterian Church is the final resting place of Henry Flagler. This Renaissance-style church was built by the industrialist titan himself (Flagler's name is practically synonymous with St.Augustine).
Gold and white terracotta. Deep mahogany pews. While it's not officially a St.Augustine museum, it feels like one. And there are usually docents willing to give a detailed historic tour.
Anastasia Island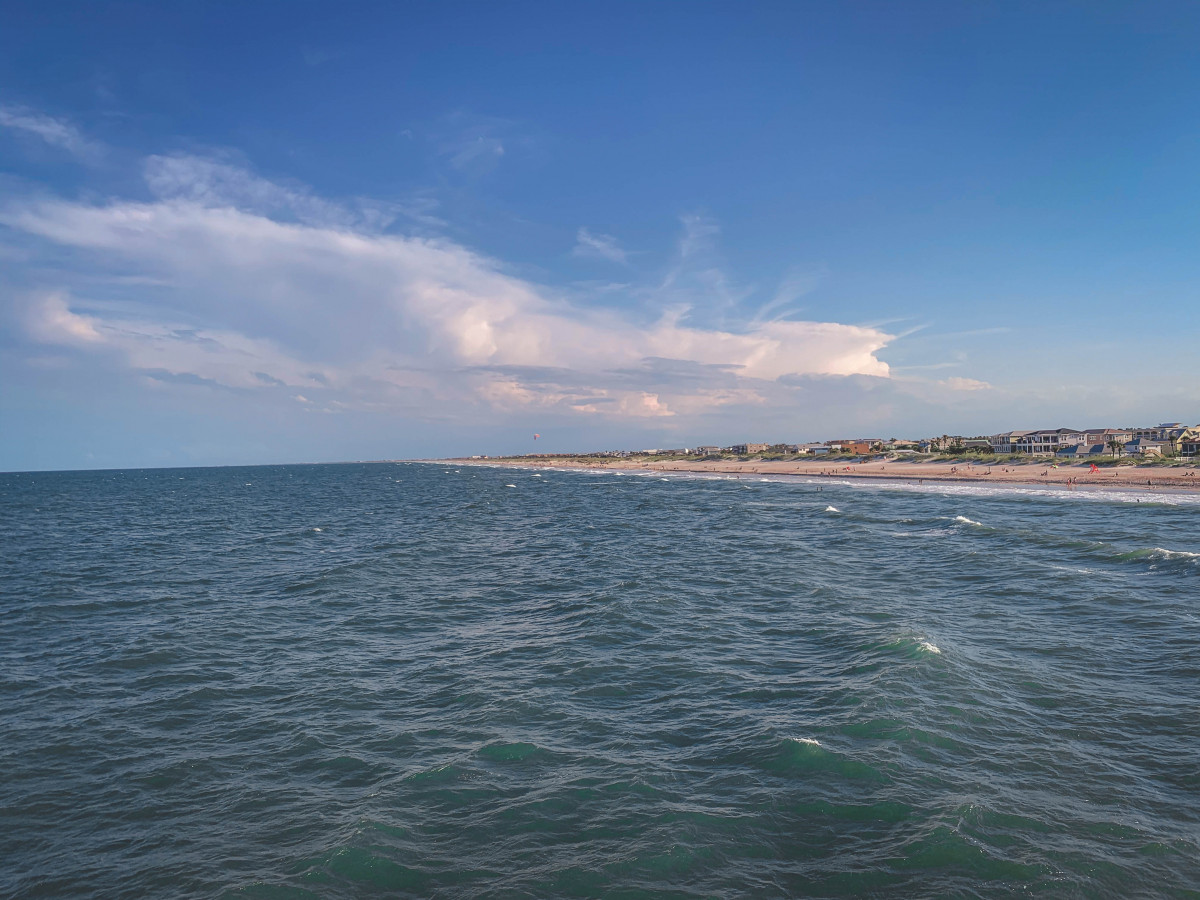 East of St. Augustine is Anastasia Island, one of the most beautiful spots along the Atlantic coast. If you're planning on booking a beach condo or a guesthouse (on Airbnb), I highly recommend staying here.
Start your trip at Anastasia Island State Park, 1600 acres of pristine beaches and clean trails. Loop around Ancient Dunes, a short, shaded seventh-of-a-mile hike (here's how to get there). Visit the Spanish Coquina Quarries. Then, go bird-watching (keep a lookout for herons and spoonbills).
St. Augustine Lighthouse & Maritime Museum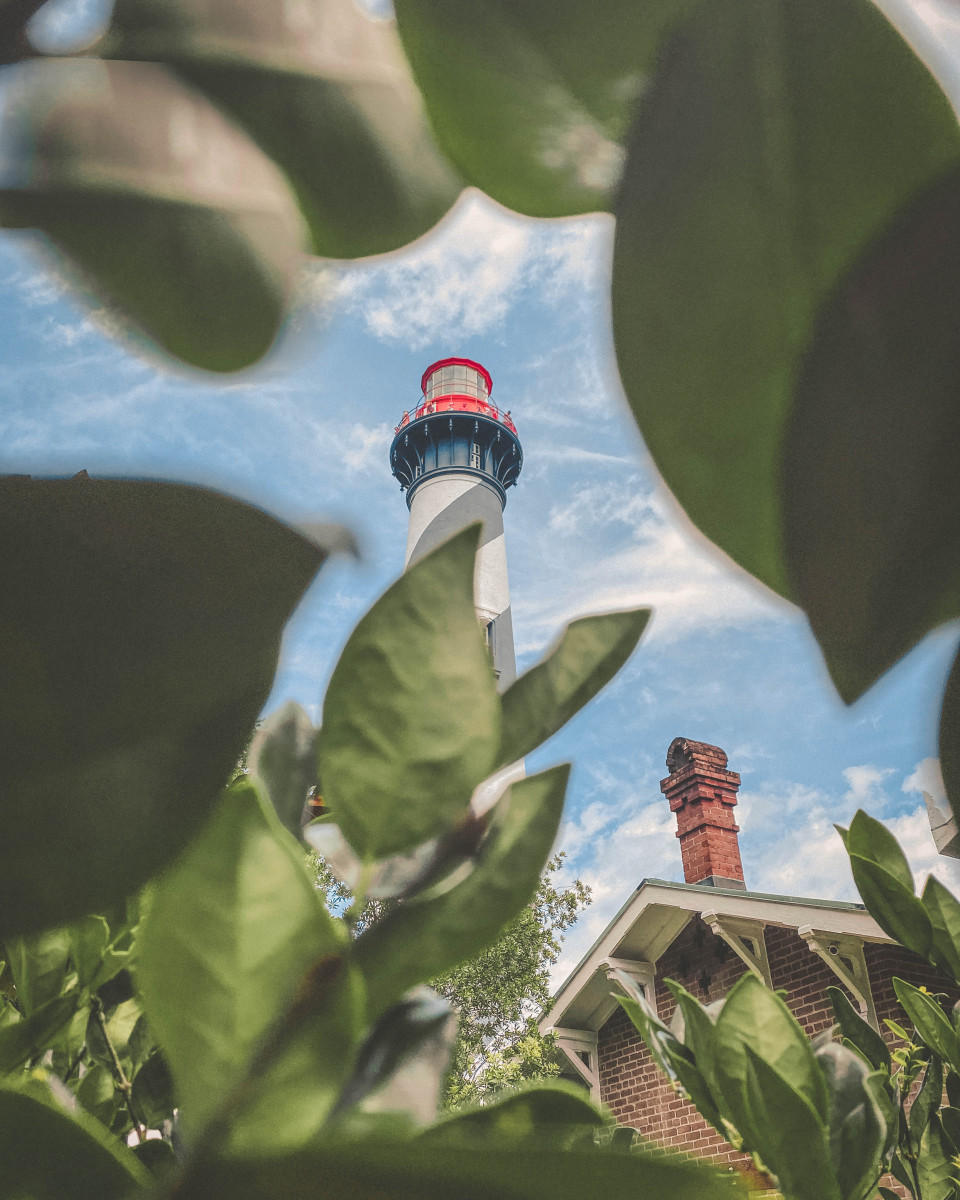 Manicured grounds. Interactive exhibits. Sweeping views (though they do come at the price of climbing 219 steps). The Lighthouse and Maritime Museum is a place to take a quick walk, get some exercise in (did I mention the stairs?), and view St. Augustine from an entirely different lens.
St. Augustine Beach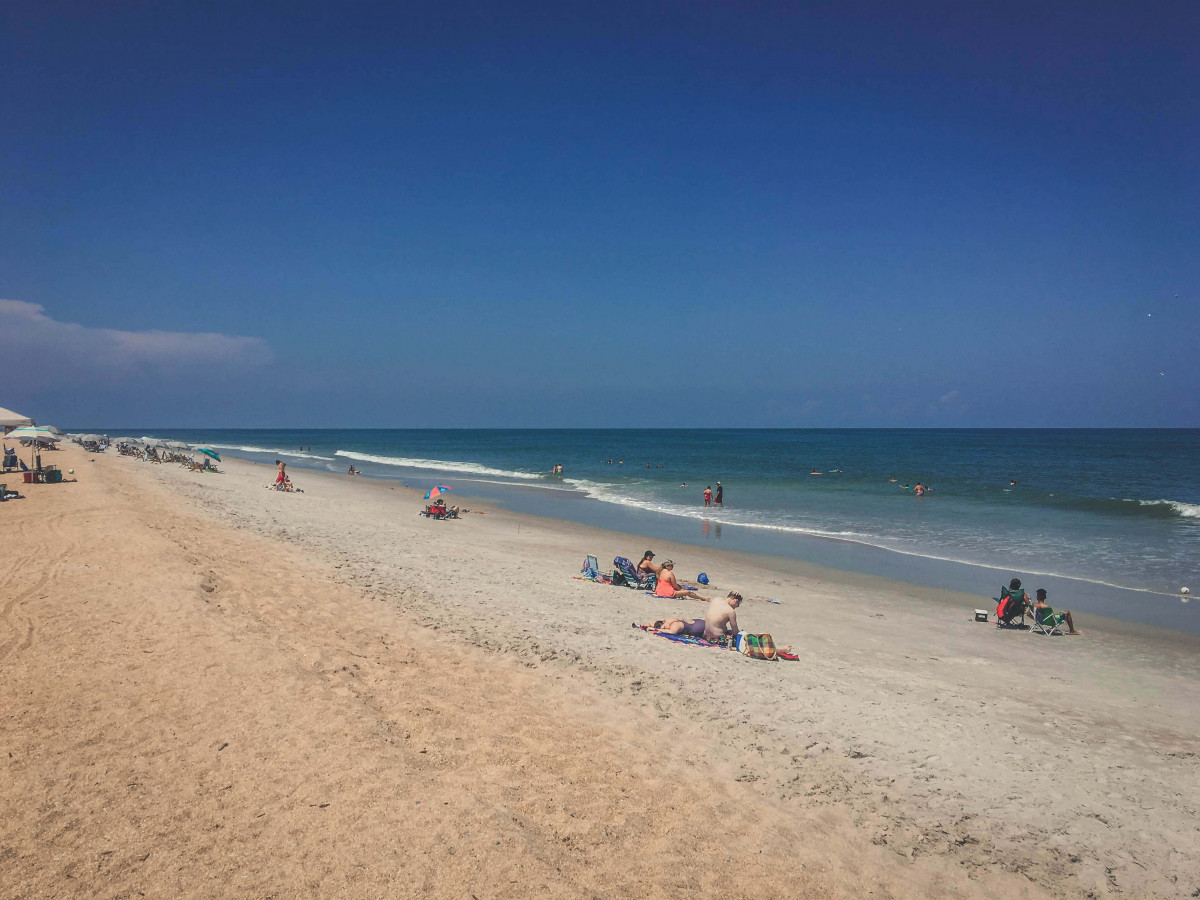 With long stretches of sand and light waves, St. Augustine Beach is one of the most popular free things to do in St. Augustine. If you're looking to get away from hustle and bustle of Old Town, pack a beach blanket and spend a day here.
St. Augustine Beach is one of the cleanest beaches I've seen in Florida. It's perfect for lounging (the waters are a little harsher so it's not conducive for swimming). There's a small pier too that you can stroll along (for a fee).
Vilano Beach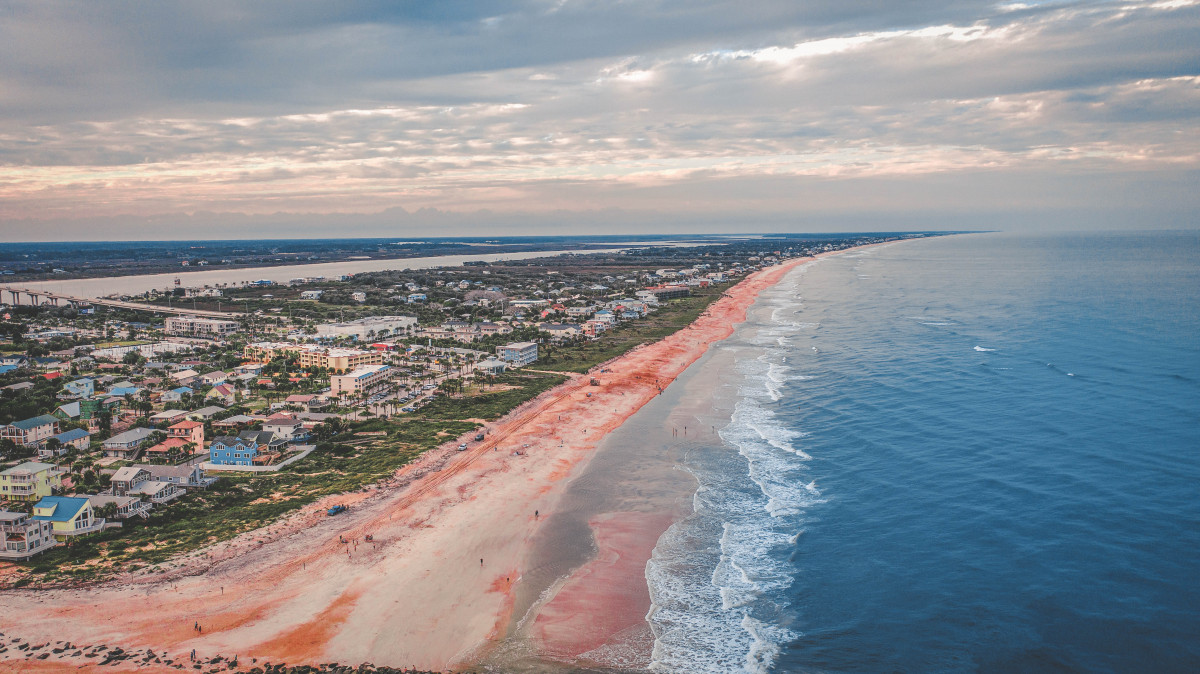 Nestled in a tiny summer village, Vilano Beach is a popular kiteboarding destination. It's a quieter beach – less crowded by tourists, mostly frequented by locals. Before stopping by one of the beach access points, drive by Castle Otttis, a landscape sculpture that resembles an Irish Castle and Abbey. Located just a few miles north of St. Augustine, Castle Otttis is available to tour by appointment only (email rusty@castleotttis.com).
Crescent Beach
Tightly-packed sand. Blue-gray waters. Crescent Beach, situated in another unincorporated town in St. Johns County, feels more like a cozy, coastal hangout. It's named after its shape – sand draped in a crescent moon right along the Atlantic Ocean.
Crescent Beach allows drive-up for 4×4 vehicles (which is a pretty common concept for beaches in Texas but until Crescent Beach, I hadn't heard of this set-up in Florida). If you don't have a 4×4, you can still visit (regular parking is easy to find as well).
San Sabastian Winery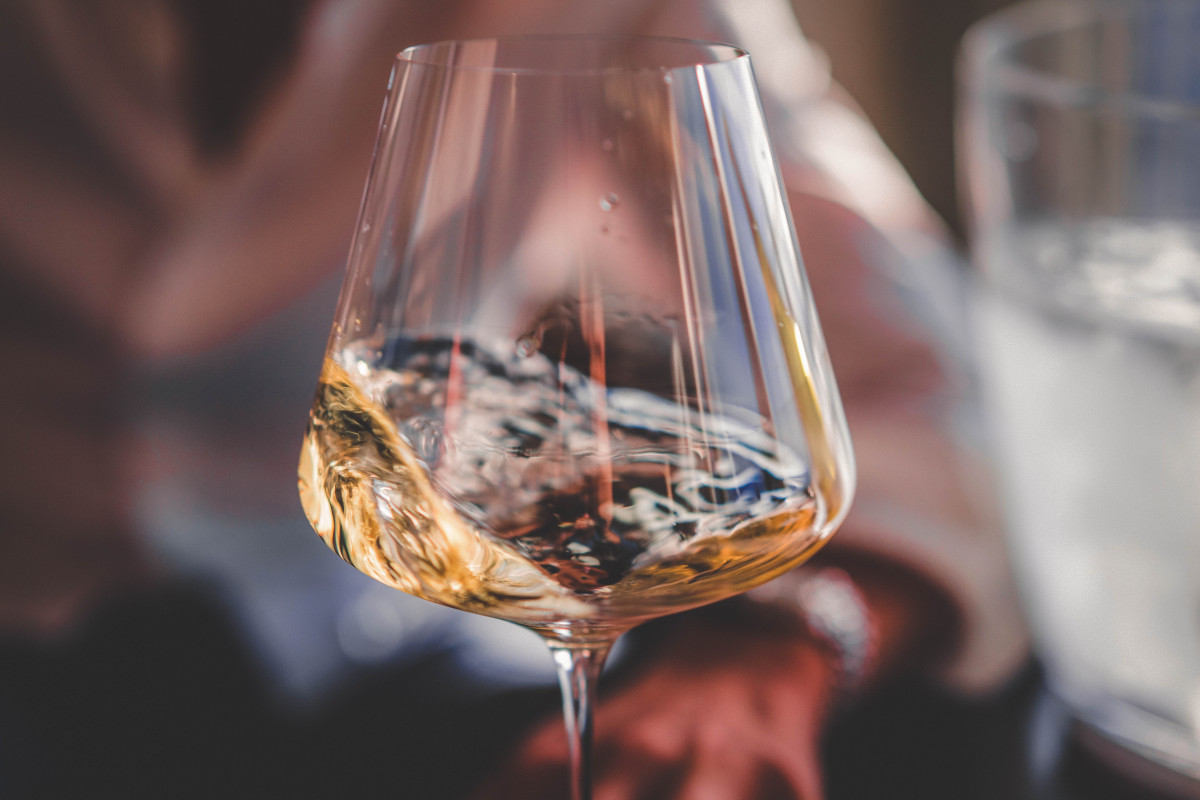 Premium wines. Sweet flavors. Complimentary tours seven days a week (check timings here). Ducking inside San Sabastian Winery is one of the best things to do in St. Augustine on a rainy day. Part jazz bar, San Sabastian Winery is a pump of live music and libations.
Shopping In St. Augustine, Florida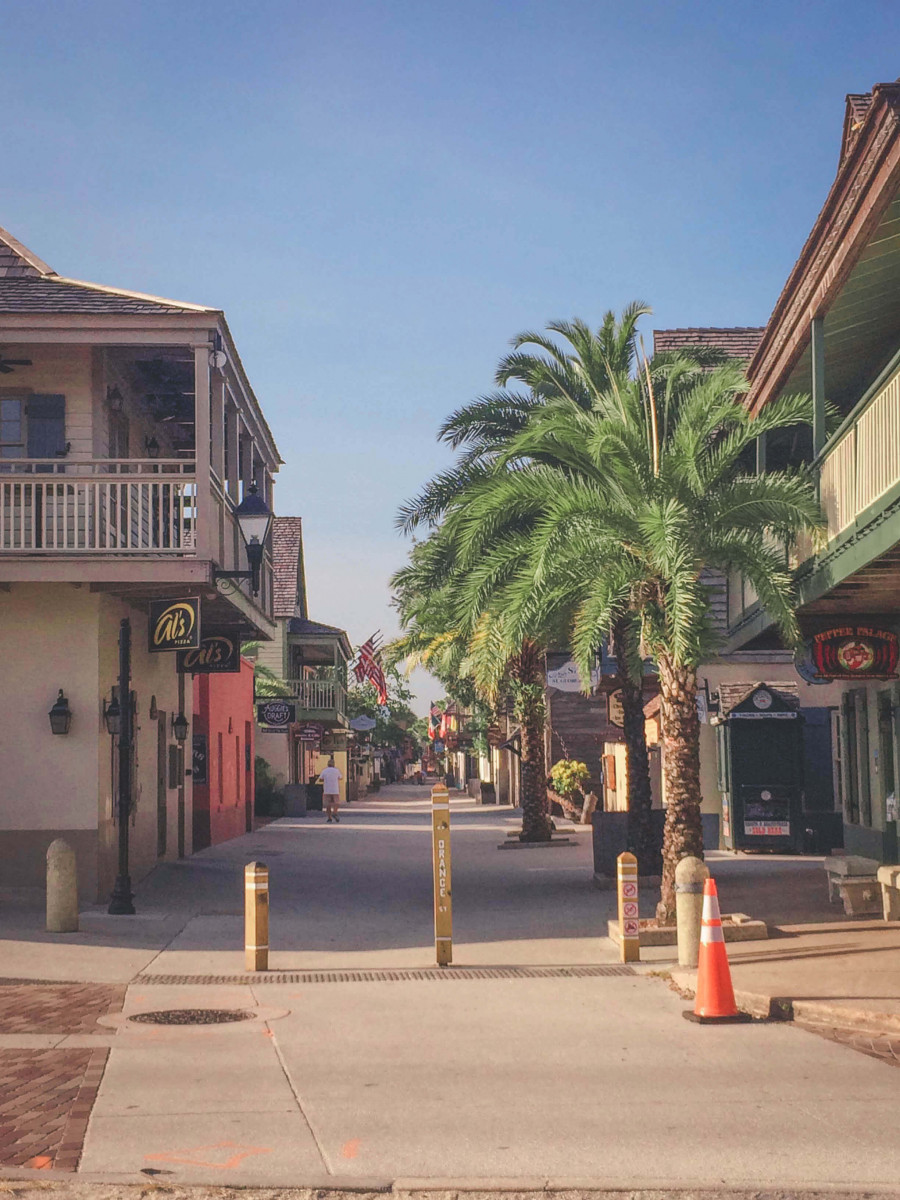 St. George and Aviles Street are two of the most popular shopping destinations in St. Augustine. Scattered along wide paths are jewelry stores and art galleries and pottery shops.
Here's where to shop in St. Augustine:
YIELD: this trendy furniture shop will turn your notion of St. Augustine inside out. Chic, modern, and new, YIELD's layout, whilst minimal, is too aesthetic for words.
Coastal Traders: Indonesian imports style up Coastal Traders. Earthy. Boho. Warm-toned. This is one of the prettiest shops In St. Augustine (it's expensive but definitely worth checking out).
Sea Spirits: If you're looking for gifts for beach lovers, Sea Spirits Gallery, owned by Victoria Golden, carries all things sea related – paintings, blown glass, jewelry.
Second Read Books: cute little used bookstore on 51D Cordova St
Where To Eat In St. Augustine, Florida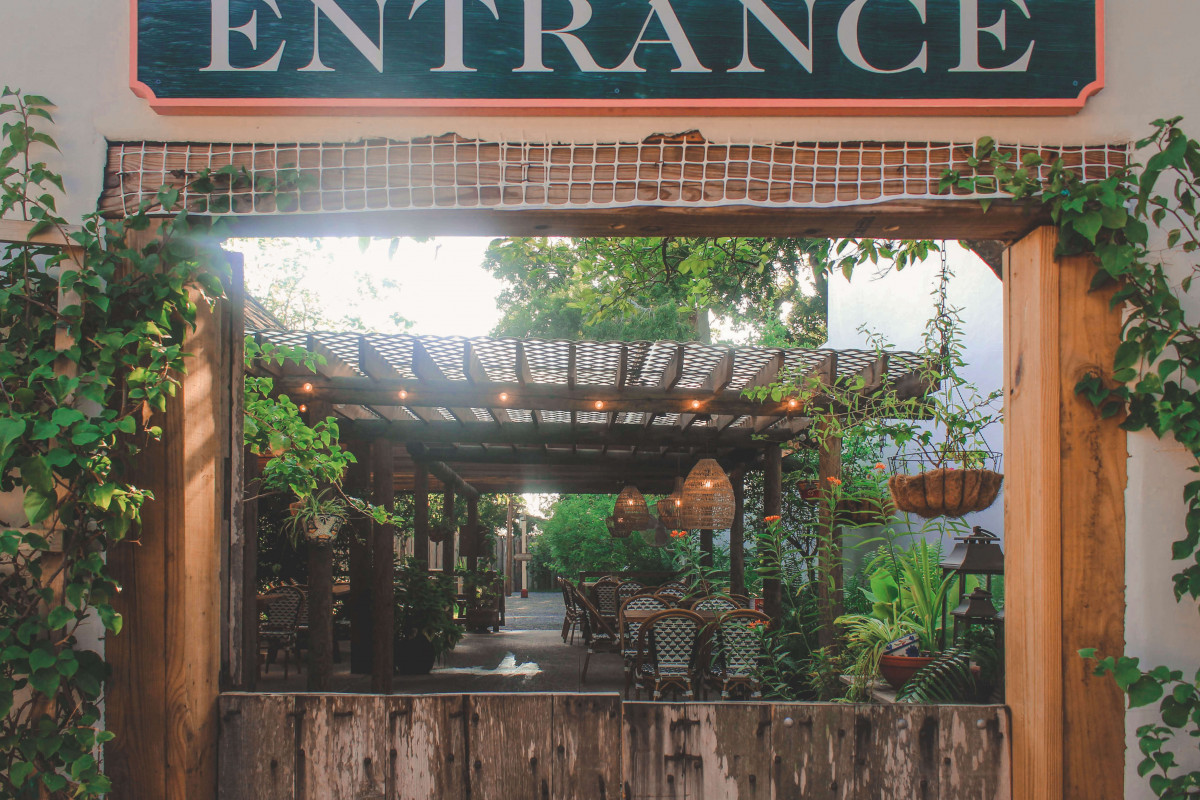 Our Top Pick – Llama
Ask any St. Augustine local where to eat and Llama will undoubtedly come up in conversation. A charming and suave Peruvian restaurant, Llama is equal parts great food and great service. Each plate is detailed and artistic, a cultural fusion dolled up in colors and flavors. Meals are served in an intimate setting (reservations are an absolute must) – low lights, tight tables. Here's what to get: Paiche, Quinotto, or Ceviche Clasico. Save room for dessert after. We recommend the Algarrobina Custard or the Beets & Guava Tres Leches. Enough said.
Other St. Augustine Favorites: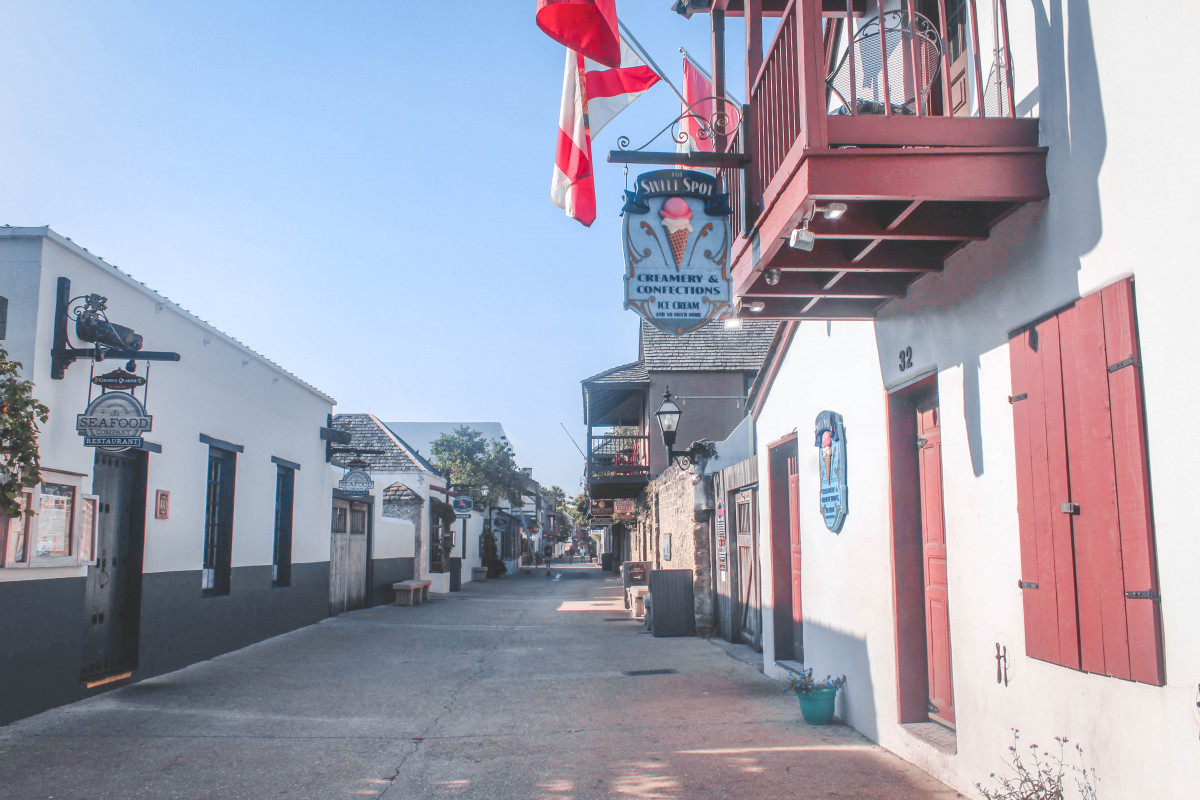 P.S. For breakfast, grab a bite from one of the best coffee shops in St. Augustine.
Where To Stay In St. Augustine, Florida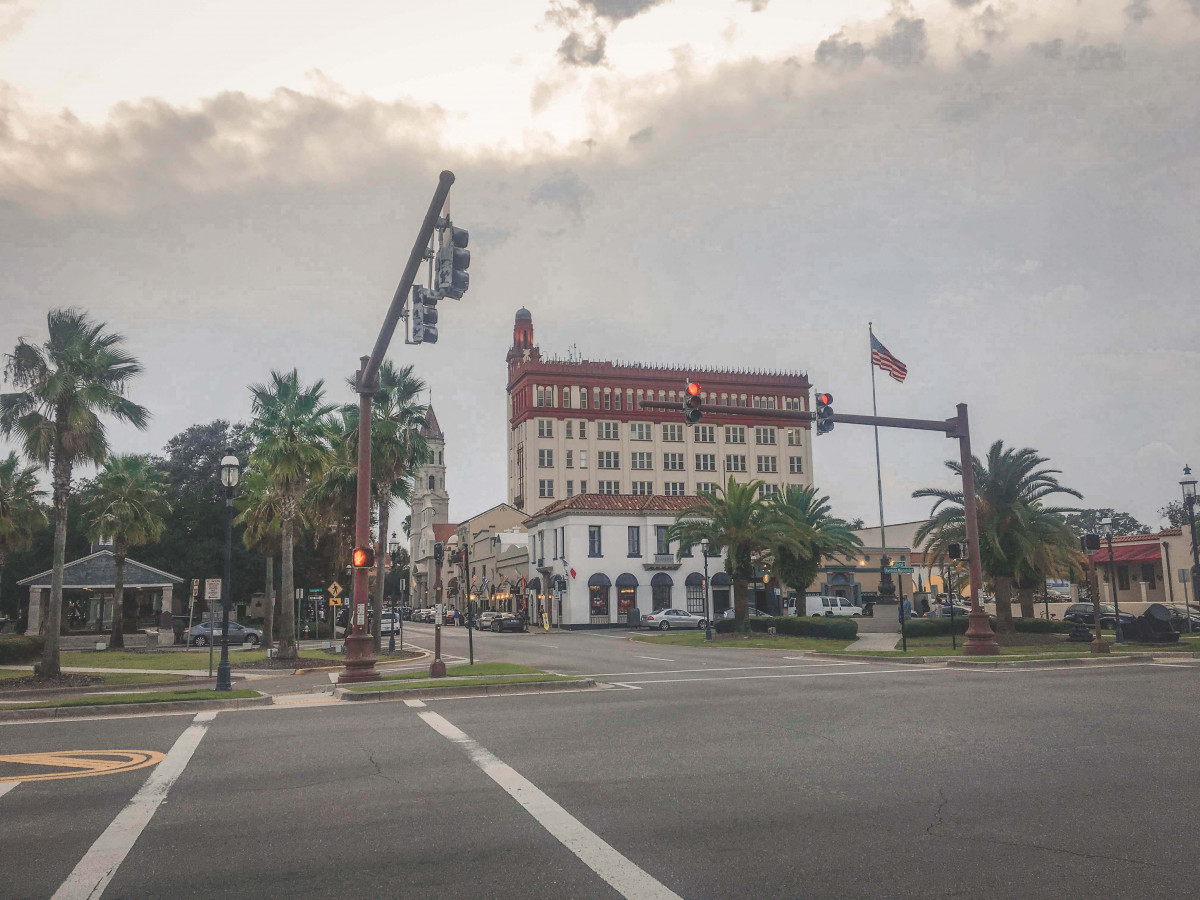 St. Augustine's a tourist-friendly city so it comes as no surprise that there are dozens upon dozens of hotels in-and-around town.

Did you find this list of things to do in St. Augustine helpful? What are your favorite things to do in St. Augustine? This list is by no means comprehensive and I'd love to hear your thoughts!