There are so many historic things to do in Terrell, Texas, I can't list them all. But I will say this:
I'll meet you there, in the town of shadows, where old buildings fade into darkness even in the light. I'll meet you there, in a former war training zone still wrapped in an allied British spirit. I'll meet you there, in Terrell, Texas, the once heroic hamlet that's now almost forgotten.
I'll meet you there.
Thirty miles from Dallas lies Terrell, an aged small town with a population just under 20,000. Once the hum of newspapers, holding secrets and mysteries, Terrell today doesn't draw as much interest.
But it should.
Terrell is a classic Texas small town. As you drive along the roads, you'll see bright red pick-up trucks blasting country music and flat-roofed one-story homes on big plots of land. It's not as bustling and lively as most other towns skirting the DFW area but Terrell's quietness sketches a different character – innocence.
Terrell's bare-boned, I-refuse-to-change-for-social-media is what made fall in love with the place. To some, this might be a permanent trap in the past – a town that may die because it didn't adjust its game. But I sincerely hope Terrell's staunchness will bring new blood.
Anyways, enough of my rambling – here are the top five things to do in Terrell, Texas.
Soar Into The Past At The No. 1 British Flying Training School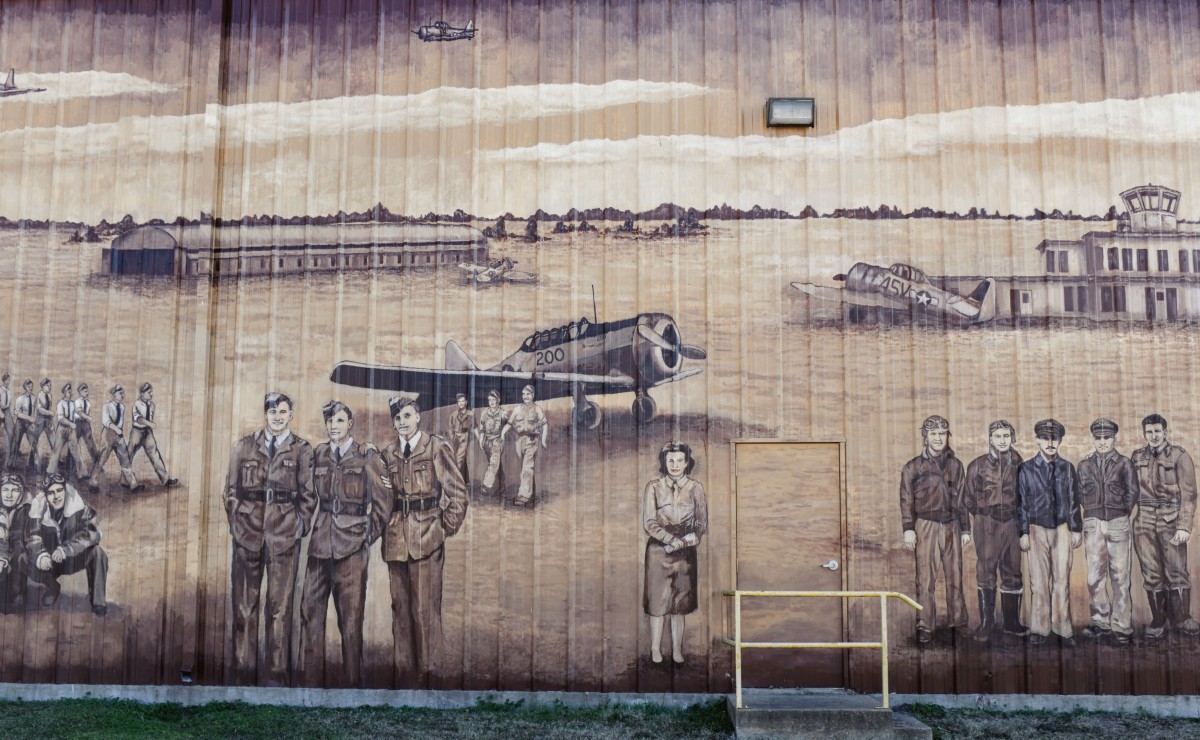 Log books. WWII uniforms. Training materials.
In the early 1940s, thousands of British cadets learned to fly in training schools in the United States. The first training school was founded in Terrell, Texas and today, the area is a museum, piecing together parts of little-known history.
As we walk through the exhibits, our guide tells us stories – stories about the men who fought, the men who died, and the men who won.
We glance over newspaper clippings, preserved behind glass. The Final Texas Class Ends Training At Terrell School. RAF Sounds Taps For Terrell Base. Each headline reminds us how real Terrell is, but moreover, how historically important Terrell was.
Could the Allies have won the war without Terrell, Texas? Maybe not.
So cheers to our unsung heroes.
Top Tips For Visiting The No. 1 British Flying Training School:
The museum and parking is free but there is a donation box. I would HIGHLY recommend giving at least a small donation when you visit because the museum is mostly volunteer run and this isn't a touristy or rich small town.
The museum takes at least two hours to visit. Be sure to watch the introductory video (it's played on a small screen TV but gives really good historical context).
If you are a sucker for love stories, ask one of the staff to tell you about some of the British cadets who came back after the war for the "Terrell girls" they fell in love with.
Check Out All The History At The Terrell Heritage Museum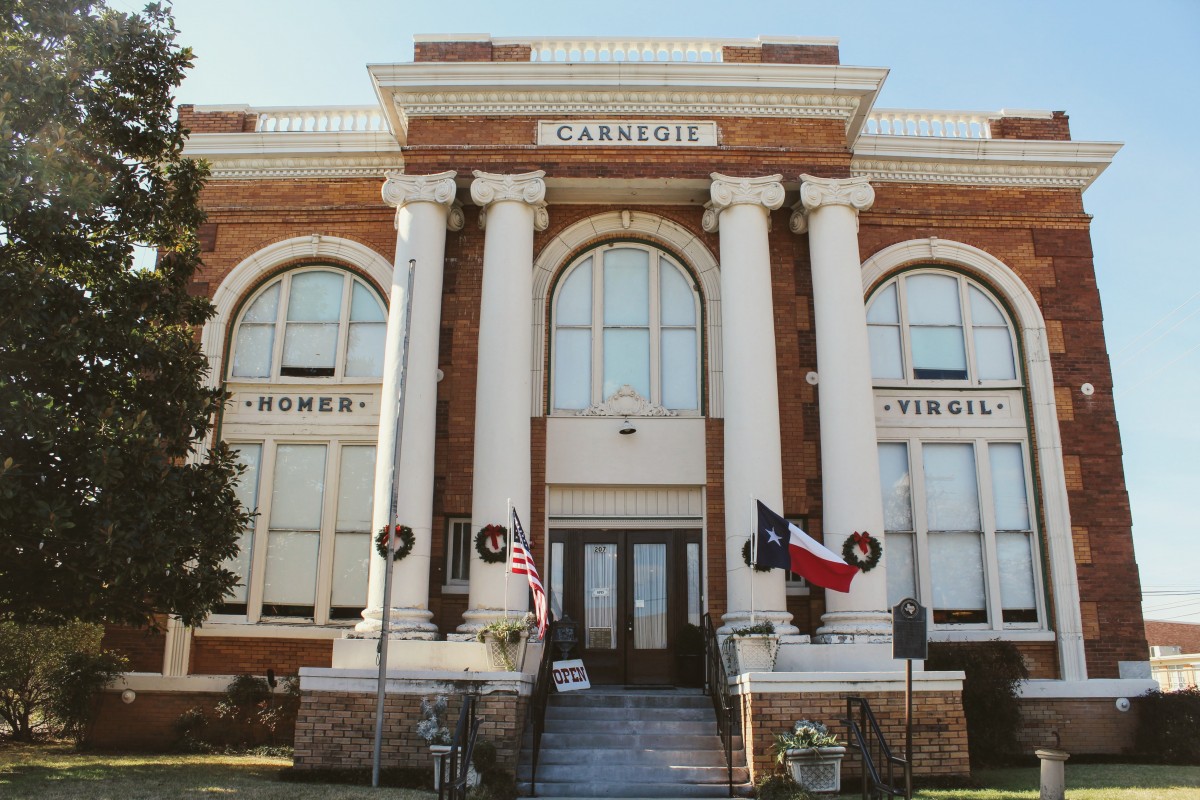 Set in a former Carnegie Library, the Terrell Heritage Museum is popular among local historians and researchers.
A collection of faded photographs and vintage knick-knacks, this registered Texas landmark curates tidbits of the town's history.
"Would you like to see the video?" the lady at the register asks, popping in a DVD. Upbeat music starts playing. And we take a seat in front of an old-style television and watch the "Welcome to Terrell" video.
It's just as cute as it sounds. The video showcases some of the distinctive architecture in the neighborhoods, regales tales of some of the most fascinating residents and passersby, and highlights some of the best things to do in Terrell, Texas.
The story I loved the most? The Wicked Witch of Wall Street. I had no idea that the woman who died with more cash in hand than J.P. Morgan had ties with Terrell, Texas.
"Did any of the places interest you?" she asks as the video draws to a close.
Yes. Too many to count.
"I'd love to see some of the historic homes," I say. "But I have no idea where to find them."
She pulls out a paper and draws a map, sketching in a lined path along circled locations.
Later, we'll try to see them all.
Travel Tip: You can't find most of the homes on Google Maps so head into the Heritage Museum and ask one of the staff for directions. They are super friendly and will be happy to help.
Tour Some Of The Best Local Hangouts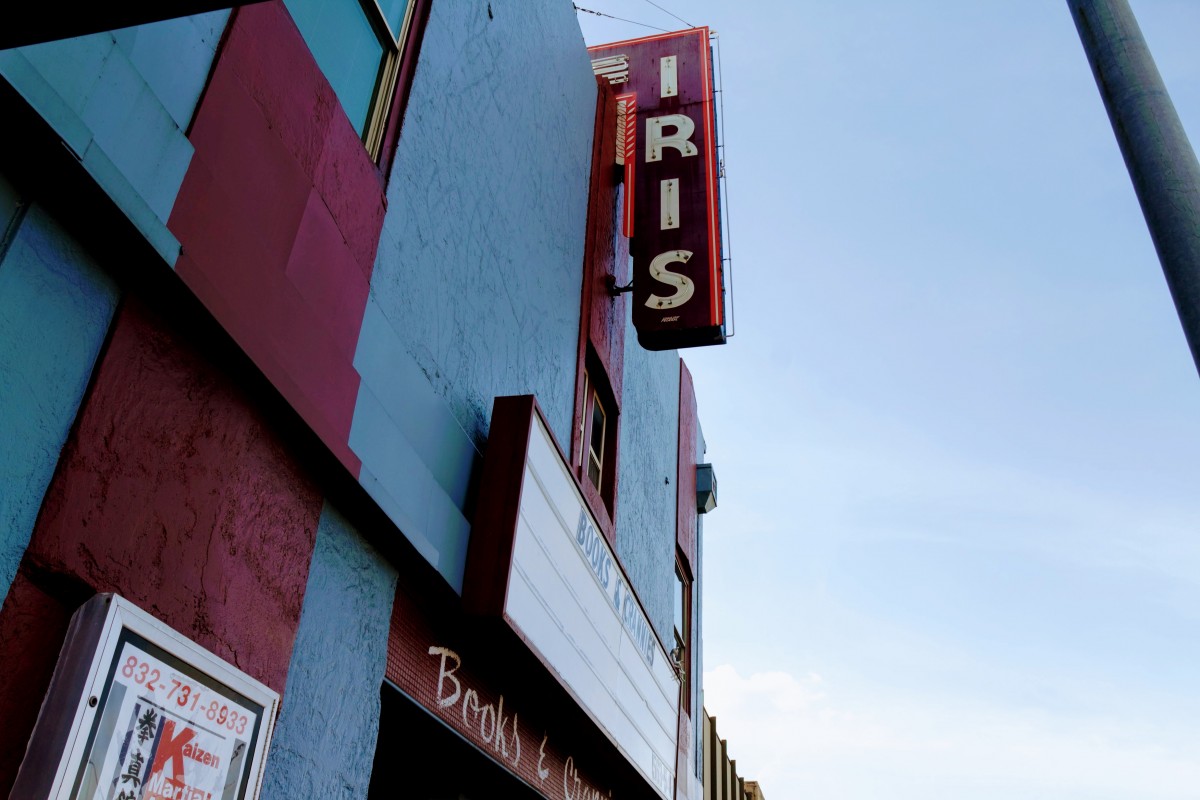 As we walk down Moore Street, we discover a different side of Terrell, Texas. This is where the indie businesses are – the coffee shops, the bookstores, the boutiques.
Moore Street makes us want to tap into all the local hangouts in town:
Java Junkies Coffee Company: This coffee-shop on Moore Street is all the buzz. Java Junkies serves up oh-so-good coffee and heavenly sweet treats that you can't miss.
Ben Gil Park: Home to a gorgeous lake, a light circular walking trail, and plenty of sports facilities, this recreational park defines "fun in the sun". Bring a tennis ball and hit the court. Located: 1039 9th St, Terrell, TX 75160 (just a five minute detour from Moore Street).
Ham Orchards: A little pricey and a little crowded, Ham Orchards has been gaining rapid popularity and is evolving into a tourist spot. But that Peach Pulled Pork Sandwich is absolutely worth the wait and the price (located at 11939 Co Rd 309).
Tanger Outlets: Go shopping in an outlet mall chain with all the popular fashion choices at a fraction of the price. Come here for deals that are steals (I really need to stop with the rhymes). The mall is easy to find and located on Tanger Drive.
Read A Book At Books And Crannies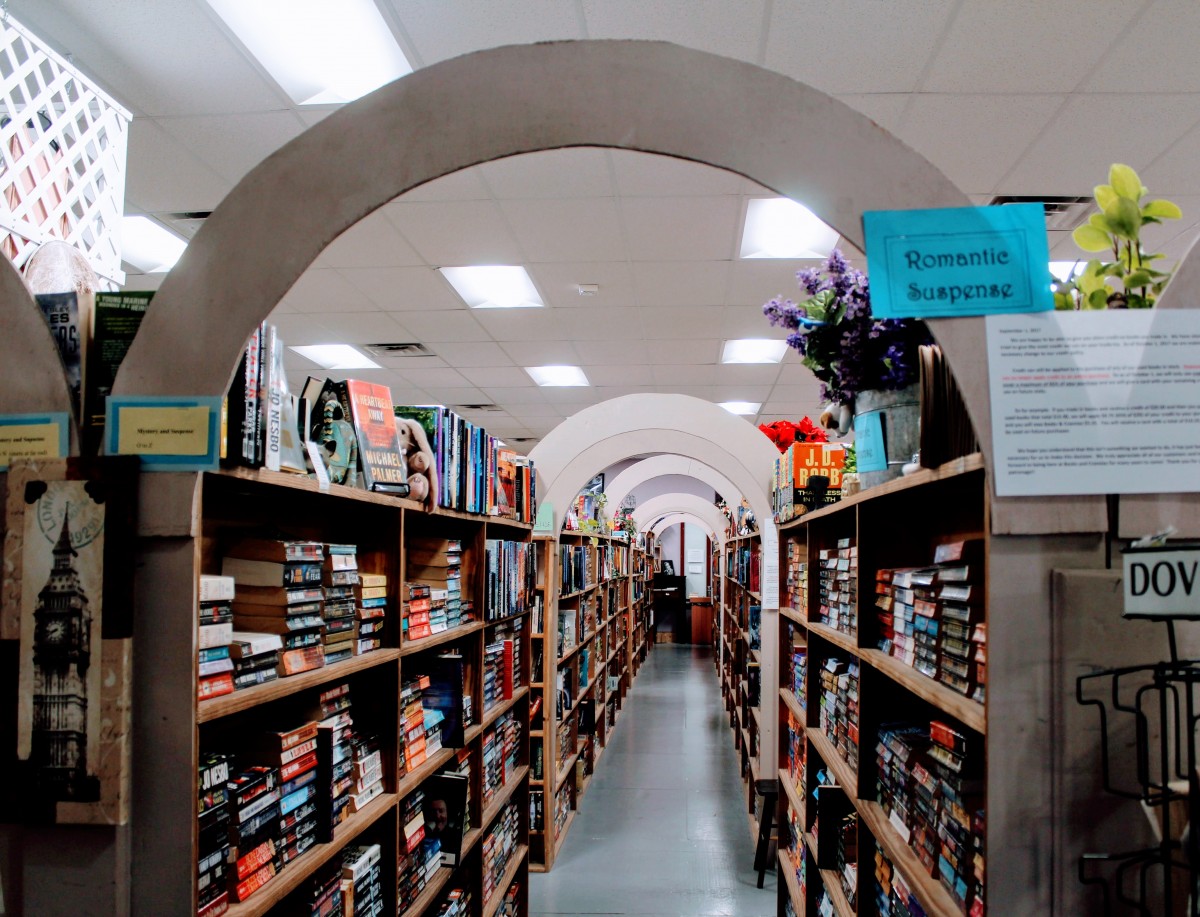 The name draws us in.
We imagine shelves of books, perfectly bound hardbacks tucked in secret corners. We picture little reading nooks and character-based figures stashed in hard to find spots.
Books and Crannies is everything we expected it to be and more. It's an easy-to-navigate indie bookstore that's filled with surprises at every turn. And when we walk through each aisle, there is magic in the air. Each aisle fiddles to the tune of a theme – romance, mystery, classics.
There's also a house cat, a distractingly beautiful gray feline that I awed over and petted and played with and – what was I saying again?
Drive By All The Historic Homes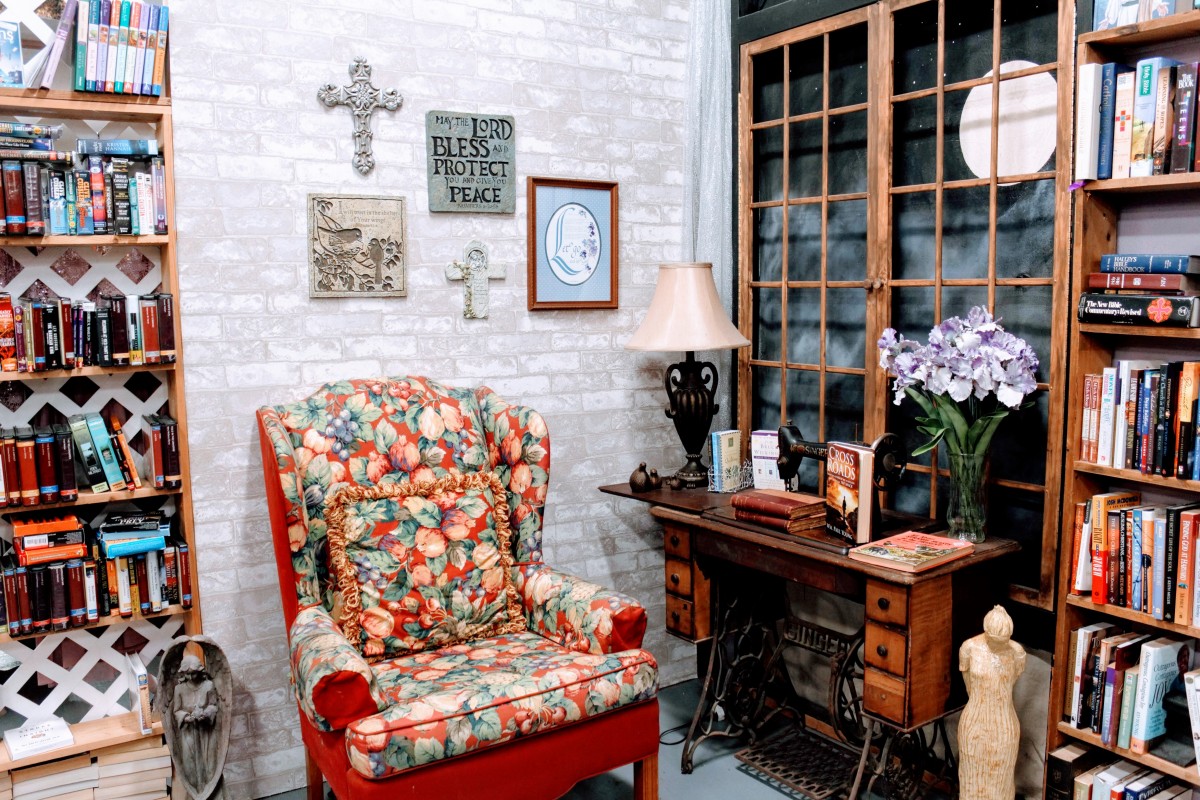 For my last pick in this list of things to do in Terrell, Texas, we're going back to something we saw at the Heritage Museum – homes. Yes, we are finally taking the map and driving around.
We're actually not going to take any pictures as we drive through the neighborhoods because I want us to soak in all the history and architecture.
Some of the highlights include:
The Sears Home: I didn't know this prior to our visit but Sears used to sell actual mail-order homes in their catalog. Right now, in the United States, there are fewer than 100,000 of those homes still remaining. Terrell, Texas still has an original Sears catalog home so of course, we have to check it out.
Octagon Home: There is a house in the shape of an octagon. It's weird but I love it. Enough said.
Walter Allen House: This house looks straight out of a British country village. It's a Tudor Revival House and oh-so cute.
The houses are starting to be clothed by black. It's getting a little dark so let's close out our Texas adventure for today.
Did you enjoy this list of things to do in Terrell, Texas? Do you have any other recommendations on what to do in Terrell? Let me know in the comments below! As always, I love hearing from you.