I've completely fallen (see what I did there? I apologize) in love with pumpkin overnight oatmeal. Basically, you serve up all the warm fall-colors and lightly spiced fall flavors in one mason jar with absolutely no grunt work. 
I'm definitely team #lazycook so when I discovered overnight oats, in general, I was two seconds from breaking down and crying tears of joy.
Pumpkin oatmeal isn't normally a go-to breakfast for me. I like fruits in my morning bowl. Strawberries. Blueberries. Mango. Coconut.
But right now, the weather outside is dry and sunny, the leaves have yet to turn any shade beyond a vibrant green, and there's not enough fall-themed decor in most local stores. Summer hasn't let Fall play in the North Texas playground yet (sigh, Dallas. Don't you know I want to see a golden brown pile of leaves in my backyard?) and I've decided to take matters into my own hands.
I hate to admit but my pumpkin overnight oatmeal recipe was a desperate attempt at creating a loving environment for fall to be welcomed in.
Fall will come around. At some point.
Till then, I'll be sipping my pumpkin spice lattes (yes, I know I'm basic) and stirring up fall-themed overnight oats.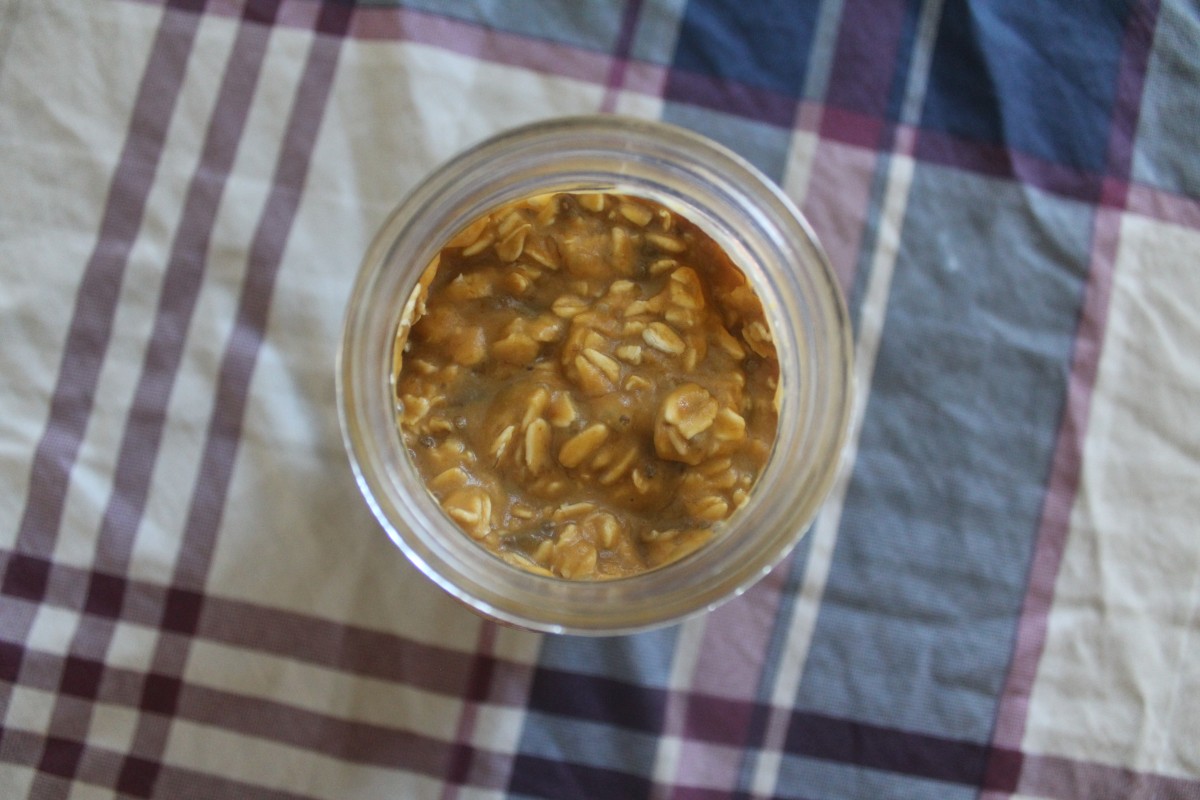 This recipe is healthy, vegan, sweet, and delicious (if I may so, myself).
If you're non-vegan, feel free to substitute any of the plant-based items I use in this recipe with dairy-items. Fair warning though, I've made the recipe both ways and I love the vegan version so much more.
We'll start off by making the base. This recipe makes two servings, one for me and the other for you. Was that smooth?We're going to add one cup of dried oats to our mason jar. I use Quaker steel cut oats but you can use any brand you like (I purchase Quaker because Costco sells the giant lifetime packs that only ever seem to last a month). After that, I add in one whole mashed banana, one tablespoon of maple syrup (I have a sweet tooth, what can I say?), one cup of cashew nut milk (I found this brings out the pumpkin flavor more than almond or regular milk), and three heaping tablespoons of canned pumpkin puree.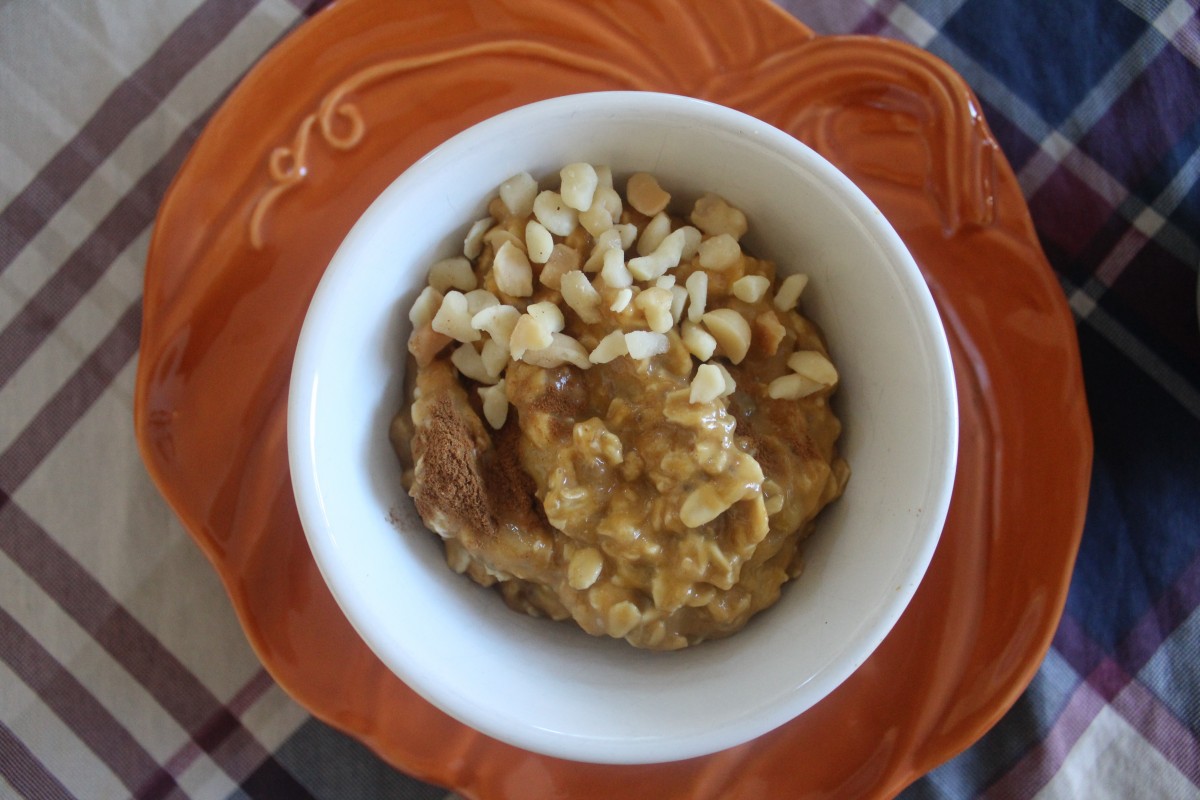 And that's it. Well, not really.
I have one secret ingredient: So Delicious Vanilla Coconut Milk Dairy Free Yogurt. There's an unsweetened version available too but it just barely hits the definition of edible.
Four giant spoons of this vanilla yogurt is what makes the pumpkin overnight oatmeal taste less dry and watery and more smooth and creamy. In fact, the yogurt mix is what makes the oats taste more like pumpkin pie filling. Nom. Nom. Nom. 
Then, I mix it up until everything is as close to evenly distributed as possible (or as we say on team #lazycook – until we don't feel like mixing anymore).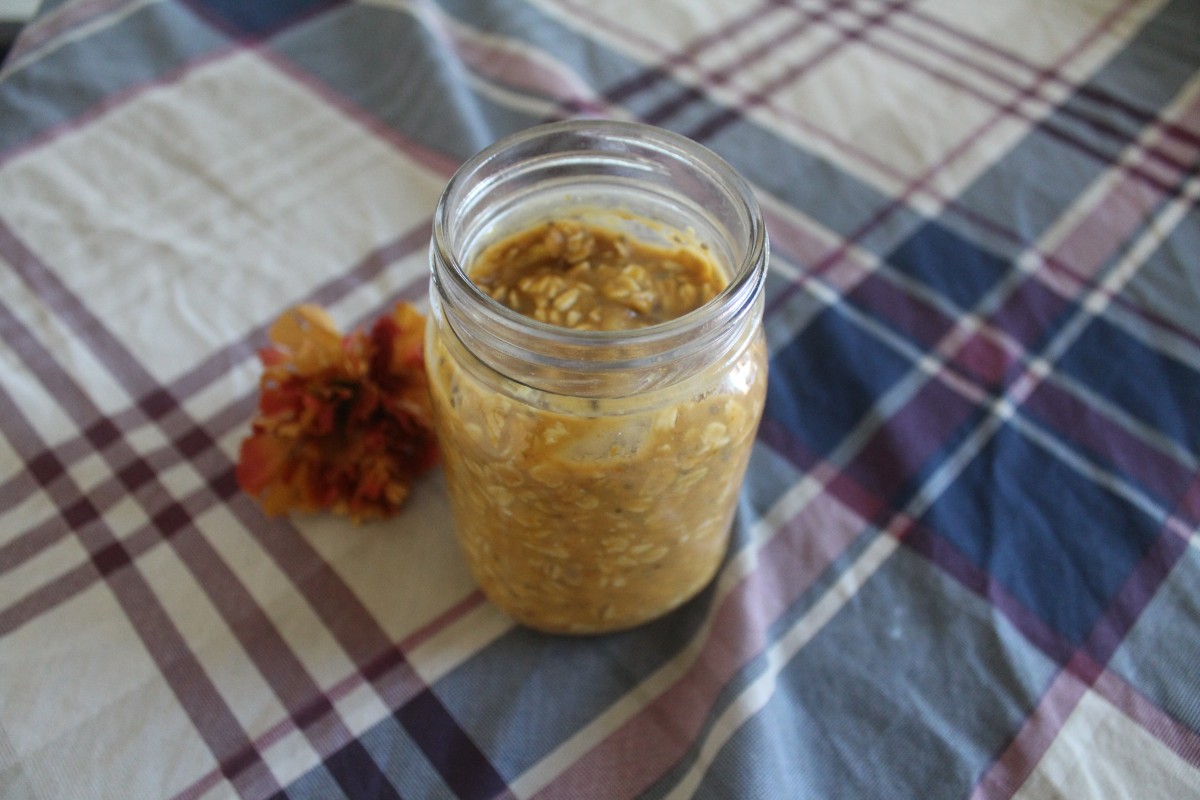 I toss in a few chia seeds (sometimes a sprinkle, sometimes a spoon) before I let the oats sit in the refrigerator overnight. This step is totally optional (as evidenced by the number of times I forget to add them altogether).
After sitting in the fridge between six to twenty hours (quite a range), the overnight oats are ready to be eaten.
I know some people hate cold oats. So feel free to heat the breakfast up (this would be so yummy on a cold, chilly morning).
Since it's hot in Texas, I'm all about the cold breakfast options. I'm going to eat it as is. And considering it's the weekend, I'm also going to toss on a heaping scoop of vegan butter pecan ice-cream.
Treat yourself? Right?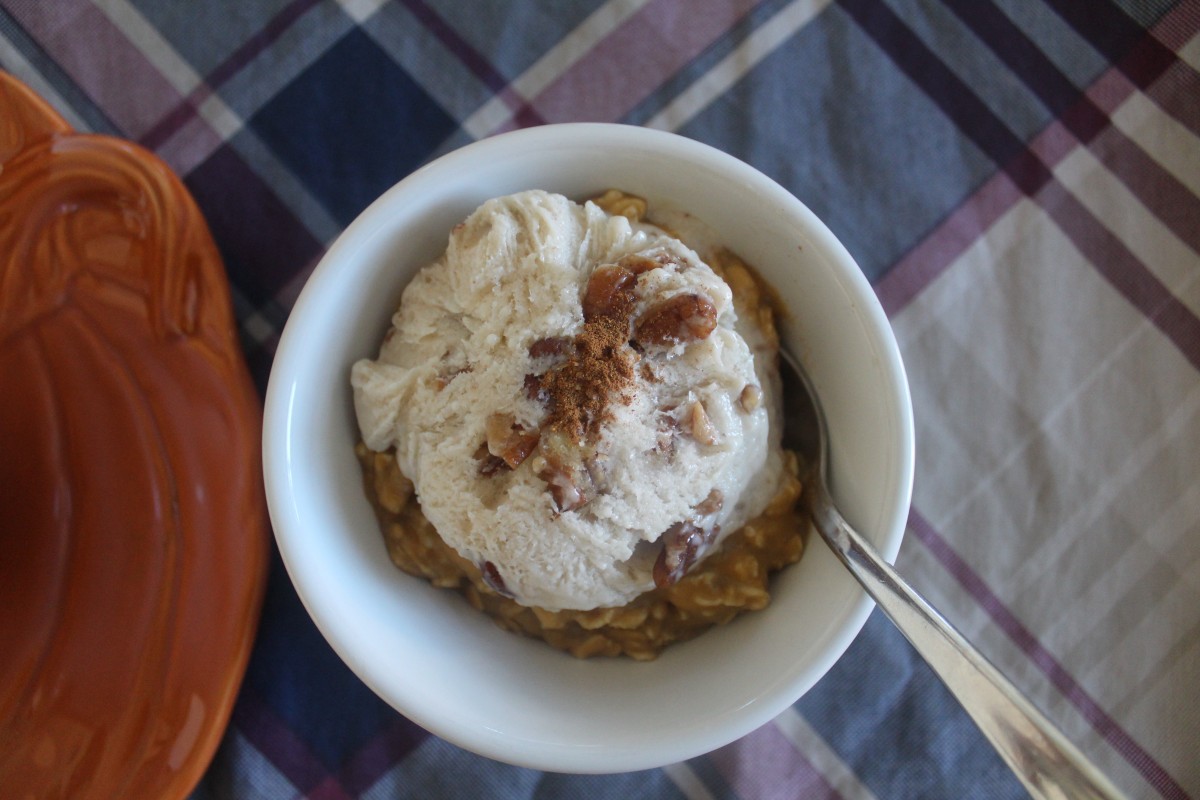 If ice-cream for breakfast isn't your style (I'd have dessert all day, every day), a healthier version would be the one I normally serve up: plain and simple with a tablespoon of macadamia nuts and a dash of cinnamon to top it all off. 
The nuts add a gorgeous earthy feel to the oatmeal. And the cinnamon provides hints of, well, classic pumpkin spice.
Now, it's time for us to gorge on this bowl of pumpkin overnight oatmeal while imagining the leaves are changing color outside (that's the Texas way).
If you'll excuse me, I'm going to dress up in sweater weather clothes and get under a fuzzy blanket even though it's ninety degrees outside….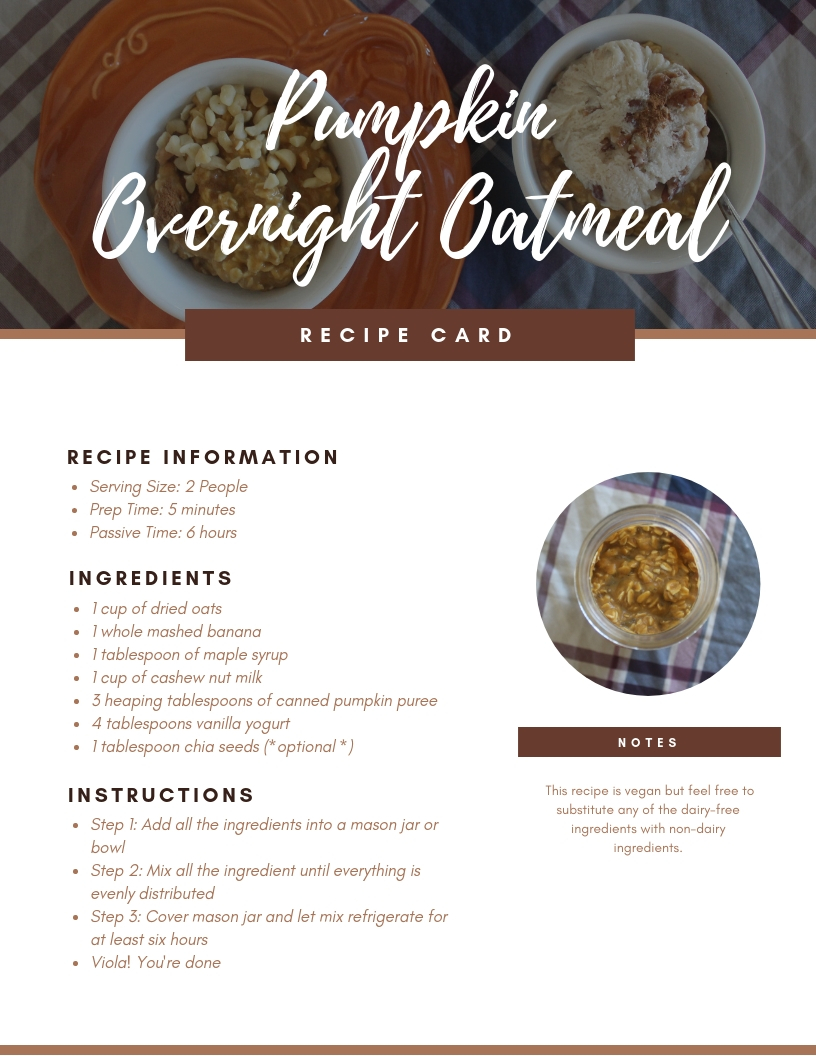 Did you enjoy this pumpkin overnight oatmeal recipe? Do you enjoy pumpkin flavored recipes? Let me know in the comments below. P.S. If you're a #lazycook, check out some of my other recipes!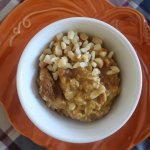 Pumpkin Overnight Oatmeal Recipe
This quick and easy pumpkin overnight oatmeal takes less than five minutes to prepare and is oh-so delicious! P.S. You can substitute dairy products for all the non-dairy products in this vegan pumpkin overnight oatmeal recipe!

Recipe:
Pumpkin Overnight Oatmeal
Ingredients
1

cup

dried oats

steel-cut

1

whole

mashed banana

1

tablespoon

maple syrup

optional

1

cup

cashew milk

3

tablespoons

canned pumpkin puree

heaping tablespoons

4

tablespoons

vanilla yogurt

1

tablespoon

chia seeds

optional
Instructions
Add all the ingredients for your pumpkin overnight oats into a mason jar and stir them up.

Cover the mason jar and let the pumpkin overnight oats sit in the fridge for at least six hours. Viola! It's done.