After the start of a cozy holiday movie marathon (Christmas Prince, Christmas Prince: The Royal Wedding, The Princess Switch), I scoop up all my travel Christmas ornaments.
It's tree decorating time.
I absolutely love Christmas – the streets are aglow with dancing lights, jolly music plays in every store, and I can order peppermint white hot chocolate any time of the day.
Life is good.
I normally decorate my Christmas tree right after Thanksgiving but I put it off this year.
In other words, I tried earlier this week but Holiday Wedding Planner (what was even going on in that movie?) was playing in the background.
Instant mood killer.
This time, I'm doing it right.
I'm sticking to Netflix's versions of Hallmark classics. Plus, I'm stocked up on chocolate. And hot chocolate. And chocolate ice-cream.
I may have a bit of a chocolate problem.
Anyways…
Disclosure: Heads up, this post contains some affiliate links, which means I may get a commission if you make a purchase. Don't feel pressured to buy anything. I still love that you're here, reading my content (side note: I'd probably suggest getting a coffee or tea first though because my blog posts tend to be long). To find out more, you can read our full affiliate disclosure right here.
Where To Find Travel Christmas Ornaments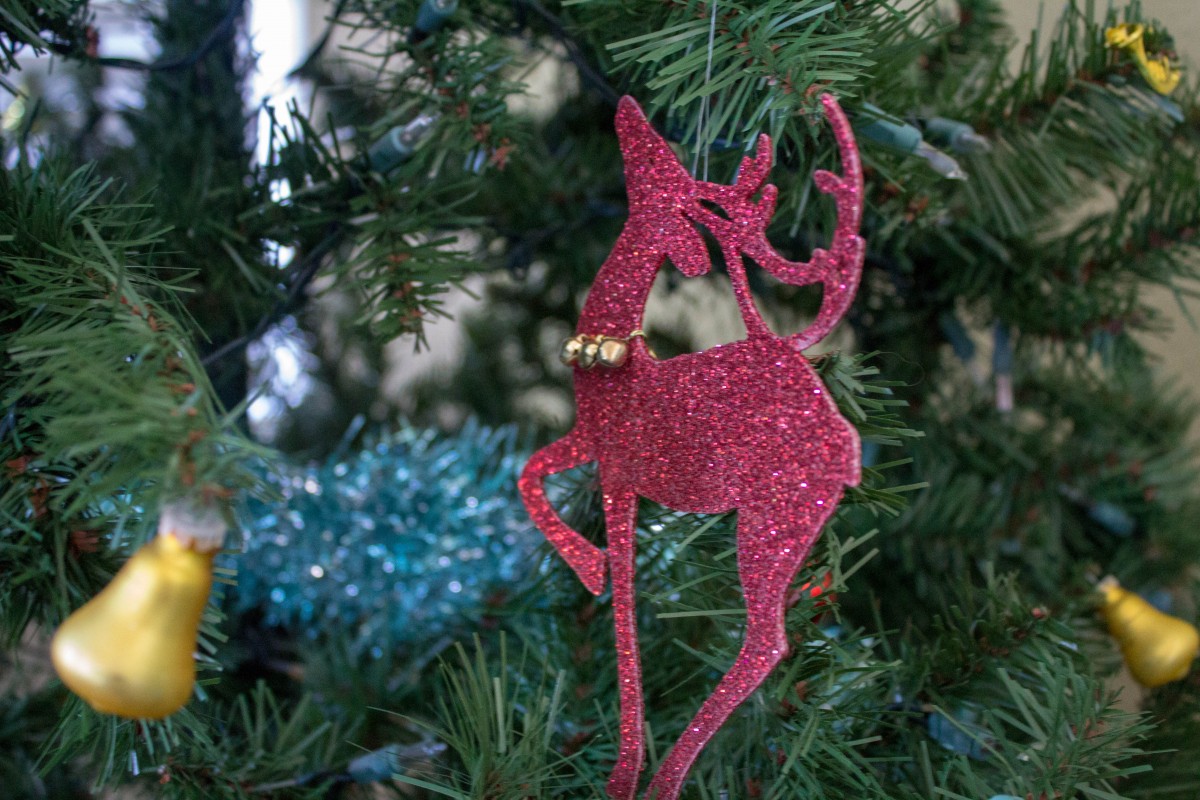 I always find travel Christmas ornaments in the randomest places, from a half-roofed store in New York City's Chinatown to a small outlet in the Dubai Mall.
If you're on vacation and wondering where to pick up a few, here are some of my top recommendations:
European Christmas Markets: If you're spending winter in Eastern Europe, stop by any of the festive pop-up Christmas markets for a cute bauble or two.
Tourist Gift Shops: Most major tourist attraction gift shops carry themed Christmas ornaments.
Vintage & Resale Stores: Some vintage shops have the most adorable little Christmas decorations. You can also snag a cute snow globe.
The Cutest Travel Christmas Ornaments Online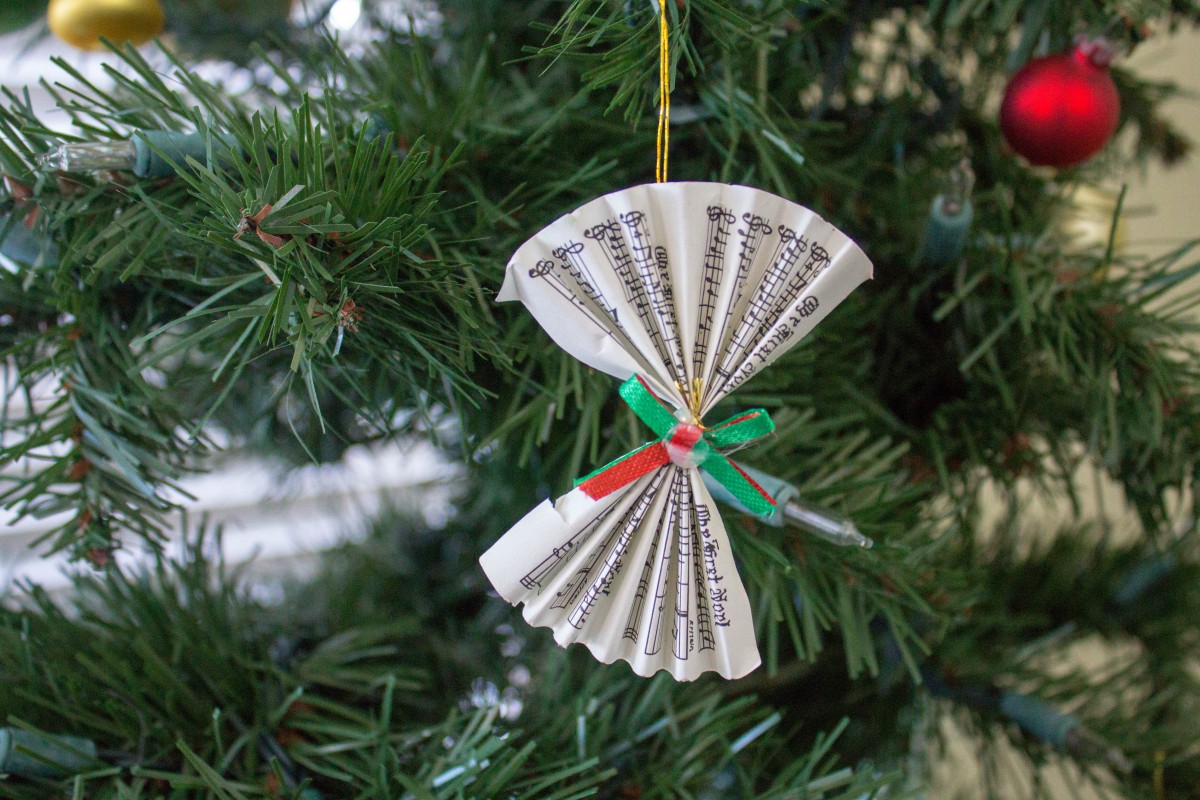 Bon Voyage Suitcase Ornament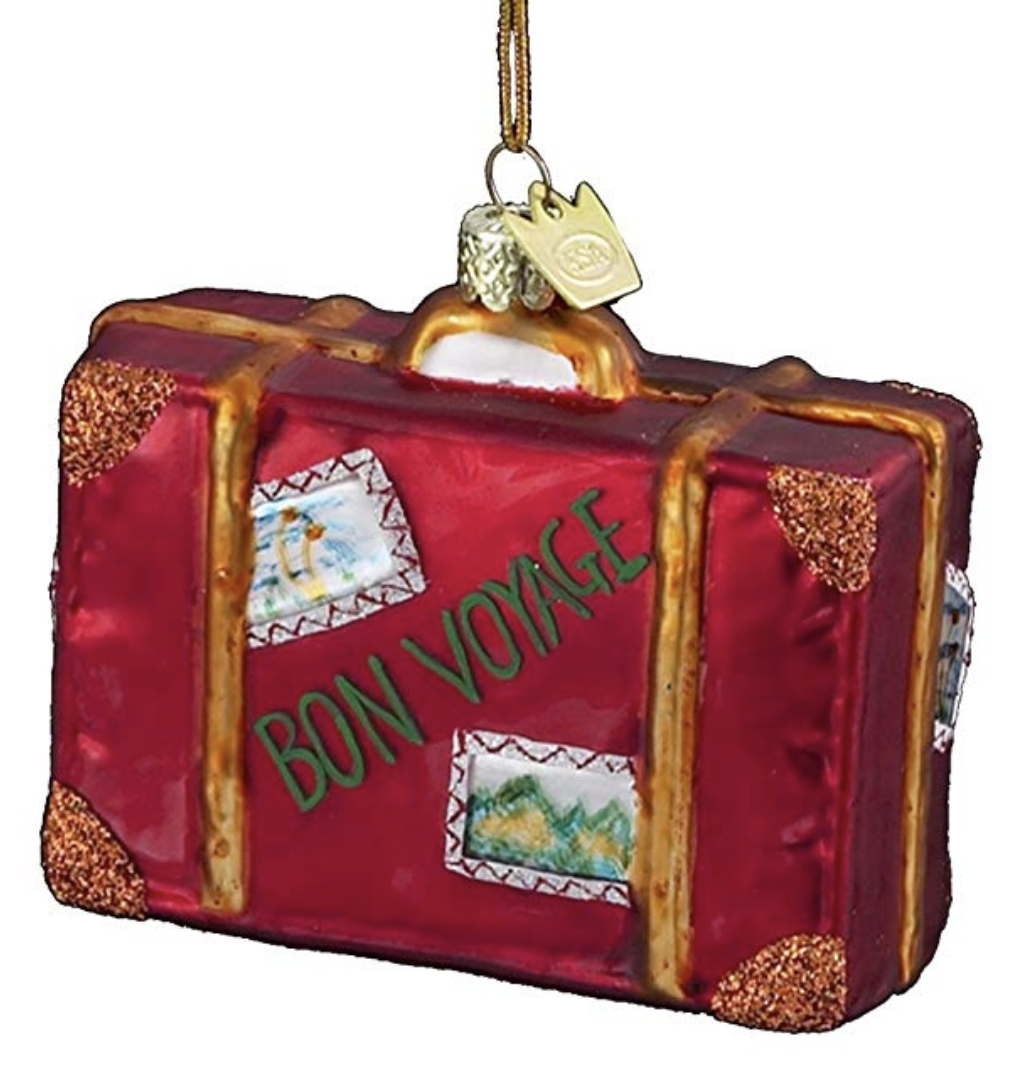 Buy Now: Amazon
This glass ornament is so festive. Bright red with sparkling tips, Noble Gem's Bon Voyage Suitcase ornament is fun and adorable. From the lightly painted postcards to the laid-back font, this piece says vacation-mode in all caps.
Hand-Made Passport Ornament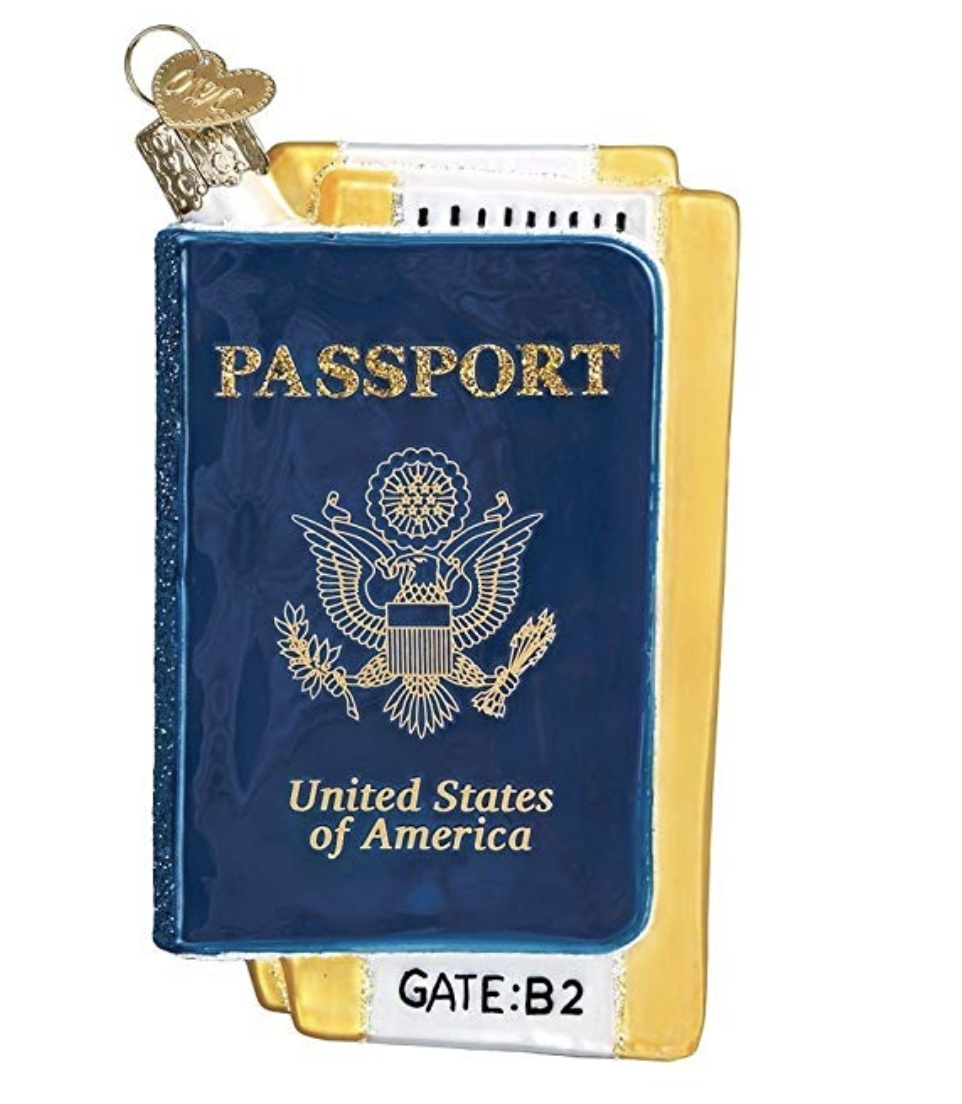 Buy Now: Amazon
This mouth-blown glass ornament follows an age-old art tradition. It's a unique gift for any travel-obsessed relative (or me *hints to the family*).
I love the colors, the hand-painted details, and the scary resemblance to a real passport. Seriously, this would look so cute on a Christmas tree.
Vintage Travel Map Ornament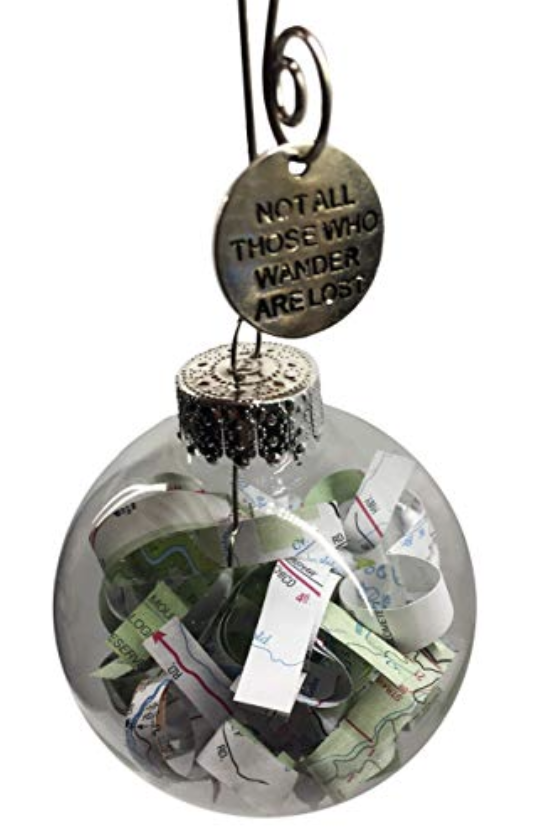 Buy Now: Amazon
While the Not All Who Wander Are Lost pin is charming, this piece is actual pretty easy to DIY. All you need is a transparent Christmas ornament (which you can find in most craft or dollar stores). Cut even length strips of any world map and add them inside. That's it!
Stacked World Signs Ornament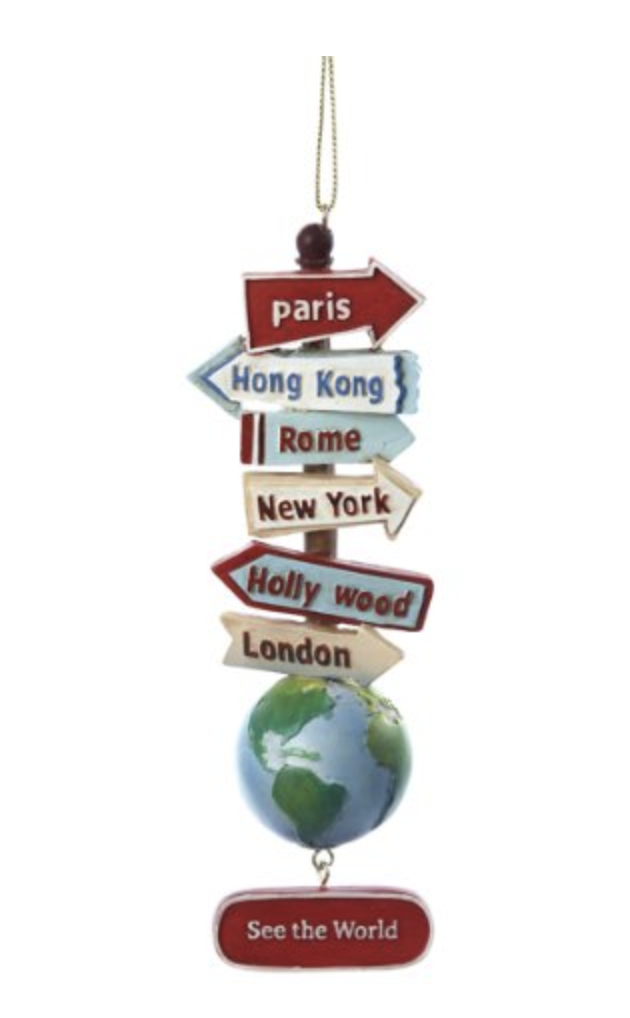 Buy Now: Amazon
This piece has me singing along to a classic Hilary Duff song.
London. Paris. Tokyo. Something goin' on everywhere I go.
Okay, I'll stop. But seriously, this travel Christmas ornament is one of my favorites. If you're a travel buff, you'll love the painted signs stacked onto a mini globe.
DIY State Map Travel Christmas Ornament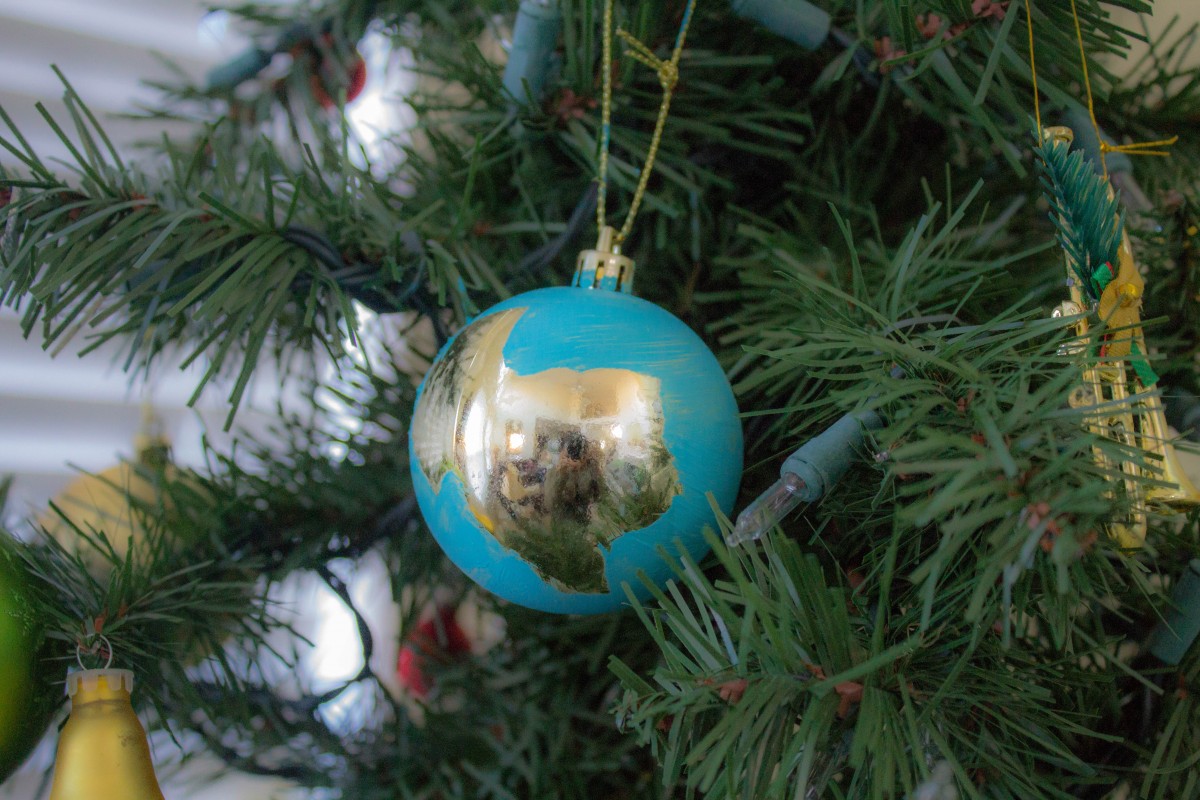 After celebrating four years in Texas, I really wanted a Texas travel Christmas ornament. But most of the ones I found in stores were expensive ($47 for a Christmas ornament – you've got to be joking) and had muted colors. So I decided to make my own.
How I Made It:
I drew the state of Texas on a sheet of paper and cut it out. Alternately, you can print out a map from the Internet.
Then, I took a paintbrush, dipped it in clear water, and brushed over the paper map onto the ornament so it stuck.
I painted the back side of the ornament (no map first) in blue and let it dry.
Then I painted the front side of the ornament the same blue and peeled the map off, revealing the actual ornament color underneath!
DIY Abstract Map Travel Christmas Ornament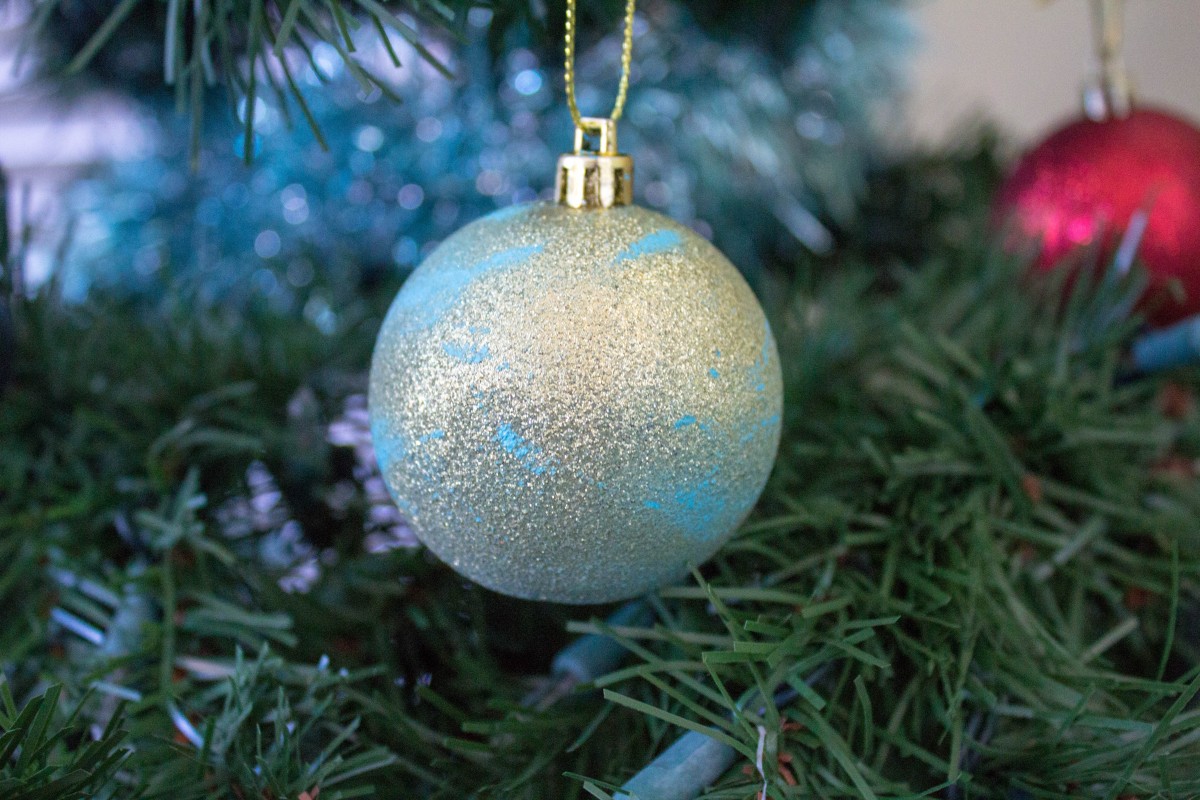 I absolutely love abstract travel Christmas ornaments. They look so dainty and elegant with bare minimal work. This DIY ornament was ridiculously easy to make.
I just took blue paint and slashed light Xs onto the Christmas ornament. Naturally, some areas picked up the color more than others. The rough, glittery gold portion (I used a textured Christmas ornament for this) makes the piece look like a landmass surrounded by water.
As I look up, I notice The Princess Switch credit scene has begun to roll. I'm on my last chick-flick holiday movie and I'm holding the final travel Christmas ornament in hand.
It's time to hit the road again. But I'll be back to see the tree lit up.
Did you enjoy this post on decorating my Christmas tree with cheesy travel Christmas ornaments? I think I'm slightly obsessed with travel.