55 travel journal prompts.
Lately, I've been getting back into travel journaling. I used to love to journal when I was younger, but at some point, Passport To Eden became my online travel journal and I scrapped traditional journaling.
There is nothing I love more than seeing words on a page. So for the past week, I've challenged myself to free write for thirty minutes each day (first thing in the morning) based on a series of travel journal prompts I created. And the process has been cathartic.
You don't have to try all 55 of these travel journal prompts (or any for that matter). I created this list of prompts for rainy days when you feel stuck and aren't sure what to write about.
I'll also quickly list my journal supplies below.
P.S. You don't need any supplies apart from a writing tool and a notebook but I'm a stationery nut so here we go.
Best Travel Journal Supplies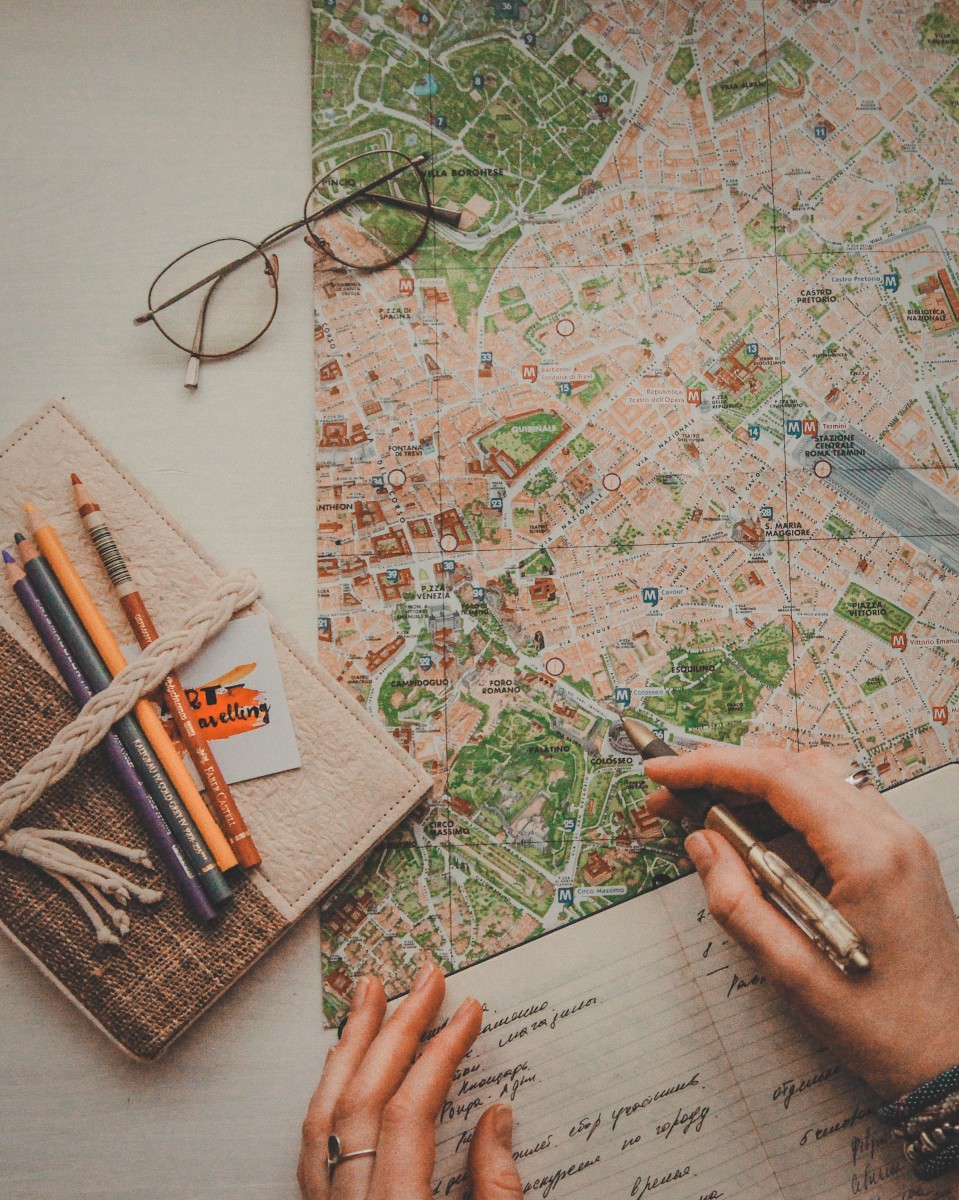 Written In Stars Journal
I have a softcover version of DesignWorks' Written In The Stars journal. I'm obsessed with the constellations on the front. The interior pages are between college and wide-ruled. There's also a world map inside, which is a cute little touch.
Travel Stickers
All hell went loose when I discovered Etsy (stationery addicts, beware. This website is trouble). I have lots of cute stickers from them (like this orange-and-blue pastel travel sticker set by Audrey Okeya). I also have a set of printable stickers (cute graphics that I cut out for scrapbooking), namely everything from Eva's store, Tralala Stickers.
Washi Tape
I use very minimal Washi Tape in my travel journal, but there is one roll I can't get enough of – the Wayfarer Washi Tape by Nicole from PaperGamesCo. It's absolutely stunning and brilliantly detailed. The design is adventure-focused and it goes perfectly with any travel notebook.
Reflective Travel Journal Prompts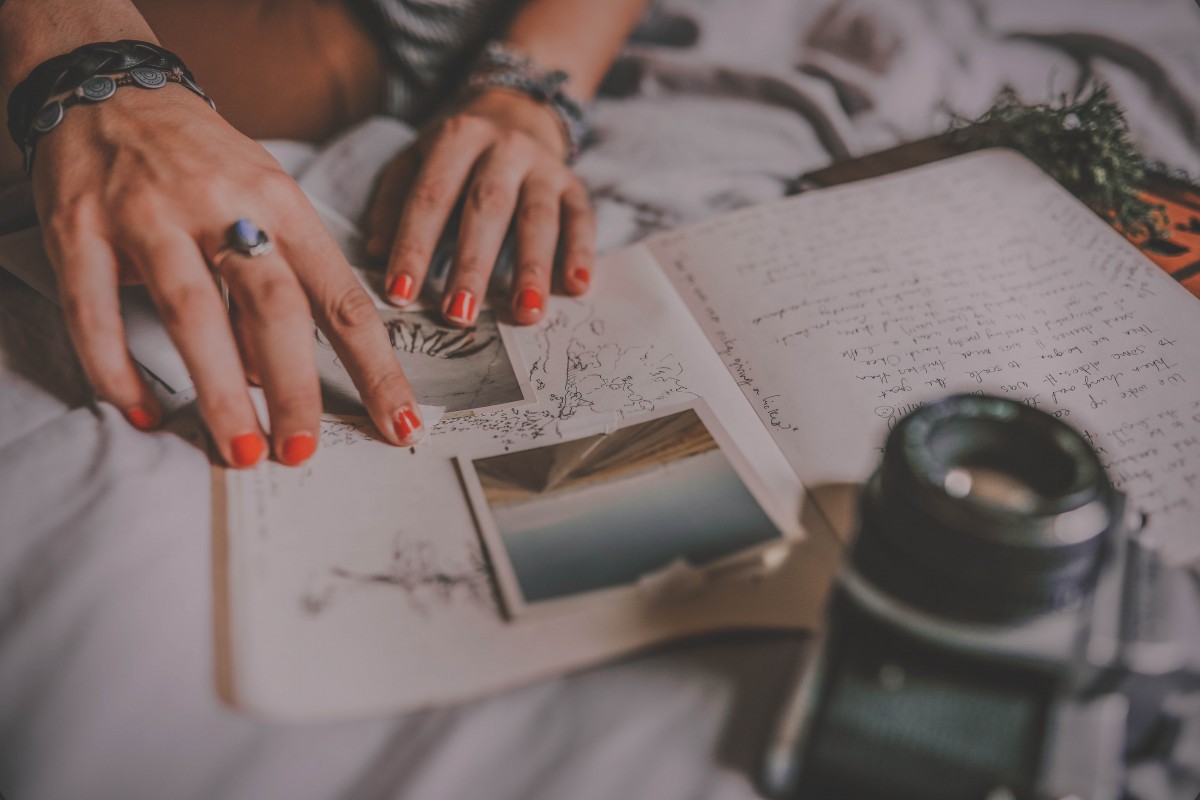 Why do you travel? What motivates you to travel? (Example)
What is the biggest lesson travel has taught you?
What is the biggest fear travel has helped you overcome? Do you still have fears that you wish you could overcome when traveling?
How did your worst travel experience shape you? How did your best travel experience shape you?
What is your mindset about travel expectations? Where do your destination expectations/perceptions stem from?
What is your biggest regret when it comes to travel?
What is your favorite childhood travel memory? (Example)
Do you have a "type" when it comes to traveling? Is there a certain style of travel that you regard as your comfort zone?
If you had unlimited travel days, how often would you travel?
Has travel changed your values?
What are some travel experiences you're grateful for?
Trip Planning Travel Journal Prompts
How do you choose your next destination? Do you pick a place that's always been on your bucket list? Do you pick a place you feel a personal connection to?
To what extent does social media influence your itinerary?
Make a packing list. Cross off anything you feel isn't essential. (Example)
Packing introspection exercise: sketch out your thoughts on the 10×10 capsule wardrobe challenge.
What are your favorite resources for trip planning?
Your luggage got lost. You're given $300 to buy the essentials. What do you buy?
You're challenged to spend one month in a cold-weather country with carry-on only. What do you bring?
Plan a staycation.
Creative Travel Journal Prompts
It's open mic night at a local comedy club. You're asked to share your funniest travel experience. What do you say?
Write a song you'd love to hear on the radio during a road trip.
What are the most beautiful words you learned while traveling?
Travel Journal Field Notes
What was the weather like today? Did it affect your travel plans? (Example)
What foods did you eat? Did you try any local cuisine? What was your first reaction to the food? (Example)
Describe your accommodations for the night. Where are you staying? What does your room look like? (Example)
Did you buy any souvenirs? What inspired your purchases?
What transportation did you use? How did you get from one area to another?
Rate any attractions you visited. (Example)
What are some facts you learned? Did they change your perception of the destination? (Example)
Travel Journal Prompts: Character Sketches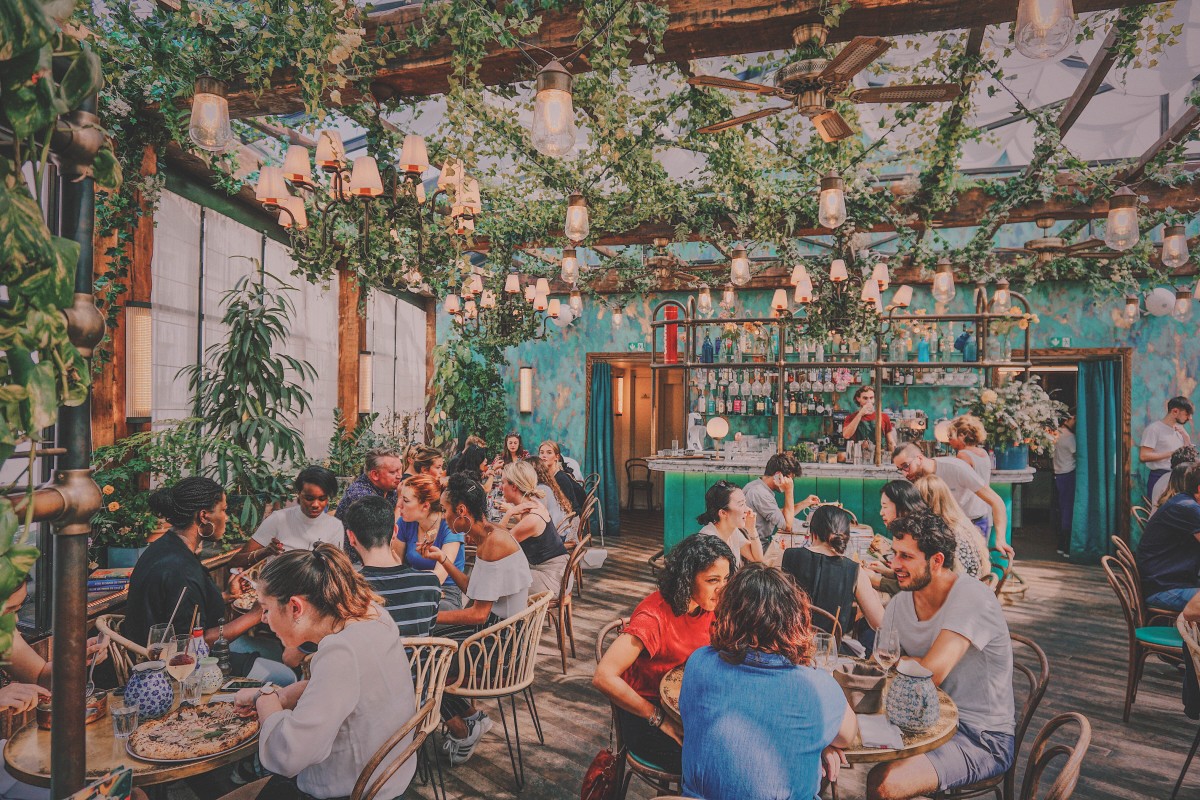 Describe your travel partner.
Describe the crowd at a local cafe. How are they dressed? How are they behaving? (Example)
Record a conversation. (Example)
Did you meet anyone while traveling? Sketch them.
Is there anyone you met who stood out to you? Why? (Example)
People watch in a local spot. Write down what people are doing. (I feel like character sketching occasionally borders on creepy but I promise it's a great writing exercise).
Travel Journal Prompts: Landscape Sketches
What is the most beautiful place you've been to? What made it beautiful?
Pick a place. What are the sounds you hear when you recall the location?
Describe a dish from a restaurant you've visited. What did it smell like? What did it taste like?
Describe your travel experience from the perspective of an inanimate object in the area (like a Parisian coffee cup or even the Mona Lisa).
Imagine you stepped back in time and took a trip with a historical figure. What did the place look like then versus now? (Example)
Travel Journal Prompts For Inspiration
What books inspire you to travel? (Example)
What movies inspire you to travel?
What are your favorite travel quotes? (Example)
What are your favorite travel podcasts?
Who are your favorite fictional travelers?
Travel Journal Prompts For Dreamers
Money is not an object. Where would you go right now?
Make a bucket list. (Example)
What fictional world would you like to step into?
What is your dream travel job?
If you could wake up to any view right now, what would the scene outside look like?
Save Money For Travel Prompts
What is the most amount of money you've spent on a trip? Is there any way you could have saved money without sacrificing trip quality?
Plan a budget trip.
What are some free attractions you've visited in the past that you've absolutely loved? (Example)
Come up with a list of ten ways to save money for travel. (Example)
What are your limiting beliefs on travel and money? Cross them off and flip the way they are worded. Words have power. (Instead of I can't afford to travel, think I CAN save money to travel).