Imagine one art gallery. Pick your favourite. Think of all the reasons why you love it. Then multiply that gallery by infinity. Now, in a mathematical sense, this is impossible, considering that multiplication is only valid for real numbers, but let's rewrite the laws of mathematics for a moment and say that such a feat is possible. Go on ahead, imagine that special gallery by infinity. Think of art bordering the crossroads, at every turn, look, and intersection. Think of breeds of artwork – sculpture, oil, pottery – towering above you and at eye-level. This is Canyon Road, a strip of indie art galleries in Santa Fe, where the world appears to have been dwarfed into a painted sky.
Today, I thought we'd go exploring. I'll take you in and out through some of my favourite galleries. It's hard to fathom the sheer size of Canyon Road and the diverse array of artwork until we start walking and our feet start hurting. But, not to worry, this little art lover's delight is the most accessible slew of galleries I've visited so far. Luckily for you, everything we are going to see today is on the same street!
White Gallery
Our first stop is a small adobe building with a fresh white door (in contrast to the beautiful blue ones normally seen in Santa Fe) and a matted sign with the word "white" blocked in capital letters. This gallery is the White Fine Art Gallery, home to the works mostly of Mark White, a jack-of-all-trades when it comes to art. The front yard is littered with samples of his work – a few scattered oil paintings and rich kinetic wind sculptures dominate the space.
We enter in a small office-style room enriched by a clinical museum layout, but there are only few works plastered on each of the walls. The White Gallery boasts a simple collection that resonates personal showcase more than a privatized art gallery. As we explore the adjoining rooms, we find idyllic landscapes of lonesome terrain, styled with boldly defined brushstrokes. There is the occasional sculpture of an animal contoured into a characteristically human pose.
The hidden gem of the Mark White Gallery is the courtyard behind the main building. This is where most of White's works that blend sculpture and nature are held, so I just have to show it to you! We find winding metallic works twisted onto a pole that move hypnotically in the wind. It's refreshing to see art that isn't just a depiction of natural elements, but rather works with natural elements. White does the same with his waterfalls. We see earthen slabs of rock nestled amongst pebbles. As the water trickles down, the slabs shift into a darker hue. The piece, in a most literal sense, is defined by nature. My favourite sculpture in the Mark White Gallery happens to be right next to the courtyard entrance. It is a small work, that, unlike the kinetic wind pieces, doesn't tower above us. The piece is simply a boy cuddling a rabbit, but the boy's eyes are perfectly etched, round and wondrous. His eyes are fraught with as much emotion, if not more, than real human eyes, which makes the piece a Canyon Road bucket list item.
La Mesa
Our next stop is La Mesa. The showcase, itself, contains New Mexican influenced hand-crafted pottery pieces. But the wiry glazed pieces, outside, capture our attention. Oh, the places we'll go! Stick-thin figures that stack various geometric and abstract shapes are grouped together in sections of the dried grass. Each part is clearly delineated a colour. These are colours that should be incoherent and gaudy together – colours that are as compatible as green eggs and ham. But somehow, they fuse perfectly. We feel as though we've entered a secret private collection owned by Dr. Seuss. La Mesa gallery hosts a youthful set of art with adult-level cohesion.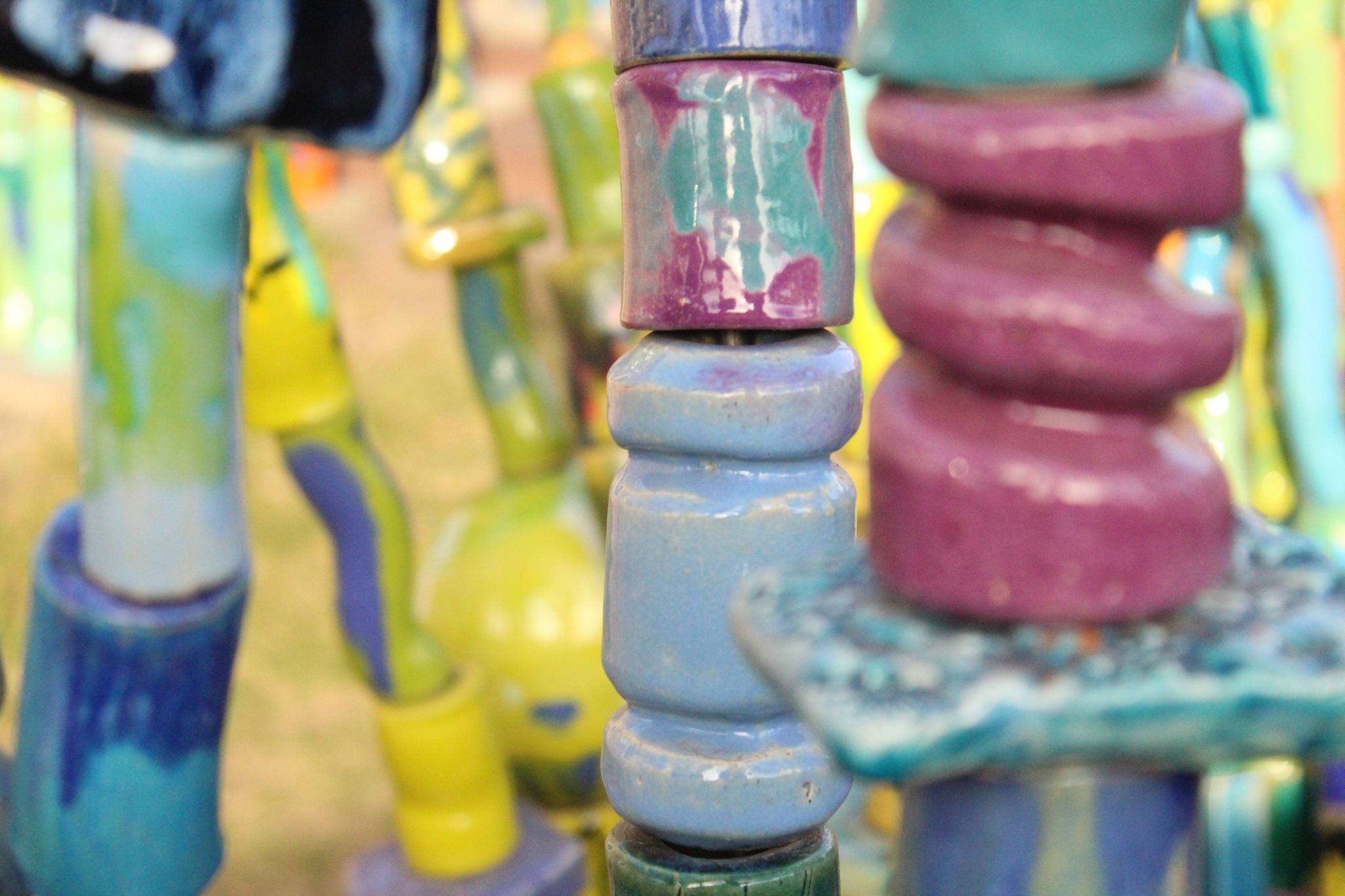 Canyon Road Contemporary
Canyon Road Contemporary is an ever changing and growing blend of artwork. There appears to be no governing theme or style dictating the works, but we'll take a walk around anyways. Canyon Road Contemporary is also the first brick building we see in Santa Fe. Most of the buildings we've seen so far are made from traditional adobe, but Canyon Road Contemporary is far from traditional. The architecture is just as modern as the art within the gallery, itself. Right now, there are glass works everywhere. These pieces are delicate and abstract, but maintain a very real inspiration – flowers. Wisteria hangs down gently in a pale pink. Red poppies with waves of green leaves are perched next to the front porch. Bluebonnets spiral upwards with the metal. Isn't it beautiful?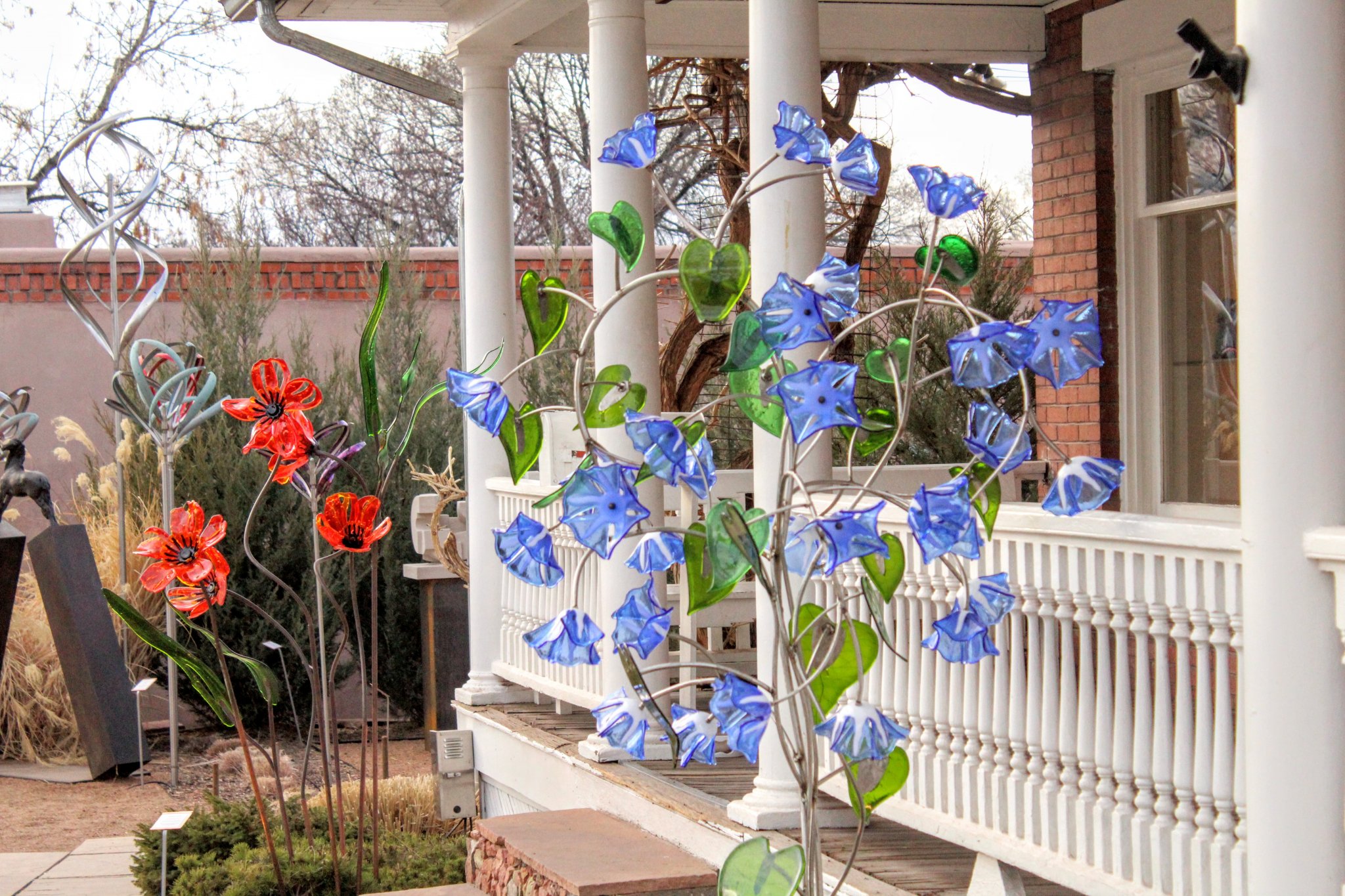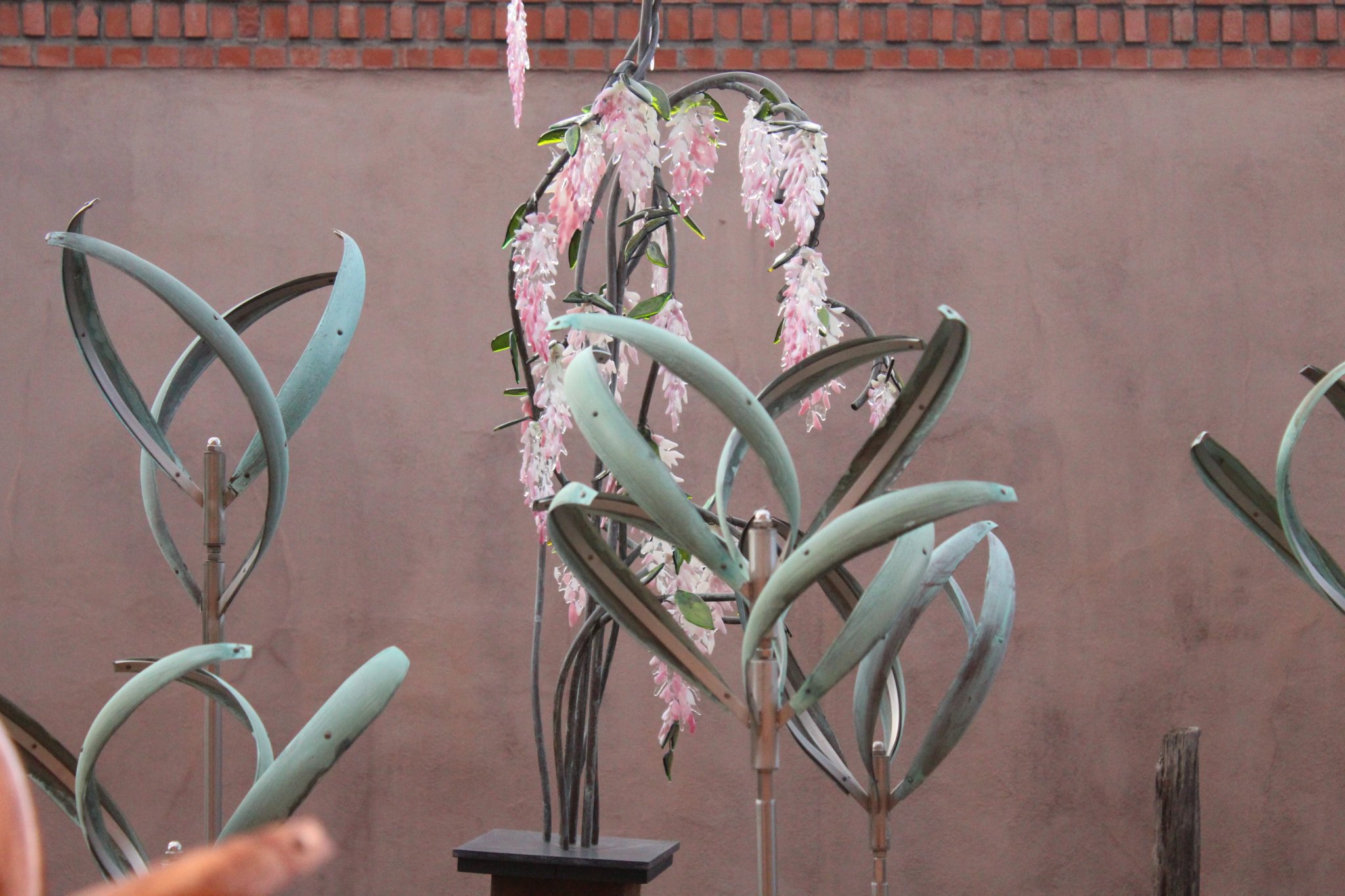 Meyer Gallery
Are your feet hurting yet? Don't worry, this is our last stop before we grab a quick bite to eat. Sound good? Meyer gallery is all about the people with a plethora of portraits and statues. Yes, there are quite a few odd landscapes and bison, but a majority of the works celebrate the human form. Before we enter, we are already greeted by smiling children swinging and frolicking. Each is sculpted with impeccable detail, right down to natural looking wind-blown hair that Pocahontas could only dream of. Then there are the more poised statues of what appear to be Native American chiefs. Even the clothing, layered strategically, are brilliantly done. Inside, we walk into a gallery of paintings. One that stands out is a girl in a modest red dress gracefully opening the curtains. There is something about the lighting that fragments the emotions.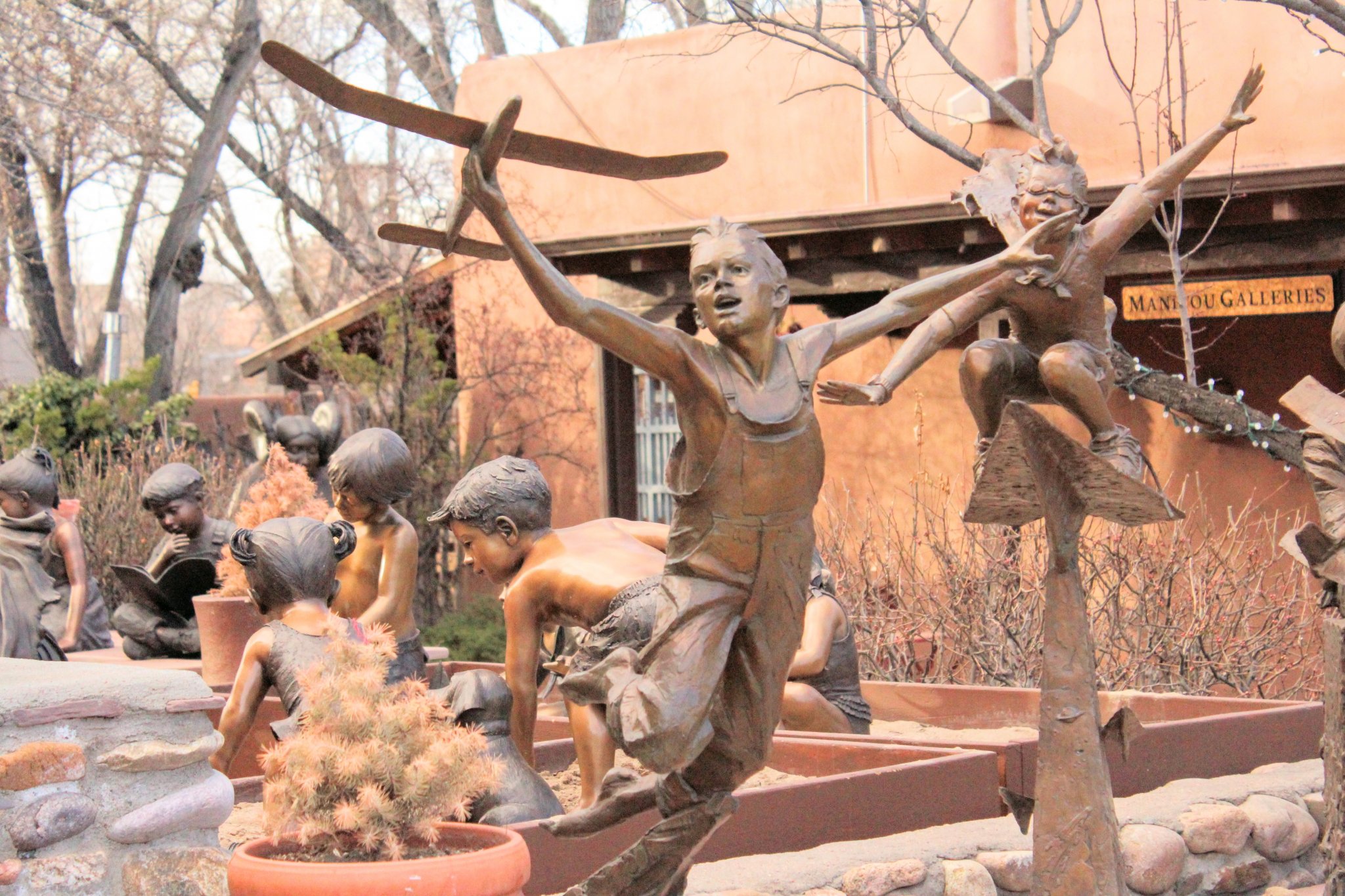 The Meyer Gallery also has a second floor, so let's not forget to check that out as well! It's separate from the entrance, so we have to go back out and enter through another door. Here, we can poke through thousands of works stacked against the wall at our leisure! As we are looking through, we stumble upon some recognizable names – Cary Ennis, Suchrita Bosle, and William Hook.
Tea House
Whew! That was a lot of walking and we haven't even covered a tenth of the galleries here. But it's almost five and most of the showcases are closing so we, unfortunately, can't see more. But I have a great idea, let's go grab some tea. I know the perfect place. We walk into a building and spiral through rooms of cozy wooden library chairs and pink patterned tables. Despite the outside patio space, there are plenty of nooks inside for a cold winter's day. Odd antiquities and a large textile rug hang on the wall of the back room. Black and white photos add to the sparse decoration. This is the Tea House.
We sit down and are given a menu lined with healthy salads and sandwiches. But it is the pages and pages (literally) of tea selections that drives us insane. There are teas inspired from regions across the globes, especially Asia, and many of the spices used to make the teas are brought in from their original countries. I order a spicy hot chocolate.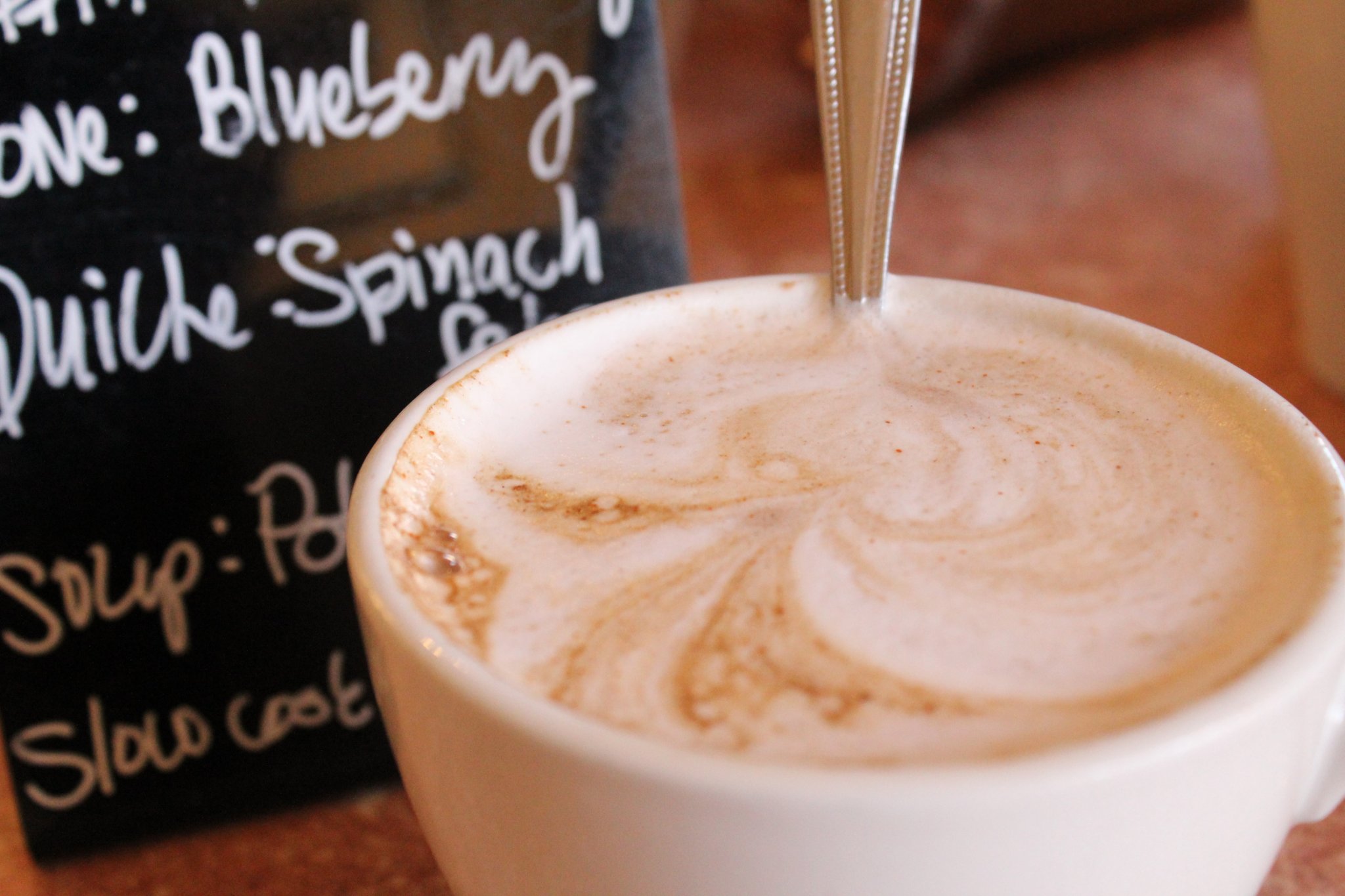 Would you like some mango tea?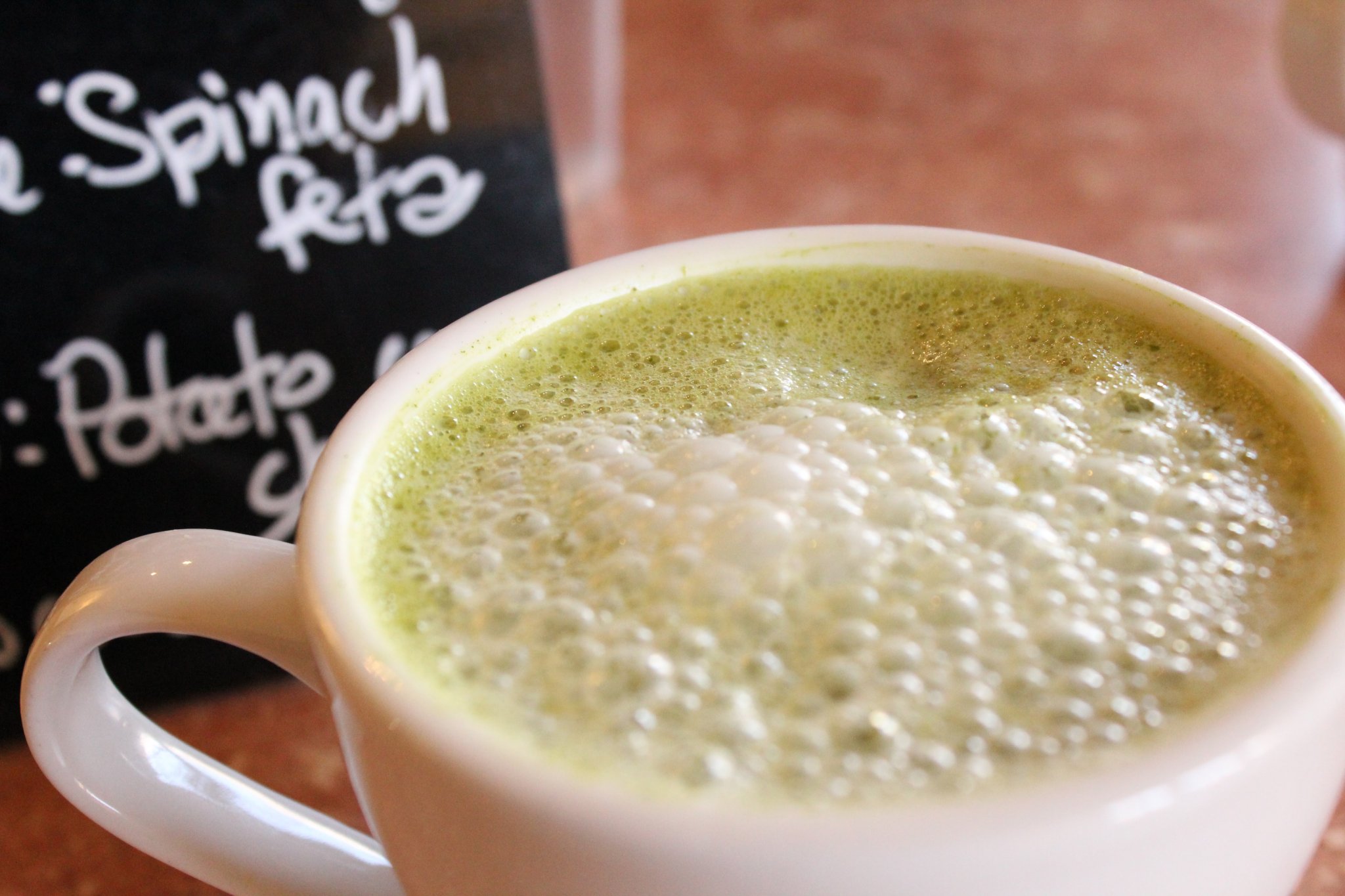 Most of the teas here, run anywhere from $3 to $6, but arrive in mammoth mugs (the Venti Starbuck's containers would be jealous). If you have a sweet-tooth like me, the teas sadly come sugar-free, but I'm not going cold turkey. There are plenty of organic sugar packets to satisfy my sugar craving. The Spicy Hot Chocolate is a natural blend that isn't spicy per se, but has a thin, milky consistency blended with what tastes (and smells) like turmeric. The mango tea is green and frothy. It has a minty taste and at first, you are absolutely convinced that this is a mint-based tea, but no, it's mango. You're just going to have to trust me. The Tea House is on Canyon Road and the perfect way to wind down after a day of walking and exploring. It's a local's delight for a reason. Grab a book and read while sipping a hot drink or take out your laptop (like me) and get into a calm working rhythm.
Did you find this guide to Canyon Road useful? Have you ever been to Canyon Road? Let me know in the comments below. As always, I would love to hear from you!
Disclosure: This post was made in partnership with the Santa Fe Tourism Board, but all thoughts and opinions are very much my own.